Montenegro Pulse contains affiliate links and is a member of the Amazon Services LLC Associates Program. If you make a purchase using one of these links, I may receive compensation at no extra cost to you. See my disclaimer for more information.

Via Ferrata in Montenegro
Via Ferrata in Montenegro combines an exciting adventure activity with spectacular scenery. Here's what you you need to know before you go.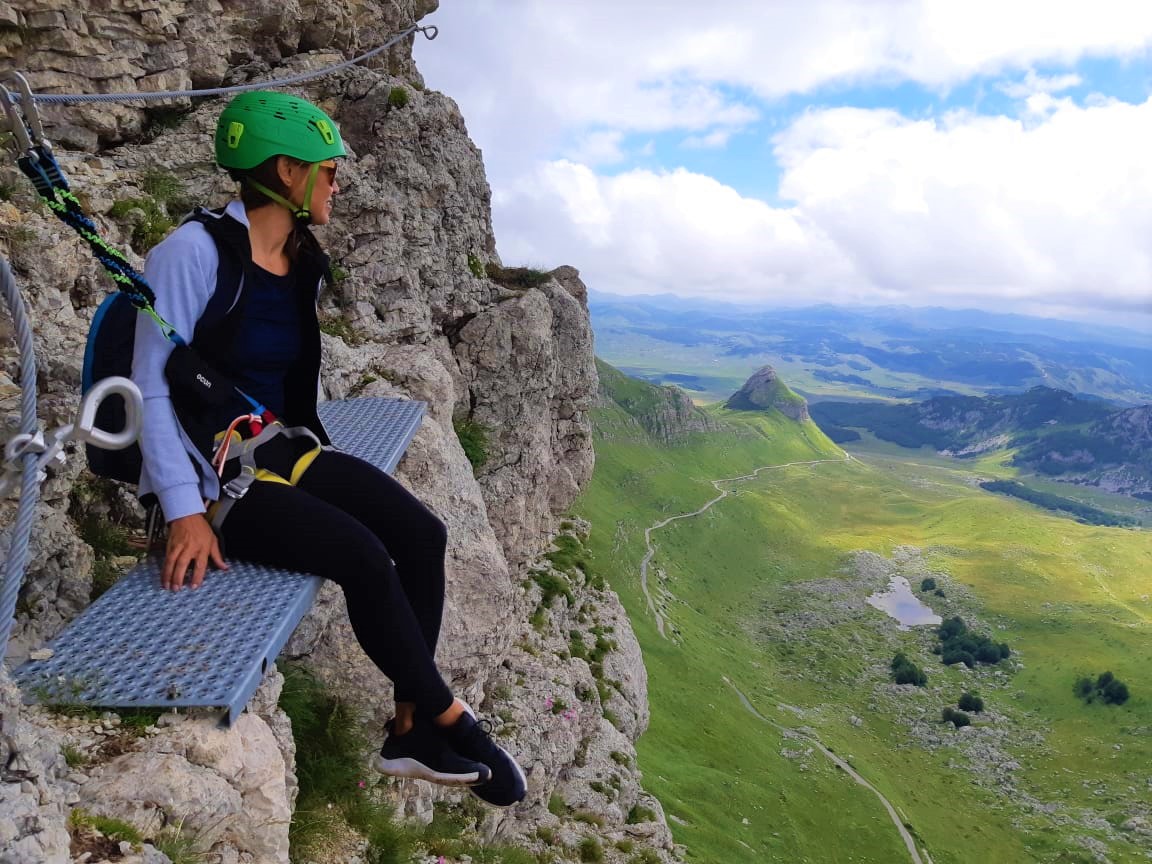 With its mountainous landscape, Montenegro (which means Black Mountain) is the ideal place for via ferrata.

This year-round adventure sport is so simple almost anyone can do it. You don't need any special equipment or experience either; all the equipment and instruction are provided.
Whether you've done via ferrata before or it's your first time, via ferrata in Montenegro is a memorable way to combine some of Montenegro's most beautiful scenery with a fun, family-friendly activity.
What is Via Ferrata?
Unless you live in the Alps there's a good chance you've never heard of via ferrata.
Via Ferrata is Italian for "iron path" and it dates back to the 19th century. Traditionally via ferrata was a way to connect villages in the Alps and it was commonly used in the Dolomites as a way to move troops during World War I. It's since gained popularity as an adventure sport and there are now over 1,000 via ferratas in Europe.

A via ferrata is a path up a mountain that's marked by a steel cable and you attach yourself to it with a harness that has two leashes. The cable is divided into short sections and as you move up the path you move your leashes to each new section. You're always attached to the cable by at least one leash, so you can't fall.
As you make your way up you use the natural foot- and handholds, but there are also rungs and bridges in places to make it easier to climb. 
In some places there's an easy option and a more difficult route. So, for example, you can do an overhang or skip it. You can also challenge yourself to let go and just hang by your harness, which is harder than it looks!
You usually climb up the via ferrata to the top of the mountain and then walk back down via another path. 

---
My Experience of Via Ferrata in Montenegro
I tried via ferrata for the first time here in Montenegro absolutely loved it!
Here's a video of my experience: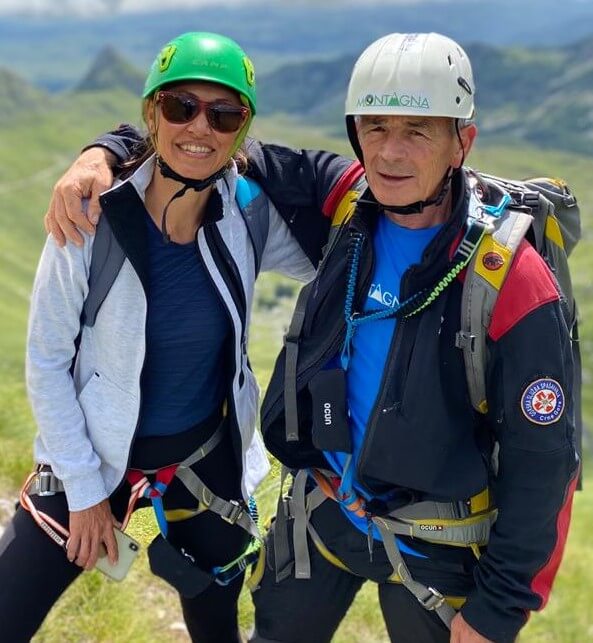 With guide Budimir
I did the via ferrata in Durmitor National Park with experienced mountaineer, Budimir Backović. Budimir has climbed Mont Blanc and spent years in mountain rescue, so I felt like I was in good hands!

I would describe via ferrata as more exciting than hiking and much easier than rock climbing. For me, this was the perfect middle ground.
Surprisingly, it wasn't as physically demanding as I expected. There are short bursts of climbing broken up by rest. Even when you are climbing, you move slowly because you have to unclip yourself from one section of cable and clip yourself onto the next section as you go. I didn't ever feel out of breath or like my muscles were straining.
That's not to say it was easy. I was definitely challenged when Budimir told me to put my weight on my harness and "just let go"...  say what now?! 
In the end I let go and it was totally worth it!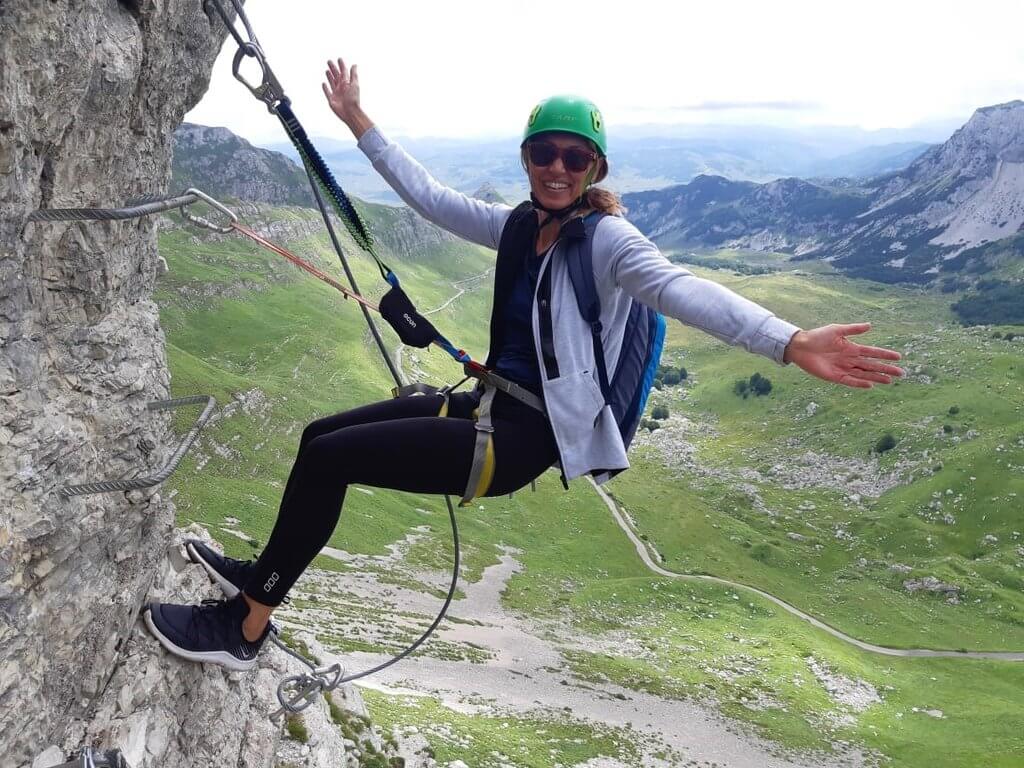 "Quick, take the picture!"
It was challenging, fun and the scenery was magnificent. I finished the via ferrata with a real sense of achievement and connection to nature.
I think it's the ideal activity if you're visiting Montenegro. You don't need any training, clothing or equipment. You'll see some of Montenegro's most beautiful and authentic scenery, do a fun activity and it only takes a couple of hours.
So, if you're keen to give via ferrata in Montenegro a try, read on to find out where and how you can "just let go" too!
---
Where to Do Via Ferrata in Montenegro
There are two via ferratas in Montenegro. One is in stunning and dramatic Durmitor National Park. The other is in UNESCO Heritage Site Kotor.
You'll get absolutely breathtaking views from both of these sites!
Via Ferrata Durmitor
The via ferrata in Durmitor National Park takes you up Uvita Greda, which lies on one of the most beautiful parts of the Durmitor Ring, only 20 minutes' drive from Žabljak. You'll need a rental car to get here, but I recommend having one to visit all the best spots in this area anyway.
The scenery here is absolutely magnificent and it keeps getting better the higher you climb. You're surrounded by Durmitor's peaks, 48 of which are over 2,000m. Sheep graze their way across the paddocks and shepherds sing traditional songs as they watch over them. The winding road and a geode-coloured watering hole are the only things that break up the sea of green.
It's as authentically Montenegrin as it gets!
Via Ferrata Durmitor picture Gallery
Click pictures to enlarge.
Local's Tip: After doing the via ferrata in Durmitor National Park, head over to Etno Selo Sljeme for a coffee, lunch or just a celebratory rakija (brandy)!
Tour Details
Start/finish point: Sedlo, Durmitor National Park
Start time: Flexible
Duration: 3 hours
Price: €50 per person
Via Ferrata Kotor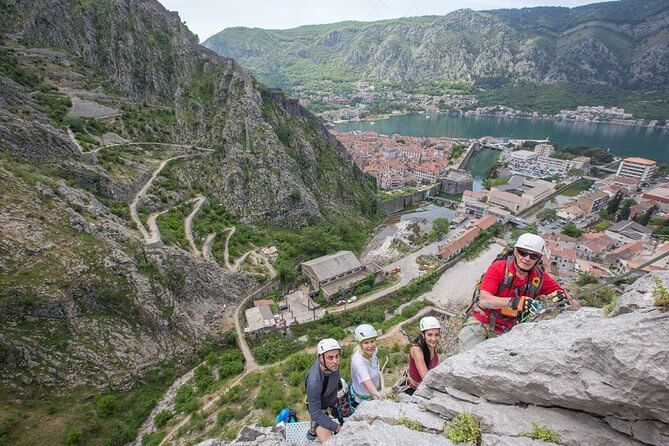 Kotor's via ferrata takes you up Mount Saint John, which sits just behind the old town. From here you'll get fantastic views of the old town, its fortress walls, the Škurda River, Bay of Kotor and Vrmac Ridge on the other side of the bay.
You can easily walk to the via ferrata in Kotor from the old town and because it only takes around an hour and a half you can fit it in even if you only have a short time in Kotor.
Local's Tip: When you finish the via ferrata in Kotor, I recommend going into Kotor old town via the River Gate and heading to Letrika for a charcoal coffee or rakija. If you've worked up an appetite, head over to Skala Santa for some traditional cuisine.
Tour Details
Start/finish point: Kotor
Start time: Flexible
Duration: 1 - 1 ½ hours
Price: €50 per person
---
When to Do Via Ferrata in Montenegro
Summer in Durmitor!
You can do via ferrata in Montenegro all year round, but checking the weather report is essential to make sure you have the right kind of clothing.
The site in Durmitor National Park is at 2,000m above sea level and you climb to 2,200m, so it can be much cooler up there than on the coast. I went in July and while it was 30°C (86°F) on the coast it was 17°C (62°F) in Durmitor. 
In winter the via ferrata in Durmitor is covered in snow. You can do it with snow, depending how deep it is, but if it's your first time the via ferrata Kotor would be a better choice.
Kotor rarely gets snow, so it's a good choice in winter. If you're doing the Kotor via ferrata on hot days, it's best to go in the morning or evening when it's cooler.
---
Who Can Do Via Ferrata in Montenegro
Unlike rock climbing or mountaineering, which require years of experience, almost anyone can do via ferrata. The system is so simple even children as young as six can do it, which makes it a fun outdoor activity for families.
You might think you have to be really fit to do via ferrata, but you don't. Although the path is steep in places, you move slowly and have lots of breaks so you don't get out of breath. You don't need to be strong to do via ferrata either, although you can expect to feel tight muscles the next day.
---
What to Bring for Via Ferrata in Montenegro
Hiking boots or trainers
Comfortable and weather-appropriate clothing like shorts, leggings, track pants, hiking trousers, t-shirt, sweatshirt, waterproof jacket
Backpack - ideally one that clips across the chest so that it can't slip off your shoulders
Bottle of water
Snacks
Sunscreen
Sunglasses

Camera
---
Book Via Ferrata in Montenegro
Would you like to try via ferrata in Montenegro?
You can book via ferrata in Durmitor National Park and Kotor, or just send an enquiry if you have a question, using the form below. 
You can also book these tours that include via ferrata in Montenegro in their itineraries:
Related Articles
Via Ferrata in Montenegro
Book Your Trip With My Recommended Providers