The Durmitor Ring Scenic Drive through Durmitor National Park
This post may contain affiliate links which means that if you purchase through my link I may earn a small commission which helps to keep this site going. Thank you. You can find more info in my disclaimer.
See some of Montenegro's most stunning mountain scenery as you drive the Durmitor Ring and find out about the locals' secret swimming hole.

Picture perfect Mount Prutaš
The Durmitor Ring (Durmitorski Prsten) is an 85km circular drive and a great way to see some of Durmitor National Park's stunning scenery. On the drive you'll see authentic mountain villages, shepherds with their flocks of sheep, herds of horses and lots of dramatic mountains. 
You can drive the Durmitor Ring in 2-3 hours, but it's also easy to stretch it out into a day trip with a hike and a picnic along the way. Although in summer I prefer to have a picnic by a lake in a secret spot that only the locals know about. More about that later, first let's talk about the Durmitor Ring and how you can see some of that stunning Durmitor scenery… without hiking up a mountain!
Quick Links
Durmitor Ring Route | Driving Žabljak to Plužine | Riblje Jezero and Stećci
When to Drive the Durmitor Ring | Accommodation near the Durmitor Ring

discover kotor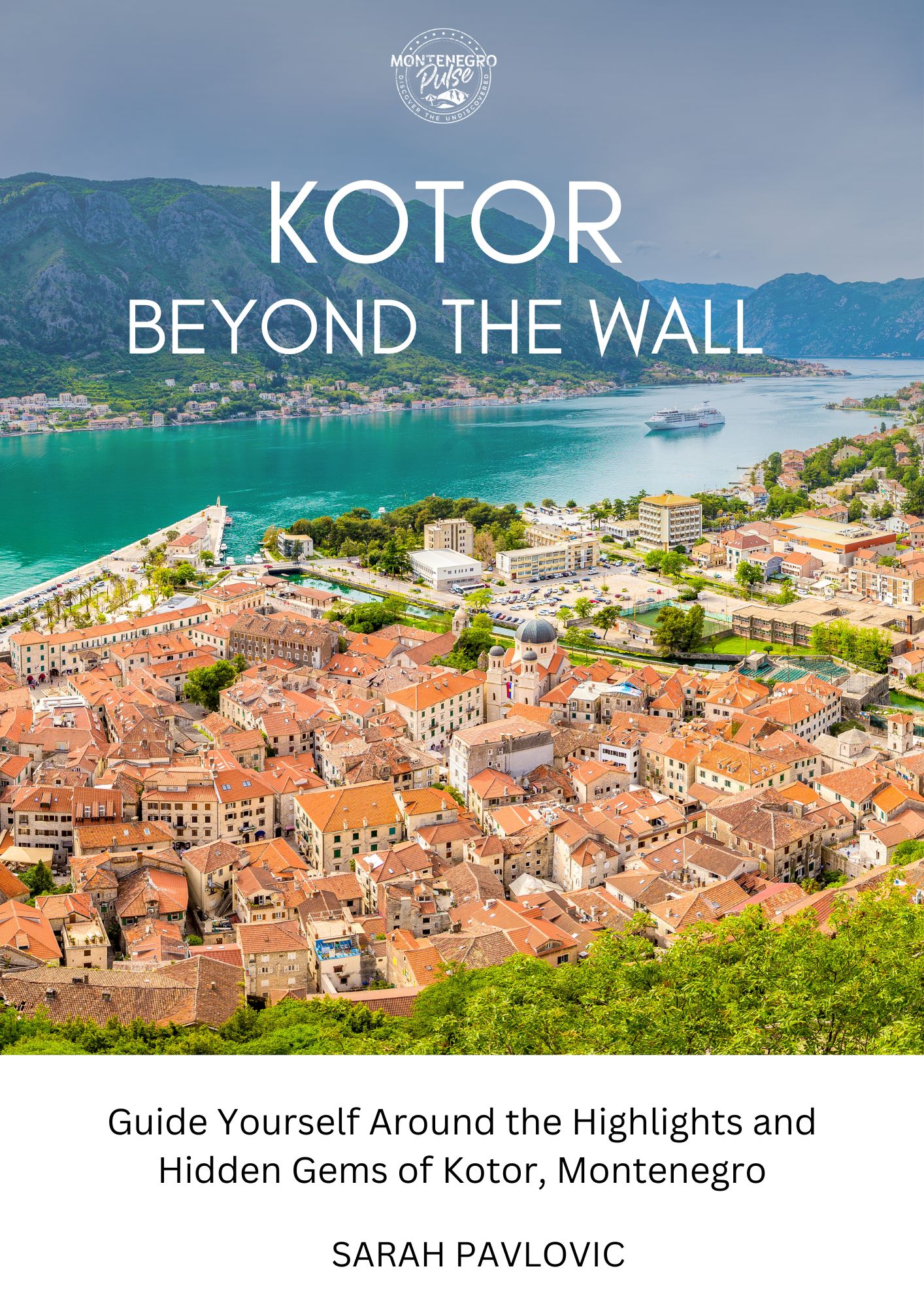 Guide yourself with the
"World's Best Guide to Kotor"
Top attractions
Hidden gems
Bonus walking tour
What to eat
Exclusive experiences
Essential visitor tips
Durmitor Ring Route
The Durmitor Ring drive starts from Žabljak, the small mountain town that lies on the edge of Durmitor National Park. This is the best place to stay if you want to visit the national park. You'll find lots of good-quality accommodation and restaurants there.
Although the route is quite simple, I recommend having a map with you. Not all of the roads are well marked, especially the first 10km as you navigate out of Žabljak, and a map will help you know exactly where you are. You can download a free Montenegro map on your phone, click here to find out how.
From Žabljak you drive up towards Momčilov Grad, a restaurant at the top of the old ski lift. You'll get some nice views from here, but there are much better views just a little further along.
From here, you follow the road towards Nedajno. This road winds through forest and then opens up to some stunning mountain vistas. You'll definitely want to stop for photos of the views and it's common to see eagles circling on the thermals above you.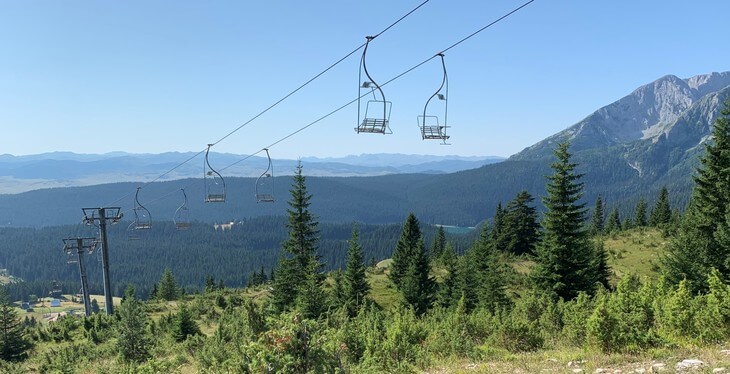 The view of Žabljak and the Black Lake
Lake Sušic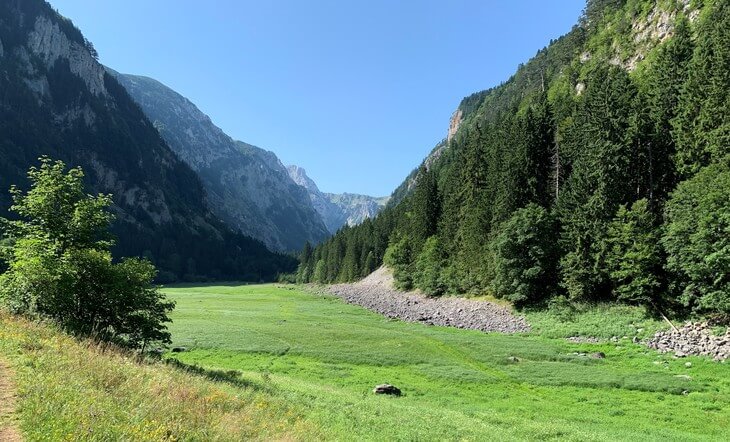 Lake Sušic in summer
Lake Sušic (Sušičko Jezero) is one of Durmitor's 18 'mountain eyes', as Montenegrins call Durmitor's glacial lakes. The lake is fed by the Sušic River in spring, when the winter snow melts and runs into Sušic Canyon.
If you're driving the Durmitor Ring in summer you probably won't see the lake. It dries up completely in summer and won't fill up until next spring. That's no reason not to stop here though. It's still a beautiful lush, green spot on the route and you'll be able to pick wild berries and fill up your water bottles from the spring by the mountaineering hut.
Mala Crna Gora
From Lake Sušic you continue on the road towards Nedajno. On the way you can take a short detour to the village of Mala Crna Gora, which translates to 'Little Montenegro'. You don't need to plan a stop here, but it's a good example of a traditional Montenegrin mountain village. The village is completely cut off by snow from November to May and the residents live a traditional rural lifestyle.

Trsa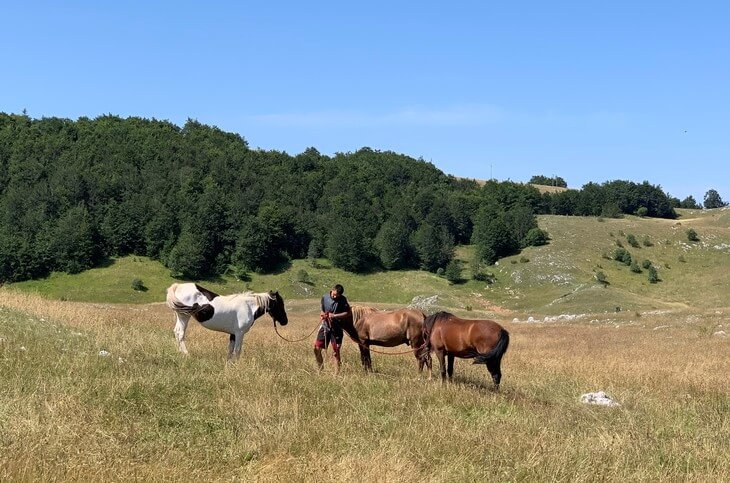 Your next stop on the Durmitor Ring route is Trsa, a sparse village of a few houses and guesthouses. Trsa is about half way on the route and it's the ideal place to get coffee, a cold beer or a snack here and take in the rustic surrounds.
If you're keen to stay the night here, Guest House Ethno Village Milogora and Eko Selo Durmitor have cheap rooms and bungalows.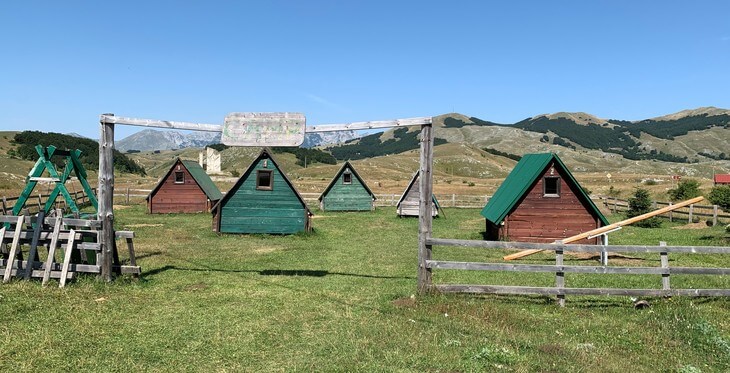 Bungalows at Guest House Ethno Village Milogora
Sedlo Pass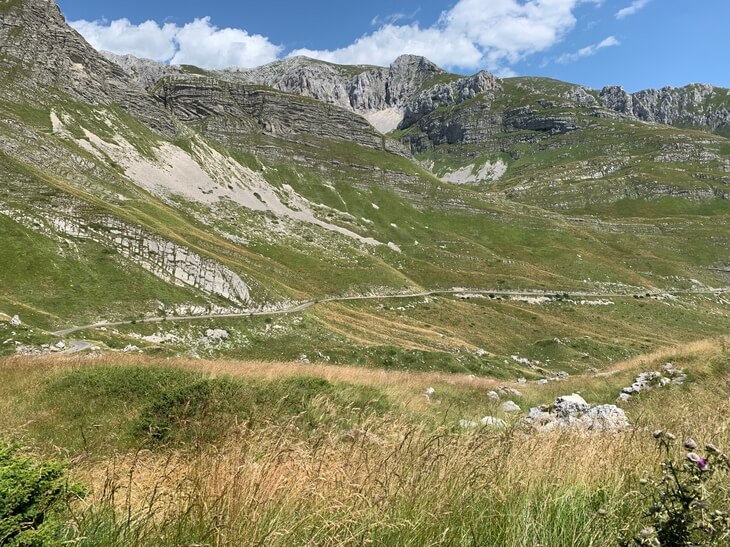 Sedlo Pass
From Trsa the scenery gets exponentially more beautiful as you drive the Sedlo Pass road. The rolling hills are dotted with sheep grazing peacefully beneath the craggy peaks that characterise Durmitor's mountain ranges. Horses stand in groups swishing their tails and cows wander across summer pastures. Prepare to make a lot of photo stops!
Horses alongside the Sedlo Pass road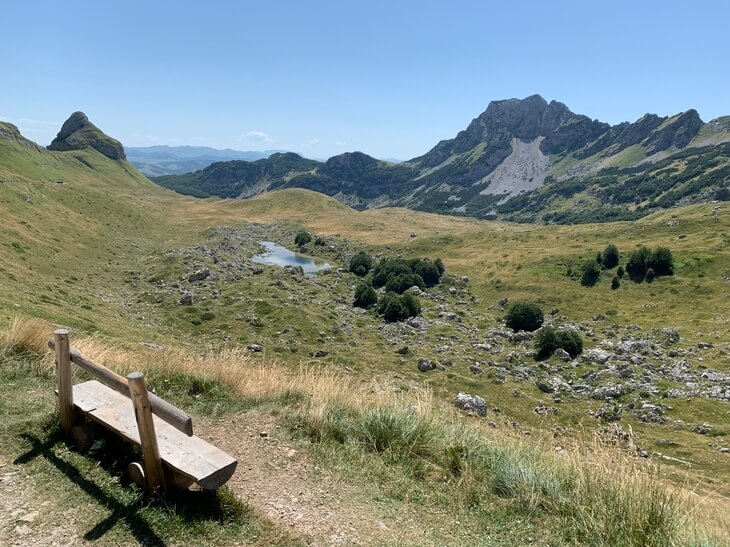 There are two popular stops at Mounts Prutaš and Sedlo. Sedlo literally translates to 'saddle' and the mountain is often called the 'Saddle of God' by the locals. The best places to take photos of these are where you see the big picture frames that perfectly capture these peaks.

The Saddle of God
Next you'll come to the start point for hiking Montenegro's second-highest peak, Bobotov Kuk. Bobotov Kuk is a serious hike and you'll need to come prepared if you want to do this hike. The weather here can change in an instant and it's a dangerous mountain.
This is the busiest part of the route and there are other shorter trails you can walk if you feel like stretching your legs.
Via Ferrata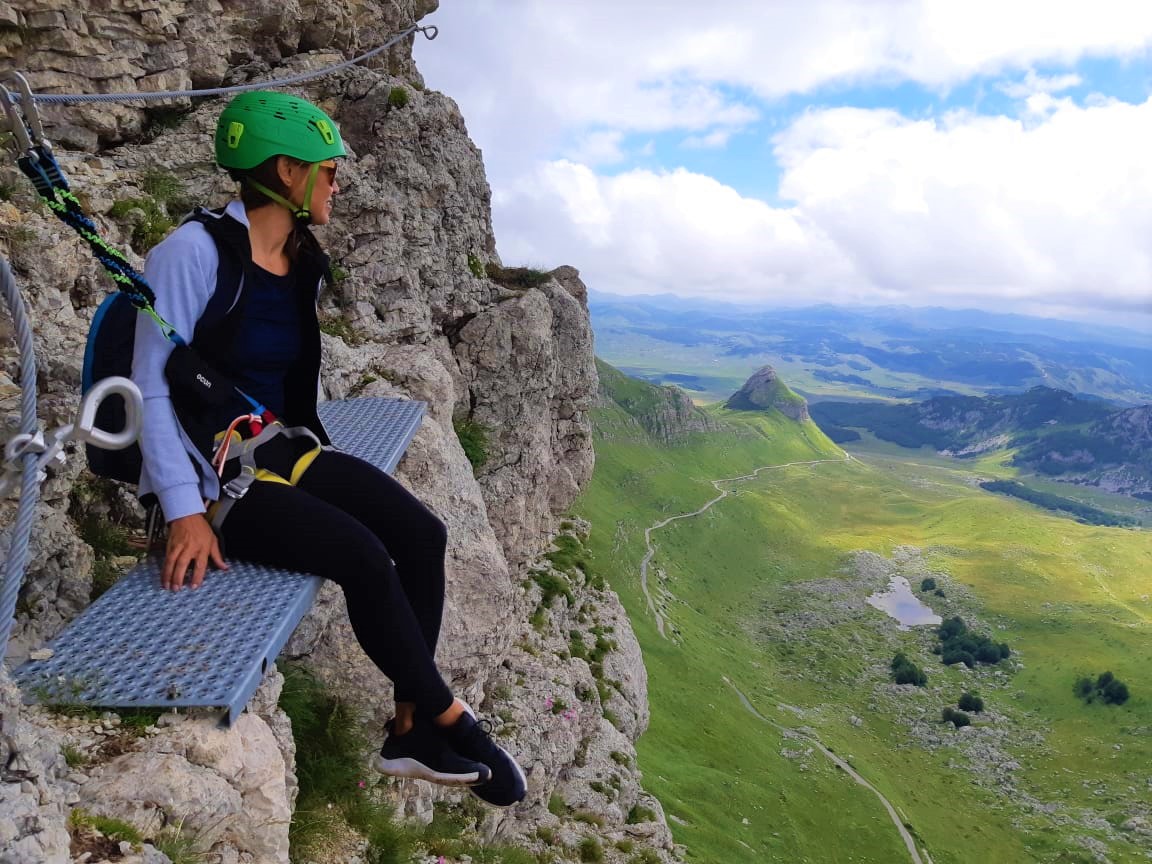 This is also where you can try via ferrata in Durmitor (you can also do it in Kotor). Via ferrata is like a cross between hiking and rock climbing and it's a great way to enjoy this magnificent area.
This fun adventure activity is so simple even kids can do it, and you don't need any equipment or experience. I had a great time doing this via ferrata and highly recommend it!
From here the road continues winding through pastures until you meet the main road back to Žabljak.

Durmitor Ring Tour
If you want to experience the Durmitor Ring but haven't got a rental car, you can do the whole route on a tour with a local driver and guide from Žabljak.
---
Žabljak to Plužine

Piva Lake. Image: Deposit Photos
From Trsa you can drive to Plužine, a lakeside town on Lake Piva. If you plan to do this, I recommend driving the Sedlo Pass part of the ring (labelled P14 on Google Maps) because it's the most scenic part of the ring. In Plužine Guest House Zvono is a popular place to both stay and eat.
---
Riblje Lake and the Stećci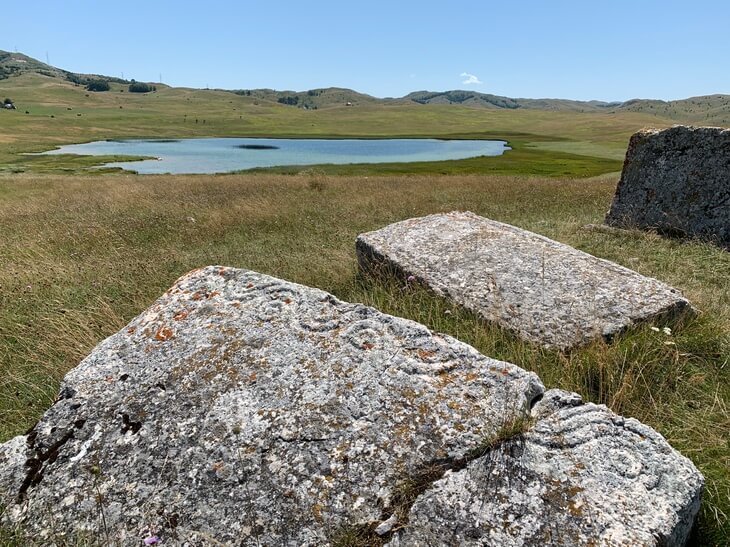 Riblje Lake and the Stećci
Most people drive the Durmitor Ring and then head back to Žabljak unaware of the beautiful stećci lying peacefully beside a hidden a watering hole.
Stećci are medieval tombstones and they're strewn across this area, Plužine and Herzegovina in neighbouring Bosnia and Herzegovina.
There are no crowds, no tour buses and no entrance fee. It's a rare sight.
You can easily take a detour after driving the Durmitor Ring to see Montenegro's stećci.
---
When to Drive the Durmitor Ring
Because snow covers this area in winter and roads can be impassable it's best to drive the Durmitor Ring between May and November.
In normal conditions without snow you can drive the Durmitor Ring in your rental car. It's asphalted the whole way and suitable for campervans too. The roads are windy and there aren't any guardrails so you should always drive carefully and slowly. 
---
Accommodation near the Durmitor Ring
You can drive the Durmitor Ring in a day trip from the coast. It's a two hour drive from Lipci in the Bay of Kotor. You take the P11 towards Nikšić and then continue on to Žabljak.
But I recommend staying in Žabljak and driving the ring from there. Žabljak is a quaint mountain town and there's lots to do there. You can see the Tara Canyon, go canyoning, go rafting, visit the Black Lake and experience some of north Montenegro's culture and food.
Here are some good places to stay in Žabljak:
There's also accommodation along the route of the Durmitor Ring. You'll find rooms at Guesthouse Nedajno and basic bungalows at Katun Ljeljenak, Guest House Ethno Village Milogora and Eko Selo Durmitor, both in Trsa. You can also pitch a tent at Guest House Ethno Village Milogora.
Related Articles
Žabljak, Gateway to Durmitor National Park

Visiting the Black Lake in Montenegro's Durmitor National Park

Tara River Canyon - Best Places to See the Jewel of North Montenegro
Durmitor National Park, the Perfect Mountain Escape in Montenegro
The Best Places to See Stećci Medieval Tombstones in Žabljak

help the stray animals of Montenegro
Book your accommodation anywhere in the world through any of the search boxes on our site and we'll make a donation towards sterilising stray animals in Montenegro. 
It costs you nothing, and you get the biggest selection and lowest prices guaranteed. It's a win-win!