Montenegro Pulse contains affiliate links and is a member of the Amazon Services LLC Associates Program. If you make a purchase using one of these links, I may receive compensation at no extra cost to you. See my disclaimer for more information.

Do You Need a Car in Montenegro? Making the Right Choice for Your Trip
Do you need a car in Montenegro? 
This was one of the most common questions my clients asked when I was working for a Montenegrin tour operator. And it's a question many first-time travelers to this beautiful Balkan country grapple with.
This decision can significantly impact your travel experience, from exploring hidden gems to managing your budget, so it's worth thinking about when you're planning your trip.
With 15 years of living in Montenegro and extensive experience in both driving and using public transport, in this article, I aim to guide you through the pros and cons of each option.
Together, we'll delve into essential factors like cost, convenience, and accessibility to help you make an informed decision for your trip.
Contents
Pros and Cons of Renting a Car in Montenegro
Cost of Car Hire in Montenegro
Things to Note When Renting a Car in Montenegro
Overview of Public Transport in Montenegro
Pros and Cons of Using Public Transport in Montenegro
Cost of Public Transport in Montenegro
Do You Need to Hire a Car in Montenegro?: Comparing Renting a Car vs Using Public Transport
Do You Need to Rent a Car in Montenegro: Frequently Asked Questions
Conclusion: Making the Right Choice for Your Montenegro Adventure
Do You Need a Car in Montenegro?: Pros and Cons of Renting a Car in Montenegro
Pros
Freedom and Flexibility
Explore Off-the-Beaten-Path Locations: One of the biggest advantages of renting a car is the freedom it offers. You're not limited to the main tourist spots or public transport routes. This means you can explore areas like Durmitor National Park at your own pace.
You can also stop to buy a jar of honey and bottle of rakija from the little roadside stall as you pass!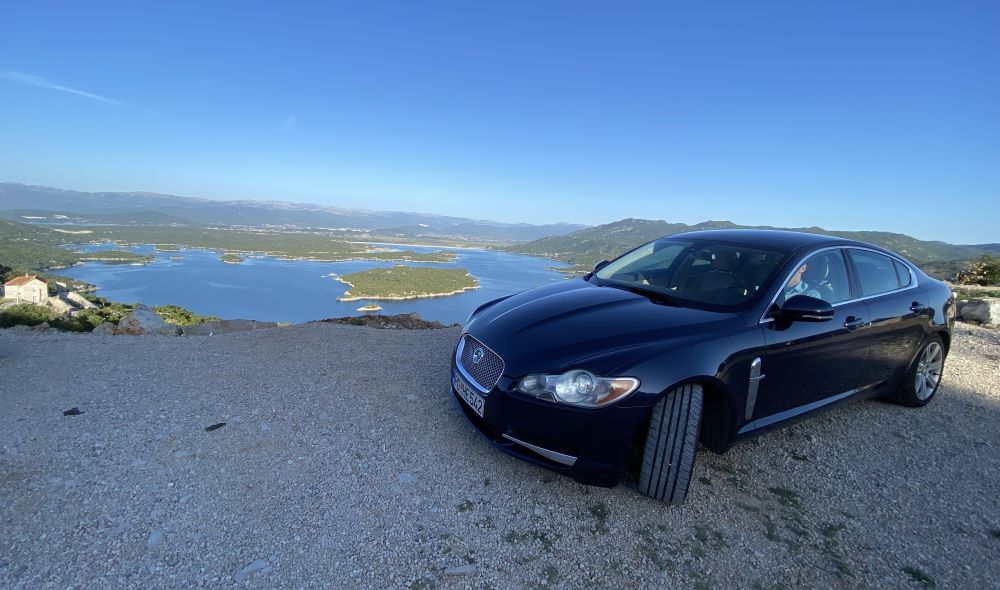 Stop by Lake Slano for beautiful views and to buy local produce from local families
No Need to Adhere to Public Transport Schedules: Public transport in Montenegro can be infrequent, especially in rural areas. Having your own car means you can set your own timetable, giving you more control over your day and the ability to see more
Comfort and Convenience
Travel with Luggage Easily: If you're planning to move around a lot, a car provides ample space for your luggage. This is particularly good for families or groups traveling with multiple bags.
Personalized Comfort: Rental cars come with modern amenities like air conditioning, music systems, and adjustable seats to make your journey more comfortable.
Time-Efficiency
Direct Routes: Unlike buses or trains that may have multiple stops, driving a car allows you to take the most direct route to your destination.
No Waiting Time: Public transport often involves waiting at stations or stops. With a car, you save time and can get a head start on your day's activities.
While renting a car has advantages, it's essential to consider some drawbacks. In the next section, I'll go over the cons of renting a car in Montenegro to give you a balanced view.
Cons
Cost
Rental Fees and Additional Costs: Renting a car in Montenegro is not always budget-friendly. Apart from the daily rental fee, you'll also need to account for insurance and any extras.
Fuel Expenses: Gas prices can add up, especially if you plan to explore extensively.
Parking Fees: In popular tourist areas, parking can be limited and you'll have to pay for parking. This is usually charged hourly and can be expensive. One way to mitigate this is to choose accommodation with free parking. That way, you'll only pay for parking when you go somewhere.
Challenging Roads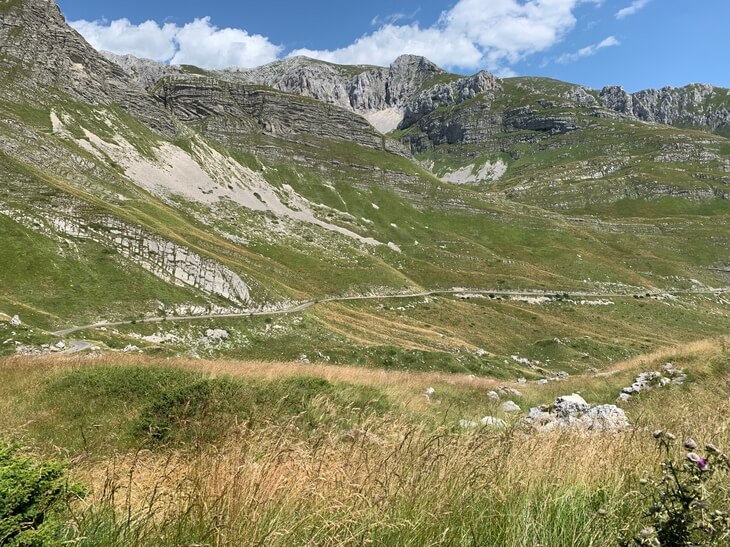 Durmitor Ring Road in Montenegro
Narrow Roads: Montenegro's scenic routes like the Durmitor Ring often come with the challenge of narrow, winding roads. This can be stressful for those not accustomed to such driving conditions. Read my article about driving in Montenegro for more information.
Mountainous Terrain: The country's diverse landscape includes mountainous regions that may require skilled driving, particularly in adverse weather conditions.
Parking Issues
Limited Availability: In tourist-heavy spots like Kotor or Budva, finding a parking space can be a significant challenge, especially during peak season.
Risk of Fines: Incorrectly parked cars are subject to fines, and in some cases, towing. Make sure to adhere to local parking regulations to avoid unexpected costs.
Understanding both the pros and cons of renting a car in Montenegro will help you make an informed decision that will help you get the most out of your stay in Montenegro.
>> Discover tips to navigate Montenegro's roads safely and efficiently.
Cost of Car Hire in Montenegro
Average cost per day for different types of cars
Economy Cars: Starting from €20 to €30 per day.
Mid-Range Cars: Typically range between €40 and €60 per day.
Luxury Cars: Can go upwards of €100 per day.
These prices are approximate and can vary based on the rental company, season, and availability. 
I recommend Localrent.com for car hire in Montenegro because they have the best car rental deals and services in Montenegro.
Additional costs: Insurance, fuel, parking
Insurance: Basic insurance is often included in the rental price, but comprehensive coverage can add an extra €10 to €20 per day.
Delivery: If you're hiring a car that needs to be delivered from another town, you might have to pay a delivery charge. You'll see the delivery fee, if there is one, when you book.
Fuel: The average price of gasoline is around €1.30 per liter. Diesel is slightly cheaper but it varies by location.
Parking: In touristy areas, expect to pay around €0.80 to €2 per hour for parking. Some hotels offer free parking, which can offset this cost.
Tips for finding affordable options
Book in Advance: Prices are generally lower when booking several weeks or months ahead of your trip.
Compare Multiple Providers: Use comparison websites to find the best deals and read customer reviews for insights on service quality. I recommend Localrent for small local agencies and Discover Cars for international brands like Sixt and Avis.
Off-Season Travel: If your travel dates are flexible, consider visiting during the off-season (October to May) when rental prices are generally lower.
By being aware of the various costs involved and actively seeking affordable options, you can manage your budget effectively while enjoying the benefits of having a car in Montenegro.

>> Read more about renting a car in Montenegro for a hassle-free experience.
Things to Note When Renting a Car in Montenegro
Required documents
Driver's License: You will need a valid driver's license is mandatory for renting a car. You do not need an International Driving Permit (IDP) unless your national driver's license is not written in the Roman alphabet (eg. Chinese or Arabic characters).
Passport: A valid passport is also required for identification and you must present it at the time of rental.
Age restrictions
Minimum Age: The minimum age to rent a car in Montenegro is usually 21 years old, although this can vary by rental company.
Young Driver Surcharge: Drivers under the age of 25 may incur an additional "young driver" fee.
One-way rentals
Availability: Some companies offer one-way rentals, allowing you to pick up the car in one location and drop it off in another.
Additional Fees: This service often comes with an extra charge, which can vary depending on the distance between locations. 
Fuel policies
Full-to-Full: Most rental companies operate on a "full-to-full" policy, meaning the car should be returned with a full tank of fuel. Failure to do so will result in additional charges.
Pre-Paid Fuel: Some companies offer a pre-paid fuel option, but this is generally more expensive than refilling the tank yourself.
Understanding these key points can help you navigate the car rental process in Montenegro more smoothly and avoid any unexpected issues or costs.
>> For a comprehensive guide on Montenegro's driving laws and regulations, read more here.
Overview of Public Transport in Montenegro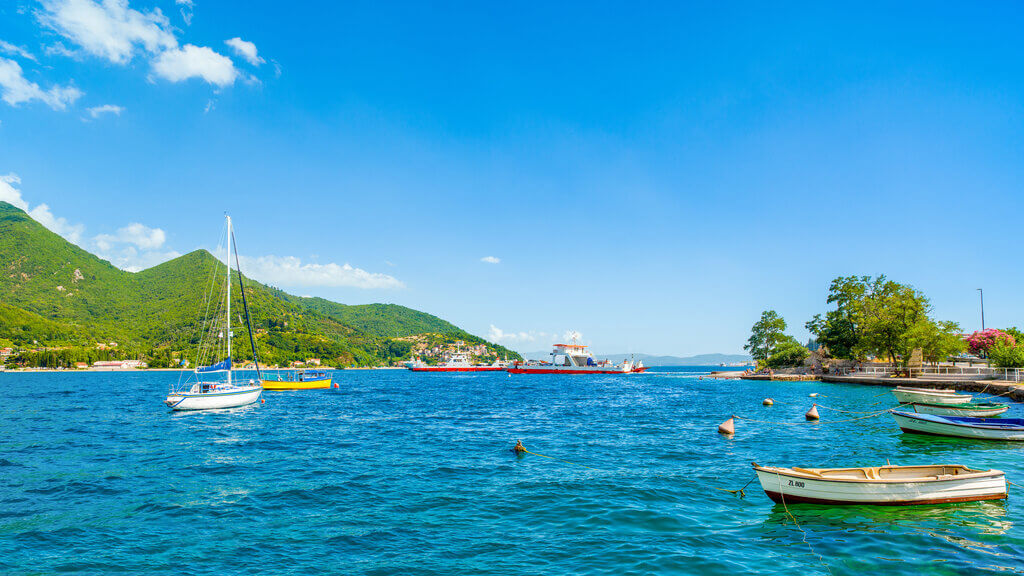 Bay of Kotor Ferry. Image: Deposit Photos
Types of public transport: Buses, trains, ferries and taxis
Buses
The most common form of public transport, buses in Montenegro connect major cities, including from surrounding countries, and tourist destinations. Local buses are also available for shorter distances within cities and fares are usually only €1-2.
You can find Montenegro bus timetables, fares and book your tickets (for intercity travel) online at Busbud and Busticket4.me. You can also buy tickets at any bus station. Just keep in mind that you'll need to:
Print your bus ticket if you book online
Pay a station fee at the bus station (€1 per person)
Pay a fee to put luggage in the hold (€1 per item)
One of the major complaints of tourists using intercity buses is that the drivers often smoke while driving.
Trains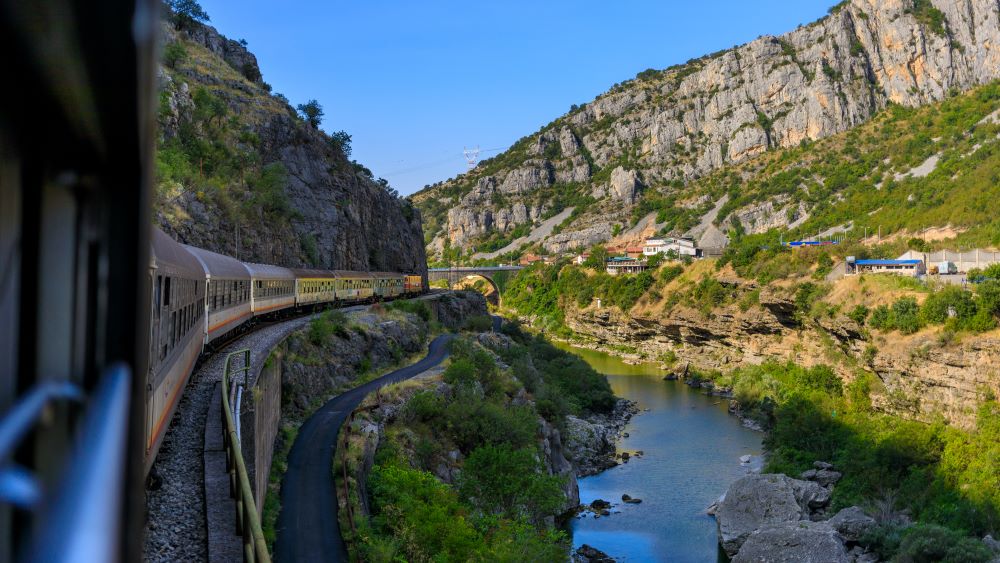 View from the Bar to Belgrade train. Image: Deposit Photos
There are two train lines in Montenegro:
Bar - Podgorica - Belgrade: This line connects the seaside port town of Bar with Podgorica, the capital city and Belgrade, the capital of Serbia. Although it has very basic amenities this is actually one of the most scenic rail journeys in the world. It's definitely a hidden gem if you don't mind no-frills travel.
Podgorica - Nikšić: This route connects the capital with Montenegro's second-biggest city. Neither cities are popular tourist destinations, however Podgorica airport is a popular place to arrive and depart from.
You can only use trains for a very limited number of routes, however at €1.20 - €7.20 a ticket, it's very cheap.
You can find the train schedule and prices on the Želježnicki prevoz Crne Gore website. You can buy tickets at train stations and from the conductor on the train (you'll need cash for this).
Ferries
Montenegro has one ferry, used for crossing the Bay of Kotor. The Kotor Bay ferry offers a convenient and scenic alternative to driving around the bay.
Taxis
Available in all cities and tourist areas, taxis are a more comfortable option of transport. You can hail them on the street or order one by calling the dispatcher. Taxis are in high demand in July and August and sometimes you can expect to wait up to an hour for a taxi.
If you're flying into Montenegro, I recommend booking your transfer online in advance to avoid being scammed by an unmetered taxi at the airport. Kiwitaxi has the most coverage in Montenegro. If you do take a taxi from the airport, make sure you check the pricelist (both Podgorica and Tivat have them on display) and agree on the fare in advance.
Coverage: Cities and Tourist Spots Well-Connected
Major Cities: Cities like Podgorica, Kotor, and Budva are well-served by buses, taxis and sometimes trains.
Tourist Destinations: Popular spots such as Sveti Stefan and Skadar Lake National Park are accessible by bus or taxi, although some may require a transfer.
Frequency and Reliability
Urban Areas: In cities, buses run frequently, usually every 15 to 30 minutes. Taxis are readily available and can be hailed or booked at any time.
Rural Areas: In less populated regions, public transport options like buses and trains can be infrequent, sometimes only running a few times a day.
Reliability: While generally reliable, delays can occur, especially during peak tourist season or due to weather conditions. Taxis are usually a reliable alternative when other options are limited.
Choosing public transport, including taxis, can be a cost-effective and relatively convenient way to explore Montenegro, as long as you are aware of its limitations and plan your travel accordingly.
Pros and Cons of Using Public Transport in Montenegro
Pros
Cost-Effective
Cheaper Than Renting a Car: Public transport fares are generally much lower than the costs associated with renting a car, making it a budget-friendly option for travelers.
Eco-Friendly
Lower Carbon Footprint: Opting for public transport contributes to fewer emissions per passenger, making it a more environmentally responsible choice.
Local Experience
Interact with Locals: Public transport provides an opportunity to mingle with locals, offering a more authentic travel experience.
Different Perspective: Viewing the country through the window of a bus or train can offer scenic vistas and a unique perspective on local life.
Cons
Limited Coverage
Some Areas Not Accessible: Public transport may not reach all tourist attractions or remote areas, limiting your options for exploration.
Time-Consuming
Waiting and Layovers: Public transport often involves waiting times and potentially long layovers for transfers, making it less time-efficient than driving.
Indirect Routes: Buses and trains may not always take the most direct route to your destination, requiring additional travel time.
Less Convenient
Carrying Luggage: Public transport can be cumbersome if you have a lot of luggage, as you'll need to manage it during transfers.
No Personal Space: Buses can get crowded offering less personal space compared to a private car. In the peak months of July and August, buses are usually so full there's standing room only. Sometimes you can't get on at all and have to wait 30 minutes for the next bus.
Cost of Public Transport in Montenegro
Average Cost for Bus, Train, and Ferry Tickets
Bus Tickets: The average cost for a one-way bus ticket ranges from €1 to €10, depending on the distance and the route.
Train Tickets: Train fares are between €1.2 and €15, with the price varying based on the length of the journey.
Ferry Tickets: A one-way ferry ticket across the Bay of Kotor is free for pedestrians and €5 for a car.
Taxi Fares: Taxis in Montenegro start with a base fare of around €0.60 and charge around €0.60 per kilometer.
Payment Methods
Cash: All buses and taxis only accept cash payments, usually requiring exact change.
Credit/Debit Cards: You can pay for the Kotor Bay Ferry with cash or card.
Being aware of the costs and payment options for public transport in Montenegro can help you budget your trip more effectively and make travel planning easier.
Do You Need to Hire a Car in Montenegro?: Comparing Renting a Car vs Using Public Transport
Summary of the Pros and Cons of Each
Renting a Car
Pros: Offers freedom, flexibility, and comfort. Time-efficient for reaching destinations directly.
Cons: Can be expensive due to rental fees, fuel, and parking. Navigational challenges on narrow and mountainous roads.
Using Public Transport
Pros: Cost-effective and eco-friendly. Provides a local experience.
Cons: Limited coverage in remote areas, can be time-consuming, and less convenient when carrying luggage.
When is it Better to Rent a Car in Montenegro?
Exploring Remote Areas: You should rent a car if you plan to explore off-the-beaten-path locations not accessible by public transport.
Budget Travel: Public transport is the better option for travelers on a tight budget.
City Travel: In well-connected cities, public transport can be more convenient and less stressful than finding parking for a rental car.
Short Trips: For short distances or day trips, public transport, including taxis, can be more practical.
Personal Recommendations Based on Different Types of Travel
Solo Travelers: Public transport is generally sufficient and more budget-friendly. Booking group tours like the popular Full-Day Montenegro Tour and Durmitor, Tara and Ostrog Monastery Day Trip are cost-effective ways to see attractions you'd normally need a car to get to.
Family Travel: Renting a car provides the convenience of traveling with children and luggage, making it a more comfortable option.
Adventure Travel: For those looking to explore remote hiking trails or secluded beaches, a rental car offers the freedom to roam. You can also book guided adventure tours in Montenegro which include rafting, hiking, canyoning and more.
Business Travel: A rental car may be more time-efficient for business travelers who have multiple meetings in different locations.
By comparing the pros and cons of renting a car versus using public transport, you can choose the option that best suits your travel needs, whether you're traveling solo, with family, or seeking adventure.
Do You Need to Rent a Car in Montenegro: Frequently Asked Questions
The easiest way to get around Montenegro is with a car. The public transport network is limited and can be overloaded and unreliable. Hiring a car for your stay makes your stay more comfortable, gives you much more flexibility and allows you to see much more than you can with public transport.
Yes, you can travel around Montenegro without a car. All Montenegrin cities are connected with a network of buses. However, if you want to see tourist attractions not covered by the bus network, you'll have to pay for tours. In that case, it's often cheaper to hire a car, even for a day.
Uber is not available in Montenegro. However, there are local taxi services that offer similar convenience and can be hailed on the street or booked in advance through mobile apps or by phone. These services are generally reliable.
Taxis in Montenegro are generally affordable compared to Western European standards. The average cost for a short ride within a city can range from €3 to €7, depending on the distance and location. Longer trips between cities will cost more but are still considered to be reasonably priced. Various payment methods, including cash and cards, are usually accepted.
Public transport in Montenegro is not available 24/7. Buses and trains typically operate from early morning until late evening, with reduced frequency on weekends and holidays. Taxis are the most reliable form of transport for late-night or early-morning travel, as they are generally available at all hours.
The best rental car rental company in Montenegro is Localrent. Localrent aggregates hundreds of cars from local agencies to bring you a range of quality cars at up to 25% cheaper prices than international brands. If you prefer international brands like Avis and Sixt, you can browse their cars at Discover Cars.
Peak seasons for car rentals in Montenegro are during the summer months, from June to September. During this time, prices increase significantly, and availability may be limited. I advise booking well in advance to secure a vehicle at a reasonable rate.
Driving in Montenegro is on the right side of the road, and seat belts are mandatory for all passengers. The legal blood alcohol limit is 0.03%. Speed limits vary but are generally 50 km/h in cities and up to 80 km/h on highways. Always carry your driver's license, passport, and car documents when driving.
An International Driving Permit (IDP) is not required if your driver's license is written in the roman alphabet. If your license is in any other alphabet you'll need and IDP or certified translation.
Montenegro has a limited number of toll roads, mainly tunnels and bridges. Tolls are usually paid in cash at the toll booth, and the fees range from €1 to €5 depending on the road. Always carry some cash for this purpose.
The quality of roads in Montenegro varies. Major highways and roads in tourist areas are generally well-maintained, but rural and mountainous areas may have narrow, winding roads that require cautious driving
Parking in major cities and tourist spots can be challenging, especially during peak season. Most cities have paid parking zones, and some hotels offer free parking. I recommend booking accommodation with parking if you plan to hire a car.
In case of a breakdown or accident, call the emergency number 112. Also, contact your rental company for assistance. It's advisable to have a basic first aid kit and reflective triangle in the car for emergencies.
The drive along the Bay of Kotor and the route from Kotor to Lovćen National Park offer stunning scenic views. The Adriatic Highway along the coast from Budva to Sveti Stefan is another must-do for its breathtaking vistas. The Durmitor Ring offers stunning mountain scenery.
Crossing borders with a rental car usually requires prior approval from the rental company and may incur additional fees. Always check the company's cross-border policy and ensure you have the necessary documents.
Yes, some rental companies in Montenegro offer electric or hybrid cars, although availability may be limited. These options are generally more expensive than traditional fuel cars but offer an eco-friendly alternative. There are very few charging stations in Montenegro, making electric cars impractical.
Conclusion: Making the Right Choice for Your Montenegro Adventure
Deciding whether to rent a car or use public transport in Montenegro comes down to your travel needs, budget, and the kind of experience you're looking for. 
Renting a car offers freedom and flexibility but comes at a higher cost and responsibility. On the other hand, public transport is cost-effective and eco-friendly but may limit your ability to explore less accessible areas. 
Each option has its pros and cons, and the best choice will depend on your individual circumstances.
If you've decided to rent a car in Montenegro, I recommend checking Localrent first for the best car hire deals and impeccable service. Localrent works with local car rental companies to bring you a huge range of cars at up to 25% cheaper prices.
Wondering where you can go and what you can see with a rental car in Montenegro? I have a customizable Montenegro road trip itinerary that you can download and use for free.
Safe travels and enjoy your time in Montenegro!
Book Your Trip With My Recommended Providers
Do You Need a Car in Montenegro