Montenegro Pulse contains affiliate links and is a member of the Amazon Services LLC Associates Program. If you make a purchase using one of these links, I may receive compensation at no extra cost to you. See my disclaimer for more information.

Best Sveti Stefan Beaches and Things to Do in Sveti Stefan (2023)
Sveti Stefan is one of the most beautiful places in all of Montenegro and I highly recommend visiting Sveti Stefan Beach during your stay in Montenegro. 
Like something from a fairy tale, it's an unforgettable experience all year round.

There are four incredible beaches in the Sveti Stefan area to choose from: Sveti Stefan Beach, Miločer Beach, Queen's Beach, and Pržno Beach.

Read on to find out about these beautiful beaches, other things to do in the area, the best places to take pictures, and much more about Sveti Stefan, Montenegro!

"It's just as if I have returned to town from the most beautiful fairy tale of my childhood" - Sofia Loren
Best Sveti Stefan Beaches
1. Sveti Stefan Beach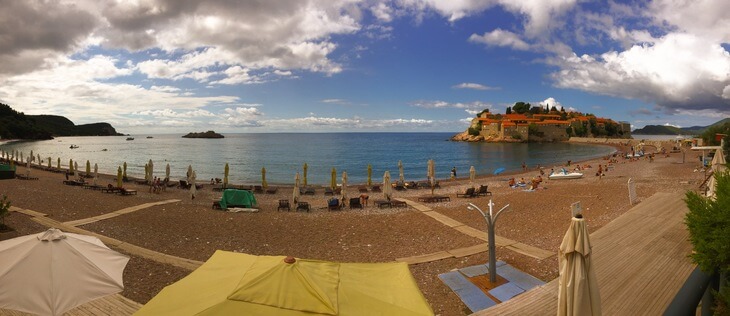 Sveti Stefan Beach - free public beach
When you visit Sveti Stefan Beach, you'll immediately notice its unique pink sand and pebble shoreline. The contrasting turquoise sea is crystal clear.
This picturesque setting offers a stunning view of the iconic Sveti Stefan Island, a sight that captures the essence of Montenegro's coastal beauty. 
The beach is divided into two distinct areas. On the left side of the islet, you'll find Sveti Stefan public beach. Here, you can choose to rent loungers and umbrellas for €30 per pair. 
However, if you prefer a more budget-friendly option, there's also free space available on Sveti Stefan free beach where you can lay your towel and enjoy the same stunning views for free.
On the right side, Sveti Stefan beach access was reserved for guests of the Aman Sveti Stefan and loungers. With Aman Sveti Stefan's luxury resort now closed indefinitely, you can use both sides of the beach.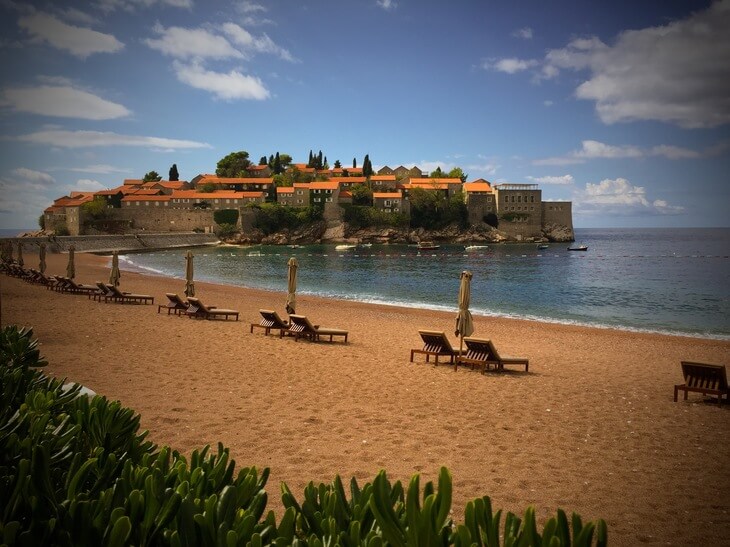 Right side of Sveti Stefan Beach with Aman Sveti Stefan loungers
2. Miločer Beach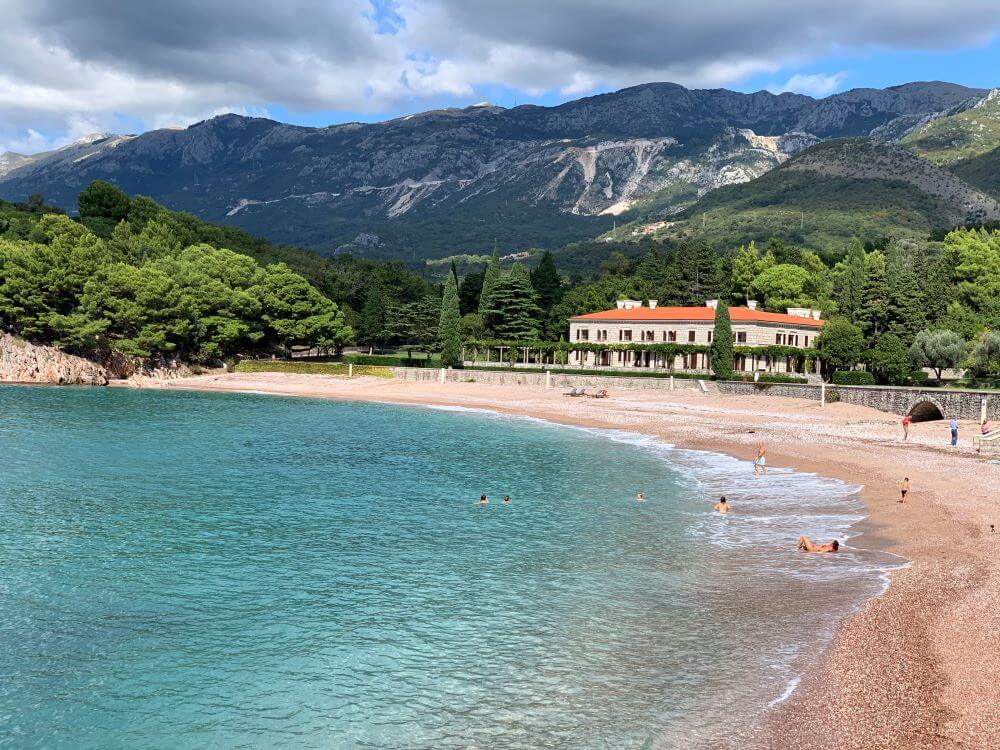 Miločer Beach
A 10-minute walk through the Miločer Forest Park from Sveti Stefan Beach leads you to Miločer Beach.
Like Sveti Stefan Beach, Miločer Beach is made of a mix of sand and pebbles. The 380-meter-long beach forms a sheltered cove, surrounded by a forest.
Behind the beach, you'll find Villa Miločer. Once the royal summer residence of Queen Marija Karađorđević in the 19th century, this elegant villa is now part of the Aman Sveti Stefan resort.
Miločer Beach is a public beach and free for anyone to use. However, you can't rent loungers and umbrellas here.
3. Queen's Beach
A once-exclusive area previously reserved for guests of the Aman Sveti Stefan Hotel, Queen's Beach is now open to the public.
Named Queen's Beach because it was the favorite of Queen Marija Karađorđević, this beach is one of the most beautiful in Montenegro. 
The 120-meter-long sand and pebble beach sits in a sheltered cove that is surrounded by cypress and olive trees, creating a serene and almost private atmosphere.
4. Pržno Beach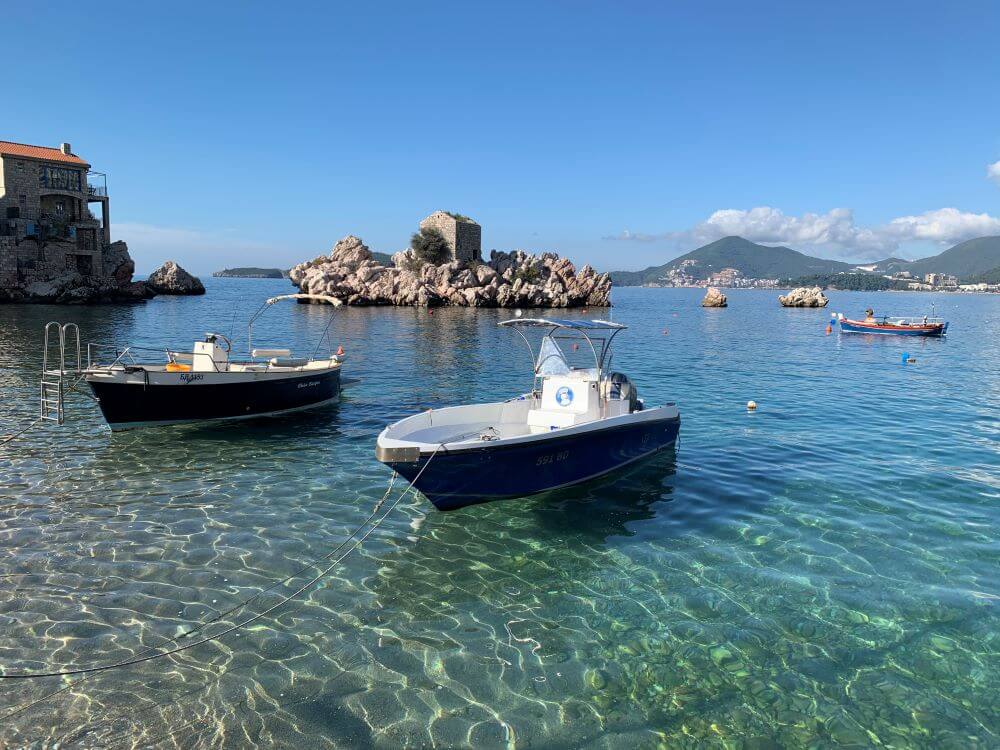 Pržno Beach, Montenegro
Pržno Beach is another picturesque beach just a 15-minute walk through Miločer Forest Park from Sveti Stefan.
This idyllic sandy beach is nestled in a quaint and picturesque village with wooden fishing boats bobbing along the shore and a tiny island lying 50m from the beach. It offers a perfect blend of natural beauty and local charm.
In Pržno, you'll find several excellent restaurants that add to the beach's appeal. Blanche is renowned for its upmarket traditional seafood in a stunning seaside setting. Langust offers a traditional and authentic experience overlooking Pržno Beach.
This beach can get quite crowded in the peak months of July and August because it's so pretty and the Maestral Resort and Casino reserves a large part of it for their guests. Arrive early to secure a spot on this idyllic beach!
More Things to Do in Sveti Stefan
Miločer Forest Park
Miločer's Botanical Garden is another of the area's attractions. Spanning 18 hectares, this expansive garden is a beautiful place for a walk. Within the park, you'll find an array of plants that were carefully brought to Montenegro from various Asian and African countries.
As you wander through the garden, you'll find mimosas, magnolias, and many old olives. The garden also boasts an impressive collection of agaves and cacti.
Watch the Sunset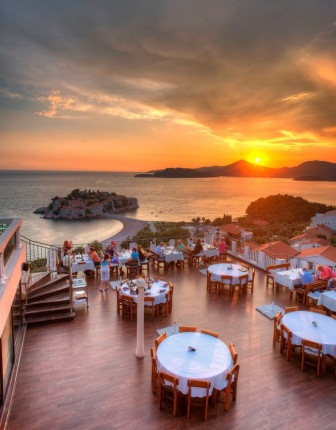 Sunset view from Hotel Adrovic
The Budva Riviera is famous for its stunning sunsets over the Adriatic Sea, and Sveti Stefan is a magical place to watch the sunset.
Position yourself on the public beach to the left side of the island to get fantastic views of the sun dipping behind the island.
Or enjoy it from one of the restaurants in the area. At Sveti Stefan Beach, visit Olive, where you can enjoy fish and meat dishes while overlooking the picturesque island. 
Alternatively, choose Hotel Adrovic for its outdoor terrace. Here, you'll have elevated views of Sveti Stefan with the sun setting on the horizon. 
If you're near Pržno Beach, Blanche offers upscale dining beside the sea and magical sunset views.
Sveti Stefan with Kids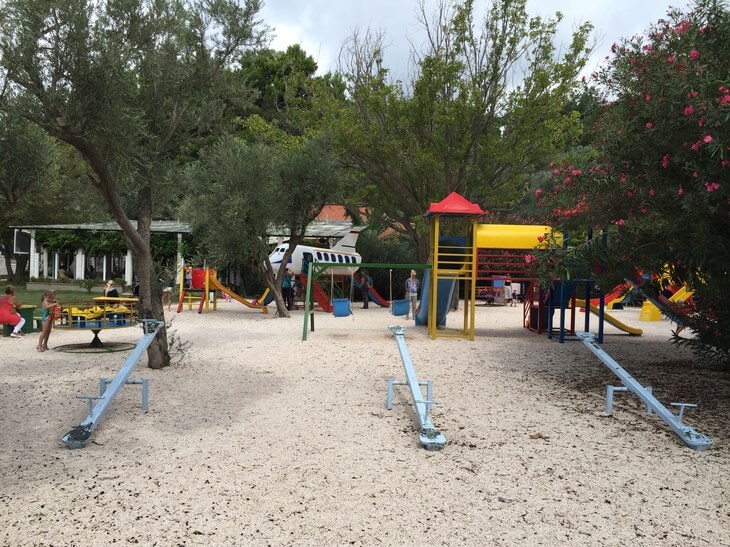 Sveti Stefan is a great place to spend the day if you've got kids. Aside from the beach, there's a good playground next to Olive restaurant.
There are also public toilets next to the playground, which is handy for little ones.
With the beach, playground, forest walk and restaurants, you've got everything you need in a small area to have a fun day out with your family.
Best Sveti Stefan View Points
Here are the best Sveti Stefan viewpoints and places to take pictures of Sveti Stefan.
Sveti Stefan Great View
Sveti Stefan Great View (so named on Google Maps) is a spot where you can pull over on the side of the road and get a clear view of Sveti Stefan from above.
Sveti Stefan Great View viewpoint
Hotel Adrovic
Hotel Adrovic offers elevated views of Sveti Stefan and the Adriatic Sea from their outdoor terrace. This is a great place for a meal with stunning views.
St Sava Church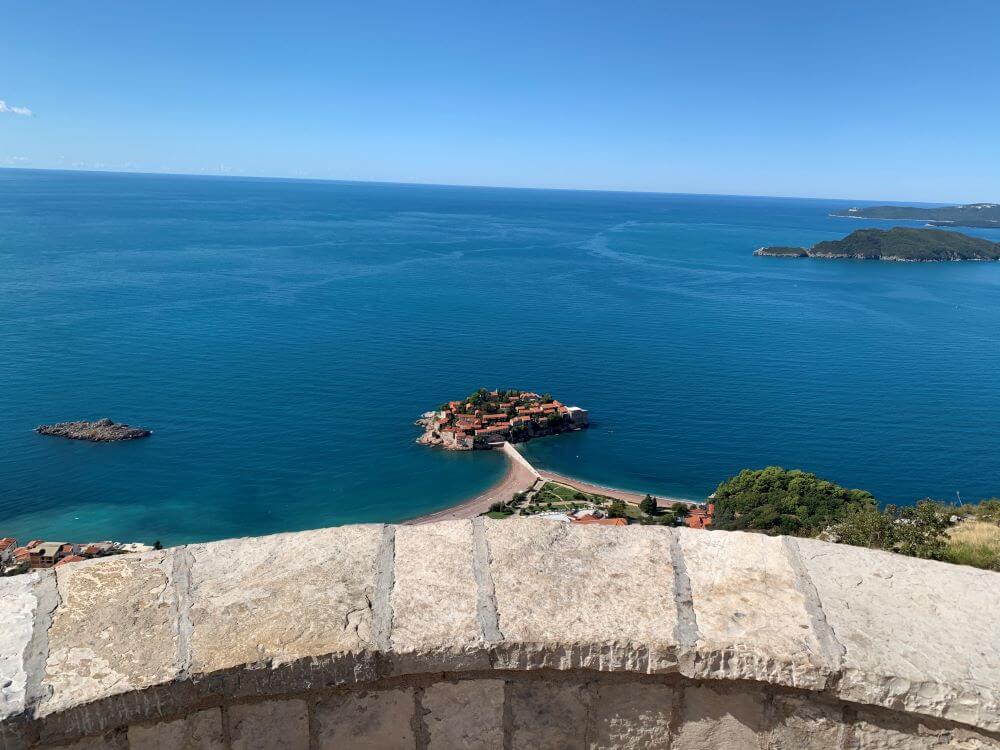 Sveti Stefan view from St Sava Church
St Sava Church is a secret spot above the road that gives you panoramic views of Sveti Stefan and the Adriatic Sea.
To get there, take the turning for Blizikuće and follow the road through the village of Blizikuće. Then follow the signs for Crkva Sv. Sava.
Best Accommodation in Sveti Stefan in Montenegro
Luxury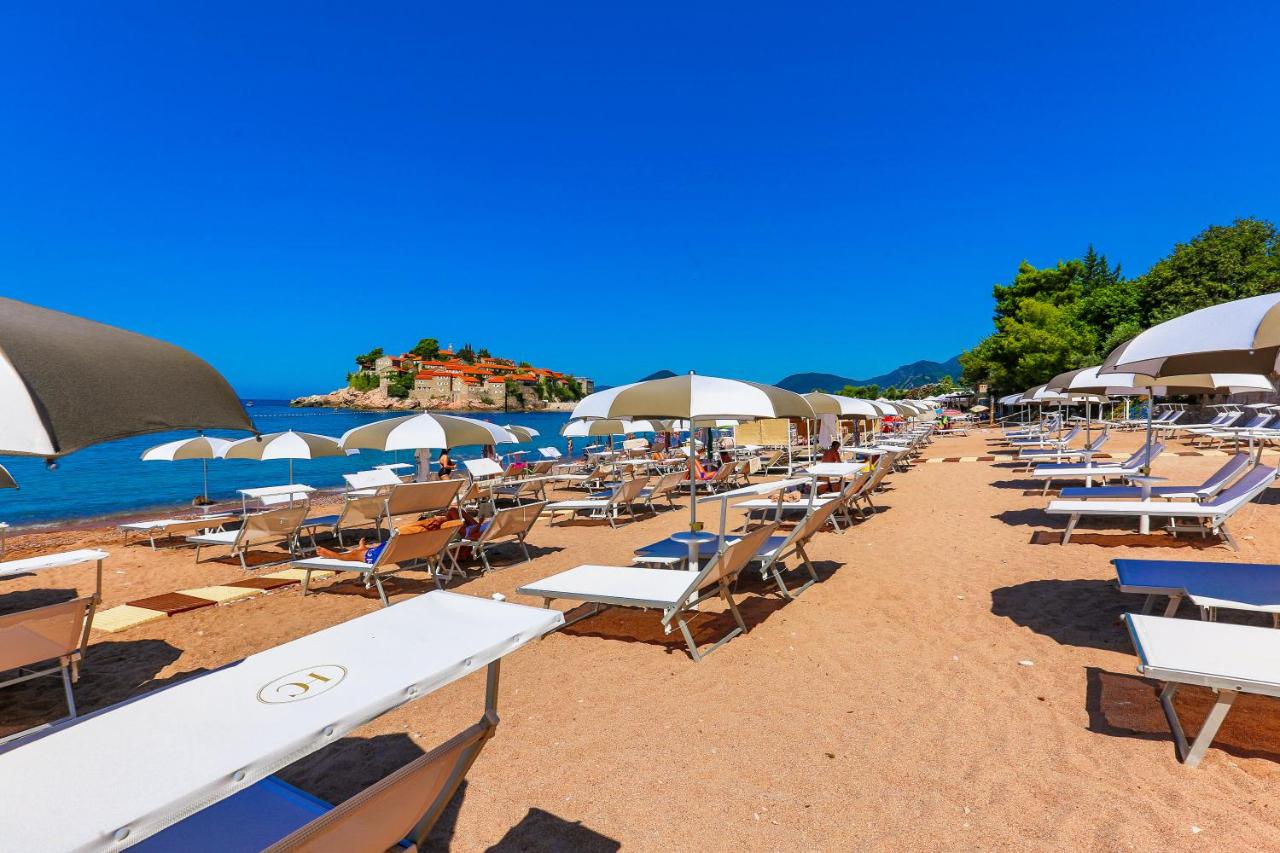 RATING: 9.1/10 | LOCATION: Sveti Stefan | BOOK NOW
Hotel California in Sveti Stefan is a unique, luxurious 5-star beachfront experience. This hotel offers affordable yet top-notch services for a n unforgettable beachside stay.
Choose from apartments, twin, or double rooms, some with stunning views of the beach, Sveti Stefan island, and the Adriatic Sea. Enjoy the convenience of being just steps away from the world-famous Sveti Stefan beach, with a private beach area exclusively for hotel guests, complete with complimentary beach accessories.
The rooms at Hotel California are designed with meticulous attention to detail, featuring a modern yet sophisticated style that harmonizes with the natural surroundings, ensuring a tranquil and comfortable stay.
The hotel's restaurant, California, offers both indoor and terrace seating, with a menu that includes international and regional Adriatic dishes. Enjoy a buffet breakfast and à la carte lunch and dinner, complemented by a wide selection of local and Mediterranean wines.
This is the ultimate Sveti Stefan beach resort!
"There can not be a better location to stay at Sveti Stefan. You can enjoy the beach with the background of the island in the background." - Tanya, UK 
Mid-Range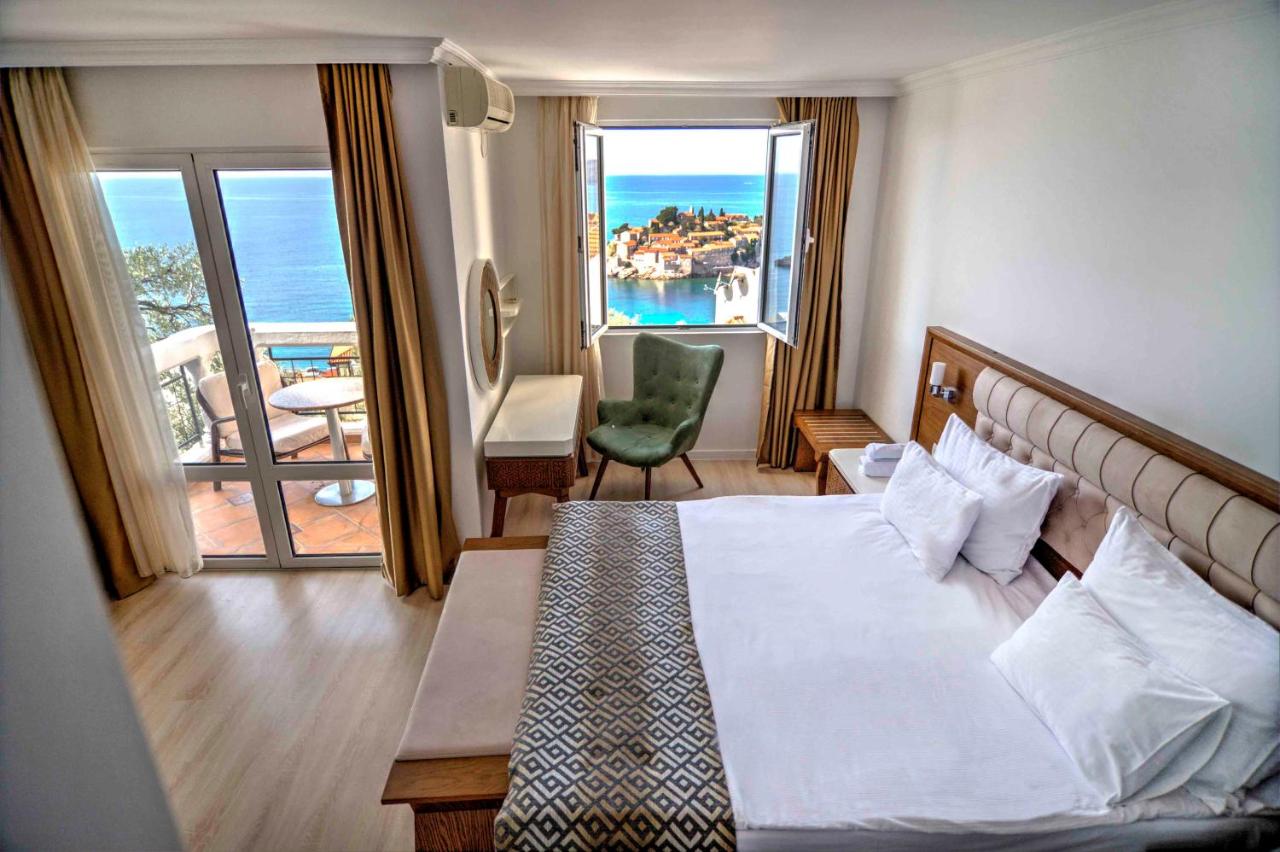 RATING: 7.9/10 | LOCATION: Sveti Stefan | BOOK NOW
At Hotel Adrovic, just a three-minute walk from the beach and overlooking the stunning Sveti Stefan islet, you'll find a blend of elegance and comfort.
The hotel, situated in a peaceful neighborhood, offers elegantly decorated accommodations that ensure a restful night's sleep with excellent facilities and services. You also have the convenience of free parking.
The hotel fhasspacious apartments, recently updated with unique furniture, each boasting a large terrace. You can choose from various apartment types, some offering views of Sveti Stefan island, others overlooking the Mediterranean garden.
One of the highlights of Hotel Adrovic is its restaurant, which provides outstanding elevated views of Sveti Stefan. It's an ideal spot to watch the sunset behind the island.
The restaurant serves a variety of delicious Montenegrin cuisine, including homemade specialties, alongside a wide selection of international dishes. Whether you prefer seafood, local, Mediterranean, or vegetarian options, there's something to satisfy everyone.
"Huge room and absolutely spotless. The view is absolutely incredible! The restaurant was lovely, including the breakfast. The staff were also lovely and helpful - can definitely recommend if you're staying in the area." - Lynne, UK
Budget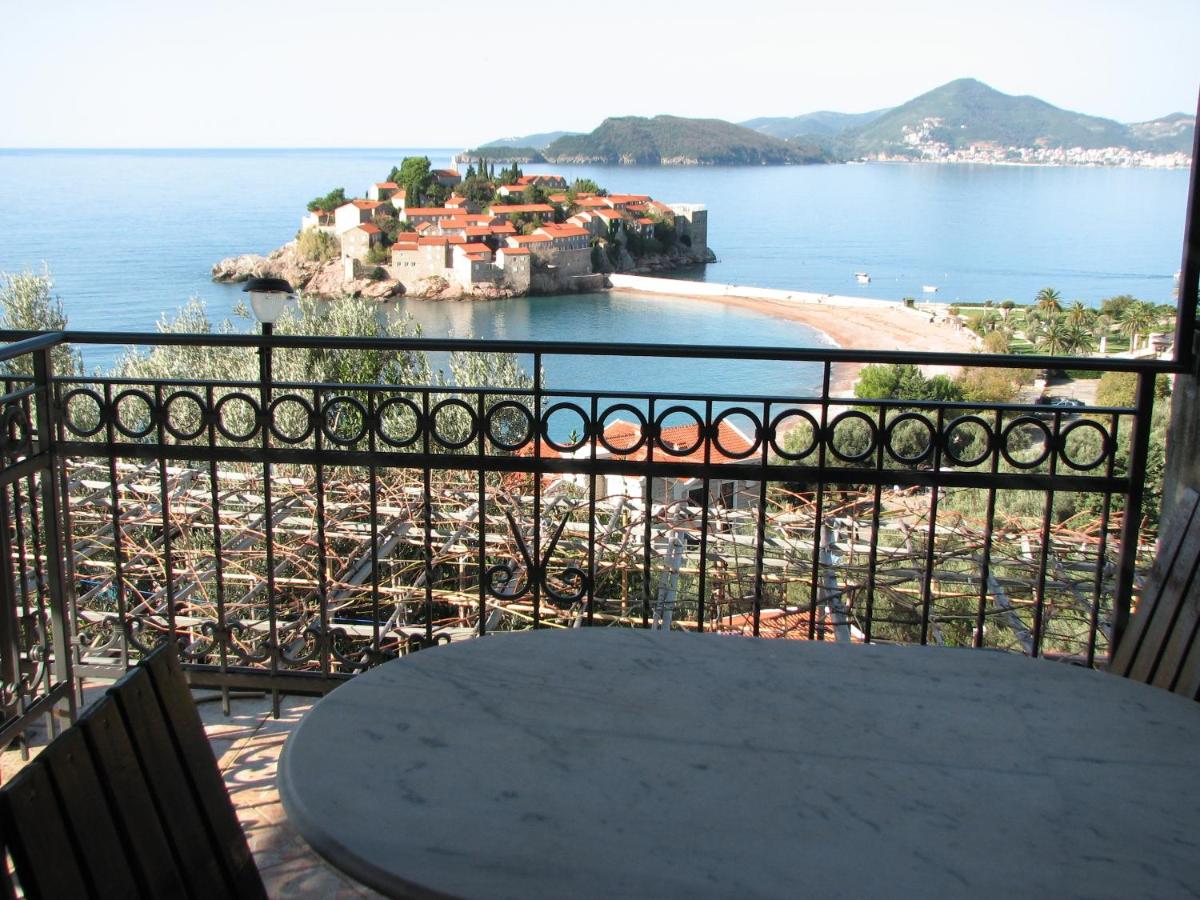 RATING: 9.3/10 | LOCATION: Sveti Stefan | BOOK NOW
At Guest House Ivo Jovanovic in Sveti Stefan, a cozy 2-star accommodation, you're just a 10-minute stroll from Milocer Beach and have access to WiFi throughout the property. 
This guest house is conveniently located, with a 10-minute drive to the Layered Rocks of Rafailovici and a 5-minute walk to the center of Sveti Stefan. Budva's Old Town is also just a 15-minute drive away.
The rooms at Guest House Ivo Jovanovic are well-equipped for a comfortable stay. They come with air conditioning, ironing facilities, and self-catering options like coffee and tea-making equipment. For added comfort, the rooms have private bathrooms, along with bath towels. Some rooms even offer a beautiful view of the sea.
For dining, the seafood restaurant DRAGO Restaurant is conveniently located just a 5-minute stroll from the hotel, offering a chance to enjoy local flavors.
If you're looking for a budget-friendly stay in this incredible location, Guest House Ivo Jovanovic is a top choice.
>> More accommodation in Sveti Stefan
Sveti Stefan Restaurants
Dining here doesn't need to be expensive, despite the address. There are great restaurants at every price point.
Adrovic Restaurant
Adrovic Restaurant at Hotel Adrovic is a great place to eat here. They have a terrace with stunning views over the sea and island. The Budva Riviera has amazing sunsets and this is the perfect place to watch from.
Take your darling here for dinner if you want to impress!
Address: Jadranski Put bb, Sv. Stefan.
Phone: +382 (0)33 468 507
Olive
Greek Mediterranean cuisine right next to the island. Prices here are a little higher than elsewhere. 
Address: Sv. Stefan bb.
Phone: +382 069 187 988
Hours: 9am – midnight  every day.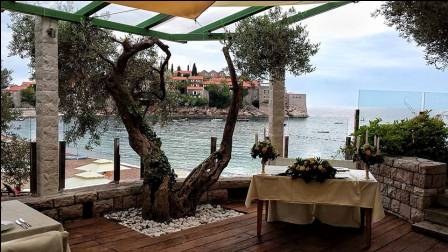 Femelja Kentera
Well priced local cuisine in a homey atmosphere. The menu is priced from €5 - €25. This is a great place to enjoy the famous view view without the price tag.
Address: Slobode 24, Sv. Stefan.
Phone: + 382 69 231 922
Hours: 8am – midnight every day.
Drago
Traditional Montenegrin cuisine like calamari, octopus and Balkan sausages at reasonable prices. Along with Femelja Kentera, this is one of the best value places to eat here.
Address: Slobode 32, Sv. Stefan.
Phone: +382 33 468 477
About Sveti Stefan Island
Sveti Stefan Islet dates back to the 15th century, when the Ottoman Turks aimed to conquer the Adriatic Sea and attacked Kotor. People from the Budva Riviera came to help and they repelled the Turks and seized their ships and treasure.
With the spoils of this victory, the locals decided to construct a fortified town on the islet of Sveti Stefan. They built a house for each of the 12 local tribes and, importantly, a church dedicated to St. Stephan, who was revered as the town's protector. Over time, this town evolved into a hub of trade and administration.
However, by 1954, the islet's population had dwindled to just 20 residents. Recognizing its potential, the government transformed the islet and it reopened in 1960 as a hotel. 
It quickly gained fame, attracting celebrities like Sophia Loren, Doris Day, and Princess Margaret. Despite a period of decline during the breakup of Yugoslavia, the islet saw a resurgence in 2007 when Aman Resorts took over its lease.
Sveti Stefan was a beautifully renovated, exclusive hotel under Aman Resorts. With 58 rooms and apartments, it offered a luxurious experience starting at €800 per night.
However, in 2020, the COVID-19 pandemic led to the closure of Aman Sveti Stefan, and since then, it has not reopened. This closure has left the islet closed to visitors, but you can walk across the isthmus that connects it to the mainland.
Although Sveti Stefan's future is uncertain, the benefit of its closure is that all the beaches in the hamlet of Sveti Stefan are now open to the public and free to use.
Getting to Sveti Stefan
Tours To Sveti Stefan
Say Hello to Budva - this half-day private tour takes you to explore Sveti Stefan, Budva and Kotor.
Driving to Sveti Stefan
Sveti Stefan is a 15-minute drive from Budva. The drive along the coastline offers stunning sea views.
When you get to Sveti Stefan you'll find convenient parking both on the road leading down to the beach and in the parking lot beside the beach.
Taxi to Sveti Stefan
Taxis are readily available in Budva and offer a hassle-free way to get there. They're a bit more expensive than buses but provide the comfort of a direct route. Just ask your driver to drop you off at Sveti Stefan Beach.
Bus to Sveti Stefan
For a budget-friendly option, take the local bus service from Budva. Buses run frequently, cost €2 each way, and drop you within a short walking distance of Sveti Stefan. 
Walking to Sveti Stefan
There is a picturesque walk along the seaside promenade to Sveti Stefan Beach from Budva. It's a 10-kilometer (6-mile) walk, but the scenery along the way makes it worthwhile.
Remember to wear comfortable shoes and carry water, especially during the warmer months.
Frequently Asked Questions About Sveti Stefan Beach
Yes, you can swim in Sveti Stefan. The beaches around the islet offer clear, inviting waters and there are four fantastic beaches in the area.
Absolutely, visiting Sveti Stefan is worth it. Its unique blend of historical charm, stunning architecture, and beautiful beaches make it a must-see destination on the Montenegrin coast.
Access to Sveti Stefan island is restricted as it's part of a luxury resort. However, you can walk up to the entrance and enjoy the view from the connecting isthmus.
Sveti Stefan is closed to the general public because it is part of the exclusive luxury resort Aman Sveti Stefan. The resort closed in 2020 due to covid and has not reopened.
The island of Sveti Stefan itself is not open to the public. However, the surrounding beaches and viewpoints are accessible to everyone.
Sveti Stefan is famous for its distinctive, picturesque appearance, historical significance, and its transformation from a fishing village into a luxury resort, attracting celebrities and tourists worldwide.
Sveti Stefan is famous for its distinctive, picturesque appearance, historical significance, and its transformation from a fishing village into a luxury resort, attracting celebrities and tourists worldwide.
Sveti Stefan is known for its unique history, stunning architecture, beautiful beaches, and status as a luxury resort.

Its iconic image, with red-roofed buildings against the backdrop of the Adriatic, makes it a symbol of Montenegro's coastal beauty.
The cost of sunbeds in Sveti Stefan varies. On the public beach, a pair of loungers and an umbrella cost €15-30.
Currently, the luxury resort of Aman Sveti Stefan is closed, so no one can stay on Sveti Stefan island. However, there are other hotels and accommodation options in the hamlet of Sveti Stefan which overlooks the island.
Currently, Sveti Stefan does not have a permanent residential population. It functioned primarily as a luxury resort, but that is currently closed.
More Articles About Sveti Stefan
Book Your Trip With My Recommended Providers
Sveti Stefan Beach Travel Guide