Montenegro Pulse contains affiliate links and is a member of the Amazon Services LLC Associates Program. If you make a purchase using one of these links, I may receive compensation at no extra cost to you. See my disclaimer for more information.

Sveti Stefan Hotels with Guaranteed Views of the Island
Because Sveti Stefan hotels are so in demand, you'd think there'd be lots of them to choose from.
Au contraire.
There are surprisingly few hotels in Sveti Stefan hamlet, although there are plenty of places to stay and you can find the best of them here.
Part of the allure of staying in Sveti Stefan is that one-in-a-million view. So you want to make sure you pick a hotel where you'll definitely have a view of the famous island.
This is where you have to be careful.
Knowing that the area is so sought after, some hotels have listed themselves as being in Sveti Stefan, but they don't actually have views of the island and they might technically be in neighbouring hamlets like Przno. And if you've never been here, it's hard to tell where you'll be able to see the island from and where you won't.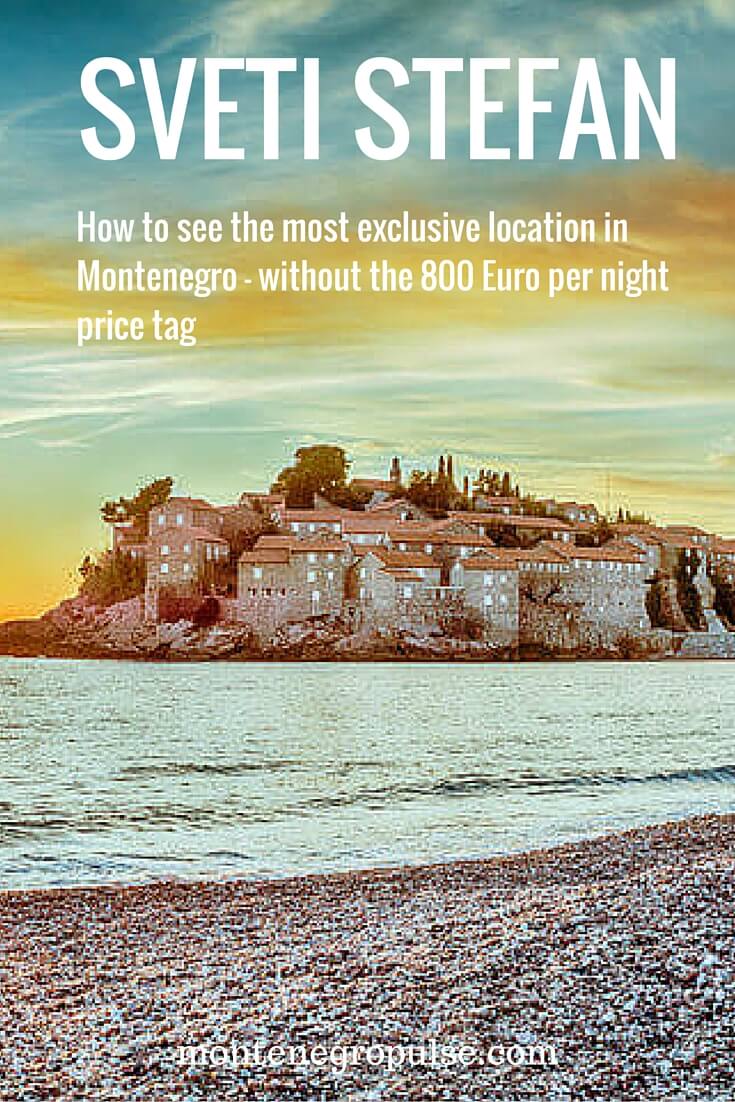 With that in mind, we've put together a list of Sveti Stefan hotels where you'll definitely be able to see the island. 

Some other things you'll want to consider when choosing a hotel here:
Parking - if you've got a rental car, a hotel with private parking will make your life much easier. Sveti Stefan's streets are narrow and steep and it's hard to find parking.
It's steep - the walk down to (and back up from) the beach is likely to be quite steep, even if it's not far. If this is in any way an issue for you, choose another location. 
Restaurants can be more expensive here than elsewhere on the coast.
There are also some great reasons to stay in Sveti Stefan:
There's a good playground down in the centre, that's good for little kids.
Milocer Park is a beautiful place to walk around
You'll be the envy of all your friends on Facebook!
It's a short drive to anywhere on the Budva Riviera as well as other destinations like Lake Skadar, the Bay of Kotor, Bar and Ulcinj
So let's check out these Sveti Stefan hotels where you're guaranteed views of this famous Montenegrin landmark…
Villa Montenegro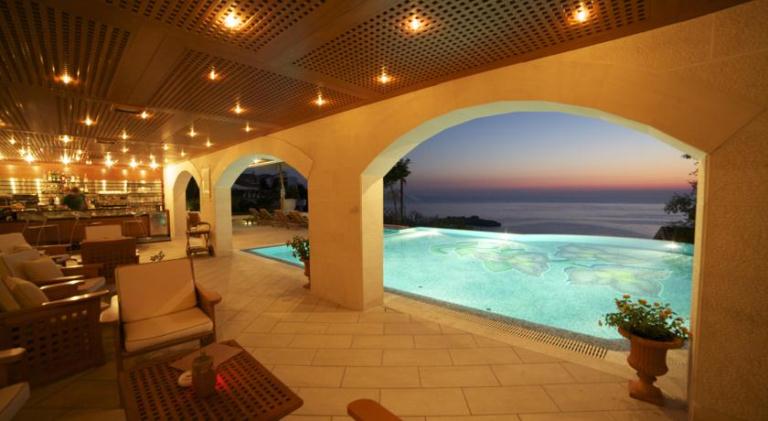 Villa Montenegro the nicest hotel in Sveti Stefan next to the Aman Resort. 
It's on the hill overlooking the islet and views that you can enjoy from your room, the hotel pool or terrace. 
Although it's rated as a 5 star hotel, it's really a 4+ rather than a true 5 star hotel. Still, people here love the location, service and food.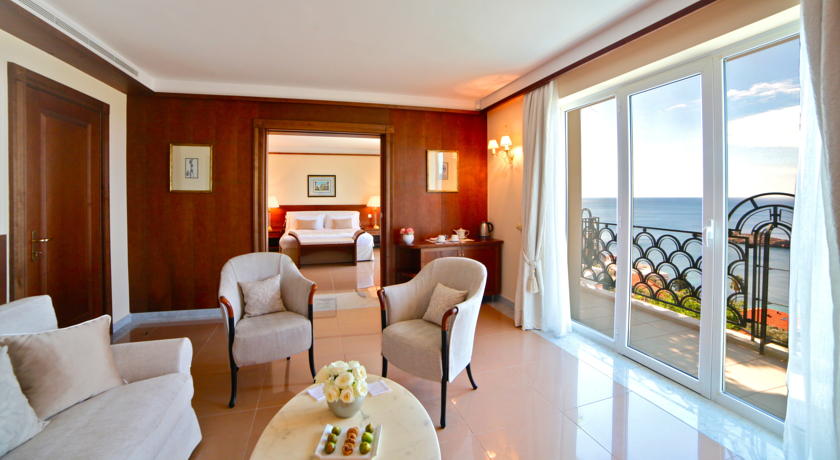 Hotel Azimut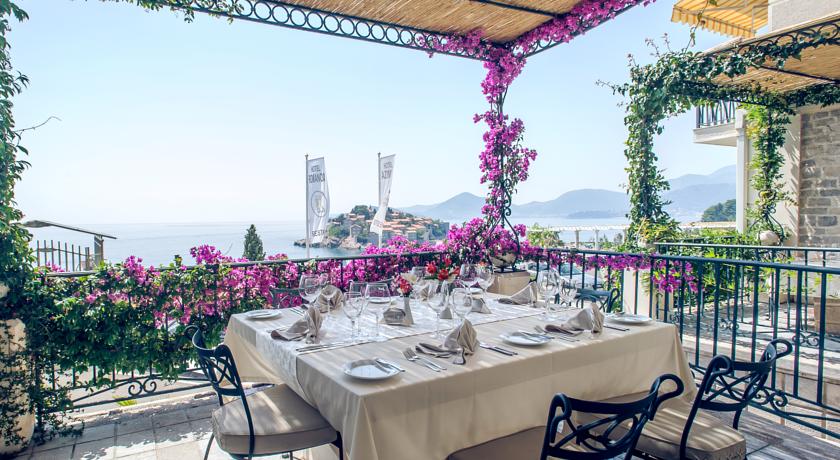 Hotel Azimut is a picturesque 4 star Sveti Stefan hotel. The stone facade and vine-covered terraces complete the million-dollar views over the 15th century islet. 
Here, you'll have views of the island and it's only a couple of minutes' walk to the beach. 
The indoor pool and wellness centre make this an excellent hotel all year round.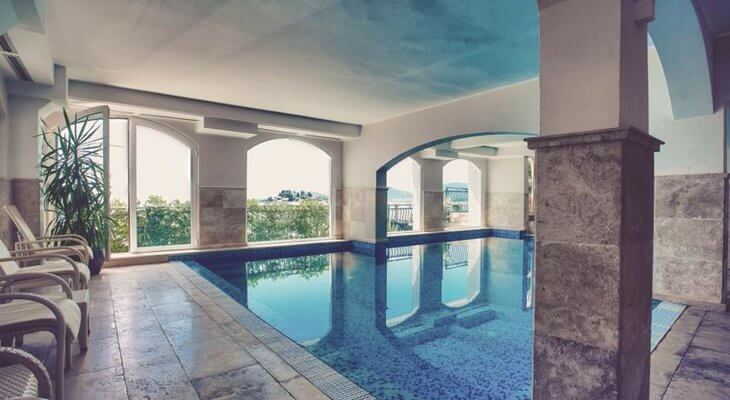 Hotel Azimut's pool has a view over Sveti Stefan island and hamlet
Use the Deals Finder to Find the Top Deals in Sveti Stefan
Hotel Romanov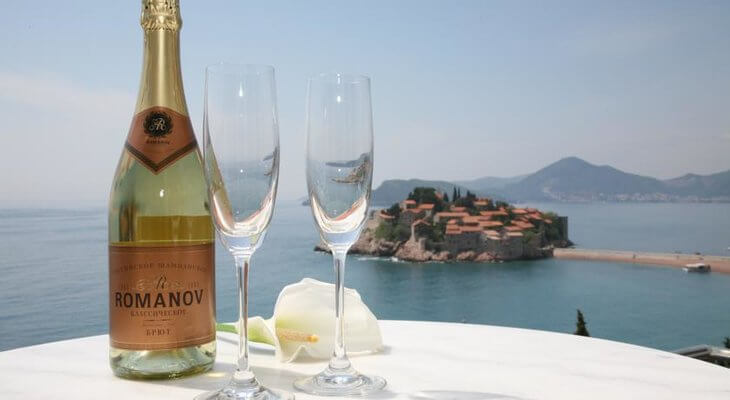 Hotel Romanov is Hotel Azimut's sister hotel and is a good option if you're looking for a cheaper option.
They're next door to each other and Hotel Romanov guests can use Azimut's pool and wellness centre. It's also very close to the beach for a fraction of the price.
The hotel also has a kids' play room, making it a good choice for families.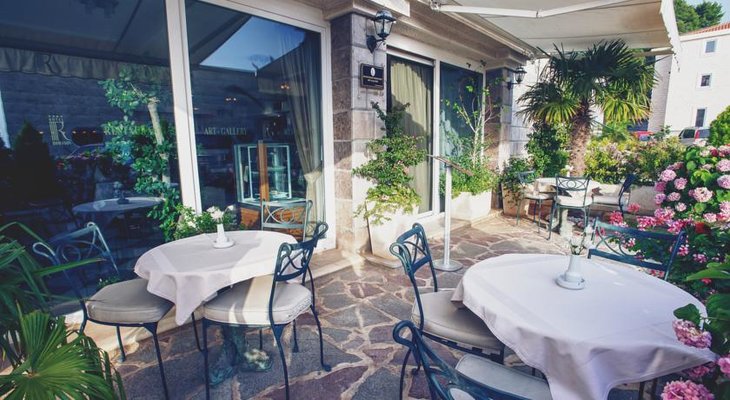 Hotel Adrovic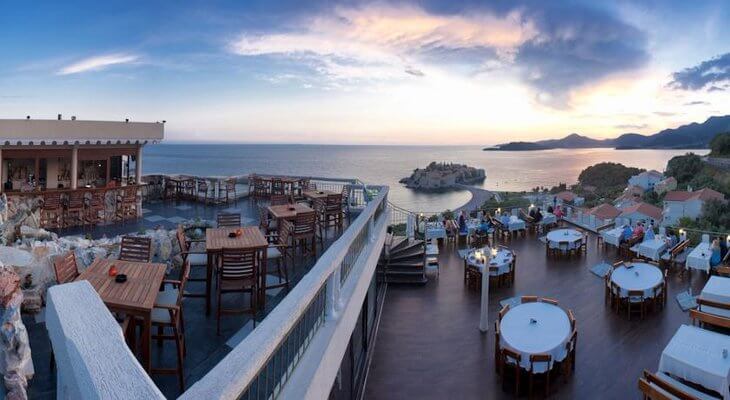 Hotel Adrovic is ideally perched on the hill above Sveti Stefan. From here, you get stunning 180 degree views of the hamlet and its famous island.
This is an apart-hotel, so they have self-catering rooms and apartments which are great for families.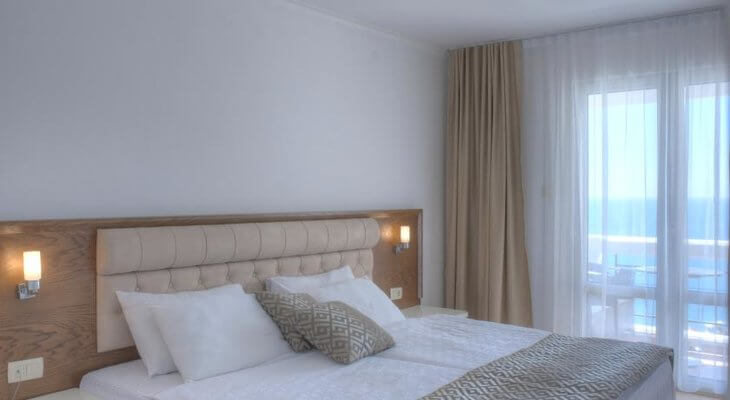 Still looking?
Not found that dream hotel in Sveti Stefan you're looking for?
Not to worry, there are plenty more places to stay in Sveti Stefan. Click here to see our top recommendations or use the search box below to see all accommodation in Sveti Stefan. I know you'll find just the place!
Liked this article? you can pin it!
More Articles like Sveti Stefan Hotels
Sveti Stefan Hotel
Book Your Trip With My Recommended Providers