Montenegro Pulse contains affiliate links and is a member of the Amazon Services LLC Associates Program. If you make a purchase using one of these links, I may receive compensation at no extra cost to you. See my disclaimer for more information.

Best Budva Restaurants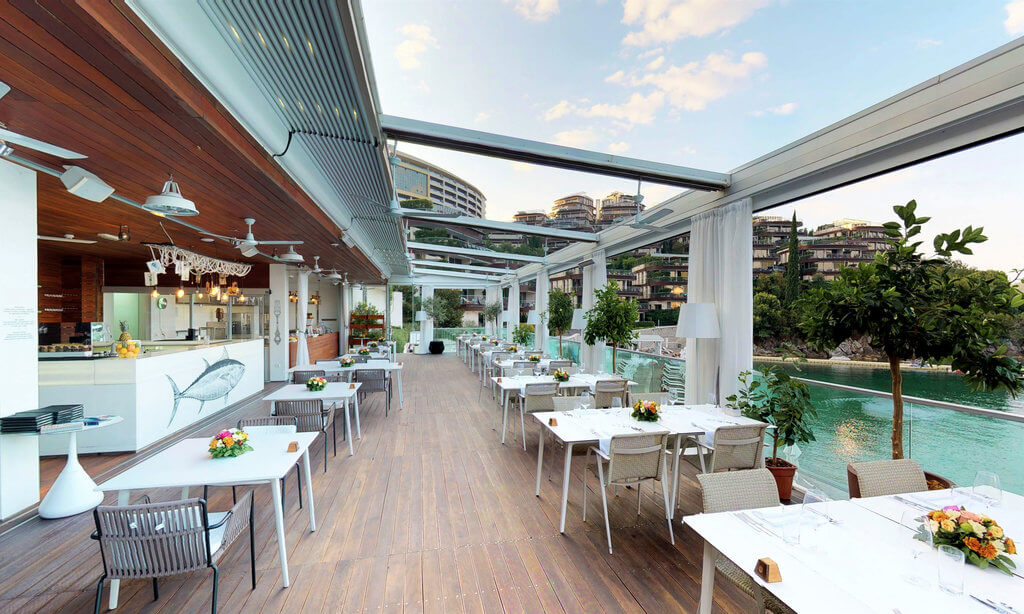 Dukley Beach Lounge
From the simple and casual to sophisticated, we lay out the best Budva restaurants for you here.
Being the bustling hub of Montenegrin tourism that it is, Budva is not short of eateries. Like Budva itself, you have a wide range of choices from the busy and happening to the quiet and sophisticated. You can choose places that are in the thick of the action with a busy, resort atmosphere. You can also choose quiet family-run seaside restaurants for candlelit dinners for that special occasion.
Dukley Beach Lounge
Dukley Beach Lounge offers fine dining in a casual seaside setting. The food here is absolutely impeccable and the restaurant is open for breakfast, lunch and dinner. 
Konoba Mediteraneo - Petrovac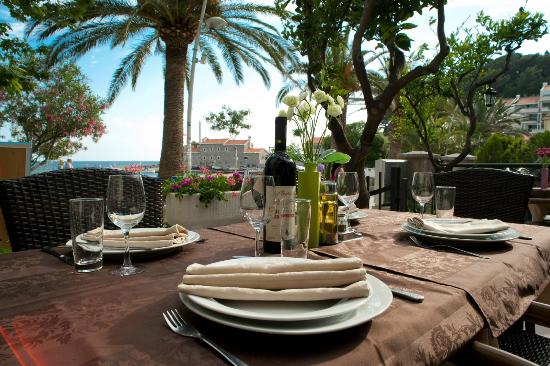 When in Petrovac, there's just one place to go for authentic Montenegrin seafood and meat specialties - Konoba Mediteraneo. 
Idyllic setting with sea views, great food, friendly service... Put this on your list of places to visit!
Konoba Stari Grad – Budva Old Town

As the name suggests – Stari Grad meaning 'old town' – this restaurant lies in the centre of the old town. They specialise in traditional Montenegrin dishes, especially local seafood. We've had an excellent fish meal here (that was also huge!) and we topped it off with their famous pancakes for dessert. The family run restaurant also brews its own beer and your experience is completed by being serenaded by a local guitarist.
You can enjoy the ambience of their stone interior or take a table on the beach in summer. They also have a room for larger private functions – perfect if you're celebrating a birthday or a special occasion.
Giardino – Rezevici, Budva Riviera

It would be easy to miss Giardino as it's located on the main road between Budva and Petrovac in an unassuming village called Rezevici. But it's definitely worth stopping at. The restaurant has a large outdoor terrace where you can enjoy the stunning sea views that the Budva Riviera is known for. Stay here for a sunset dinner and you won't be disappointed. With the tame bunnies hopping around, it's perhaps one of the best Budva restaurants to take your kids to.
The food here is classic Montenegrin - either seafood dishes like calamari and prawns, or lamb, slow-cooked under the sac. As with most Montengrin restaurants, the mains are priced at around 8 - 12 Euros and the portion sizes are generous.
Konoba Tri Ribara - Rafailovici, Budva Riviera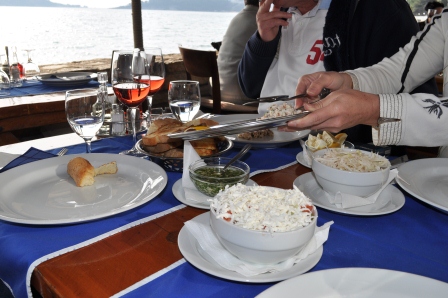 Tri Ribara has to be one of the best Budva restaurants right on the beach. Here you'll find all the Montenegrin coastal classics like black risotto and octopus salad, these are served along with parsley and garlic infused oil and toasted homemade bread. Pair your meal with a Plantaze red or chilled rose and just sit back and enjoy the view!
Blanche – Przno Beach

If you are looking for somewhere for a special, perhaps romantic dinner, look no further than Blanche in Przno. Przno Beach is about 10 minutes by car from Budva, heading towards Petrovac. This is where you'll find more of a quiet and sophisticated atmosphere than in Budva itself. The restaurant has a modern Mediterranean style and menu, with options like mozzarella and grilled peaches in champagne sauce. Accompanying your meal you'll enjoy sea views of gorgeous Przno beach and the azure Adriatic. Blanche is known as one of the best Budva restaurants on the whole Riviera.
Hemingway – Budva Centre

Back in Budva centre, about 100m from Budva old town, you'll find Hemingway café.
This is perhaps the best Budva restaurant for mingling with the locals who like to linger over brunch or coffee and shoot the breeze. They have a shaded terrace with tables and an inside seating area that's encased in glass, so it's a great spot for all weather. The meals here are generally casual favourites like sandwiches and pasta with a twist – my favourite is the salmon and vodka risotto.
Babaluu - TQ Plaza, Budva Centre
Babaluu is currently one of the most popular places in Budva. There's plenty of seating both inside and outside and it's situated in TQ Plaza in the centre of Budva. 
| | |
| --- | --- |
| | On the menu you'll find various casual options like sandwiches, pasta and pizza. They have a selection of tasty desserts served in mason jars to go with your coffee too. |
Merkur - Budva Bus Station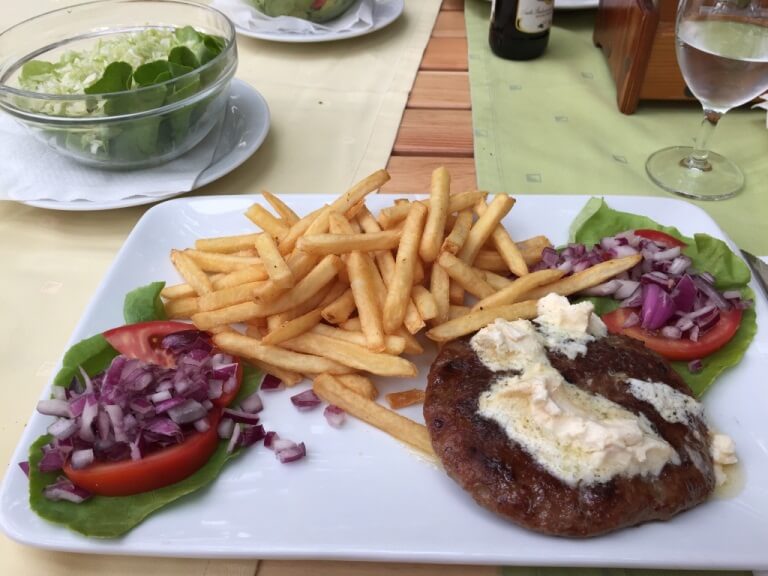 Merkur is a little off the beaten path in Budva in that it's not along the seafront. It's actually right behind the bus station so it's still a walkable distance or short taxi ride from the seaside. 
Krapina Estate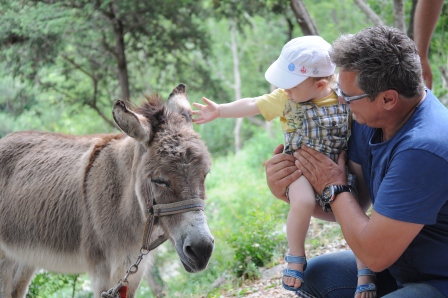 This is a local's secret just 5km from Budva.
It's a great place to take the kids. There's a waterfall walk, zipline, restaurant and dozens of animals.
We have a list of classic Montenegrin specialties to put on your must-eat list here.
Book Your Trip With My Recommended Providers