Montenegro Pulse contains affiliate links and is a member of the Amazon Services LLC Associates Program. If you make a purchase using one of these links, I may receive compensation at no extra cost to you. See my disclaimer for more information.

Dukley Beach Lounge Review
Set above a sandy beach, with views of Budva old town and Sveti Nikola Island, Dukley Beach Lounge is ideally positioned... but does the food live up to the magical location? We tried it to find out.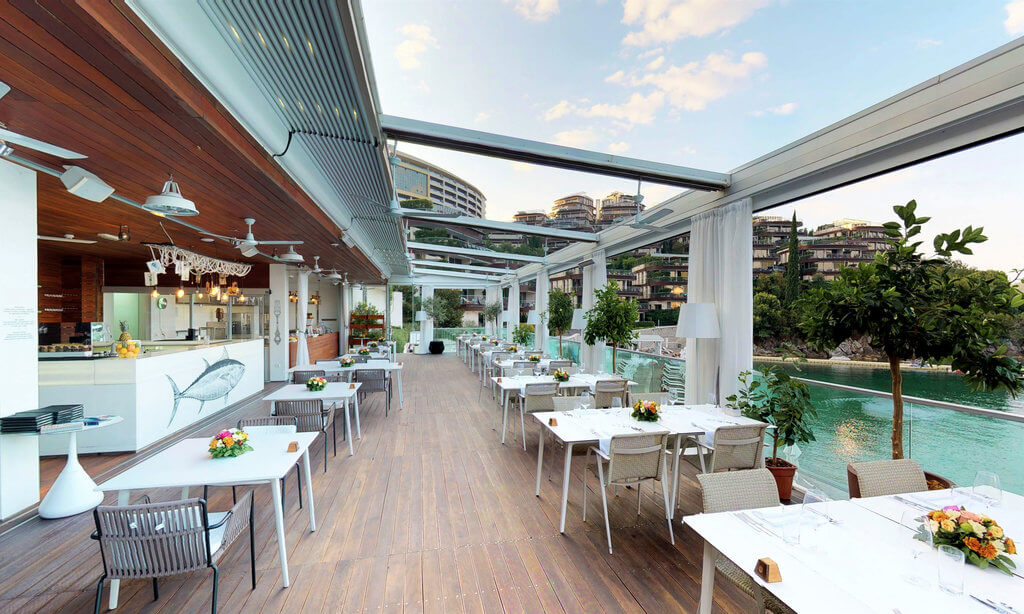 When you've lived in Montenegro a while, you can order in almost any restaurant without looking at the menu. 

They're pretty much all the same: pizza, pasta, fish, calamari and Balkan grill. A few restaurants here offer a respite from the sameness, but so far we haven't found anywhere that's really impressed us. 
We spent a night at Dukley Hotel and Resort (read my review here) and ate at Dukley Beach Lounge. Would it be the one to hit the mark?
Or would it end in another underwhelming experience?
Keep reading to find out what we thought!
Appetizers
Burrata caprese, Dukley Roza Nostra wine and the Adriatic Sea - the perfect combination
First, our appetites were piqued with a bite-sized ball of fried truffle risotto. The crispy outside gave way to perfectly-cooked rice, gooey parmesan and perfectly balanced flavours. 
If this was a sign of things to come, we were onto something good!
For starters we tried burrata caprese, octopus salad, beef tartare and black truffle risotto. 
The burrata was sliced open by our waiter to reveal the mozzarella and cream interior. Paired with fresh tomatoes and basil, it was a twist on the usual mozzarella and tomato caprese.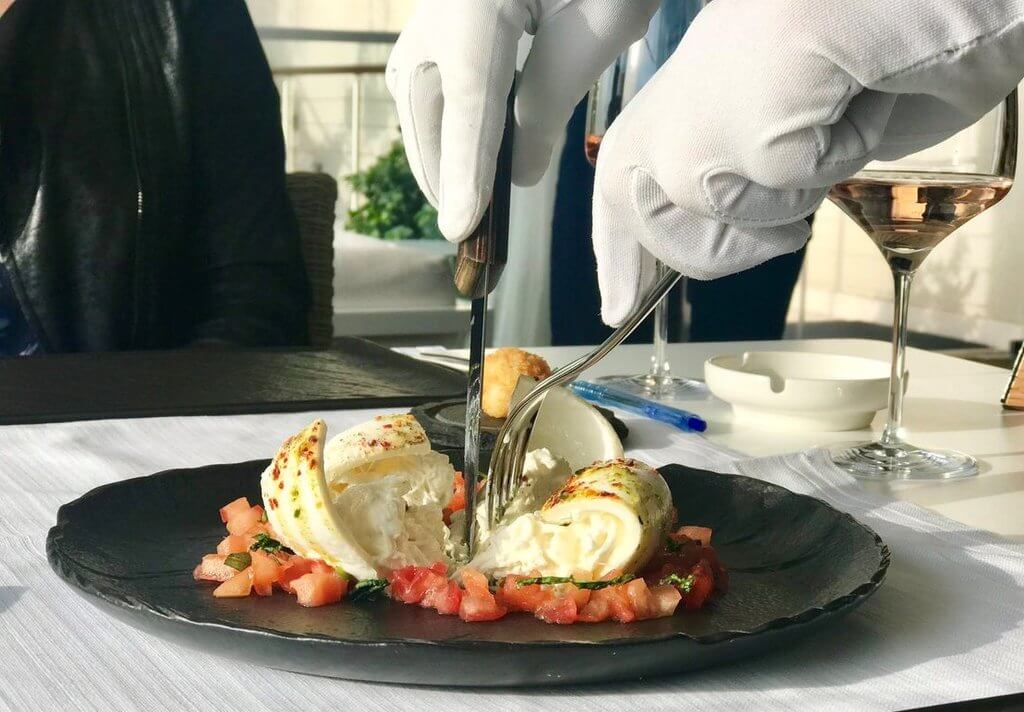 I've had octopus salad before and was delighted to find Dukley Beach Lounge's octopus salad is an actual salad, rather than just a plate of octopus tentacle. The salad had strips of grilled octopus, avocado, chickpeas and rocket with a delicate, creamy dressing that didn't overwhelm the ingredients.

In fact, that's the key to, and most difficult part of creating, great food: doing just enough to enhance the ingredients without overwhelming them.
And the chefs at Dukley Beach Lounge seem to do it perfectly.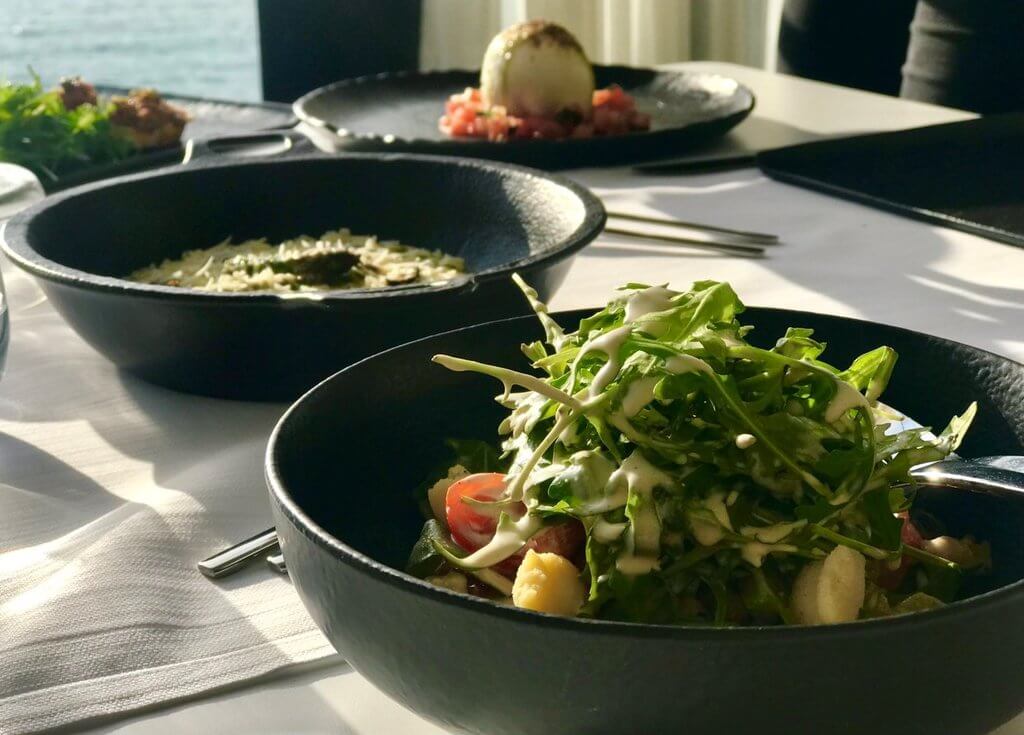 Octopus salad and black truffle risotto
Now the beef tartare provided a challenge for me. As a 16 year old exchange student in Germany, I accidentally ordered beef tartare. I was presented with a huge pile of raw mince with a raw egg on top. Not having any money to order something else, I forced down a few bites of it before going to bed hungry. 
So this time, when it arrived at our table, I eyed it like an old nemesis. But, not being one to let a challenge get the best of me, I took a leap of faith, and a bite of the tartare, and it was delicious! 
Beef tartare and burrata caprese
With my experience in Germany, it was the texture rather than the taste that I found hard to swallow (literally). But this time, there was no icky texture, the beef seemed to just melt and it was balanced by the crunch of the toast. The sharp bite of capers and flavours enveloping the beef had me gobbling up the rest of my portion, and finally putting my beef (pun intended) with beef tartare to rest.

But my favourite of the starters was the black truffle risotto. After a bite of this risotto, I finally understood what the big deal with truffles is. The key, as our host Tina explained to me when I remarked how good it was, is not overwhelming the truffle's delicate flavour with stronger flavours. With this risotto the rice, parmesan and asparagus are delicious, but the truffle is still the star of the show.

---
Mains
Whole sea bass
For the main we had sea bass with grilled vegetables and Dalmatian-style chard, a traditional dish that you'll find along the coasts of both Croatia and Montenegro.  
Could the Dukley Beach Lounge chefs also take this traditional dish to the next level?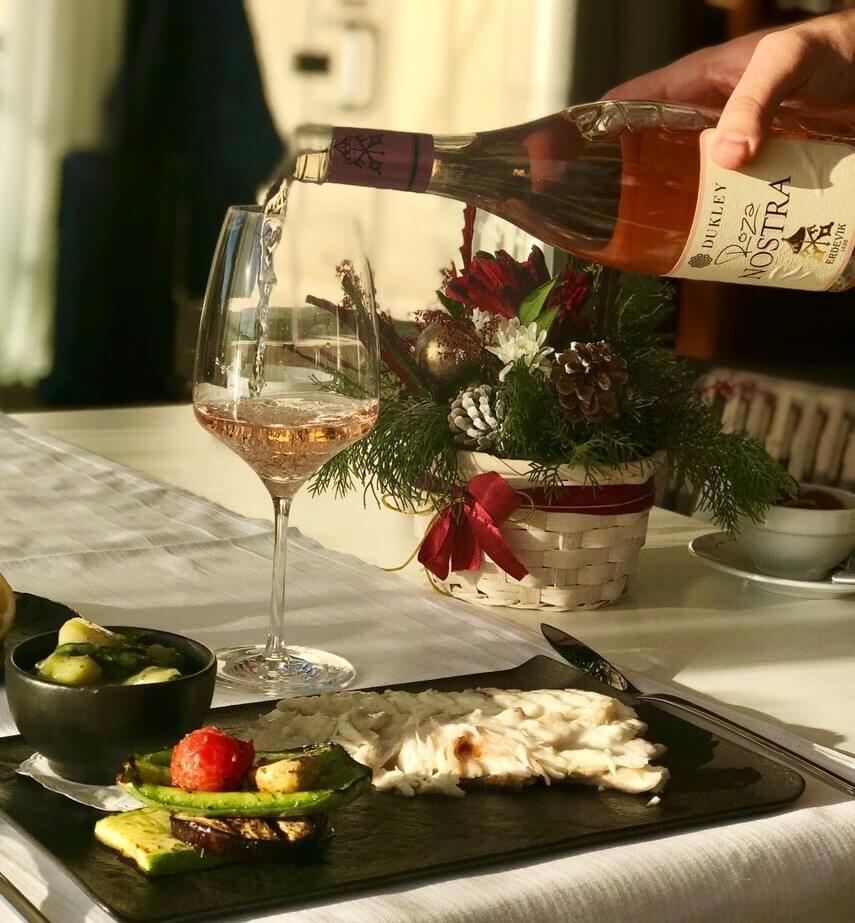 More wine please!
Yup. They delivered. 

Watching our waiter expertly debone and plate the fish was a treat in itself. The fish was succulent and absolutely delicious. Although the fish was perfect on its own, I couldn't resist a squeeze of lemon and a drizzle of marinade and savoured every mouthful. 
The chard with potato was flavourful and the grilled vegetables made a nice alternative to salad. 
Dukley Beach Lounge also offers pastas and light meals. The tagliatelle with prawns is a standout, with just the right amount of garlic and tomato sauce. I also recommend the rocket gnocci, which comes in a rich pesto sauce and has pockets of creamy sauce inside.
They also offer sushi, steak and, being family-friendly, kids' meals like mac n cheese.
---
Desserts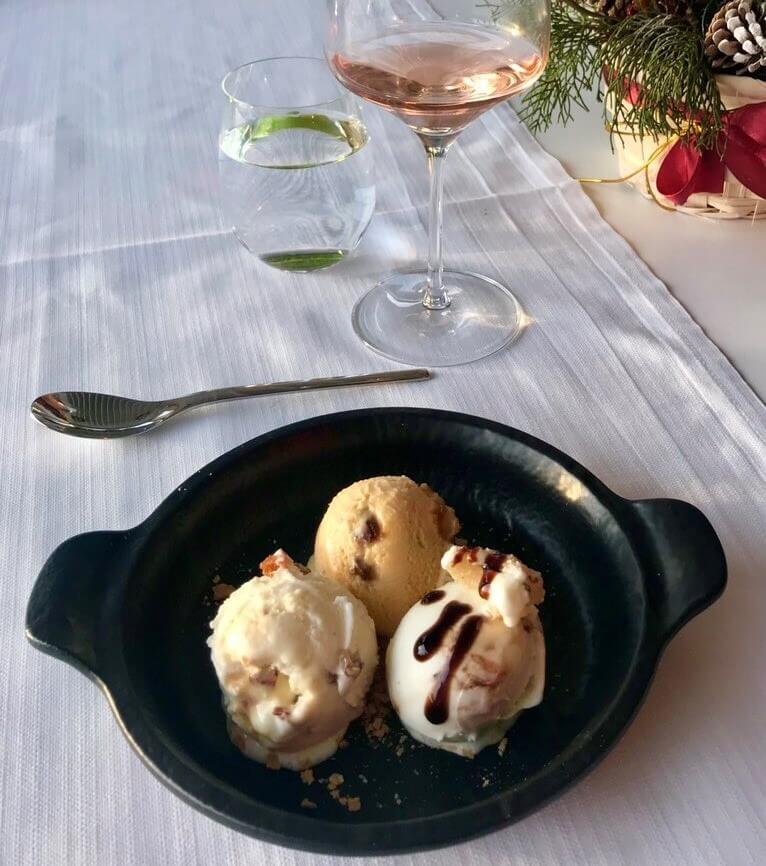 Dukley Beach Lounge's specialty is its unique home-made ice creams from the Dukley Ice Lab. You'll find unique blends of flavours on their menu and I challenge you to go home without trying them all!
We tried scoops of Malaga (rum and raisin) and feta cheese (seriously). But my favourite was the parmesan, pear and balsamic. Again, the Dukley chefs seem to have found the perfect balance of flavours to both surprise and delight your taste buds.
They also do a mean lemon meringue tart, with just the right amount of biscuit base, zingy lemon filling and pillowy meringue.
---
Breakfasts
Since we stayed overnight at Dukley Hotel and Resort, we also had breakfast at Dukley Beach Lounge. 
I was particularly excited to see eggs benedict on the menu, since it's so rare in Montenegro, and decided to test the Dukley chefs once again.
Would they nail the hollandaise sauce?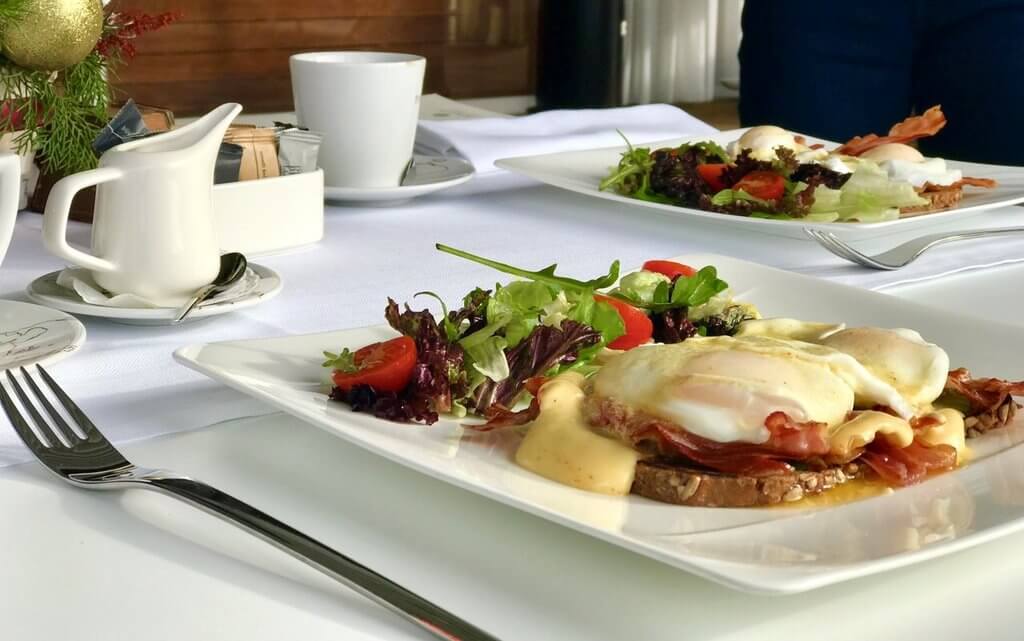 Once again they delivered. Two perfectly poached eggs were accompanied by wholemeal toast, crispy bacon and dollops of creamy hollandaise.
There's just no tripping these guys up!
The Dukley Beach Lounge breakfast menu includes healthy options like oatmeal porridge, granola and low-carb as well as croissants, waffles and eggs.

make Dukley Beach Lounge Your Local
Surrounding Dukley Beach Lounge, Dukley Gardens has exclusive, luxury residences for sale. As a homeowner here, you get to enjoy the menu at Dukley Beach Lounge (as well as all the other benefits) whenever you like, and you can even get meals delivered to your door. 
Click here to find out more about Dukley Gardens residences >
---
Weddings and Events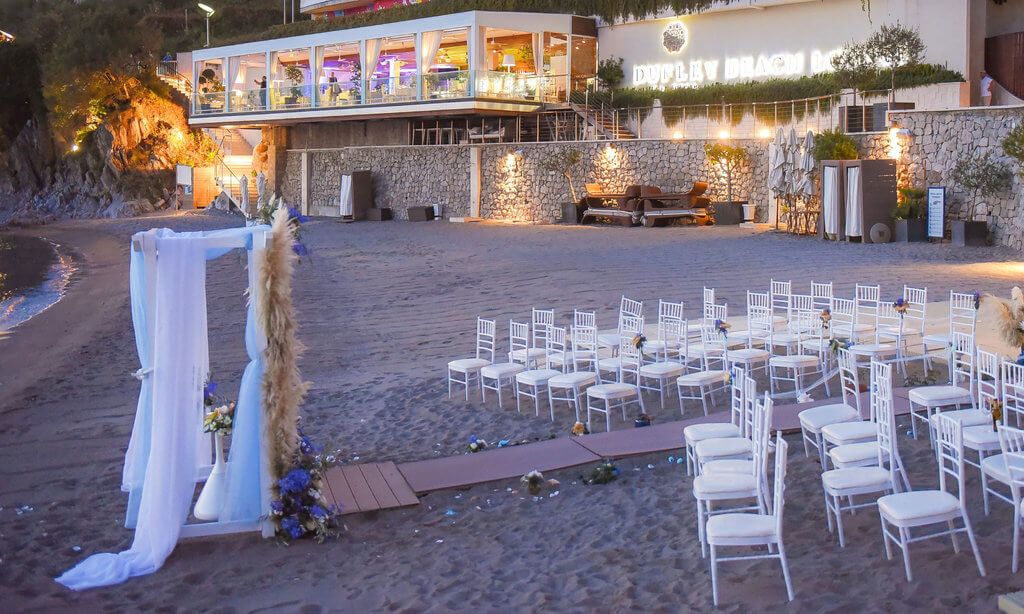 You can hire Dukley Beach Lounge to host your wedding or event. Moët and Chandon Beach is the perfect place to tie the knot with your toes in the sand and Dukley Beach Lounge, just above, will ensure your special day is picture perfect.

---
Final Thoughts
With Dukley Beach Lounge's casual name and beachside position, you'd be forgiven for expecting a casual restaurant. 
But these people are serious about their food.
Everything we have tried here has been excellent and it's the first place in Montenegro that's had us literally groaning over our food. We've put it firmly on our list of favourite places to eat and I can see many visits in future.
The beachside position makes it great for brunch, lunch and candlelit dinners. My advice is to head over there for a sunset meal (around 8-9pm in summer) and watch the sun set over the Adriatic.
visit dukley beach lounge
Address: Zavala Peninsula, Budva 85310, Montenegro
Opening hours: 7am - midnight
Reservations: +382 69 160 003
Website
---
Related Articles
Dukley Beach Lounge
Book Your Trip With My Recommended Providers