Montenegro Pulse contains affiliate links and is a member of the Amazon Services LLC Associates Program. If you make a purchase using one of these links, I may receive compensation at no extra cost to you. See my disclaimer for more information.

Herceg Novi Restaurants
We have a number of favourite Herceg Novi restaurants that we like to visit again and again. They're the kinds of places where you know you'll always get good service, a good meal and more often than not a sea view to go with it. 
Herceg Novi Restaurants in Town
Konoba Feral - Herceg Novi Marina

The delicious dinners served at Feral
One of our favourite Herceg Novi restaurants, Feral (FYI a 'feral' is the light used by fishermen for night time fishing) is a great restaurant right on the marina in Herceg Novi which offers huge meals at really reasonable prices. 
We like to take a wander down to Cafe Dodo afterwards for ice cream or head over the Bluefin overlooking the swimming pool and marina for a cake and cocktail.
Tri Lipe - Herceg Novi Marina
This restaurant is just up the stairs from Feral on the Herceg Novi marina. It specialises in Balkan-style barbecue meat dishes such as cevapi (sausages) and Njeguski steak (pork stuffed with prosciutto and cheese). If you're a meat lover, this would definitely be one of the Herceg Novi restaurants to put on your list to visit..
| | |
| --- | --- |
| Balkan sausages or cevapi (pronounced chevap-ee) usually come with onion and fries | Here you'll sit outside under the trees and enjoy your meal in classic Balkan style, with the outdoor barbecue sizzling away behind you. You'll get good quality, hearty fare, home-style breads and cheeses and a classic ambience. |
Again, the meals are large and the prices are really reasonable at around €8 - €12 a dish.
Nautilus - Igalo
There are actually two Nautilus restaurants in Igalo, although we prefer the large one with the terrace right on the seaside.

 You can tell by the fact that it's almost always full that this is a favourite local haunt all year around.
We like to stop here for a quick, casual meal like pizza, pasta or salad. As well as these, you'll find heartier meals of chicken, meat or fish and a large selection of cakes and desserts. One our favourites on the menu is the fish soup and rich, chocolate 'holla' cake.
Papagaj - Djenovici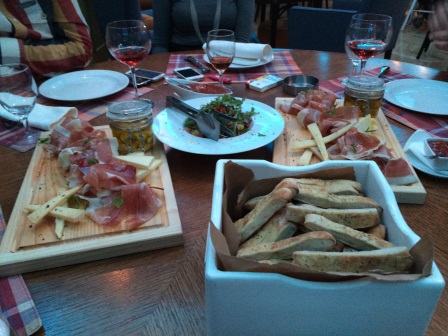 One of our favourites. This restaurants lies waterfront in Djenovici, about 10 minutes drive from Herceg Novi towards Kotor and is signposted on the main road. 
The fresh meals are accompanied by generous servings of home made bread and views of the Bay of Kotor. We like the brancin (sea bass) and grilled vegetable dish.
---
Restaurants In the Herceg Novi Area
Konoba Catovica Mlini - Morinj
This is my absolute favourite restaurant and is one of the Herceg Novi restaurants to put on your 'must-visit' list. You'll find it in a tiny village called Morinj, which lies between Herceg Novi and Perast.  
Konoba Ribar - Kostanjica
Konoba Ribar is my husband's favourite Herceg Novi restaurant and is right on the waterfront in Kostanjica, just next to Morinj. 
The restaurant has a large terrace with tables on the waterfront and tables inside with a fire for colder weather. There's also an aquarium inside and a well where they keep lobsters and shellfish.
This is the best Kotor Bay restaurant for really authentic Montenegrin seafood. Until this year it was open only for private reservations, but now they've opened up to the public... and we're so glad they have.
The food is all seafood and the menu depends of the catch of the day. We usually just order the owner's recommendations.

 Of special note is the mussel buzara. These come in both red and white and are both excellent. You can also order calamari made however you like it and whole fish, which the waiter will de-bone for you at your table. 
Herceg Novi Restaurants
Book Your Trip With My Recommended Providers