Montenegro Pulse contains affiliate links and is a member of the Amazon Services LLC Associates Program. If you make a purchase using one of these links, I may receive compensation at no extra cost to you. See my disclaimer for more information.

Petrovac Montenegro: Best Things to Do (2023 Local's Guide)
Petrovac, Montenegro. Image: Deposit Photos
Petrovac or Petrovac Na Moru (Petrovac On Sea is its full name) is a popular summer resort on the Budva Riviera.
We love this quaint little town and come often either side of the peak summer months. The hamlet wraps around a cove and is very picturesque.
Unfortunately it's fallen victim to real estate development, but so has most of the coast. Once you get down on the shore you see the old stone buildings and charm that makes Petrovac popular.
This little town has a more laid-back atmosphere than Budva but is still vibrant. That's why it's popular with people wanting a beach holiday without the clubs and beach parties. Summer is busy, just like the rest of the Montenegro coast, but it's a more relaxed vibe than elsewhere on the Budva Riviera. The Budva Riviera is known for its expanse of beaches but it can be hectic and the pulsing music of the beach bars isn't for everyone.
We prefer to come in June and September when it's less crowded but still lively. We swim, laze on the beach and get a bite at our favourite restaurant, Mediteraneo, on the promenade.
If you're keen on the Budva Riviera but want somewhere calmer than Budva, you'll like Petrovac. If you're after a laid back beach vacation, read on. Petrovac could be just the place for you!
History
First a little history for you. Petrovac was originally settled by the Romans. It was then named Kastel Lastva for the fort that juts out into the sea at the northern end of the town. The name was changed in the 20th Century to Petrovac after King Peter Karadjordjeva I who was the last king of Serbia and reigned from 1903 – 1921.
At the time Petrovac had about 300 inhabitants and today there area around 1,400 people permanently living in the town.
You can still find some Roman mosaic remnants here, continue reading for more on how to find those.

Location
Petrovac is a central place to base yourself if you want to do some sightseeing around the rest of Montenegro.
Travel Times To Other Towns:
Budva: 25 mins
Bar: 30 mins
Ulcinj: 1 hr
Tivat/Kotor: 50 mins
Herceg Novi: 1hr 45 mins
Cetinje: 55 mins
From here you can explore all of the Budva Riviera beaches and choose your favourite. You can also visit Skadar Lake, the Bay of Kotor and Cetinje in day trips.
A stay in Petrovac can be combined with a tour of Montenegro that explores both the coast and mountains of Montenegro. 
It's also an option for those arriving on the train that runs between Belgrade and Bar. You can find out more about that on my travel to Montenegro page.
Things To Do
1. Hang on the Beach
The main attraction in Petrovac is the beach. The town lies along about 800m of Adriatic coastline. Like the rest of the Montenegrin coast, it's very busy in summer. Our favourite time to come is in June and September when it's even more laid back and totally relaxing. There are still people around but there's plenty of room on the beaches.
2. Stroll the Promenade
The promenade is a lively area which stretches from one end of the town to the other. It's filled with stone buildings that give the village its seaside charm. 

Petrovac, out of all of the coastal Montenegrin towns, reminds me most of the south of France.
Along the promenade you'll find boutiques and plenty of restaurants. The local favourite here is Konoba Mediteraneo which is super friendly and serves fresh, local seafood and meat dishes.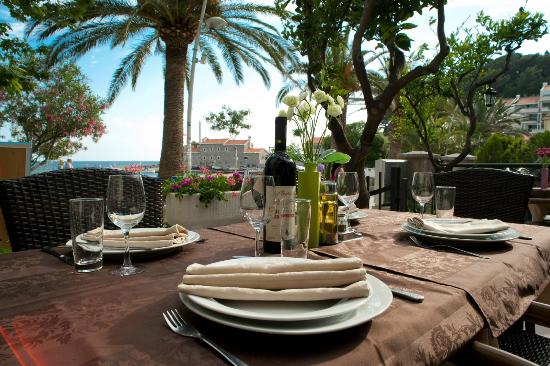 3. paragliding
The Budva Riviera is one of Montenegro's top paragliding spots and you can take tandem flights from Budva or Petrovac.
The flights take off from Braici hill, above Budva, and you get panoramic views of the whole Budva coastline from the air. 
Read More: Paragliding Experience from Budva or Petrovac
4. Explore Roman Mosaics
In 1902 archaeologists discovered the ruins of a 4th Century building complete with mosaics. The site hasn't been properly excavated or preserved, but it's still an interesting place to visit – if you're happy to go a bit off the beaten track.
Once in Petrovac you need to find a sign for Crkva Sv Tome which is a local church. Follow the signs to the church. Opposite it you'll see a path through private land to the ruins. The mosaics are in a broken glass shed, but you'll be able to see them through the windows.

Sveti Tome Church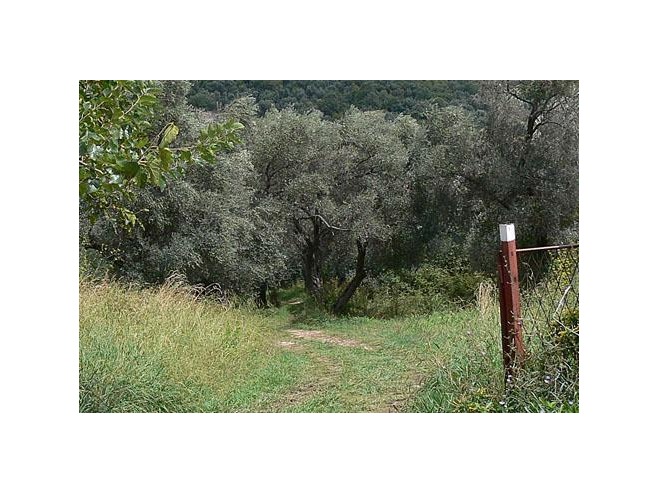 The path opposite the church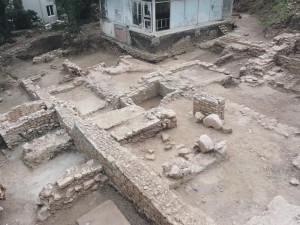 Roman ruins
Accommodation in Petrovac
5 Star Hotel
Melia Budva Petrovac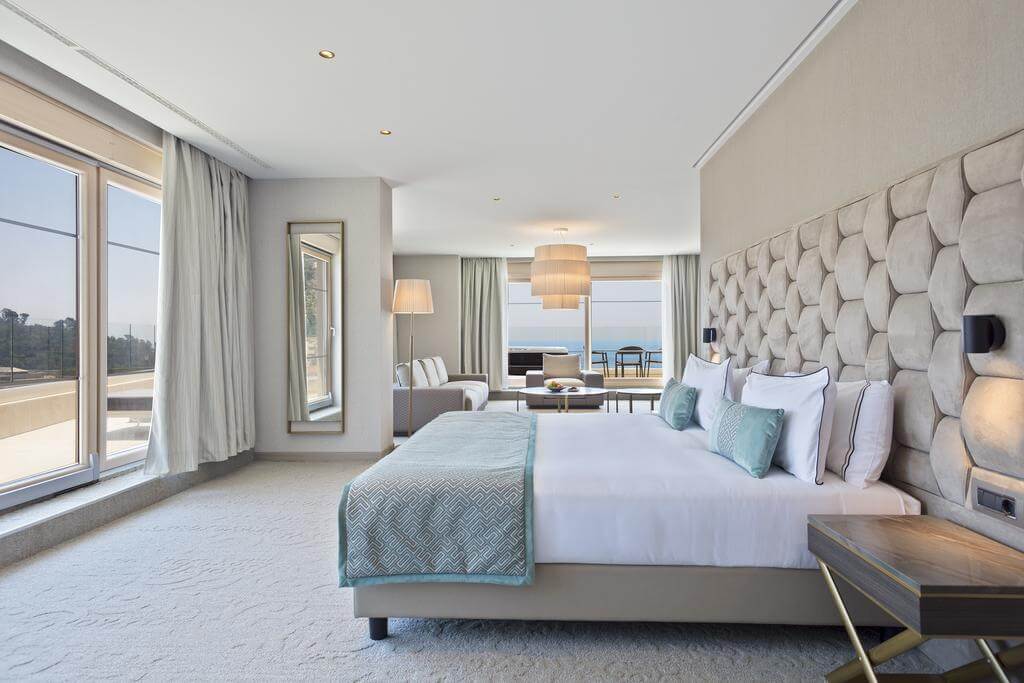 Petrovac Na Moru is a relaxed, seaside destination on the Budva Riviera that's ideal for beach getaways. The wide bay and promenade make it a favourite with families and people wanting to spend lots of time in the sun, away from busy crowds.
Melia Budva Petrovac is a new hotel in Petrovac, and in keeping the family-friendly destination, it's a great place to stay with kids. They (and you!) can spend hours in the outdoor pool in summer or hours in the indoor pool in cooler weather. There's also a well-equipped playroom for downtime.
Book an ocean view room for expansive views over Petrovac, or why not the Executive Junior Suite with a whirlpool overlooking the Adriatic Sea?

4 Star hotels
Hotel Rivijera
Hotel Rivijera is one of the nicest hotels in Petrovac.
It's a short walk to the beach and the hotel has a beautiful garden surrounding the pools. The rooms are spacious and relaxed and all have balconies.
The only thing I think is a minus here is that there's no free WiFi in the rooms, only in the public areas.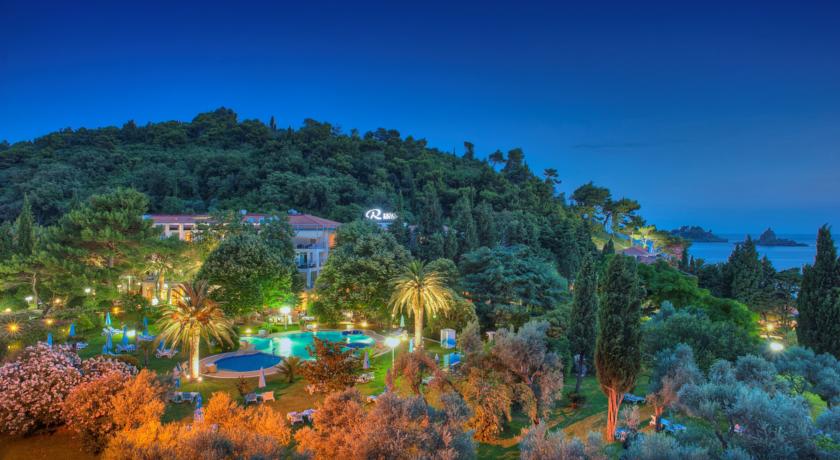 Monte Casa Spa and Wellness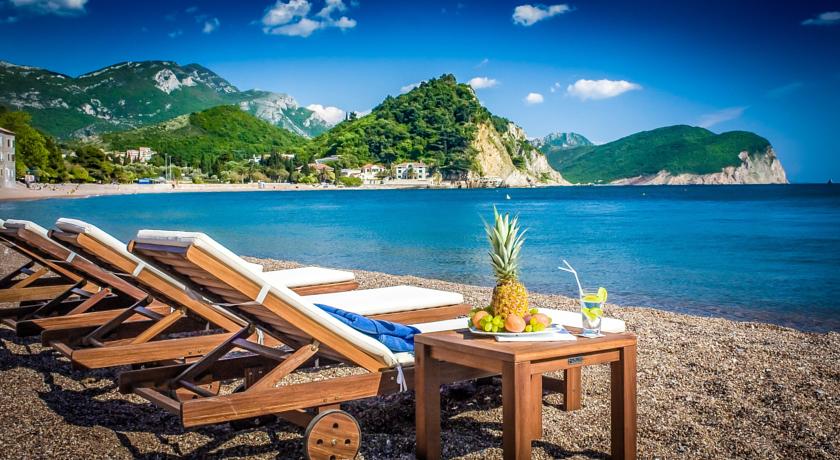 Hotel Monte Casa is a good quality resort right on the beach in Petrovac.
Their facilities include a spa, indoor pool, outdoor pool and the rooms come with free parking, cable tv and free WiFi in all areas.

Hotel Del Mar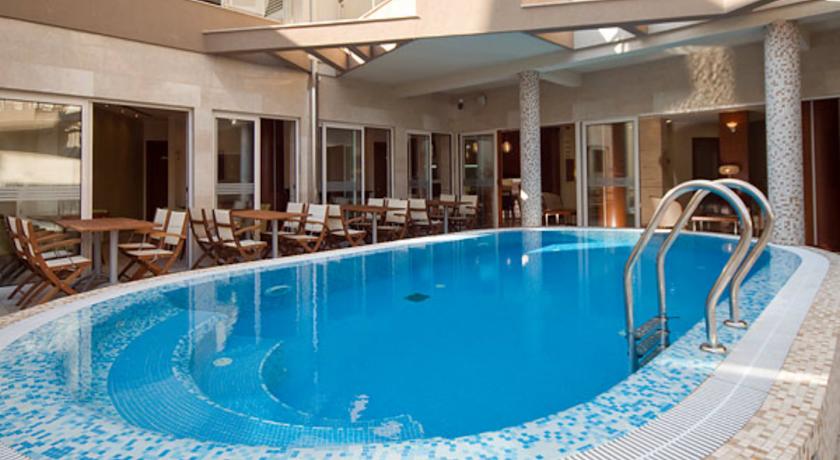 If you'd like to stay in Petrovac, but would like somewhere more intimate than Hotel Monte Casa, Hotel Del Mar is a very popular choice.
This hotel has 14 spacious rooms that come with kitchenettes which is handy. It's tucked away in a little side street a short distance from the promenade.
The hotel has an outdoor pool, cable tv, free parking and free WiFi internet.
| | | |
| --- | --- | --- |
| 4 Stars | Starting at €64 a night  | |
Hotel Palas
This hotel is ideally situated right on the seafront in Petrovac. It's just a stone's throw to the beach and restaurants.
I'd definitely recommend booking a sea view room. They also have a pool, wellness facilities and games room.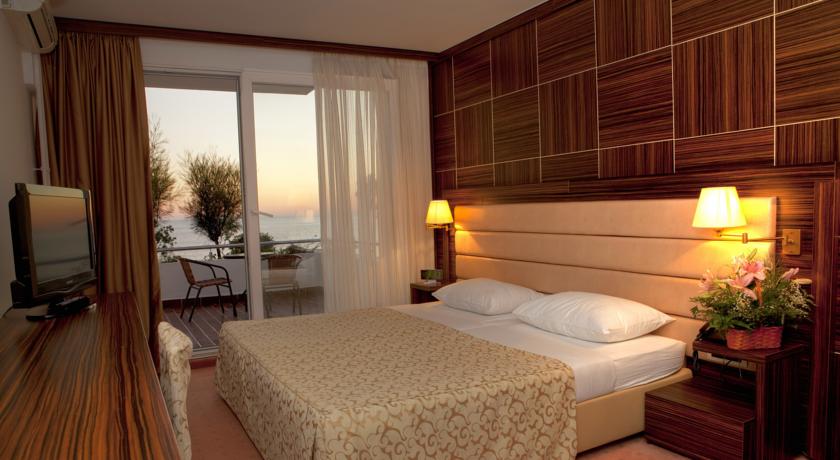 Hotel Castellastva
Hotel Castellastva is mid-size with 171 rooms and is 150m from the beach.
This hotel is great for families. There's a big outdoor pool and a play room so you can relax while the kids play.
The décor is bright and modern. They don't have free onsite parking, but there is a paid parking lot closeby. They have free WiFi in public areas.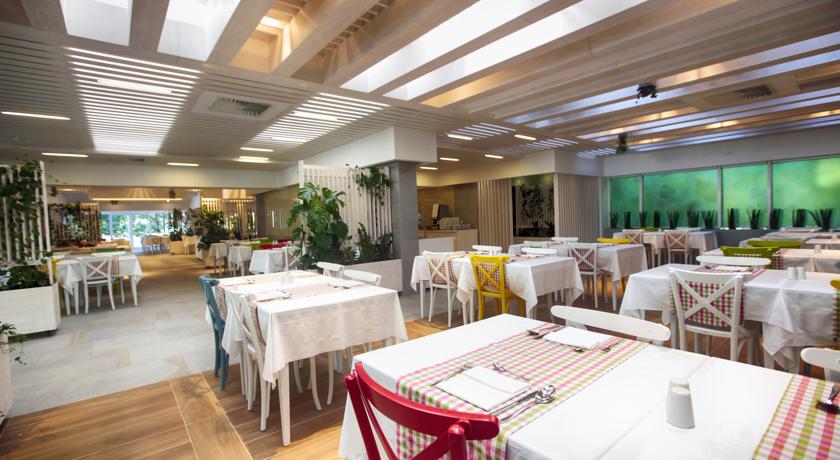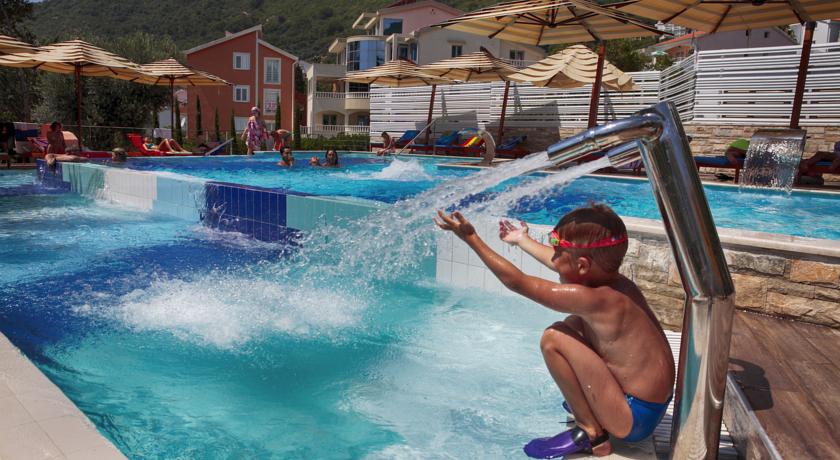 Vile Oliva
I like this hotel because it's got both outdoor and indoor pools and a Jacuzzi – who doesn't like a Jacuzzi?! So it's good for the cooler months too.
The rooms are modern and spacious but there's no WiFi.
They have free parking, free wired internet in public areas and a wellness centre. It's also just 50m to the beach.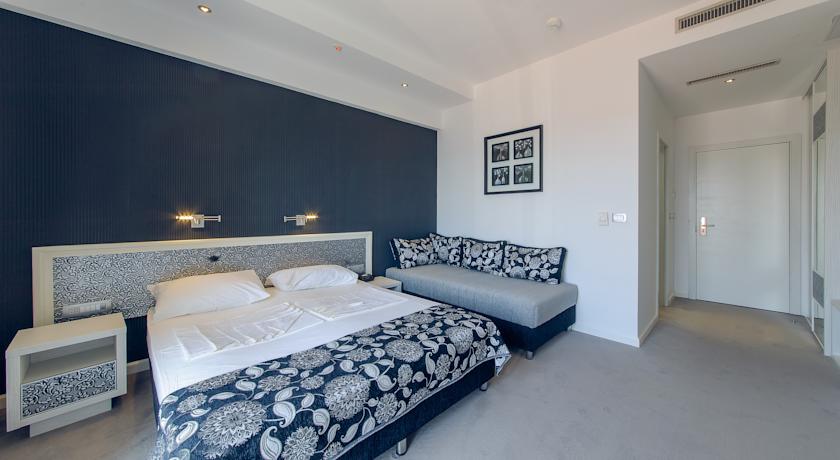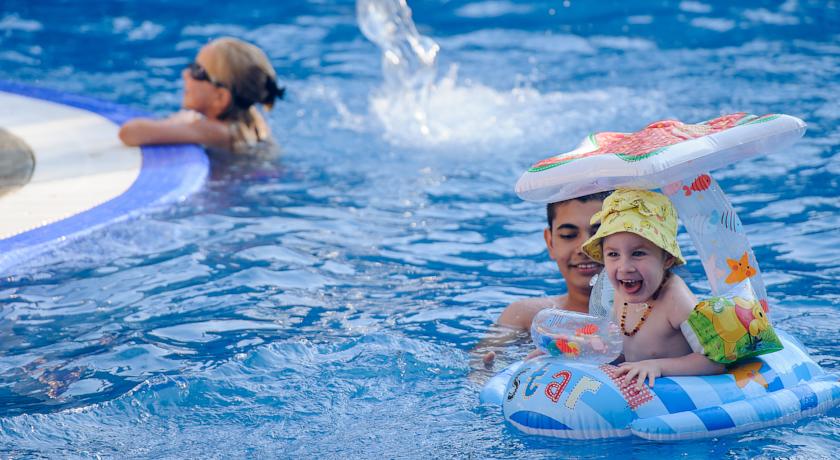 3 Star Hotels
Hotel Renome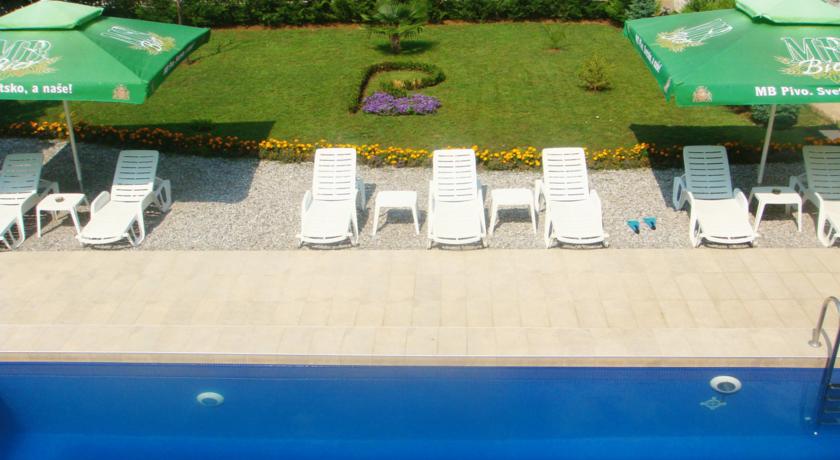 This is another small, family-run hotel in Petrovac where you'll find the friendly, personal service that Montenegrins are known for. There are 14 rooms in total in the hotel and it's just 200m from the nearest beach.
The hotel has a restaurant, free parking, pool and free WiFi. It's a great family-friendly option for those wanting a high standard on a budget.
Hotel Djuric
Hotel Djuric is a modern family-run hotel with 20 rooms. It's 250m from the beach in Petrovac.
The one bedroom apartment is great for families. There's also an outdoor pool, free parking and free WiFi in the public areas.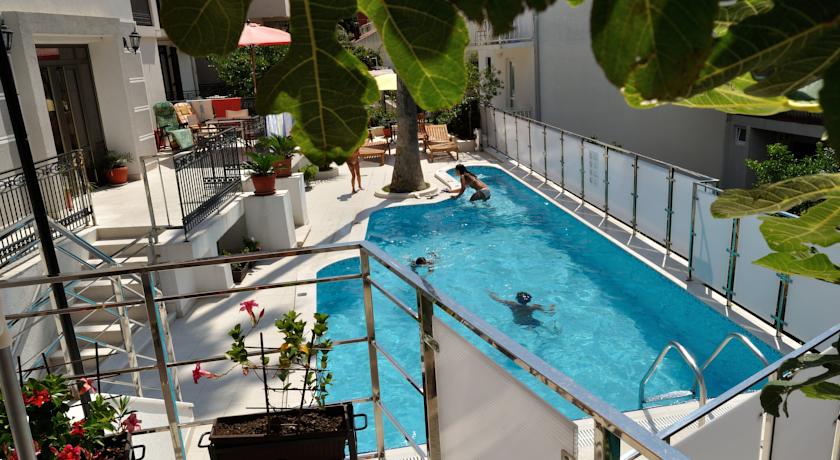 Hotel Danica
Hotel Danica is a clean and comfortable 3 star hotel 150m from the beach in Petrovac.
They offer free parking and free WiFi in the public areas. There's also a small outdoor plunge pool and rooms with balconies and sea views. This hotel is no frills but great value.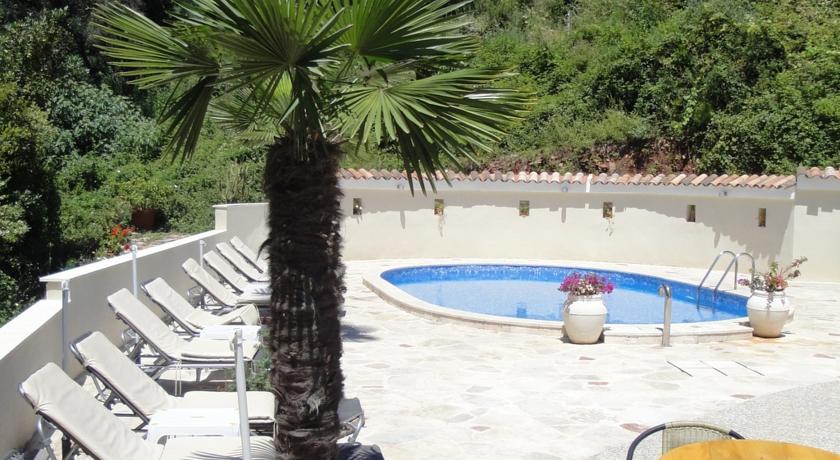 Find More Accommodation in Petrovac
Are you looking for more accommodation options in Petrovac? We have a guide of top accommodation in and around Petrovac. 
Read More: Accommodation in Petrovac
You can also so search here:
Find Accommodation Deals in Petrovac
If your main concern is price on your accommodation in Montenegro, the best place to look for current specials is here on Booking.com's deal finder.

You'll find deals of up to 50% off all kinds of accommodation in Petrovac, especially if you're travelling soon.

If you're flexible with where you stay, you'll typically find 20-30% off rooms that owners want to fill.
Beware that you might not a full 7 night stay available, just 1 or 2 nights, especially during July and August. So be wary of leaving your accommodation booking to the last minute!
Explore More Top Destinations in Montenegro
Book Your Trip With My Recommended Providers
Petrovac Montenegro: Best Things to Do