Lake Skadar Hikes That Will Take Your Breath Away
This post may contain affiliate links. Find more info in my disclaimer.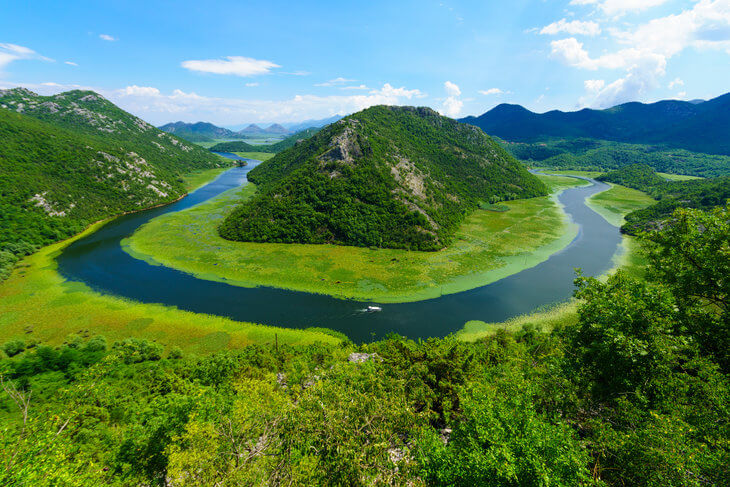 Image: Deposit photos
Doing one of these Lake Skadar hikes is a great way to explore the Lake Skadar area and get off the beaten tourist track in Montenegro. 
Lake Skadar is one of Montenegro's hidden gems. It's a gorgeous place that's wild but not at all remote. In fact you can easily fit a visit in a day trip from anywhere on the coast. I highly recommend putting it on your list of things to do!

The Montenegrin side of Lake Skadar (about 2/3 of it) is a protected national park. This makes it a beautiful area to explore on foot. You can follow old military trails and enjoy stunning vistas of the lake from the surrounding hillsides.
You'll also encounter local wildlife like tortoises and a multitude of bird species. Shyer creatures like mongoose and foxes also roam this area. 
My favourite thing to do while hiking the Montenegrin countryside though is to pick wild fruit. Depending on the season you'll find blackberries, strawberries, figs and pomegranates everywhere. 
I've got two hikes for you that will take your breath away - in a good way! You should always take a guided hike in Montenegro, especially around Lake Skadar. The lake's size swells by over 100 square kilometres annually and you must have local knowledge of the safe tracks to take. 
These Lake Skadar hikes are guided by locals with unsurpassed knowledge of the area. They'll take you to local homesteads, to swim in natural pools and waterfalls, and to eat organic, local produce in local villages.
Experiences you can only find with a Montenegrin local!
These three hikes are all small group hikes, so they're wonderfully personal. You'll have ample opportunity to get to know your guide and learn about what makes this area so special. 
---
Top Lake Skadar Hikes
The Waterfalls and Springs of Walnut Valley
Our Top Pick!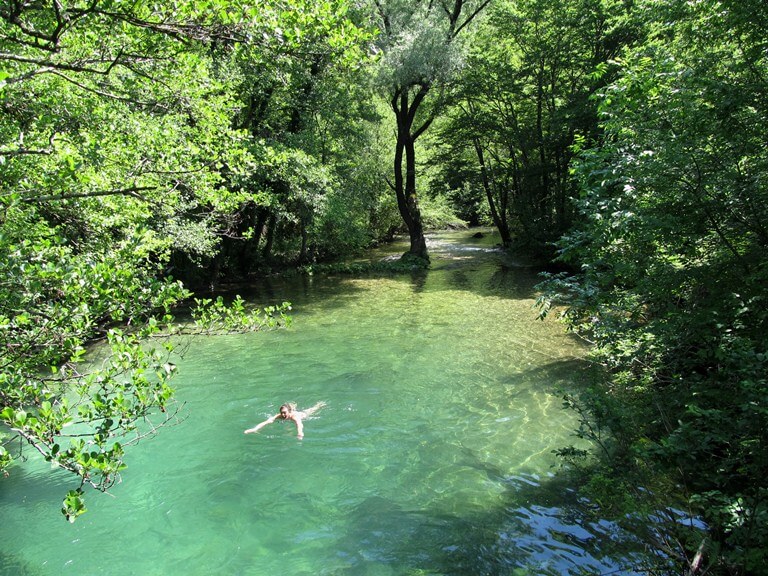 Trail Description
This hike takes you along old, forgotten military trails used by the Ottoman Turks who invaded this area. You'll cross over their bridges and pass through deserted woodland as you wind your way through one of Lake Skadar's most beautiful valleys.
When you get hot you can just jump into the natural spring-fed pools and put your head under waterfalls.
My favourite thing about this tour is that you also get to stop at a local homestead and honey farm. You'll be served a delicious local-style lunch of local produce in one of Lake Skadar's beautiful hilltop villages. 
Trail Details
Difficulty: Moderate. This tour takes 5-6 hours
Start point: Virpazar
Price: From €30 per person
Optional extra: Lunch is an extra €15 per person and is paid directly to your host
Days: This tour runs on Saturdays
---
Medieval Hill Village to Magical Beach
Just look at it!
Trail Description
On this hike you'll head over Mount Sutorman to the fortified medieval village of Upper Godinje. Along the way the trail will give you stunning views over the lake... remember I promised to take your breath away?!
Along the way you'll stop for lunch at a little eatery high on the hill. Here, you'll be able to try organic honey and local wine and brandy too. 
If you want to make the most of your day, you can extend the hike and take a swimming and sunbathing detour to Pješačac beach.
The hike finishes back in Virpazar.
Trail Details
Difficulty: Moderate. This trip takes 4-5 hours for the standard hike or 5-6 hours for the extended hike including Pješačac beach
Start point: Virpazar
Price: From €30 per person (standard hike) and €40 per person (extended hike)
Optional extra: Lunch is an extra €15 per person
Days: This tour runs on Tuesdays

---
Book Lake Skadar hikes
To book or enquire about any of the Lake Skadar hikes, just fill in the form below. 
Not all of the hikes are available every day of the week. That's why I recommend inquiring as far in advance as you can to avoid disappointment.
Many people enquire about transfers to Skadar Lake. My preferred booking option for transfers is Kiwi Taxi. You can check and book your transfer online, and if they don't have your exact destination you can ask for a quote!
---
More things to do on Skadar Lake
---
Holidays on Skadar Lake
Lake Skadar Hikes
help the stray animals of Montenegro
Book your accommodation anywhere in the world through any of the search boxes on our site and we'll make a donation towards sterilising stray animals in Montenegro. 
It costs you nothing, and you get the biggest selection and lowest prices guaranteed. It's a win-win!