Lake Skadar Hikes: Explore the History and Beauty of Skadar Lake
This post may contain affiliate links which means that if you purchase through my link I may earn a small commission which helps to keep this site going. Thank you. You can find more info in my disclaimer.
Lake Skadar hikes take you off the beaten track to discover hidden waterfalls, ancient bridges, pick fruit and explore all the beauty this region has to offer.

Lake Skadar hikes are a great way to explore the Lake Skadar area and get off the beaten tourist track in Montenegro. 
This region is truly one of Montenegro's hidden gems. It's a gorgeous place that's wild but not at all remote. In fact you can easily fit a visit in a day trip from anywhere on the coast, especially if you have a rental car.
discover kotor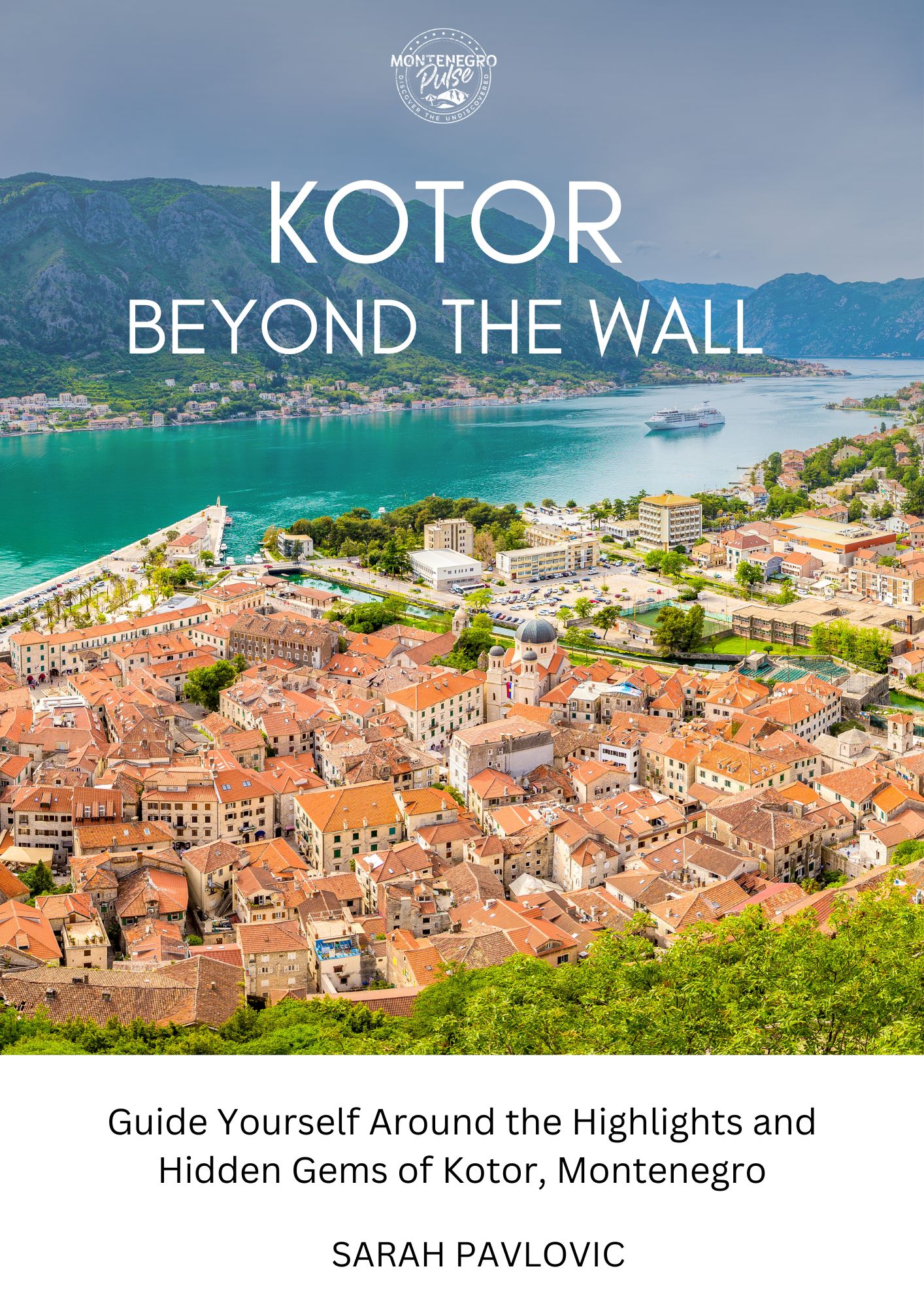 Guide yourself with the
"World's Best Guide to Kotor"
Top attractions
Hidden gems
Bonus walking tour
What to eat
Exclusive experiences
Essential visitor tips
Lake Skadar lies partly in Montenengro and partly in Albania. The Montenegrin side of Lake Skadar (about 2/3 of it) is a protected national park. This makes it a beautiful area to explore on foot. You can follow old military trails and enjoy stunning vistas of the lake from the surrounding hillsides.
As you walk through this area you'll probably encounter wildlife like tortoises and a multitude of bird species. Shyer creatures like mongoose and foxes also roam this area. Depending on the season you'll also find wild blackberries, strawberries, figs and pomegranates.
This area is also culturally very rich. This was the seat of the rulers of Montenegro centuries ago, and it's Montenegro's most fertile wine region. The guided hikes below include history about this region and visits homesteads where you can try traditional food and drinks.
Best Lake Skadar Hikes
You can do guided or self-guided hikes around Lake Skadar. Walking trails around Montenegro are well-marked and you can pick up information at the visitors centers in Virpazar and Vranjina. You can easily walk trails like the one from Rijeka Crnojevića to Obod at your own pace and without a guide.
However, the lake's size swells by over 100 square kilometers in winter and you must have local knowledge of the safe tracks to take. If you're not booking a guided hike, it pays to stop at a visitors center in Virpazar or Vranjina to check the status of the trails.
Booking guided Lake Skadar hikes have the advantage of being guided by locals with unsurpassed knowledge of the area. They'll take you to local homesteads, to swim in hidden pools and waterfalls, and to eat organic, local produce in local villages. These are experiences you can only find with a local and they're often worth paying for.
The guided hikes listed below are all small group hikes, so you'll have ample opportunity to get to know your guide and learn about what makes this area so special. 
The Waterfalls and Springs of Walnut Valley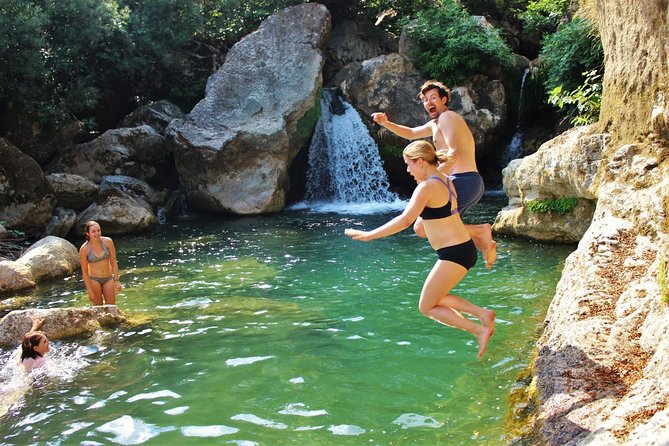 The Waterfalls and Springs of Walnut Valley hike takes you along old, forgotten military trails used by the Ottoman Turks who invaded this area. You'll cross over their bridges and pass through deserted woodland as you wind your way through one of Lake Skadar's most beautiful valleys.
When you get hot you can just jump into the natural spring-fed pools and put your head under waterfalls.
One of the highlights of this tour is stopping at a local homestead and honey farm. You'll be served a delicious local-style lunch of local produce in one of Lake Skadar's beautiful hilltop villages. 
Medieval Hill Village to Magical Beach
On the Medieval Hill Village to Magical Beach hike you'll head over Mount Sutorman to the fortified medieval village of Upper Godinje. Along the way you'll get stunning views over the lake.
Lunch is at a little eatery high on the hill, where, you can try organic honey and traditional wine and brandy too. 
If you want to make the most of your day, you can extend the hike and take a swimming and sunbathing detour to Pješačac beach, a freshwater beach on the shore of the lake. Far from being cold, the lake water hovers around 26°C (79°F) in summer.
Rijeka Crnojevića to Obod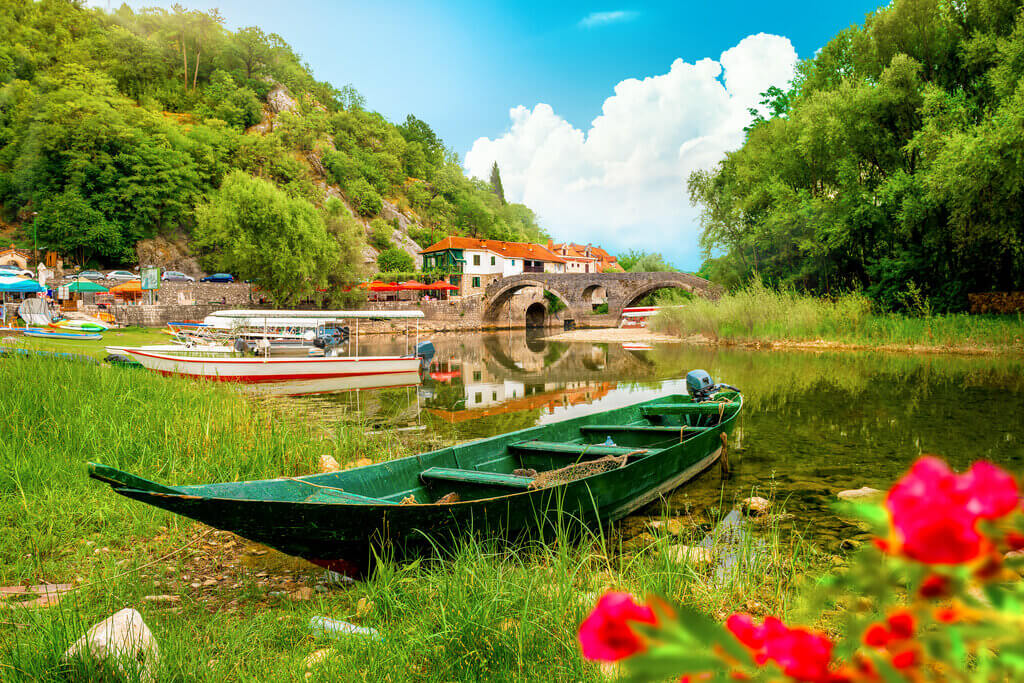 Stari most (old bridge) in Rijeka Crnojevića. Image: Deposit Photos
From Rijeka Crnojevića you can take a circular route that will take you past the ruins of Obod village. Obod was once the seat of Crnojević Dynasty and where the first south Slavic book was printed in the Cyrillic alphabet in 1492. The trail takes you by Obod cave which you can go into and look for bats and old watermills, which were used to make flour.
You can also do this hike (or just a part of it) as a guided tour from almost any town in Montenegro. Since it's a private tour, you can also add a boat trip from Rijeka Crnojevića and lunch by the river. Read more >
Length: 7km return
Difficulty: easy
Time required: 3 hours
Open: year round
Route: Novi most (new bridge in Rijeka Crnojevića) - turning for Mracelje - riječki grad (Obod) lookout - Skakala (river crossing) - stara HE (old dam) - Obod cave - stara HE (old dam) - nova HE (new dam) - turning for Košćele - Djevosčki Vir - stari mlin (old mill) - Pazar - stari most (old bridge) - house of St Petar Cetinjski - novi most (new bridge)
Zabes to Godinje
This route starts in the village of Zabes, a traditional-style village in the Crmnica region, and takes you up to the Brčelice lookout. From here you'll get views of Crmnica and over the lake.
The route then takes you to Godinje village which dates to the 10th century and was once the summer residence of the Balšić Dynasty in the middle ages. Godinje is known for it's network of tunnels that connect the houses, water mills and for its excellent wines.
If you'd like to try some local wines you can book a wine tasting at a local winery in Godinje village or one from Virpazar.
Length: 4.5km return
Difficulty: medium
Time required: 2 hours
Open: year round
Route: Zabes village - turning for Brčelice Pass - Brčelice Pass - Ćelista Stream, Nikači - Sveti Nikola Church - Godinje village - threshing circle (gumno) - NOB monument - Smolac Spring - Nikači - Zabes
More things to do at Skadar Lake
Lake Skadar Hikes
help the stray animals of Montenegro
Book your accommodation anywhere in the world through any of the search boxes on our site and we'll make a donation towards sterilising stray animals in Montenegro. 
It costs you nothing, and you get the biggest selection and lowest prices guaranteed. It's a win-win!