Montenegro Pulse contains affiliate links and is a member of the Amazon Services LLC Associates Program. If you make a purchase using one of these links, I may receive compensation at no extra cost to you. See my disclaimer for more information.

Budva Beaches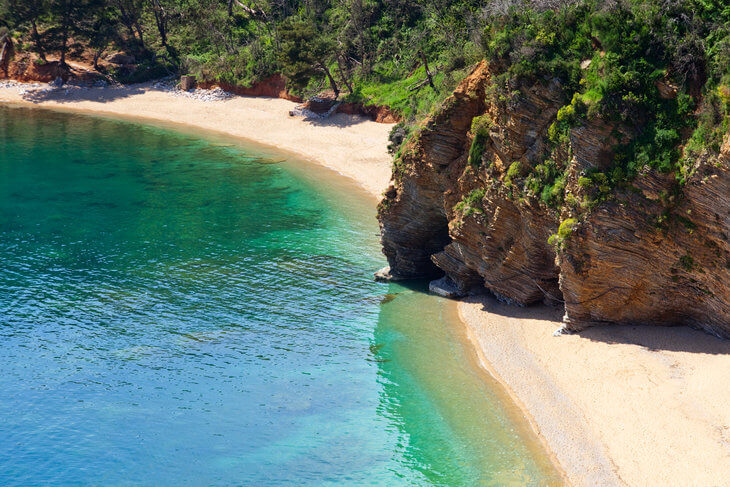 Mogren Beach. Image: Deposit Photos
Budva beaches are arguably the best in Montenegro. Sandy or pebbly, people flock to them all summer. There's something for everyone: small and intimate or large and busy.
There's a walkway that extends from Budva marina next to the old town all the way to Kamenovo beach. So you can explore the beaches along this stretch on foot. You can even go all the way to Sveti Stefan.
Want to know which Budva beaches you should visit? We've done the rounds and here's the low down on each.
Jaz Beach
Jaz is a large beach 4km from Budva towards Tivat. It's got ample parking and is a large cove. It's a mixture of pebble and sand.
The whole beach is over a kilometre long (almost a mile) and there are loungers and umbrellas for hire. There are also free areas where you can set up your towels.
This beach is great for kids (young and young at heart). You can hire peddleboats, kayaks and jetskis too.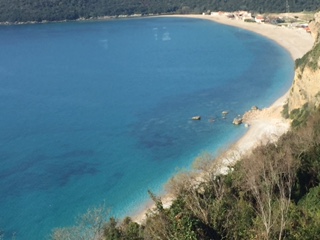 FYI – the eastern part of the beach towards Budva is considered a nudist area.
Ploce
If you follow the road to Jaz further around the cape, you'll come to Ploce.
This beach is part wild Lustica, part beach resort Budva. It's in the middle of nowhere on Lustica Peninsula but it's got everything you need: pools, playground, beach, restaurant and loungers.
The beach is pebbly and there are rocky outcrops you can explore too. This is a great location for a family. It gets very busy in July and August.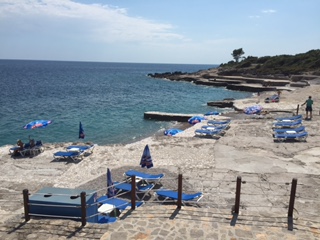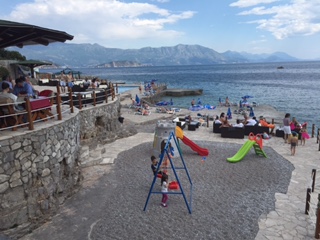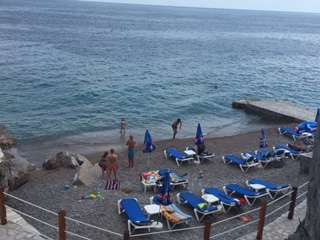 Mogren
Mogren  is actually two beaches joined by a tunnel. It's only 200m from the old town, so it's easy to get to if you're staying the centre.
Legend has it Mogren was named after a shipwrecked Spanish sailor called Mogrini who built a church on the beach.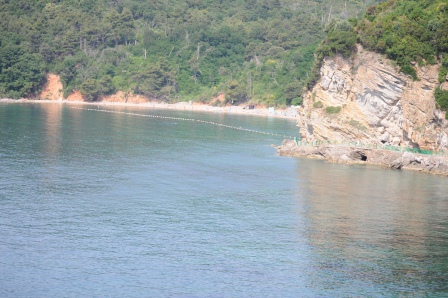 Richard's Head
Odd name for a beach, I know. It was named after actor Richard Widmark who filmed 'The Long Ships' in Budva in 1964.
This beach is the one in front of Avala Resort next to Budva old town.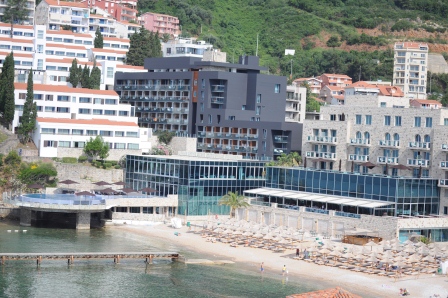 Looking for a beach holiday in Montenegro? Click here to find the best places to stay.
Pizana
This is a 50m stretch of beach at the end of Budva marina.
It's very small and it's usually packed. It's good for a quick cool off after walking around town. If you're looking for place to spend the day, other beaches are better.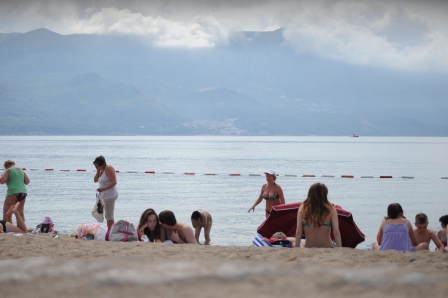 St Nikola Island
You can get a boat over to St Nikola Island on a water taxi from Budva marina and spend the day on the beaches over here.
It's less than a kilometre from Budva and is less crowded than the other Budva beaches.
Hire a kayak here and find your own slice of beach!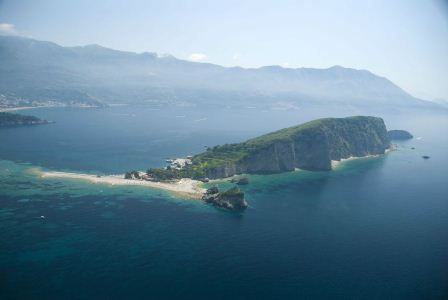 Slovenska Plaza
This is the largest of the Budva beaches. It's 1.6km / a mile long and runs the whole length of Budva from the marina to Dukley Hotel and Resort. It's a mixture of pebbles and sand. It's leased out so you can hire sun loungers and get refreshments all along it. But there are also free areas where you can just park your towel for free.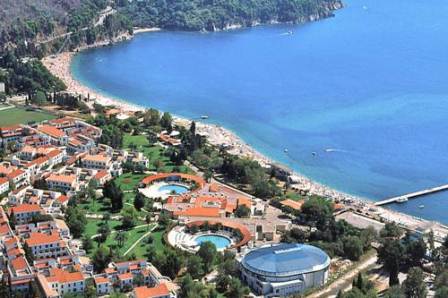 Moët and Chandon Beach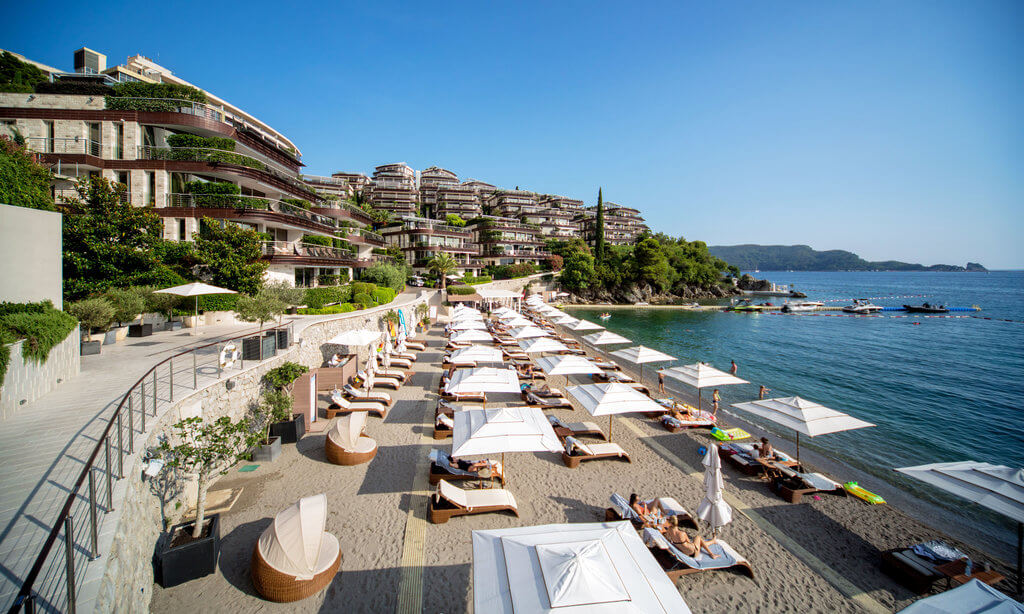 Moët and Chandon Beach is a little cove at the start of the Zavala Cape and is part of Dukley Hotel and Resort.
Loungers are free for hotel guests and residents of Dukley Gardens. For others a pair of loungers is priced at €150 per day and comes with a bottle of Moët and Chandon.
When you peckish or tired of lazing in the sun, Dukley Beach Lounge serves mouth-watering meals overlooking the beach.
Becici Beach
Becici is one of the most popular Budva beaches along with Slovenska. It's sandy so it's great for little ones.
Becici is over a mile long (1.8km) and is a mix of public and hotel beaches. There are places to get refreshments so you could easily stay all day. There's plenty of parking here.
The Falkensteiner Hotel is a great place to stay here and they have a part of this beach for their guests' use.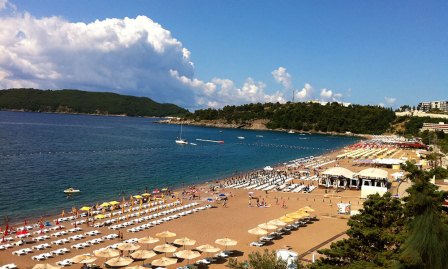 Kamenovo
Kamenovo is a narrow stretch from Becici to Przno. There's a restaurant and parking nearby. You can also get here on foot via the promenade from Budva.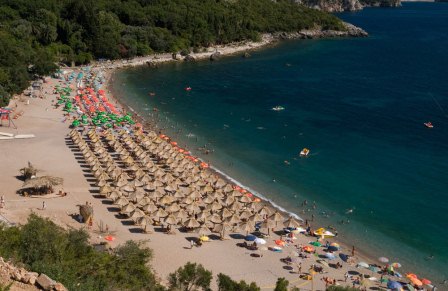 Przno
Przno is a pretty cove with a 250m long stretch of beach. There are hotels, rooms and restaurants here. It's also close to Sveti Stefan and has sun right up until sunset.
We recommend Hotel Residence if you want to stay in Przno.
Przno often gets confused with Przna in Tivat which is more commonly known as Blue Horizons beach.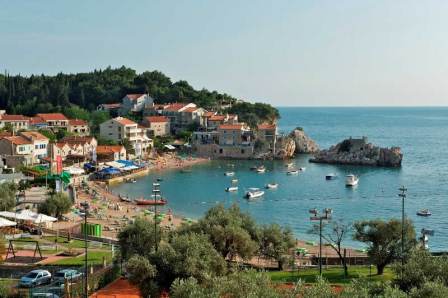 Queen's Beach
Queen's Beach is now part of the Sveti Stefan Aman Resort. So it's only for hotel guests. It got its name from Queen Marija Karadjordjevic who's summer residence is now Hotel Milocer. Although you can't use the beach, the area is a beautiful park that's worth taking a stroll through.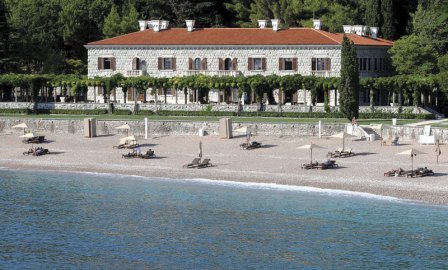 Milocer
Milocer is also known as King's Beach is right in front of Hotel Milocer and is exclusively for hotel guests staying at Aman Sveti Stefan.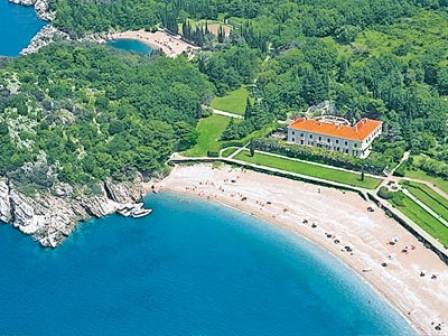 Sveti Stefan
If you're coming to Montenegro, you'll definitely want to at least see Sveti Stefan from afar. You can't actually visit the island without paying the €25 per person fee for a tour or having a restaurant reservation.
Either side of the island are beaches. You can use the Aman beach here but at €50 per person, it's very steep. To the left of the island is the public beach.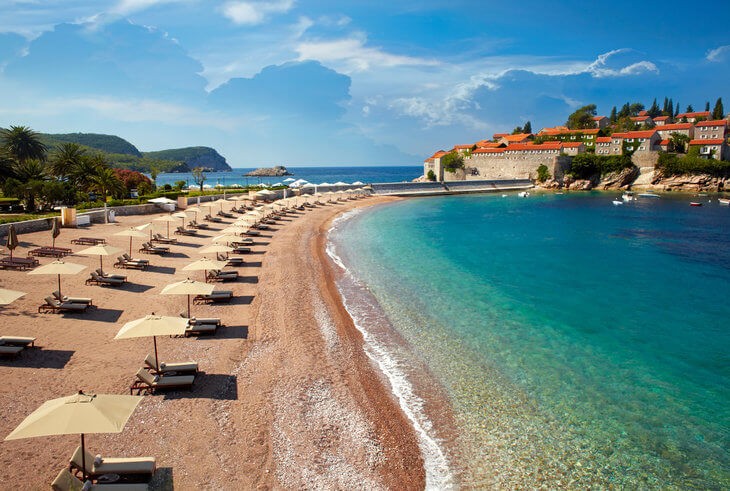 Image: Deposit photos
Crvena Glavica
Crvena Glavica is a collection of seven small, red, rocky beaches. The access to these beaches isn't easy.It's a steep rocky road best navigated on foot.
Warning: these are known as nudist beaches.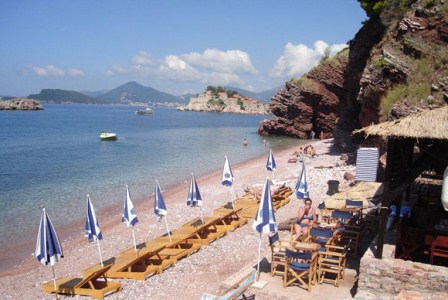 Drobnji Pijesak
This is our favourite of the Budva beaches. It's a steep incline down from the main road but worth it.
What you get is a large pebble beach with a lone restaurant to the side. It's got crystal clear water and a laid back atmosphere. 

Perazica Do
Perazica Do is a little cove below Rezevici Monastery. There's a turn off from the main road and parking.
Unfortunately it's marred by this construction site at the moment.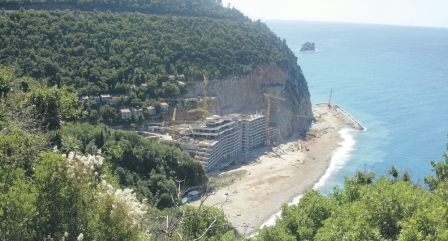 Petrovac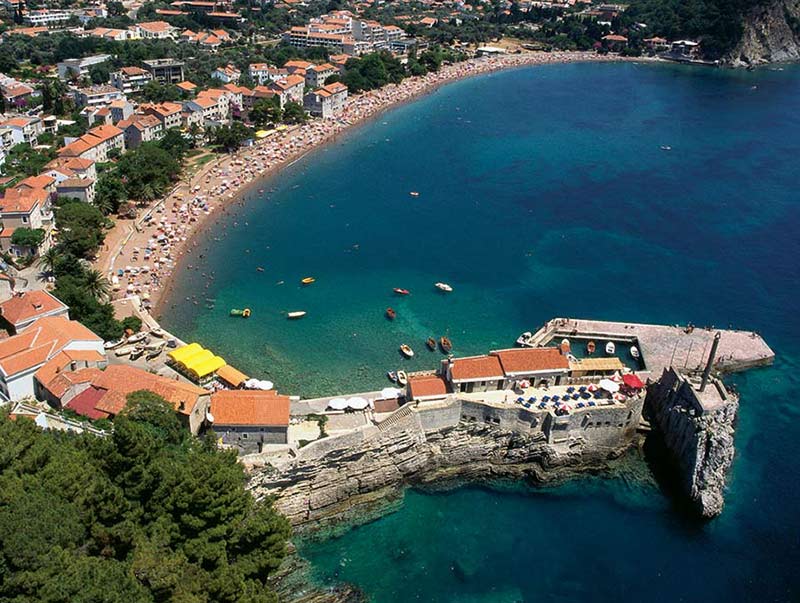 Petrovac township
Petrovac is a cute little town about 20 minutes south of Budva. It's a popular summer resort so you can expect it to be busy during July and August. There's abundant accommodation, shops and restaurants here. It's a good alternative to Budva if you like a more intimate resort.
Lucice
Just south of Petrovac you'll come to Lucice Beach. This is a small cove with forest either side of a shallow beach. This is an undeveloped alternative to Petrovac.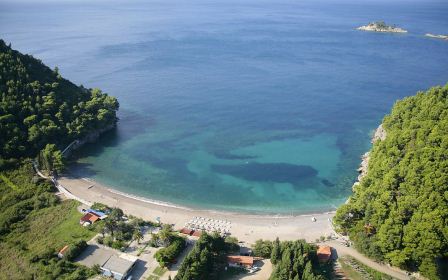 Buljarica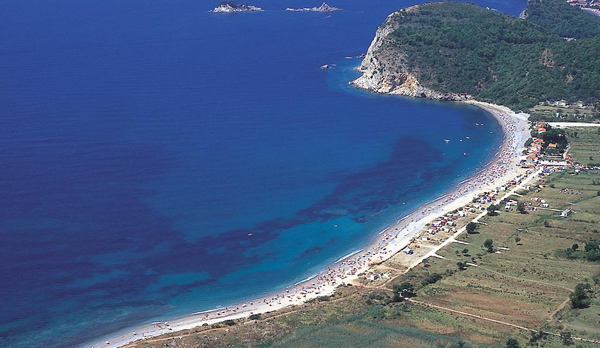 And last but not least, Buljarica Beach. This is 1km / 0.6 miles south of Petrovac. It's quite undeveloped here compared to the rest of the Budva Riviera. You can expect it to be less organised but also less busy.
And that's it. One of the biggest attractions to Budva are the beaches but they're all different.
Have you been to these Budva beaches? We love to know your favourites and you can leave me a comment below.
Related Articles
Book Your Trip With My Recommended Providers