Montenegro Pulse contains affiliate links and is a member of the Amazon Services LLC Associates Program. If you make a purchase using one of these links, I may receive compensation at no extra cost to you. See my disclaimer for more information.

Žabljak Crnojevića: Old Capital a Hidden Gem Minutes From the New Capital
Discover the unique beauty and history of Montenegro's medieval capital, Žabljak Crnojevića, just 20 minutes from Podgorica.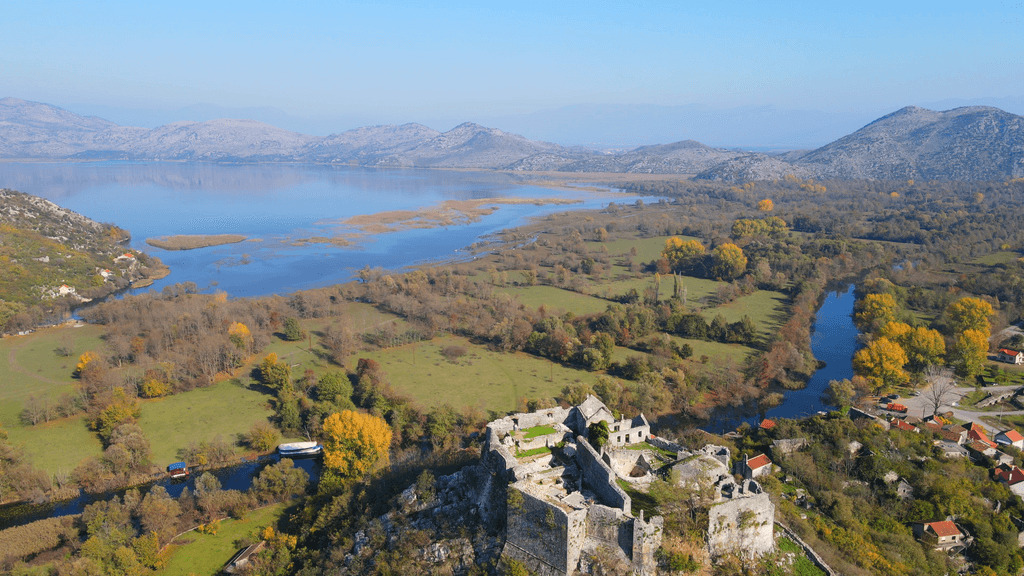 Žabljak Crnojevića with view over Skadar Lake
Žabljak Crnojevića (pronounced Zhab-lyak Tsrnow-yevitcha) was once the capital of Montenegro, then called Zeta. 
It's a place few visitors to Montenegro discover but this formerly majestic medieval town is a hidden gem worth seeking out. 
It's not often you get to wander the ruins of a 15th century castle with no one but birds for company.
And the views from Žabljak Crnojevića are some of the best in Montenegro.
Žabljak Crnojevića lies on the edge of Lake Skadar National Park and the nature here is absolutely stunning. This area is rich not just in natural beauty, but also in history and tradition. And it's all the more authentic for the lack of tourists, souvenir stops and tourist buses.
Wander between the stone houses, explore the ruins of the fortress and enjoy the unique beauty of Žabljak Crnojevića.
Watch this short video to see what you can expect at Žabljak Crnojevića... watch to the end to see the wild horses!
Video credit: My Tranquilitee
About Žabljak Crnojevića

Žabljak Crnojevića was first mentioned in 1403, but it's widely believed the fortress here dates right back to the 10th century, when this area was part of the Roman Empire and called Doclea.
From 1466 to 1478 Žabljak Crnojevića was the centre of the Crnojević Dynasty and it's easy to see why.
Perched on a hill on the banks of the Morača River, the inhabitants could see for miles in every direction. The 300 residents were easily supported by an abundance of fresh fish from the lake and the fertile fields surrounding the hill.
But this wasn't enough to secure the town. Ivan Crnojević had already had the foresight to move the capital to Obod, near Rijeka Crnojevića in 1478 and Žabljak Crnojevića fell to the Ottoman Turks in 1479.
Despite a couple of attempts to reclaim the fortress, Žabljak Crnojevića served as a Turkish stronghold for the next 400 years until Montenegro's territory was handed back at the 1878 Berlin Congress.
Later, the fortress was mainly used by the military and barracks were built in the old mosque. It even served as a local school at one point.

---
Visiting Žabljak Crnojevića Today

Today there's not much more than crumbling ruins left of this once-prized fortress. The fortress has been completely abandoned for almost a century, but some work obviously being carried out onsite suggests there may be a chance the fortress will be preserved.
To get there you park beside the river in Žabljak Crnojevića. You'll see a floating restaurant called Splav kod Karla and there's ample parking space. There are lots of ducks and geese here so bring some cabbage or lettuce leaves and you'll have them all around you in no time.
Although it's clear you have to walk up to the fortress, there are no signs telling you which way to go. You'll see a road that follows the river and a set of steps going up between the houses.
Don't take the steps… or the Snake Path as I like to call it.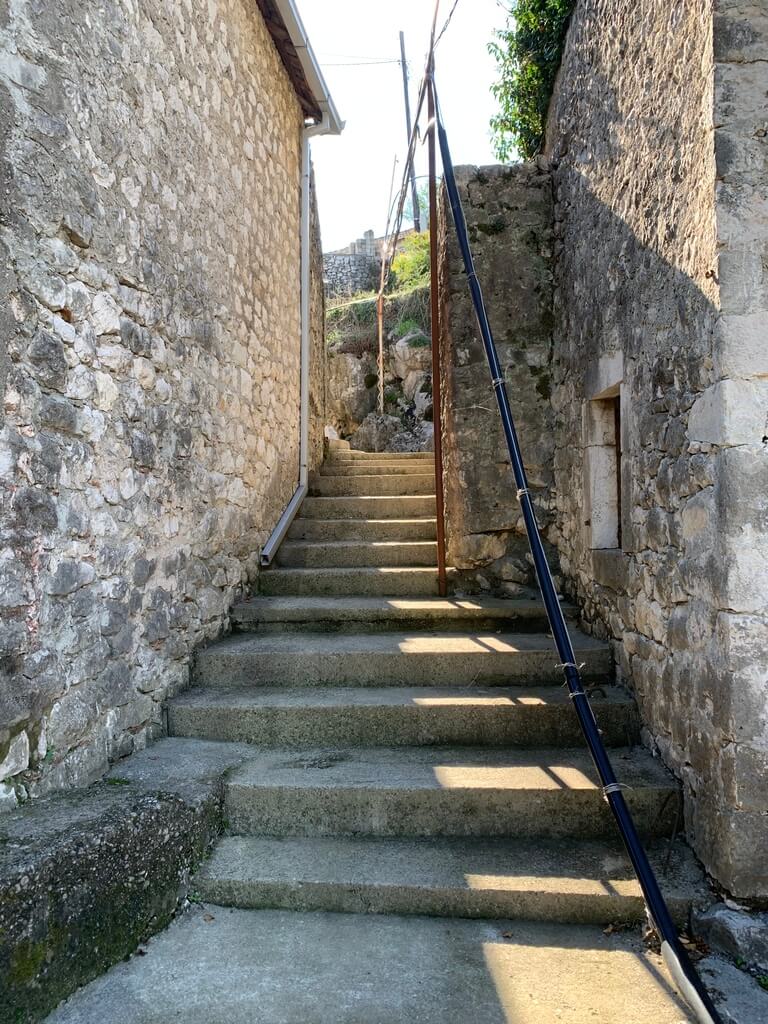 Promising-looking stairs leading between houses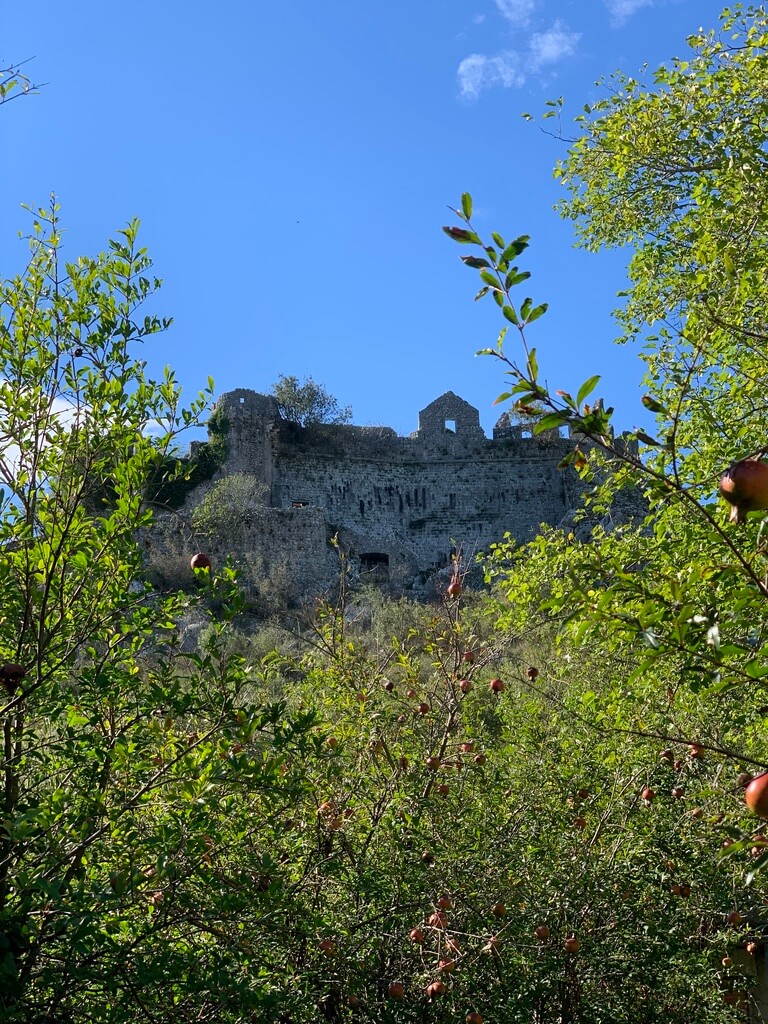 Walking up the overgrown path hoping not to step on a snake!
On my first visit I took the stairs and as I walked along the overgrown path between the houses I couldn't stop thinking about how it was the perfect habitat for snakes.
In the end none jumped out at me, but ever since then I've always taken the other track up to the fortress.
The big, thick brown 'snake' you often see in Montenegro is actually a blavor, the harmless European legless lizard. There are lots of legless lizards and worms in Montenegro that are easy to mistake for snakes. And among the snakes that are found here, only two species of viper are poisonous and you're unlikely to come across them unless you're hiking.

If you follow the road along the riverside you'll come to a dirt track going up. It's wide enough for a car and zig-zags up to the fortress. It's a 10 minute walk at an easy pace.
You probably won't come across any snakes on that path, but you might run into a herd of curious goats or sheep.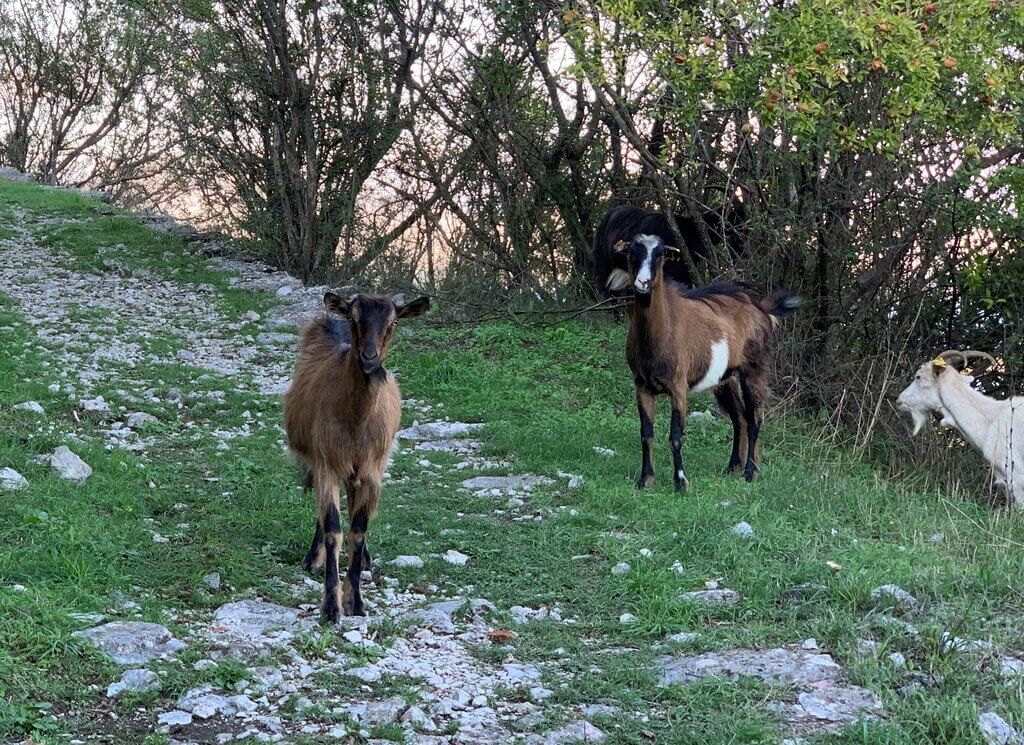 Curious goats wondering what a human is doing up here
At the top you'll go through the fortress' only gate and you can explore the shells of the buildings that were inside. Inside the 15m high, 2m thick walls of the fortress there were the royal court, the Church of Saint George, military facilities, a warehouse and a water tank.
In one corner of the fortress there's a monument to the soldiers who retook Žabljak Crnojevića from the Turks in 1852 and held it for a month.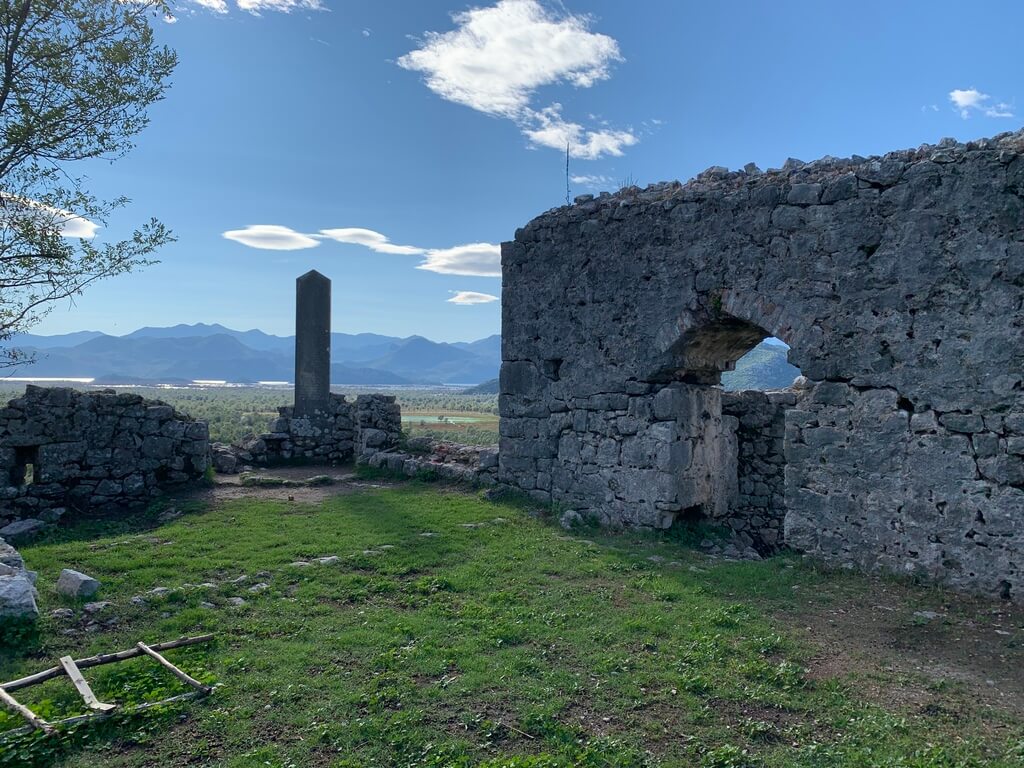 The monument to fallen soldiers and ruins of the fortress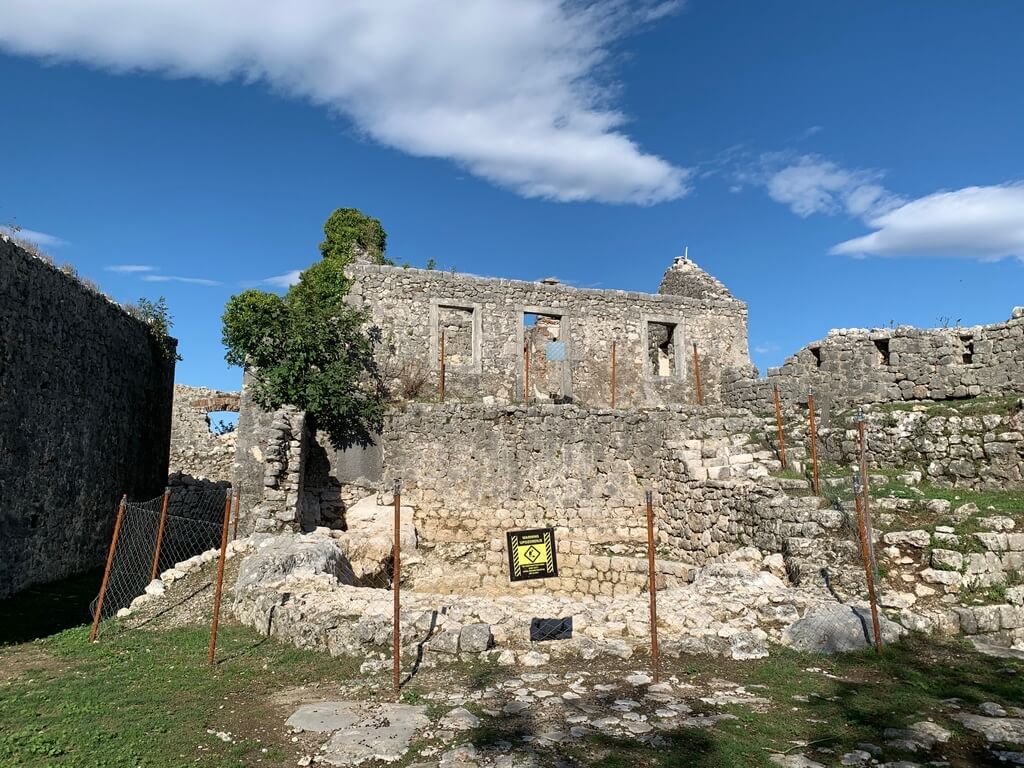 Ruins of the fortress under reconstruction
Exploring the ruins of the fortress is fascinating and the views from all sides are absolutely mesmerizing. This is a stunning part of Montenegro and from the top you can see Skadar Lake, Mount Lovćen, Mount Rumija, the Morača River, the Zeta Plain and Vranjina.
It's easy to spend an hour up here walking around and admiring the views. Look out towards the lake and you might be lucky and see the wild horses grazing in the distance. A pair of binoculars comes in handy up here.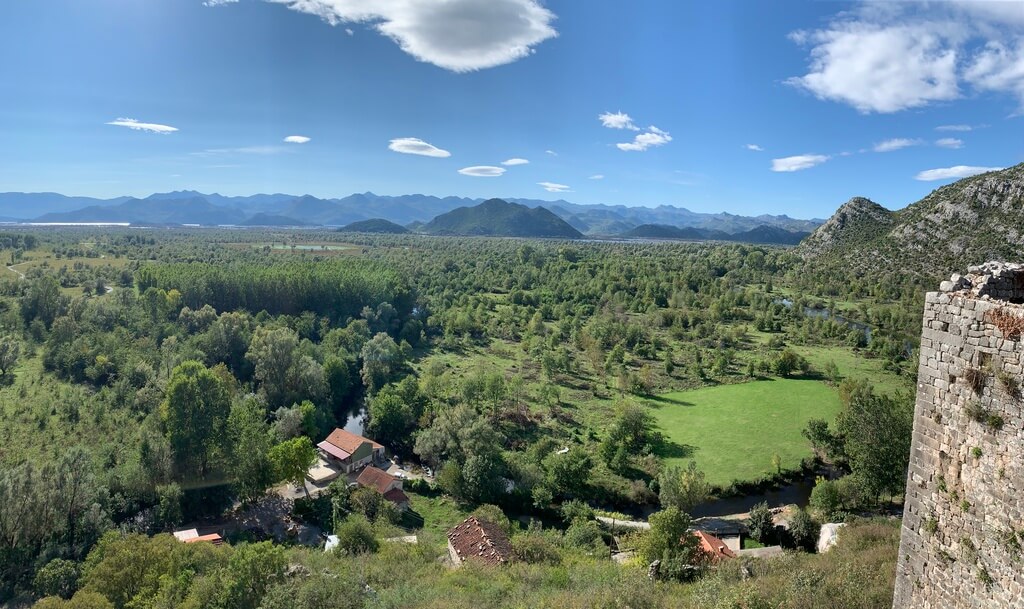 Majestic views towards Kom Monastery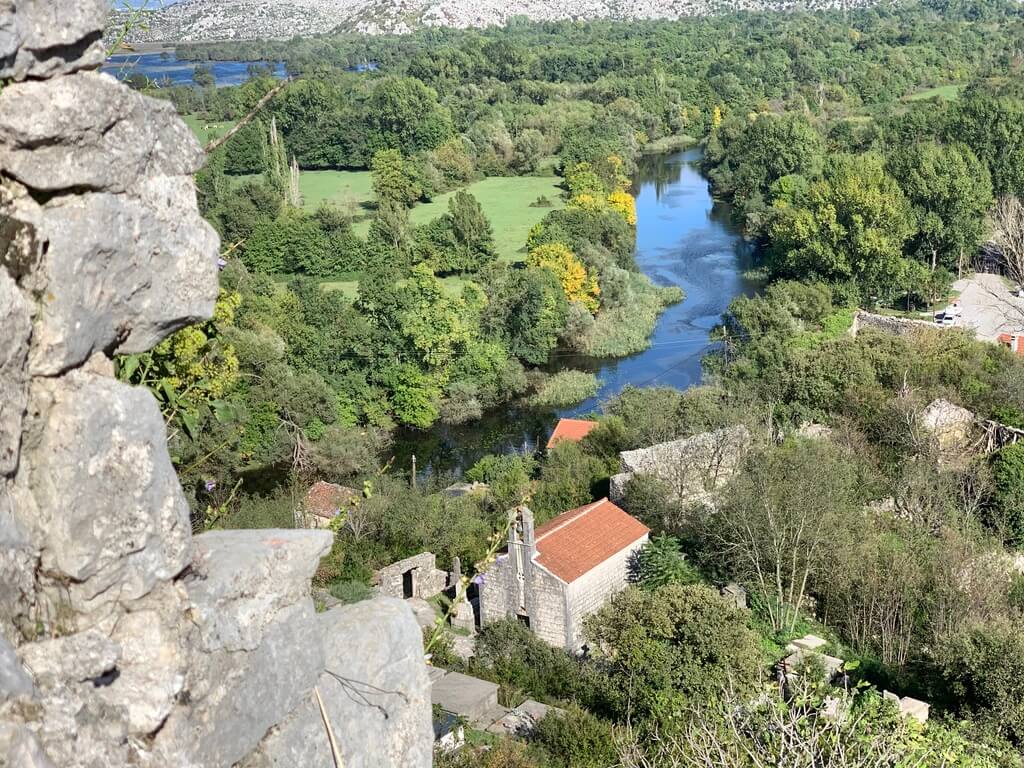 View of the village and Morača River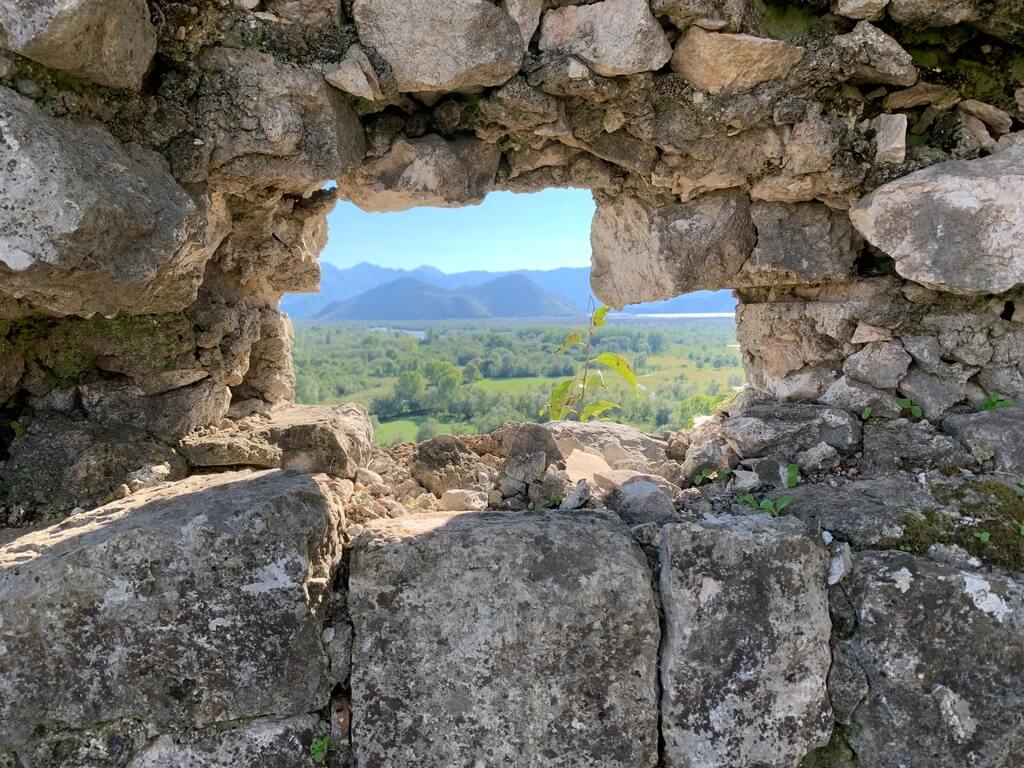 If these walls could talk
---
Getting to Žabljak Crnojevića

If you have a rental car you can drive yourself to Žabljak Crnojevića. Although close to today's capital, Podgorica, Žabljak Crnojevića isn't all that easy to find. From Podgorica you'll need to head towards Virpazar and turn off towards Vukovići. From there you cross a bridge and follow the country road until you get to Žabljak Crnojevića. 
At one point there's a fork in the road at a basketball court. Look for the sign on the basketball court fence pointing left across the bridge.
If you're driving to Žabljak Crnojevića from Rijeka Crnojevića it's best to go through Podgorica. You can travel on the highway which is quick and straightforward. Although there are some country roads marked on Google Maps, they're very slow and prone to being flooded.
Podgorica - Žabljak Crnojevića: 20km (12mi)
Virpazar - Žabljak Crnojevića: 24km (15mi)
Address: Žabljak Crnojevića Fortress, Montenegro
Opening hours: 24 hours
Entrance: Free
---
Accommodation Near Žabljak Crnojevića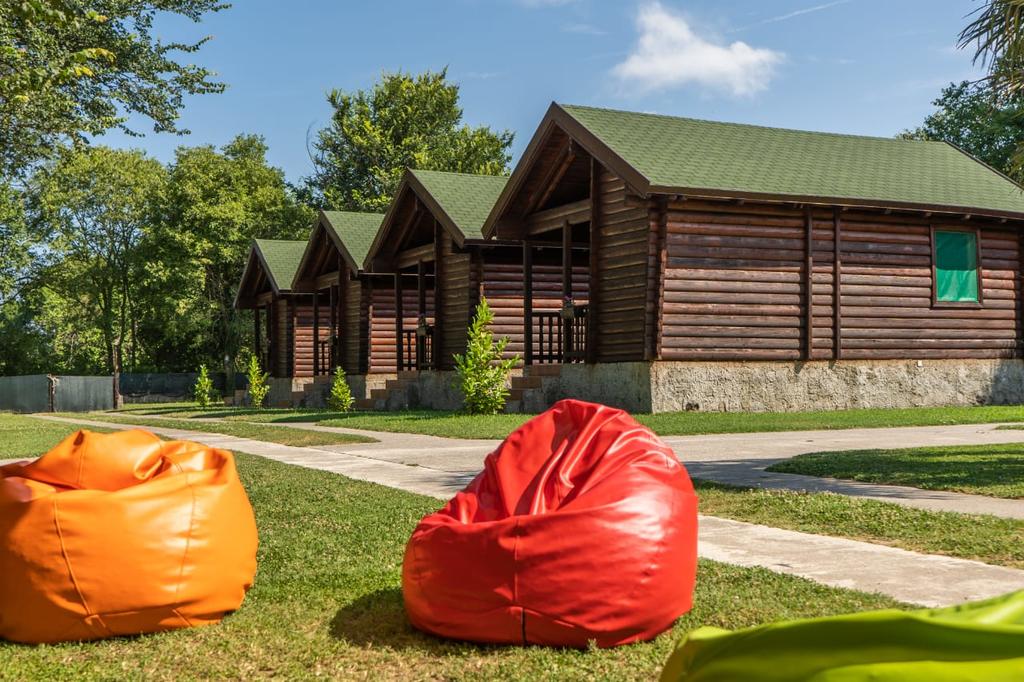 Ethno Village Skadar Lake
There's some lovely rustic accommodation right on the river near Žabljak Crnojevića. 
Ethno Village Skadar Lake has wooden bungalows in the village of Ponari, near the fortress. Each self-contained unit a kitchenette with a fridge, kettle and sink, and they serve breakfast onsite. There's a shared hot tub, bar and plenty of outdoor space to relax.
Accommodation in Podgorica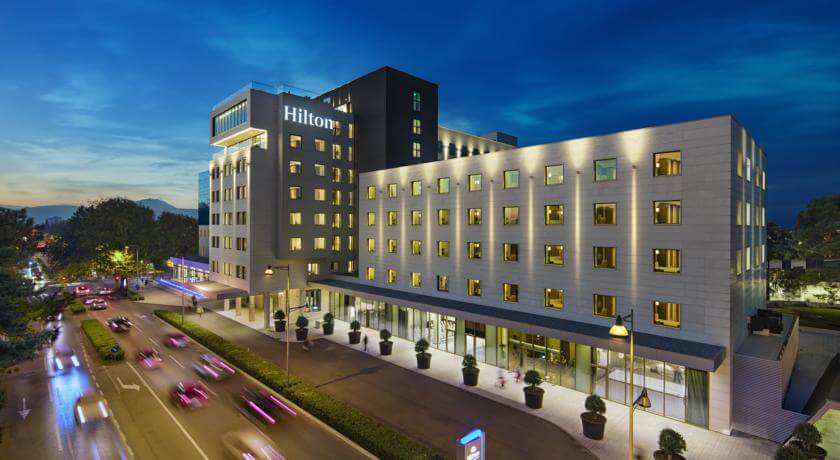 Hilton Podgorica
As the capital of Montenegro, Podgorica offers a city experience, with lots of hotels, restaurants, nightlife. Although it doesn't offer a lot in the way of attractions, it's a central location that's within easy reach of Skadar Lake National Park, Biogradska Gora National Park and Ostrog Monastery.
There are several international brand hotels in Podgorica, like the Hilton Podgorica Crna Gora and the Ramada by Wyndham Podgorica, which are close to downtown Podgorica. There are also self-catering apartments like Apartment City Love in the trendy City Kvart district.
Accommodation in Virpazar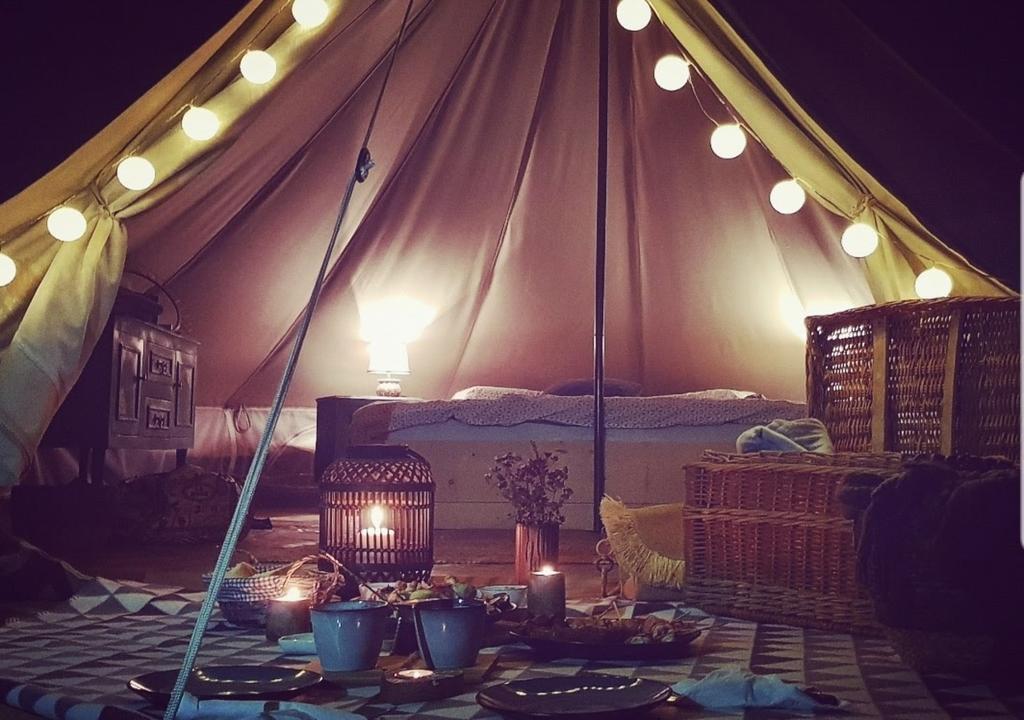 Hoopoe Glamping
If you prefer somewhere quieter, Virpazar lies on the shore of Lake Skadar and from here you can take boat tours, go kayaking and it has a lovely authentic village feel.
Vida's House is a lovely apartment overlooking Silistria boat restaurant and the lake in Virpazar. Virpazar is also a great place to find something different. Hoopoe Glamping offers a luxury tenting experience near the lake and Eco Resort Cermeniza has cozy chalets with an infinity pool alongside its vineyard.
Related Content
Visitor's Guide to Lake Skadar, Montenegro's Hidden Gem
Rijeka Crnojevića: What to See and Do in This Historic Riverside Town
Best Montenegro Wine and Winery Tours
Book Your Trip With My Recommended Providers