Montenegro Pulse contains affiliate links and is a member of the Amazon Services LLC Associates Program. If you make a purchase using one of these links, I may receive compensation at no extra cost to you. See my disclaimer for more information.

Vrmac Ridge
Vrmac Ridge is an easy way to get out in Montenegro's famed wild beauty - and at just 10 – 15 minutes' drive from either Tivat or Kotor, it's something you can easily fit into a morning or afternoon.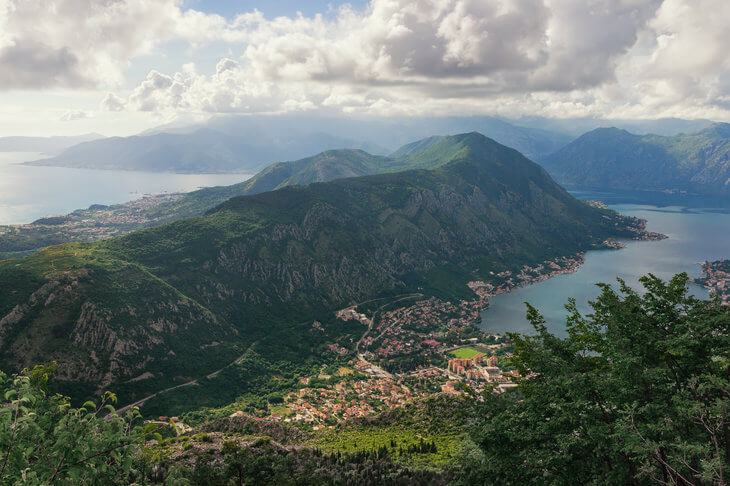 There's a ridge that separates Kotor and Tivat bays that's perfect for seeing some of Montenegro's famed wild beauty - without having to travel too far. 
The ridge is criss-crossed with paths that have been used by locals, and invading armies!, for centuries. You can follow these routes either:
Hiking
Mountain biking
On a jeep safari - sooo fun!
You can also just head up there for a picnic, to admire the views or to visit the abandoned 19th century fort that was built by the Austro-Hungarian empire.
---
Fort Vrmac
Because it overlooks both Kotor and Tivat Bays, Vrmac Ridge has always been a strategic military location and there's an abandoned fort on top of the ridge. Whoever controlled the ridge, controlled the whole Bay of Kotor. 
The fort was built by the Austro-Hungarians between 1894 and 1897, although they had a fort here from 1860.
The building is in surprisingly good condition considering it's been left to ruin and although you can't get inside, you can peer through the windows and walk around it. 

If you're interested in the fort Wikipedia have a good page about it here. And if you're interested in other Austro-Hungarian forts in Montenegro, the best book is Bernard Sullivan's Austro-Hungarian Fortresses of Montenegro: A Hiker's Guide. 

---
Hiking Vrmac Ridge
There are several walking and mountain biking trails along the ridge and you can either do them on your own or take a tour.
Fort Vrmac To Gornja Lastva
The walk from the fort to Gornja Lastva is one of the most popular walks in the Bay of Kotor and it's easy to see why. Comfortable hiking, stunning views and easy to get to make this a winner!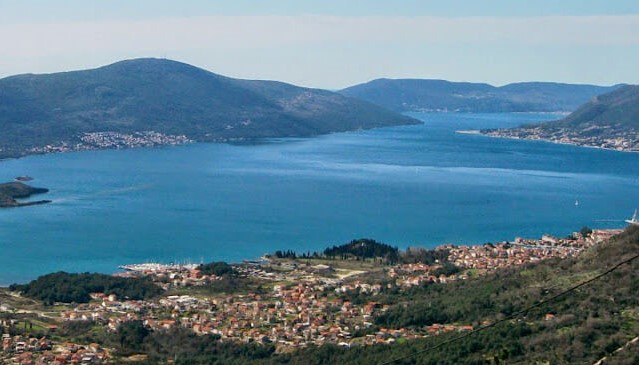 The view of Tivat Bay from Vrmac Ridge
Self Guided Walk
If you self-guide you'll need to take into account that you're starting in one place and finishing in another, so you'll need to arrange transport to take you from Gornja Lastva back to the fort. The best way to do this would be to get a taxi to pick you up at the church in Gornja Lastva. You can either call when  you get there or arrange for one to pick you up at a specific time.
Here's a map of the route: 

Guided Tours
You can also book a guided tour of this hike. On a guided tour you get the advantages of having all your transport arranged for you and you have a local guide to tell you about the local history and points of interest.
Read More: Vrmac Ridge Guided Hike
---
Vrmac Ridge Circular Walk
The dogs LOVE the ridge

Want to do the ridge but don't have enough time for the walk to Gornja Lastva? No problem!

There's also a short and pleasant circular walk along the ridge that takes about 45 minutes. On this route you'll also get panoramic views of both Kotor and Tivat but you'll end up back where you started – perfect for a shorter trip.
We like to do this walk on the weekends. It's pretty, short - essential now with a toddler in tow! -  and easy. 
Kai loves to travel in the backpack where he can get a good view!
We bring a picnic of breads, cured meats and cheeses and enjoy a warm afternoon in the grass. 
There's also an abandoned farmlet up here. You'll see the abandoned buildings which you can roam through. There are still a lot of old military records kept up here.
This walk takes about an hour at a leisurely pace and is mostly flat the whole way. It's ideal if you like nice, easy walks.
There's a watering stop for stock at one point so there's a good chance you might meet a local farmer... and his herd.
Here's a map of the circular walk that starts at the fort and returns there.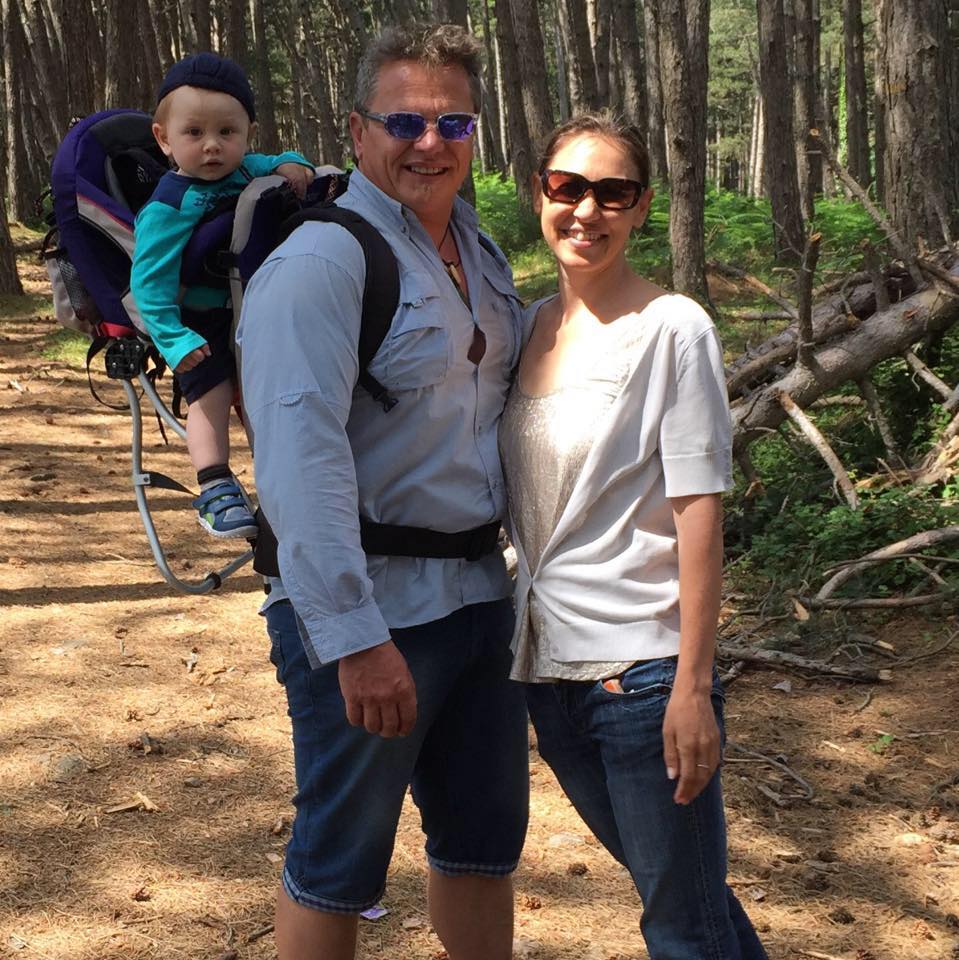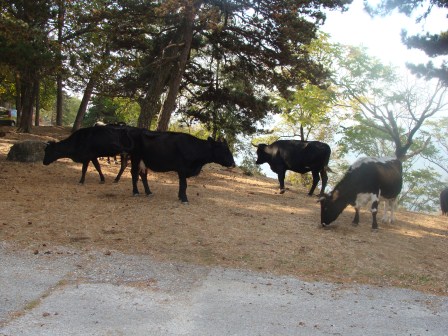 Meet the locals
---
Skaljari to Vrmac Ridge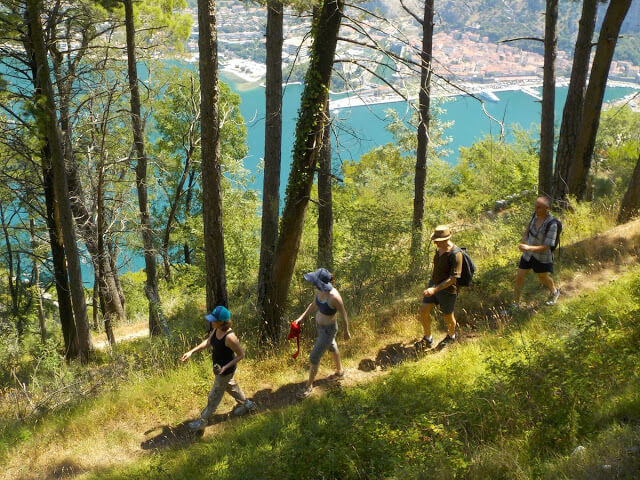 Hiking the old military path with Kotor in the background
The path up to the ridge from Skaljari follows the old military trail that soldiers to used to walk from Kotor. It's an amazing walk with views that get more impressive the higher you climb. 
You'll need about four hours for the hike along the switchback path. It's relatively easy, but it is uphill so some fitness is required. 
Self-Guided Hike
You can do this hike on your own by driving to Skaljari and then walking up. You'll need to either walk back down the way you came or get a taxi to come pick you up from the top and bring you back down.
Vrmac Ridge Guided Hike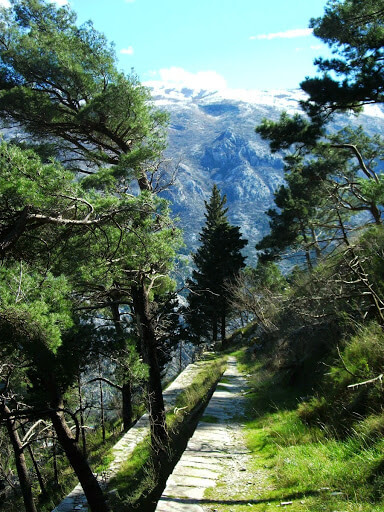 The guided ridge hike starts just outside Kotor and takes you up the old switchback military trail to the top of the ridge.
The tour takes around 4 hours and there are plenty of stops along the way for photos and to grab a drink. 

It includes transport from your accommodation anywhere in Kotor Bay. 
It also has a flexible start time so you can request any date and start time you like when you make a booking. 
Tour Details
Start/End Point: Bay of Kotor
Start Time: Flexible
Price: €45 per person (minimum 2), groups of 3 or more qualify for a discount.
Book a Guided Vrmac Ridge Hike
---
Biking Vrmac Ridge
The ridge is ideal for mountain biking. It is really for experienced mountain bikers because of the steep gradients and gravel, but it makes for a thrilling trip! 

Vrmac Ridge Mountain Bike Tour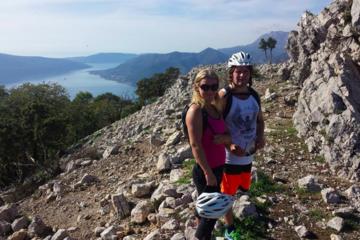 Cyclists on Vrmac Ridge
This mountain bike tour is for intermediate or advanced riders.
On the tour you transfer to Fort Vrmac and then ride to the summit of Mt Vrmac. Then you descend through the pretty villages overlooking the bay and finish in Porto Montenegro in Tivat. 
The tour finishes with a transfer back to your start point.
Tour Details
Start point: Kotor, Tivat or Budva
Start time: 8am (1st June - 31st August), 9.30am all other times
Duration: 4 hours
Price: From €46 per person
Read More: Vrmac Ridge Mountain Bike Tour
---
Getting There
The ridge is only a 10 - 15 minute drive from either Tivat or Kotor. See this map for directions from either town.
---
More Things To Do in Montenegro
Vrmac
Book Your Trip With My Recommended Providers