Montenegro Pulse contains affiliate links and is a member of the Amazon Services LLC Associates Program. If you make a purchase using one of these links, I may receive compensation at no extra cost to you. See my disclaimer for more information.

St Tryphon Cathedral, Kotor, Montenegro
Discover St Tryphon Cathedral, Kotor, Montenegro, including how this icon of the town almost never came to be!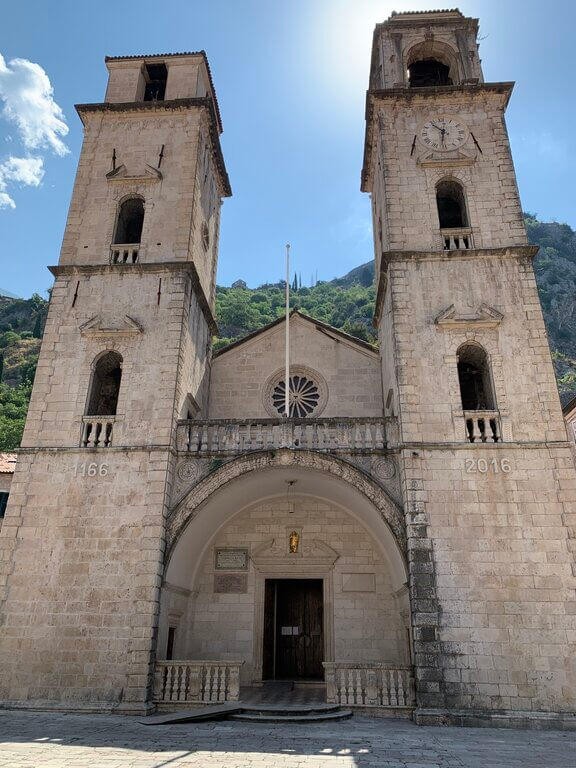 St Tryphon Cathedral Kotor Montenegro
St Tryphon Cathedral is one of Kotor's most well-known churches, and it's a must-see while you visit Kotor old town. If you grab a map from the kiosk in front of the Sea Gate, you'll easily find the cathedral on St Tryphon Square (marked #21 on the map).
Although it's small compared to some of the more impressive cathedrals of Europe, St Tryphon Cathedral is the biggest church in Kotor and St Tryphon is Kotor's patron saint, revered by both Catholic and Orthodox faiths.
But if it weren't for a twist of fate, St Tryphon would have been Dubrovnik's patron saint instead...
Saint Tryphon was a healer who was tortured and beheaded in Turkey in 250 A.D. during the Decian persecution. Centuries later, there was a market for saints' remains and his relics were on the way from Constantinople (today's Istanbul) to Dubrovnik, where they had a buyer.
But a storm meant the ship taking them couldn't sail and this was taken as a sign from God that his relics were supposed to stay in Kotor. So they did, and Saint Tryphon became Kotor's patron saint instead of Dubrovnik's.
With the relics in Kotor, a new church had to be built to house them. So, a domed church in the shape of Greek Cross, was built by Andrea Saracenis and his wife Maria, and consecrated in 809.
In 1124 Kotor's town council approved funds to build a new cathedral, and the three altars of the new cathedral were consecrated on 19th June 1166.
This cathedral is a three-aisled basilica with four-floor belfries, connected by a terrace. The building's architecture shows the southern Italian style that was influential throughout the Nemanjić Dynasty at the time, but the original cathedral has been changed several times over the centuries, mainly due to earthquake damage.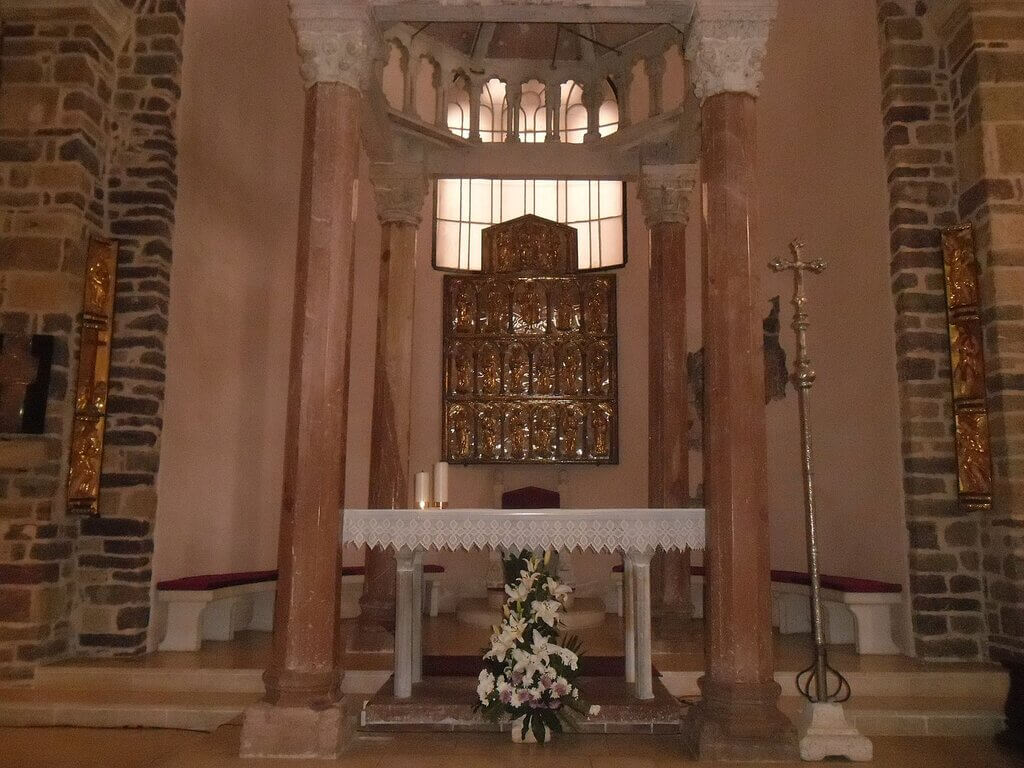 St Tryphon Cathedral, Kotor, Montenegro. Image: By August Dominus - Own work, CC BY-SA 4.0
In 1667 an earthquake brought the cathedral's bell towers down onto Drago Palace and caused major damage. They were rebuilt but, due to economic hardship at the time, the left bell tower was never finished and it's still two metres shorter than the right one.
Another big earthquake in 1979 severely damaged St Tryphon Cathedral, but it also allowed the cathedral to be strengthened, and gave archaeologists the chance to excavate, which is when they found the remains of the earlier church. When the church was repaired, parts of the interior were left exposed so you can see architectural features from different eras.
Adjoining the cathedral is a treasury that was built in 1652. The treasury was the work of Italian Baroque sculptor, Francesco Cabianca, who lived in Kotor for a time.
Saint Tryphon Cathedral is one of the best places to see art by Kotor's medieval goldsmiths and artists who were known throughout the Mediterranean. Although it's known as a 'Venetian town', Kotor was most powerful during the reign of the Njemanjić Dynasty. Raw materials came from the mines in Serbia and were exported from Kotor, so Kotor's gold- and ironsmiths had easy access to materials and founded a renowned school in Kotor.
In the upstairs treasury you'll see valuables belonging to the church as well as examples of traditional dress and weapons. When you go upstairs be sure to walk out onto the terrace for views Saint Tryphon's Square.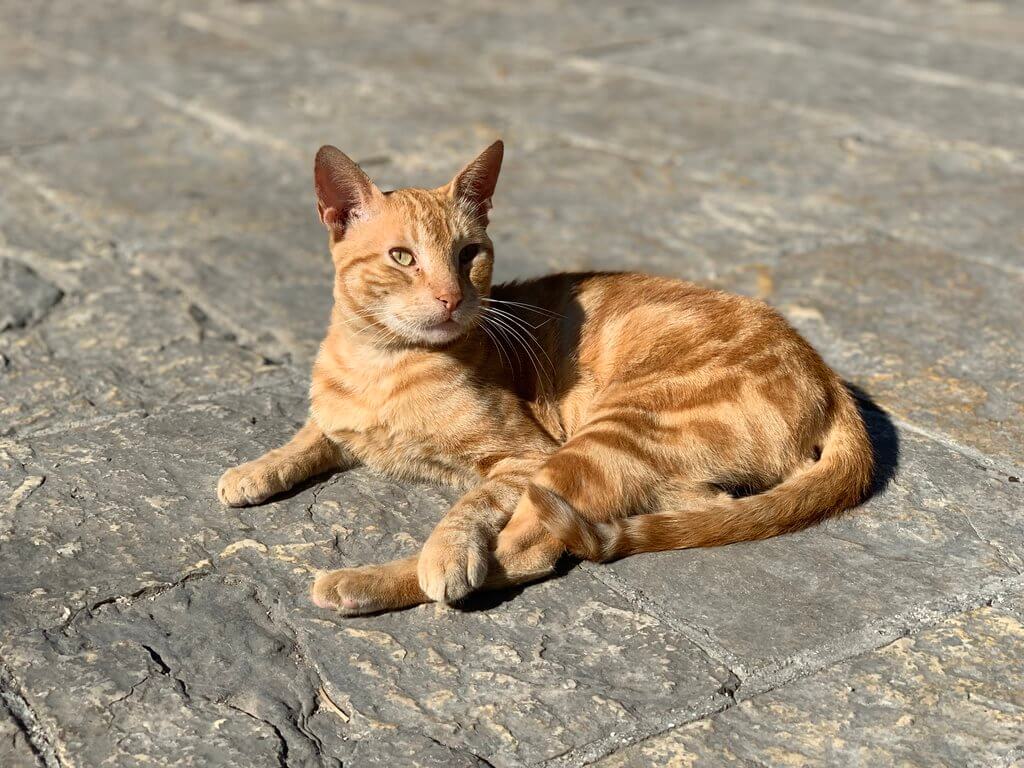 When you visit St Tryphon Cathedral in Kotor, it's hard to miss the dozens of cats that call the old town home… like this ginger tom, who's regularly found in any sunny patch in front of the cathedral.
While Kotor's cats might seem to live a charmed life in tourist season, the reality is that when the tourists go home they're often left cold, hungry, sick and plagued by uncontrolled mating.
Kotor Kitties is a UK, USA and Montenegro registered charity that's helping to transform Montenegro's relationship with cats. You can find out more what Kotor Kitties is doing here.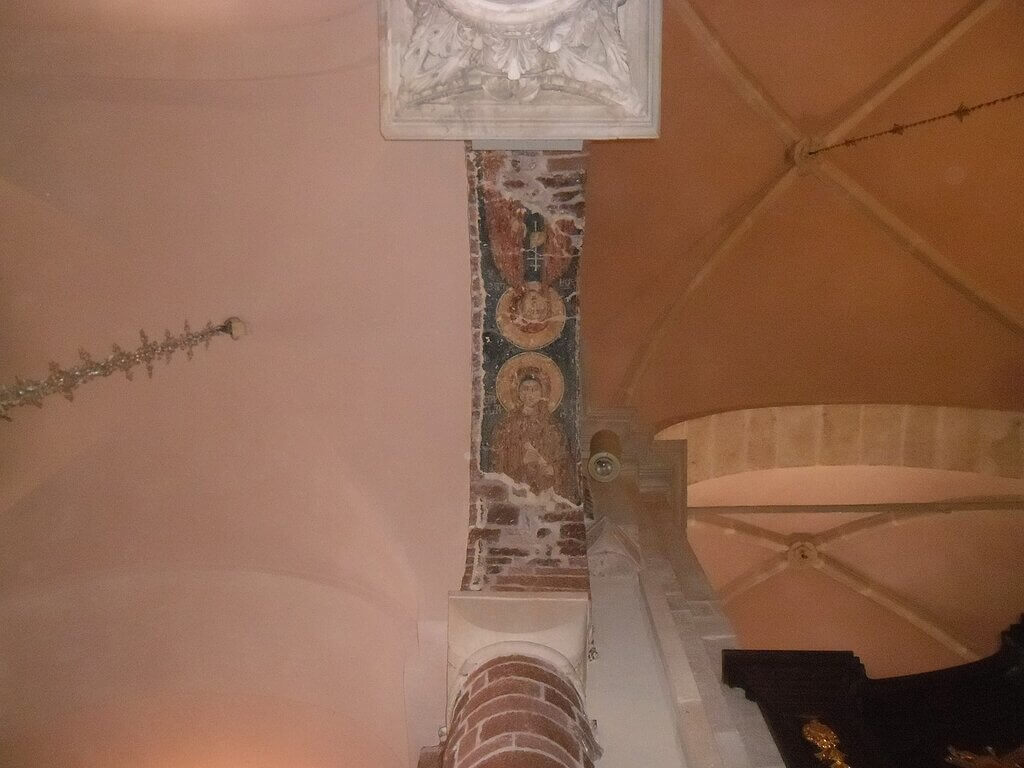 Frescoes in St Tryphon Cathedral, Kotor, Montenegro. Image: By August Dominus - Own work, CC BY-SA 4.0
What to see in Saint Tryphon's Cathedral and treasury:
The unique stone ciborium over the main altar was added to the cathedral in 1362. The masterpiece was made in the Romanesque-Gothic style from red stone from Đurići, in the Bay of Kotor, and sits above the main altar. The frieze of the ciborium depicts scenes from Saint Tryphon's life in bas-relief. Behind the altar you'll see a bas-relief which is the work of Kotor's 15th century goldsmiths
Wooden crucifix which was a gift from Queen Jelena Kurtnejska, wife of Uroš I Njemanić, to Kotor's St Francis monastery in 1288
Saint Tryphon's relics
The sarcophagus of Andrea Saracenis, who is the assumed founder of the church
St Tryphon Cathedral Entrance Fee
St Tryphon Cathedral is the only church in Kotor you have to pay entrance for, and that's actually an entrance fee to the treasury. The entrance is €4 per person.

Top Things to Do Near St Tryphon Cathedral, Kotor, Montenegro

Kotor Walking Tour – You'll get so much more out of your visit to Kotor if you explore it with a guide. The best ways to do it are by joining small group walking tour, booking a private tour or by exploring with my book about Kotor which includes a self-guided walking tour.
Kotor Secret City Trail – The Kotor walking tour for fun people! If you like games, puzzles, riddles, quizzes and discovering a place beyond the usual tourist traps, you'll love the Kotor Secret City Trail. On the trail you solve clues that lead you to various attractions and hidden spots around Kotor.
Each clue unlocks a fascinating story about the town. You'll discover secrets only Kotor locals know about and you'll even be able to try a coffee experience that can't be found anywhere else in the world!
If this sounds like your idea of fun, use the code 'montenegropulse' to get 10% off your game!
Blue Cave Boat Tour – one of the most popular tours from Kotor is a 3 hour speed boat trip to Our Lady of the Rocks and the Blue Cave. It's fascinating, lots of fun and takes you to some of Montenegro's top attractions.
Great Montenegro Tour – this is an all day tour that covers an incredible amount. On this tour you'll see Njeguši village, Lovćen National Park, the Petar II Petrović Njegoš Mausoleum, Cetinje, Skadar Lake National Park, Pavlova Strana, Rijeka Crnojevića, Sveti Stefan and Budva.
If you're pressed for time in Montenegro, this is a great way to several of the country's top sights in just one day.
Accommodation Near St Tryphon Cathedral, Kotor, Montenegro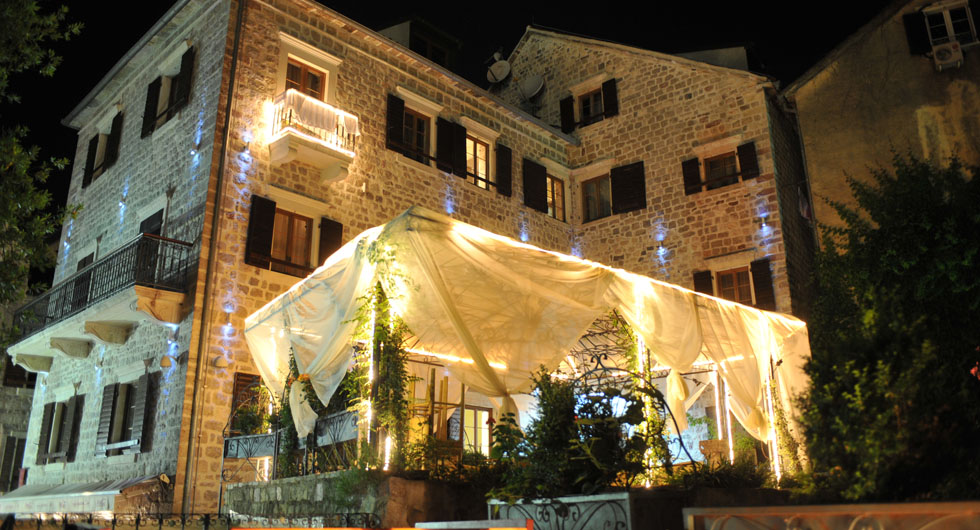 Hotel Villa Duomo near St Tryphon Cathedral, Kotor, Montenegro
Staying in Kotor old town is a wonderful experience. The beautiful surroundings and ambiance of the old town combined with the convenience of having dozens of restaurants, bars and tour options within a few minutes' walk make this a wonderful place to stay.
Here are some of the best places to stay in Kotor old town:
Hotel Villa Duomo – a beautiful 4 star hotel that has studio, one- and two-bedroom apartments on St Tryphon Square.
Palazzo Drusko – a warm and friendly boutique hotel that's filled with authentic artefacts from Kotor. The shared kitchen means you can cook and it's tucked away in a quiet corner of the town.
Pearl Apartments – luxurious serviced apartments that are the most spacious in Kotor.
Old Town Hostel – the most fun hostel in Kotor is a great place to meet people, join tours and it even has the only pool in Kotor!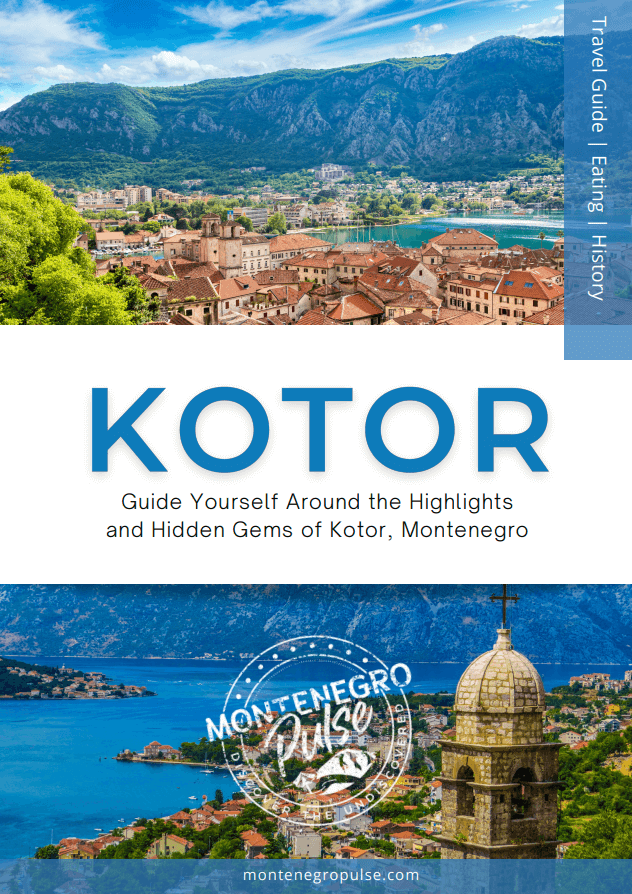 If you are visiting Kotor, my guide to Kotor old town is an indispensable book to take with you. This guide is like having a local best friend to show you the most interesting sights and hidden gems of Kotor.
Related Articles
Book Your Trip With My Recommended Providers