Montenegro Pulse contains affiliate links and is a member of the Amazon Services LLC Associates Program. If you make a purchase using one of these links, I may receive compensation at no extra cost to you. See my disclaimer for more information.

Kotor Old Town: Top Things to Do in the City of Kotor
Discover the top attractions, things to do and places to stay in Kotor old town.

Kotor old town is one of Montenegro's most photogenic, fascinating and popular attractions. Every year visitors from all around the globe come to see this idyllic town on the shore of the Bay of Kotor.
There's a lot to see in the city of Kotor. You can explore its 2,000 year history through its churches, palaces and museums.
Or work up an appetite by taking on the hike up to San Giovanni Fortress and then replenish those calories you burned with some traditional food and wine.
You can even take a thrilling boat trip and then relax with some cuddles from Kotor's furry mascots.
There are so many things to choose from, and the beauty of Kotor's small size is that you can do almost all of them even if you only have a day to spend in Kotor.
Let's discover the best things to do in Kotor!
Tips for Visiting Kotor Old Town
Kotor maps – you can get a free map of the old town at the information kiosk in front of the Sea Gate. Google maps is also very handy to help you find your way around

Look up! - as you wander through Kotor old town, look up and you'll see things most people miss. Beautiful Gothic windows and coats of arms of ancient nobility mixed with the laundry of Kotor residents. It all gives you a feeling for life in Kotor over the centuries

Bring euros - You'll need cash in euros to enter attractions like St Tryphon's Cathedral, the Maritime Museum and the fortress hike. Don't worry if you don't have any on you, there are atms in Arms Square (Trg od Oružja) as you enter from the Sea Gate. You'll also need cash for parking if you're driving to Kotor old town, but you can pay with card in almost all shops and restaurants

Wear good shoes - Kotor's streets are paved with beautiful, old cobblestones but they've been worn down over the centuries and they're very slippery. I recommend wearing trainers if you plan to do the Kotor walls walk up San Giovanni Fortress
Bring cat food - Kotor old town has a large population of cats who'll be grateful for a handful of kibble or a few slices of deli meat
Do a Kotor City Tour
The easiest way to see Kotor old town is on a Kotor walking tour. These tours take you around the most important sites in the old town and tell you about the history and significance of each. They're a great way to see Kotor's top sights and get a general overview of the town in just 1-2 hours... leaving you more time for doing other fun things in and around Kotor!
---
Visit a Kotor Palace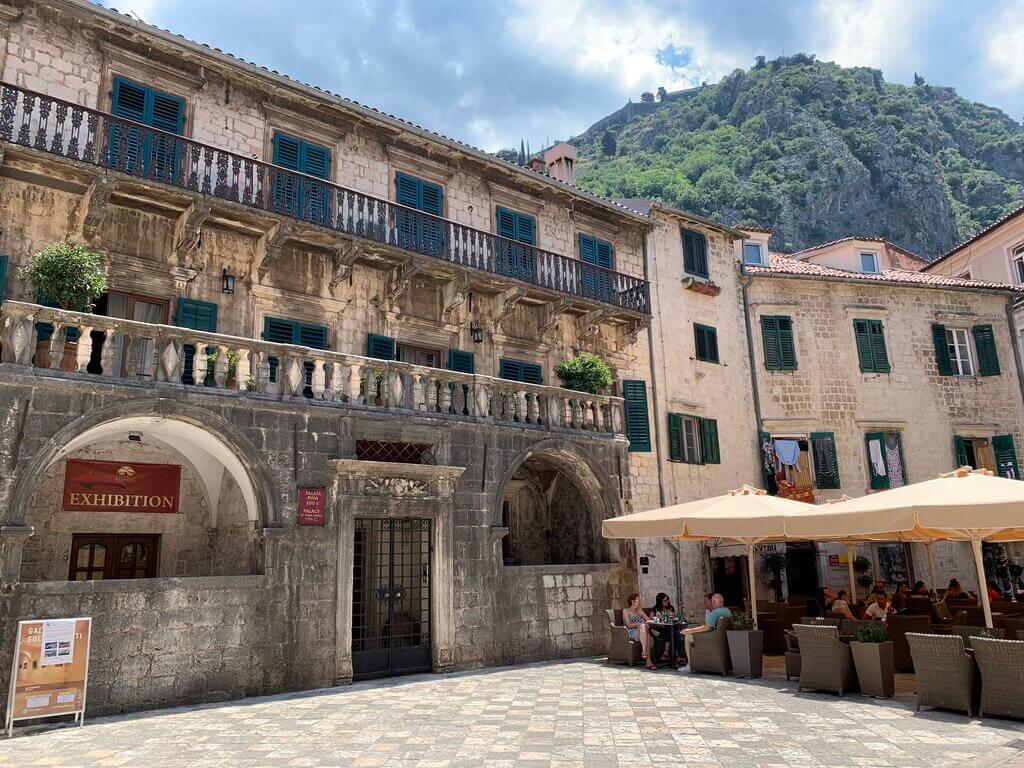 Pima Palace in Kotor old town
As a powerful and wealthy medieval city, Kotor was full of palaces where noble families lived.
Today, you can still see examples of Romanesque, Gothic and Baroque architecture in Kotor. And the palaces are some of the best places to see it.
Drago Palace has some beautiful examples of Gothic architecture once set the trends in Kotor. The 14th century Gothic bifora (double window frame) on the second floor is an example of how the palace used to look and were the envy of Kotor's nobility.
Unfortunately, the palace was destroyed when St Tryphon Cathedral's belfries came down on it in an earthquake and it was rebuilt in the modest Baroque style you see now. But you can still see a Renaissance-style window on the first floor above the passage, Gothic dragons inside the passage and more Gothic details at the back of the palace.
Pima Palace is a beautiful example of a Baroque palace, with symmetrical features and balconies. Today, Pima Palace houses the Gallery of Solidarity and you can visit it to see art exhibitions by local artists.
Grgurina Palace is one of the best places to see an example of a Kotor palace. The Baroque palace has been preserved and is now Kotor's Maritime Museum. Inside you'll be able to see the layout and décor of the palace as well as artefacts from the Bay of Kotor.
---
Visit a Kotor Church
Saint Nicholas' Church. Image: Deposit Photos
There were once 29 churches in Kotor and there have been around 50 since the 12the century.
While many of Kotor's churches were destroyed to make way for public buildings, many remain and give insight into Kotor's history and culture.
St Tryphon Cathedral is must-see in Kotor old town. There you'll see examples of art by Kotor's famous goldsmiths and you'll also be able to see local artefacts in the cathedral's treasury.
The most important Serbian Orthodox Church in Kotor is St Nicholas'. This imposing church on Saint Luke's Square is a modern church that gives you the chance to visit a church of the dominant faith in Montenegro.
Also on Saint Luke's Square, Saint Luke's Church is much smaller, but one of the most important in Kotor old town. The 12th century church is most well-known as a symbol of Kotor's traditional religious freedom and tolerance. 
Originally Saint Luke's was a Catholic church, but became Orthodox in 1657, when it was given to Kotor's Orthodox citizens, particularly those who had fled the Ottoman Turk invasion in Grbalj (the flat plain between Tivat and Budva) the year before. It still kept a Catholic altar until 1812 and both Catholic and Orthodox masses were performed here.
Other good churches to visit include Saint Mary's for its history with the Blessed Osanna (which you can find out more about in my book), Saint Anne's as one of the few remaining Romanesque churches in Kotor and Saint Michael's for its lapidarium (stone artefact museum).
---
Get Some Lovin' From Kotor's Cats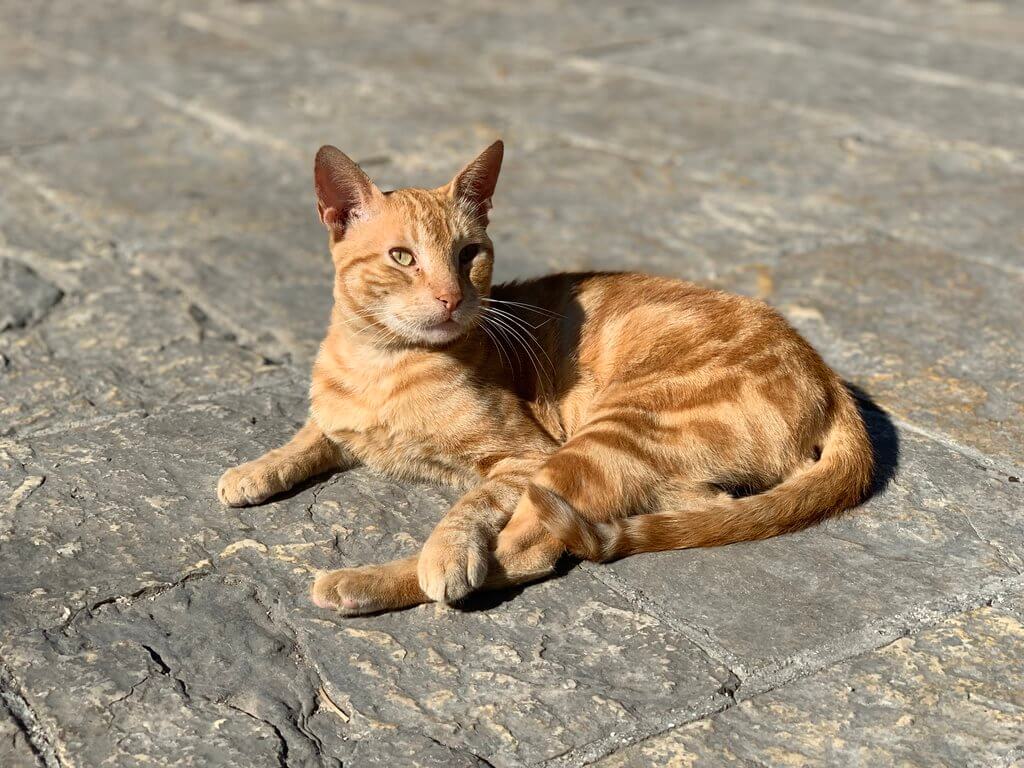 Wood Square is named for the wood that was sold in this square. It's also where you'll find the River Gate and be able to get a good view of the Škurda River, find the entrance to the hike up Kotor city walls and St Mary's Church.
But, these aren't what bring thousands of tourists here.
Rather, it's Kotor's four-legged unofficial mascots that capture the hearts of visitors to Wood Square.
Wood Square is a gathering place (and unfortunately dumping spot) for cats in Kotor. There are small houses which shelter the vulnerable kittens and they know they'll find food here.
Visitors to Kotor love to sit on the benches and enjoy a little maženje (cuddle) with these affectionate cats who have learned that tourists are an excellent source of pleasure and food.
So make a little time to visit Wood Square, relax and soak up the ambiance of Kotor.
While Kotor's cats might look like they have it good while they're lazing in the sun and lapping up attention from tourists, the truth is all of these cats have been abandoned here, many as very young kittens.
Life is hard on the streets, especially in winter when it's cold and the steady stream of food dries up along with the tourists. Overcrowding means disease is rife, especially the deadly feline parvo virus that is lethal to kittens.
Luckily, there is one organisation and a handful of committed volunteers to help. Kotor Kitties is a US-, UK- and Montenegro-registered charity that provides sterilisation and aid to Kotor's unofficial mascots. 
Click here to find out more about Kotor Kitties' work and how you can make a difference.
Hike Kotor's Walls to San Giovanni Fortress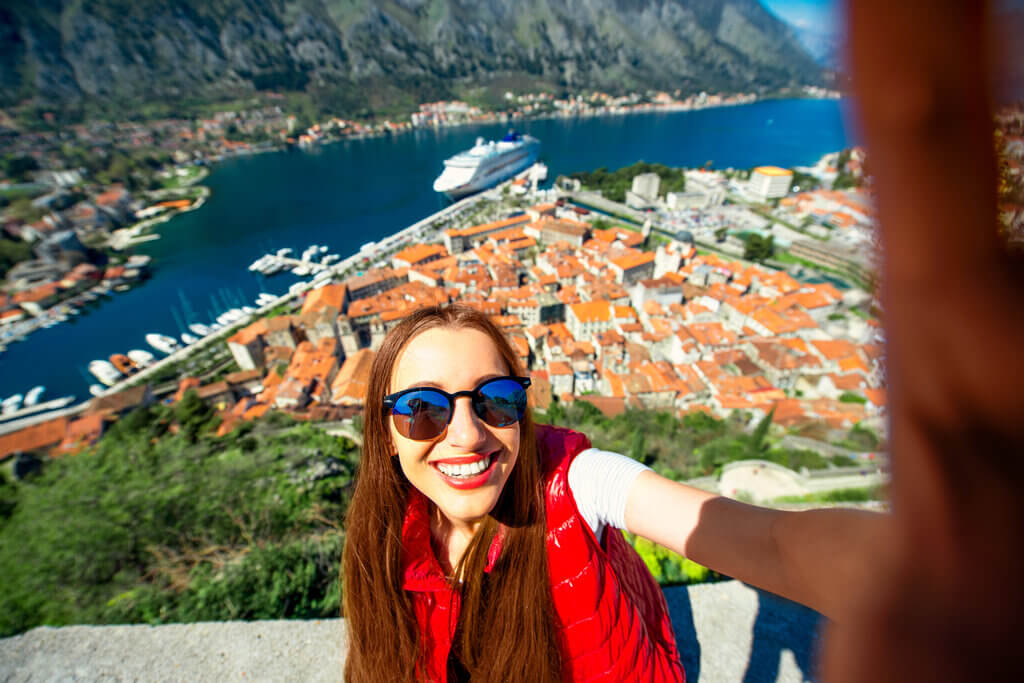 View from the top of Kotor city walls. Image: Deposit Photos
Kotor's fortifications are one of its most remarkable features. You'll see the fortifications encircle the whole old town and a part of the mountain above. 
In fact, Kotor is one of few towns in the Mediterranean to have completely kept its fortification system.
The Illyrians built hill forts throughout the Bay of Kotor during their reign which went from the 3rd century B.C and ended in 168 B.C., when they were conquered by the Romans. The fort atop Mount Saint John (also known as Sveti Ivan and San Giovanni) was built 280m above sea level and transformed into a castle as the fortifications developed. 
From a hill fort, the fortifications were gradually built over centuries and successive empires. The building was most intense during the 13th and 14th centuries, and by the end of the 14th century they completely encircled Kotor town and the castle above. With advancements in fire arms and the threat of Turkish invasion looming, the walls had to be strengthened and thickened throughout the 15th century. The walls are an incredible 4.5km (2.7mi) in length and reach up to 20m (65ft) high and 16m (52ft) thick.
The Kotor fortress walk is one of Kotor's top attractions and you'll get incredible views of Kotor and the Bay of Kotor all the way up. However, it's not an easy walk, especially if you're doing it in summer heat. 
There are 1355, sometimes crumbling, steps to the top and in many places you'll be forced to walk on the gravel slope because the steps are single file. Coming prepared will make a huge difference!
The walk is 1.2km (0.7mi) and the entrance is next to #42 on the map. Don't forget to look up and see the Venetian arch above the street on your way through!
If you have time, follow the sign for Špiljari Village on your way up. This is where Kotor was founded over 2,000 years ago. You can explore the ruins and 1,000 year old Church of St John. You can also visit the makeshift cafe for some rakija (brandy), juice and cheese.
---
Shop at Kotor Farmers Market
There has always been a market in Kotor. Farmers from inland Montenegro brought their produce down the Ladder of Kotor to sell it in the town. 
Just outside the town walls, (between numbers 10 and 11 on the map you get from the information centre by the Sea Gate) you'll find vibrant arrays of local produce. This is one of the best place to taste Montenegro.  
If you want to try traditional fare pick up some olives marinated in garlic and parsley, round cheeses, olive oil, pomegranate juice, prosciutto, fresh-caught fish, figs, honey, berries, tomatoes, cucumbers, capsicums and potatoes. Anything labelled domači is locally grown. 
Hours: 8am to 2pm daily
Entrance: Free

---
Take a Boat Tour
Kotor old town lies on the shore of the Bay of Kotor, named one of the top 10 most beautiful bays in the world!
It's no wonder then, that taking a boat trip is one of the most popular things to do in Kotor.
Getting out on the calm sea, swimming in the warm bay and visiting more nearby attractions are all great reasons to take a boat trip from Kotor. And there are many ways to do it, even if you only have short time to spend in Kotor.
Here are the most popular boat tours from Kotor:
2 hour boat tour to Perast and Our Lady of the Rocks - this short speed boat tour takes you to two of the most beautiful sights in the Bay of Kotor. Perast was once the home of the bay's richest residents and is a small town full of Baroque palaces. Our Lady of the Rocks is an island church with fascinating legends and history. Click here to see pricing and availability.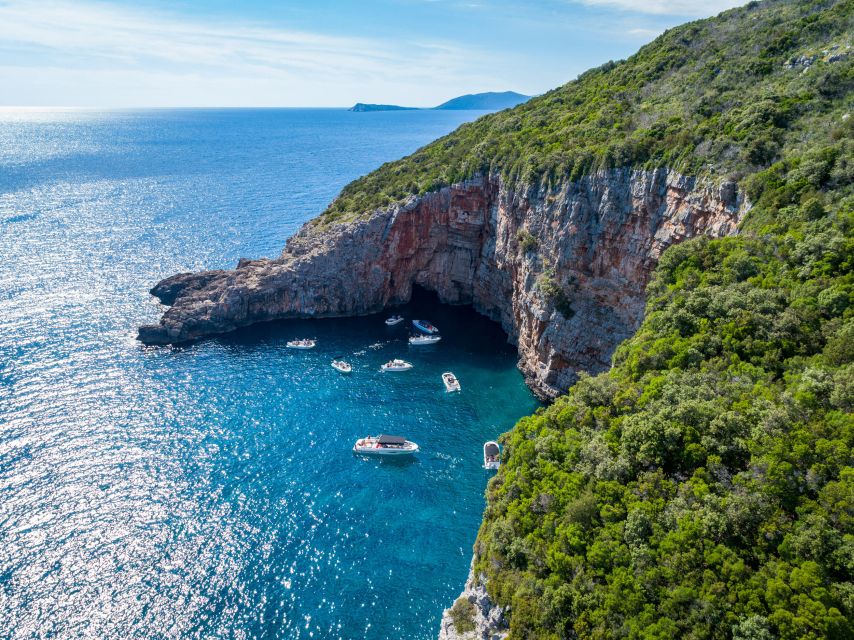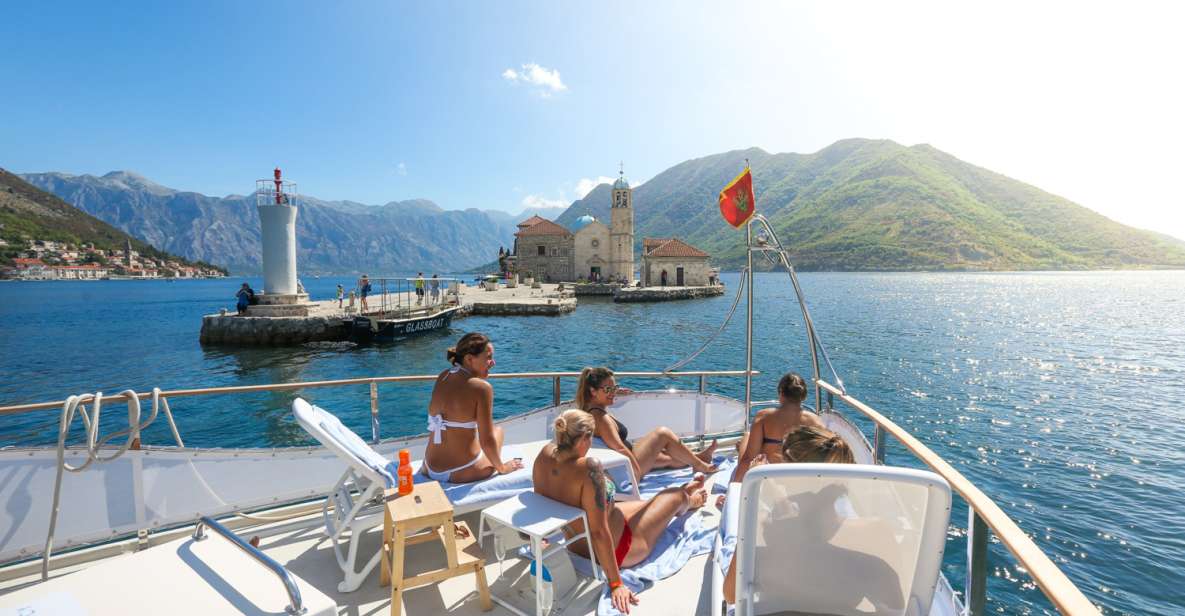 Boka Bay Day Cruise - this full-day cruise is a great way to relax and fully enjoy the stunning Bay of Kotor. The tour includes stops at Our Lady of the Rocks, the Blue Cave and includes plenty of swimming time. Click here to see pricing and availability.
---
Take a Full Day Tour
You'd be amazed how much of Montenegro you can see in just one day.
Montenegro is incredibly varied, with idyllic coastlines, rugged mountains, abundant wildlife and everyone's favourite - rakija (brandy)!
You can do full-day tours that depart from Kotor old town and take you to the best attractions around Montenegro. This is the best way to see Montenegro if you only have a few days in Kotor.
Here are the most popular day tours from Kotor: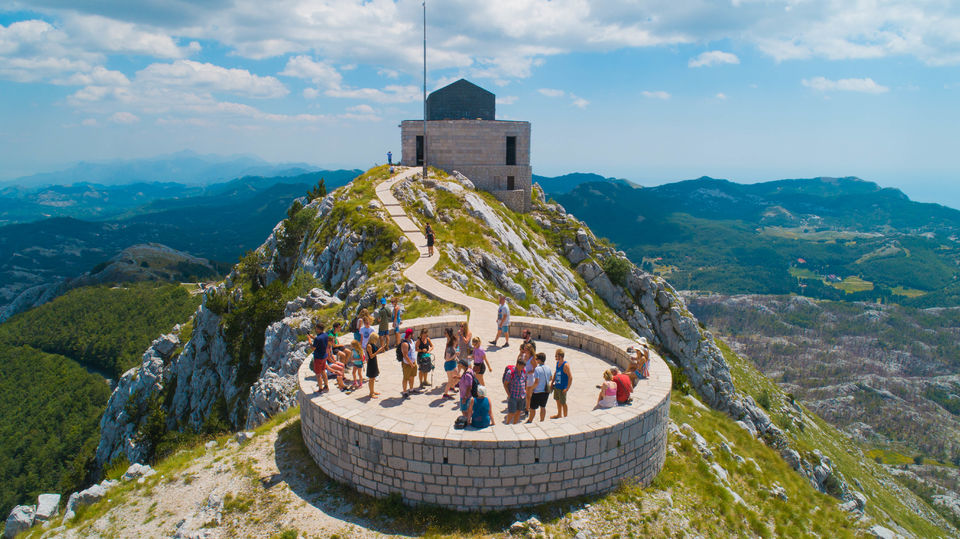 Full-Day Montenegro Tour - this full-day tour incredibly takes you to Njeguši, Lovćen National Park, Cetinje, Skadar Lake National Park and the Budva Riviera all in one day. Click here to see pricing and availability.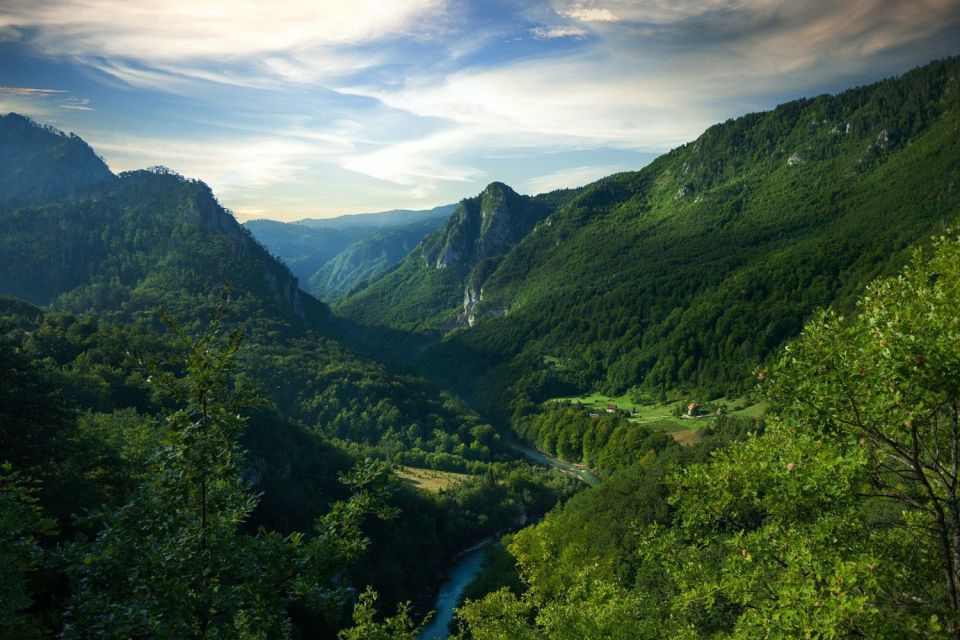 Durmitor, Tara and Ostrog Day Trip - this full-day tour  takes you to see the jewels of north Montenegro: Durmitor National Park, the Tara Canyon and Ostrog Monastery. Click here to see pricing and availability.
---
Try Some Traditional Food
Seafood and Traditional cuisine
Although it's a bustling tourist centre and there are lots of restaurants in Kotor old town, it pays to be picky here. Many restaurants here are decidedly average and it would be a shame to miss out on some of the great food available because you settled for a below-average pizza.
Coastal Montenegrin food is mainly seafood-based and there are some delicious dishes you can try. I highly recommend the cuttlefish risotto, don't be put off by its black colour, it's sooo good. If you like shellfish go for the mussel buzara (stew) or mixed seafood stew. You'll also find seafood risotto, pasta and fried, stuffed or grilled calamari.
Another delicious specialty are local fish varieties bream (orada) and bass (brancin). These are served barbecued with a side of Dalmatian vegetables (dalmatinski varivo), which is stewed chard and potatoes. It all comes with lashings of olive oil and garlic. 
Bastion II in Wood Square (Pijaca Od Drva) and Bastion III just across the bridge at the River Gate serve traditional cuisine and are great for an authentic meal experience. Konoba Scala Santa is also an excellent choice and serves local specialties like seafood stew and modern Mediterranean dishes like truffle gnocchi. 
Pizza Pronto serves excellent thin-crust pizza that you can have dine-in or to go.
Meat lOVERS
If you prefer meat over seafood, go for Balkan grill. The sausages (čevapi) and hamburger patties (pljeskavica) are finger-licking good. They usually come with fries and you choose a salad to go with them. The šopska salad (tomato, cucumber, spanish onion, capsicum and feta cheese) is always good, as is a simple, dressed cabbage salad.
The best place to get Balkan grill is just outside Kotor old town. If you head along the marina towards Muo and keep walking for a few minutes you'll come to Tanjga. Here, you'll get traditional Balkan grill in huge portions and at local, not tourist, prices.
vEGETARIAN AND sPECIAL dIETS
If you're vegetarian or vegan, eating in Montenegro can be a little tricky. Expect quizzical looks and "but you still eat chicken right?" replies. If you're gluten-free or have any allergies you'll need to be very specific when you order. The good news is Montenegro's fresh produce is excellent and you'll have wealth of salads, pastas and vegetable dishes to choose from.

Sweets
If you'd like to try something traditional, try one of these:
Krempita – this is a traditional specialty of layered filo pastry and vanilla pudding
Baklava – a walnut pastry soaked in sugar syrup
Pita – fruit pies, like cherry and apple made with filo pastry
Pancakes – rather than just for breakfast, Montenegrins love pancakes at any time of day and you'll find them in just about every restaurant and café. You can choose from traditional fillings like honey and walnut, or go for modern favourites krem (chocolate spread) with plazma (ground biscuits) or jam
Most of the restaurants and cafes have cake stands with various sweets and you'll find ice cream stalls all around the old town for something on the go.
Breakfast and Budget
If you're looking for breakfast or you're on a budget, the best place to head is to a bakery (pekara) and grab a burek. Burek is a pastry that's filled with meat, cheese, spinach or potato. Although people usually have it with yogurt for breakfast, it's good any time of day and at around €1.50 each, they're a cheap meal.

Drinks
Let's not forget about what to drink in Kotor! Why not start with a shot of rakija, grape brandy that every Montenegrin household has on hand for celebrations, religious holidays, funerals, when friends come to visit, flus and colds and sometimes just to get things moving in the morning. 
If you like beer, Montenegro's signature beer is Nikšičko (pronounced Nik-shitch-ko, but you can just ask for a 'Nik' to spare yourself trying to pronounce it) from the town of Nikšić. 
Or if you're looking for a wine to go with your meal, try vranac red wine, the dominant variety in Montenegro. For a white, try krstač, the grapes for which only grow in a small area around Podgorica.
---
Accommodation in Kotor Old Town
Kotor Hotels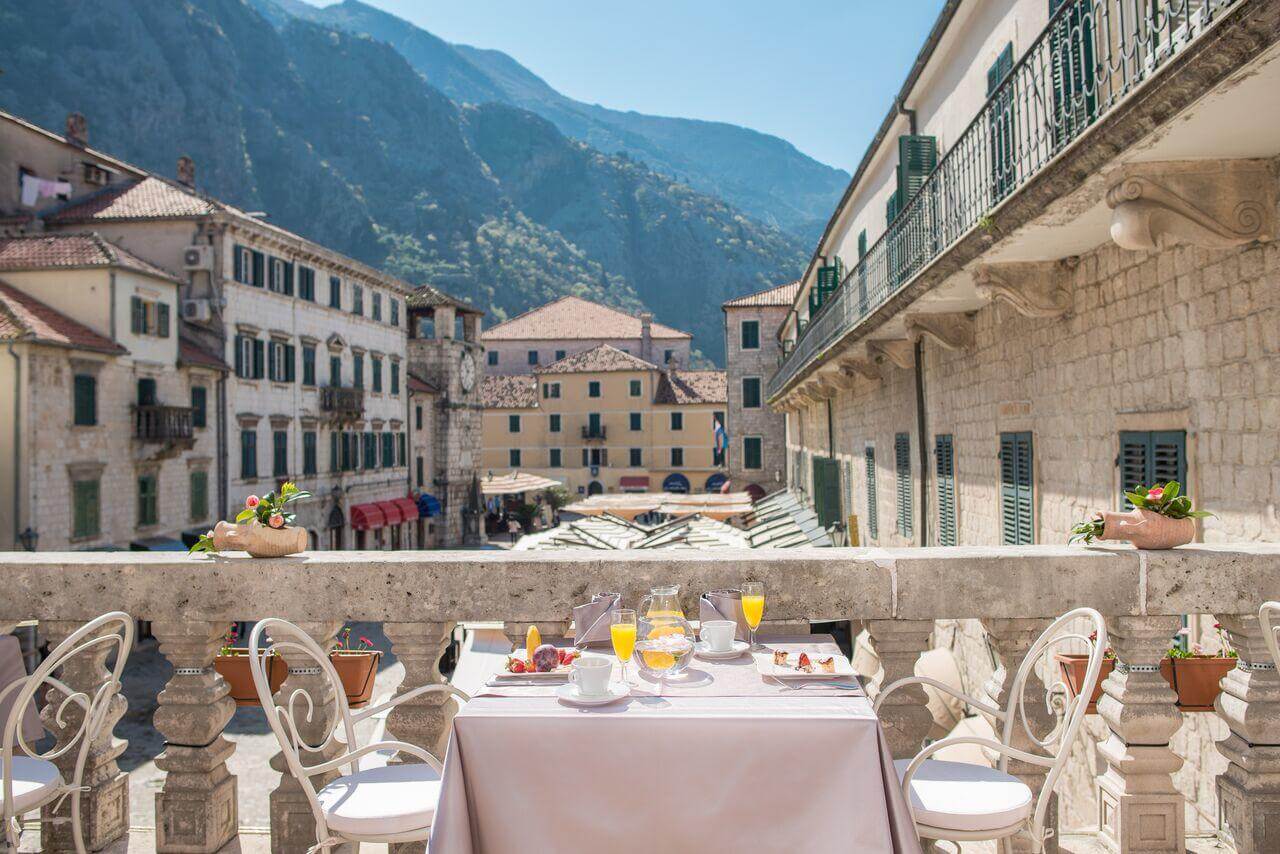 Historic Boutique Hotel Cattaro
It's not often that you get the chance to stay in a 15th century Venetian town and Kotor old town has lots of good-quality hotels on offer. 
Aside from being beautiful and unique, when you stay in Kotor you have everything on your doorstep. Attractions, restaurants, even beaches are close by. There are also lots of tours departing from Kotor, so if you don't want to hire a car, Kotor is the ideal place to stay.
But before you book your stay you should know that the one complaint of people staying in the old town is that it can be noisy. With tourists wandering around all day and bars open until 1am, it's not the ideal place to stay if you like peace and quiet. But, if you're visiting in the winter months (November to April), Kotor is very quiet and the ideal place to stay.
If you think the old town might be too noisy, you can also stay just outside of Kotor in Dobrota or Muo. There are lots of beautiful hotels and self-contained apartments on the seaside near Kotor and you'll have the advantage of sea views.
Top Kotor old town hotels include:
Here are some of the best waterfront hotels close to Kotor old town:
Find Accommodation in Kotor for yOur Dates
Hostels in Kotor
Old Town Youth Hostel, Kotor
Believe it or not, you can also stay in Kotor old town even if you're on a tight budget. Staying in the old town is ideal for backpackers because everything is within walking distance (including great nightlife), there are good-value group tours departing from the old town and the bus station is a 10-minute walk from the old town.
There are four hostels in Kotor old town:
Old Town Youth Hostel – the most popular hostel with younger travellers, Old Town Youth Hostel is a trendy hostel where you can join affordable group tours and pub crawls
Montenegro Hostel B&B Kotor – popular with people wanting a quieter stay in Kotor, this hostel also organises affordable group tours but they have stricter noise limits in the common areas
Hostel Cent – Hostel Cent has modern facilities with up to 10 beds in a dorm and an outdoor terrace, a rarity in Kotor and a nice place to hang out and watch life in Kotor
---
Kotor Old Town Parking
If you're hiring a car (I recommend Localrent.com for car hire in Montenegro) and driving to Kotor there are two parking lots you can use when you're visiting Kotor old town.
The closest to the old town is across the road, along the marina. It's usually busy so if you can't find space there follow the road until you get to the roundabout and turn around and come back. 
Since the road through Kotor is also very busy in summer and turning around and coming back could take a long time, I recommend skipping that parking lot and going straight to the one alongside the Škurda River. You'll usually find a park here and although it's not as close at the parking lot by the marina it's still only a few minutes' walk from the old town. 
Parking in Kotor costs 80-90c an hour... a bargain compared to the €10 an hour you pay in Dubrovnik... and that's still a 15 minute hike from Dubrovnik old town!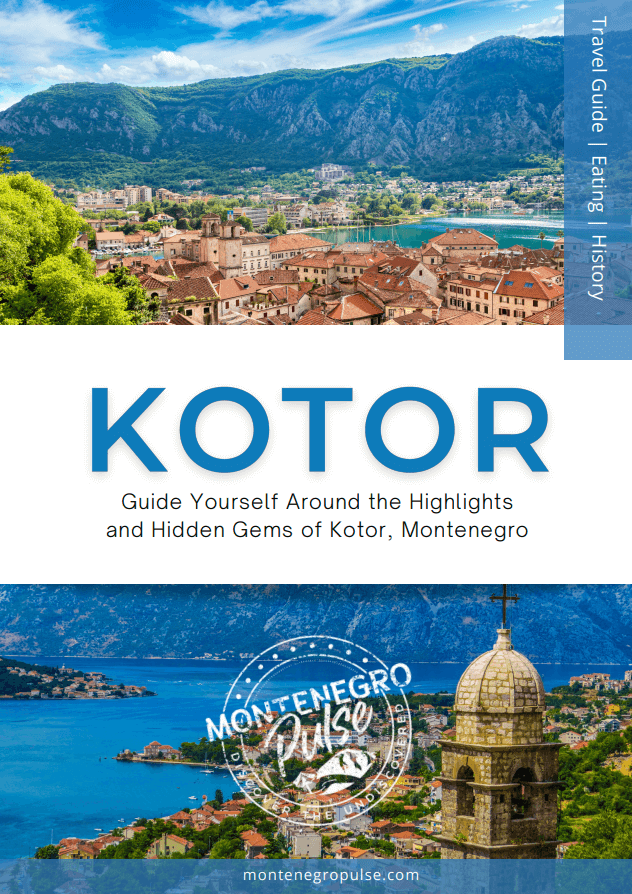 If you are visiting Kotor, my guide to Kotor old town is an indispensable book to take with you. This guide is like having a local best friend to show you the most interesting sights and hidden gems of Kotor.
Related Articles
Port of Kotor: The Complete Guide
Kotor Montenegro: What to See and Do
Book Your Trip With My Recommended Providers