How to Get the Best Out of Your Day in Kotor Old Town
This post may contain affiliate links. Find more info in my disclaimer.
Discover stunning Kotor old town. Find out what to see, what to eat and where to sleep during your visit.

Kotor old town is one of Montenegro's most photogenic and popular tourist attractions. Every year visitors from all ends of the globe come to see this idyllic town on the shore of the Bay of Kotor. 
But what do you need to know before visiting?
Well, a little bit of the history helps you to get underneath the skin of Kotor old town and appreciate why it's called a Venetian town and why it's unique. 
Figuring out which attractions to see and how much time you want to spend in Kotor old town is also helpful, especially if you're short on time.
Planning any tours or day trips in advance will help you decide what you need to bring, for example, walking shoes for the Kotor walls walk up San Giovanni Fortress and a swimsuit for the Blue Cave.
And last but not least, being particular about where you stay and eat will top off your visit to this stunning destination and ensure you have a spectacular experience on your vacation.
There are lots of great things to see and do during your time in Kotor old town, so let's go over what you need to know to get the best out of your visit.
Quick Links
Tips for Visiting Kotor Old Town | A Quick History of Kotor Old Town
Kotor Old Town Map | Kotor Old Town Attractions | Kotor Old Town Walking Tour
More Kotor Tours | Kotor Old Town Hotels | Kotor Old Town Hostels
Kotor Old Town Restaurants | Kotor Old Town Parking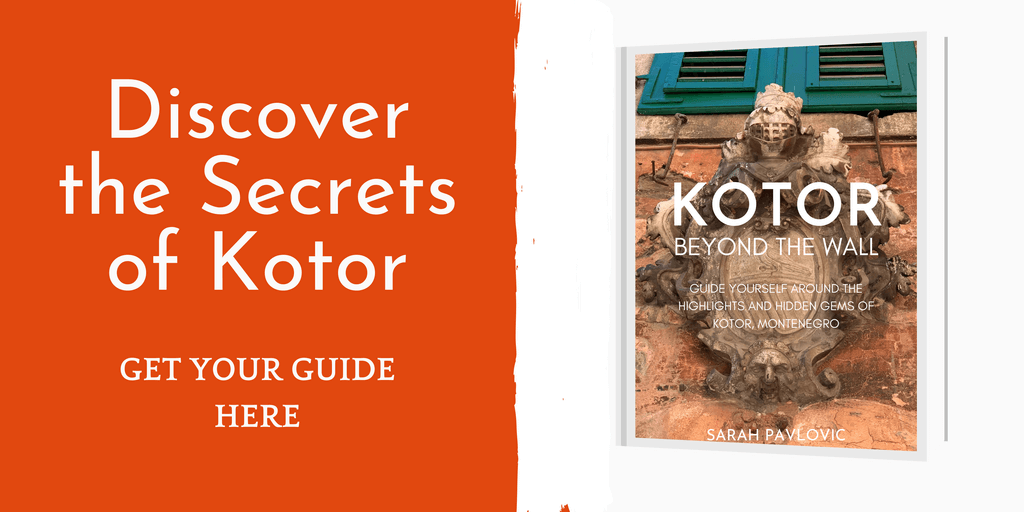 Tips for Visiting Kotor Old Town
The best time to visit Kotor old town is early in the morning - from June to September, arriving by 8am will give you about an hour to explore and take pictures before the town starts getting busy with tours. Out of season (November to April) there aren't many tour groups, so Kotor old town doesn't get crowded. There are locals going about their business and having coffee in the squares and it's a very relaxed atmosphere.
Get a map – you can get a free map of the old town at the information kiosk in front of the Sea Gate. It's essential to help you find your way around!
Look up! - as you wander through Kotor old town, look up and you'll see things most people miss. Beautiful Gothic windows and coats of arms of ancient nobility mixed with the laundry of Kotor residents. It all gives you a feeling for life in Kotor over the centuries

Bring euros - You'll need cash in euros to enter attractions like St Tryphon's Cathedral, the Maritime Museum and the fortress hike. Don't worry if you don't have any on you, there are atms in Arms Square (Trg od Oružja) as you enter from the Sea Gate. You'll also need cash for parking if you're driving to Kotor old town, but you can pay with card in almost all shops and restaurants

Wear good shoes - Kotor's streets are paved with beautiful, old cobblestones but they've been worn down over the centuries and they're very slippery. I recommend wearing trainers if you plan to do the Kotor walls walk up San Giovanni Fortress
Bring cat food - Kotor old town has a large population of cats who'll be grateful for a handful of kibble or a few slices of deli meat. You'll find most of them around Wood Square by the River Gate, but you'll find them everywhere, including up the fortress walk. You can find out more about Kotor's cats and the sterilisation project to help them here
Visiting Kotor?
The Kotor Beyond The Wall guidebook is the safe and easy way to explore Kotor's most beautiful sights, discover hidden gems and find authentic experiences at your own pace.
---
A Quick History of Kotor Old Town
Kotor originates in the Špiljari Canyon, above the old town, which was settled by Illyrian tribes somewhere between the 6th and 3rd centuries B.C. At some point, probably in the 1st century A.D., people moved down from the canyon to the flat triangle on the seashore and Kotor as we know it was born.
In the 1st century A.D., the Romans conquered the Illyrians and Kotor started to grow. One of the interesting things about Kotor is that the Romans had a very specific town planning code, like streets should intersect at 90° angles and so on, but they seem to have thrown the rule book out the window when it came to Kotor.
Here, buildings sprang up as needed and streets just wound themselves around them. This is why the old town is notoriously hard to navigate and there are all these odd-shaped squares (pijaca) in the town. It doesn't help that only three of the streets are named!
In the 4th and 5th centuries fortified towns like Kotor became more important because they offered more protection from invasion. By the 6th century, Kotor was part of the Byzantine Empire until it was conquered by the Nemanjić Dynasty of Serbia in 1185. 
Kotor hit the height of its power and influence between the 13th and 16th centuries. It became a powerful economic centre that linked the Balkan Peninsula with the rest of Europe. Raw materials were brought from the inland mines and traded abroad. With this, there was an abundant source of raw materials for craftsmen and Kotor was famous for its goldsmiths. Kotor had its own fleet of ships and it was self-governed.
In the 15th century, the Serbian Empire started to crumble and Kotor turned to the Venetian Republic for protection from the Ottoman Turks. The Venetians ruled Kotor from 1420 to 1797 and it's during this time that Kotor got its distinct architecture. That's why you'll hear Kotor called a 'Venetian walled city'.
The Venetians invested a huge amount in completely fortifying Kotor. In fact, Kotor's fortifications are probably the most expensive in Europe and there's a Venetian saying that goes 'You cost me as much as the walls of Kotor.' But those walls withstood many sieges and protected the inhabitants inside for centuries.
After the Republic of Venice, Kotor was ruled by the Austro-Hungarian Empire and Napoleon's France for a short time at the beginning of the 20th century. It was only when Kotor became part of the Kingdom of Yugoslavia at the end of World War I that the town's name was changed from Cattaro to Kotor.
At the end of World War II, Kotor became part of the Socialist Republic of Yugoslavia until that disintegrated in the civil war of the 1990's. When that ended there was a brief union between Serbia and Montenegro until Montenegro declared independence in 2006.
---
Kotor Old Town Map
You can pick up a free Kotor old town map at the information kiosk in front of the Sea Gate (opposite the marina).
Although small, Kotor old town is a rabbit warren and this map is essential to navigate your way around the streets and find the attractions you want to see.

---
Kotor Old Town Attractions
Did you know Kotor was Lonely Planet's top city to visit in 2016? Here's their video showing why they chose Kotor:
Although it's compact, you can spend a lot of time exploring Kotor. There are 60 locations marked on the free tourist map, but you can't get to some of the positions marked on the fortress and not all of the locations are worth seeing.
If you only have a few hours, doing a walking tour is a great investment. You'll see the main attractions in as little as an hour and then decide which attractions you'd like to go inside and see in more detail.
Kotor's main attractions inside the old town and there are two walks up Mt St John, behind the town. If you have lots of time in Kotor, you can also visit more of the churches and museums listed on the map.
---
Kotor Old Town Free Walking Tour
I often get asked if Kotor has a free walking tour like many other European cities. Unfortunately, at the moment it doesn't, but there are several scheduled walking tours throughout the day and you can book a private walking tour.
Here's what you can expect on a Kotor walking tour:
Top Kotor Walking Tours
---
More Kotor Tours
One of the best things about Kotor is the number of tours you can take. There are boat tours, a hop-on hop-off bus and day tours in a group or with a private guide. If you've only got a day in Kotor you'll be able to see some more of Montenegro's top attractions in just a few hours. And if you're staying in Kotor you can see and experience a huge amount of Montenegro on one of the day tours.
Here are some great tours you can take from Kotor:
---
Kotor Old Town Hotels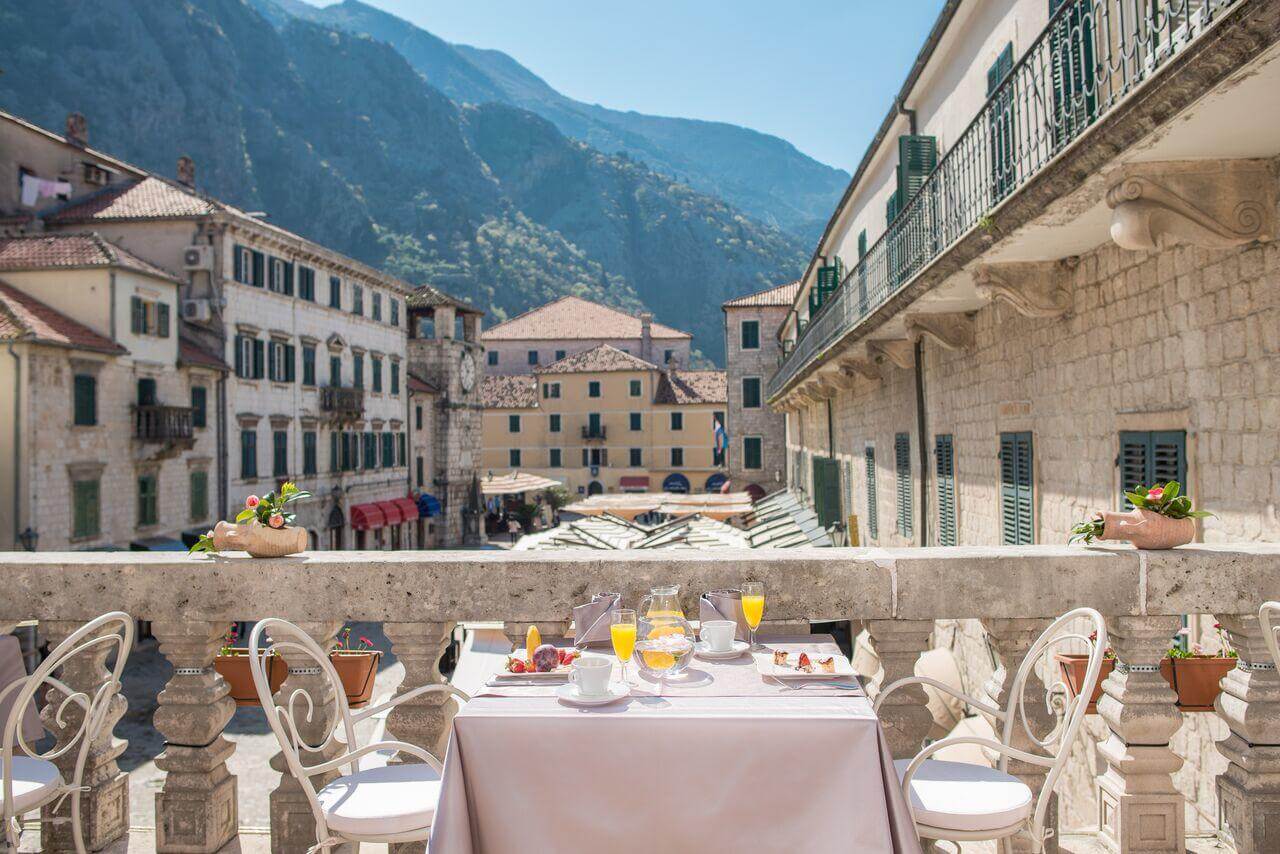 Historic Boutique Hotel Cattaro
It's not often that you get the chance to stay in a 15th century Venetian town and Kotor old town has lots of good-quality hotels on offer. 
Aside from being beautiful and unique, when you stay in Kotor you have everything on your doorstep. Attractions, restaurants, even beaches are close by. There are also lots of tours departing from Kotor, so if you don't want to hire a car, Kotor is the ideal place to stay.
But before you book your stay you should know that the one complaint of people staying in the old town is that it can be noisy. With tourists wandering around all day and bars open until 1am, it's not the ideal place to stay if you like peace and quiet. But, if you're visiting in the winter months (November to April), Kotor is very quiet and the ideal place to stay.
If you think the old town might be too noisy, you can also stay just outside of Kotor in Dobrota or Muo. There are lots of beautiful hotels and self-contained apartments on the seaside near Kotor and you'll have the advantage of sea views.
Top Kotor old town hotels include:
Here are some of the best waterfront hotels close to Kotor old town:
Find Accommodation in Kotor for yOur Dates
---
Kotor Old Town Hostels
Believe it or not, you can also stay in Kotor old town even if you're on a tight budget. Staying in the old town is ideal for backpackers because everything is within walking distance (including great nightlife), there are good-value group tours departing from the old town and the bus station is a 10-minute walk from the old town.
There are four hostels in Kotor old town:
---
Kotor Old Town Restaurants
Seafood and Traditional cuisine
Although it's a bustling tourist centre and there are lots of restaurants in Kotor old town, it pays to be picky here. Many restaurants here are decidedly average and it would be a shame to miss out on some of the great food available because you settled for a below-average pizza.
Coastal Montenegrin food is mainly seafood-based and there are some delicious dishes you can try. I highly recommend the cuttlefish risotto, don't be put off by its black colour, it's sooo good. If you like shellfish go for the mussel buzara (stew) or mixed seafood stew. You'll also find seafood risotto, pasta and fried, stuffed or grilled calamari.
Another delicious specialty are local fish varieties bream (orada) and bass (brancin). These are served barbecued with a side of Dalmatian vegetables (dalmatinski varivo), which is stewed chard and potatoes. It all comes with lashings of olive oil and garlic. 
The best places to go for traditional-style seafood are Bastion II in Wood Square (Pijaca Od Drva) or Bastion III just across the bridge at the River Gate (this one is a bit cheaper and it has a nice outdoor terrace). Konoba Scala Santa is also an excellent choice and serves local specialities like seafood stew and modern Mediterranean dishes like truffle gnocchi. Just outside the old town, on the seaside, Galion has upmarket traditional and modern dishes with fantastic views of the old town, especially at night when the fortress is lit up.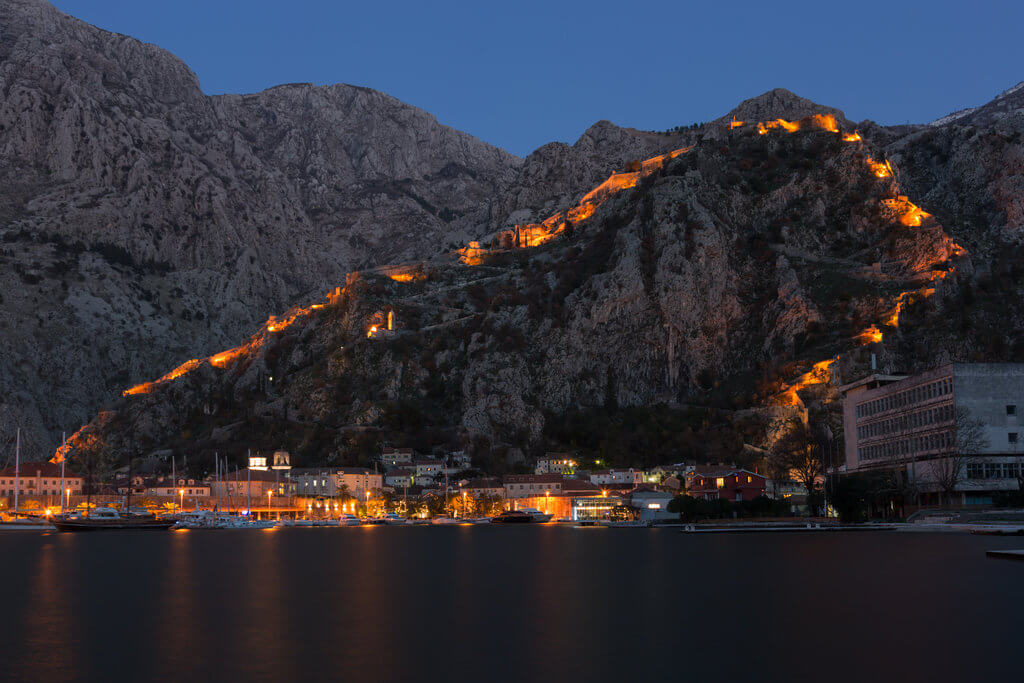 San Giovanni Fortress by night
Meat lOVERS
If you prefer meat over seafood, go for Balkan grill. The sausages (čevapi) and hamburger patties (pljeskavica) are finger-licking good. They usually come with fries and you choose a salad to go with them. The šopska salad (tomato, cucumber, spanish onion, capsicum and feta cheese) is always good, as is a simple, dressed cabbage salad.
The best place to get Balkan grill is just outside the old town. If you head along the marina towards Muo and keep walking for a few minutes you'll come to Tanjga. Here, you'll get traditional Balkan grill in huge portions and at local, not tourist, prices.
vEGETARIAN AND sPECIAL dIETS
If you're vegetarian or vegan, eating in Montenegro can be a little tricky. Expect quizzical looks and "but you still eat chicken right?" replies. If you're gluten-free or have any allergies you'll need to be very specific when you order. The good news is Montenegro's fresh produce is excellent and you'll have wealth of salads, pastas and vegetable dishes to choose from.

Sweets
If you'd like to try something traditional, try one of these:
Krempita – this is a traditional specialty of layered filo pastry and vanilla pudding
Baklava – a walnut pastry soaked in sugar syrup
Pita – fruit pies, like cherry and apple made with filo pastry
Pancakes – rather than just for breakfast, Montenegrins love pancakes at any time of day and you'll find them in just about every restaurant and café. You can choose from traditional fillings like honey and walnut, or go for modern favourites krem (chocolate spread) with plazma (ground biscuits) or jam
Most of the restaurants and cafes have cake stands with various sweets and you'll find ice cream stalls all around the old town for something on the go.
Breakfast and Budget
If you're looking for breakfast or you're on a budget, the best place to head is to a bakery (pekara) and grab a burek. Burek is a pastry that's filled with meat, cheese, spinach or potato. Although people usually have it with yogurt for breakfast, it's good any time of day and at around €1.30 each, they're a cheap meal.

Drinks
Let's not forget about what to drink in Kotor! Why not start with a shot of rakija, grape brandy that every Montenegrin household has on hand for celebrations, religious holidays, funerals, when friends come to visit, flus and colds and sometimes just to get things moving in the morning. 
If you like beer, Montenegro's signature beer is Nikšičko (pronounced Nik-shitch-ko, but you can just ask for a 'Nik' to spare yourself trying to pronounce it) from the town of Nikšić. 
And if you like a tipple of wine, you'll find lots of good wine, mostly reds, from Montenegrin wineries. The largest winery in Montenegro is Plantaže and you'll find their wines everywhere. We like Arhonto rosé from Krgović Winery.
---
Kotor Old Town Parking
If you're hiring a car and driving to Kotor there are three parking lots you can use when you're visiting Kotor old town. They're marked in red on the map below.

The closest to the old town is across the road, along the marina. It's usually busy so if you can't find space there follow the road until you get to the roundabout and turn around and come back. 
Since the road through Kotor is also very busy in summer and turning around and coming back could take a long time, I recommend skipping that parking lot and going straight to the one alongside the Škurda River. You'll usually find a park here and although it's not as close at the parking lot by the marina it's still only a few minutes' walk from the old town. 
Your third option is the parking lot on the seaside, across the Škurda River from Park Slobode. This is a little further away, but it's also only five minutes' walk from the old town.
All three parking lots charge. The two on the Škurda charge 80c an hour and the one on the marina charges 90c an hour. A bargain compared to the €10 an hour you pay in Dubrovnik... and that's still a 15 minute hike from Dubrovnik old town!
Related Articles
help the stray animals of Montenegro
Book your accommodation anywhere in the world through any of the search boxes on our site and we'll make a donation towards sterilising stray animals in Montenegro. 
It costs you nothing, and you get the biggest selection and lowest prices guaranteed. It's a win-win!