What to Expect On the Kotor Walking Tour
This post may contain affiliate links. Find more info in my disclaimer.
Wondering if you should do the Kotor walking tour? Here's what you need to know. 
I've visited Kotor dozens of times since I came to live in Montenegro.
I've wandered the alleyways, visited the churches and lingered over coffee and Kotorska krempita (Kotor's traditional cream pie) in the piazzas.
But I didn't really know much about Kotor.
So I decided to do the walking tour through the old town.
And I'm so glad I did!
Here's a video of our tour:
The Kotor walking tour is a great way to get the most out of your visit to Montenegro's extraordinary walled city.
There's so much history, culture and heritage contained within these ancient walls, but you'll struggle to find out about it without a local guide.
You can get maps of the town at the info centre at the Sea Gate, and they're a must for helping you navigate the winding alleyways inside the town (otherwise you'll find yourself hopelessly lost!). But, aside from citing the date of various historic buildings, they don't offer any real information about Kotor and its unique history and culture.
In just an hour, the Kotor walking tour will give you a great insight into this medieval town. The tour will take you through the squares, and introduce you to the palaces, churches and museums.
Along the way you can ask questions about Kotor and Montenegro in general. Montenegrins are passionate and knowledgeable about their country and you can guarantee your guide will happily answer any question you have.

And once you've had an introduction to the town, you can go back and visit the attractions that you found most interesting, like St Tryphon's Cathedral, Sveti Nikola Church, the Maritime Museum or even the Cats Museum of Kotor.
You can also hike San Giovanni Fortress for bragging rights and the best views in Kotor!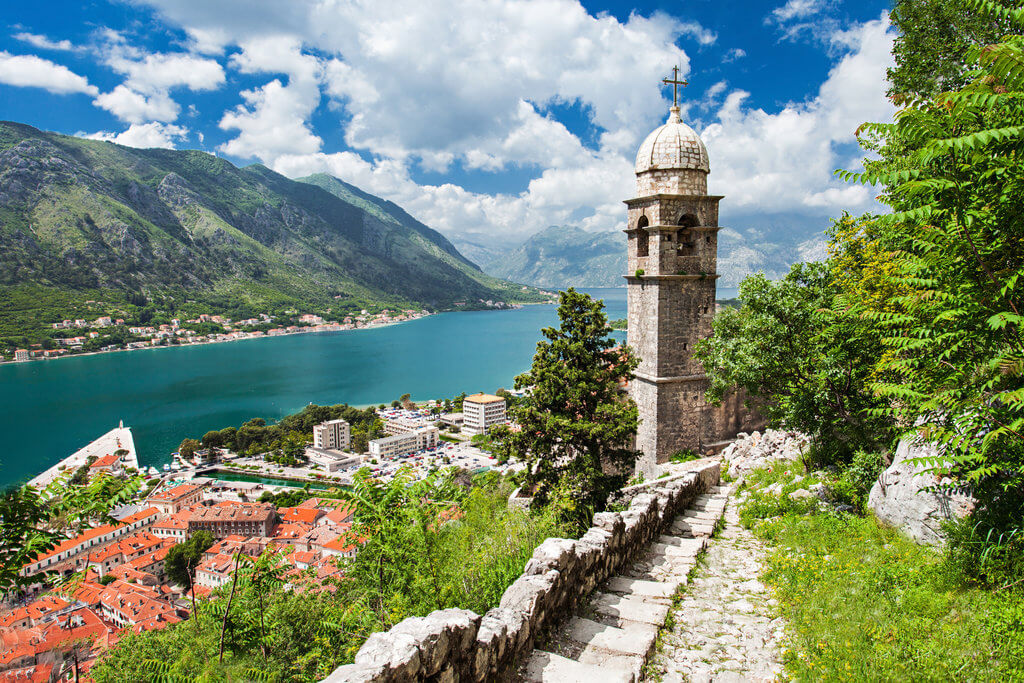 What You'll See on the Kotor Walking Tour
In one hour you'll cover:
The Sea Gate
Armory Square
Clock Tower and pillory
Bizanti Palace
Beskuca Palace
Flour Square
Buca Palace
Pima Palace
Old High School
St Tryphon Square
Drago Palace
Grgurina Palace
Karampana Fountain
St Luke's and St Nicholas Square
Kampana Tower and Citadel
After the tour you can go back and go inside any of the sites you want to visit. I'd recommend St Tryphon's Cathedral, the Maritime Museum, St Luke's Church and St Nicholas' Church.
---
Kotor Walking Tour Times
The tour runs three times a day, every day between 15th April and 15th October at:
8:30 - 9:30am
10 - 11am
12 - 1pm
From 16th October to 14th April you can book the tour on request as long as you have at least four people.
The groups on this tour are limited to a maximum group size of 15. This so much better than the huge groups on the cruise ship tours.
Not only are those tours more expensive, the large groups make it hard to see what the guide is talking about and impossible to ask any questions or take decent photos.
This small, intimate group tour means you get a personal experience and it's cheaper than a private tour.
---
Kotor Walking Tour FAQ
The tour is suitable for wheelchairs
As a walking tour there's a small amount of walking involved
The tour is in English only
Led by a licensed, professional guide
Departs from Kotor Main Gate (opposite Kotor Port)
All fees, except gratuities, are included
---
Book the Kotor Walking Tour
The regular price for an hour walking tour is just €10 per person. And children under 12 can do the tour for free.

If you'd like to book the small group Kotor walking tour, you can book your spot by filling in the form below or by booking online.
When you book through Montenegro Pulse, you'll get a confirmation email with all the details of your reservation (including meeting point) and you can either pay for your tour online or on the day. 

---
Related Articles
Kotor Walking Tour
help the stray animals of Montenegro
Book your accommodation anywhere in the world through any of the search boxes on our site and we'll make a donation towards sterilising stray animals in Montenegro. 
It costs you nothing, and you get the biggest selection and lowest prices guaranteed. It's a win-win!