The Best Walking Tours of Kotor, Montenegro
This post may contain affiliate links which means that if you purchase through my link I may earn a small commission which helps to keep this site going. Thank you. You can find more info in my disclaimer.
Find the best walking tours of Kotor, Montenegro to fit your time and budget. 

I've visited Kotor dozens of times since I came to live in Montenegro.
I've wandered the alleyways, visited the churches and lingered over coffee and Kotorska krempita (Kotor's traditional cream pie) in the piazzas.
But I didn't really know much about Kotor.
So I decided to do a walking tour through the old town.
And I'm so glad I did!
Here's a video of our tour:
A Kotor walking tour is a great way to get the most out of your visit to Montenegro's extraordinary walled city.
There's so much history, culture and heritage contained within these ancient walls, but you won't be able to find out about it without a local guide.
You can get maps of the town at the info center at the Sea Gate, and they're a must for helping you navigate the winding alleyways inside the town (otherwise you'll find yourself hopelessly lost!). But, aside from citing the dates various historic buildings were built, they don't offer any real information about Kotor and its unique history and culture.
In as little as an hour a Kotor walking tour will give you a great insight into this medieval town. The tour will take you through the squares, and introduce you to the palaces, churches and museums.
Along the way you can ask questions about Kotor and Montenegro in general. Montenegrins are passionate and knowledgeable about their country and your guide will happily answer any questions you have.

Once you've had an introduction to the town, you can go back and visit the attractions that you found most interesting, like St Tryphon Cathedral, Sveti Nikola Church and the Maritime Museum.
You can also hike San Giovanni Fortress for bragging rights and the best views in Kotor. Or spend a happy few hours enjoying the sun and sea on the popular 3 hour boat tour to the Blue Cave.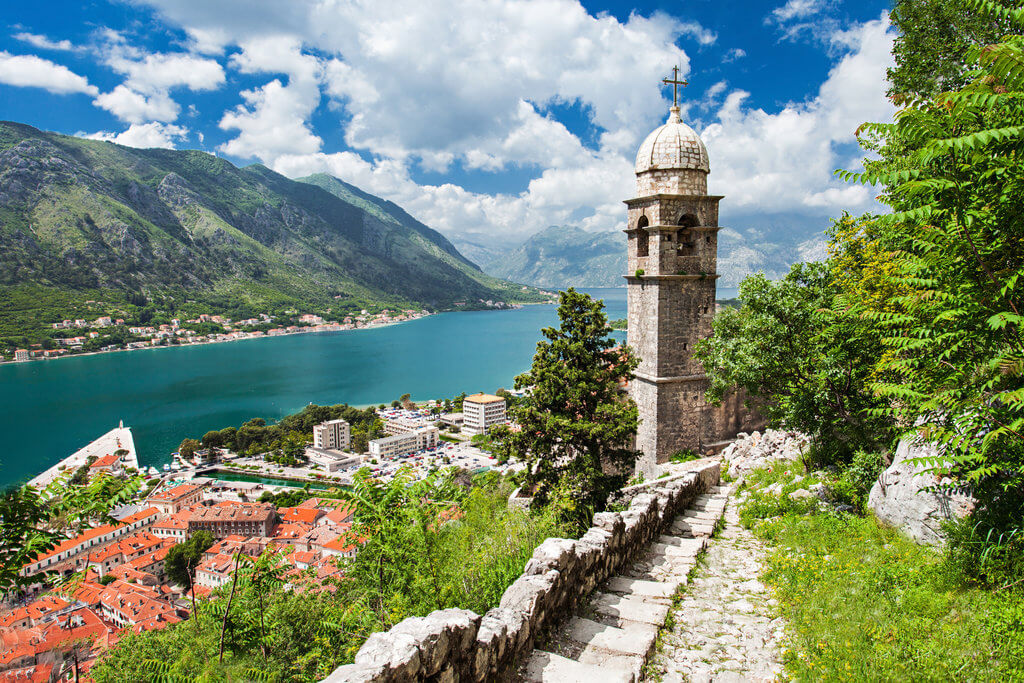 View from the walk up to San Giovanni Fortress. Image: Deposit Photos
discover kotor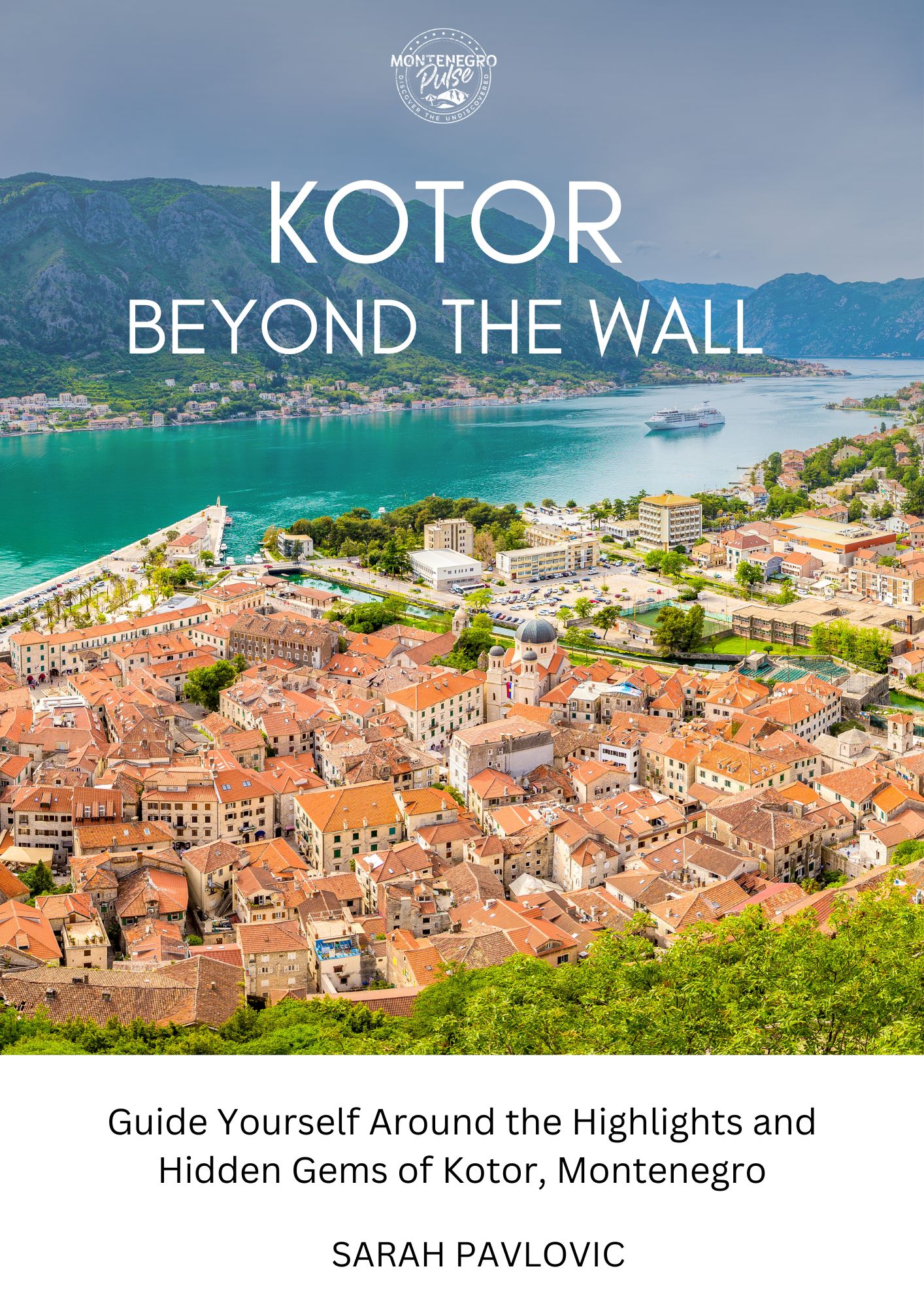 Guide yourself with the
"World's Best Guide to Kotor"
Top attractions
Hidden gems
Bonus walking tour
What to eat
Exclusive experiences
Essential visitor tips
What You'll See on a Walking Tour of Kotor, Montenegro
Walking tour of Kotor cover the highlights and most important sights in the old town. Generally they cover:
The Sea Gate
Arms Square
Clock Tower and pillory
Bizanti Palace
Beskuća Palace
Flour Square
Buća Palace
Pima Palace
St Tryphon Cathedral
Drago Palace
Grgurina Palace
Karampana Fountain
St Luke's and St Nicholas Square
Kampana Tower and Citadel
After the tour you can go back and go inside any of the sites you want to visit. I'd recommend St Tryphon Cathedral, the Maritime Museum, St Luke's Church and St Nicholas' Church.
All of these sites have interesting history, like the surprising speculation about how Karampana Fountain got its name, or the story behind Beskuća Palace. The only way to find out about these is on a walking tour, or by getting a copy of my book about Kotor or by doing the Kotor Secret City Trail (use the code montenegropulse to get 10% off).
---
The Best Walking Tours of Kotor, Montenegro
There are several Kotor walking tours to choose from. The best way to choose is to find one that fits with your time and budget.
If you have a very limited time in Kotor eg. you're visiting the town on a cruise, and want to make the most of your time, it pays to do a walking tour of Kotor old town as soon as you arrive. That way you have time to do another activity like the popular 3 hour boat tour to Our Lady of the Rocks and the Blue Cave, hike San Giovanni Fortress or explore the key sights in more detail.
You can also choose between group tours and private tours. There is one group tour that's very affordable at around €12 per person. You can also choose to do it as a private tour, however you will be bound by the start times offered. Private tours offer you a lot more flexibility and a more intimate experience, but they are more expensive.
Whichever you choose, 
1. Kotor: Old Town 1-Hour Private Walking Tour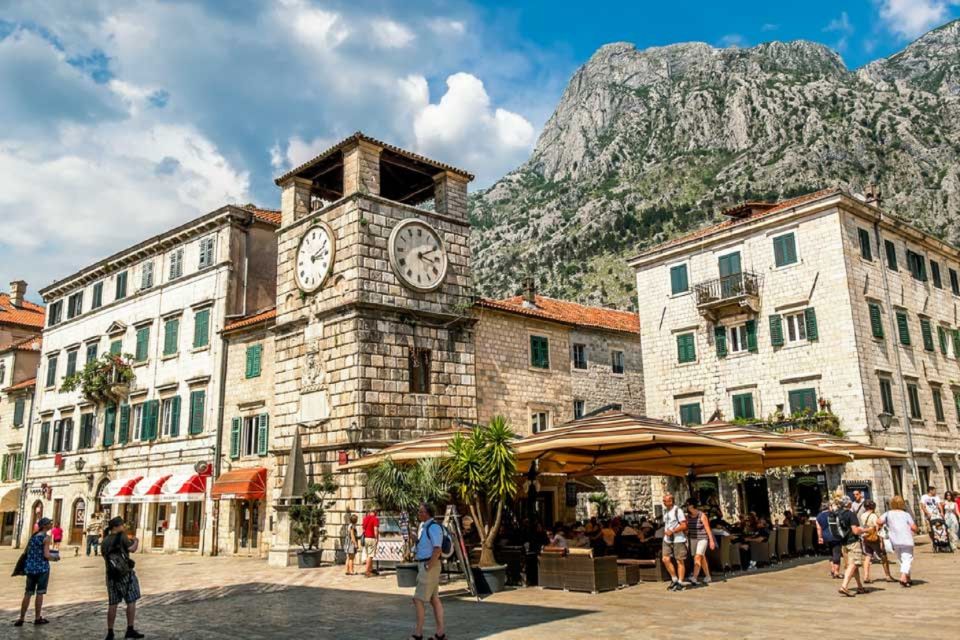 Length: 2 hours
Estimated Price: €70 per group (up to 20)
Departure Times: Every half hour between 8:30am and 8pm
This one hour tour is the tour featured in my video above. It takes you around the highlights of Kotor in just an hour and it's perfect if you only have a few hours to spend in the town.
On the tour you'll see the main sights but you don't go inside them. This leaves you the freedom to come back and visit the ones you want to see if you have time. Even if you don't go inside any of the attractions you still get a great overview of the history of Kotor and you see the most important and beautiful places in the old town.
Check pricing and availability >
2.  Kotor: 1.5-Hour Guided Walking Tour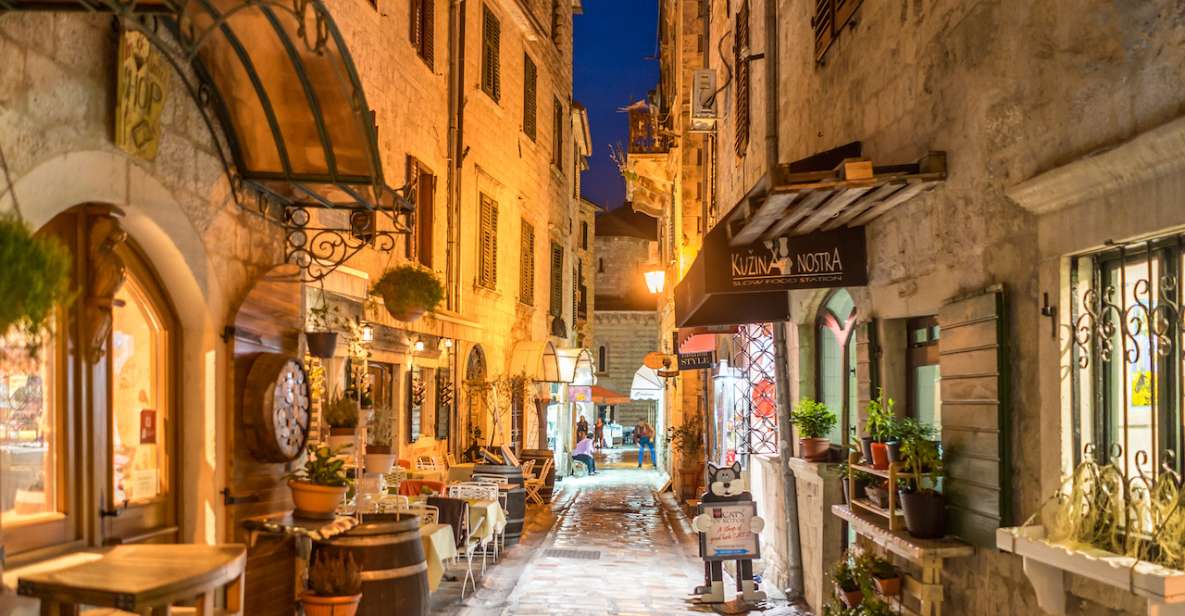 Length: 1.5 hours
Estimated Price: €12 per person for the group tour, €20 per person for the private tour
Departure Times: 10am, 1pm, 5pm
1 ½ hours is a good amount of time to see Kotor's sights. You can get around the town in an hour, but this tour includes a visit to St Tryphon Cathedral so it takes a little longer and it means you don't have to come back to visit the cathedral on your own.
The tour includes the key sites of: Bizanti Palace, Beskuća Palace, Arms Square, Flour Square, St Tryphon Cathedral, St Luke's Church, Karampana Fountain, the Maritime Museum and St Mary's Church.
Check pricing and availability >
3. Kotor Private Walking Tour with WIne and Food Tasting
Length: 2 hours
Estimated Price: €45 per person
Departure Times: Every half hour between 9am and 1pm

This is a great tour because it gives you the chance not only to discover Kotor's beautiful old town, but also to try its traditional cuisine.
This tour starts with a 1-hour walking tour of Kotor old town. It also includes a visit to Kotor's open-air market. Kotor's market has been popular since the town was an important trade port. Today, the farmers market is still the best place to buy local produce like figs, olives and fish.
This tour ends with a chat with your guide over a lovely platter of traditional cured meats and cheeses paired with Montenegrin wines.
Check pricing and availability >
4. Kotor Tour with a Private Guide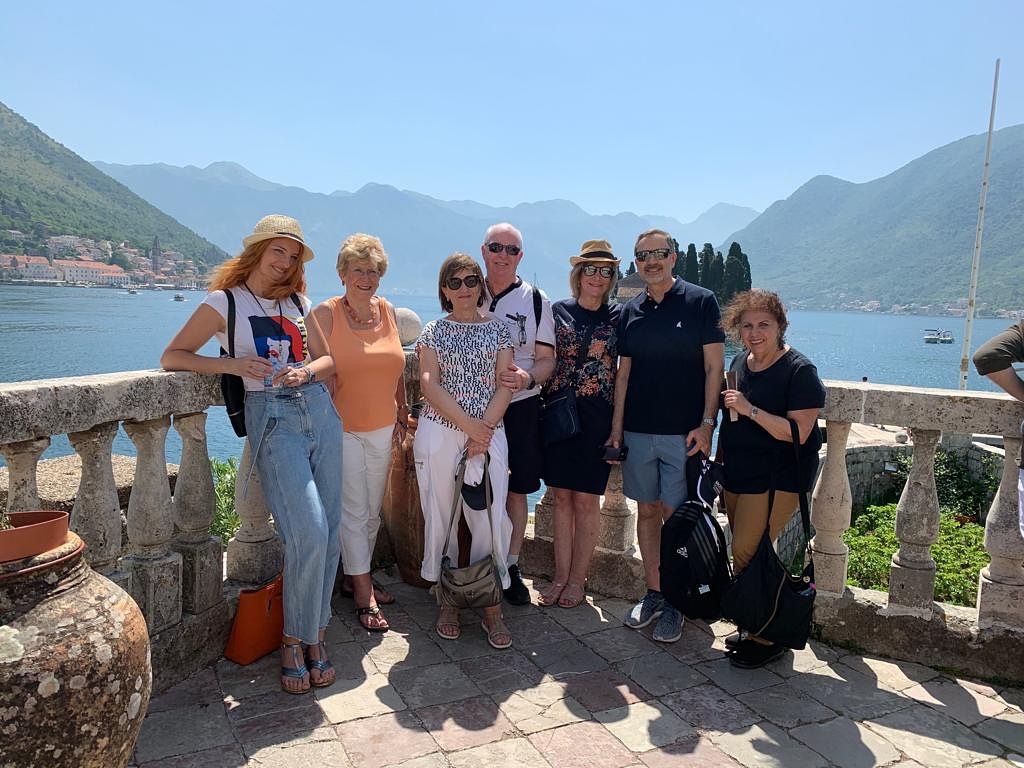 Length: 2 hours
Estimated Price: €50 per person
Departure Times: Flexible
This tour is a 2-hour 'journey through Kotor's 2,000 year history' with one of Kotor's top guides, Ana Badnjar. It includes guided visits to St Tryphon Cathedral and the Maritime Museum, during which you can learn about Kotor's role as an important trade hub for the whole Mediterranean.
You can also customize this tour to add in any other interesting sights you'd like to see, for example Perast and Our Lady of the Rocks. Ana's has many more popular tour itineraries that include visits to wineries, olive mills and on speed boats. You can see her selection of itineraries on this page.
Read more about the Kotor Tour with a Private Guide >
---
Kotor Walking Tour FAQ
These tours are suitable for wheelchairs
As a walking tour there's a small amount of walking involved. Kotor is very small, so you can expect to cover 1.5km (around 1 mile) during a tour
They are all led by licensed, professional guides
All fees, except gratuities, are included
Related Articles
The Best Kotor Walking Tours
help the stray animals of Montenegro
Book your accommodation anywhere in the world through any of the search boxes on our site and we'll make a donation towards sterilising stray animals in Montenegro. 
It costs you nothing, and you get the biggest selection and lowest prices guaranteed. It's a win-win!