Kotor City Walls, Montenegro: Explore San Giovanni Fortress

This post may contain affiliate links which means that if you purchase through my link I may earn a small commission which helps to keep this site going. Thank you. You can find more info in my disclaimer.
Walking the Kotor City Walls in Montenegro is a rite of passage. Make sure you claim San Giovanni Fortress bragging rights… and that awesome selfie!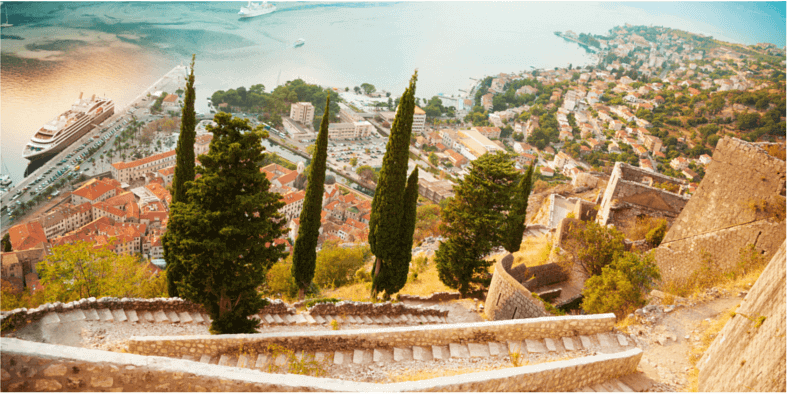 Kotor City Walls, Montenegro. Image: Deposit Photos
Kotor City Walls in Montenegro and San Giovanni Castle
Kotor residents are very proud to tell you Kotor has surrendered in the past, but never been taken by force. And San Giovanni Fortress is mainly to thank for that. 
The fortifications of Kotor started as a hill fort built by the Illyrians, who ruled Montenegro until the 2nd century BC. They were rebuilt and added to right up until the 18th century. And when you consider that Kotor city walls are up to 20m high and 16m thick, you see why they took so long to build... and were so expensive. It's said Kotor's fortifications are the most expensive in Europe!
The Illyrians built a fort at the top of the hill overlooking the town and that fort eventually became a castle. There's little left of the castle now, but the fortress walls have survived time, wars and earthquakes remarkably well. 
The fortress walls make a four and a half kilometre circuit around Kotor old town and the hillside behind. While they blend into the rock and shrub of the mountain during the day, at night, when the whole wall is lit up, you can clearly see its path around the mountain. 
discover kotor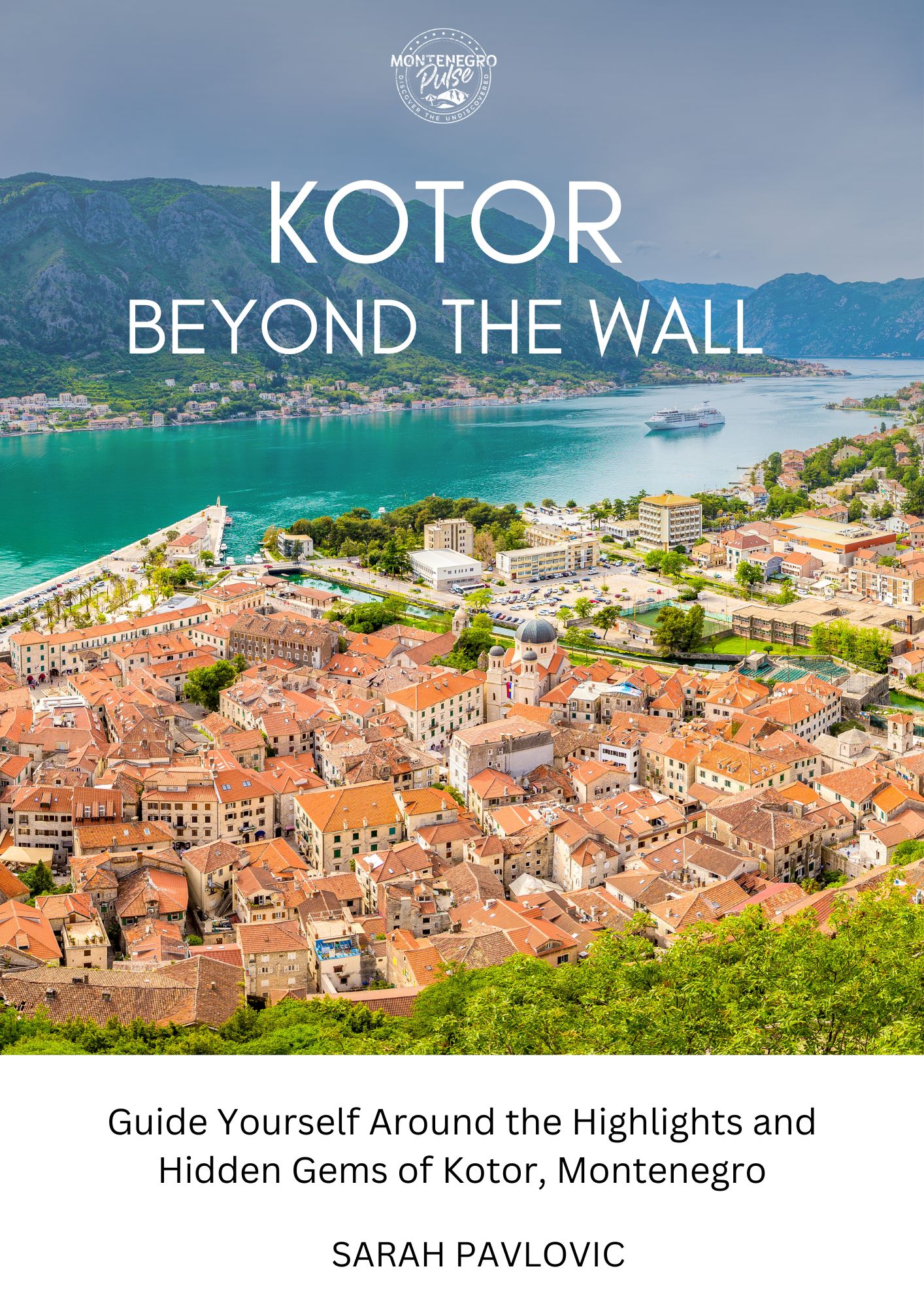 Guide yourself with the
"World's Best Guide to Kotor"
Top attractions
Hidden gems
Bonus walking tour
What to eat
Exclusive experiences
Essential visitor tips
Walking the Kotor City Walls in Montenegro
"I'm going to die! I need a whiskey!" gasped the tall man as he sprawled on a piece of the ancient stone wall. Sweat dripped down his face and he eyed the path heading up the mountain.

"It's not that far to the top. Right?!" his wife, in a beautiful dress and embellished sandals, asked us hopefully.
This was the scene that greeted my friend and I as we descended San Giovanni Fortress after hiking to the top of the Ladder of Kotor.
"Um, it's a wee way," I said as we picked our way down the mountain in our active wear.
They were barely a quarter of the way up.
Further down, a woman stood in the shade. A toddler played with stones on the side of the path and a baby was strapped to her chest. She had given up and decided to wait while her husband scaled to the top without her.
The walk up Kotor city walls is no walk in the park. This is a challenging 1355 step hike. Many people underestimate how challenging this climb is and don't make it to the top.
However, if you're reasonably fit and have appropriate shoes you'll manage the hike without any trouble. And it's so worth it for those views!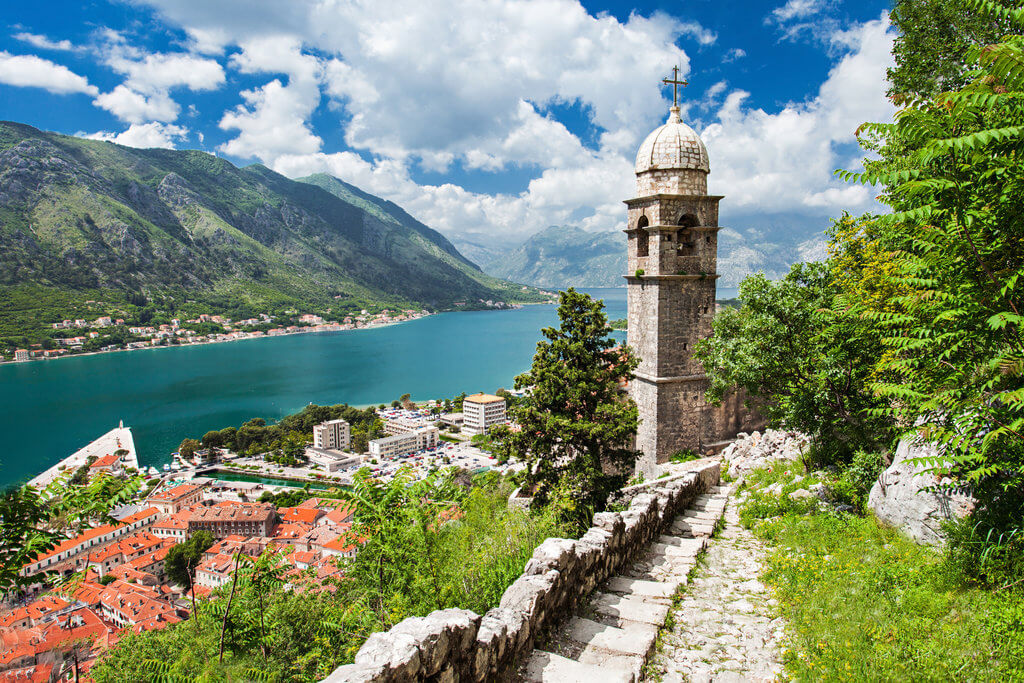 View from Kotor city walls. Image: Deposit Photos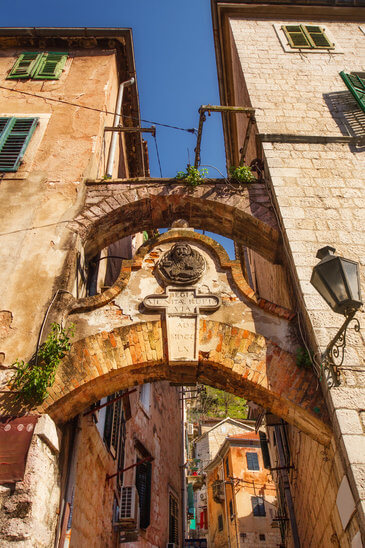 Start of walk up Kotor city walls Montenegro
You start the 1.2km walk from the town's River Gate. To find it, grab a map from the town's info desk in front of the main entrance opposite the marina. The entrance is next to #42 on the map.  
This cobblestone street is really slippery, but it's a good litmus test. If your shoes are too are too slippery to get up this street, they're going to be too slippery for the rest of the walk. 
At the top of the street there's a water fountain, so this is a good place to fill up your water bottle. 
The walking path to the top is inside the fortification's main walls and it snakes up the mountain. The views just keep getting better as you get higher, and give you the motivation to keep going.
Almost half way up you can stop and take a breather at Our Lady of Remedy, a 16th century Roman Catholic church. This is a great place to take pictures of the town's terracotta roofs and admire the view.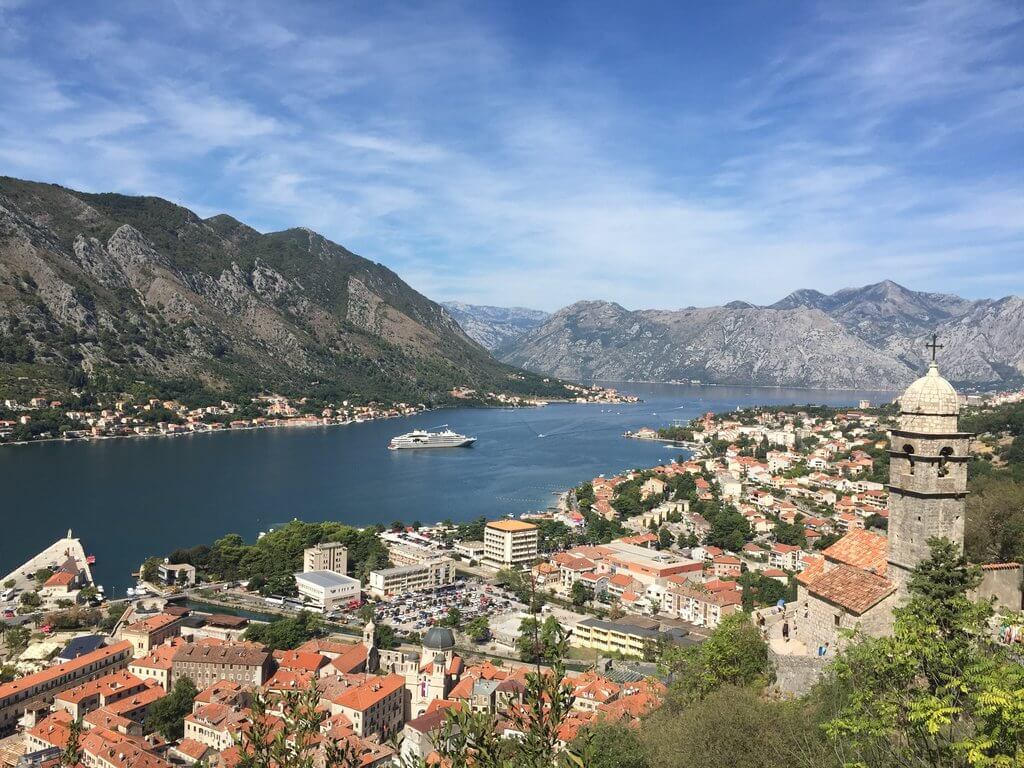 Local's Tip: 50-100m past the church, turn back around and face the entrance to Kotor Bay. You'll be able to get a fantastic photo with Our Lady of Remedy's spire, Kotor's terracotta roofs and the Bay of Kotor.

From there, you can continue to pick your way up the zig-zag path to San Giovanni Castle. The path is mostly single-file, so there'll be places where you need walk on the steep gravel path instead of the steps. 
Take your time, enjoy the views, admire the wild flowers, inhale the scent of wild thyme and marvel at the centuries of labour that went into making this impressive structure.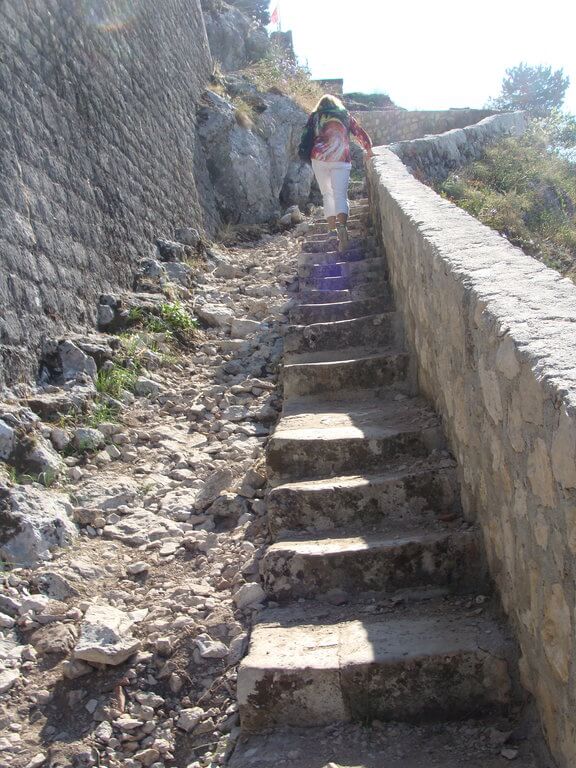 Walk up Kotor city walls Montenegro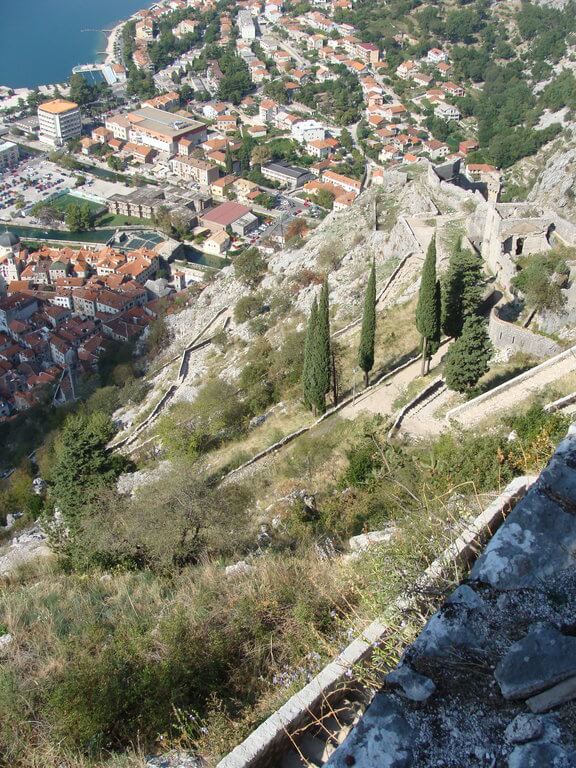 View down on Walk up Kotor city walls Montenegro
When you reach the top – phew! – you'll be rewarded with views of Kotor town, Vrmac Ridge opposite and the Bay of Kotor.

It really is worth the climb!
Visiting Kotor?
The Kotor Beyond The Wall guidebook is the safe and easy way to explore Kotor's most beautiful sights, discover hidden gems and find authentic experiences at your own pace.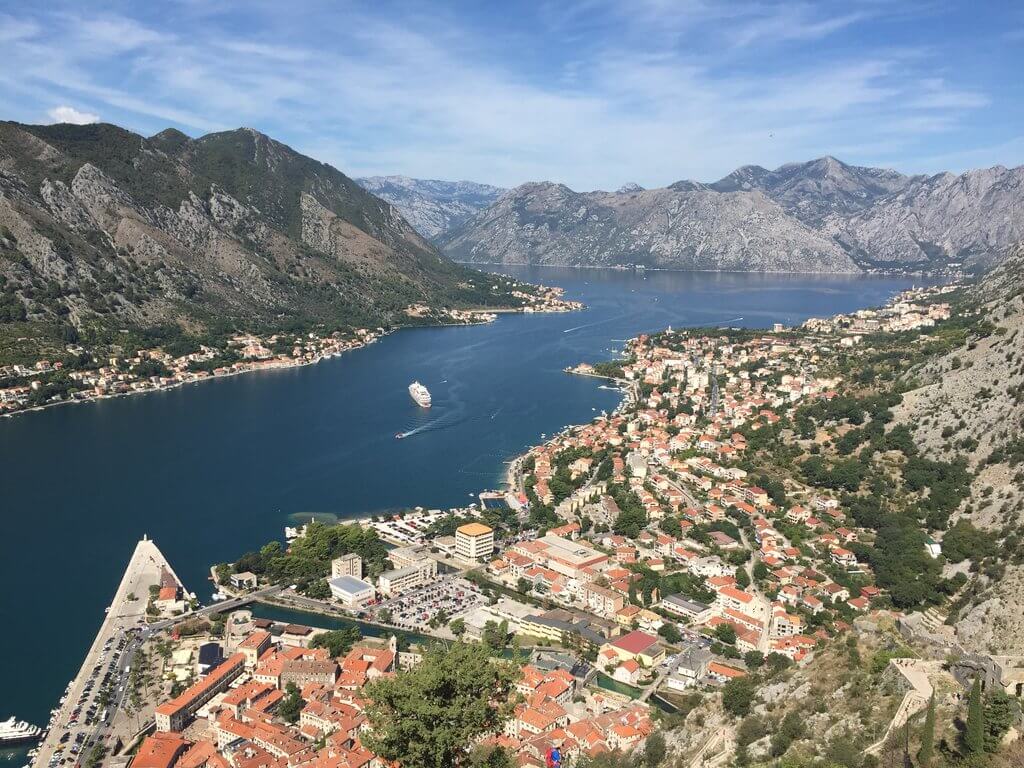 View of Bay of Kotor from Kotor city walls Montenegro
You can explore the ruins of the castle. But beware that it's crumbling in many places and you'll need to take care.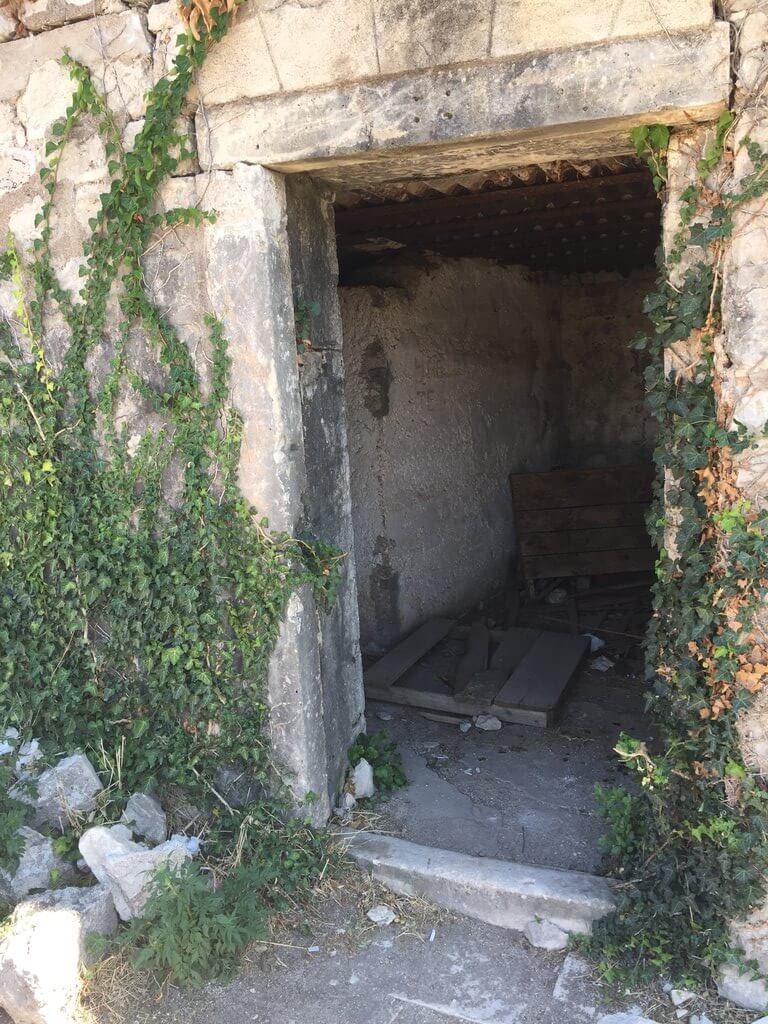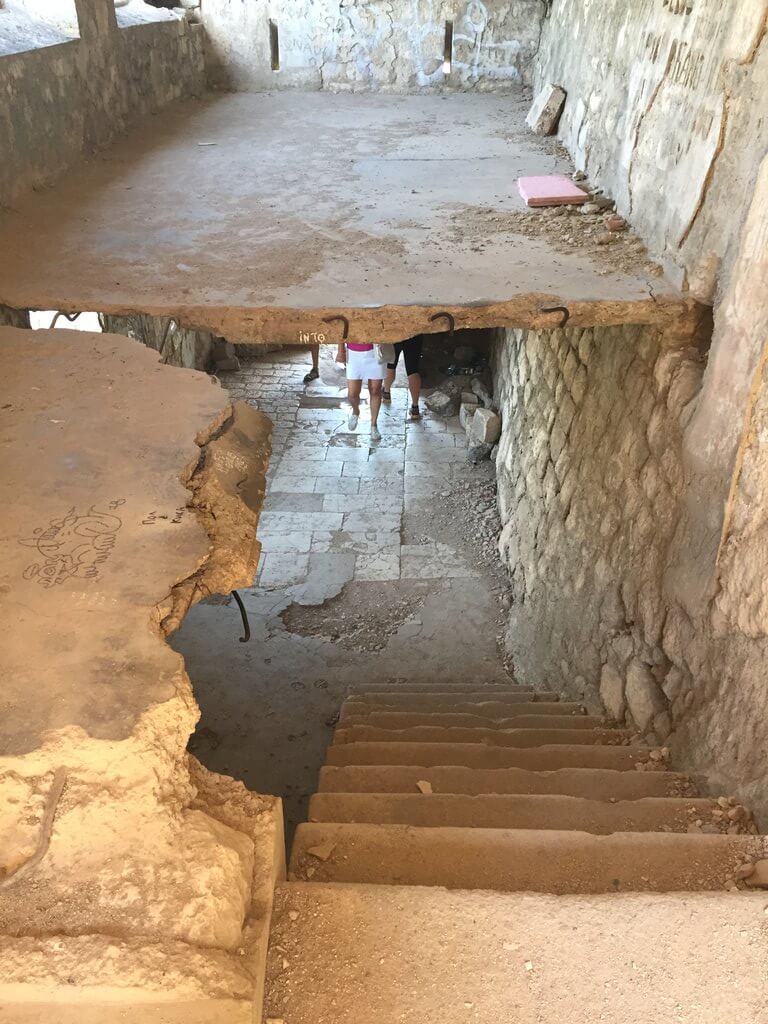 More Popular Things to Do in Kotor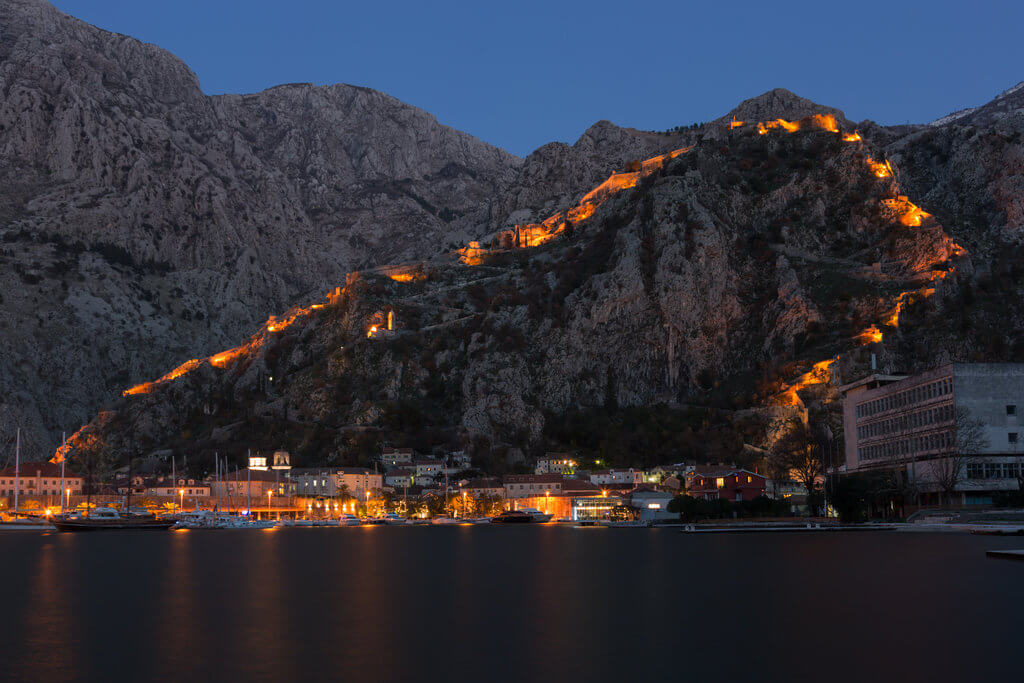 Walk around to Muo or have dinner at Galion restaurant after sunset to get the best night-time views of Kotor city walls in Montenegro.
---
Detour to Saint John's Church and Špiljari Village

If you have time, take a detour on your way up or down and visit the ruins of Špiljari behind the fortification. 
The exit is marked and you'll climb through a literal hole in the wall to emerge on the other side. This will bring you the Church of Saint John. There's little left of this thousand year old church now but the outer walls. When you go inside you can see the faded and crumbling frescoes.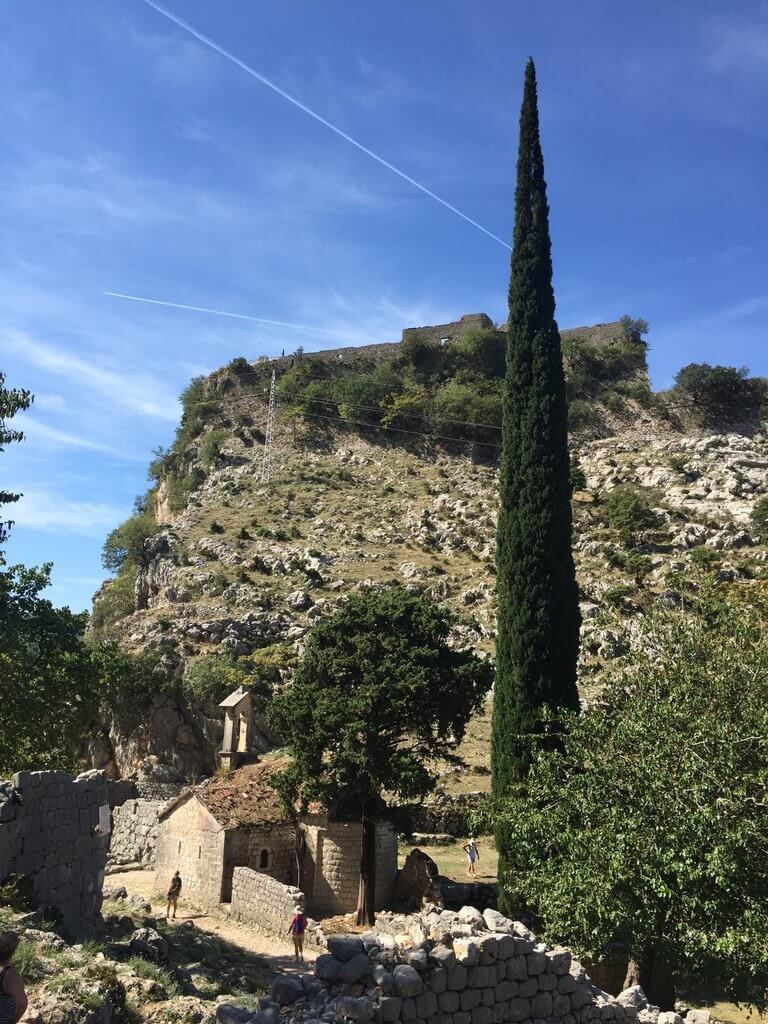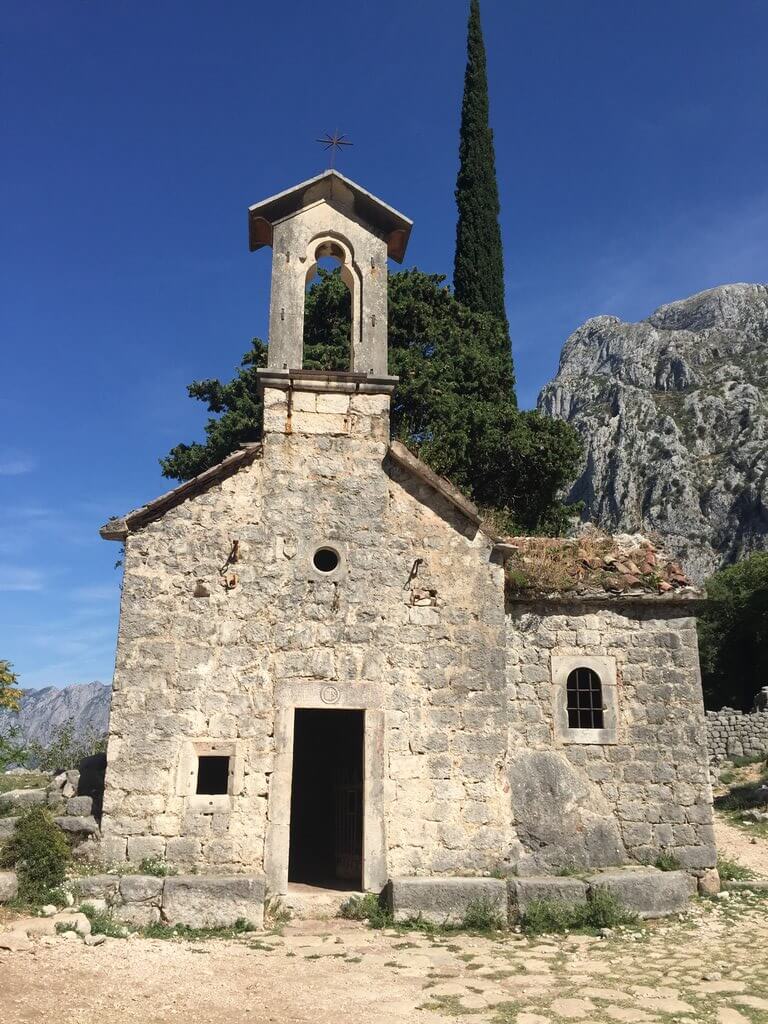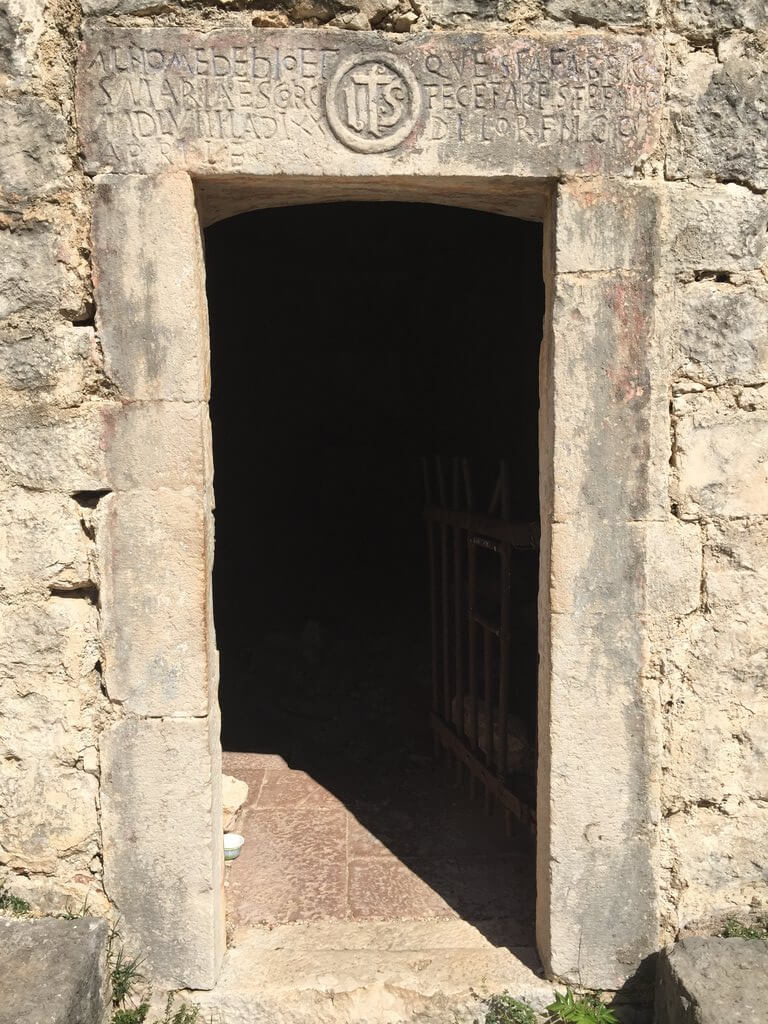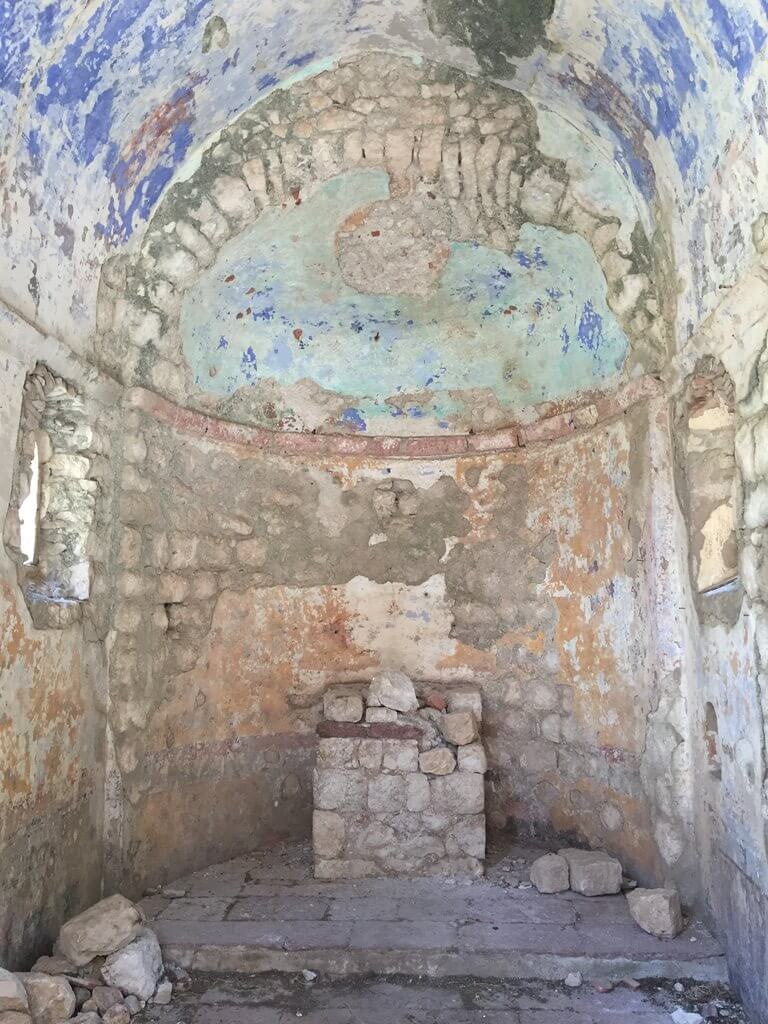 Surrounding the church you'll see the ruins of Špiljari village. From here you can turn back and head back to the hole in the wall or take the path up and climb to the top of the Ladder of Kotor. 

On the path that joins up with the Ladder of Kotor, an enterprising local family has set up a little restaurant. Stop in here to try local specialties like prosciutto, cheese and pomegranate juice while you take a break and enjoy the view.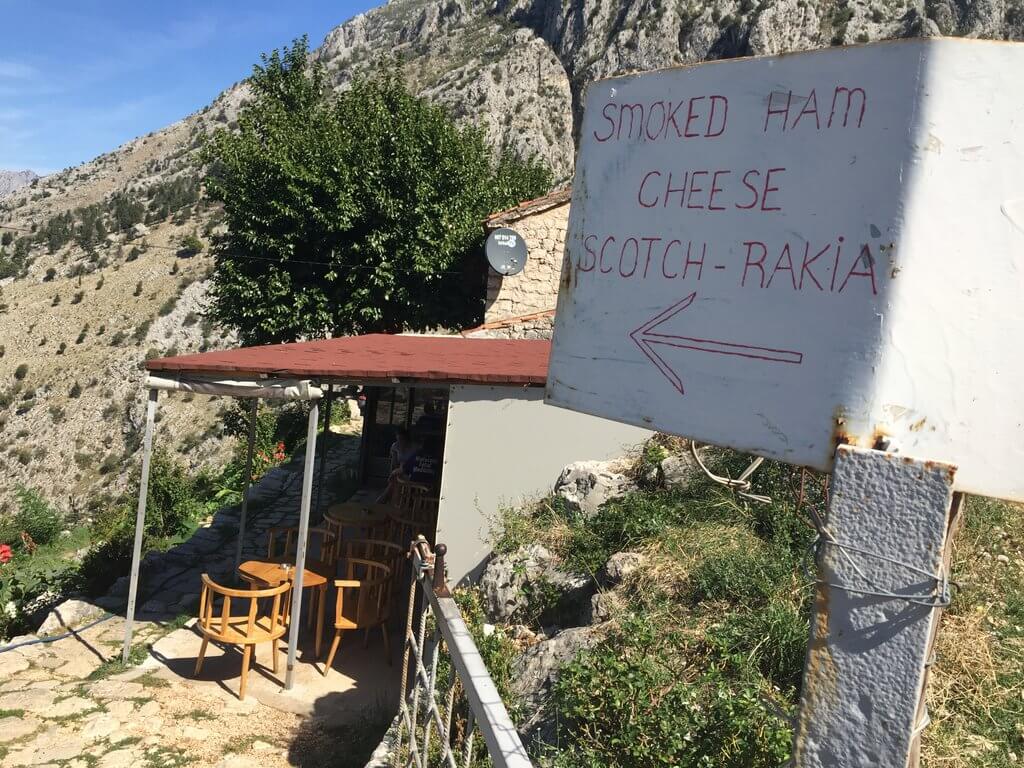 Walking Kotor city walls is challenging, but doable, for most people. Having the right shoes, being prepared and taking your time is key to enjoying the hike. 
The views are simply breath-taking from the first step to the last, and it's an incredible way to experience Kotor's ancient history and natural beauty.
If you're keen to do a longer hike, you can hike the Ladder of Kotor and combine it with San Giovanni Fortress.
And if you need it, there are plenty of places to get a whiskey when you get to the bottom!
---
Tips for Walking the Kotor City Walls in Montenegro
Wear good shoes, trainers are fine
Bring water
Try to visit when there is only one cruise ship in port so it's not too busy. You can check timetables here
Early morning and late afternoon are the best times to do the walk. Early morning gives you the best photos of the Bay of Kotor, while afternoon gives you the best photos of the fortress walls themselves
Leave at least 30 minutes to explore Špiljari village
---
How To Walk Kotor City Walls in Montenegro
Self-Guided
You can walk up to San Giovanni Fortress on your own any time. 
Address: San Giovanni Fortress, Kotor, Montenegro
Opening hours: 24 hours, fees apply 8am – 8pm May through September
Entrance fee: €8
Duration: Leave two hours for the hike, three if you plan to explore Špiljari and visit the little café.
What to bring:
Plenty of water
Sunscreen and hat in summer months
Suitable footwear, like trainers or hiking boots
Photography equipment
Cat food or meat, like luncheon meat, to feed the cats around Špiljari. If you have a soft spot for cats, like me, Kotor Kitties is a great local organization that's sterilizing cats in Kotor.  
Guided Tour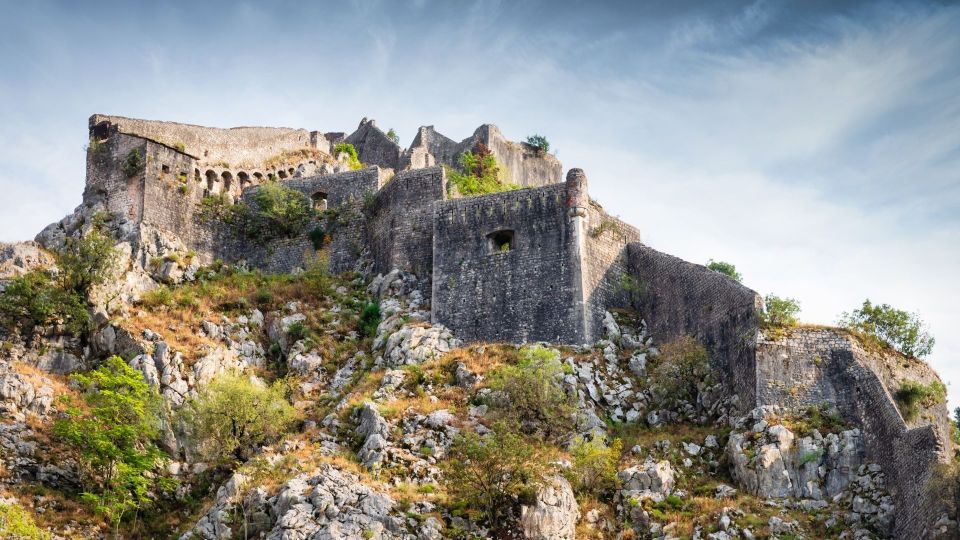 There are private and group tour options to San Giovanni fortress. The advantage of going with a guide is having someone who can tell you all about the history of this area and point out interesting sights along the way.
GetYourGuide offers both group and private tour options several times a week.
Click here to see guided tours to San Giovanni Fortress >
---
Top Places to Stay in Kotor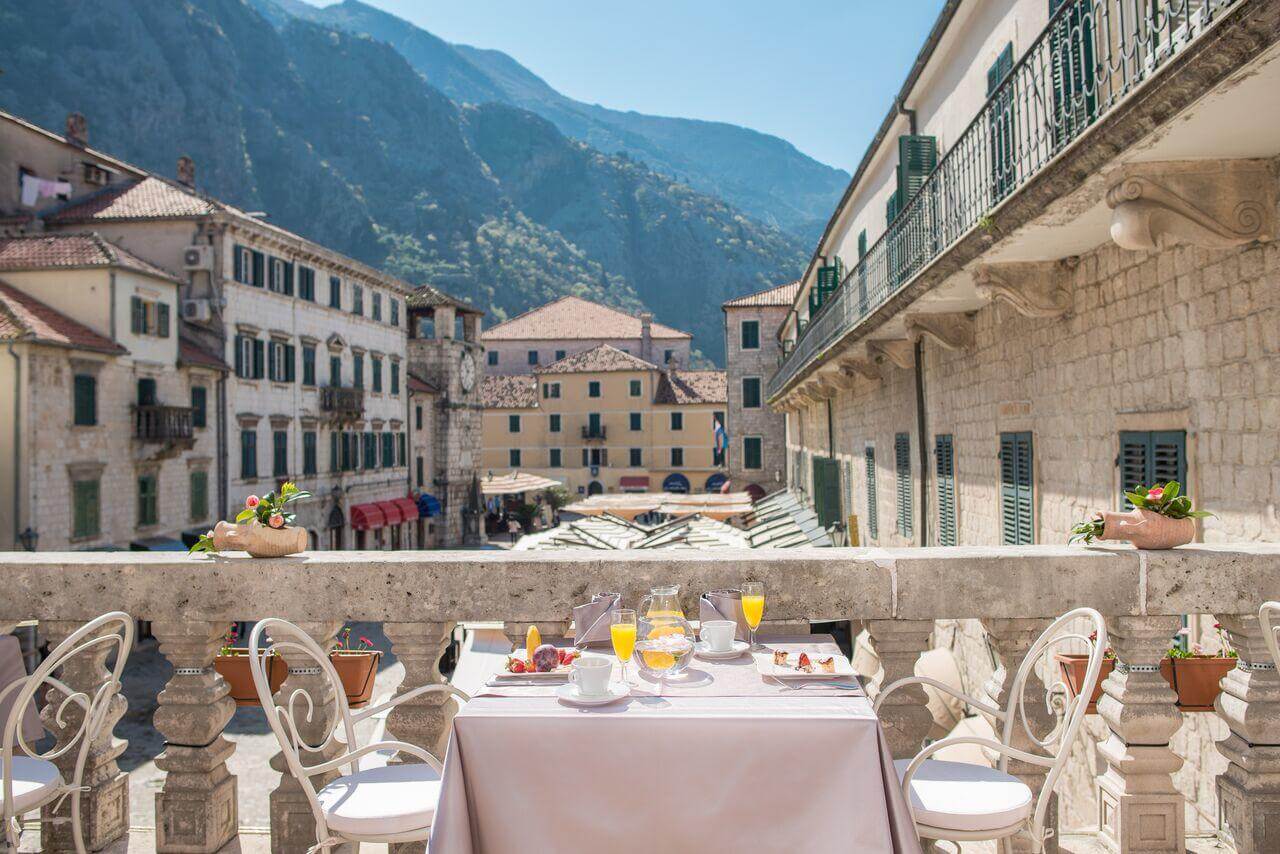 Boutique Hotel Cattaro, Kotor
There's an abundance choice of affordable boutique hotels, apartments and even backpacker hostels in atmospheric Kotor old town. In summer months, seaside accommodation near Kotor offers the best of both worlds.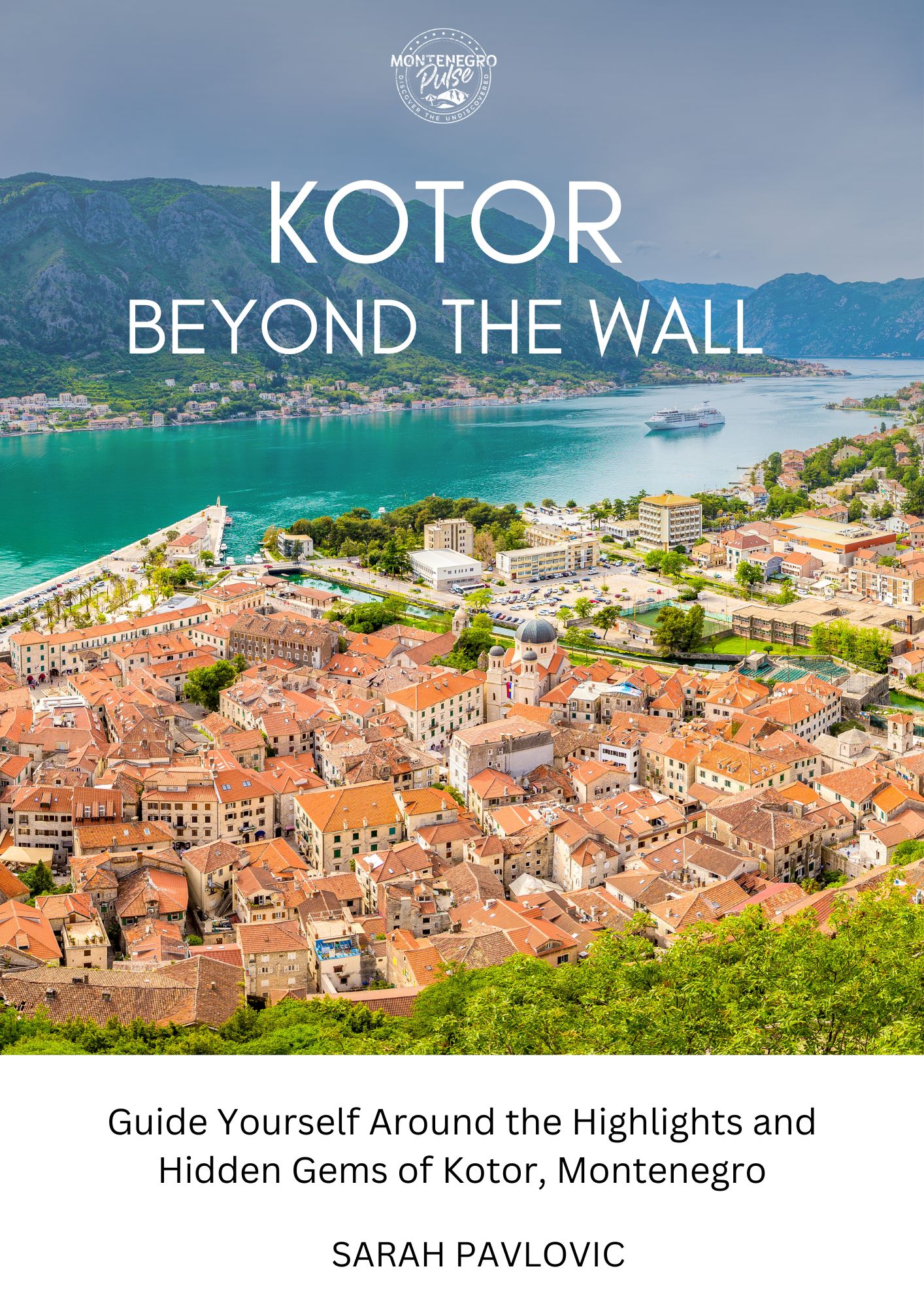 If you are visiting Kotor, my guide to Kotor old town is an indispensable book to take with you. This guide is like having a local best friend to show you the most interesting sights and hidden gems of Kotor.
Related Articles
Kotor City Walls, Montenegro
help the stray animals of Montenegro
Book your accommodation anywhere in the world through any of the search boxes on our site and we'll make a donation towards sterilising stray animals in Montenegro. 
It costs you nothing, and you get the biggest selection and lowest prices guaranteed. It's a win-win!