Montenegro Pulse contains affiliate links and is a member of the Amazon Services LLC Associates Program. If you make a purchase using one of these links, I may receive compensation at no extra cost to you. See my disclaimer for more information.

Blue Cave Boat Tour Montenegro: Best Tours from Kotor Bay
Find out all about the Blue Cave boat tour in Montenegro, where to start, when to go and what to bring with you.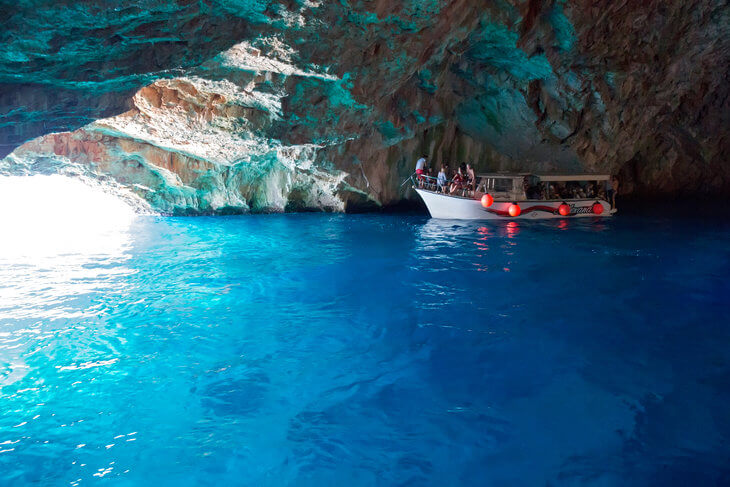 Blue Cave boat tour Montenegro. Image: Deposit Photos
The Blue Cave is one of Montenegro's most popular attractions and taking a boat tour to the Blue Cave is one of the most popular things to do from the Bay of Kotor.
The Blue Cave is a natural sea cave that got its name for the way the light reflects through the entrance and off a rare underwater sandy patch, which creates an iridescent blue glow inside the cave. The cave has become one of most popular attractions on the Montenegrin coast and there are several boat tours you can take to see and swim in it.
Depending where you take a boat tour from, you can visit other attractions on the same tour. Kotor is the best place to start if you want to see the most on your tour. If you start here you can add visits to Our Lady of the Rocks, submarine caves and see Mamula Island.
You'll also get a different perspective of the Bay of Kotor than you do from the road. From the sea you'll be able to see the traditional stone architecture of the bay, the palaces that were built when this area was full of wealthy noblemen, and the imposing mountains that make the bay so scenically dramatic.
Here, we'll go over the best Blue Cave boat tours, when to go, what to bring and what to avoid.
Blue Cave Boat Tour Montenegro Overview
The two most popular Blue Cave boat tour options are:
Speed boat tours that you can do in as little as 3 hours from Kotor
Boat cruises that go slower and usually include some beach time
The Blue Cave is located outside the Bay of Kotor in the Adriatic Sea (zoom in on the map below to see where it is). When you take a boat tour from Kotor you get to see the entire bay from the sea, which is a beautiful trip. You'll see the seaside villages and traditional stone houses lining the shore all the way from Kotor out to the entrance of the bay. This is a great reason to start your Blue Cave boat tour in Kotor. You'll also be able to see other attractions, like Our Lady of the Rocks, along the way.
Blue Cave Boat Tour Montenegro: Speed Boat Tour
The most popular Blue Cave boat tour is a speed boat tour that departs Kotor every three hours. Speeding across the water in a speed boat is a thrilling ride and the small groups make it an intimate tour.
This tour includes a visit to Our Lady of the Rocks, a 500 year old island church that floats off the shore of Perast. According to legend, the island was created after two local brothers found an icon of the Madonna washed up on a rock. Ever since then locals from Perast have been throwing rocks into the sea to create the island - even today, there's a festival every year called Fašinada, where locals throw rocks into the sea around the island.
Our Lady of the Rocks is a Roman Catholic church with a fascinating little museum attached. You have around 30 minutes on the island, which is just enough time to take the guided tour through the museum. Entrance to the church is free and the museum tour costs €2.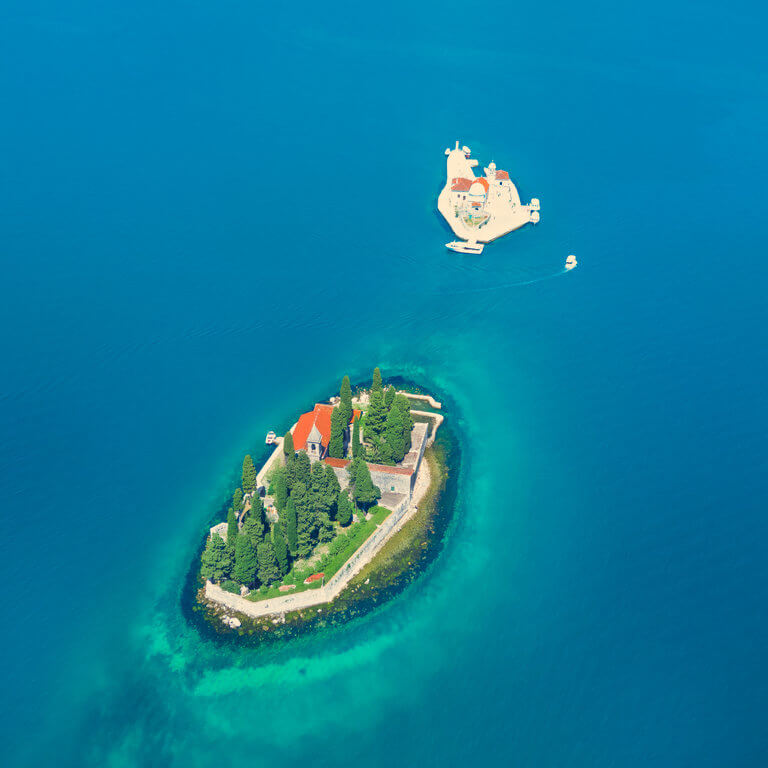 Blue Cave Boat Tour Montenegro: Sveti Đorđe and Our Lady of the Rocks islands. Image: Deposit Photos
Then the tour takes you to the disused submarine caves that were used to hide submarines when Montenegro was part of Yugoslavia. As you head out of the Bay of Kotor and into the Adriatic sea it makes a stop Mamula Island, a former fort and prison island that was used to incarcerate prisoners, including women and children, during World War II. The island is now being developed into a high-end resort, you can't get off the boat, but the boat skipper and guide will tell you about the island and its history.
The final stop is at the Blue Cave itself. The boat goes into the cave and you can jump out to swim or snorkel. If there are a lot of boats at the cave sometimes the boat will stop just outside the entrance and you can swim into the cave. And since the entrance is quite low, sometimes boats can't get into the cave if there's a big swell.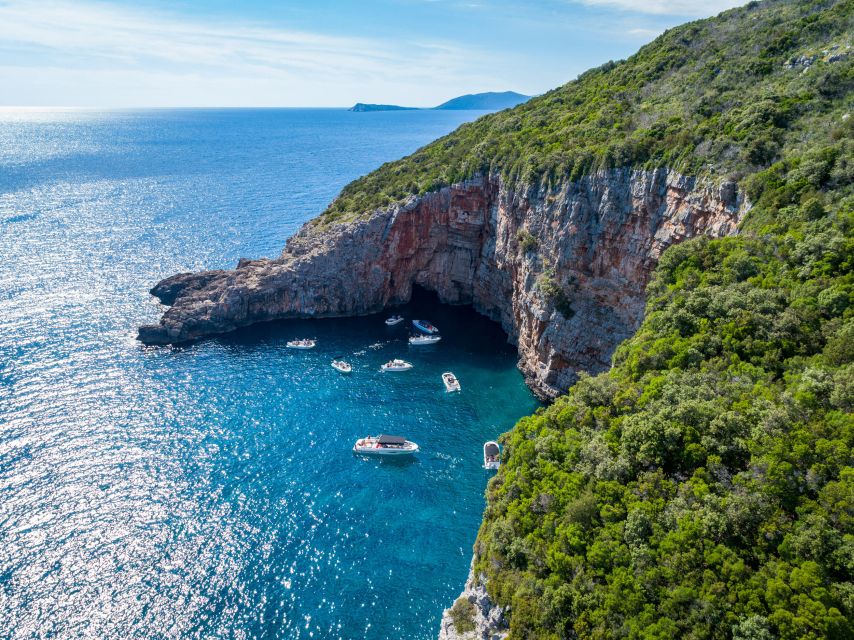 Blue Cave Boat Tour Montenegro: Boats outside the Blue Cave
The group speed boat tour departs from Kotor City Park, 200m from the old town. This tour departs at 9am, 12pm, 3pm and 6pm daily.
Check Availability on the Group Tour
Check Availability on the Private Tour
Private Speed Boat Adventure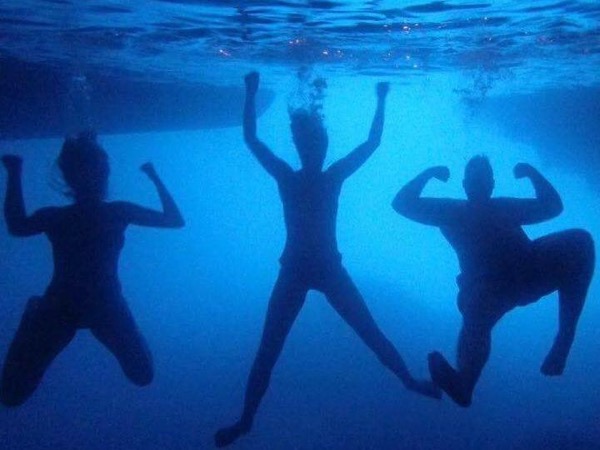 Swimming in the Blue Cave
This tour is a private tour that includes a speed boat ride through the bay to the Blue Cave. After a swim in the cave you stop at the picturesque fishing village of Rose for a lunch of traditional seafood and wine.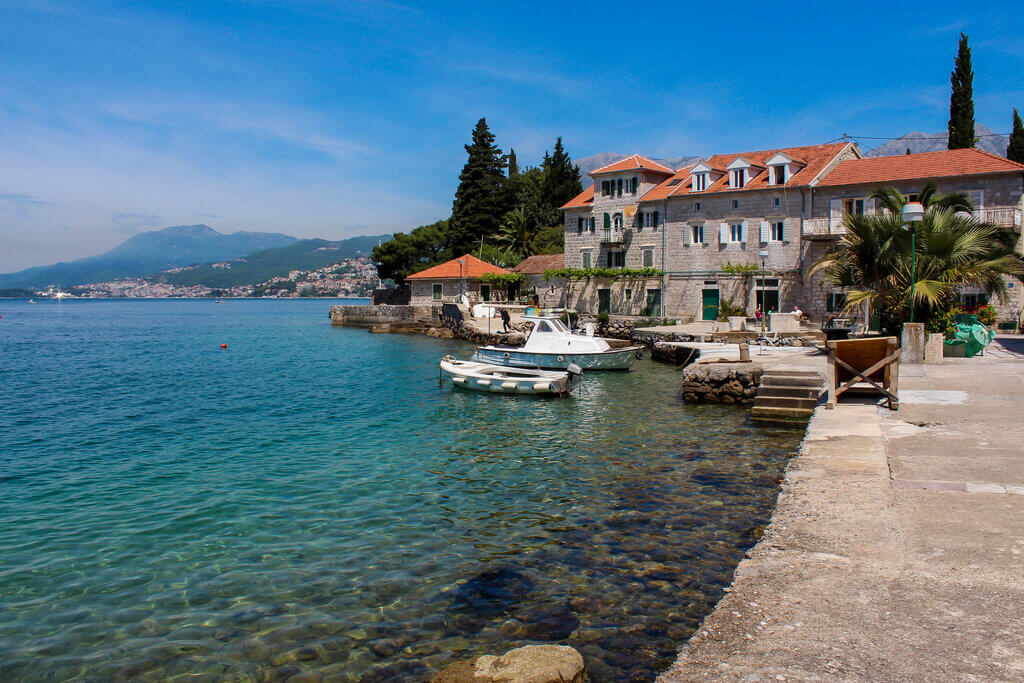 Rose in the Bay of Kotor. Image: Deposit Photos
After lunch you hop back in the speed boat and head back through the bay to Perast and Our Lady of the Rocks before finishing your tour with walking tour through Kotor old town.
This is a private tour and is completely customisable.
Blue Cave Boat Tour Montenegro: Full Day Boka Bay Day Cruise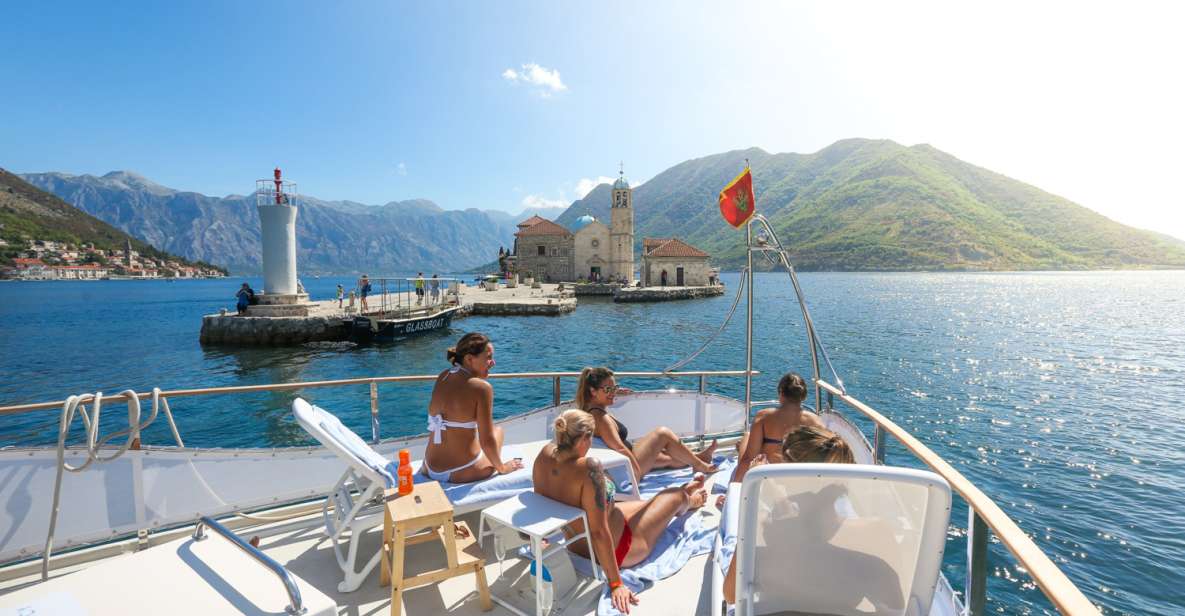 Boka Bay Day Cruise
You can also take a leisurely full day boat tour that has pick-ups in Kotor, Tivat, Budva and Herceg Novi. The catamaran travels slower than a speed boat, but that gives you ample time to do some sunbathing, enjoy the view and just enjoy hanging out on a yacht.
This tour also includes a visit to Our Lady of the Rocks and the submarine caves, but it also includes time for lunch and swimming on one of the beaches on Luštica Peninsula. Luštica's beaches have some of the clearest water on the Montenegrin coast, and it's a popular location for divers. You can snorkel, swim, sunbathe and get fresh seafood at one of the beachside restaurants.
CHECK AVAILABILITY ON THIS TOUR
Blue Cave Boat Tour Montenegro: Beware Cheap Boat Tours
You can also book cheap boat tours from Herceg Novi marina (directly below the old town) for around €10 per person. These tours take you to swim in the Blue Cave and then to Žanice or Mirište Beach for the afternoon. They leave the marina at 9 or 10am and return at 5 or 6pm.
Although they're cheap, I don't recommend these tours if you can avoid them. They're often dangerously overcrowded and people are crammed in until there's standing room only, so you have to stand for the entire hour-long journey to the Blue Cave and then again to Žanjice Beach. This is uncomfortable, but also unsafe. In case of an accident there may be 60 lifejackets if the boat is licensed to carry 60 passengers, but there may easily be 100 passengers on board. In the event of an accident you don't want to be left without a life preserver!
As if that weren't enough, many of these tours blast Balkan pop music, which people here absolutely love, but it can ruin what should be a relaxing day out on a boat.
These tours are really aimed at visitors from the Balkans and I recommend avoiding them if you want to have a relaxing tour. 
---
Best Time to Do a Blue Cave Boat Tour in Montenegro
You can go on a Blue Cave boat tour in Montenegro any time the weather is good between April and November.
July and August are the ideal times to do this tour because they're the hottest and driest months and the weather is ideal for the beach.
May, June, September and October are also good months for doing this tour, although you can expect cooler sea temperatures in May, June and October and a higher chance the tours could be cancelled due to bad weather.
April and November can be wet and cold, so there's more of a chance the tours will be cancelled and you can visit the Blue Cave, but might not want to swim in it because it's too cold.
Blue Cave Boat Tour Montenegro: What to Bring
Here's what you should bring on your Blue Cave boat tour:
Long sleeves – it can be cold on a speed boat, even in the hottest weather and especially if you're still wet from swimming, so long sleeves are a must all year round
Swimsuit – wear your swimsuit under your clothes because there's nowhere to change your clothes
Towel
Water
Snacks – you can buy drinks, snacks and ice cream on Our Lady of the Rocks. You can also buy meals at restaurants if you take a day tour
Go Pro – the Blue Cave and beaches along Luštica Peninsula are ideal for recording with a Go Pro or other underwater camera. You'll see fish, sea urchins, starfish and octopuses if you dive down and investigate crevices. Click here to check Go Pro prices on Amazon
Looking for More Kotor Tours?
Book Your Trip With My Recommended Providers
Blue Cave Boat Tour, Montenegro