Montenegro Pulse contains affiliate links and is a member of the Amazon Services LLC Associates Program. If you make a purchase using one of these links, I may receive compensation at no extra cost to you. See my disclaimer for more information.

Kotor Montenegro Day Tour: Montenegro Full-Day Tour Review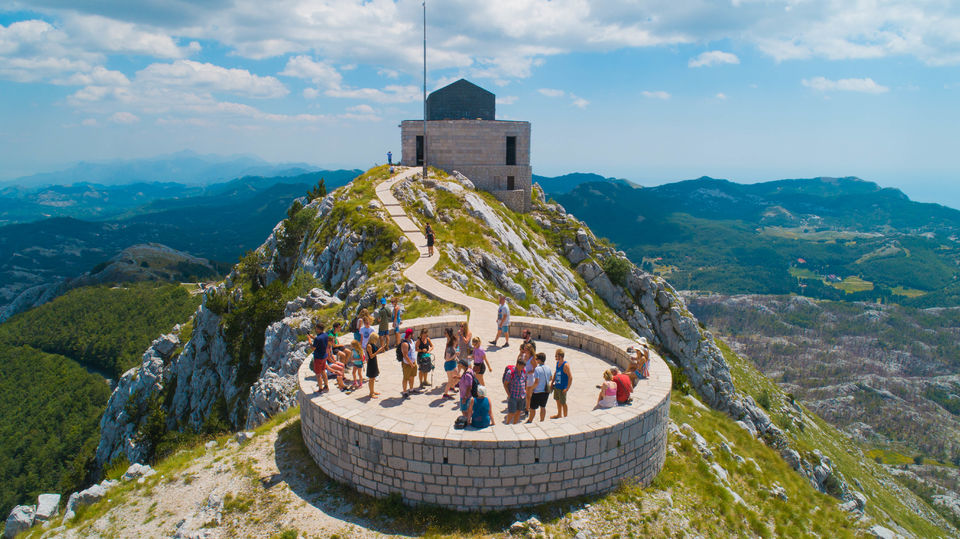 Kotor Montenegro Day Tour: Montenegro Full-Day Tour Review
"You have to swallow it all in one go!"
I looked dubiously at the shot of grape brandy in my hand.
It was 9am and I hadn't even had a coffee or breakfast yet.
But with an obligatory 'Živjeli!' the rest of the tour group and I downed the rakija and started our day… Montenegro style!
This was my introduction to the Montenegro Full-Day Tour. And I was beginning to see why it's so popular.
Are you:
Only planning to spend a few days in Montenegro and want to see as much as you can in the short time you have?
Travelling solo or as a couple?
Travelling on a budget?
Not planning to hire a car for your stay in Montenegro?
You'd be forgiven for thinking any of these things might stop you from seeing much outside of the city you've chosen to stay in.
But it doesn't!
This Montenegro day tour is a fun and affordable way to see and experience so much of what Montenegro has to offer. It includes many of Montenegro's highlights and offers authentic experiences you wouldn't be able to find on your own.
Montenegro Day Tour Itinerary
You can tick off a good number of the highlights of Montenegro in just one day by doing this tour. On the tour you'll see:
Njeguši village
Petar II Petrović-Njegoš mausoleum
Lovćen National Park
Cetinje
Lake Skadar National Park
Sveti Stefan
Budva
You'll also have the opportunity to try some authentic Montenegrin cuisine like prosciutto, cheese, fish, wine and rakija... so much rakija!
Kotor to Njeguši

This Montenegro day tour starts out with a drive up the 'serpentine road' from Kotor to Njeguši village. This road has 25 switchback turns and as it climbs each turn revealed a panoramic view of the Bay of Kotor that was even more impressive than the last.
View over the Bay of Kotor from Lovcen National Park
The first stop on the tour is a smokehouse in Njeguši, which is famous for its prosciutto.
But first... rakija.
Rakija is Montenegro's beloved brandy and this smokehouse tour starts with a shot of it. It's also extremely potent at at least 50% alcohol (home brews are often stronger!).
After that shot of Montenegrin culture, you get a tour of the smokehouse and learn about what goes into making prosciutto and what makes prosciutto from Njeguši so special.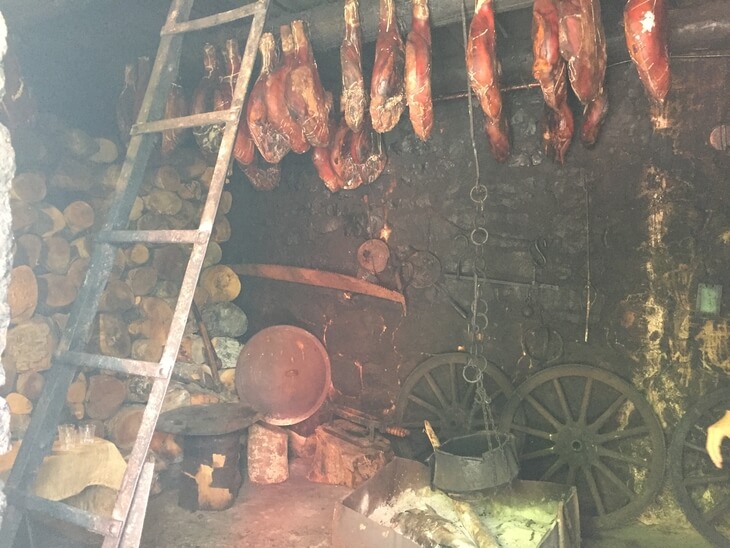 Proscuitto hanging the smoking room
After the tour, it's time for a traditional breakfast including prosciutto at Montenegro's oldest restaurant, which has been exclusively family run for the last 135 years.
NJEGUŠI to Lovćen National Park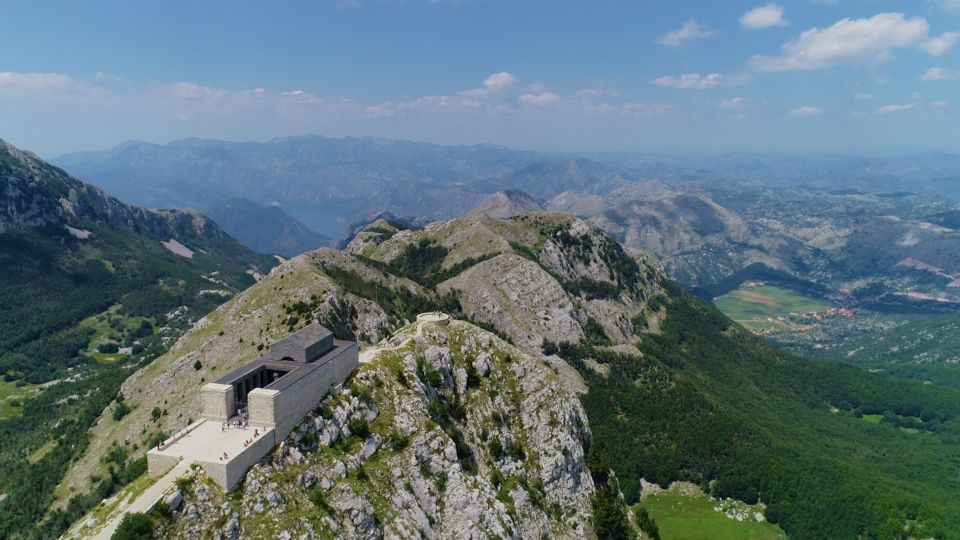 Petar II Petrović-Njegoš mausoleum
From Njeguši you take a scenic drive through Lovćen National Park to the mausoleum of Petar II Petrović-Njegoš.
There's a short hike up to the mausoleum, but it's absolutely worth it. You'll get views over all of Montenegro and even over Croatia and Albania.
And you can get this awesome pic!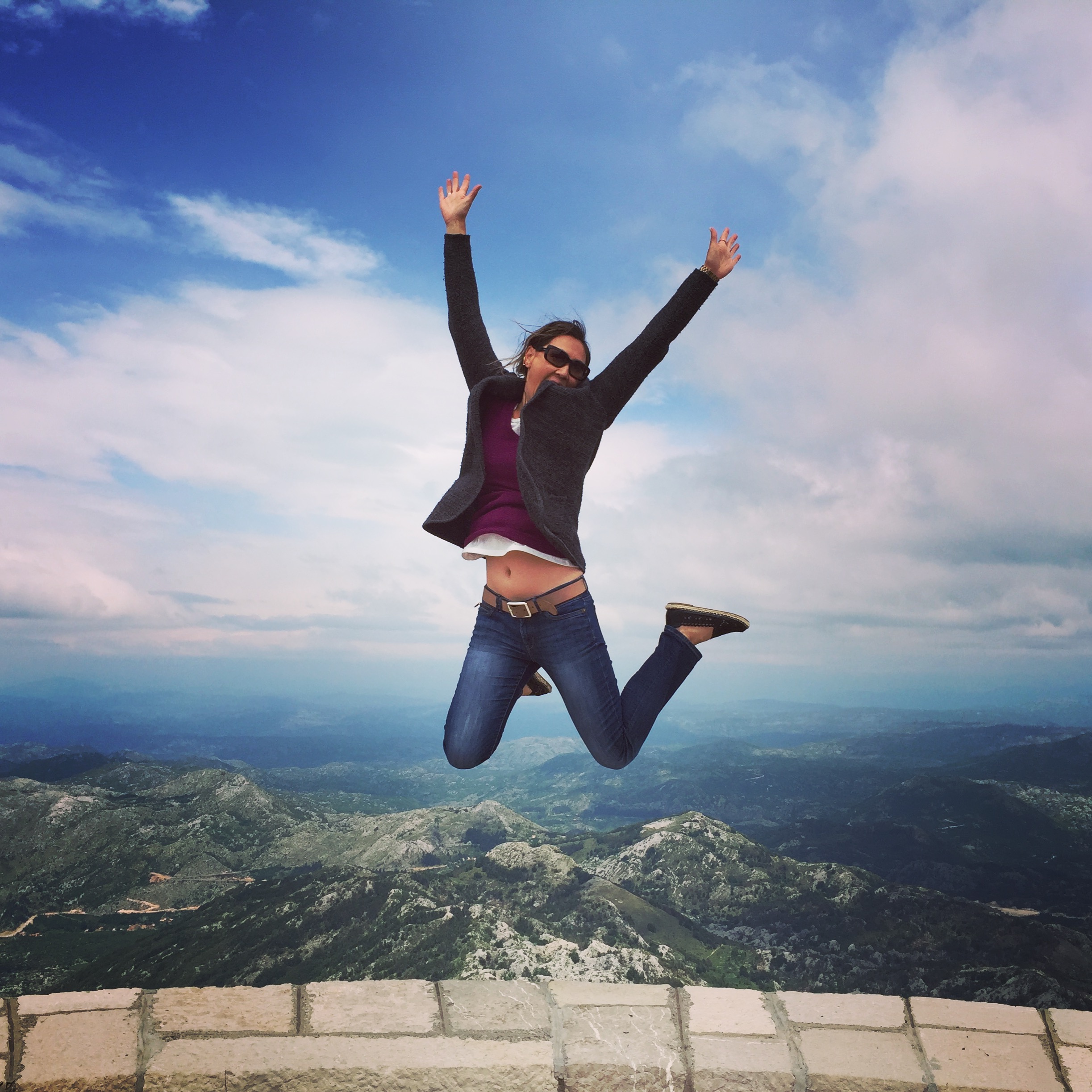 LOVĆEN NATIONAL PARK to Cetinje
From the mausoleum it's a short drive through the countryside of Lovćen National Park to Montenegro's old royal capital – Cetinje.
Cetinje is Montenegro's old royal capital and it's full of small palaces and former embassy buildings. You have a short walking tour through the small, but fascinating town, and have the chance to visit Cetinje Monastery, which is said to be home to piece of the cross Jesus was crucified on and John the Baptist's right hand.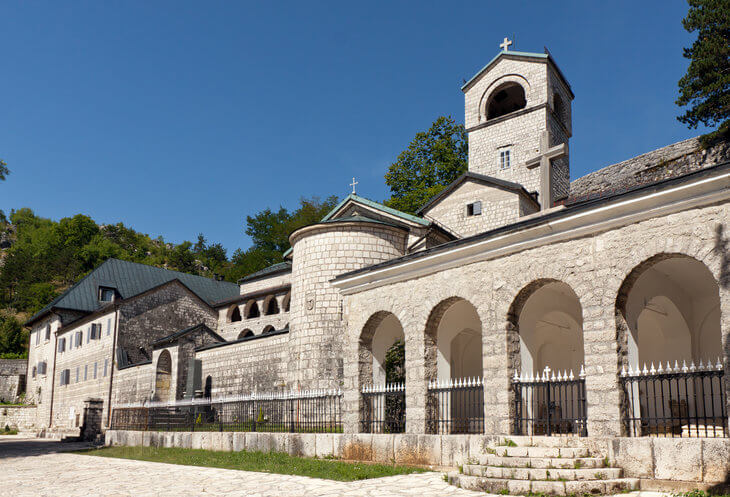 Cetinje Monastery
Cetinje to Lake Skadar National Park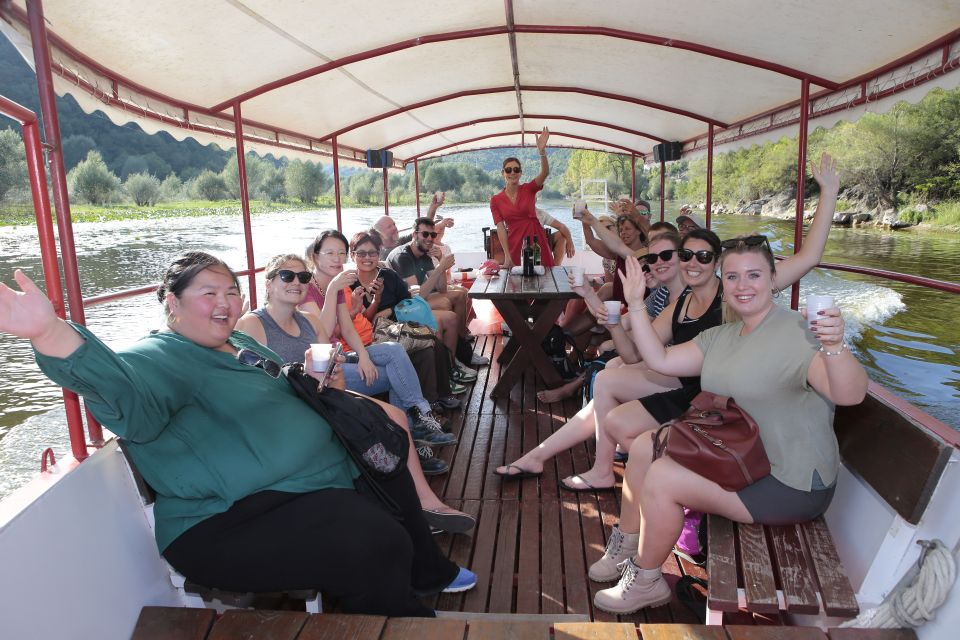 From Cetinje, you travel on to Rijeka Crnojevića, the capital of Montenegro in the middle ages and part of Lake Skadar National Park.
Lake Skadar National Park is one of the largest and most important wildlife reserves in Europe. And you'll get to stop at one of Montenegro's most iconic photos spots, Pavlova Strana.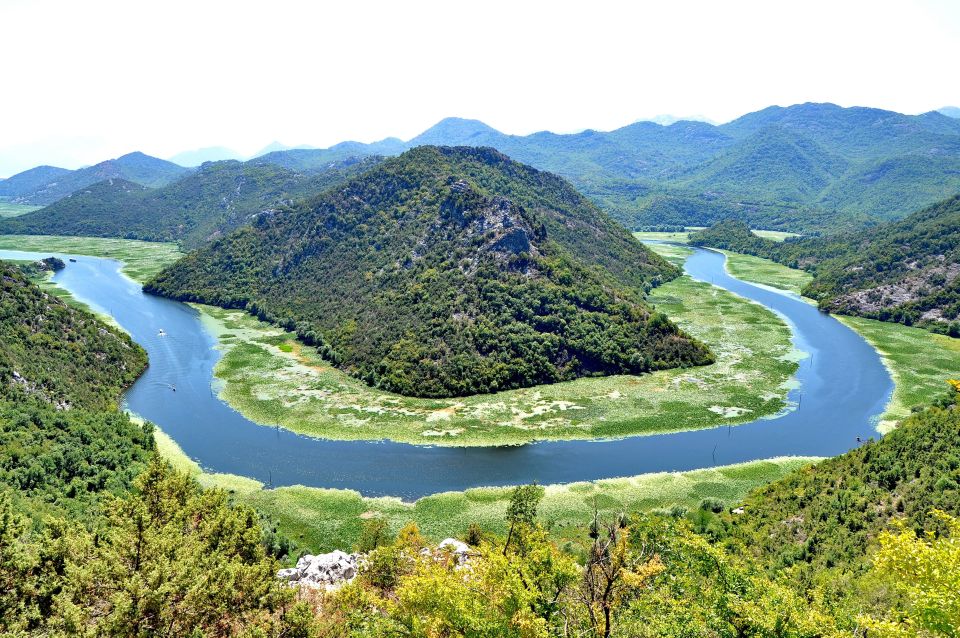 Here, you'll have a traditional lunch of carp from the lake in a beautiful outdoor restaurant overlooking the river. In one direction cormorants duck and dive for fish, while in the other cows graze peacefully on lush grass. It's hard to picture any more idyllic scene than this.
Local's Tip: Order a glass of local wine to go with your meal. This area is Montenegro's top wine producing region and vranac is the most popular local variety.
After lunch you cruise the river where you can see more of the reserve's wildlife, like herons and little diving ducks with their unbelievably tiny ducklings in tow. You can even take a swim in the river. The water temperature of Lake Skadar is around 26°C/79°F in summer.
Lake Skadar National Park to Budva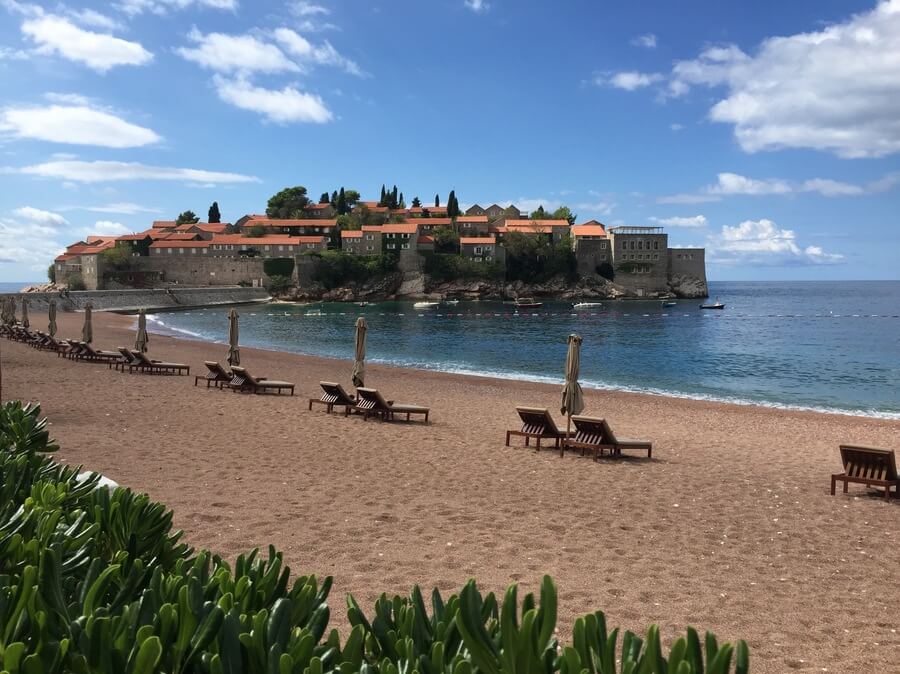 The final stop on this Montenegro day tour is Sveti Stefan. You have photo stop at Sveti Stefan, one of the most beautiful places in Montenegro. 
Budva is Montenegro's party capital and is home to one of the biggest night clubs in the Balkans, Top Hill. You can choose to leave the tour here and party on or be driven back to where you joined the tour.
Why Take the Montenegro Full-Day Tour?
Make the most of your time
The Montenegro Full-Day Tour is ideal if you only have a few days in Montenegro. Montenegro offers a huge amount of variety and while the coast has a lot to offer, no visit to Montenegro is complete without seeing the mountains and national parks.
Montenegro's inland landscapes and culture are very different to what you'll find on the coast. It's more rustic and rugged, but no less beautiful. One of the things I loved so much about this tour is that you get to experience so much variety in just one day. 
Authentic experiences
Far from being 'touristy', the experiences on this small group tour are authentic. You'll get to experience authentic Montenegrin culture and experiences you wouldn't be able to arrange on your own.
The smokehouse visit, and Cetinje and Budva walking tours would be impossible or very expensive to arrange on your own. And experiences like the captain on the boat trip pulling out his homemade wine and rakija to share are so authentic and really show how warm and generous Montenegrin hospitality is.
Save money
If you've ever been travelling solo or even as a couple, you'll know that you always end up paying more than if you were in a group. Doing this group tour will save you money and you can see how much further down this page.
Departures
Although the Full-Day Montenegro Tour departs from Kotor, you can be picked up in Herceg Novi, Tivat or Budva too.
Reserve now and pay later and cancellation
When you book with Get Your Guide you can book now and pay nothing until 72 hours before the tour begins. This means you're not locked in if your plans change. And if you do book and need to cancel, you can cancel this tour up to 24 hours in advance and get a full refund.
Who Should Not Take the Montenegro Full-Day Tour
There are really very few limits to who can do the tour. Our group included single travelers, honeymooners, people in their 20's and people well into retirement. I would add these two exceptions:
Families with young children

This tour has a minimum age limit of 6 years old. It's a long day (around 12 hours) and wouldn't be suitable for younger kids. If you do have young kids, I highly recommend this boat tour which my son loved!
Mobility limitations
This tour wouldn't suit anyone with serious mobility issues. The climb up to the Petar II Petrović-Njegoš has 461 steps, but that is optional, and you'll need to climb in and out of a boat. Other than that, it's very easy.
Overall Opinion
I am a huge fan of this tour. It includes so many different experiences and really gives you an in-depth insight into Montenegro's history, culture, cuisine and the variety that's found within this small country's borders.
This tour is very well designed and executed. The stops are around 30-60 minutes apart which means there's not too much driving at once, and the combination of activities was perfect - not too tiring.
I also loved that it is a small group tour. This means you can ask your guide questions, get to know others on the tour and have a lot of fun! Rather than an impersonal tour with a harried guide, this was a much more intimate experience where we felt like we were been shown around Montenegro by a local friend.
Could You DIY This Tour?
This tour would be impossible to replicate on your own. The beauty of doing this tour is that all the stops and experiences are lined up so you can go seamlessly from one activity to another. This is how you're able to see so much in just a day.
This tour also includes experiences you wouldn't be able to organise on your own or would pay a lot more for, making it excellent value for money. It includes:
Round trip transport
Licensed guide
Smokehouse visit
Cetinje walking tour
Boat trip at Rijeka Crnojevića
Let's compare and see what it would cost if you were to do this itinerary on your own.
Experience
Transport
Smokehouse tour
Cetinje walking tour
Boat trip
Total
Full-Day Tour
Included
Included
Included
Included
€59 per person
DIY Full-Day Tour
€59 1 day car hire + gas
Not possible
€50
€99.50 per person (based on 2) + gas
That's a saving of €81 based on 2 people not including gas. If you're travelling solo doing it on your own would cost €194 + gas, and it still wouldn't include the smokehouse tour.
You can also book this tour as a private tour. The price depends on how many people are in your group, but it's not much more than doing the group tour. Just scroll down on the booking page to see the private tour price for your group.
Check Availability For This TOur
Frequently Asked Questions
When is the Best Time to Do The Full-Day Montenegro Tour?
This tour runs from April to November and any time in that period is a good time. Each season in Montenegro offers something special.
In spring the landscapes are vibrant green and dotted with wild flowers. In summer you can enjoy warm temperatures for swimming. And in autumn you'll find warm temperatures and a relaxed vibe throughout the country.
What's Not Included and Do yOu need Cash?
Yes, you will need some cash for this tour. The tour doesn't include:
Breakfast €5 (cash or card payment)
Lunch €12 (cash or card payment)
National park entrance fees €11 (cash only)
Tip for your guide (around €5-10 per person cash is normal if you are happy with your guide's service)
Who Runs This Tour?
This tour is run by 360 Monte, an excellent travel agency based in Kotor. I have met the owner, Slavenko, who also runs a top-rated hostel in Kotor - Hostel Old Town. Slavenko is an experienced and passionate professional and it shows in how popular his tours and hostel are.
But don't take my word for it! Check out the reviews for this tour here.
Which Other Tours Compliment This one?
If you are looking for more tours to see Montenegro, there are more popular tours that make great complimentary tours to the Montenegro Full-Day Tour:
These cover all the top sights in Montenegro!
what To Bring on the Full-Day Montenegro Tour
You'll need to bring:
Walking shoes
Layers for cooler weather, even in summer. The Petar II Petrović-Njegoš mausoleum is 1,660m (5,446ft) above sea level and it can be much colder than on the coast, especially in spring when there is still snow
Clothing that covers your shoulders and knees if you would like to visit Cetinje monastery
Swimsuit
Hat, glasses and sunscreen
Camera
Drone - you can fly drones freely in Montenegro except around airports
Cash for extras
Book The Montenegro Full-Day-Tour
---
Related Articles
Great Montenegro Tour
Book Your Trip With My Recommended Providers
Kotor Montenegro Day Tour: Montenegro Full-Day Tour Review