Montenegro Pulse contains affiliate links and is a member of the Amazon Services LLC Associates Program. If you make a purchase using one of these links, I may receive compensation at no extra cost to you. See my disclaimer for more information.

Top Herceg Novi Hotels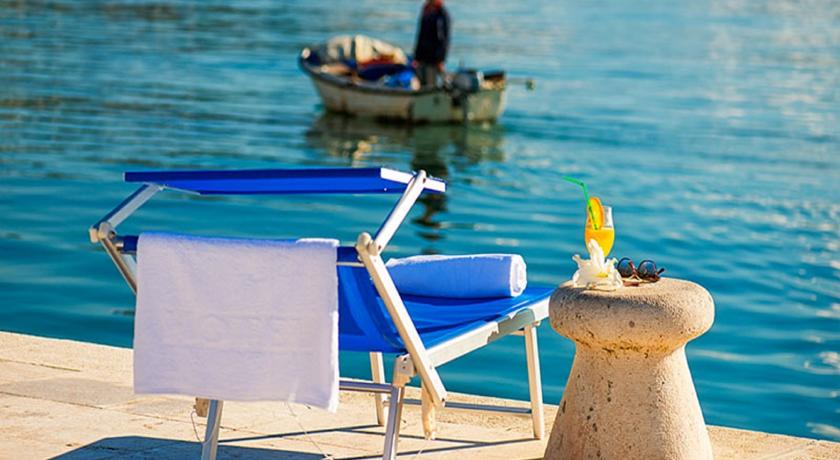 Palmon Bay is one of the top Herceg Novi hotels
Herceg Novi is the town closest to the Croatian border. It's opposite the entrance to the Bay of Kotor and is a great place to base yourself if you'd like a relaxed, beach holiday. 
One of Herceg Novi's main attractions is its old town with clock tower, shops and cafes. There's also a produce market in the centre of town that's perfect for picking up some fresh local delicacies like figs, prosciutto, cheeses and the sweetest tomatoes you've ever had.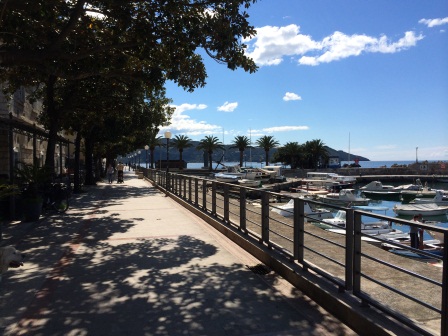 Herceg Novi promenade
There's a 7km seaside promenade which runs the length of the town. It's lined with restaurants and shops and is ideal for walks on warm summer evenings. You'll find bars, live music and little stalls selling art and souvenirs here all summer.
Herceg Novi marina is on this promenade below the old town. Boats leave from here several times a day on excursions.

The Pajo boats have daily excursions around the bay to Kotor and back for €20 per person. There are multiple boats going to the Blue Caves, Zanjice and Miriste beaches on Lustica Peninsula every day. You can also catch a boat from here across the bay to the little fishing village of Rose.
Herceg Novi is known for its small pebble beaches and clear water. This is where you'll find the best beaches in the Bay of Kotor.

The longest beach is at the end of Herceg Novi, in Igalo. This is a very wide, shallow beach with a silty bottom. You'll see people here cover themselves with the mud, which lots of people think has medicinal properties.
I'm not sure about that, but it's a good spot for small kids because it's so shallow and you can hire peddle boats.
The downside here are the boats that pass the beaches blasting music and advertising local clubs.
Iglalo is the busiest area of Herceg Novi. There are lots of restaurants and shops and it's the centre of Herceg Novi nightlife. There are a few clubs and bars here which extend out onto the beaches in summer. This means it can be relatively noisy if you're staying close to the beach.

Savina is the best area in Herceg Novi to stay in and there are a few good hotels here. Savina is:

Close to town – just a 15 minute walk either along the promenade or along the lower road.
Quiet – there are no noisy bars or clubs to keep you awake at night.
Has really nice beaches.
Here are the best Herceg Novi hotels:
4 Star herceg Novi Hotels
hotel Perla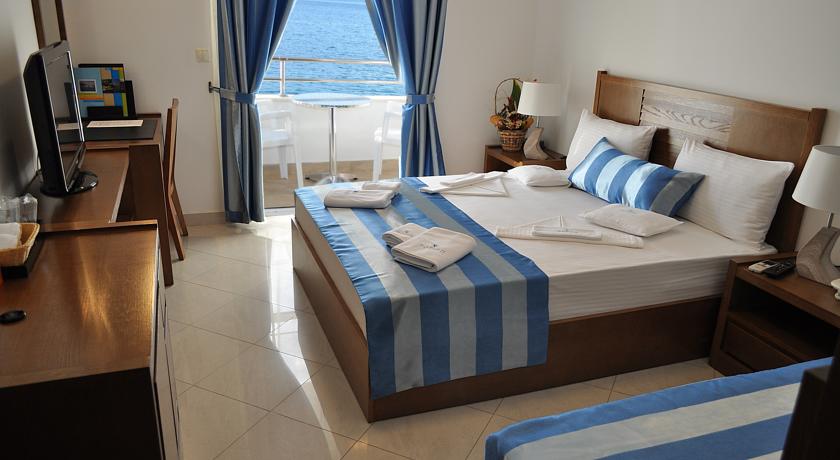 Rooms at Hotel Perla have fabulous sea views
Hotel Perla is a lovely boutique hotel with 41 rooms ranging from double rooms to one bedroom apartments. The hotel is right on the seafront in Savina and has it's own loungers and pier for hotel guests. There's a sand and pebble beach which is ideal for children too.
The hotel has free parking and free WiFi throughout. One of the highlights has to be their dining terrace overlooking the sea – perfect for meals any time of day.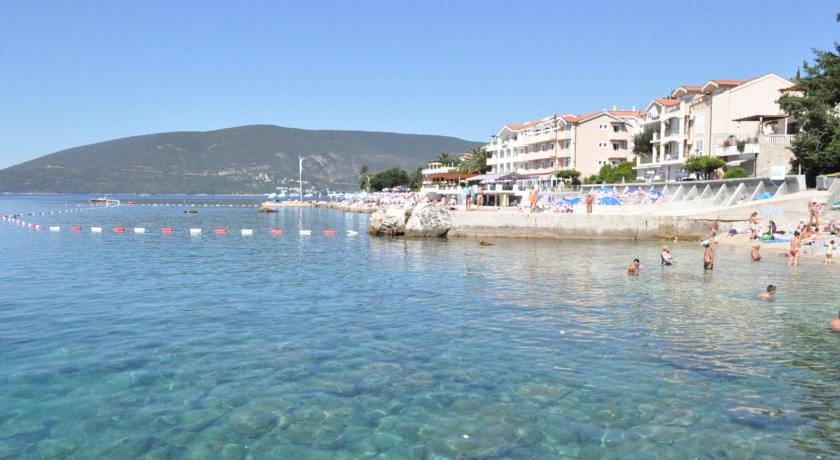 Hotel Perla's guest pier and beach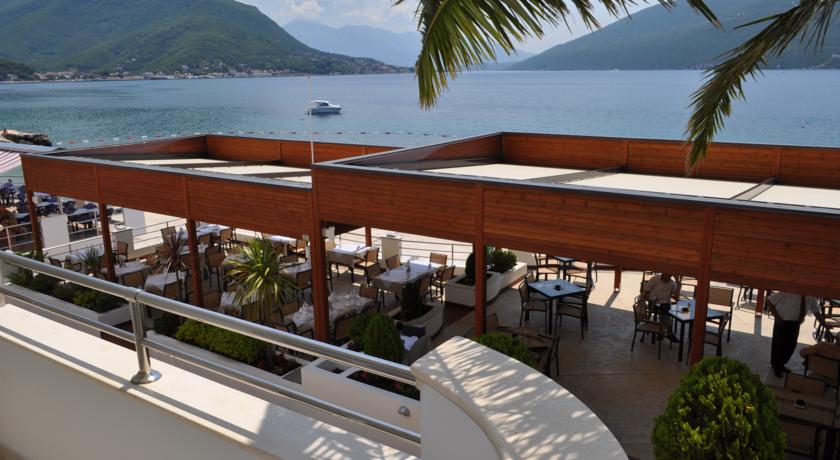 Hotel Perla's breakfast terrace and restaurant
---
Palmon Bay Hotel and Spa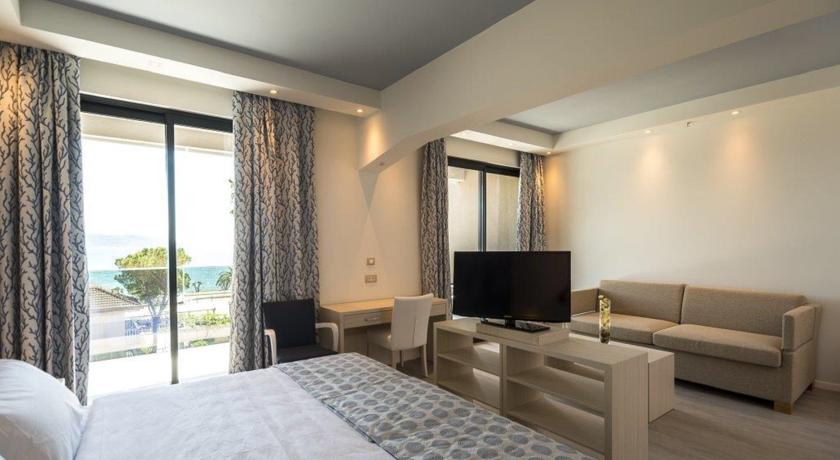 A room at Palmon Bay Hotel
This is one of the best Herceg Novi hotels. Palmon Bay is a brand new hotel in an ideal location in Igalo – you've got everything within a few minutes' walk. The hotel has 163 rooms, an indoor pool, private beach area for guests, spa and wellness centre, a gym and free WiFi throughout.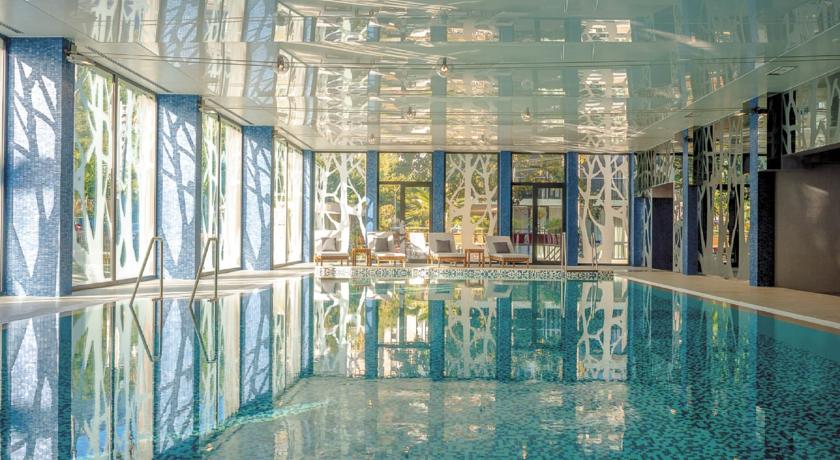 Palmon Bay pool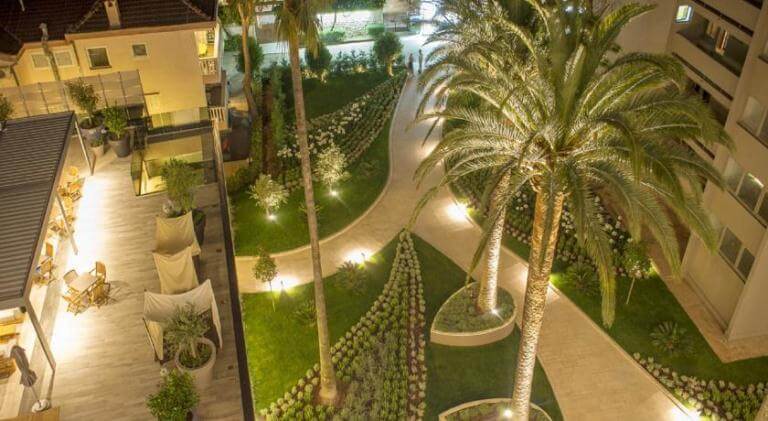 The roof bar and gardens at Palmon Bay
---
Hotel Xanadu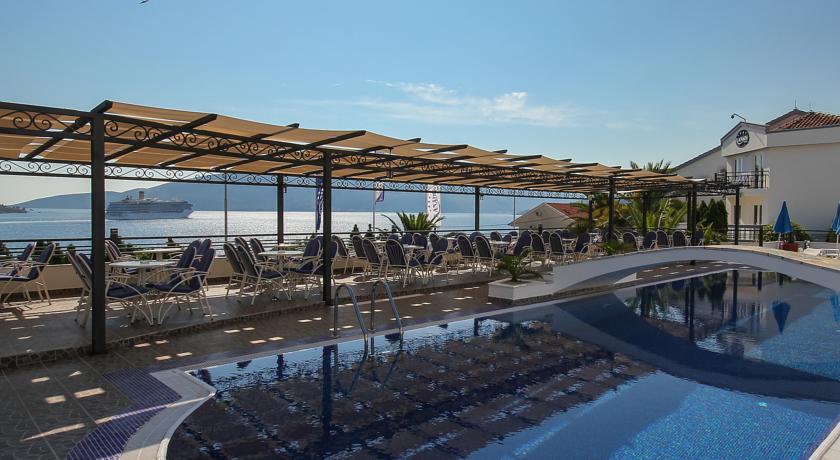 Hotel Xanadu's pool overlooking the Bay of Kotor
Hotel Xanadu is just outside of Herceg Novi in a beachside hamlet called Kumbor. It's one of the most popular Herceg Novi hotels and is about 5km from Herceg Novi town.
The hotel has 45 rooms and apartments that are ideal for everyone from honeymooners to families. The beach in Kumbor is just a few minutes' walk away and the hotels has two outdoor pools. It also has free WiFi throughout and great views over the bay because of its position on the hill.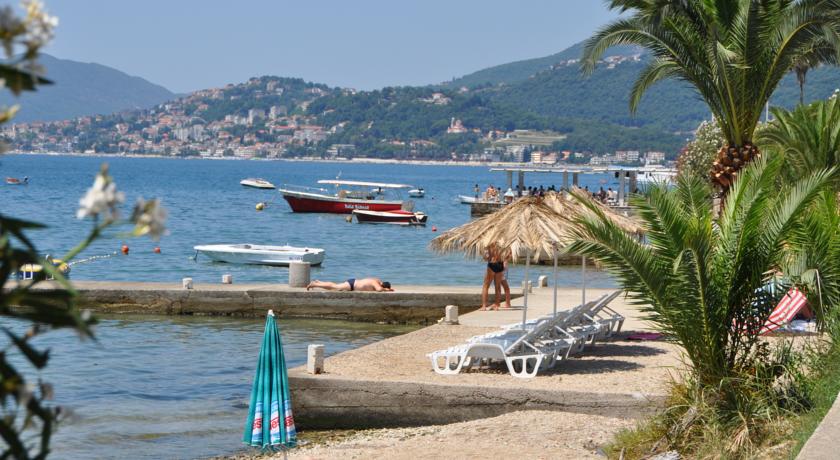 A typical Kumbor beach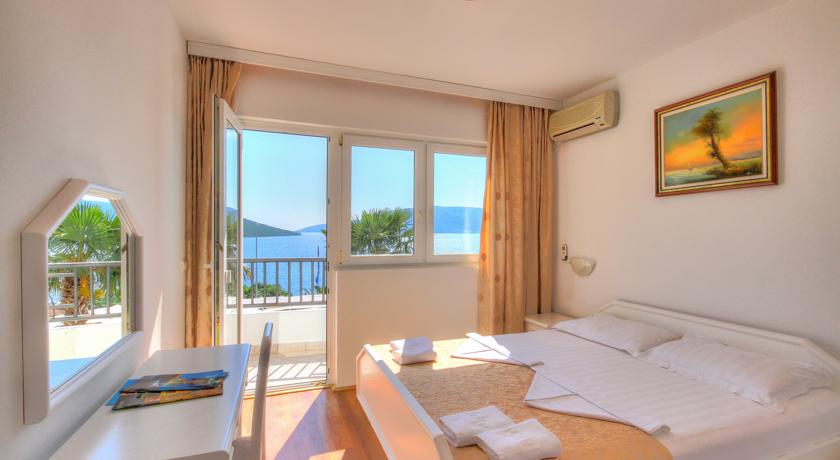 ---
Guest House Aria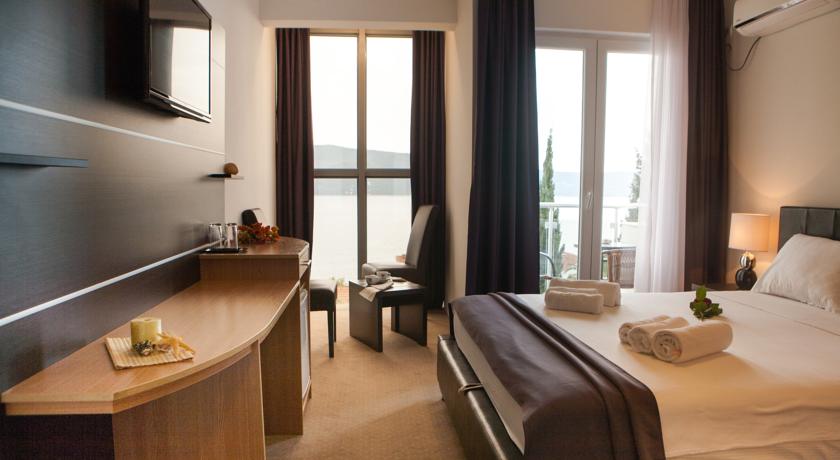 A seaview room in Guest House Aria
Guest House Aria is a boutique hotel with 12 rooms in Savina. It's a three minute walk to the beach and promenade with seaside restaurants. The neighbourhood is quiet and there are shops including green grocer, butcher, bakery, takeout and mini markets 200m away.
The rooms are all elegantly decorated and there's free WiFi throughout. The sea-facing rooms have balconies with sea views.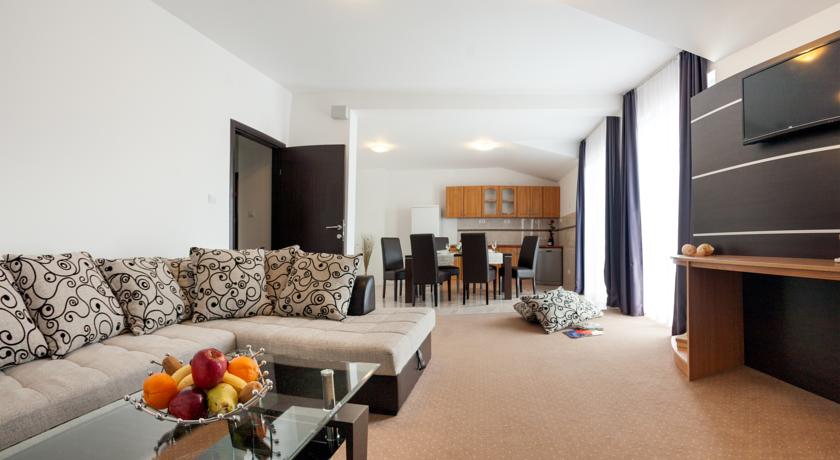 ---
Villa Del Mar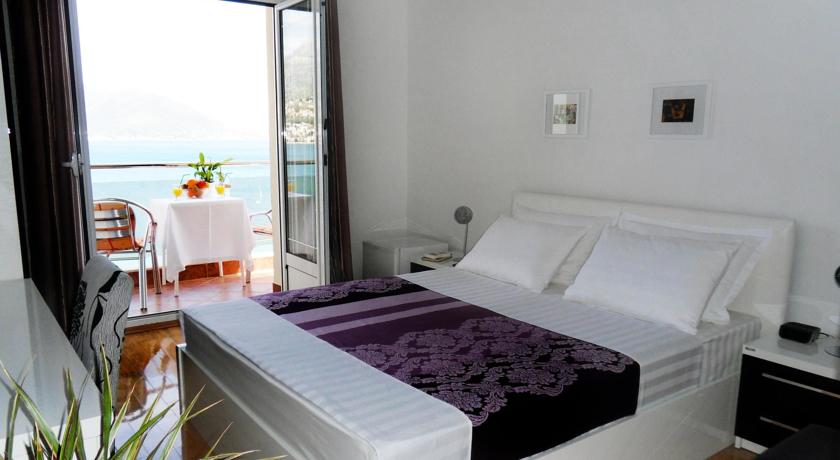 Villa Del Mar is a boutique hotel with 8 rooms and apartments in Njivice. Njivice is 4km from Herceg Novi centre. The area is known for being quiet and because of its location, it's in the shade most of the afternoon. This is great in summer when temperatures can get up to 40° in the shade. Njivice also has naturist beaches towards the end of the peninsula.
The hotel has a private pier with mooring if you rent a boat (link). There are loungers for guests, free WiFi and onsite parking.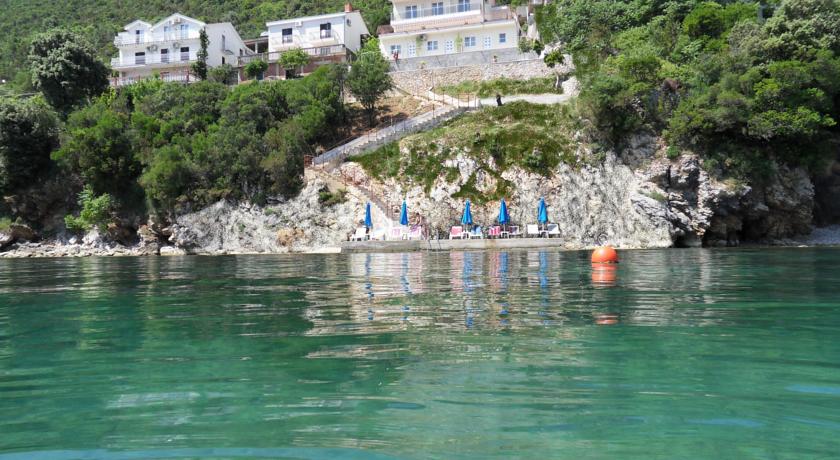 ---
Club Hotel Riviera Montenegro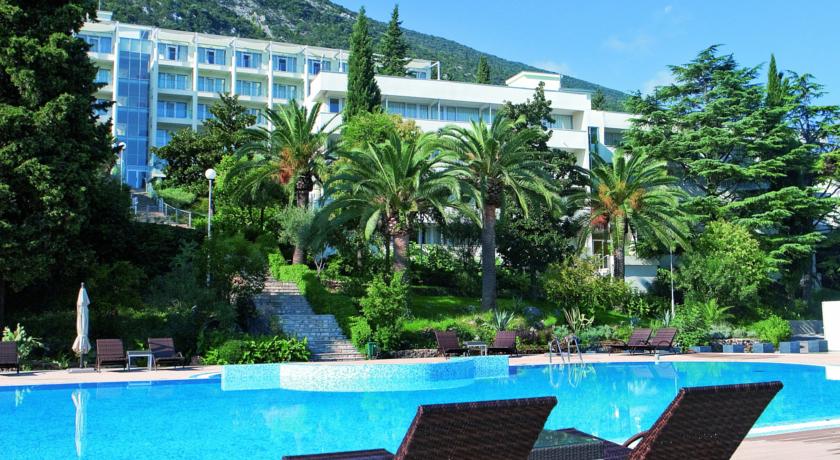 Club Hotel Riviera Montenegro is one of the best Herceg Novi hotels. It's just outside of Herceg Novi in Njivice – 4km from Herceg Novi centre. The bars, shops and restaurants of Igalo are 2km away and the area is serviced by taxis and public transport.
The hotel is one of the biggest in the Herceg Novi area with 180 rooms. Their facilities include an outdoor pool, gym, conference facilities and private beach.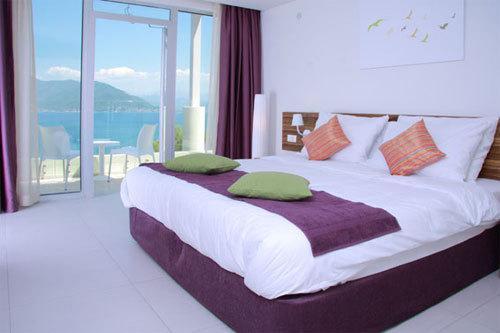 They charge for WiFi but they have a children's entertainment programme and playground so it's a good hotel for disconnecting and enjoying family holidays.

---
3 Star Herceg Novi Hotels
Garni Hotel Bokeska Noc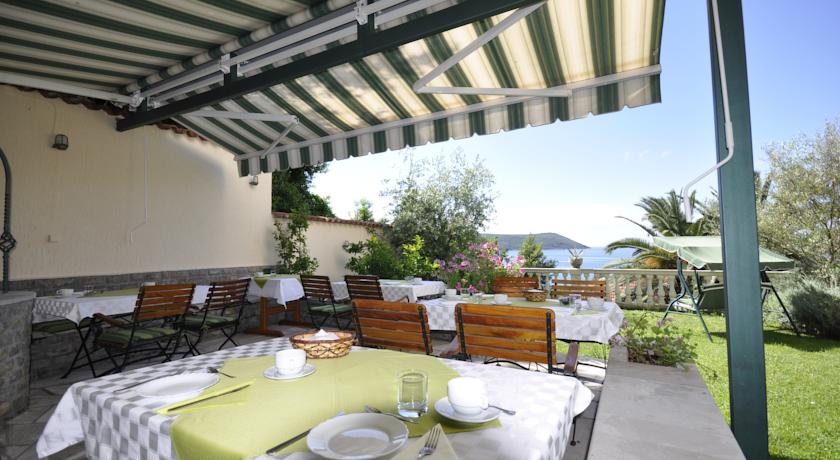 Garni Hotel Bokeska Noc is a 3 star hotel in Savina with 11 rooms. The hotel has a nice breakfast terrace with views over the bay and private parking. The décor is a bit dated but guests have free WiFi and laundry facilities.
It's a two minute walk down to the beach or promenade and just 15 minutes' walk to the old town.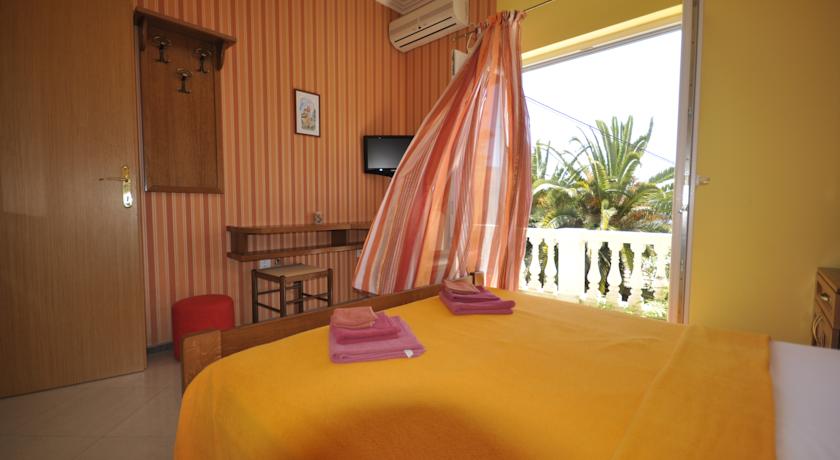 ---
Hotel Aurora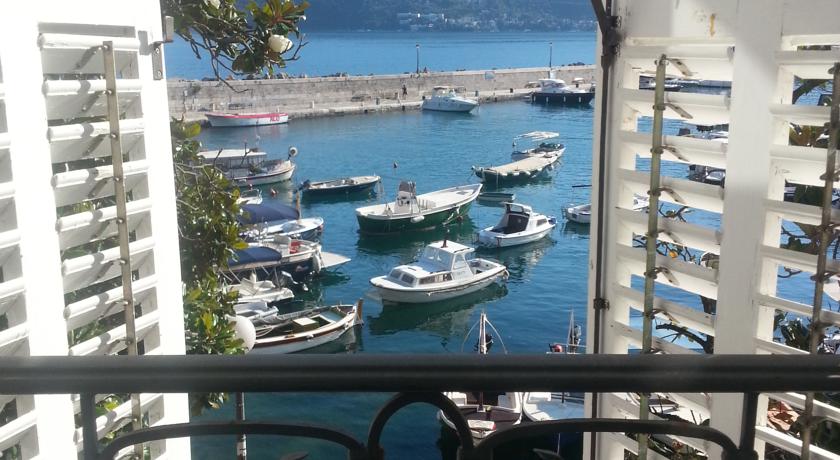 This boutique hotel used to be Herceg Novi train station. It's a beautiful stone building on the promenade on Herceg Novi marina, beneath the old town. Some of the best Herceg Novi restaurants (link) are a stone's throw away and the rooms overlook the town marina.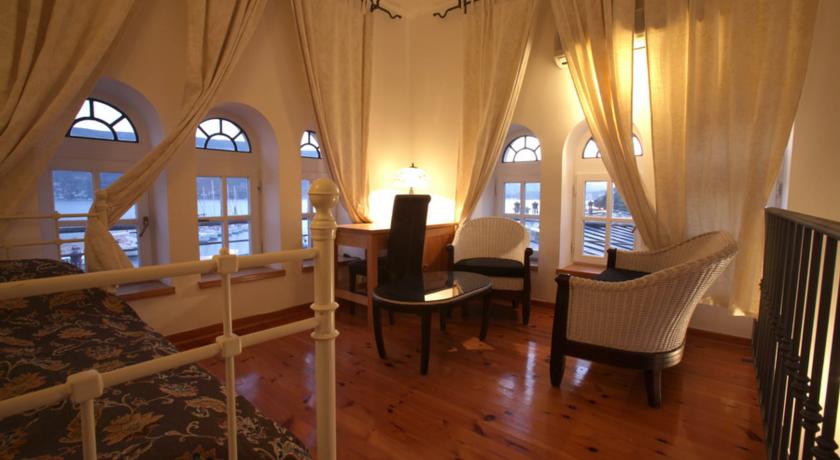 There's a paid parking lot nearby if you have a rental car and the hotel has free WiFi throughout. This location is noisy in summer, but ideal if you want to enjoy the nightlife. Noise isn't an issue either side of the season ie. April, May, October and November.

---
Hotel Lighthouse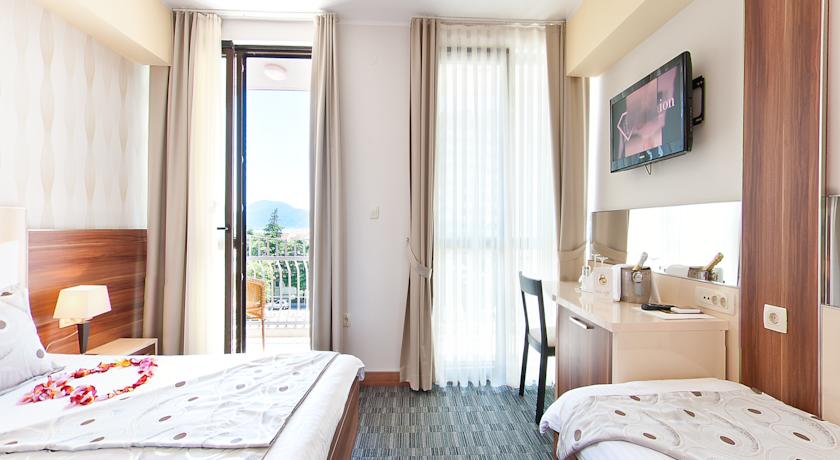 Hotel Lighthouse is set a little way back off the main drag in Igalo, which makes it a quieter spot than in the centre of Igalo. It's still just a two minute walk to the beaches, promenade and restaurants though.
There are 130 rooms in total and the rooms are bright and airy. There's free WiFi in the public areas and breakfast is included.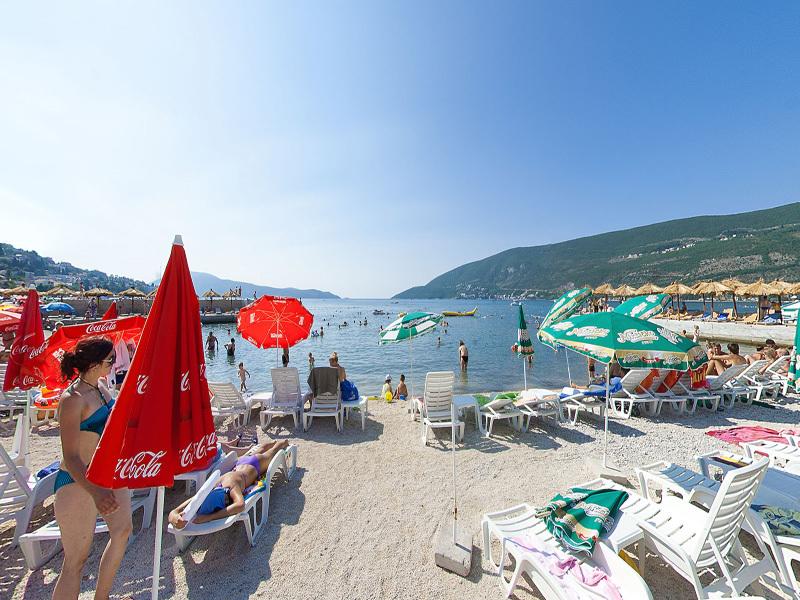 I'd love to know if you've stayed somewhere in Herceg Novi that you recommend. We're always on the hunt for great places that offer top service and value for money. If you've got a recommendation, let me know in the comments below.
---
Search for More Hotels in Herceg Novi
---
Related Articles
Kotor Bay Hotels
Kotor Hotels
Montenegro Hotels
Herceg Novi Hotels
Book Your Trip With My Recommended Providers