Montenegro Pulse contains affiliate links and is a member of the Amazon Services LLC Associates Program. If you make a purchase using one of these links, I may receive compensation at no extra cost to you. See my disclaimer for more information.

The Best Restaurants in Ulcinj
The best restaurants in Ulcinj focus squarely on seafood and fish. Along the coast whole of Montenegro you'll find restaurants offering fresh-caught seafood. The difference with restaurants in Ulcinj is the prices are lower than in the more touristy Bay of Kotor and Budva Riviera and being a predominantly Muslim town, you won't find pork in most places. 
While you're here, try burek. Burek is filo pastry stuffed with meat, potato, spinach or cheese and it's the traditional breakfast in the Balkans. You eat it with a glass of plain yogurt and it must be hot! Ethnic Albanians in Montenegro are known for making the best burek and traditional sweets, and being a predominantly ethnic Albanian town, Ulcinj is the perfect place to try some!
---
Misko
Well known among locals as the best restaurant, at Misko you'll get fresh seafood done in traditional Montenegrin style. Our tip: get a table overlooking the river so you can watch the ever-changing view.
Thoughtful touches like a toy box make Misko especially family friendly. But your kids will probably be entranced by the gulls and boats on the river and the tanks of lobsters and fish on display... just don't tell them they're on the menu!
Address: Ada Bojana, Meraja 22, Ulcinj
Phone: +382 (0) 69 324 346 / +382 (0) 69 022 868
Hours: 11am - late
Prices: €€€
See reviews from other customers

---
Restoran Cickova Carda
Another very popular seafood restaurant on the Bojana River. Cickova Carda is near the Bojana rivermouth so you'll be able to watch the Adriatic sunset from their outdoor terrace.
Address: Ada Bojana bb, Ulcinj
Phone: +382 (0)67 421 323
Hours: 11am - late
Prices: €€€
See reviews from other customers

---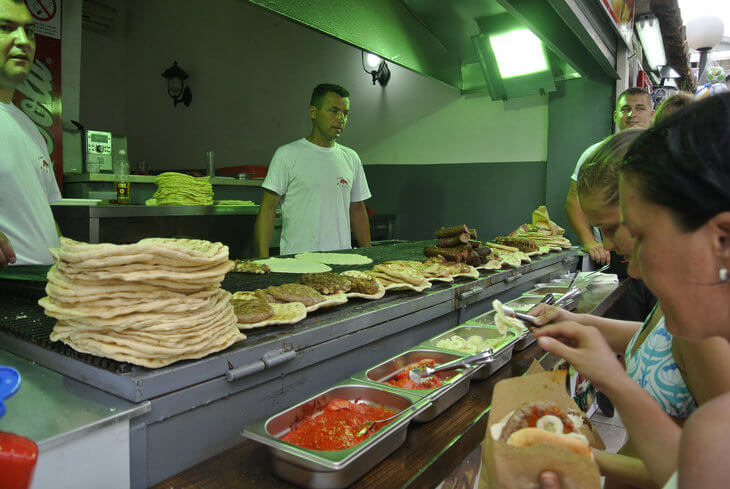 Local's Tip: While in Ulcinj, look out for grill stands like these.
You'll get chicken and beef burgers wrapped in tortillas or giant buns. You choose your salad fillings and voila! you've got a delicious meal on the go for as little as €3!
---
Antigona
Antigona is the place to eat in the old town. Their terrace overlooking the sea is unbeatable for sunsets and their seafood menu is always fresh.
Address: Old town, Ulcinj
Phone: +382 (0)69 154 117
Hours: 8am until late.
Prices: €€€
See reviews from other customers

---
Dulcinea
Dulcinea is a lovely, family-run restaurant in the old town. They've got tasty Montenegrin-style seafood specialties as well as delicious Balkan grill and family staples like soups and pizza. There's something for everyone on their menu and the views of the old town, harbour and city beach top off the experience.
Address: Old town, Ulcinj
Phone: +382 (0)69 247 362
Hours: 8am - 10.30pm daily
Prices: €€€
See reviews from other customers

---
Restaurant Pizzeria Bazar
Don't be fooled by the name. Not only does Restaurant Pizzeria Bazar do pizza and pasta, they serve some of the best (and cheapest) seafood in town. Restaurant Pizzeria Bazar is a local favourite where you'll get plates of pasta for €4, pizzas for €5 and first-class fish for €25 a kilo (it's €45 in places like Galion in Kotor).
Address: Hafiz Ali Ulqinaku bb, Ulcinj
Phone: +382 (0)69 247 362
Hours: 6am - midnight daily
Prices: €€
See reviews from other customers

---
La tavola
If you prefer a good steak to seafood, you'll love La Tavola. They do serve seafood, but you can also get pizza, pasta and steaks. They also do breakfasts and have free WiFi.
This family-friendly restaurant is in the centre of town and is always popular with both tourists and locals.
Address: Rr. Hafiz ali Ulqinaku, Ulcinj
Phone: +382 (0)69 731 443 - call free on Viber
Hours: 7am - 1am daily, 7am - midnight Sundays
Prices: €€€
See reviews from other customers

---
Windyard
Looking for a good old fashioned burger and fries? Windyard is your place. They also serve more contemporary food than you'll find in most Montenegrin restaurants, like bruschetta and cous-cous. 
Windyard do dinner only, but you can stay and party into the night at their cocktail bar.
Address: Donji Stoj bb, Ulcinj
Phone: +382 (0)67 804 170
Hours: 5.30pm - 1am daily
Prices: €€€
See customer reviews

---
More Articles Like The Best Restaurants in Ulcinj
Restaurants in Ulcinj
Book Your Trip With My Recommended Providers