Montenegro Pulse contains affiliate links and is a member of the Amazon Services LLC Associates Program. If you make a purchase using one of these links, I may receive compensation at no extra cost to you. See my disclaimer for more information.

WayAway Review: A Candid Review of the Trending Travel App

Discover whether WayAway and WayAway Plus can really save you money on your next trip in this WayAway review. Plus find out which mistake could cost you money!
There's a new kid in town in the world of travel. And it's called WayAway.
But is WayAway legit?
I tried it out, including their Plus membership plan, to find out.
And while I was very impressed with some of the features, some of them were disappointing and cost me money.
Read on to find out if WayAway is right for you and how you can avoid the mistake I made!
WayAway Review: What is WayAway?
WayAway is a flight aggregator, like Skyscanner or Kayak, where you can search for and book your own flights and accommodation without using a travel agent.
This has long been my favourite way of booking travel because of the flexibility and control I have over my trip. Whenever I booked flights through a travel agent, I would get only one or two choices and they'd always be more expensive than the options I could find by myself online.
And when I book my accommodation on booking.com I have a huge range of accommodation options, including self-catering accommodation, compared to the five or six hotels agents offered.
Although it takes more time than outsourcing to a travel agent, booking my own travel gives me the peace of mind that I'm getting the best flights and accommodation at the best price.
But, sometimes it takes a lot of time. Especially if I'm booking long-haul flights to New Zealand, where we'll typically have four layovers on the trip. I want the shortest trip at the best price, but that can take a lot of searching to find.
WayAway's tagline is 'the easy way to find cheap airline tickets'. It aims to make planning your own travel simpler and more affordable for people. And I am always keen to try anything that makes this time-consuming (and anxiety inducing!) process easier, faster and cheaper.
In addition to the flight search engine, WayAway also has a membership option called WayAway Plus. With this membership you can book flights, accommodation, car hire and tours and get up to 20% cashback on your bookings. When you think about how much spend on a trip, you can save a lot of money! I'll show you how much further down the page.
However, there's a catch to this that's not pointed out and that's where I lost money. I go into more detail on that in Wayaway review too so you can avoid making the same mistake!
WayAway Review: Benefits of WayAway
Is WayAway Competitive?
WayAway touts itself as 'the easy way to find cheap airline tickets'. But how does it compare to industry-leader Skyscanner?
I compared the two when I booked a recent trip to Canada. When I searched in Skyscanner, the cheapest fare was $3,090 for two of us.
When I searched in WayAway, the cheapest fare was $2,263 for two.
That's a massive saving of $827 on the cheapest fare! And, with a WayAway Plus membership I could save a further $37, bringing my total savings to $864 on flights alone for this trip.
I have to admit, I was impressed.
So, how does WayAway manage to find prices that are so much cheaper than industry leaders?
One of the ways WayAway is able to find you cheap fares is by working with budget airlines, like Ryanair and AirAsia, that other aggregators don't include. So, if there's a cheap fare with a budget airline, WayAway will include it and you'll save money.
Usually, if you want to fly with a budget airline you have to search each of their sites individually, which takes a lot of time.
But what about your baggage that budget airlines always charge extra for?
One of the things I loved about using WayAway (apart from saving over $800!) was that extra baggage charges are shown before you book your ticket. So I could see if I was going to be charged extra for my luggage and how much it would cost.
When I compared the tickets, the trip that Skyscanner offered was shorter (by 4 hours on the outbound journey and 9 hours on the inbound), but at least I had the choice. In the end I chose the longer trip and my son and I had an amazing day visiting the aquarium in Sydney on the way back – win-win!
Does WayAway Save You Time?
As mentioned, WayAway includes budget airlines which saves you having to search and compare fares on several different sites.

But did you also know that the average trip takes over 30 hours to plan and book?
I found WayAway's filter options saved me a lot of time searching through tickets that weren't suitable. One ticket option offered a layover of only 45 minutes in Los Angeles (definitely not enough time to get through security and onto the next flight) and I was able to filter out any routes with short or overnight layovers.
WayAway allows you to filter by:
Number, duration and whether you have overnight of layovers
Departure and arrival times
Baggage options
Airlines
Alliances (so you can be offered tickets only with the alliance you have rewards with)
Journey duration
Stopover airports
Airports in your departure and destination cities
Price
Agencies
Payment methods
And you can sort your results, for example by the cheapest or fastest routes.
In comparison, Skyscanner allows you to filter by:
Number of stops
Departure times
Journey duration
Airline
WayAway gives you a lot of personalisation options that save you time in finding your perfect route. This is especially important when you have to take multiple flights.
Is WayAway User Friendly?
I found WayAway's simple and intuitive interface very easy to use. It's easy to search for a standard return trip, but you can also search for multi-city routes. This is a huge time saver if you're booking a European trip to several destinations or going on a cruise where you embark in one port and disembark in another.
You can also create price alerts. You can get an alert when the price drops on a route you're searching for so you can nab the cheapest fare.
WayAway Review: Cons of WayAway
So, was there anything I didn't like about WayAway?
Unfortunately, yes there was.
No Currency Options
Ticket prices on WayAway are only shown in US Dollars and there's no option to change it. It would be good to be able to change the currency options so you know how much the ticket is in your local currency without having to go to a conversion website to find out.
Doesn't Keep Filters
When you search on WayAway your search will be refreshed after a certain amount of time to make sure the prices are still valid. Every time you refresh your search you have to re-enter your filters, which can get really annoying. It would be great if the search automatically saved your filters.
WayAway Review: What is WayAway Plus?
In addition to being a flight aggregator, WayAway also has a unique membership program called WayAway Plus where you can get cashbacks of up to 20% on all your travel bookings. This includes:
Flights
Accommodation
Rental cars
Taxis
Tours and tickets
How it works is you pay for an annual membership to WayAway Plus and in return you receive cashbacks on all the travel bookings that you make through Plus. With Plus you can get:
Flights: up to 5%
Booking.com: up to 20%
KiwiTaxi: 10%
Tiqets: 7%
Hostelworld: up to 6%
Rentalcars.com: 5%
GoCity: up to 3%
Klook: up to 7%
Viator: 6%
AirHelp: 10%
GetYourGuide: 8%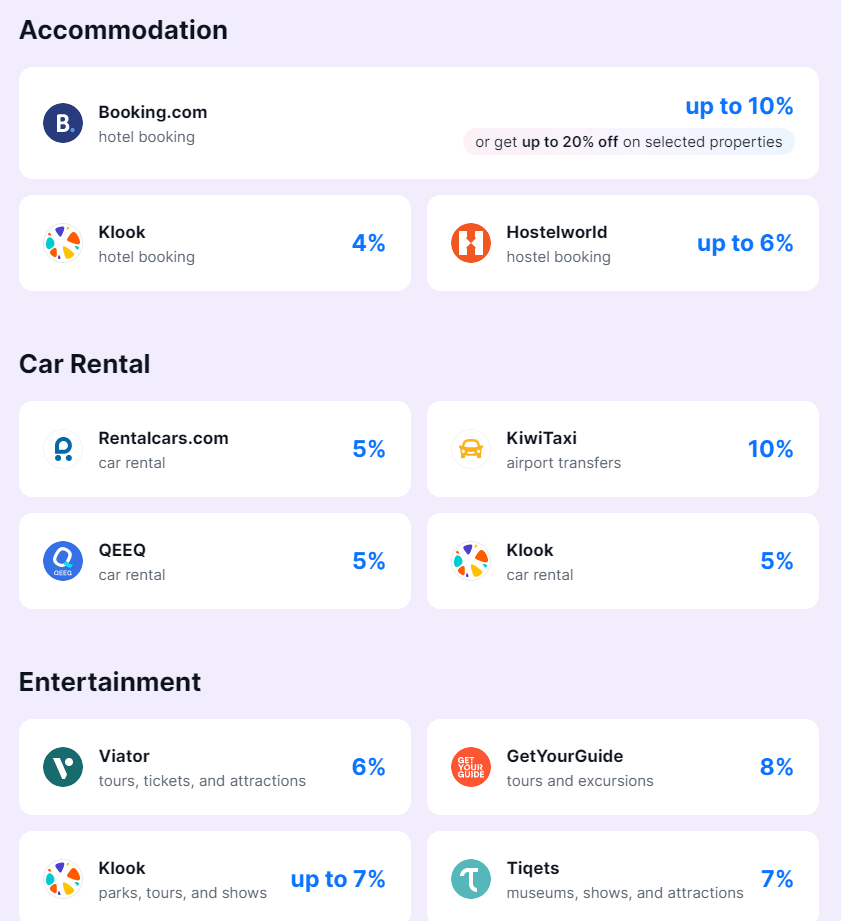 Whenever you make a booking through WayAway Plus, you'll be credited with cashback. When you make a flight booking or accommodation booking on Booking.com, you can see how much cashback you'll get for each booking. And you can see how much cashback you'll get for any other services right in your WayAway Plus dashboard.
The great thing about WayAway Plus is you get actual cash back, not miles or points that you have to accumulate to get a discount on future travel bookings.
When you make a booking, your cashback rewards are paid to your PayPal account within 90 days from the time you use the service. You cashbacks never expire and there's no limit to how much you can earn.
WayAway Plus members also get access to premium 24/7 customer support. The WayAway travel experts will help you with literally any travel-related query, from flight assistance to restaurant recommendations.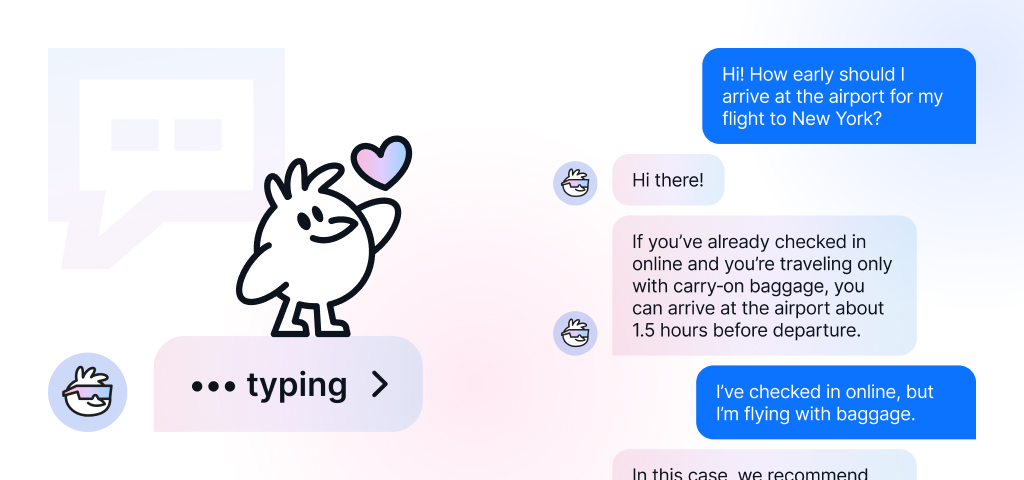 How To Avoid Losing Money With WayAway Plus!
But, remember how I said I lost money with WayAway Plus? If you have a WayAway Plus membership, you'll want to make sure you avoid this mistake in order to get your cashbacks.
When I booked my tickets to Canada, I had already purchased a WayAway Plus membership. I could see 'Go to Plus' in the top right corner so knew that I was logged into my WayAway Plus account. I made the booking and expected to get $37 cashback for it.
But when I checked a few days later it wasn't showing in my transaction history. I figured it might not show up until I'd take the trip and put that down as an inconvenience in the system. However, when I checked again after my trip, the cashback still wasn't showing.
What was going on?
When I reread the instructions in WayAway Plus, it became clear that in order to get your cashbacks credited to your account, you must book directly from your WayAway Plus dashboard as follows:
     1. Click 'Go to Plus' at the top right from WayAway.io. This takes you to your Plus  dashboard.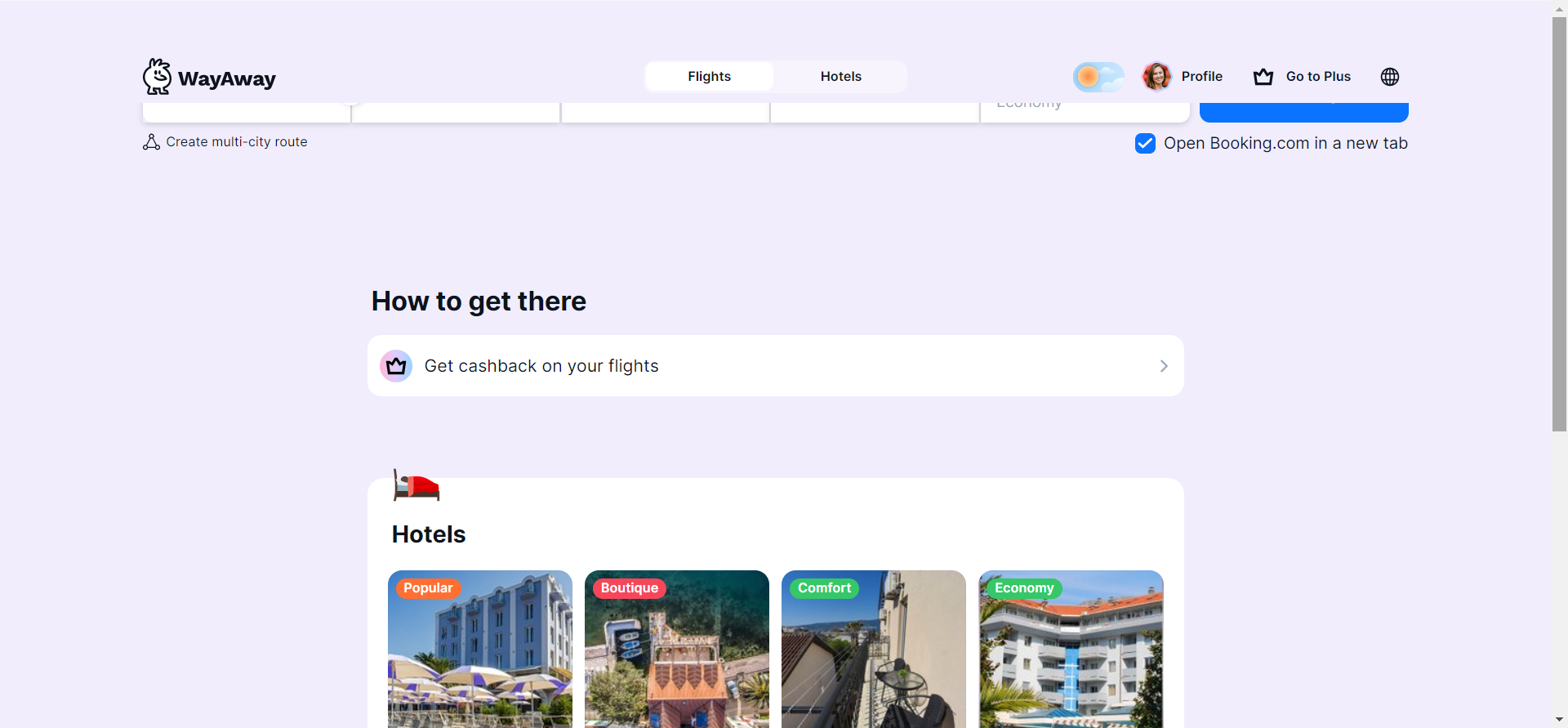 2. Once in your WayAway Plus dashboard click the service or the company you      want to book with.
     3. A pop-up for that company will open up. Click the button at the bottom of the pop-up to go to the partner's website.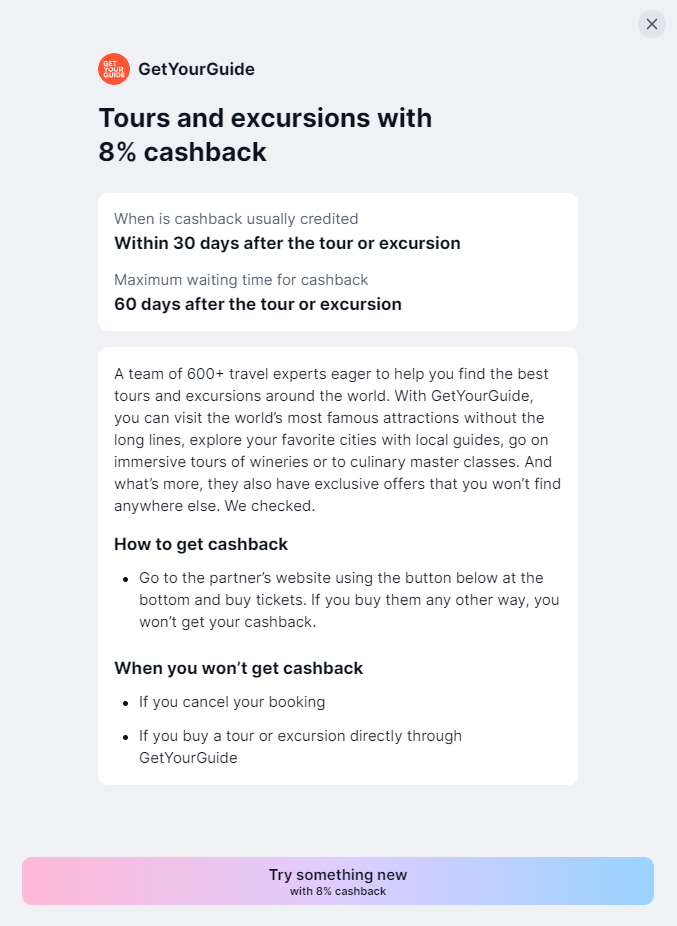 You must do this whenever you want to book something and ensure you get your cashback.
I thought it was enough to be signed into WayAway Plus and search for flights on the WayAway website, but it wasn't. The mistake cost me $37, which would have been nice to have, but I did save over $800 on this trip so I was still happy!
WayAway Review: Is WayAway Plus Worth It?
Whether WayAway Plus is worth it depends on how and how much you travel. Here is an example given by WayAway to show how much you might typically expect to save with a WayAway Plus membership: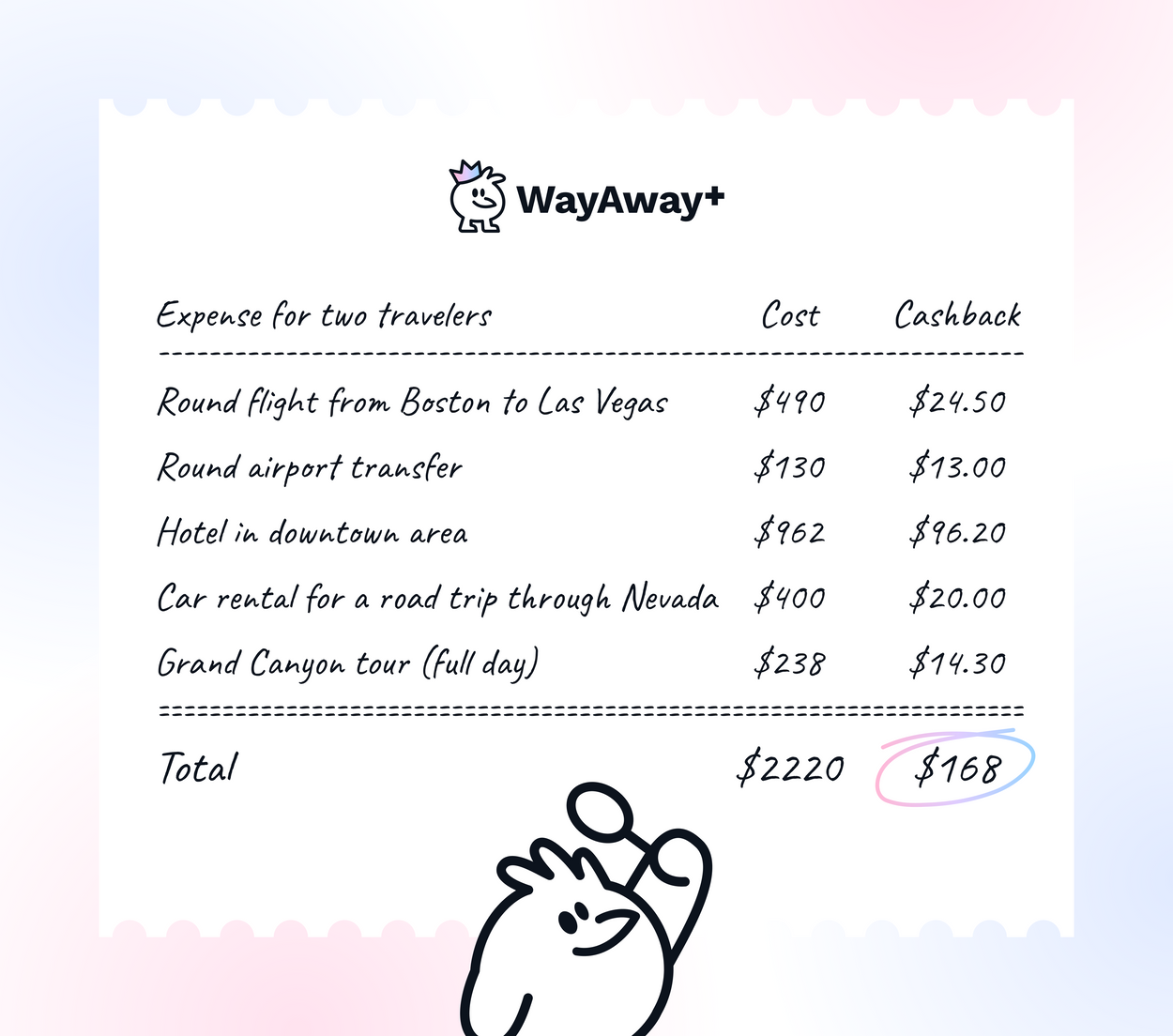 In this example you would get 7.5% of the cost of your trip back in cashbacks.
If we extrapolate this to the average domestic and international vacation expenses from the US, we would get these results:
4-night domestic vacation in the US for a party of 2:
Domestic round-trip flights: $660
Car hire: $292
Accommodation: $824
Activities: $480
Total expenses: $2,256
7.5% cashback based on 2 people travelling: $169
7.5% cashback based on 4 people travelling: $316
Week-long international vacation from the US for a party of 2:
International round-trip flight: $1620
Car hire: $511
Accommodation: $721
Activities: $420
Total expenses: $3,272
7% cashback based on 2 people travelling: $245
7% cashback based on 4 people travelling: $452
As you can see, having a WayAway Plus membership can easily save you a lot over and above the cost of membership (currently $99.99) on your travel arrangements.
It could be worth it for you if you:
Travel frequently

Travel internationally

Have a big trip coming up

Like to book tours and activities when you travel
WayAway Plus may not be worth the money if you:
SAVE 10% TODAY: If you'd like to try WayAway Plus for yourself, just use this link or the promo code 'montenegropulse' at checkout to get 10% off!
WayAway Review: Frequently Asked Questions About WayAway
1.       How does WayAway work?

The WayAway flights aggregator collects information from various travel providers and presents it in a way that's easy to understand and compare. The platform's intuitive interface allows you to enter your travel details, such as departure and arrival locations, dates, and number of passengers, and then presents you with a list of options that suit your needs.
WayAway doesn't sell flight tickets. Rather, it's a service which find the best flight options for you and you book them directly with the airline or agency offering them.
2.       What types of travel options can I search for on WayAway?

You can search for flights on WayAway. You can also book accommodation, transfers, rental cars and tour and attraction tickets if you have a WayAway Plus membership.
3.       Can I book travel directly through WayAway?

No, WayAway does not sell flight tickets. When you select a ticket option you'll be redirected to the agency or airline selling the ticket and you can complete your purchase there.
4.       Are there any fees for using WayAway?

No, WayAway does not charge any additional fees or commissions, so you can be sure you're getting the best possible deal. WayAway does have a membership called WayAway Plus which gives its members cashback on their bookings.
5.       Does WayAway compare prices across multiple travel sites?

Yes, WayAway compares prices across multiple travel sites and airlines and presents them to you based on what you enter in your search. This saves you a huge amount of time.
6.       Is WayAway user-friendly?

WayAway is very user-friendly. It's simple, clean and intuitive to use. All you have to do is enter your destination/s, dates of travel and number of passengers and WayAway will search the internet for the best options and show them to you.
From there, you can toggle the filters on your search to personalise it and narrow down the results even further. You can even see a price chart which shows you the cheapest days to travel.
WayAway was recently voted #1 product of the day on Product Hunt and has over 60 5* star reviews there.
7.       How does WayAway differ from other travel search engines?

There are several things that set WayAway apart from other travel search engines:
Includes budget airlines: WayAway works with budget airlines like Ryanair and AirAsia that you won't find on large travel search engines like Kayak and Expedia.
Best coverage in the US: WayAway compares airfares offered by all major US and global airlines and agencies.
Multi-city trips: One of the standout features of Wayaway.io is its ability to search for multi-city trips, which is a huge time-saver if you're planning complex itineraries. Instead of having to search for each individual leg of the trip separately, you can just enter all of your desired destinations and dates, and the platform will find the best possible route for you.
24/7 Support: The WayAway Plus membership plan includes 24/7 customer support for all travel-related queries.
An intuitive mobile app: The WayAway app makes searching for travel deals effortless.
Useful content: Wayaway.io also offers a unique feature called "Explore," which allows you to search for destinations based on your interests, such as adventure, culture, food, and nature. This is a great tool if you are looking for inspiration for your next trip or want to discover new places. All of this content is written by locals.
Cashback rewards: The WayAway Plus membership plan offers users up to 10% cashback on airline tickets, hotel bookings, car rentals, and other travel services.
8.       Can I use WayAway for international travel?

Yes, you can use WayAway for international travel and I highly recommend it. This is where you can save big bucks like I did with my trip to Canada! And WayAway Plus is really worth having if you're going on an international trip.
9.       Does WayAway offer customer support?

Yes, WayAway offers customer support. If you're just using WayAway there is an FAQ page which answers common questions about WayAway, travelling, baggage, tickets and more. You can also contact them from there if your question isn't answered.
If you are a WayAway Plus member, you have access to 24/7 support about anything travel-related.
10.       Is WayAway secure?

WayAway uses https which means your data is secure when you're using WayAway. As mentioned in question #3 above, you don't buy your flight tickets directly from WayAway, but a third-party provider. Whenever I find a ticket I want to buy, I always check that company's reviews first to make sure they're legitimate and reputable.
11.       Does WayAway have a mobile app?

WayAway has mobile apps for both Apple and Android.
12.       How frequently are prices updated on WayAway?

Prices are updated regularly on WayAway. When you search for flights you'll find the prices update around every 10 minutes.
13.       How does WayAway handle cancellations and refunds?

If you need to cancel a ticket, you will need to contact the company or airline you bought the ticket from.
Whether or not you can get a refund depends on your ticket fare and the rules of the airline. Some fares allow for a full or partial refund, while others prohibit refunds altogether.
To find out your conditions and get a refund, you'll need to contact the seller. You can find the seller's name on the ticket.
You can get the seller's contact details directly from WayAway on this page.
14.       Can I save my search results on WayAway for future reference?

Because flight ticket prices are constantly changing, you can't save your search results. You'll need to start a new search each time. But you can create a price alert which will notify you if the price of a particular trip drops, so you can book it at the lowest possible rate.
Book Your Trip With My Recommended Providers