Montenegro Pulse contains affiliate links and is a member of the Amazon Services LLC Associates Program. If you make a purchase using one of these links, I may receive compensation at no extra cost to you. See my disclaimer for more information.

What Country is Kotor Montenegro in? and Other Questions About Kotor
Find the answer to what country is Kotor Montenegro in? as well as the answers to more frequently asked questions about Kotor.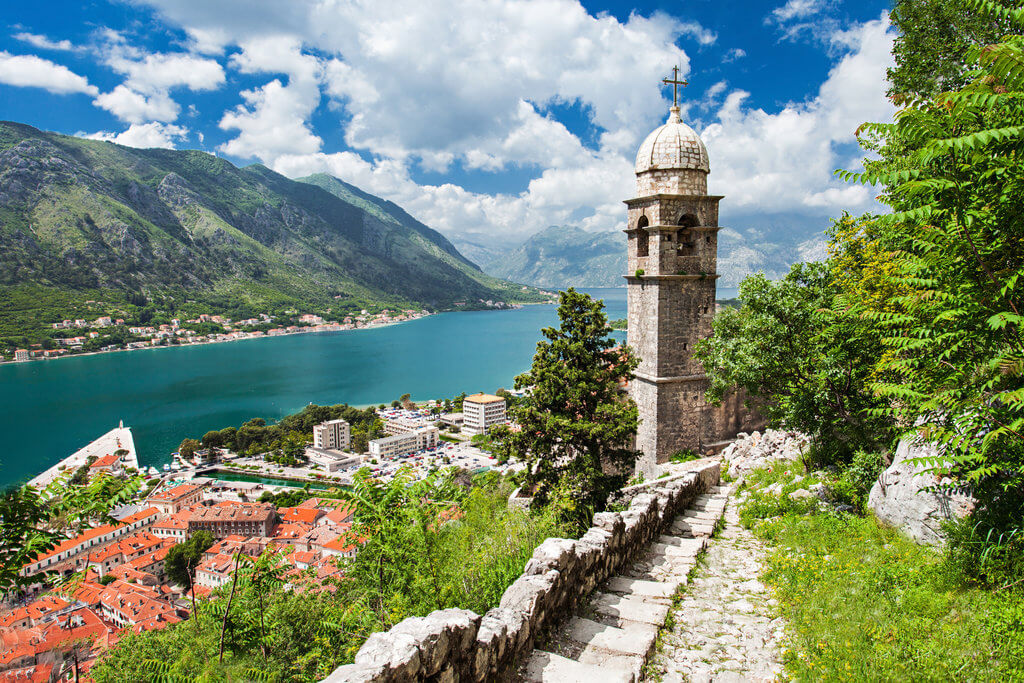 Kotor is in the beautiful country of Montenegro. Image: Deposit Photos
What country is Kotor Montenegro in? is one of the most frequently asked questions about Kotor.
You might have seen some stunning photos of Kotor and wondered where this beautiful place is and how you can get there.
Funnily enough, the answer is in the question.
Kotor is a city in the country of Montenegro.
And if you're wondering where that is, you're not alone!
Read on to find out exactly where Kotor is, where Montenegro is, how to get here and what to do in this hidden gem of a country.
What Country is Kotor Montenegro in?
Kotor belongs to the small but beautiful country of Montenegro.
Most recently Montenegro was part of the Socialist Federal Republic of Yugoslavia. When that broke up in the 1990's, Montenegro formed a temporary union with Serbia before declaring independence in 2006.
Today, Montenegro is small country of just over 600,000 inhabitants. Although Montenegro is most well-known for pretty coastal towns like Kotor, it was named for the dramatic 'black' mountains that cover most of its 14,000 square kilometres (5,000 square miles).
Monte = Mountains
Negro = Black
Or in the local language: Crna Gora
Crna = Black
Gora = Mountains
Because Montenegro is such a small country you can experience both the Mediterranean coastal charm and dramatic mountains, even if you only have a day here. From Kotor you can book a day tour to some of Montenegro's top sights in the mountains.
---
What is Kotor Known For?
Kotor City Walls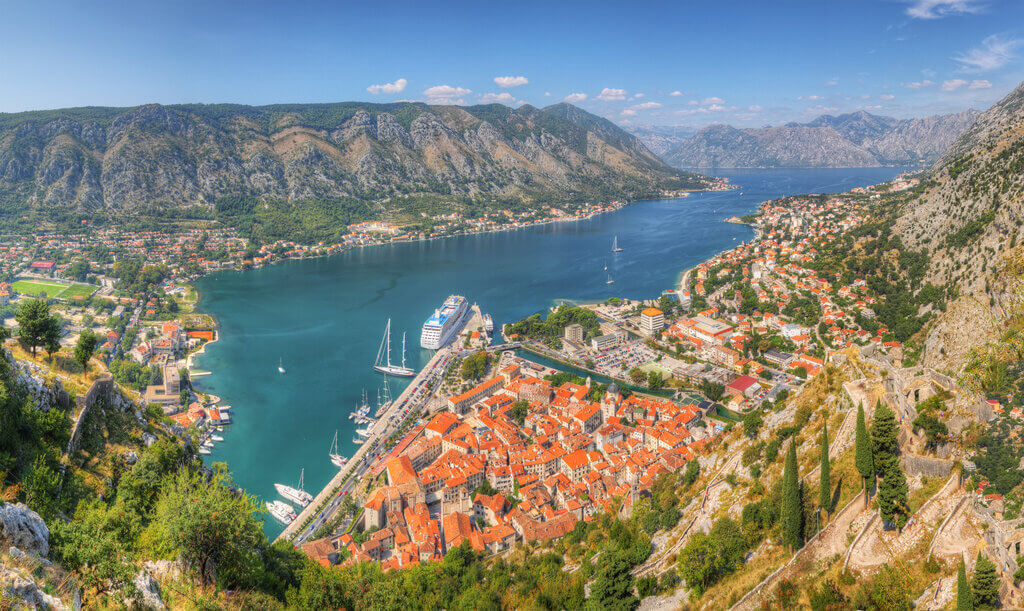 What country is Kotor Montenegro in? Kotor from San Giovanni Fortress. Image: Deposit Photos
Kotor is most well-known for its walled old town. Kotor was founded by the Illyrians somewhere between the 6th and 3rd centuries BC. After conquering the Illyrians, the Romans started to develop the town. If you are interested in Kotor's history, my guide to Kotor has more information about the history and important sights in the town.
But it was the Venetian Republic that gave Kotor's old town its character. They ruled the Bay of Kotor between 1420 and 1797 and invested heavily in building the 4.5km walls that now surround the town. The walls protected the town's inhabitants from attack, mainly from the Ottoman Turks.
"Tu me costi come i muri de Cattaro" ('You cost me as much as the walls of Kotor') – a Venetian saying. Kotor's walls are thought to be the most expensive in Europe.
Kotor's famous walls also extend up San Giovanni (Mount St John), which flanks the town from behind. You can walk the 1355 steps up to San Giovanni Fortress to get stunning views of the Bay of Kotor. Beware though, this is no easy walk, especially in summer heat.
You do this walk on your own or join a guided tour up to San Giovanni Fortress. Click here to find out what you need to know before you do this walk.
Kotor Old Town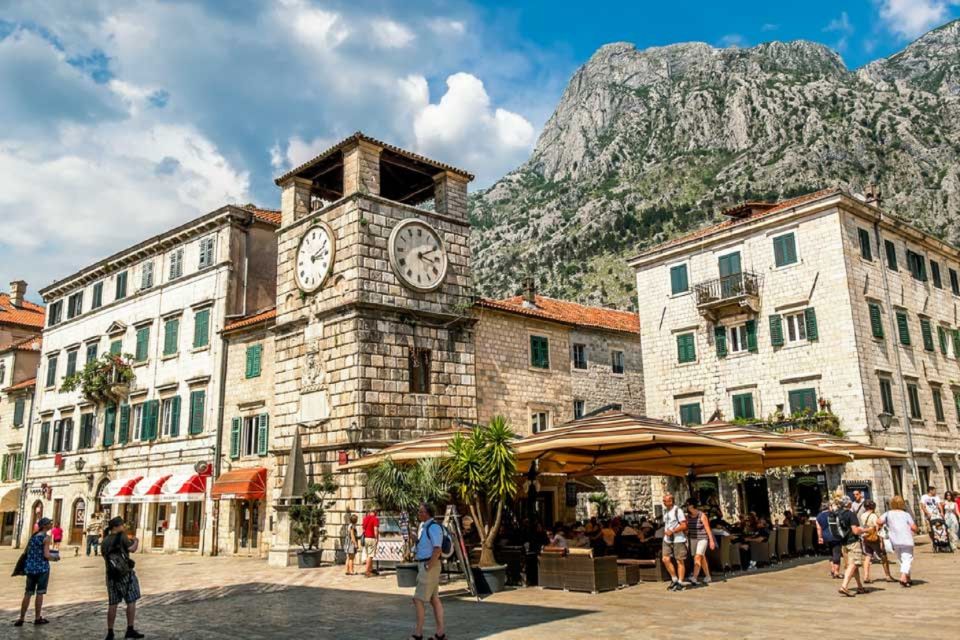 What country is Kotor Montenegro in? Kotor clock tower. Image: Get Your Guide
Today, Kotor's old town is one of Montenegro's most popular tourist attractions. The triangle-shaped town is completely enclosed by huge walls and narrow pedestrian streets wind between terracotta-roofed stone houses. There is an authenticity in Kotor that gives it its undeniable charm. The town is alive with children playing pick-up games of tag, laundry hangs from lines strung between houses and locals sit in the cafes catching up with friends.
There are many interesting sights and stories inside the town's ancient walls. However, there's no information about the sights in the town. To get the most out of your visit I recommend booking a Kotor walking tour or taking a copy of my guide to Kotor old town, which will show you the best of Kotor, Montenegro and includes lots of hidden gems!
Kotor cats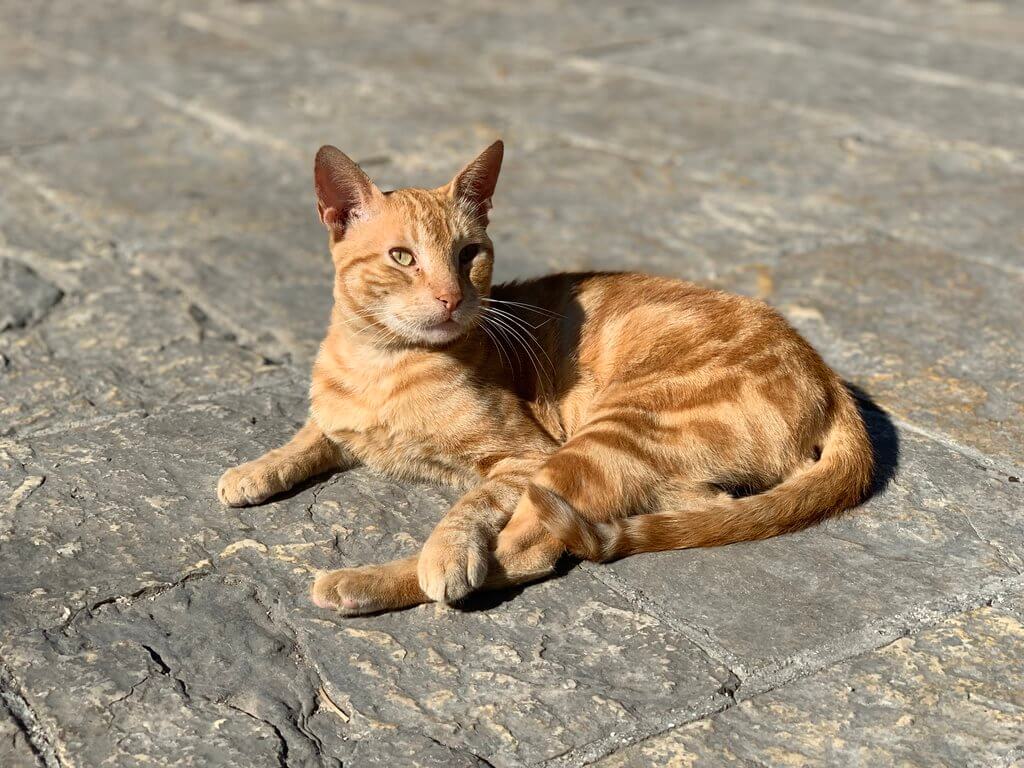 What country is Kotor Montenegro in? Kotor is famous for its feline residents
Kotor is also known for its many cats. Cats were kept in the town to keep rodents and snakes at bay and they came on ships from all over the world. Today, they lounge in the town's squares, basking in the sun and lapping up attention and titbits from tourists.
But, life on the streets of Kotor isn't easy. Winter is long and cold in the shade of Mount St John, and there are few tourists to scavenge from. That's why Kotor Kitties, a Montenegrin-, US- and UK-registered charity partners with local vets to provide sterilisation and care for cats in Kotor and around Montenegro. When visiting Kotor I recommend forgoing a cat-themed souvenir and instead making a donation to Kotor Kitties for a lasting impact.
Click here to read more about Kotor Kitties.
---
Where is Kotor Bay, Montenegro?
What Country is Kotor Montenegro in? Map of Kotor in Montenegro. Image: Deposit Photos
The city of Kotor lies in the Bay of Kotor, a stunningly beautiful bay of inviting waters surrounded by sheer mountains and idyllic seaside hamlets. Because of this the Bay of Kotor is one of the most popular holiday destinations in Montenegro.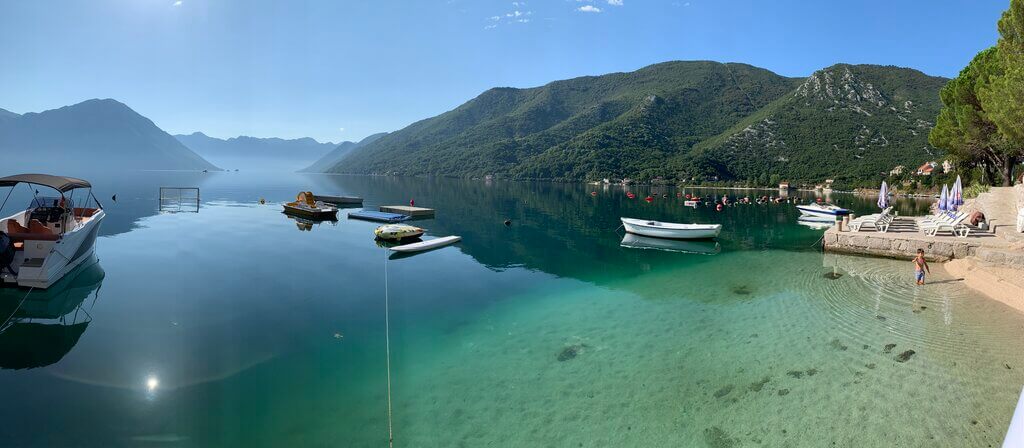 What country is Kotor Montenegro in? A beautiful beach in the Bay of Kotor
Kotor Bay (Boka Kotorska) lies in Southern Montenegro and forms part of the border with Croatia. In fact, it's only an hour's drive from Croatia's most popular tourist destination, Dubrovnik, to the Bay of Kotor and there are daily tours from Dubrovnik to Kotor.

The Bay of Kotor is a butterfly-shaped bay lined with seaside hamlets, and it's an ideal holiday destination. This is where you'll be able to enjoy leisurely days on the beach and evening strolls to seaside restaurants.
Aside from Kotor old town, the Bay of Kotor offers a wealth of things to see and do. You can take a boat trip to swim in the Blue Cave, visit Our Lady of the Rocks island church or take a full-day tour around Montenegro.
Click here to find out more about the best things to see and do in the Bay of Kotor.
---
Where is Kotor in Europe?
Kotor in Montenegro lies on the Balkan Peninsula. Its closest neighbours are Croatia, Serbia, Bosnia and Herzegovina, Kosovo and Albania. Montenegro lies on the Adriatic Sea and has around 300km of coastline, making it ideal for summer vacations by the sea.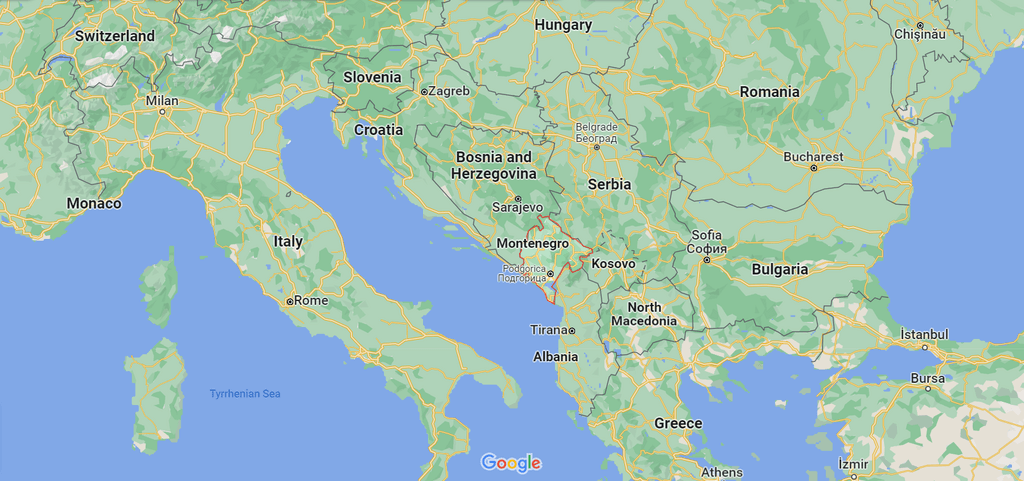 What Country is Kotor Montenegro in? Montenegro's location in Europe. Image: Google Maps
---
Where is Kotor, Montenegro Airport?
Montenegro is only 1-2 hours' flight from most European centres or 3 hours' flight from the UK. Kotor does not have its own airport. The best airport to fly into is Tivat Airport in the Bay of Kotor, which is only 10 minutes' drive from Kotor.
If you can't fly into Tivat, you can also fly into Podgorica, Montenegro's capital city, which is 2 hours from Kotor. You can even fly into Dubrovnik Airport in Croatia, which is only 30 minutes' drive from Montenegro. Summer traffic across the Montenegro-Croatia border can be very heavy though, which is why it's better to fly into Tivat if you can.
There are daily flights to both of Montenegro's international airports. Click here to check flight prices on WayAway, a great flight search engine which offer cashbacks on your flights and a pricing chart to help you find the cheapest flights.
Tip: if you are booking long-haul flights try searching for flights to Belgrade and then booking a separate ticket from Belgrade to Tivat (TIV) or Podgorica (TGD). There are multiple flights daily and booking tickets this way is often cheaper.
You can also drive to Montenegro, catch a ferry from Bari in Italy or arrive by train from Belgrade in Serbia.
Click here for more information on travel to Montenegro.
---
Is Kotor is Montenegro or Croatia?
People often wonder if Kotor is in Montenegro or Croatia. Kotor is in Montenegro, not Croatia. However, Kotor is not far from Croatia because the two countries are neighbours. The Montenegro-Croatian border is just 10 minutes' drive from the Bay of Kotor.
Kotor itself lies in the inner part of the bay and it's an hour drive from the border to Kotor. The drive around the bay is very scenic and there are lots of sights such as Perast to see on the way.

What country is Kotor Montenegro in? Perast in the Bay of Kotor. Image: Deposit Photos
You can easily visit Kotor if you're staying in Dubrovnik. Joining a tour from Dubrovnik to Kotor is an easy way to visit Kotor and see the best of the Bay of Kotor. Unfortunately, there are no tours from Montenegro to Dubrovnik, but you can hire a car (I recommend Localrent for the best choice, price and service) and drive across to Dubrovnik.
What Does Kotor Mean?
You'll often read that the name Kotor evolved from the name Acruvium or Agruvium. However, Kotor's respected academics, Anton Mayer and Jovan Martinović, believe this name refers to today's Grbalj, a fertile plain which lies between Kotor and Budva.
The first written mention of Kotor was by an anonymous geographer in 670 AD. Writing in Greek, he named the town Dekaderon or Decatarum. From there they believe the name evolved to Catharum and it was later known as Cattaro in Italian and Kotor in Slavic languages.
You'll still find the name Cattaro in several places around the town. Kotor was ruled by Venice for centuries and there's a strong Italian influence in the language and cuisine of the Bay of Kotor. Words like piazza, ciao and many other Italian words are part of bokeljski, the regional dialect of Serbo-Croatian spoken here.
If you'd like to experience Kotor's old world charm, Hotel Cattaro and Hotel Palazzo Drusko offer authentic accommodation that channels the atmosphere of Venice.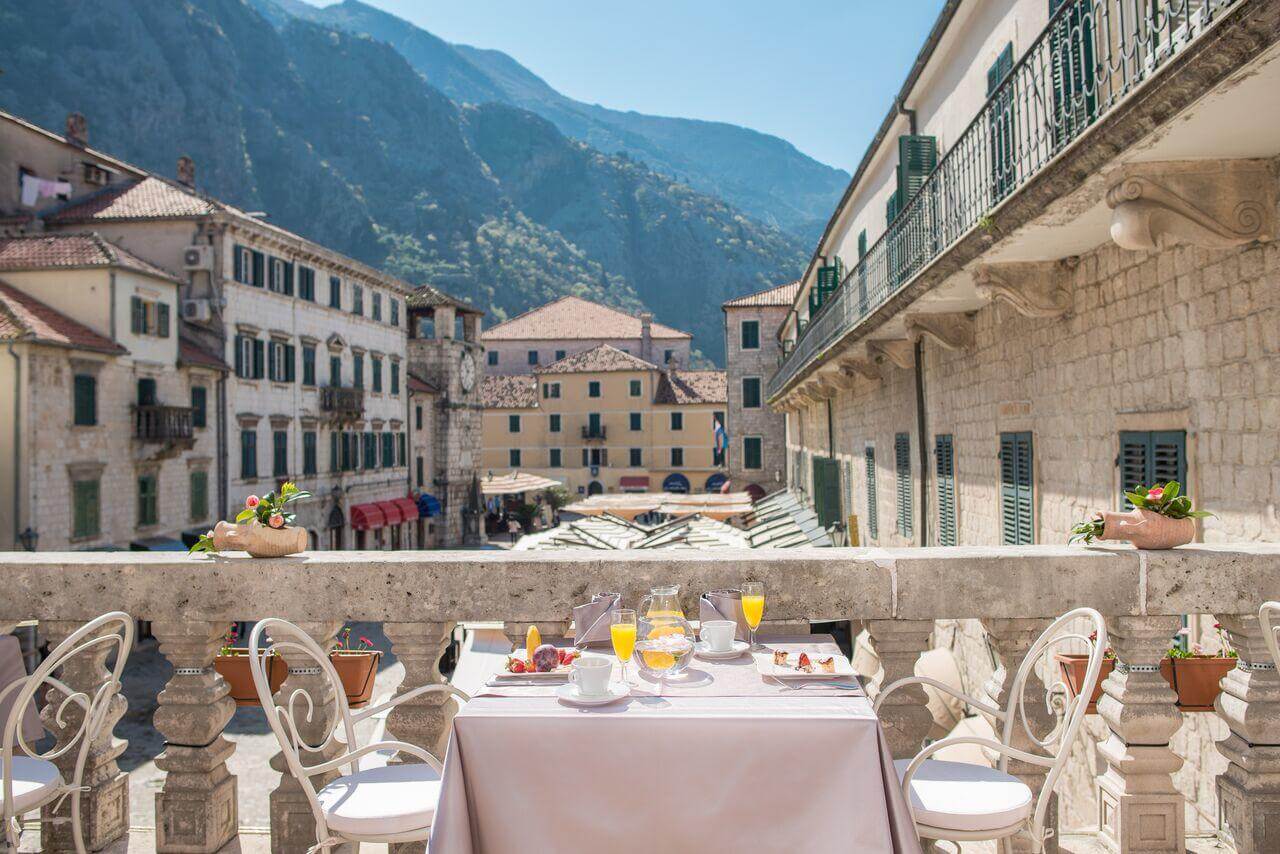 What country is Kotor Montenegro in? Hotel Cattaro overlooking Arms Square. Image: Booking.com
Related Articles
What to See and Do During Your Visit to Kotor
Book Your Trip With My Recommended Providers