How to Get a Free Interactive Budva Map on Your Phone
(This post may contain affiliate links. Find more info in my disclaimer.)
Thanks to 21km of gorgeous coastline and 17 beaches to choose from, a 2,500 year old old town and long, hot summers it's no surprise Budva is one of Montenegro's top holiday destinations.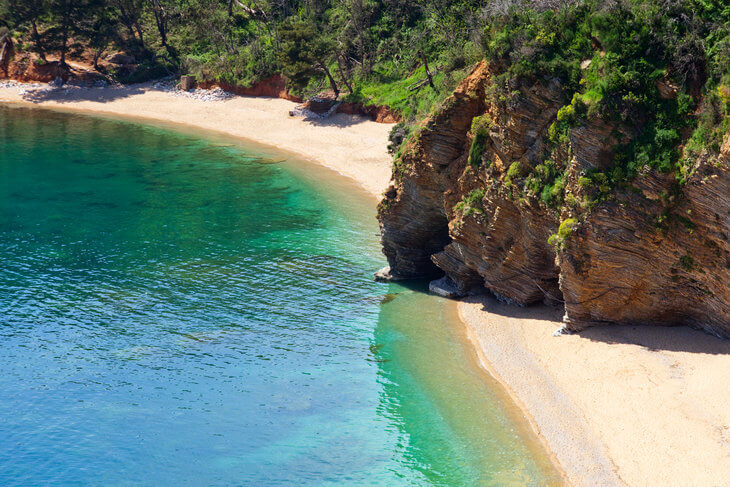 Mogren Beach, a five minute walk from Budva old town
It's also Montenegro's largest coastal town, which means a Budva map is essential to help you find your way to the best eateries, beaches and attractions while you're there.
The quickest and easiest way to get a Budva map is to use the apps Google Maps or Maps.me on your phone. With a little know-how, you can download maps that you can use without needing data or a wi-fi connection.
You can also buy physical city maps and find free downloadable maps of Budva online.


Get a Budva Map Using Google Maps
This is one of the best and easiest ways to navigate your way around Budva, and Montenegro in general.
If you haven't used the app before, you can use it to plan your day trips and find your way to your accommodation, restaurants and attractions. It will give you detailed directions, estimated driving time, alternate routes, photos, locations of ATMs, gas stations, pharmacies and more. You can see how useful this app is for travelling!
Usually you need a wi-fi connection or data to use Google Maps, but I discovered this little hack which will make your travels here (and anywhere else you go) a piece of cake. It's especially useful if you're doing something like a Montenegro self-drive tour.
You can essentially download a Budva map from Google Maps onto your phone or other device then use it to find your way around the town. Here are the step by step instructions:

step 1: Download Google Maps
Download the Google Maps app onto your phone or tablet.
Step 2: Find the Budva Map
Open the Google Maps app and type 'Budva' into the search bar at the top. The app will show you a map of Budva.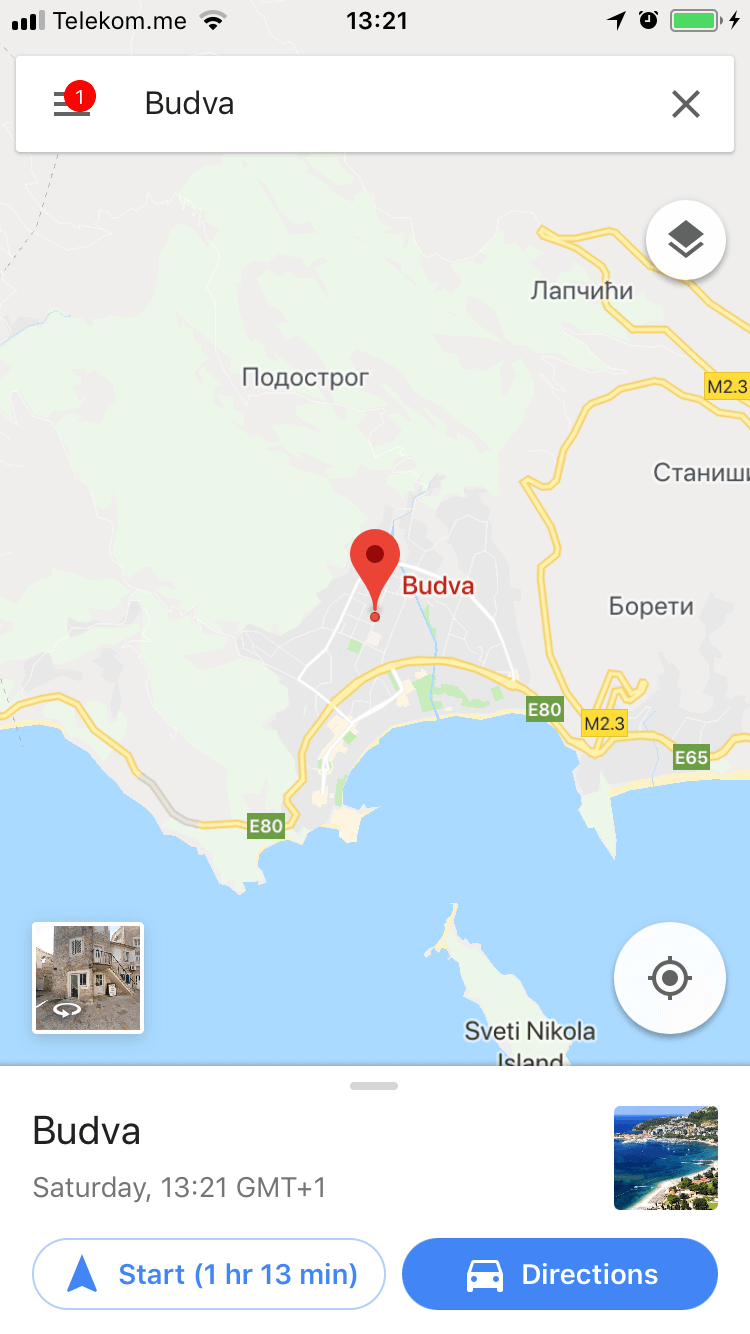 Step 3: The Budva Map Hack
This little hack is one of the best features of Google Maps, but hardly anyone knows about it. Type 'ok maps' into the search bar and hit search again.

Step 4: Download the Budva Map
After you hit search you'll be asked if you want to download the Budva map. You can see how big the map is at the bottom of the screen.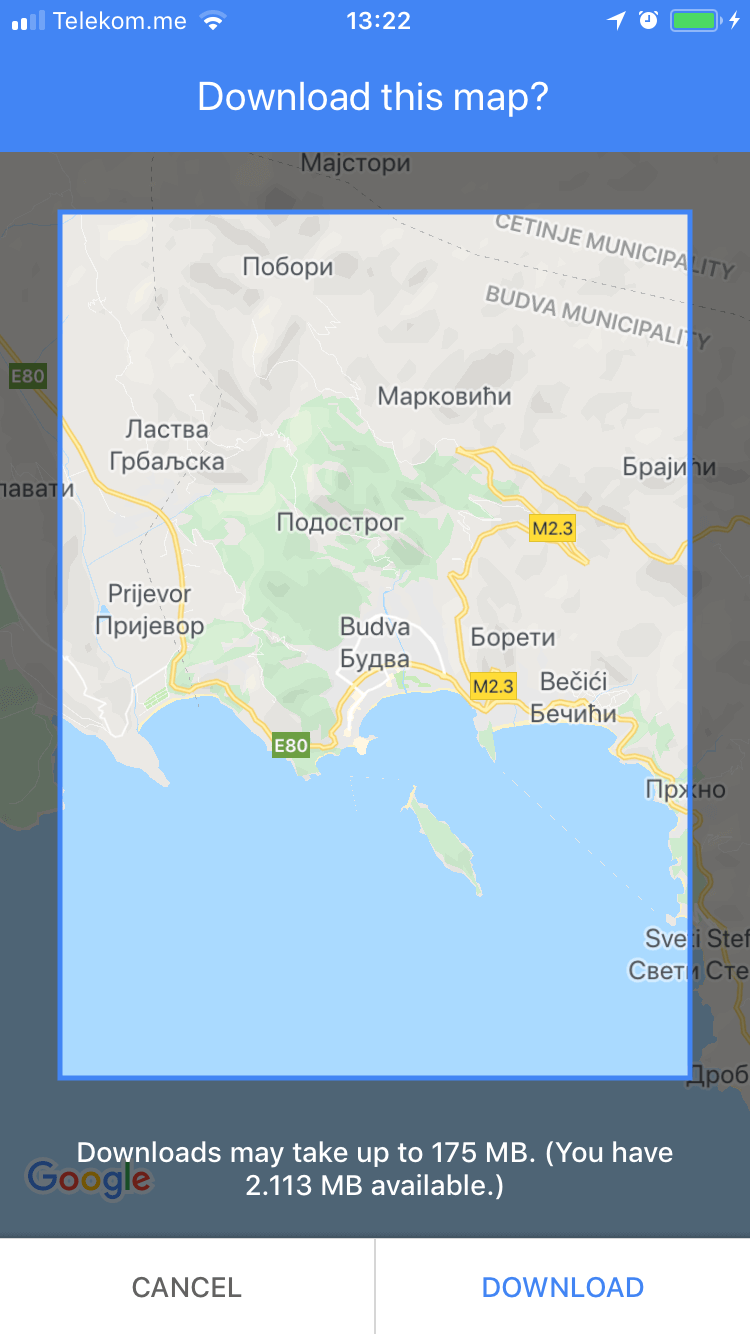 Hit 'Download' and then use the pencil icon to rename the map if you like.

The download shouldn't take more than around 10 seconds, depending on the speed of your internet connection.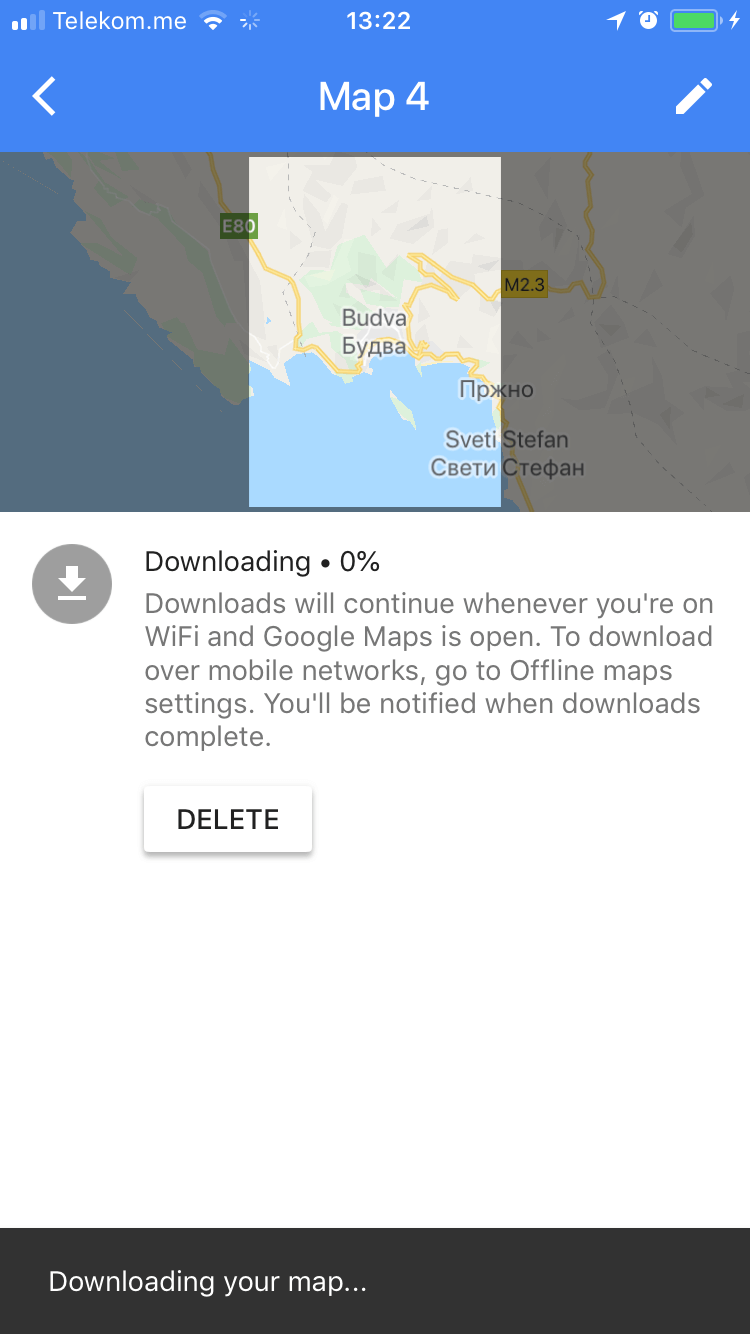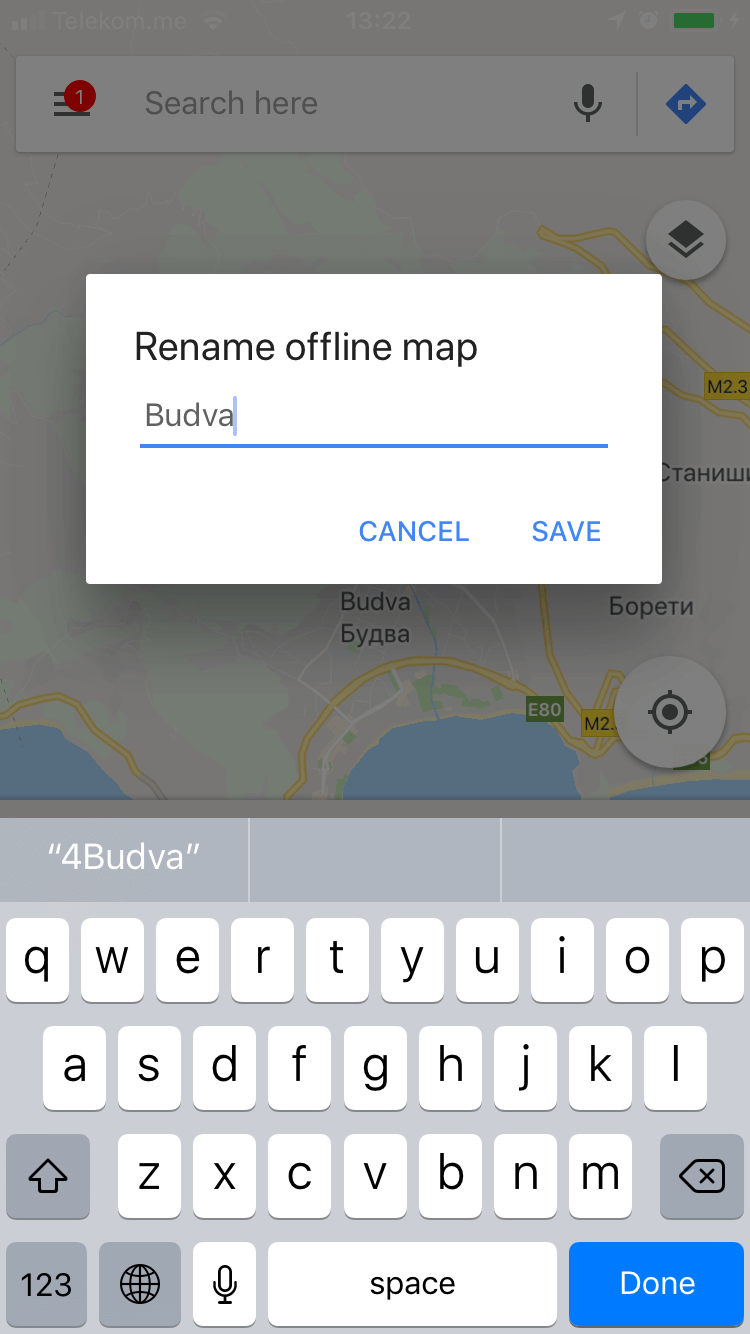 Step 5: Use Your Map
You now have an interactive Budva map that you can use to find your way around.
You can use the same process for any other places you're visiting. If you're travelling around Montenegro, you can download the whole Montenegro map, although it's much larger and will take up more memory on your device. 
Step 6: Delete Your Budva Map
When you leave you can delete your Budva map from the Google Maps app. It's a good idea to delete maps you're not using to free up space on your device.
Tap the menu icon (three horizontal lines) and then tap 'Offline maps'. You'll see the map there. Tap it and then touch 'Delete' to delete it.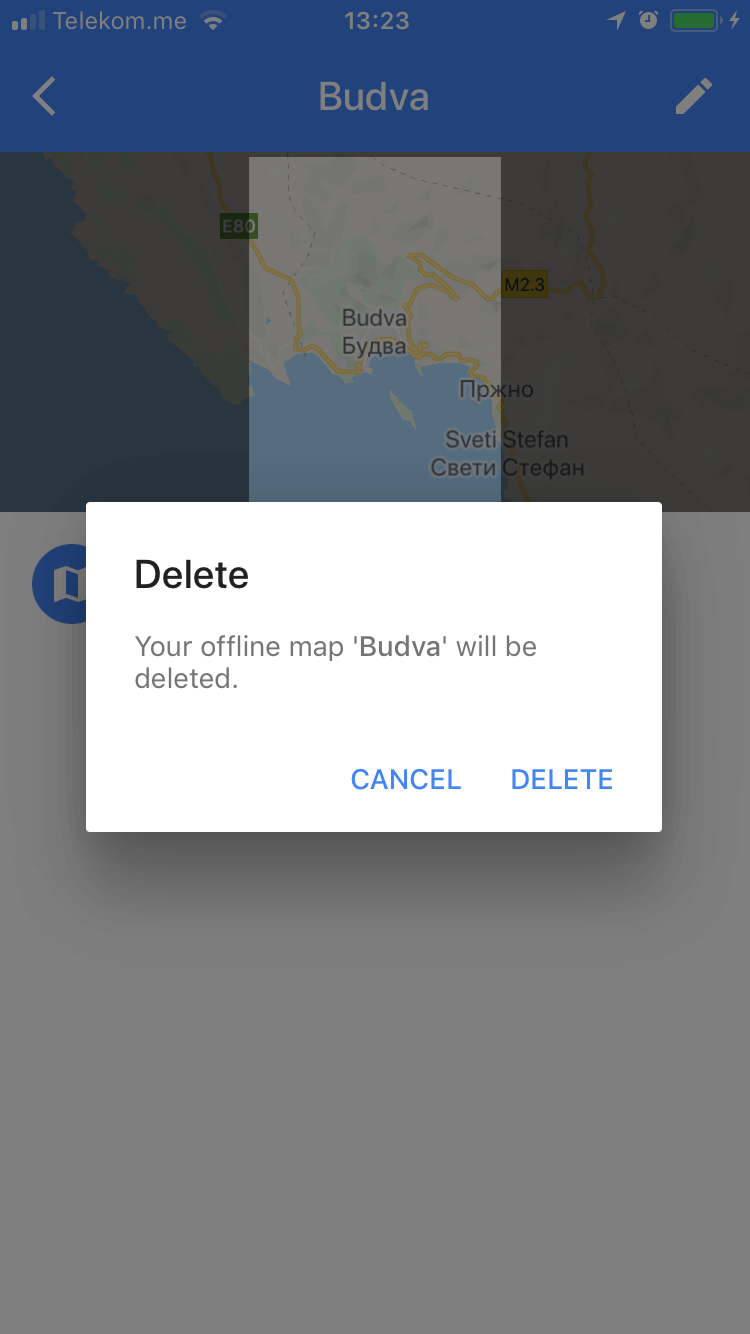 ---
Budva Map on Maps.me
Maps.me is another great app for helping your find your way around Montenegro.
Unlike Google Maps it doesn't offer a map for individual towns in Montenegro, it just has a single Montenegro map. The Montenegro map on Maps.me will take up less room on your device than the Google Maps one and it's definitely worth having while you're in Montenegro.

---
Budva City Map
Like to have a physical map you can carry around in your pocket? Amazon has one Budva map you can buy for delivery before you depart for Montenegro. 

---
Free Downloadable Budva Map
Montenegromap.net has free, downloadable maps of Montenegro. They have three Budva maps you can download – two of the town and one of the coast.
The maps aren't detailed enough to help you find your way around Budva though. You'll need Google Maps, Maps.me or a physical map to help you with that.
---
---
Home

>
Where Is Montenegro
> How to Get a Free Interactive Budva Map on Your Phone
---
help the stray animals of Montenegro
Book your accommodation anywhere in the world through any of the search boxes on our site and we'll make a donation towards sterilising stray animals in Montenegro. 
It costs you nothing, and you get the biggest selection and lowest prices guaranteed. It's a win-win!