Montenegro Pulse contains affiliate links and is a member of the Amazon Services LLC Associates Program. If you make a purchase using one of these links, I may receive compensation at no extra cost to you. See my disclaimer for more information.

Must-Try Montenegrin Food on Your Trip to Montenegro
Don't miss out on the best Montenegrin food during your stay! Here are the top dishes you should try...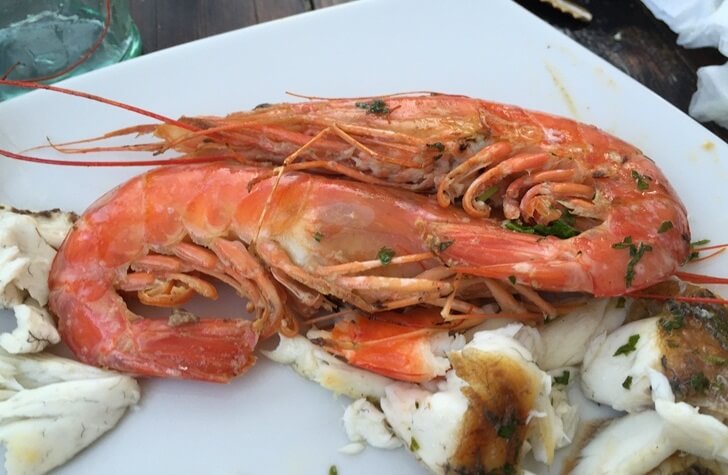 From the mountains to the sea... Montenegrin food encapsulates it all. There are so many varieties of foods, all delicious (well almost - I still can't bring myself to try 'tripice' or tripe).
From hearty cheeses to prawns, there's something on the menu for everyone. 
You might have a job ahead of you trying them all, but my advice is to pick out some you like the look of and seek them out! And don't worry too much about extra kilos... most Montenegrin food is generally healthy with an emphasis on fresh, local vegetables, quality meat or seafood and a good dose of healthy olive oil.
Montenegrin food in the restaurants in the tourist centres tend to be heavy on pizza and pasta (which are average), but it's worth looking for more authentic menus and trying some of these classic Montenegrin foods. You'll only pay a few more Euros for a hearty and healthy dish of Montenegrin delicacies.
Montenegrin Food: Seafood Dishes
Black Risotto
Made with squid and squid ink, this fearsome looking dish is actually delicious.
With plenty of garlic and parsley, it's a real Mediterranean seaside treat. You can find it as a main dish and as part of seafood platters.
The black colour comes from cuttlefish ink and it's made with pieces of calamari. 
You can also get red and white seafood risottos which are equally delicious.
Don't be scared by the colour - squid ink risotto is a delicious Dalmatian treat!
Seafood Buzara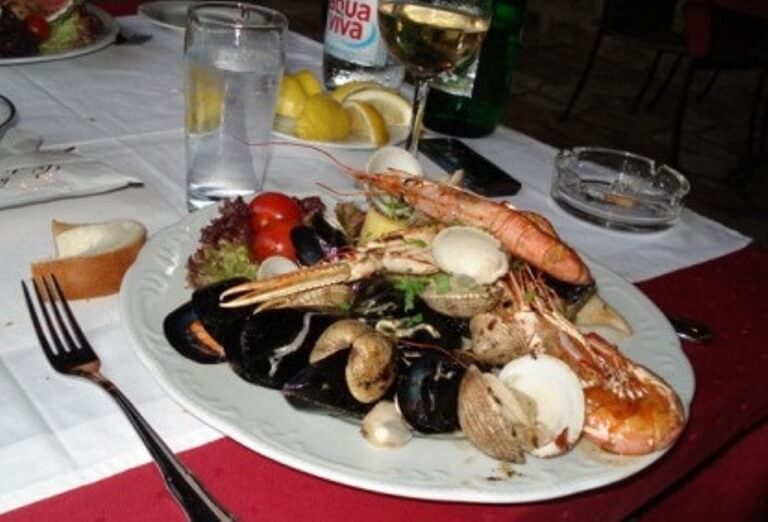 If you like all kinds of seafood, this is a must. The prawns and shellfish are cooked in a local blend of wines, tomato and herbs and are served with thick slices of European bread. You can get white buzara and red buzara.
Another delicious mixed seafood option is a seafood platter full of shellfish, prawns, octopus, calamari and fish.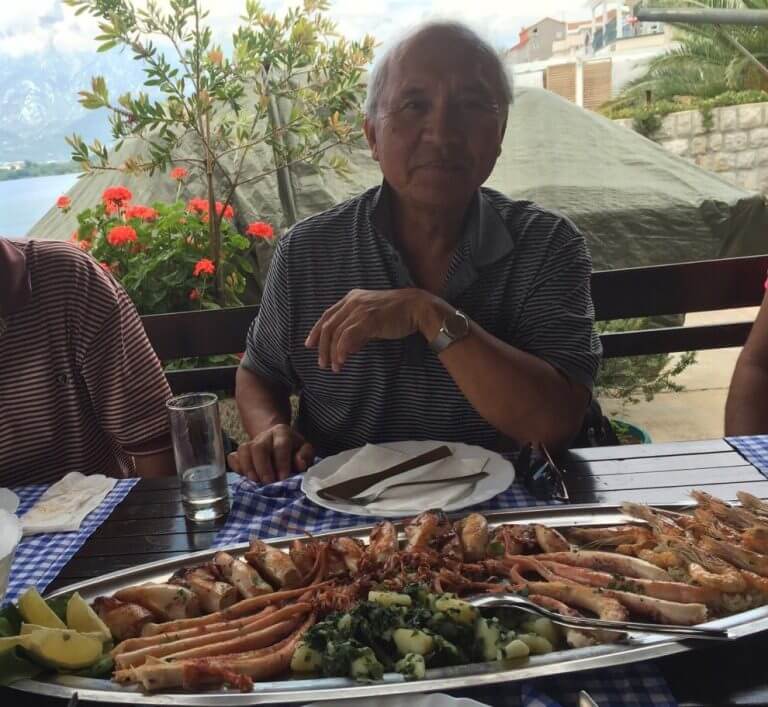 The seafood platter at Konoba Maestral on Lustica Peninsula, just 15 minutes from Tivat
Octopus Salad
There are different ways of preparing this dish. Sometimes you'll get it with potato and sometimes just on its own.
The octopus is cut into small pieces and cooked with garlic and parsley.
However you get it, it's delicious!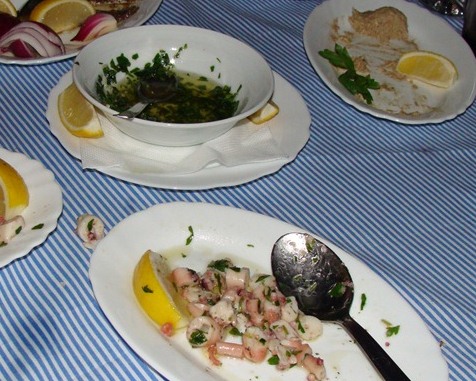 Octopus salad is served with garlic and parley olive oil and lemon wedges
Fish
Usually fish here is served whole and you are given your choice of fish before it's cooked for you. The waiter will then fillet and plate it for you at your table. Our favourites to eat this way are 'orada' (bream) and 'brancin' (sea bass). These are amazing barbecued on a hot barbecue and served with garlic and parsley infused olive oil. Restaurants in Montenegro will offer different fish depending on what was caught that day.
Calamari and Squid
If you're staying on the coast and have a view of the ocean, you'll more than likely see the lights of dozens of little boats out at sea all night. What are they doing? Fishing for squid. The squid are caught on a line, one by one, by hand!
You can get squid barbecued whole, stuffed with risotto, stuffed with prosciutto and cheese, battered and fried, in risotto… any which way you like it. It almost always comes with a side of silverbeet and potato cooked in garlic, which is a revelation in itself. Even if you never liked silverbeet, this will convert you.
Grilled calamari served with parsley and garlic oil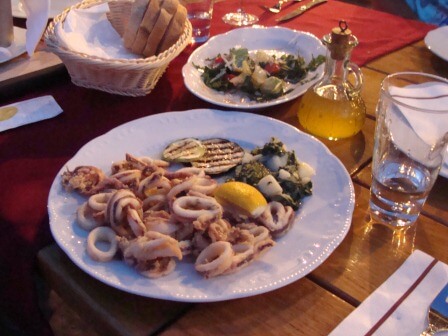 Breaded and fried calamari rings
Gavice
Gavice is a traditional favourite snack food on the Montenegrin coast. 
They're small fish that are floured and then fried. 
The heads are removed but other than that you eat the whole fish. At first that can seem horrifying for us who are used to eating only fish fillets, but I promise you once you try that first bite you'll be hooked!
You can pick up a plate of gavice for about €2-3. You can also find them sold in paper containers along the seaside just like popcorn. 
---
Montenegrin Food: Meat Dishes
Njeguski Steak and Karadjordjeva Schnitzel
If you're a real carnivore, you can't go past this hearty Montenegrin favourite. A pork steak is stuffed with Montenegrin cream cheese (kajmak) and prosciutto, rolled up and typically served with fries and vegetables. 
You can also get this crumbed and fried which is called a Karadjordjeva schnitzel. FYI - this dish is also known as 'djevojacki san' or 'maiden's dream' because of its, ahem, phallic shape.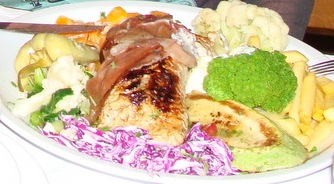 A typical njeguski steak
Meat 'Under the Hat'
Roast meat from under the 'sac' is fall-apart tender and served with melt-in-your-mouth roast potatoes
This is quintessential Montenegrin food. It's called 'sac' (pronounced 'such') in Montenegrin. The meat (be it goat, veal or lamb) is slow roasted in ashes under an iron dome. The end result is fall-apart roasted meat that's served with the best roast potatoes you've ever had.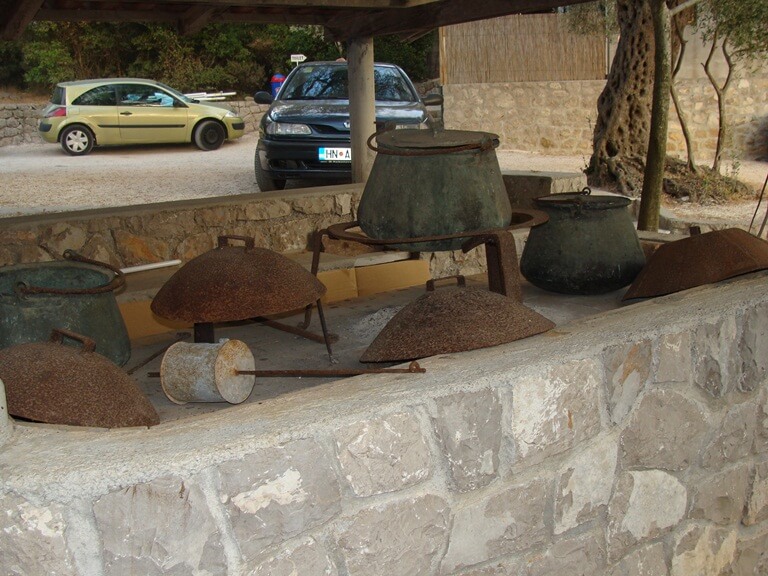 This is the equipment for cooking sac
Local's Tip: If you head out of your hotel or villa for breakfast, you'll undoubtedly come across things called 'hemedeks' and 'bekondeks' on the breakfast menu.
If your mind boggles (as ours did!) at what these could possibly be, try saying them really fast.
Did you get it? Hemedeks – hem-e-deks – ham and eggs! And you guessed it… bekondeks -  bacon and eggs!
Cevapi and Pljeskavica
These are minced meat dishes which are found throughout the Balkans. Cevapi are little sausages and pljeskavica are burger patties. You can find them at restaurants served with fries and salad or at fast food stands in ginormous bread buns with cabbage and tomato. At a couple of Euros each, these 'Balkan hamburgers' are excellent value.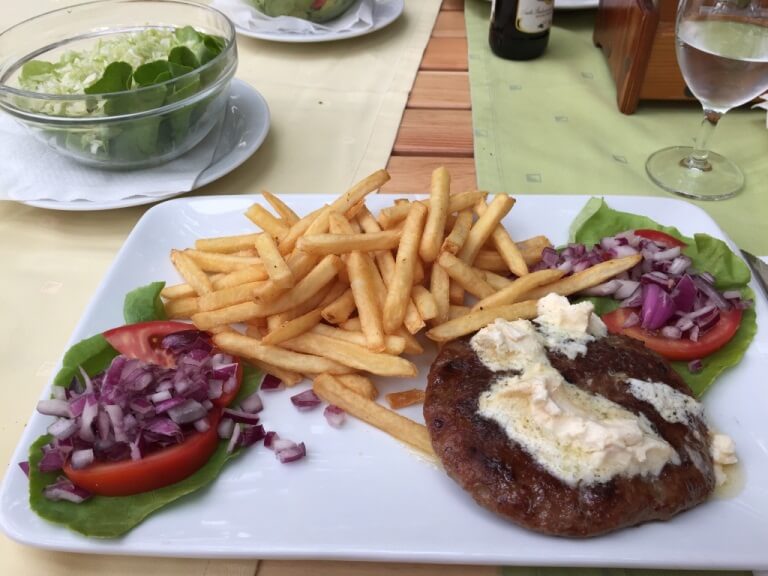 My favourite - pljeskavica with a generous helping of melting kajmak cheese
Burek
These are a regional favourite and traditional breakfast. Burek is filo pastry filled with spinach, cheese or meat and you eat it with a bottle of plain yogurt. In case you wonder why all the bakeries sell yogurt, this is why.
You can find burek or 'pita' at any bakery (pekara) for around €1.50. 
Proscuitto
Prosciutto is a favourite around the country and in Italy.

Here, you have to try the prosciutto made in Njegusi, a small town between Kotor and Cetinje. The traditional Montenegrin entree is prosciutto from Njegusi and cheese. 
Pasulj
This is one of my favourite Montenegrin foods and is one you won't find a lot on the coast, but you will find it in the restaurants in Montenegro's interior.
Pasulj is the Balkan version of baked beans. It can be any variation of bean dish, usually slow cooked with some form of meat and spices. My personal favourite is the baked version which is just perfect when sitting in a mountain restaurant by a roaring fire.
---
Montenegrin Food: Vegetarian Dishes
Kajmak
Kajmak is a particular type of cream cheese which is very rich and can have a strong or mild flavour, depending on who made it and how aged it is.
You can get it in restaurants (cevapi or pljeskavica with kajmak is one of my personal favourites) and you can buy it in the supermarket or at the town farmer's markets. For a mild version that's similar to butter (it's amazing with vegetables and over scrambled eggs) try the President version that's in every supermarket.

Cheese in Oil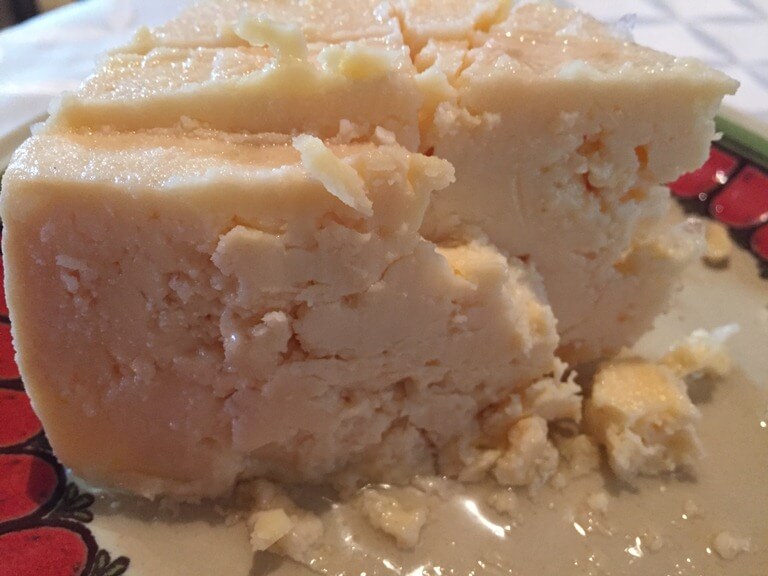 When you go to a farmers market in Montenegro, you'll see big rounds of cheese for sale. These are called 'young cheese' and they're soft and mild. To get cheese in oil you take one of these young cheeses and age it in oil. 
The result is a sharp, crumbly cheese that pairs well with figs, proscuitto and soft, white Montenegrin bread. 
This is my favourite treat!
Silverbeet
Accompanying seafood dishes, you'll often get a side of silverbeet. Now you might not be much of a greens-eater, but the Montenegrin version will convert even the most stubborn carnivore. It's sauteed with garlic and served with potato... you'll never look at humble silverbeet the same again!
Sopska Salad
Sopska (pronounced 'shopska) salad embodies the Montenegrin summer. Sweet, ripe tomato, cool cucumber, firm capsicum and ribbons of soft, white cheese. Drizzled with some olive oil and a dash of red wine vinegar, it's perfect any time of day.
Sopska is best enjoyed with a sea view and the sound of waves lapping!
---
Montenegrin Food: Sweets
Bajadera
No list would be complete without the nation's favourite dessert. You can find versions of this in cake and chocolate form. It's always got three layers, two chocolate ones and walnut one and as you can imagine, it's very rich and decadent. If you're visiting someone at home, grab a box of Bajadera at your local shop for your host and they'll be very happy. 
Baklava
My favourite Montenegrin food of them all - this dessert is made of layers of filo pastry which alternate with layers of ground walnuts. The whole dish is soaked in sugar syrup and finished with a touch of lemon.
priganice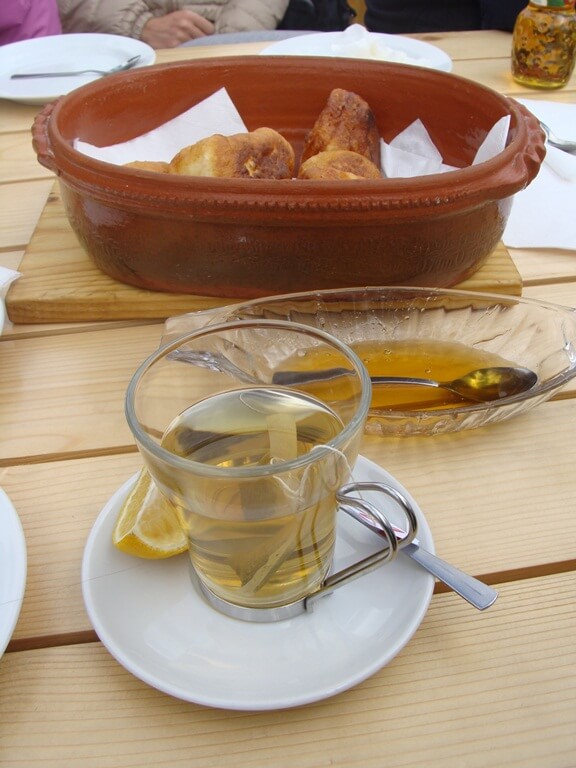 If you go into the mountains you're sure to come across priganice.
These are essentially Montenegrin donuts.
They're small balls of fried dough that are served with honey, jam or cheese.
So delicious!
They're best enjoyed with hot tea and a view of Montenegro's black mountains. 
Pancakes
Pancakes (palačinke) is an extremely popular dish in Montenegro. Rather than having them for breakfast, Montenegrins have them as a dessert or snack and even sometimes for dinner.
The thin crepe-like palačinke come served with walnuts and honey; Nutella and ground cookies and even deep fried and stuffed with ham and cheese.
There are dozens of ways to enjoy pancakes in Montenegro and you'll find them on the menu in almost every restaurant and cafe.
---
Montenegrin Drinks
So now you know what Montenegrin food to try during your stay, what about drink?
Like most of Europe, a glass of wine or beer with a meal is traditional. Many households still make their own wine every year and red wine is by far the most popular. 
You'll find alcohol served in every cafe and restaurant in Montenegro. When you get tired of sightseeing, you can drop down into a chair at any cafe and cool off with a cold beer while you take in the views. 
Plantaze Wines
Plante Rose
Are you wondering what to choose to accompany all of this delicious Montenegrin food when you try it?
When in Montenegro, the most common wine you'll find is by Plantaze, Montenegro's largest wine producer.
Red wine is the most popular here and there are various Plantaze reds as well as whites. Pro Corde is a reasonably priced red that you can pick up for about €8 a bottle.
In summer we love the Plantaze rose pictured here.
If you're interested in wine tasting you can find a list of tours here.
House and Local Wineries
When eating at restaurants it pays to try the house wines too. These are often very good quality wines made by the owner of the restaurant. 
If you book a gastronomy tour which will give you a real Montenegrin food experience, you'll get the chance to try wines produced by small, local wineries.
One of our personal favourites is a rose by the Arhonto Winery. This rose is so good I've even been contacted by people wanting to get cases of it sent to them overseas!
Beer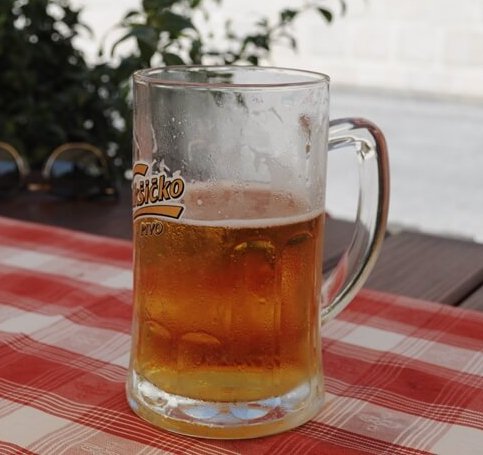 Niksicko is the choice of beer in Montenegro.
It's made in Niksic, in the north and it's one of the main industries there. Montenegrin's love their beer almost as much as their wine!
If you prefer a darker brew, you'll like Jelen which comes from Serbia. 
You can get a half pint like this one for around €2.5 in cafes and restaurants. 
Rakija aka Firewater
No Montenegrin house would be complete without rakija, the potent local brandy. Many households still make their own after making their wine for the year and enjoy it at family gatherings and celebrations (or just with breakfast!). 
This is a must-try in Montenegro, but it's VERY strong!
Juices
Have you ever tried pomegranate juice? Or mint juice? I hadn't until I came to Montenegro. Pomegranate juice is a local staple in households in Montenegro.
They'll take pomegranates which ripen in winter and make a sugary syrup with the juice. Then they just add water whenever they want to make a glass of juice!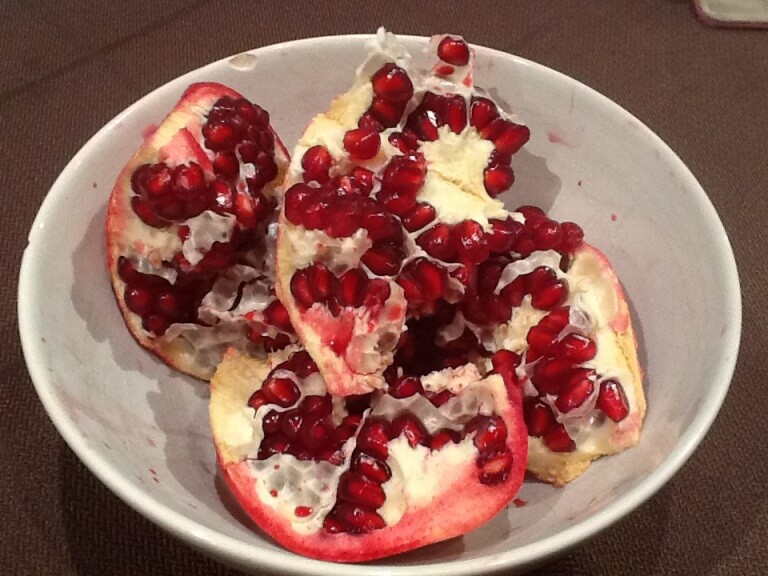 And finally... I can't resist sharing this photo of the snapper my clever husband caught in the Bay of Kotor.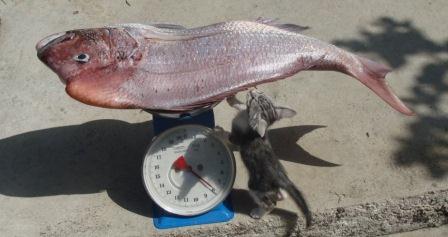 Predator and, er, prey?
Where to try these Montenegrin delicacies? See our guides below:
Kotor Bay restaurants
Budva restaurants 
Tivat restaurants
Herceg Novi restaurants
Kotor restaurants
Montenegrin Food
Book Your Trip With My Recommended Providers