Montenegro Pulse contains affiliate links and is a member of the Amazon Services LLC Associates Program. If you make a purchase using one of these links, I may receive compensation at no extra cost to you. See my disclaimer for more information.

Kopaonik Ski Resort: The Best European Ski Area You've Never Heard Of
Hidden in the heart of Europe, Kopaonik Ski Resort is a rare hidden gem. Get there before the masses do!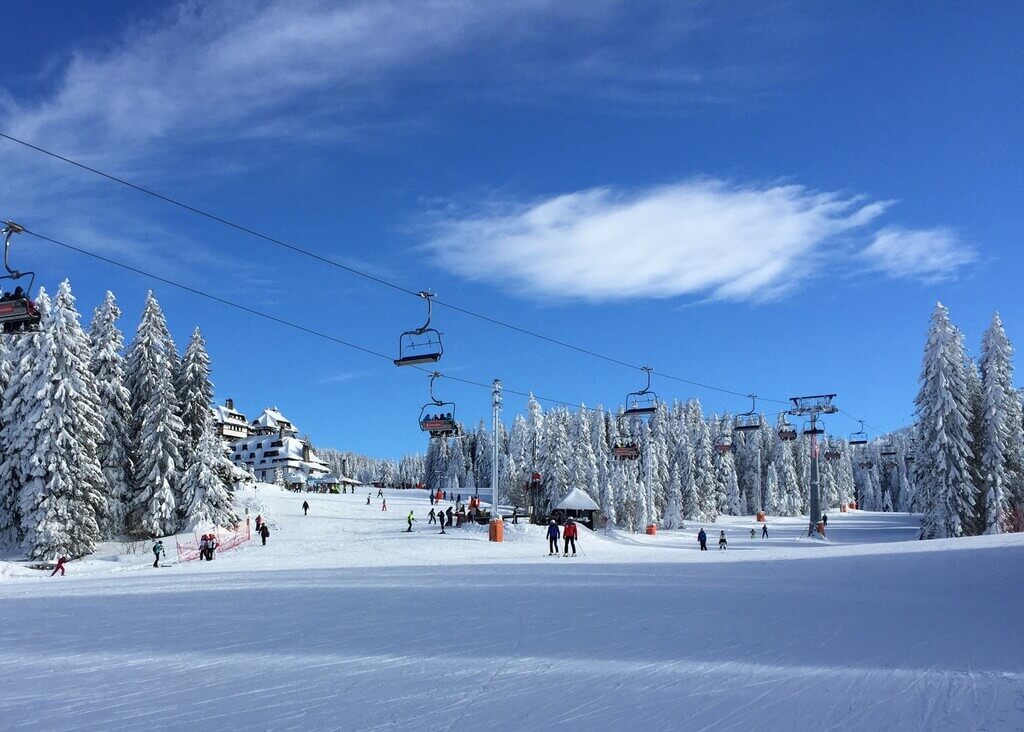 Kopaonik Ski Resort
Never heard of Kopaonik?
Don't worry, you're not the only one.
Kopaonik flies under the radar of European ski resorts, but it won't be long until this gem is discovered!
While you could pay a premium to spend a week at the well-known ski resorts of Italy, France and Switzerland, or put up with sub-par facilities to save money at small resorts, skiers from the Balkans enjoy world-class trails at budget-friendly prices on the beautiful slopes of Kopaonik in Serbia.
Kopaonik offers skiers and snowboarders of all skill levels ample trails to choose from. There are 55km of trails ranging from blue to black and 23 lifts take you all over the mountain. If you're just starting out or want to improve your technique, you'll find world class instructors who speak English.
And there's plenty to do apart from hitting the slopes. Kopaonik's central village, Konaci, is a lively après ski destination with restaurants, pubs and cafes just a few steps from the lifts. Playgrounds, sledding and a bobsled ride keep the kids entertained too. 
Kopaonik Ski Resort also has world-class accommodation on offer. You'll find luxurious piste-side hotels with pools, spa centres and restaurants. You'll also find lots of good value and self-catering accommodation in and around the resort. 
We've visited ski resorts in Switzerland, Bosnia and Herzegovnia, Montenegro and New Zealand, but we just keep coming back to Kopaonik Ski Resort. In fact, Kopaonik has been our winter holiday choice every year for the last 10 years.
We love it!
Here's why…
Kopaonik Ski Resort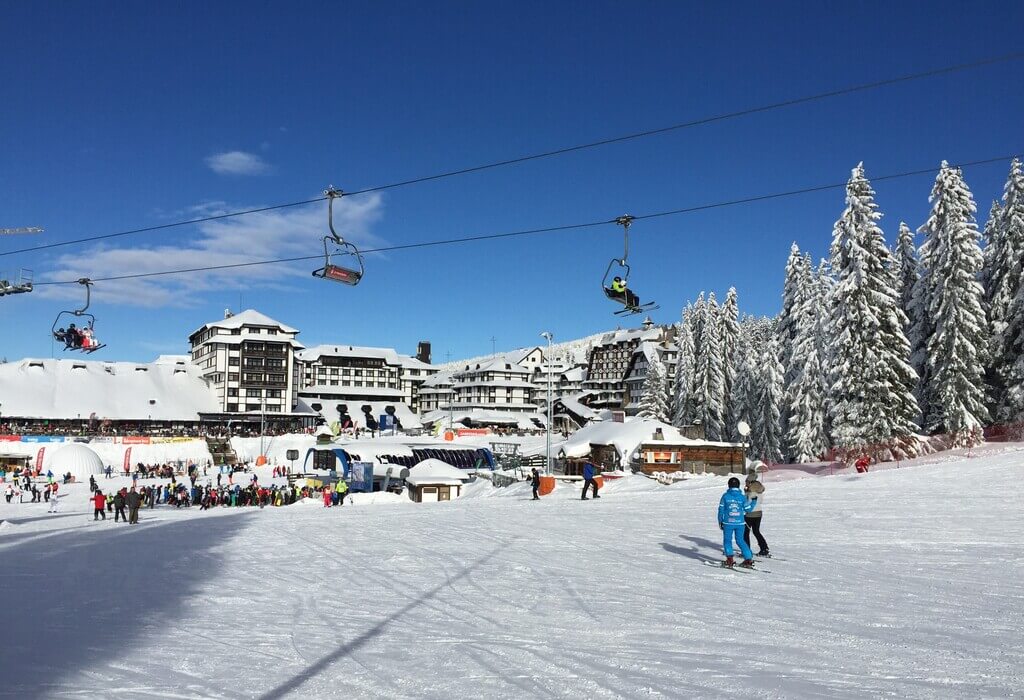 Kopaonik Ski Resort center
Kopaonik Ski Resort lies in Kopaonik National Park in southern Serbia. The resort sits at 1,057 and its highest peak, Pančićev Vrh, is at 2,017m. 
There are several Doppelmayr 4- and 6 person chairlifts, t-bars and Sunkid moving carpets for the little ones. There are snowmakers which help top up the snow when it gets warm, and the resort can handle over 34,000 people an hour. 
It's arguably the best ski resort in the region!
Kopaonik Pistes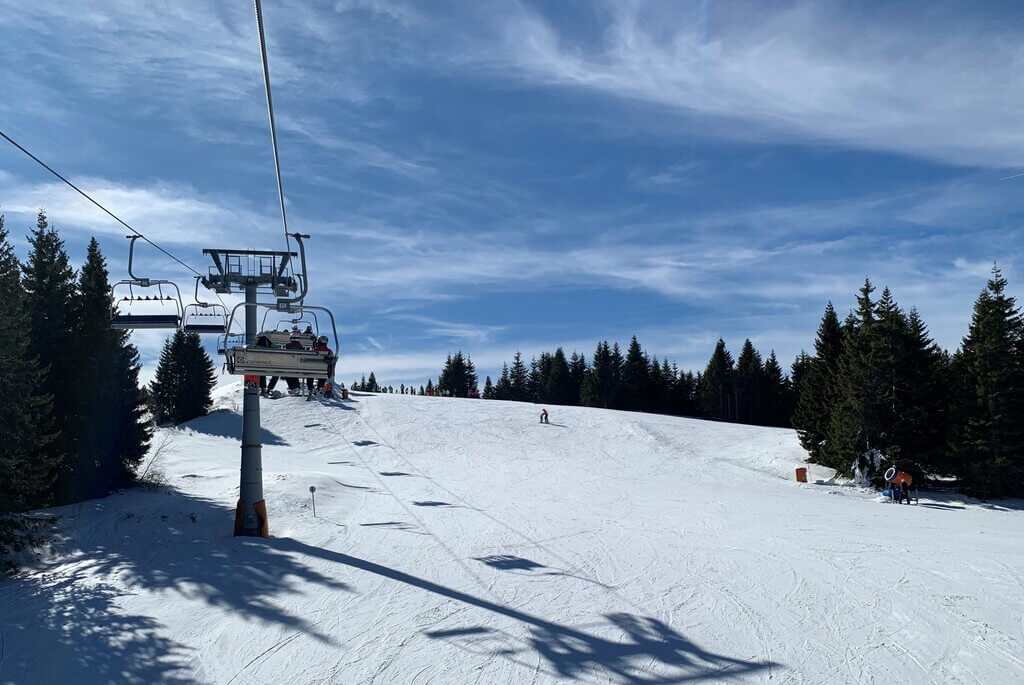 Chairlift to Krst runs
Kopaonik Ski Center offers skiers and snowboarders a wealth of trails to choose from, although it's best for beginner and intermediate skiers.

There are 12 blue slopes totalling 30km, six red slopes totalling 19km and three black slopes totalling 6km. The runs range from 450m to 1939m long and 97% of them have snow-making capability so they have good cover even when it gets warm.
The blue trails of Krst, Karaman Greben and Malo Jezero lie just off the centre of the resort. But it's worth exploring further afield for the relaxed slopes of Marine Vode, Sunčane Doline and Mali Karaman.
For more experienced skiers, Pančićev Vrh has red and black trails where you can develop your skills and get some speed up. At the far end of the Kopaonik Ski Center, Gvozdac and Bela Reka II have black trails far from any crowds. 
Kopaonik's meticulously groomed pistes cut through dense pine forest, which are idyllically dusted with snow. You'll often see powder-hunters pop between the trees to enjoy some fresh powder off piste.
And if a full day on the slopes isn't enough for you, Kopaonik's slopes are open for night skiing too. Karaman Greben, Pančićev Vrh and Malo Jezero all reopen after grooming for night skiing until 10pm.
Ski and Snowboard Schools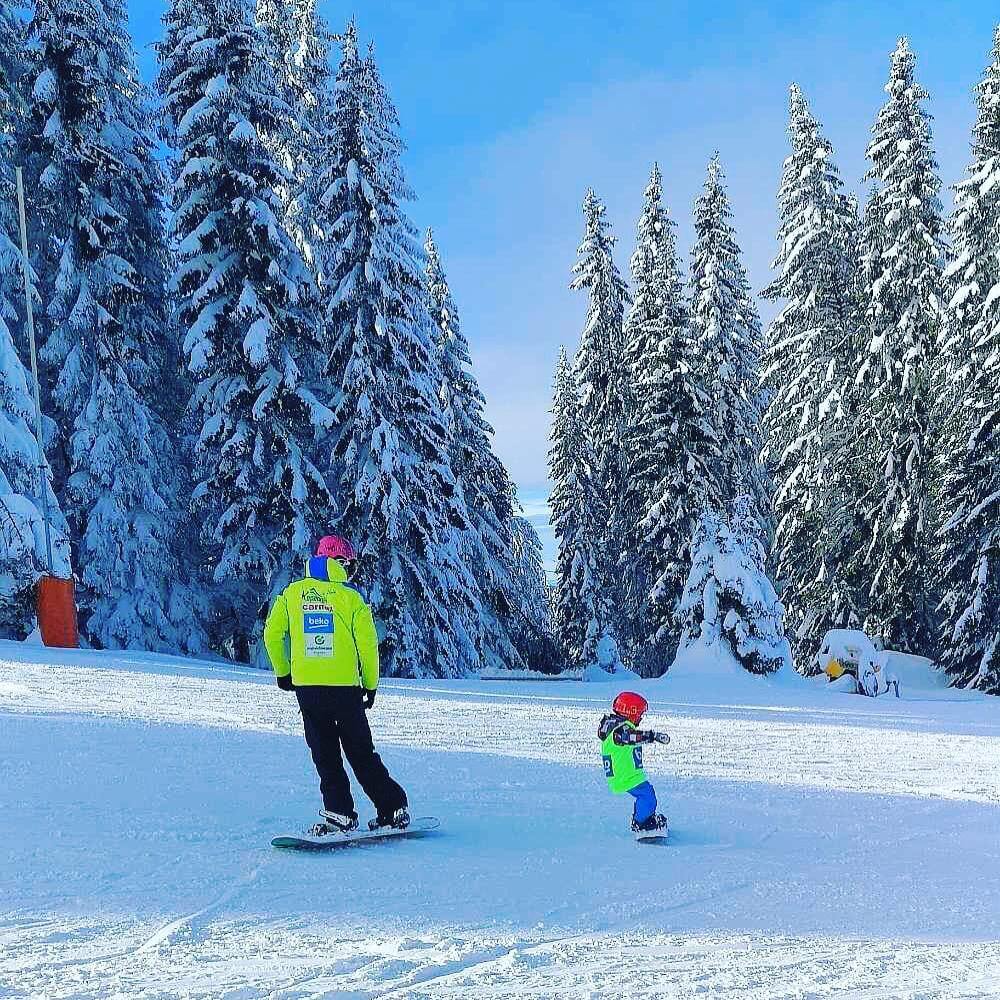 My son getting snowboard lessons
There are several ski and snowboard schools in Kopaonik. You can request an instructor who speaks English and lessons cost around €30 an hour. If you'd like a recommendation for a ski or snowboard instructor you can contact me.
There's also a ski school for young children. There are usually between five and 10 children in a group and you book them in for six days of classes. You book six days instead of seven because usually people are arriving and departing on the first and seventh days of their stay.
Morning classes start at 10am and finish at 12pm. Afternoon classes start at 2pm and finish at 4pm. You can also choose to have lunch included, so they stay with the group between 12pm and 2pm. The price for the ski school is around €200 for six days and includes their ski pass.
More Things to Do in Kopaonik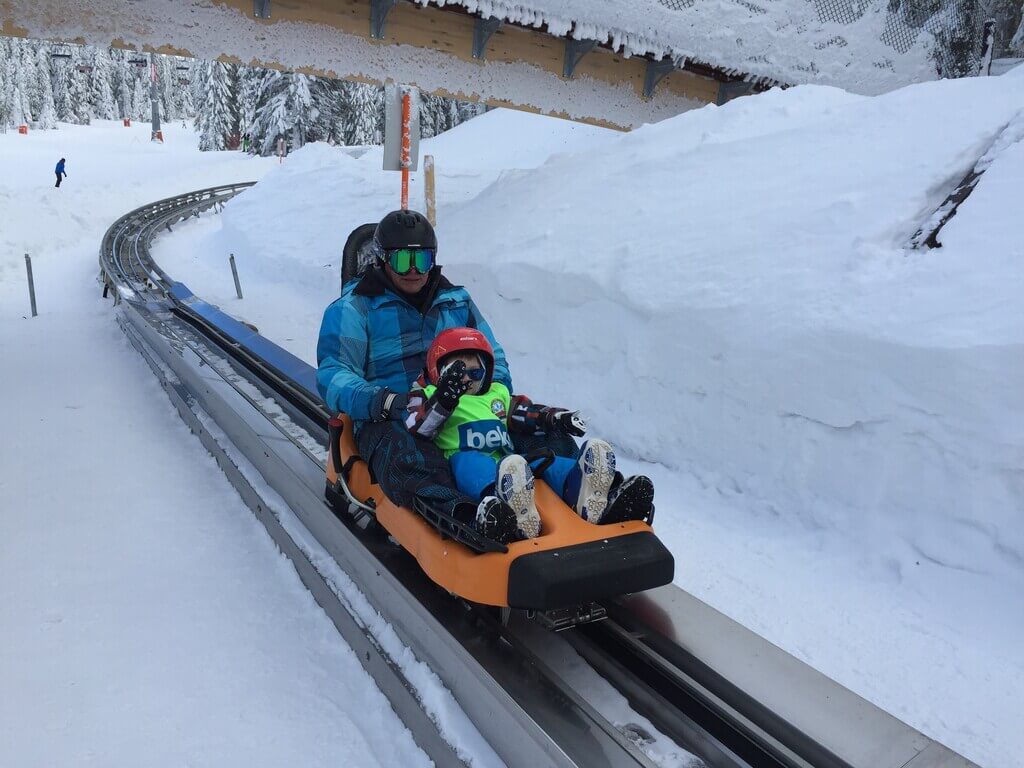 Bobsled ride at Kopaonik Ski Resort
There are also lots of other ways to spend your time in Kopaonik, especially if you've got non-skiers with you or you're parents sharing child-watching duties:
Bobsled ride next to Krst chairlift
Snowmobile tours
Bowling in Hotel Grand and Spa
Massages and spa treatments are available also for non-hotel guests. Hair and nail treatments tend to be cheaper in the Balkans than places like the UK
Outdoor playgrounds
Hire a sled or buy a cheap plastic slisko for sledding
Take a scenic ride on the Pančićev Vrh chairlift. From the peak you can see large swathes of Serbia and Kosovo. You can catch the chairlift back or walk down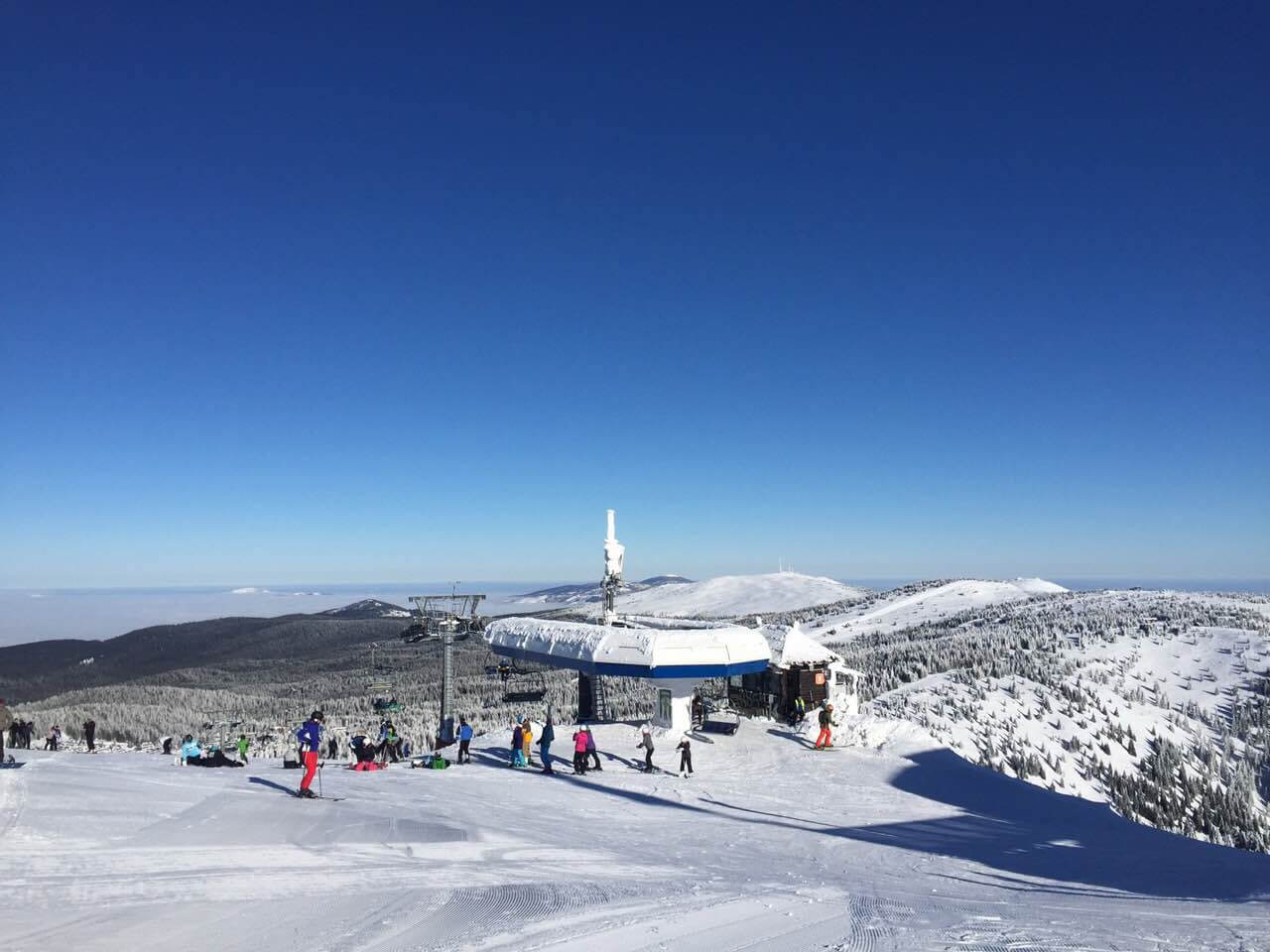 Pančićev Vrh
Katuni Mountain Huts
The clever design of the resort means you don't need to come back to the center for breaks. Instead, you can stop at one of the katuni (traditional-style mountain huts) that are sprinkled around the resort. Warming up with some kuvano vino (mulled wine), veal soup and rustic bread around a roaring central fire is an unforgettable experience!
The only drawback is that Serbia hasn't banned smoking indoors yet, so restaurants tend to be smoky. But with an average of 200 sunny days a year, you'll usually have the option of sitting outside in the sun too. 
Vučja Staza, at the top of Karaman Greben, is the ideal place to soak up some sun with a view of the runs of Pančićev Vrh and a plate of hot čevapi and kajmak (sausages and clotted cream). Then make your way over to Skituljko on Mali Karaman for a slice of their famous blueberry pie.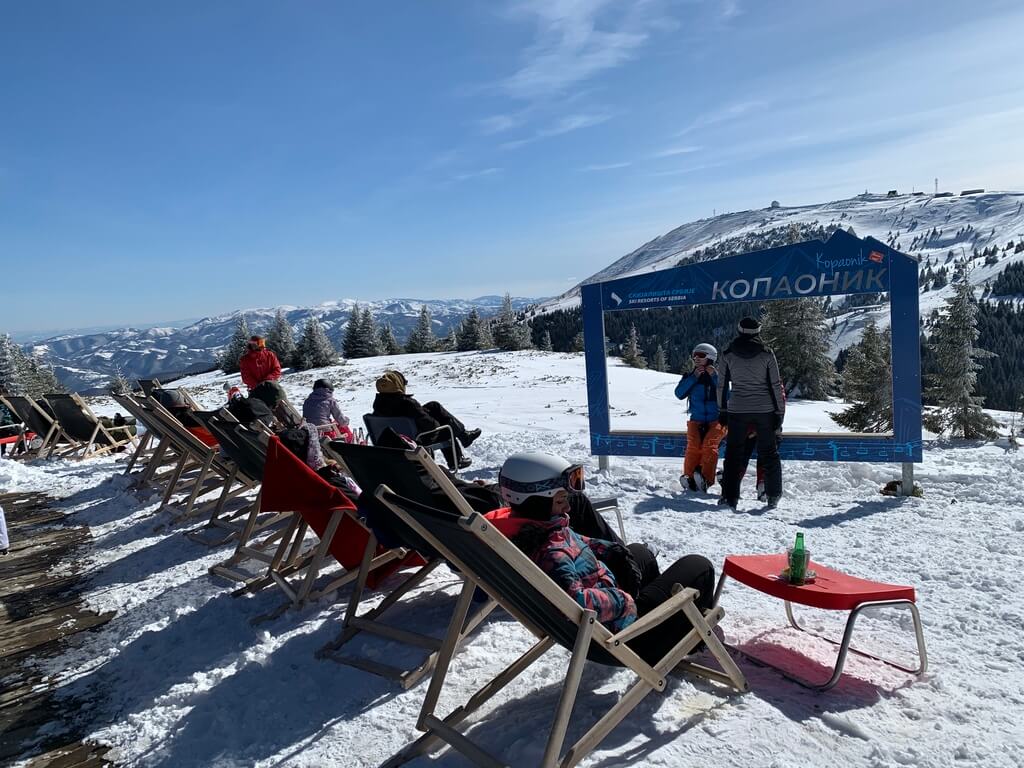 Enjoying the sun at Vučja Staza
---
Kopaonik Map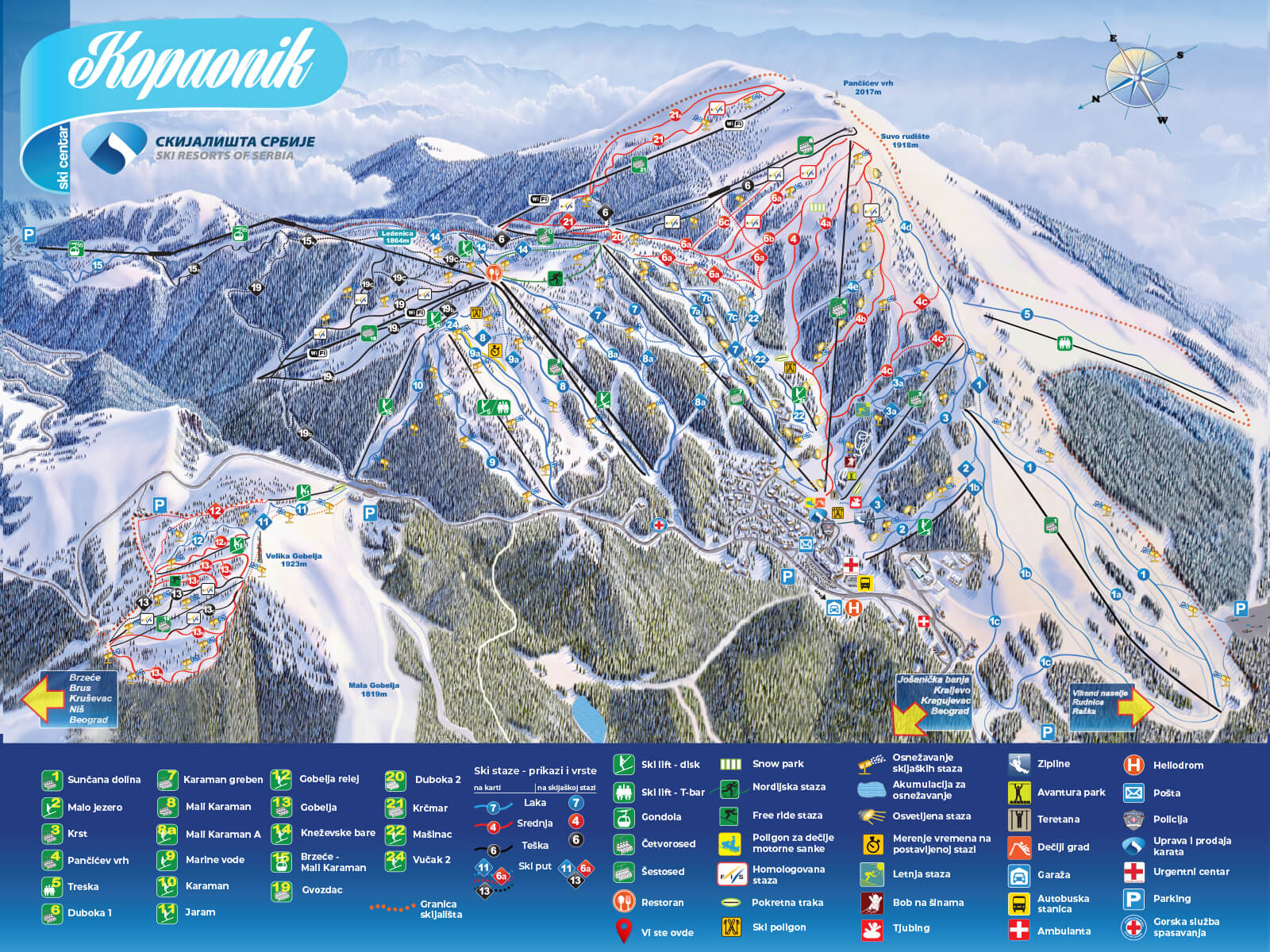 Kopaonik Ski Resort. Image: Skijalista Srbije
---
Kopaonik Ski Resort Safety
One of the things we like about Kopaonik is the professionalism of the staff and the safety services. Skiing and snowboarding are dangerous sports and accidents are common on the slopes.
Kopaonik's Mountain Rescue Service (GSS) are trained mountain rescuers who are always on standby around the mountain. We have had two friends have accidents (one a broken wrist and another with a dislocated shoulder) who were picked up by rescuers on snowmobiles within minutes. Their injuries were treated at the onsite medical center and they didn't have to leave the resort.
If your country has a reciprocal insurance agreement with Serbia, you don't have to pay any medical costs. If not, you are liable for any medical costs incurred, which is why you should have travel insurance for any travel, especially ski and snowboard trips.
---
Konaci Kopaonik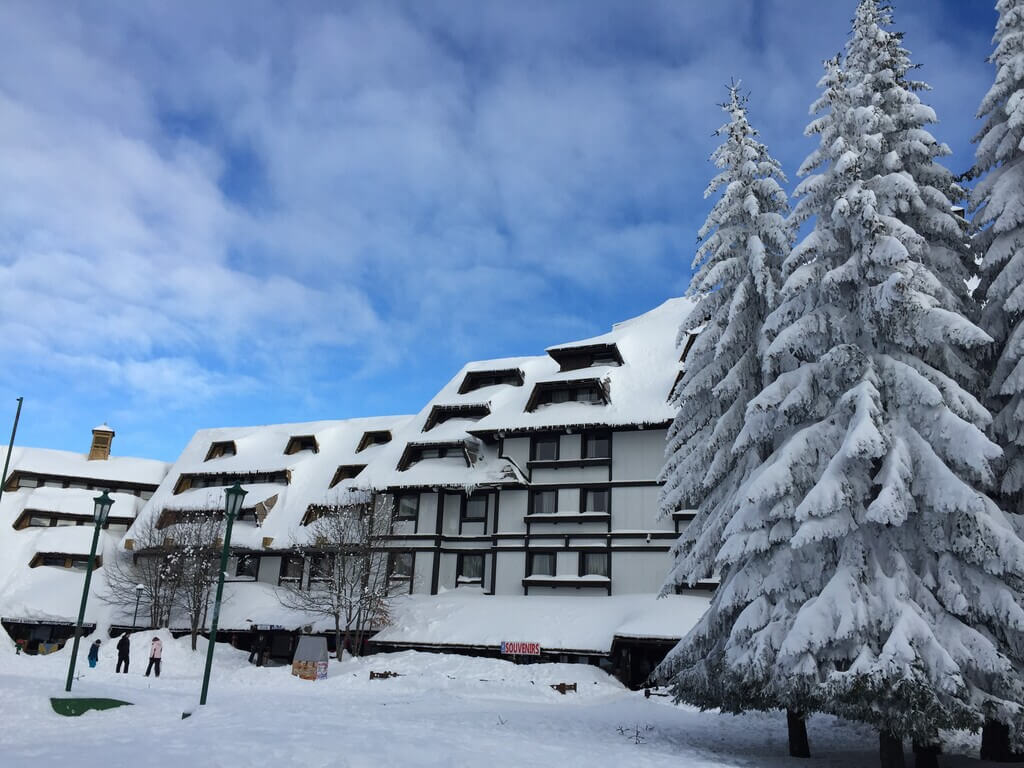 Konaci
Kopaonik's Konaci is a small central village a few minutes' walk from the slopes. Konaci is a circular group of buildings around an open square.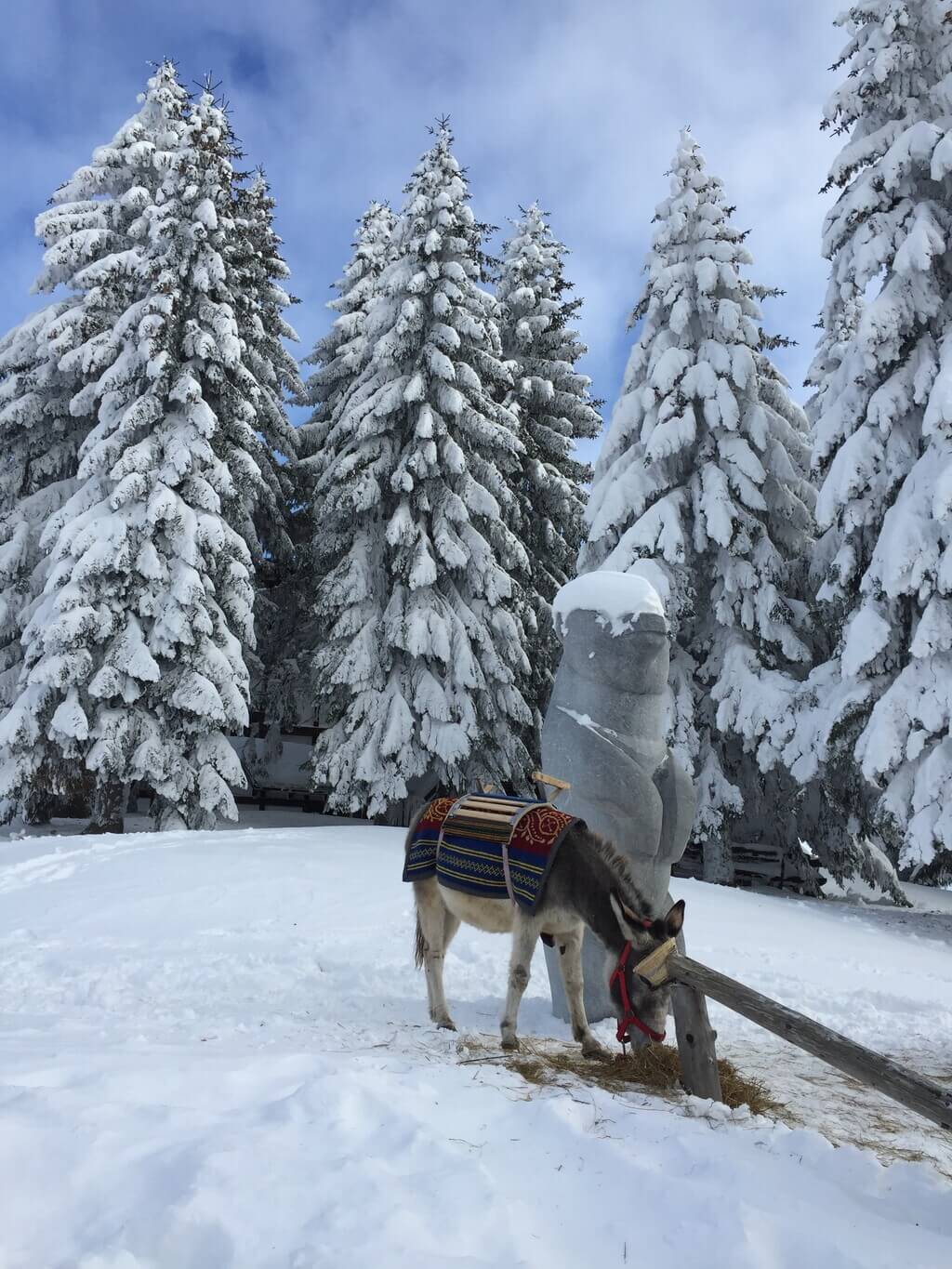 Price list in Serbian dinars (RSD). Image: Skijalista Srbije
This is where you'll find everything you need during your stay. There are grocery stores, drug stores and plenty of cafes and restaurants. You can also hire all your equipment here for around €50 a week. Most of the rental shops buy new gear every season, so you'll always have top of the line rental equipment.

Konaci really comes alive after the lifts close for the day. Groups of children build snowmen and slide down snow piles. Adults enjoy a few beers or hot rakijas (traditional brandy) in The Pub and Ski Avenija.
While these places served modern European meals, Alo Alo is the place to find traditional Serbian cuisine and ambiance. And at €2 for a bowl of soup and €6 for a main, the prices are very reasonable.
---
Kopaonik Hotels
Kopaonik has a wealth of top-quality accommodation to choose from. The great thing about staying in Kopaonik is that the slopes are right on your doorstep from just about anywhere in the resort. You can usually ski from your accommodation straight to the ski lifts and back to your door again.
If you want to be near the action, Konaci is the ideal place to stay. It can be noisy though, so if you like peace and quiet choose a place outside the center village.
You can also book good accommodation like in the village (Vikend Naselje) around 10 minutes' drive from the lifts. The four star-rated Hotel Kraljevi Čardaci has similar facilities to the four star hotels on the slopes and is much cheaper in high season. 
From Vikend Naselje you can either drive up to the center or catch the ski bus that runs between Hotel Milmari and Konaci. A one-way trip costs 200 dinars (around €1.70) and a return trip costs 300 dinars (€3.40). Parking at the resort costs around €5 a day, so it might be cheaper to drive.
If you want to be able to walk between the slopes and your accommodation, be sure to check exactly where it is before you book.
Luxury Accommodation
Viceroy Kopaonik Serbia *****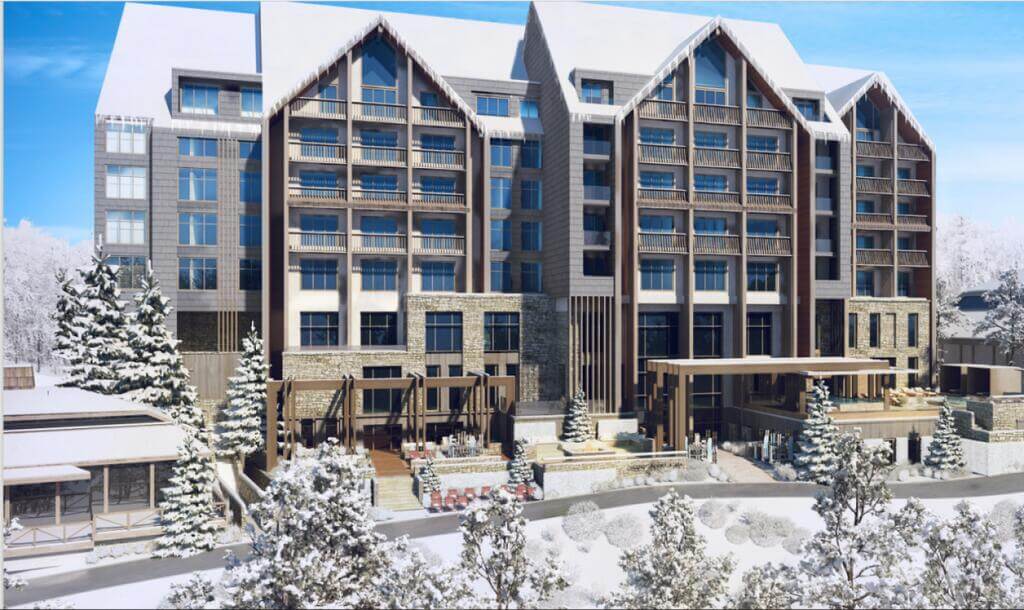 The Viceroy is a brand new hotel and the only five star hotel in Kopaonik Ski Resort. The hotel has only just opened so we don't know what it's like yet, but looks fantastic and it's right in the center of the resort.

Grand Hotel and Spa ****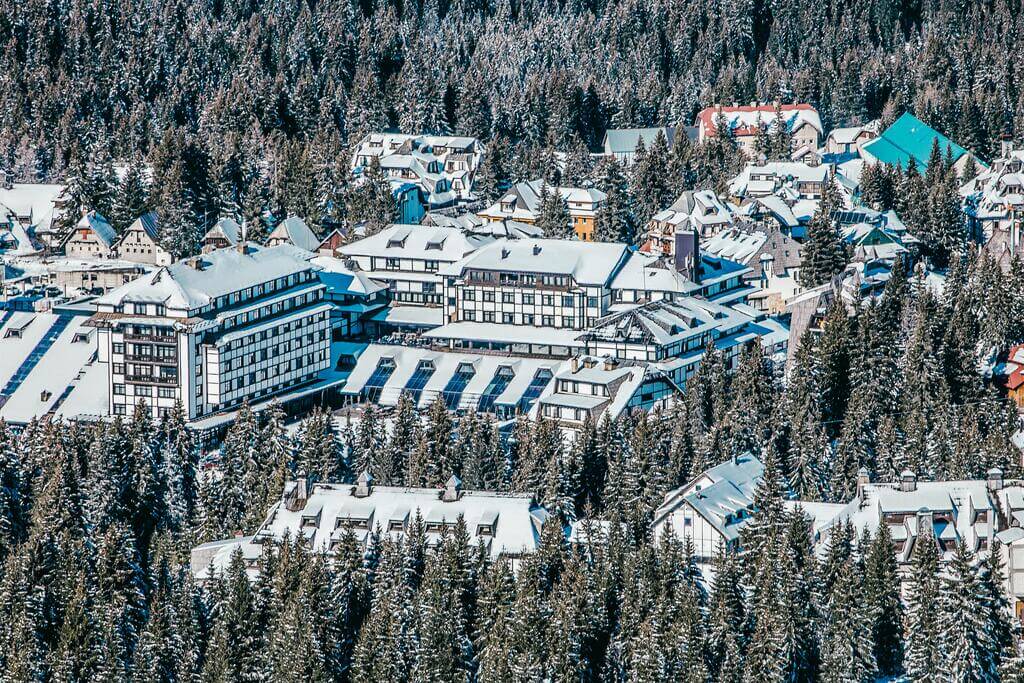 The Grand Hotel and Spa is a sprawling hotel overlooking the central ski lifts, the Grand has a spa centre with an indoor pool, saunas, steam rooms and offers massages and treatments. But it's the deliciously-warm outdoor pool, surrounded by snow that makes the Grand one of the most popular high-end hotels in Kopaonik.
The dedicated pizza chef with wood-fired oven meant my son basically lived on pizza and the dessert bar when we stayed here for a week, but you burn lots of calories in the snow and pizza does technically have vegetables on it right?!
Gorski Hotel and Spa ****
Hotel Gorski Kopaonik is another high-end hotel right on the slopes. It's a bit smaller than the Grand, ideally situated and the pool layout meant I could relax in the hot tub while still being able to keep an eye on my son. I also loved that they had a special children's buffet with things like spaghetti and meatballs and chicken and fries. And the dessert buffet... I'm gaining five pounds just thinking about it!
The only thing I didn't like were the glass walls of the bathroom. Even though there were curtains inside, I believe if there's one thing bathroom walls shouldn't be made of it's glass!
Mid-Range Accommodation
Hotel Club A Kopaonik ***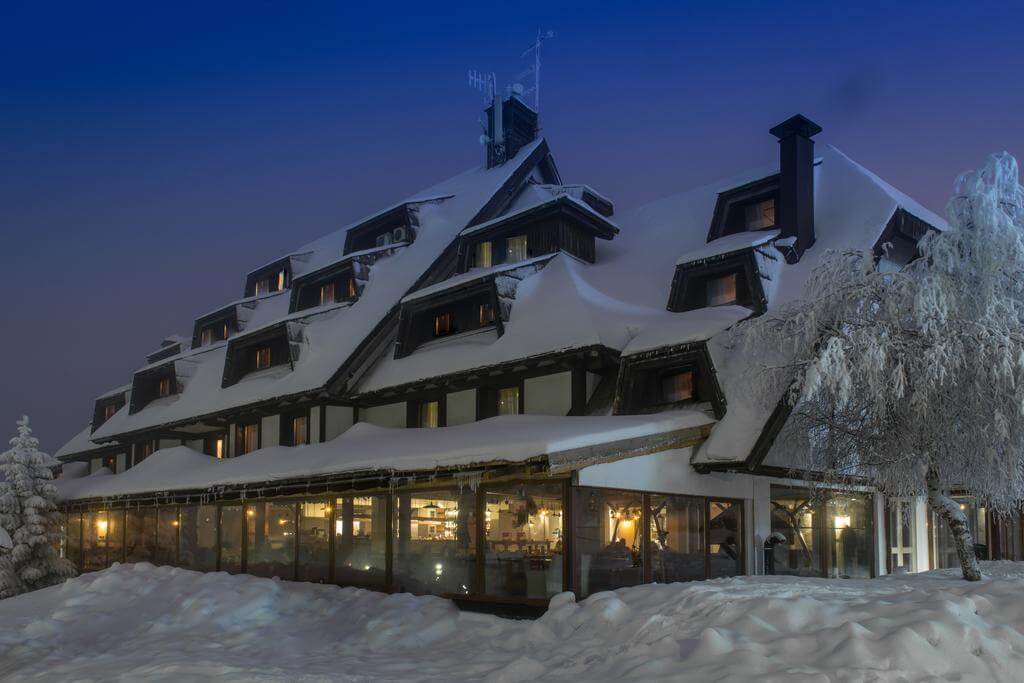 Hotel Club A is a nicely-appointed hotel that sits between the slopes and Konaci. It also has an indoor pool and hot tub, so you get great facilities and location for a lot less than the luxury hotels.

Apartment Mint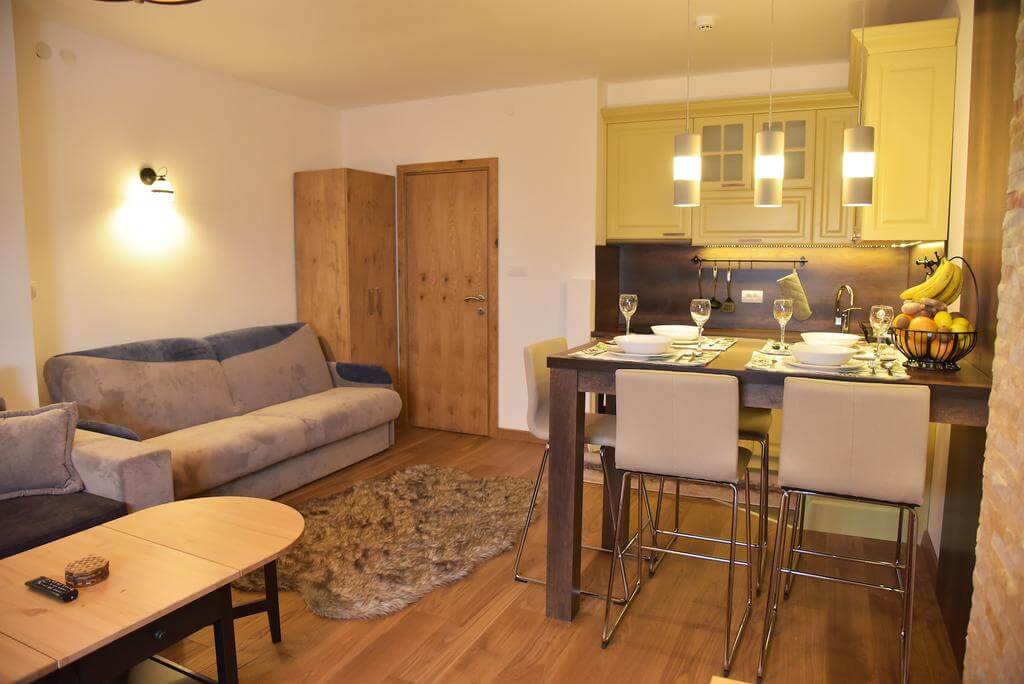 Apartment Mint is a good example of the self-catering apartments available in Kopaonik. It's walking distance to the slopes and Konaci and has its own shared pool, restaurant and play area.

---
Kopaonik Ski Passes
There's a range of Kopaonik ski passes available. These range from single ride tickets to season passes. The prices are divided into three time periods and are priced in Serbian dinars (RSD).
You don't need to buy a ski pass for children under 5 and seniors are those 65 and older.
There are ticket offices around the resort, the most convenient being outside Hotel Gorski, at Hotel Grand, at the bobsled ride and next to Intersport.
The 'single cards' are for a single rider. 
The 'family package' tickets give you a slight discount on the adults and children's prices, with second and subsequent children being cheaper than the first. 
The 'duo' passes are for parents with children under 5. Both parents can use the same card instead of buying two separate passes.
---
Kopaonik Ski Resort Weather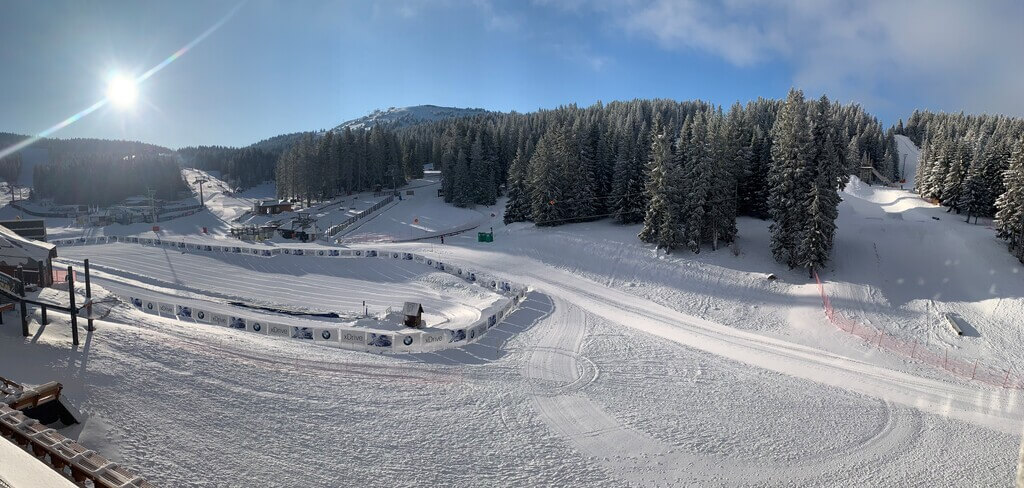 A beautiful sunny day in Kopaonik!
During the 2019/20 season ski resorts all over Europe were left closed, without enough snow to open.
Meanwhile Kopaonik Ski Resort enjoyed a full season with plenty of snow. It was the first time I'd seen foreigners in Kopaonik, and I met people from the UK, Romania and China on the slopes. There was also a snowboarding team from Austria who were training in the snow park.
For guaranteed snow it's best to book your visit to Kopaonik from January onwards, that way you're sure to have a good base of snow. February is an excellent time to go because the school holidays are over and there are no crowds, while March offers some excellent spring skiing and warmer temperatures.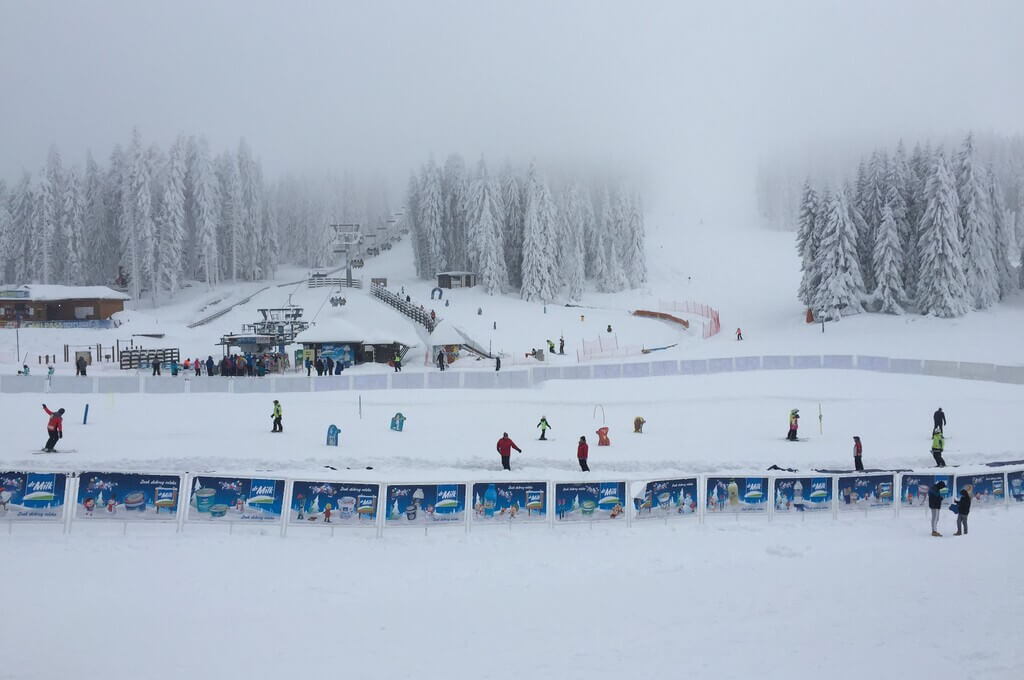 A foggy day, but it's still good for skiing!
Average Kopaonik Ski Resort Snow Base Levels
November: 20cm
December: 90cm
January: 85cm
February: 80cm
March: 30cm
Average Winter Temperatures in Kopaonik Ski Resort
November: 1°C / 34°F
December: -7°C / 19°F
January: -9°C / 16°F
February: -10°C / 14°F
March: 5°C / 41°F
---
Getting to Kopaonik
By Plane
Belgrade is Serbia's capital city and has the most air connections. Air Serbia has direct flights between New York and Belgrade, and there are direct flights from both Luton and Heathrow in London.
Kraljevo's airport is new, but more routes are being added and it's being developed as a hub for Kopaonik. 
Kraljevo, Serbia: 102km/63mi, approx. 1 ½ hour's drive
Niš, Serbia: 127km/79mi, approx. 2 hours' drive
Belgrade, Serbia: 283km/178mi, approx. 3 ½ hours' drive
Sarajevo, Bosnia and Herzegovina: 336km, approx. 6 hours' drive
Sofia, Bulgaria: 329km, approx. 5 hours 30 minutes' drive
Tivat, Montenegro: 433km, approx. 7 hours' drive
By Car
There's a good road from Raška to Kopaonik Ski Center and you don't need a 4WD to get up to the resort. You will need to have chains in your car, but the road is cleared and you might not need them.
Outdoor parking at the resort costs around €5 per day or €20 per day in the parking building. Your car will be perfectly safe outdoors, but you'll probably need a shovel to dig it out of snow at the end of your stay.
By Bus
There are regular buses from Belgrade, Kruševac, Raška and Niš (all in Serbia) to Kopaonik. Tickets cost around €20 each way from Belgrade and you can find timetables and pricing on Balkan Viator.
Are you inspired to visit Kopaonik Ski Resort this winter?
Still got questions?
Been there?
Let me know your thoughts in the comments below!
Related Articles
Visit Žabljak, Gateway to Montenegro's dramatic Durmitor National Park
Biogradska Gora National Park Visitor's Guide
Skadar Lake National Park Visitor's Guide
Kopaonik Ski Resort
Book Your Trip With My Recommended Providers