Montenegro Pulse contains affiliate links and is a member of the Amazon Services LLC Associates Program. If you make a purchase using one of these links, I may receive compensation at no extra cost to you. See my disclaimer for more information.

The Best Montenegro Beaches
Montenegro beaches come in all shapes and sizes:
Big ones
Little ones
Sandy ones
Rocky ones
Relaxing ones
Party ones
Whatever your ideal beach looks like, you'll be bound to find your slice of beach heaven on Montenegro beaches.

With almost 300km of coast line to choose from, your biggest problem will be which ones to choose. 

Let's explore Montenegro beaches!
About Montenegro Beaches
Because of the wide variety of beaches, it'll pay for you to read this page and choose which beaches will suit you best before you head off to explore.
The summer traffic can be intense and there's nothing more frustrating that losing precious holiday days searching for the perfect location to spend it. A holiday is supposed to be relaxing right?!
So a few minutes spent here choosing a few options is well worth it. 
What to Expect
Most Montenegro beaches are covered with loungers and umbrellas for hire. This goes against the grain for those of us who aren't used to the European habit of paying to use a beach. But you can still use these beaches for free. Each beach must have at least 30% kept clear and free to use. 
Loungers and umbrellas vary in price, from €3 to a whopping €150 per pair (at Dukley Gardens) per day. Generally they're around €8-25 per day. 
Amenities
Most beaches have their own bar or restaurant on site. So you'll be able to get drinks, snacks and full meals. Some will have toilets, but many won't. You'll see little makeshift changing cabins that you can use to get changed in.

Water Temperatures
The water temperature in July and August hovers around 26 degrees Celsius or 79 degrees Fahrenheit, but can be as warm as 28/82! 
With those kinds of temperatures, it's no wonder people come from far and wide to enjoy a summer holiday on Montenegro beaches. 
Blue Flag Beaches
The Blue Flag is an organisation that awards beaches around the world Blue Flag status when they pass certain environmental, safety-related and access-related standards.  This means that the water is clean, the facilities are good and the accessibility is good.
These are Montenegro's Blue Flag beaches: 
Blue Beach, Jaz Beach
Escallera, Jaz Beach
S&I Beach Life, Jaz Beach
Queen of Montenegro, Becici
Dolce Vita, Becici
Sveti Toma, Becici
Bar:
Copacabana, Velika Plaza
MCM Beach, Velika Plaza
Safari, Velika Plaza
Safari 2, Velika Plaza
Toni Grill, Velika Plaza
Tropicana, Velika Plaza
Evropa Beach, Velika Plaza
Looking for a beach holiday in Montenegro? Click here to find the best places to stay.
Kotor Beaches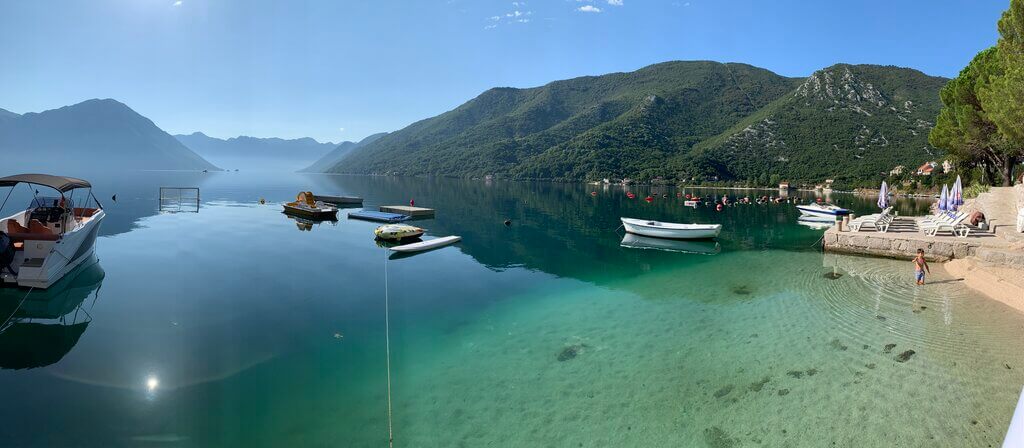 Bay of Kotor beach
Kotor is a stunning place to visit and you'll find beaches in or near Kotor to suit everyone.
If you're just visiting Kotor for a short time eg. on a cruise, you'll find good beaches within walking distance of the old town.
If you're staying longer in Kotor, it's worth exploring some of the wild beaches and beach clubs within 30 minutes of Kotor.
Click here to read my full guide to Kotor beaches to find the perfect beach for your visit!
Herceg Novi Beaches
Herceg Novi beaches have the clearest water in the Bay of Kotor. The closer you are to the entrance of the bay, the clearer the water will be, so Kotor's water is not as clear as Herceg Novi's. 
The beaches here are generally pebbly with little pockets of sand and they're dotted all along the coastline. There are also concrete pontoons where you can hire loungers and umbrellas. 
There's a 7km promenade that runs along the length of the coast from Meljine to Igalo. There's plenty of parking in Igalo, making those beaches some of the most accessible. To get to the others, you'll need to park up on the lower road and then walk down to the seaside. 
Top Beaches in Herceg Novi
Igalo by Tito's Villa: this is a long pebbly stretch of beach but under the water the bottom is sandy. It's very shallow so it's great for small kids - they can wade, dig, see fish and crabs. You can also hire pedal boats and there's a (very old and tired looking!) fair in summer. You should know that this a favourite spot with older Serbian tourists who've been coming here for 50 years. It's not unusual to see topless babas (grandmas) sunbathing here. This is Europe after all!
Savina: Just next to Hotel Perla at the other end of Herceg Novi, there are two small beaches of golden sand and pebbles. These are quiet places where families and seniors enjoy swimming and sunbathing.
Baby Beach: so named because of its popularity with mums and bubs. This little beach is a 5 minute walk north of the marina along the promenade. It's fine sand a pebble, much like Savina.
Peoples Beach Bar: Peoples in Igalo is a beach, bar, restaurant and nightclub. They often have foam parties, beach parties, salsa parties and it's the most popular spot with 20-somethings looking for fun. 
City Beach: Next to the marina, City Beach is a pebble beach with kayaks for hire. There are lots of restaurants along the promenade and a parking lot just above.
Njivice: past Club Hotel Riviera are naturist, meaning clothing optional. There aren't any organised beaches there, so you won't find any amenities, but you will find privacy.
Tivat Beaches
Most of Tivat's beaches are along the stretch north of the town from Seljanovo towards Lepetane, where the Kotor Bay ferry docks. There is a tiny patch of beach in the centre of town, but most of it is concrete pontoon. The good news is you can swim right in the centre of town and the concrete pontoon area is all free to use.
The beaches north of town are pebbly and you'll find loungers, cafes and amenities. The beaches in Donja Lastva are all free to use and you can find half-deserted little spots to park your towel here.
Top Tivat Beaches
Kalardovo: On the road to the Island of Flowers, you'll find Kalardovo. The beach is small pebbles and sand and there's an onsite restaurant. They also have various activities like kayaks, stand up paddling and a big, inflatable slide.
Waikiki: This beach is a upmarket beach in Seljanovo with a nice restaurant, playground and luxe loungers. The beach is very fine pebbles. 
Lustica Peninsula Beaches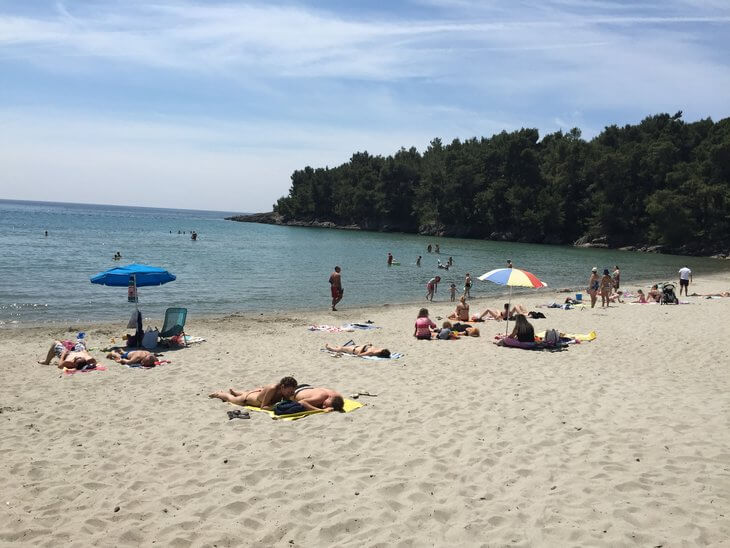 Blue Horizons Beach
Lustica Peninsula is a popular destination for people from Tivat and Kotor in summer. It's only a 15-20 minute drive and has some of the best Montenegro beaches - like Blue Horizons above.
Most beaches are rocky and wild, but there are large sandy beaches that are ideal for families. Lustica is also home to some of Montenegro's trendiest beach bars. And unlike the Budva Riviera, the atmosphere on Lustica's beach bars are more chillout lounge than rave party.
Read More: Lustica Peninsula Beaches
Budva Beaches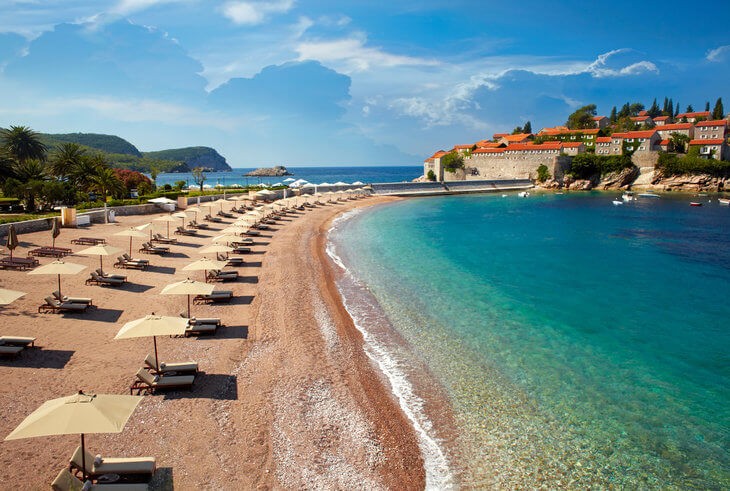 Sveti Stefan beach
The beaches along the Budva Riviera are one of the riviera's biggest draw cards. There are long stretches of fine pebble beaches and some of the most exclusive beaches in Montenegro. 
The riviera is known for its party vibe and you'll certainly find plenty of party beaches, especially close to the old town. But you'll also find little hamlets, perfect for honeymooners; wide spaces, perfect for families and plenty of activities.
Read More: Budva Beaches
Bar Beaches
Bar is a popular tourist resort for locals from Podgorica who want to spend a day on the beach, but it's not popular with international tourists because there aren't a lot of attractions here. This makes both Bar and Ulcinj somewhat undiscovered destinations that more intrepid travellers like to explore. They're also good for day trips.
Top Bar Beaches
Town Beach: Bar's central beach is in front of the Hotel Princess and King Nikola's Court. The beach is pebbly and it's popular with town residents. It's not any idyllic spot though because of the busy port that just 100m away.
Sutomore: Sutomore is the most popular beach around Bar. It's a large, pebbly beach that's full of loungers and beach bars playing music. 
Ulcinj Beaches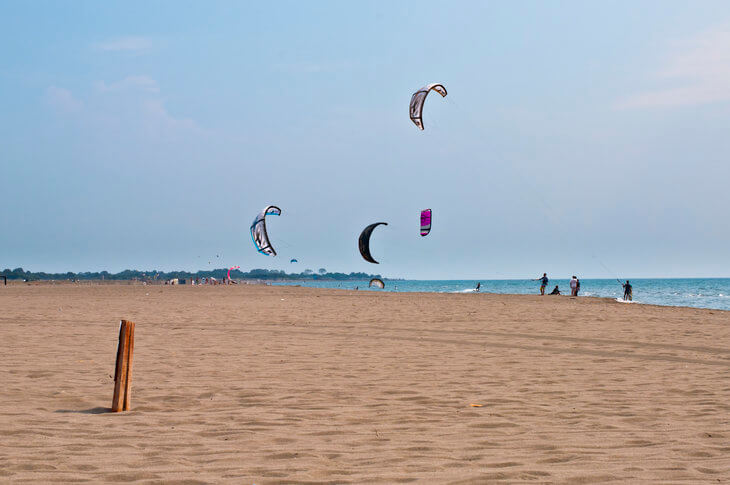 Velika Plaza in Ulcinj
Ulcinj is a dream location for sandy beach lovers. Ulcinj's Velika Plaza is a 13km stretch of sandy beach that's divided into separate leased beaches. Each beach has it's own restaurant and facilities like kite surfing, kayaks and peddleboats for hire. 
There's also a smaller beach next to the old town called Mala Plaza where you can grab a lounger and umbrella.
Ulcinj is off the radar for the average tourist to Montenegro, so it's more of an undiscovered destination. It's popular with intrepid travellers, 20-somethings looking for kitesurfing and beach parties and those looking for quieter summer destinations.
Read More: Velika Plaza
Read More: Mala Plaza
Skadar Lake
Montenegro beaches aren't just restricted to the coast though. You might be surprised to learn that Lake Skadar's waters are around the same temperature as the Adriatic Sea in summer, making it a great place to swim. 
Murici Beach
If you're looking for more of a quiet getaway than most Montenegro beaches offer, try Murici Beach. The little beach on the shore of the lake is an off-the-beaten track escape that most people don't make it to. You'll need a car to get there, but it's well worth the trip.
Read More: Murici Beach
Read More: Lake Skadar
---
More Things to Do in Montenegro...
Book Your Trip With My Recommended Providers