Kotor Open Tour: Kotor's Hop on Hop Off Bus Tour
Only got a day in Kotor? See the highlights with Kotor Open Tour, Kotor's hop-on hop-off bus tour.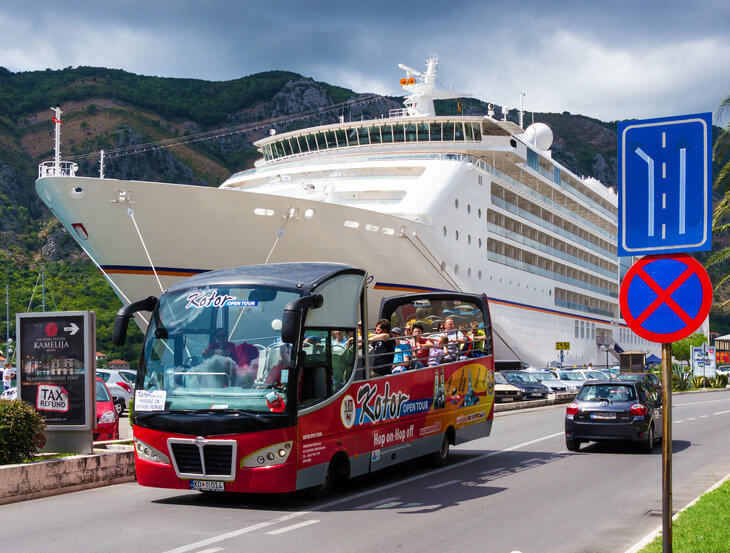 Image: Deposit photos
I loved doing this tour. It's a great way to see the highlights of the bay and if you're only going to be in Kotor for a day, this is definitely the way to get the most out of your day. 

Here are some of the reasons I'm such a fan of Kotor Open Tour:
It's a good option for people who only have a short stopover in Kotor and want to see the highlights around Kotor. It's perfect for cruise ship guests.

Riding around in the open top bus, your experience of the bay is more intimate and vivid that if you were looking at from behind the windows of a tour bus. You feel the sun on your face, the wind in your hair and smell the sea air.
There's an audio guide accompanying the ride in English, German, Italian, French, Spanish, Russian and Montenegrin. The guide tells you about the local history and sights of both the bay and Montenegro in general.
At €20 per person, it's the best value tour option in Kotor. Group walking tours of Kotor start from €18 per person and a Kotor and Perast excursion sold on cruise ships is priced at around €59 per person.
Because you can hop on and hop off wherever you like, you can see what you want to see. You can choose to see the attractions or spend some time on the beach!
The bus guides are some of the friendliest people you'll meet and you can ask them anything you want about Montenegro. 
Looking for tours and excursions from Kotor? Find a full list of activities you can do from Kotor here.
---
Kotor Open Tour Bus Route
The bus tour takes you from Kotor to Risan and back again and you can hop on and hop off at any of the stops along the way. The stops are:

Risan
This is the oldest settlement in the Bay of Kotor and used to be the seat of the Illyrian ruler Teuta until it was invaded by the Romans.
The bus stops here and gives you time to see the Roman mosaics from the second century B.C, which have been preserved from an ancient Roman palace. One of the mosaics is of the Roman god Hypnos, the god of sleep and it's the only mosaic representation of this god ever found. 
As you walk around the site, you'll see the intricate mosaic designs, pieces of marble pillars, a display about the site and there's a short talk about the site.
Your entrance fee for the mosaics is included with your bus ticket.

Local's Tip: Bring a jacket or scarf because it can get chilly in open-top buses when you're not in the sun. 
Perast
Perast is another UNESCO Heritage protected town and is perhaps the prettiest town in the whole bay. This is where the wealthy rulers an seafarers used to build their palaces and the town has been painstakingly preserved.  
From here you can take a boat over to Our Lady of the Rocks church island (€3 per person) and visit the church and museum (€1 per person).  
You can also walk the town, visit the churches, try one of the excellent waterfront restaurants and visit the town museum. Your Kotor Open Tour ticket includes entrance to Perast museum.
Bajova Kula
If the weather's hot, which it's likely to be in summer, Bajova Kula is great place to cool off and enjoy a break from sightseeing. 
Bajova Kula (Bajo's Tower) is a tower built by you guessed it, a guy called Bajo. Bajo Pivljanin was a local hero who built the tower in 1670 as a place to rest when he was taking a break from being a hero in the non-stop battles that were waged in this area.
Today it's still a rest stop and there's a beach where you can hire loungers, swim and get a bite at the restaurant. 
Last time we were here there were dolphins jumping just 100m off shore!
Local's Tip: For the best sea views (and photos!), sit on the left side of the bus when departing Kotor and on the right side when departing Risan. 
Kotor
The tour finishes back in Kotor where you can join one of the walking tours that are included with your bus ticket. There are guided walking tours of the old town starting at the main gate at 12pm, 1pm, 2pm, 3pm and 4pm. 
---
Timetable
Kotor Open Tour runs whenever there's a cruise ship in Kotor, which is every day between 2nd April and December.
Ships usually arrive very early in the morning and the first bus departure of the day is at 9am. They depart every 30 minutes until 5pm.
In case of heavy rain, the don't run. In the summer months, rain is very rare and if it does rain it usually doesn't last more than an hour. 
---
Tickets
The bus ticket is €20  for adults and €10 for children up to 14 years old and you can use the buses as much as you like in one day. Your ticket includes:
Bus tour with stops at Risan, Perast, Bajova Kula and Kotor.

An audio guide which is available in English, German, Italian, French, Spanish, Russian and Montenegrin.

Entrance to the Roman Mosaics in Risan.

Entrance to Perast town museum.

A 45 minute walking tour of Kotor.

Discounts at many shops and restaurants in Kotor and Perast.
---
Reserve Your Seat
The buses are very full and when there's more than one cruise ship in port, they often have to turn people away.
Because I was so impressed with the tour and didn't want my readers to miss out, I arranged to make reservations for the tour on your behalf. This is a Montenegro Pulse exclusive and the only way you can make a booking in advance. 
If you'd like to reserve your seat and have priority boarding, you can just fill in the form below and I'll make a reservation for you.
Some important things to note:
I can make your reservation no less than 48 hours in advance. If you're arriving within the next 48 hours, you can buy your tickets on arrival. 
You don't have to pay in advance, you pay for your tickets on arrival.
These are firm bookings, so please only fill in the form if you want to do the tour. 
---
Buy Tickets on the Day
You can buy tickets for Kotor Open Tour from the sellers in red t-shirts that you'll see around the entrance to Kotor old town.

---
Special Needs
There are two wheelchair-accessible buses. One departs 1 1/2 hours after the first departure of the day. The second departs 2 1/2 hours after the first departure of the day. Because the buses go round in a circular route, the wheelchair-accessible buses will depart Kotor several times throughout the day.
The best way to get on one is to find out when the next one will be leaving when you arrive in Kotor. Ask one of the ticket sellers and they'll be able to find out for you. 
---
Kotor Open Tours Special Charters
The buses are available for charter on request. If you're interested in hiring a bus for a special event, please fill in the booking form above and we'll forward your enquiry.
---
Liked this Article? Pin It!
---
Related Articles
---
Home

>
Things To Do in Montenegro
> Kotor Open Tour
---
Help us help the stray animals of Montenegro
Book your accommodation anywhere in the world through any of the search boxes on our site and we'll make a donation towards sterilising stray animals in Montenegro. 
It costs you nothing, and you get the biggest selection and lowest prices guaranteed. It's a win-win!