Top Montenegro Attractions to Visit on Your Trip
(This post may contain affiliate links. Find more info in my disclaimer.)
There are lots of Montenegro attractions to choose from on your visit to this little jewel of a country.
There's something for everyone and, thanks to Montenegro's compact size, you can easily get around them all in less than a week.
If you love nature, you'll love the national parks.
If you love history and architecture the old towns and museums will be right up your alley.
And if you love keep active, you'll want to check out some of the activity tours that visit these attractions.
Let's explore Montenegro's top attractions...  

---
Kotor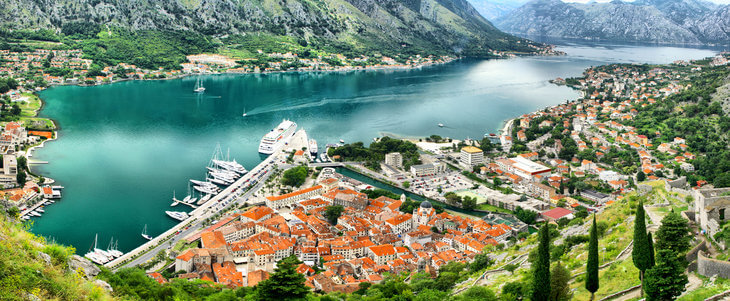 Idyllic Kotor in the Bay of Kotor. Image: Deposit Photos
Kotor is one of Montenegro's most popular attractions. If you see just one thing in Montenegro, it has to be Kotor, a UNESCO world heritage site.  
The Venetian fortress town is walled and dates back to 168 BC. It's a fascinating rabbit-warren of alleyways, churches, palaces, souvenir shops and eateries.
Wander the town's ancient streets, snap photos of the historic buildings and sip espresso in one of the town squares. You can also explore the maritime museum, visit the churches and hike San Giovanni Fortress to get get breath-taking views of Kotor Bay.
Read More: Kotor

---
The Blue Cave
The Blue Cave is another of the most popular Montenegro attractions. It's known for its iridescent blue that reflects from the sea bottom up throughout the cave. You can swim and snorkel in the cave.
The only way to get there is by sea. Along the way you'll get views of Lustica Peninsula which is quite different to the rest of the Montenegro Coast. It's wild and mostly uninhabited.
There are a few ways you can visit the Blue Cave. The most popular is on a boat tour like the 3-hour speed boat tour from Kotor, an all day boat tour from Kotor.
If you like something more active, you can also kayak to the Blue Cave or swim in it on one of my favourite tours, a coasteering tour.
Read More: The Blue Cave

---
Our Lady of the Rocks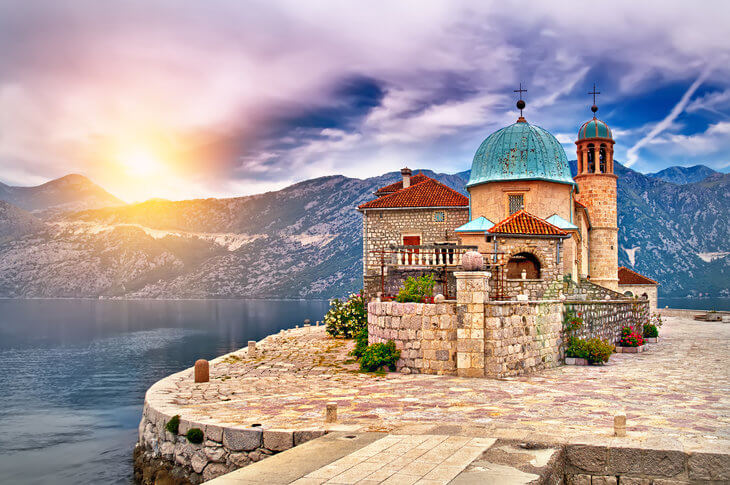 Image: Deposit photos
Our Lady of the Rocks is another of the must-see Montenegro attractions. The island church is one of two islands that lie in front of the town of Perast. Our Lady of the Rocks is a man-made island with a beautiful blue-domed Catholic church. The other island is a natural island that's home to an Orthodox Christian monastery.
Of the two, only Our Lady of the Rocks is open to the public. Part of the church is a museum and for €1 per person you can get a guided tour through both the church and museum.
Like the Blue Cave, you can only get to the island by boat. You can catch a local boat across from Perast for around five euros per person. But the best way to visit is by taking a 2-hour speed boat tour, 3-hour speed boat tour (which also includes the Blue Cave) or an all-day boat tour from Kotor. This way you get to experience the beautiful scenery throughout the Bay of Kotor.
Read More: Our Lady of the Rocks

---
Budva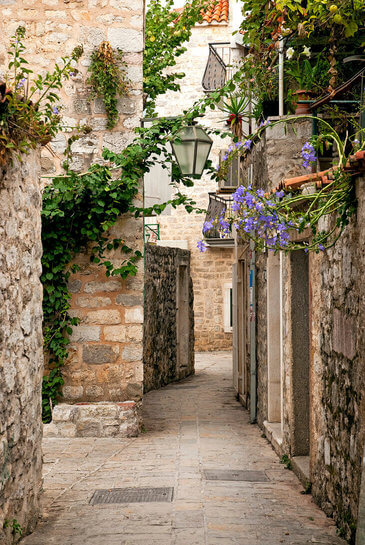 Budva old town. Image: Deposit Photos
Budva is Montenegro's most popular tourist resort. it's one of the oldest settlements on the Adriatic coast and its gorgeous beaches make it the ideal place for a beach holiday in Montenegro.
Inside Budva's picturesque old town, you can visit the citadel and the town museum, which holds a lot of artifacts from the town's history. While you're there don't miss the interesting flea market of odd Yugoslav collectables that's close to the museum.
While in Budva you can soak up the sun on one of Budva's beaches, get incredible views paragliding over the coast and party til dawn in one of Europe's biggest night clubs.
Read More: Budva
---
Sveti Stefan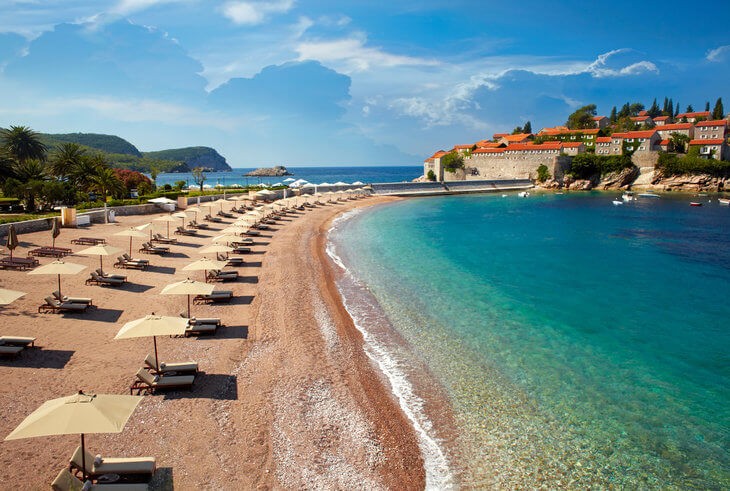 Sveti Stefan's exclusive beach and islet. Image: Deposit Photos
Sveti Stefan is one of the most iconic attractions in Montenegro. The tiny islet and 15th century town are connected to the mainland by a small land bridge. And they're surrounded by pink pebble beaches and pine forest.
It's no wonder the former royal family chose to spend their summers here!
The islet is now part of the exclusive Aman Sveti Stefan resort and access to the island is limited. But Sveti Stefan is a still a great place to visit. You can walk through the forest, swim on the public beach (one of my favourite things to do), enjoy the restaurants and wake up to this unique view at one of the hotels in Sveti Stefan.
Who knows, you might even bump into Novak Djokovic while you're there!
Read More: Sveti Stefan
---
Ostrog Monastery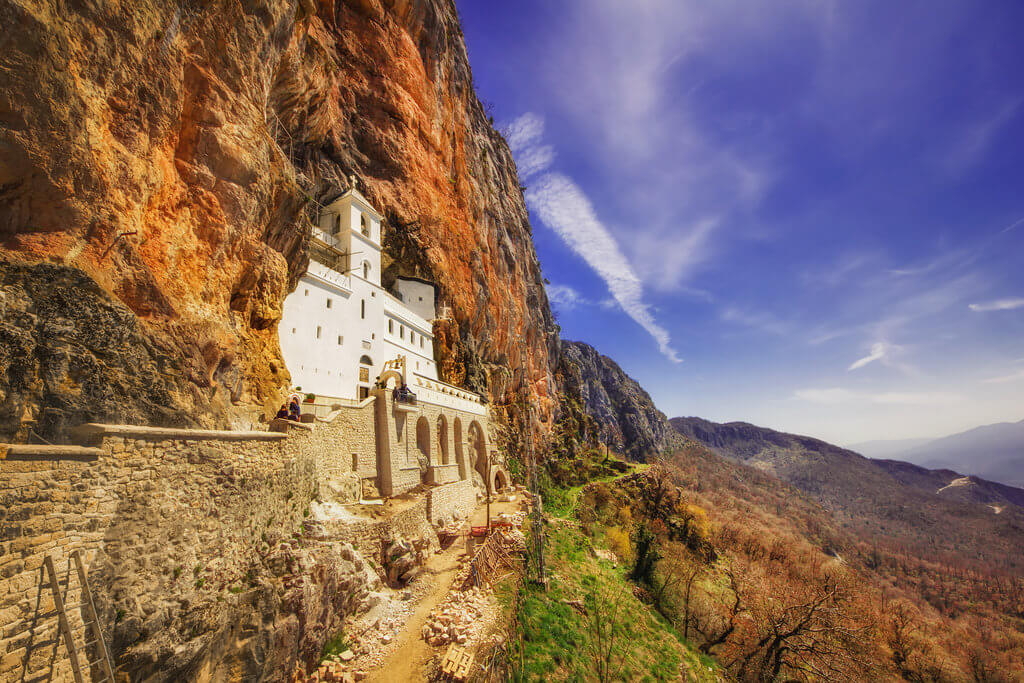 Ostrog Monastery. Image: Deposit Photos
Ostrog Montenegro a unique Orthodox Christian monastery built in the 17th century. The monastery is built into the side of a sheer cliff face and is is one of the most beautiful and revered holy sites in the Balkans. It's a major attraction, with over a million visitors per year. 
Read More: Ostrog Monastery 

---
Cetinje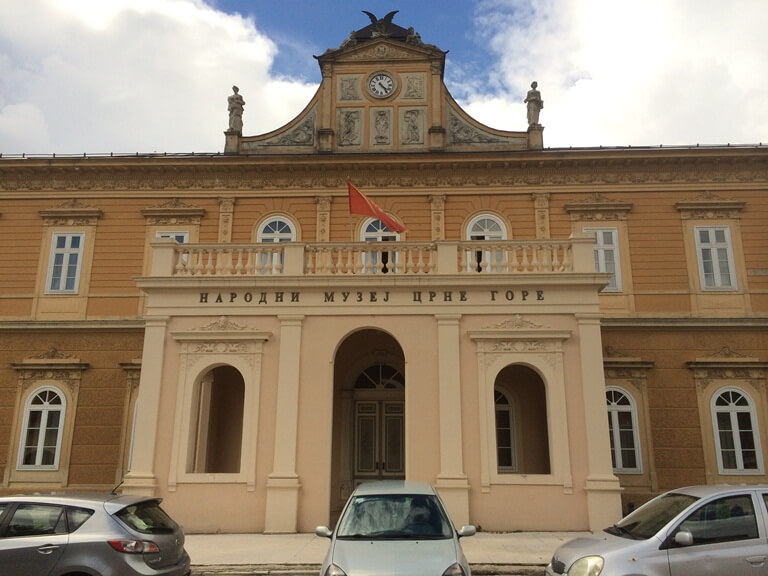 Montenegro National Museum
Cetinje was the capital of Montenegro before it was moved to Podgorica. When Montenegro had a royal family, Cetinje was its base and although small, the town had lots of embassies and beautiful buildings. 
The town is very easy to get around on foot and has several fascinating Montenegro attractions:
The National Museum – a well-curated display of Montenegrin history that leads you chronologically from prehistoric times through to recent history
King Nikola's Court – a superbly preserved palace that's complete with original furniture and guided tours
The Blue Palace – the official residence of the President of Montenegro
Cetinje Monastery – dating back to 1701 and home to John the Baptist's right hand
The Bilijarda - named for the billiards table that was brought by donkey up the Ladder of Kotor. It was the first billiards table in Montenegro and belonged to Petar Petrović-Njegoš, Montenegro's beloved bishop prince whose mausoleum is another popular attraction in Lovćen National Park.
Read More: Cetinje

---
Lake Skadar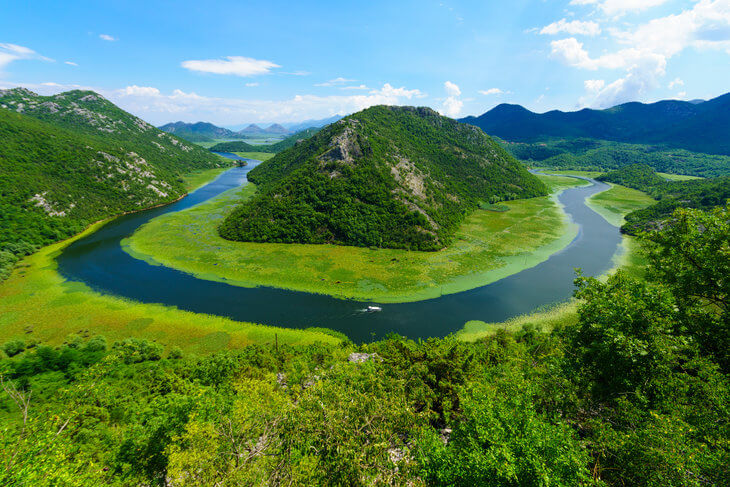 Pavlova Strana, Lake Skadar National Park. Image: Deposit Photos
Lake Skadar is the largest lake in the Balkans and it's an important wetland for over 280 bird species, including the endangered Dalmatian Pelican. It's one of my favourite Montenegro attractions, especially in spring when the lake is teeming with life.
The lake is stunningly beautiful and there's plenty to see and do there. You can take boat cruises on the lake, go bird-watching, kayaking, biking, hiking and on wine and gastronomy tours. There's also a excellent visitor's centre with an interesting display about Montenegro's national parks and cultural heritage.
Read More: Lake Skadar
Read More: Things to do at Lake Skadar
---
Lovćen National Park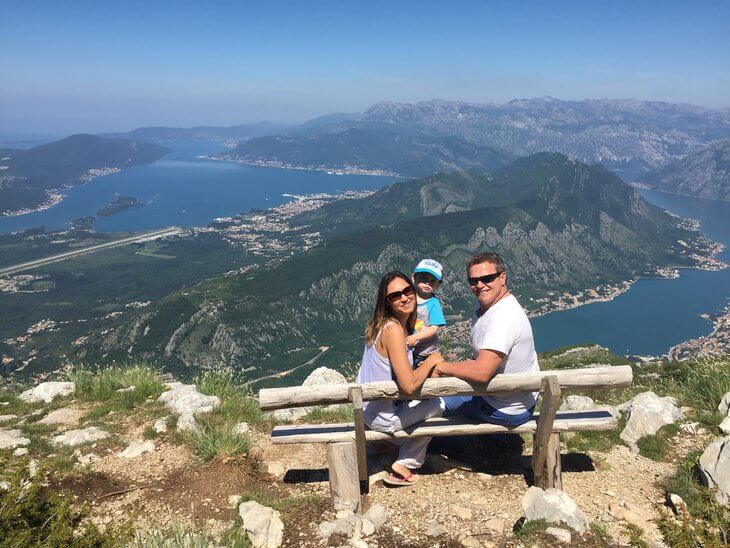 View of Kotor Bay from Lovćen National Park
If you've seen stunning pictures of views over Kotor and looking down the length of the Bay of Kotor, they were probably taken from the road to Lovćen National Park.
From Kotor there's a serpentine road with 25 hairpin turns that leads you up towards Njeguši village and Mount Lovćen. This is where you'll get these incredible views.
You can stop in Njeguši village, the home of Montenegrin prosciutto, to try a little prosciutto, cheese, wine and rakija. You'll find signs along the road selling domaći (homemade) produce and you can visit Montenegro's oldest restaurant, Kafana Kod Pera na Bukoviću. You can also visit the birthplace of Petar Petrović Njegoš, Montenegro's revered bishop prince and poet.
Once you get to Lovćen National Park you can visit Petar Petrović Njegoš' mausoleum and have a picnic or barbecue in the mountain air at Ivanova Korita. You can even try your skills at the Adventure Park, a set of high-ropes courses that's suitable for everyone from 5 years old. To finish, you can either return to the coast via Cetinje and Budva or back down the serpentine road.
Read More: Lovćen National Park
---
Perast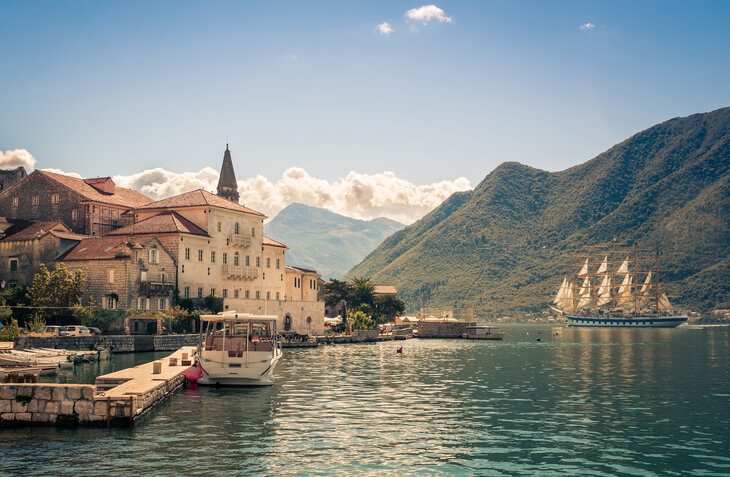 Perast. Image: Deposit Photos
Next to Kotor and Our Lady of the Rocks, Perast is one of the top Montenegro attractions in the Bay of Kotor. The pretty, stone town is right in the centre of the bay and is a must-see.
Perast used to be the seat of the rulers of the Bay of Kotor. It's seafront is wall-to-wall stone palaces that show the glory of a bygone era. All the buildings in the town are made of the original stone and this preservation has given the town UNESCO Heritage protection.
The main attractions in Perast are the churches, museum and twin island churches that lie just offshore. One of those is Our Lady of the Rocks and the other is St George monastery, which is off-limits to visitors.
Read More: Perast
---
Tara Canyon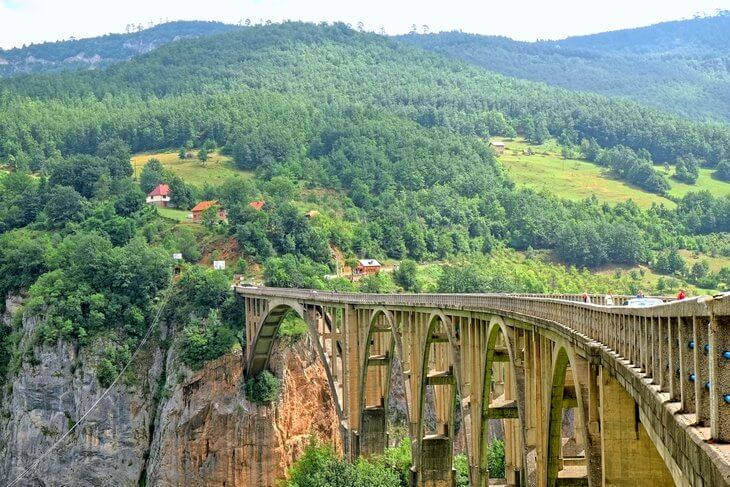 Đurđevića Tara Bridge. Image: Deposit Photos
No list of Montenegro attractions would be complete without Tara Canyon. It's the second deepest canyon in the world, next to the Grand Canyon, and the deepest in Europe.
The best way to see this natural marvel is from a boat as you raft the rapids of the Tara river. If you can't go rafting, you can see it from the Đurđevića Tara Bridge, between popular towns Zabljak and Kolašin. From there you'll get stunning views of the canyon and you can even zip line across it.
---
Durmitor National Park
The Black Lake, Durmitor National Park. Image: Deposit Photos
Durmitor National Park lies in the north west of Montenegro. It's only around two hours' drive from the coast and it's home of to some of Montenegro's most stunning and dramatic landscapes. 
Durmitor is a popular destination for hiking (grab a copy of the Mountains of Montenegro if you're interested in hiking in Montenegro) and the Tara Canyon runs through the national park. 
Žabljak is a mountain town in the national park that's great for a night or two while you explore the area. You can go rafting, walk the scenic trail around the Black Lake, see the stecci (medieval tombstones) by Ribljsko Jezero and try some regional specialties like kačamak, cheeses and lamb cooked in milk. Drive the Durmitor Ring to see some of the area's beautiful scenery, particularly through the Sedlo Pass.
You'll find lots of good accommodation options in Žabljak, including hotels, apartments and traditional-style bungalows.
Read More: Durmitor National Park
Read More: Žabljak
---
Biogradska Gora National Park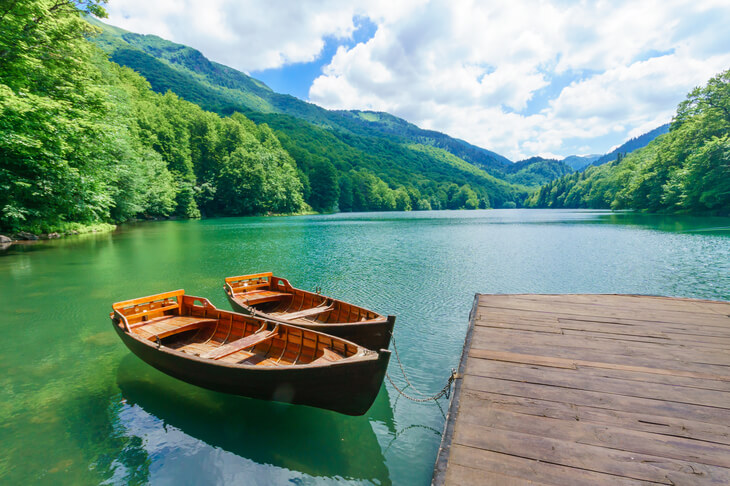 Lake Biograd, Biodgradska Gora National Park. Image: Deposit Photos
Biogradska Gora National Park is the smallest of Montenegro's five national parks, but it's well worth putting on your list of Montenegro attractions to visit. Biogradska Gora is one of only three virgin forests in Europe and the tree here are up to 400 years old. 
The main attraction in the park is Lake Biograd. You can take a walk around the lake or row around it. You'll also find lots of walking and biking trails in the park. The Bjelasica mountain range is a great area for more serious hiking. It's also where you can experience the katuns, the traditional summer pastures with their shepherds' huts, an integral part of traditional Montenegrin culture. 
Kolašin lies a short drive from Biogradska Gora and has good-quality accommodation in all price ranges, tours and some excellent restaurants where you can try traditional fare from this region. 
Read More: Biogradska Gora National Park
Read More: Kolašin
Local's Tip: Be sure to stop at Morača Monastery and the Montenegro Animal Sanctuary if you're driving between Podgorica and Biogradska Gora National Park.
More Articles like Montenegro Attractions
Home
› Montenegro Attractions
help the stray animals of Montenegro
Book your accommodation anywhere in the world through any of the search boxes on our site and we'll make a donation towards sterilising stray animals in Montenegro. 
It costs you nothing, and you get the biggest selection and lowest prices guaranteed. It's a win-win!