The Top 14 Montenegro Attractions You Must See In Montenegro
(This post may contain affiliate links. Find more info in my disclaimer.)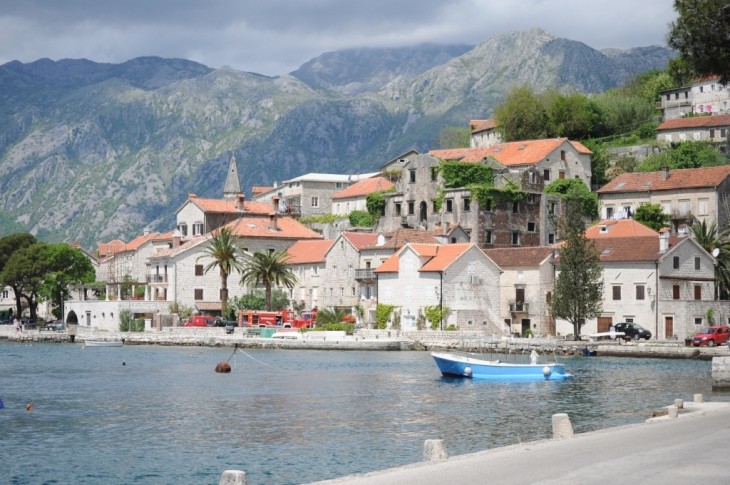 Perast is one of the top Montenegro attractions in the Bay of Kotor
There are lots of great attractions to choose from on your trip to Montenegro. But which ones are the must-sees?
The good news is there's something for everyone. If you love nature, you'll love Lake Skadar. If you love history and architecture, the old towns and museums will be right up your alley. And if you love keep active, you'll want to check out canyoning, stand up paddleboarding, rafting or kayaking.
Here's my list of the top Montenegro attractions.  

---
1. Kotor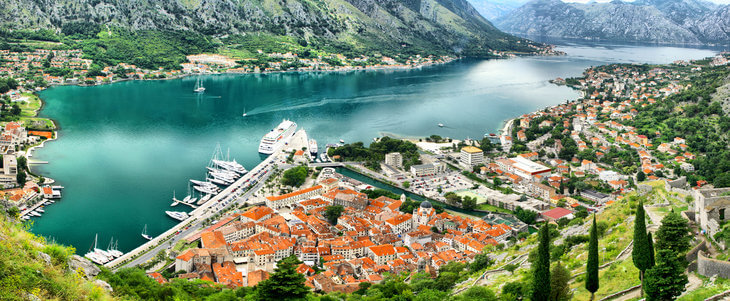 Image: Deposit photos
Kotor is one of Montenegro's most popular attractions. If you see just one thing in Montenegro, it has to be Kotor, a UNESCO world heritage site.  
The walled fortress town is Ancient Roman and dates back to 168 BC. It's a fascinating rabbit-warren of alleyways, churches, palaces, souvenir shops and eateries.
One of the most popular things to do here is walk the old fortress walls up the mountain behind the town. From there you get breath-taking views of the town and the Bay of Kotor.
Top Kotor Attractions:
Maritime museum
St Tryphon's Cathedral
Sveti Nikola Orthodox Church
San Giovanni Fortress
Read More: Kotor
Read More: Tours and Excursions from Kotor
---
2. Budva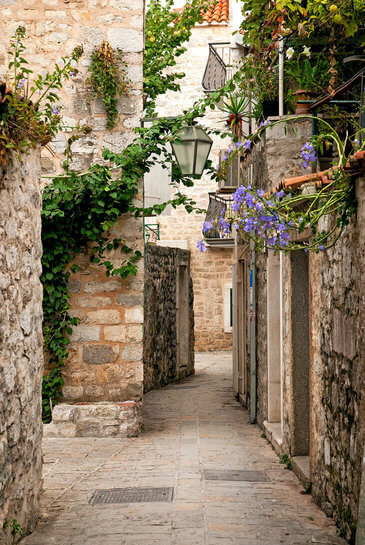 Image: Deposit photos
Budva is Montenegro's most popular tourist resort. The main attraction is Budva's old town which is one of the oldest settlements on the Adriatic coast.
Inside the old town, you can visit the citadel and the town museum, which holds a lot of artifacts from the town's history.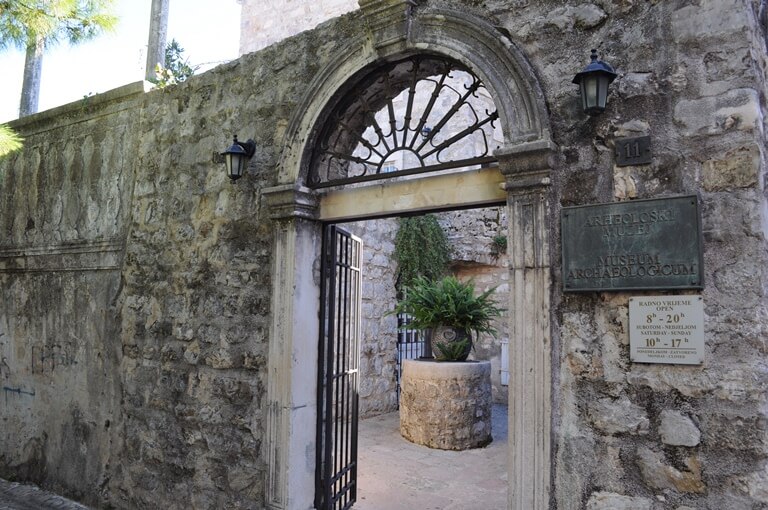 Budva Museum
There's also an interesting market of odd collectables like Yugoslav army helmets and old coins close to the museum. The rest of the old town is made up of shops and restaurants.
Just outside the old town you can hit the beach in front of the town or take the path around the head to Mogren beach.
Read More: Budva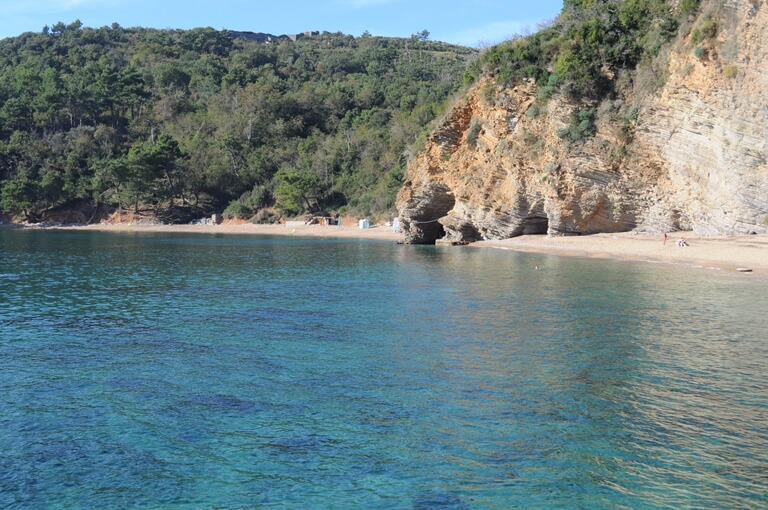 Mogren Beach, just a 5 minute walk from Budva old town brings you to this oasis
---
3. Sveti Stefan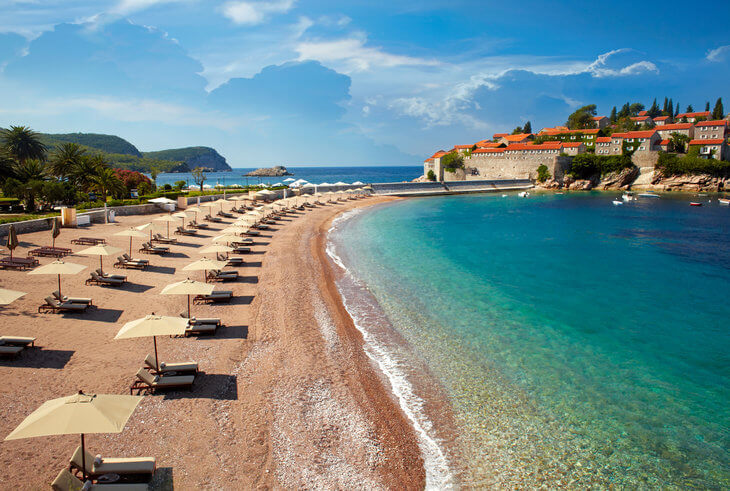 Image: Deposit photos
Sveti Stefan is a tiny islet and a former town connected to the mainland by a small land bridge. It was a small town but was turned into a hotel and it rapidly became a favourite spot for Hollywood stars and royalty. It fell into disrepair but it's been completely renovated and it's become popular again with the likes of Maria Sharapova and Novak Djokovic.
It's undeniably a beautiful spot and a must-see Montenegro attraction. The most popular place to photograph it from is a lookout point on the main road above. Unfortunately you can't visit the island because it's a hotel belonging to the Aman Resorts chain.  Nights there start at around €800 per night.
Read more about Aman Sveti Stefan >
Don't worry if you haven't got the budget to stay on the island, you can still visit the area and stay in other accommodation there. And although the Aman hotel is lovely, the bonus of staying off island is the stunning view you'll get of the island you'll get.
Read More: Sveti Stefan
---
4. Our lady of the Rocks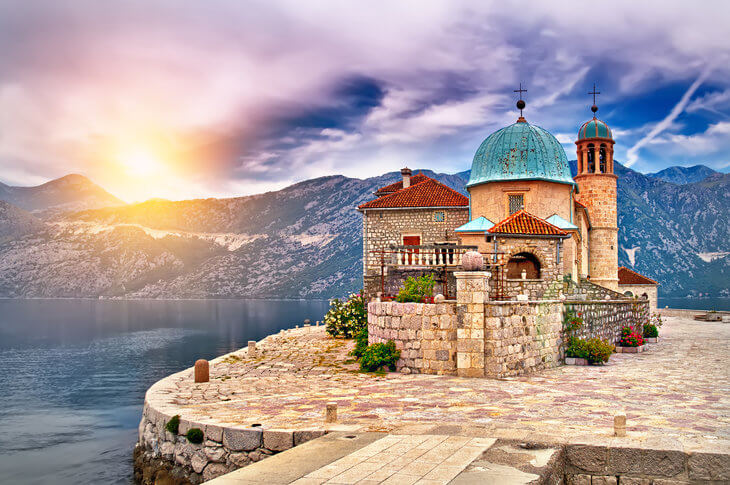 Image: Deposit photos
Our Lady of the Rocks or Gospa Od Skrpjela in Montenegrin (I can never manage to pronounce that properly even after all these years!) is another of the must-see Montenegro attractions.
It's an island church with a rich history just off the town of Perast. Part of the church is a museum and for €1 per person you can get a guided tour through both.
My favourite way to get there is by boat from Kotor so that I can enjoy the beautiful Bay of Kotor scenery, but you can also catch a boat from the town of Perast.
Read More: Our Lady of the Rocks

---
5. Ostrog Monastery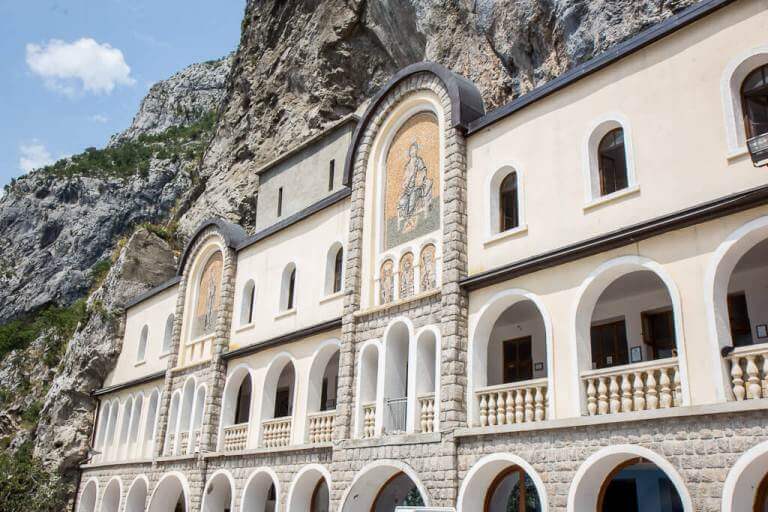 Ostrog Monastery
Ostrog is one of the holiest sites in the Balkans. It's a unique Orthodox Christian monastery built into the side of a sheer cliff face and a major tourist attraction in Montenegro.
Read More: Ostrog Monastery 

---
6. Cetinje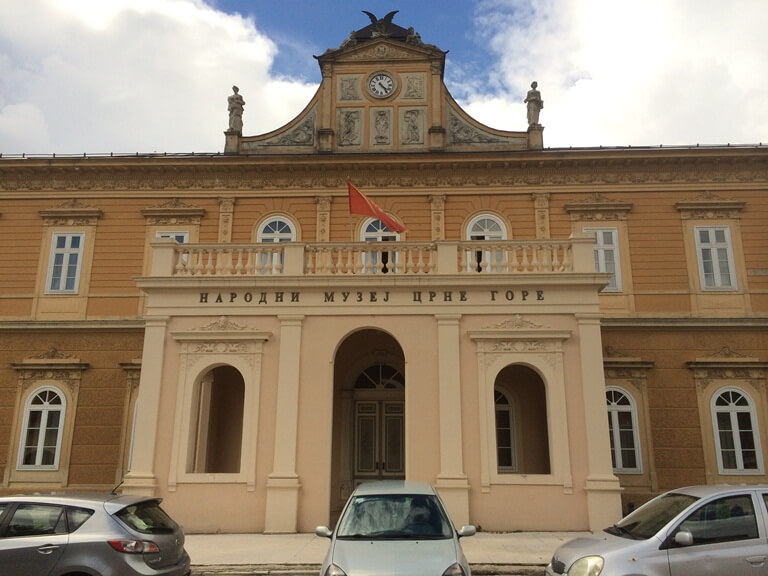 Montenegro National Museum
Cetinje is the former capital of Montenegro. It's a little town but has several fascinating Montenegro attractions:
The National Museum – a well-curated display of Montenegrin history that leads you chronologically from prehistoric times through to recent history.
King Nikola's Court – a superbly preserved palace that's complete with original furniture and guided tours.
The Blue Palace – the official residence of the President of Montenegro.
Cetinje Monastery – dating back to 1701 and home to John the Baptist's right hand.
Read More: Cetinje

---
7. Lake Skadar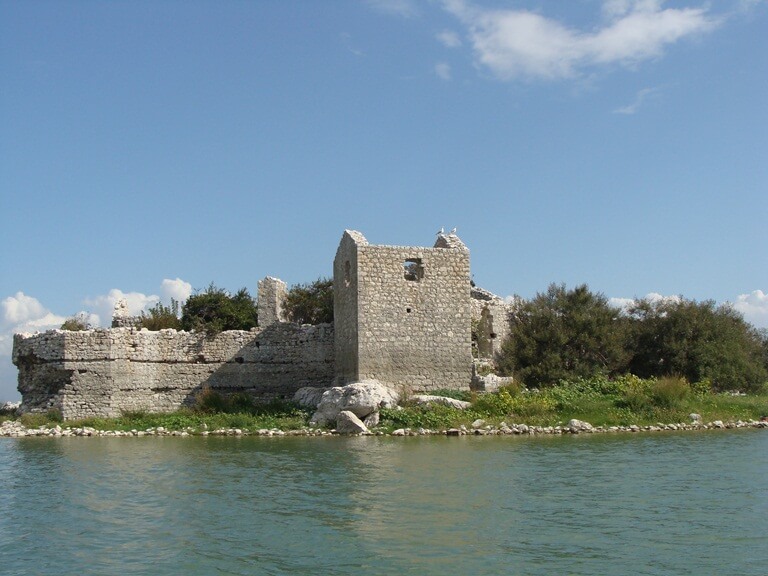 Grmozur Island at Lake Skadar
Lake Skadar is the largest lake in the Balkans and it's an important wetland for over 280 bird species, including the endangered Dalmatian Pelican.
It's one of my favourite places to take our visiting family and friends. It's stunningly beautiful and there's plenty to see and do there. You can take boat cruises on the lake, go bird-watching, kayaking, biking, hiking and on wine and gastronomy tours. There's also a excellent visitor's centre with an interesting display about Montenegro's national parks and cultural heritage.
Read More: Lake Skadar
Read More: Things to do at Lake Skadar
---
8. Lovcen national Park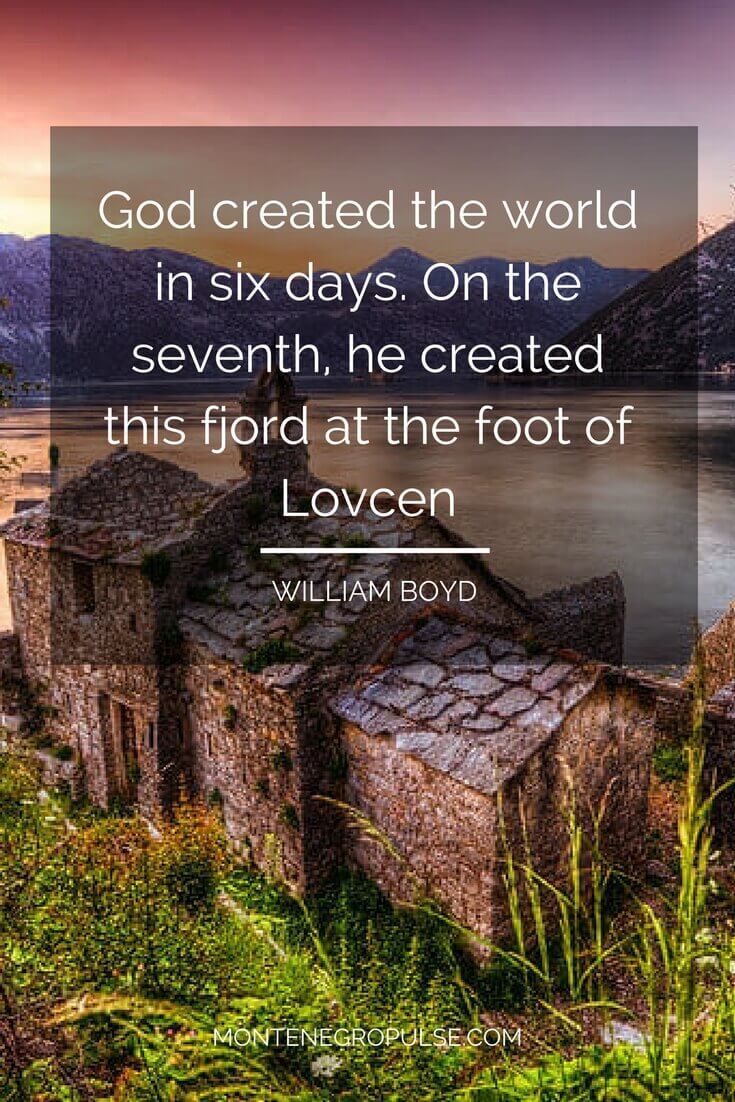 The view of Kotor and the Bay of Kotor from when you drive to Lovcen
If you've seen stunning pictures of views over Kotor and looking down the length of the Bay of Kotor, they were most certainly taken from the road to Lovcen National Park.
From Kotor there's a serpentine road with 25 hairpin turns that leads you up towards Njegusi and Mount Lovcen.
This makes for a great day trip. You can head up here, stop at Njegusi, the home of Montenegrin prosciutto and continue on to Lovcen National Park. At the top you can visit the mausoleum of Montenegro's favourite son – Petar Petrovic Njegos - and enjoy the mountain air at Ivanova Korita. You can even try your skills at Adventure Park, a set of high-ropes courses that's suitable for everyone from 5 years old. To finish, you can either return to the coast via Cetinje or the same route you came by.
Read More: Lovcen National Park
---
9. The Blue Cave
The Blue Cave is another of the most popular Montenegro attractions. The only way to get there is by boat or kayak. Along the way you'll get views of Lustica Peninsula which is quite different to the rest of the Montenegro Coast. It's wild and mostly uninhabited.
As a bonus, most tours will stop at Mamula island, an Austro-Hungarian fortress island that was used as a prison in WWII. It's due to be turned into a five star resort so see it while you can!
Read More: The Blue Cave

---
10. Porto Montenegro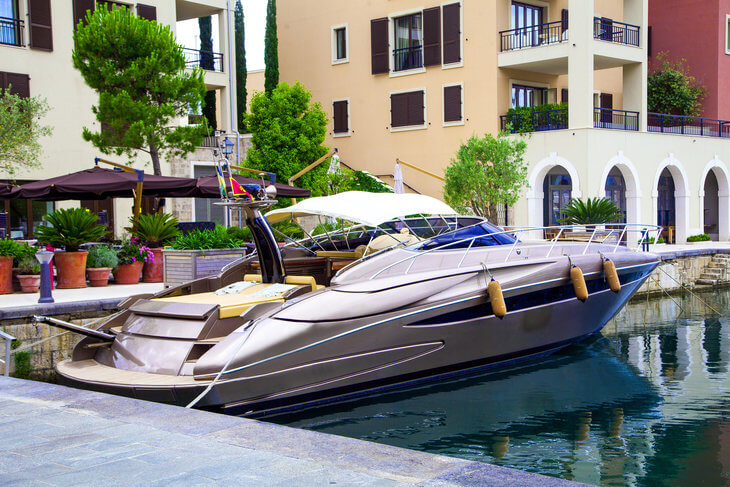 Image: Deposit photos
Porto Montenegro is a super yacht marina in Tivat. It's a gorgeous spot to take an evening stroll, grab a meal or just have a cocktail. You can walk along Jetty One and admire the 'floating gin palaces' that are moored there.  You can also shop for designer clothing in the village and enjoy a cocktail overlooking the boats.
There are several restaurants in the village:
One – modern Mediterranean cuisine.
Al Posto Giusto – pizza, pasta, breakfasts and cakes.
Mitsu – Asian fusion. This one is expensive. Our friends were astounded to pay €120 recently for two meals, two Cokes and two glasses of wine.
The Dining Room – 5 star dining in the Regent Hotel. Friends say it's a bit overpriced for what it is, but the location is beautiful.
The Club House – a pub where you can grab a beer and watch sports on the big screen.
Moritz Eis - ice cream.
Byblos – Lebanese cuisine. It's just opened, but our friends were very happy with this restaurant. 
---
11. Perast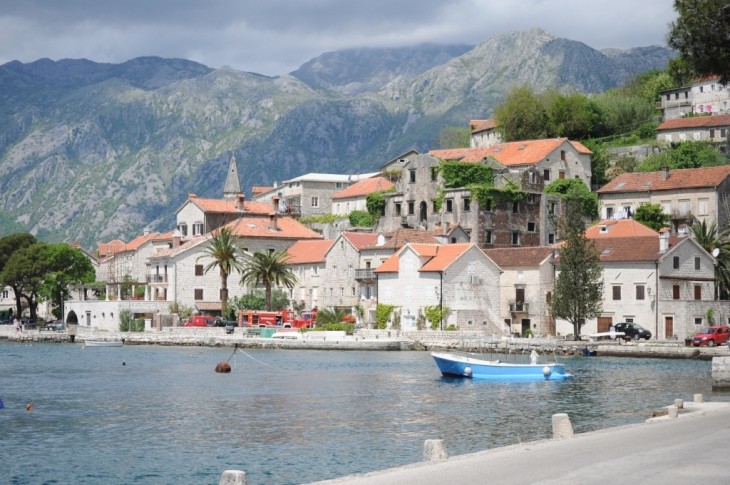 Perast's is the ultimate Montenegrin seaside town
Next to Kotor, Perast is one of the major Montenegro attractions in the Bay of Kotor. The pretty, stone town is right in the centre of the bay and is a must-see.
Perast used to be the seat of the rulers of the Bay of Kotor. It's seafront is wall-to-wall stone palaces that show the glory of a bygone era. All the buildings in the town are made of the original stone and this preservation has given the town UNESCO Heritage protection.
The main attractions in Perast are the churches, the museum and twin island churches that lie just offshore. One of those is Our Lady of the Rocks and the other St George monastery.
Read More: Perast
---
12. Tara Canyon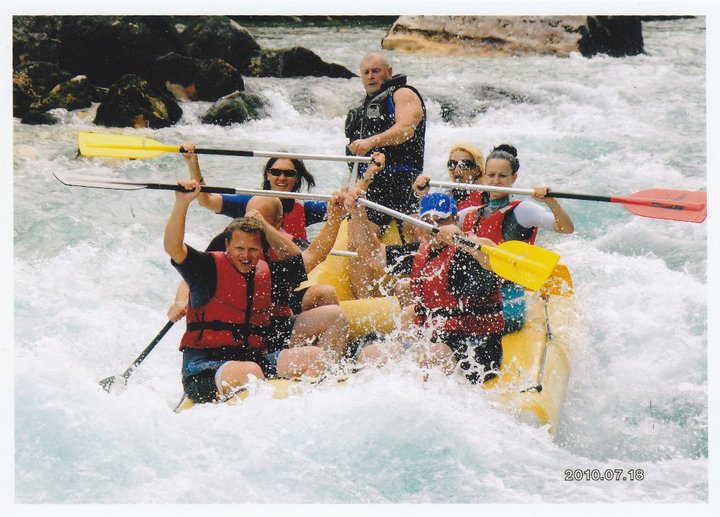 Rafting in Tara Canyon
No list of Montenegro attractions would be complete without Tara Canyon. Next to the Grand Canyon, it's the second deepest canyon in the world and the deepest in Europe. The best way to see this natural marvel is from a boat as you raft the rapids of the Tara river. If that's not your thing, you can see it from the Tara Djurdjevica bridge near Zabljak.
Read More: Rafting in Montenegro

---
13. nevidio Canyon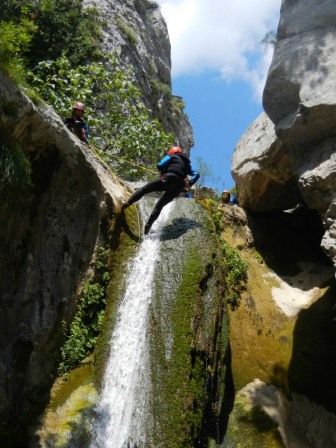 Montenegro is fast gaining a reputation as one of the best places in Europe for outdoor activities. Rafting has been a popular activity for a long time, but canyoning in Nevidio Canyon takes the thrills to the next level. You can take a thrilling canyoning tour and swim, climb and jump your way through the canyon.
Read More: Canyoning in Montenegro
---
Other Montenegro Attractions:
---
So this is my list of the Montenegro attractions to see on your trip to Montenegro. Which ones will you choose?
---
Home

>
Things To Do in Montenegro
> Top Montenegro Attractions
---
help the stray animals of Montenegro
Book your accommodation anywhere in the world through any of the search boxes on our site and we'll make a donation towards sterilising stray animals in Montenegro. 
It costs you nothing, and you get the biggest selection and lowest prices guaranteed. It's a win-win!