Free Montenegro Travel Planner
(This post may contain affiliate links. Find more info in my disclaimer.)
Make the most of your trip to Montenegro with our free Montenegro vacation guide.
Pink pebble beaches, old-world charm and azure seas combine with rugged mountains, authentic experiences and adventure galore to create a unique destination that's dying to be discovered.
Welcome to Montenegro!
Simply enter your name and email address below to get instant access to the Montenegro Pulse Vacation Guide.
It's filled with useful information to help you book your perfect stay in Montenegro.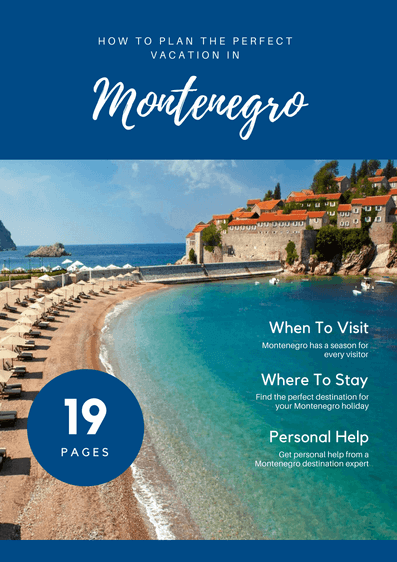 ---
The Benefits of Booking Your Own Vacation:
Even though you might not know much about Montenegro, you can book your own trip to this undiscovered gem. And there are many advantages to planning and booking an independent trip:
You're in control of your trip
You're not limited by the accommodation options a travel agent has available to them
You're not steered into something that's not ideal because an agent or tour operator has to sell a certain number of nights in a particular place
Most agents barely know anything about Montenegro, much less have been here themselves. So they're not the ideal people to be helping you book your trip. They also mark up ie. add arbitrary commissions for themselves to your booking so you're paying a premium price
Many of the best places to stay (like apartments and villas, which are great for families and groups) aren't available through agents
You can save money with online specials and discounts for booking directly
Take all the guesswork out of booking your vacation and book with confidence.
This guide includes:
---
Home

>
Visit Montenegro
> Montenegro Travel Planner
---
help the stray animals of Montenegro
Book your accommodation anywhere in the world through any of the search boxes on our site and we'll make a donation towards sterilising stray animals in Montenegro. 
It costs you nothing, and you get the biggest selection and lowest prices guaranteed. It's a win-win!