Free Montenegro Pulse Vacation Guide
This post may contain affiliate links. Find more info in my disclaimer.
Make the most of your trip to Montenegro with the free Montenegro vacation guide.
Pink pebble beaches, old-world charm and azure seas combine with rugged mountains, authentic experiences and adventure galore to create a unique destination that's dying to be discovered.
Welcome to Montenegro!
Simply enter your name and email address below to get instant access to the Montenegro Pulse Vacation Guide.
It's filled with useful information to help you book your perfect stay in Montenegro.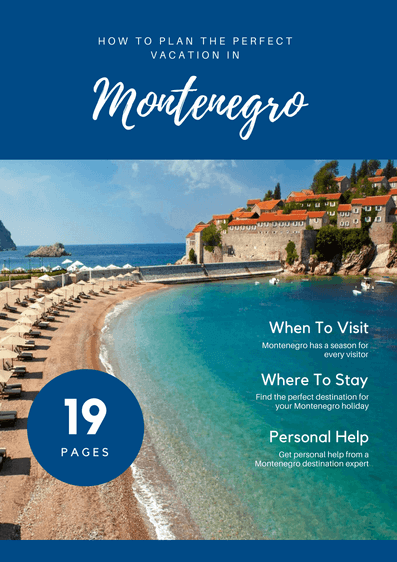 Get Your Dream Holiday in MOntenegro
Take all the guesswork out of booking your vacation and book with confidence.

This guide includes:

Just pop your details in the form below and I'll send you your own free copy.
To be clear, you're not signing up for a newsletter. You'll receive an email with a link to download a free copy of the guide. You'll also receive a few more emails with some useful information to help you on your journey. And that's it!
Montenegro Vacation Booking Guide
help the stray animals of Montenegro
Book your accommodation anywhere in the world through any of the search boxes on our site and we'll make a donation towards sterilising stray animals in Montenegro. 
It costs you nothing, and you get the biggest selection and lowest prices guaranteed. It's a win-win!