Animal Welfare in Montenegro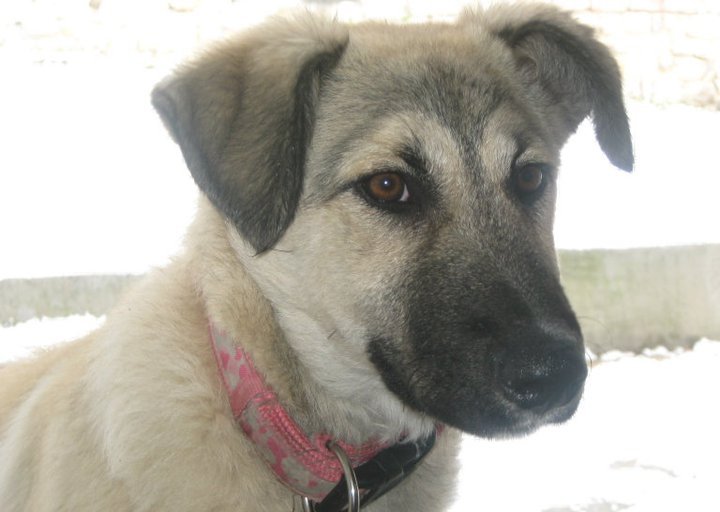 Animal welfare in Montenegro is something that lies very close to my heart. Ever since I arrived I've spent a lot of time helping various animal welfare groups improve the lives of the huge number of stray animals in Montenegro. 
---
The Current Situation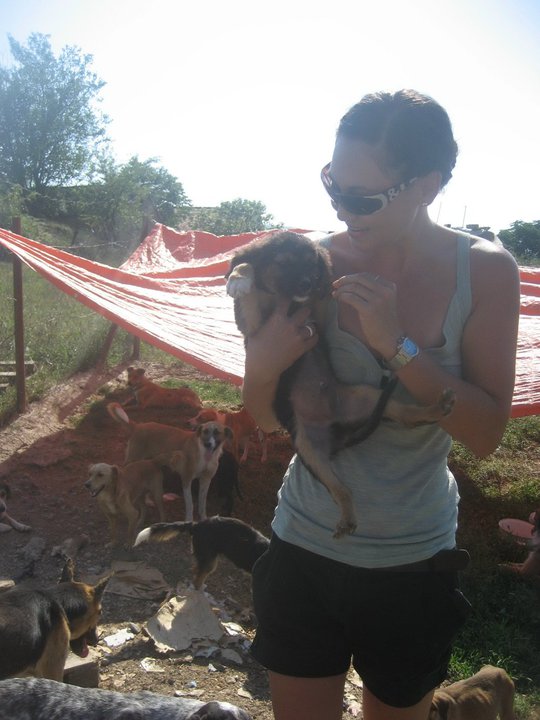 This is me in the Kotor/Tivat shelter
To be honest, most of the groups here don't function at a high level and most of the on the ground work is done by motivated individuals. These people sacrifice their time, and usually plenty of their own coin, to help abandoned, abused and stray animals here in Montenegro.
Unfortunately the situation for animals in general is quite grim. Sterilisation is rare and kittens and puppies are abandoned in boxes by rubbish containers with enormous regularity. Even unwanted purebred pets are abandoned by road sides when they get sick, hurt or boring. I know this problem is hardly unique to Montenegro. 
---
What Is Helping
There is a group who makes huge contributions to animal welfare in Montenegro and here, I'd like to ask you to support them. Tierhilfe Montenegro (meaning Animal Help Montenegro) is an animal welfare group from Germany who've been tireless in their efforts to improve animals' lives in Montenegro.
They buy food for the (woefully underfunded and poorly run) shelters, they rehome cats and dogs, they make donations of medicines, flea and tick treatments, building materials, pay vet bills and are now running their own spay and neuter programme.

Spaying and neutering is the best way to bring stray animal populations under control and to date there is no other spay and neuter programme at all in Montenegro. Every year I get literally dozens of emails from tourists asking for help saving a box of abandoned newborn kittens or an injured dog. Unfortunately, there's very little I can do to help.
Shelter dogs eat bread and water mostly. 95% of the puppies succumb to Parvovirus and slowly die in the cages
Til and Arja were both rescued and rehomed by Tierhilfe Montenegro
---
How You Can Help
Book with us!
Book your stay through us and you'll automatically make a donation towards sterilising and helping abandoned animals in Montenegro. Just use any of the accommodation search boxes you see around the site to book and you'll be helping without it costing you a cent.
You'll be getting the biggest choice and lowest prices guaranteed so it's a win-win!
You don't need to book accommodation just in Montenegro either. You can book anywhere in the world and know that you'll be helping the animals here.
---
Are you looking for help with an abandoned animal? Scroll down to find a list of organisations you can contact.
Sterilise an Animal
The one way we can help these animals is to reduce the number of unwanted kittens and puppies being born. It costs anywhere between €30 and €80 to sterilise an animal here and unfortunately it's a rarity. 
Tierhilfe Montenegro now run their own spay and neuter programme in Montenegro and if you've visited Montenegro, you'll be aware how desperately the animals here need help. I've added a Paypal donation option to this page that will allow you to donate to Tierhilfe Montenegro's programme. Any and all donations make such a difference to the animals here.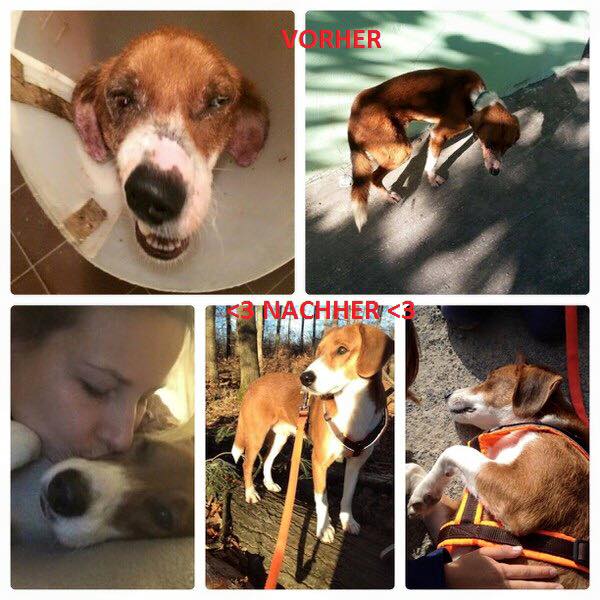 Ray - a typical transformation of one of Tierhilfe Montenegro's dogs
You can find dozens of these kinds of photos and more stories (in German) on Tierhilfe Montenegro's Facebook page here.

Even just the few dollars you would usually spend on a coffee makes all the difference. You see, with a programme like this it's not just the animal that gets sterilised that's helped, it's all of their potential offspring who are spared suffering and pain.


Just one cat and her offspring can produce 420,000 cats in six years.

99% of these kittens wouldn't make it past a month here in Montenegro - they die of cat flu, herpes, predators and being thrown in garbage containers or abandoned in the woods.

I'd be so grateful if you could find it in your heart to help the animals of Montenegro. 

Please click the donate button below to donate to Montenegro's only spay and neuter programme.

This poor kitten was too starved and weak to fight off his infection

This is me applying a donation of flea treatment to a local stray cat called Mimi
Make a Donation
Click the donate button to make a donation
One Click Monthly Automatic Donation
You can make a monthly donation to help stray and abandoned animals in Montenegro with just one click! Choose your donation amount below and you'll make an automatic donation monthly. You can cancel any time through your Paypal account.
---
Help Build a Shelter
The town of Bar doesn't have any animal shelter or animal control/aid programme. Stray cats and dogs are routinely poisoned to reduce the populations. 
A local aid group is now actively fundraising to build the town's first animal shelter. Any donations, no matter how small, are welcome. 
You can click the Donate Now button to the right if you'd like to help.
---
Take Our Survey
If you've found this page, I assume you've felt upset by the plight of unwanted cats and dogs in Montenegro. We'd be so grateful if you'd take two minutes to fill in our survey and tell us about your experiences. This is your chance to tell local welfare groups and the government how your stay in Montenegro was affected and help change the situation.
Click here to take the 2 minute survey.
---
Find Help for an Abandoned Animal
Here is a list of groups you can contact to try to help a stray animal. These groups mostly don't have any fundraising or local business support. The members pay out of their own pockets. If you find help for an animal you've found, please offer to cover expenses or make a donation!
Friends of Dogs Montenegro - Bay of Kotor
Ruka-Sapi - Podgorica
---
Home
› Animal Welfare in Montenegro
---
Help us help the stray animals of Montenegro
Book your accommodation anywhere in the world through any of the search boxes on our site and we'll make a donation towards sterilising stray animals in Montenegro. 
It costs you nothing, and you get the biggest selection and lowest prices guaranteed. It's a win-win!