Kotor Tours: Our Lady of the Rocks and Blue Cave Boat Tour
(This post may contain affiliate links. Find more info in my disclaimer.)
One of the most popular Kotor tours, this fun speed boat tour takes you to top attractions, Our Lady of the Rocks and the Blue Cave, in just three hours.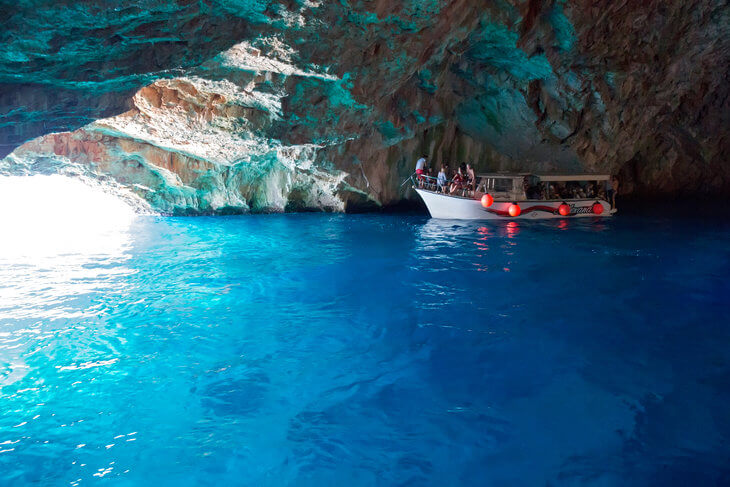 The Blue Cave
Image: Deposit photos
This boat tour to Our Lady of the Rocks and the Blue Cave is one of the most popular tours in Kotor. 
In just three hours you'll see the Bay of Kotor, visit Our Lady of the Rocks - the must-see attraction in the bay - and explore Lustica's must-see - the Blue Cave. 
And since the tour starts from Kotor Park, just 200m from Kotor old town and Kotor port, it's perfect if you'll only be in Kotor a short time.

---
Overview
This tour takes just three hours and starts in Kotor, so it's ideal if you're visiting the city on a cruise ship or just visiting for the day. 
On the tour you'll see some of Montenegro's most beautiful scenery, historical sites and must-see attractions:
Our Experience on the Blue Cave Boat Tour
Here's a video of our experience on the tour.
---
Highlights
Travel by speedboat and get unique views of the Bay of Kotor
Multiple departures daily
Led by friendly, English-speaking skippers
Family friendly
Ideal for cruise ship visitors in Kotor port
Free water and juice onboard
Free use of snorkels and masks
Small group tour of up to 15 people
Private tour option available on request
---
What you can Expect
You'll start by cruising over to Our Lady of the Rocks, an man-made island that's been built up by locals over 500 years. 

According to legend, the island was created after two local brothers found an icon of the Madonna washed up on a rock. Ever since then locals from Perast have been throwing rocks into the sea to create the island - even today, there's a festival every year called Fasinada, where locals throw rocks into the sea around the island.
Our Lady of the Rocks is a Roman Catholic church with a fascinating little museum attached. You can take a guided tour of the church and museum for €2 per person.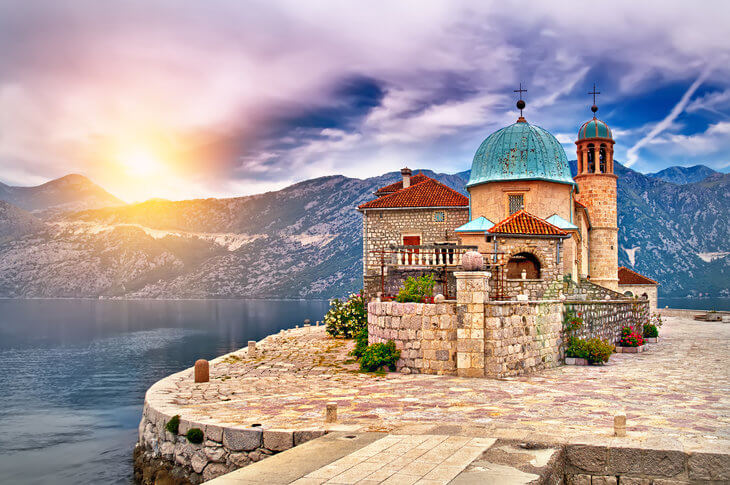 Our Lady of the Rocks
Image: Deposit photos
After you visit the church, you head through the Verige Straits and along the Herceg Novi Riviera to the entrance of the Bay of Kotor. 

You'll cruise past Mamula Island, a former Austro-Hungarian fortress that was used as a prison during WWII. 
Then you'll cruise along Lustica Peninsula, a wild part of the Adriatic coast, that's very different to the bay. It's here that you'll stop for a swim in the Blue Cave. 
The Blue Cave is named for the iridescent blue that bounces off the shallow bottom. You can swim through the cave and explore the bottom using the free snorkels and masks that are onboard. 
After a refreshing swim, it's time to head back towards Kotor. On the way, you'll stop at the huge caves that have been dug into the Lustica Peninsula coastline. These caves were used to hide submarines during wartime and worked very well. 
After a short visit into the caves, you'll head back through the Verige Straits, past Our Lady of the Rocks and return to Kotor. 
---
Tour Details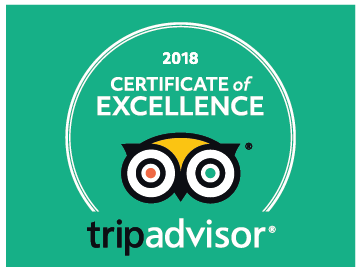 Start/finish point: Kotor City Park (5 minute walk from Kotor old town/Kotor Port)
Start time: 9am, 12pm, 3pm, 6pm daily
Duration: 3 hours (approximately)
Tour type: Group tour of maximum 15 people per boat. If you have a larger group they can be split into two or boats. Alternatively, a larger boat will be supplied depending on the group size. You can also request a private tour
Price: Adults €30 each, children <10  €20 each
Tour Operator: Montenegro Submarine and Speedboat Tours

What others are saying
Hi Sarah,
We just got back from the 3 hour boat tour out to the Blue Cave and it was amazing!
Very nice boat, very organized, the driver was great.
Thanks for the recommendation!
~ Craig and Kris
Inclusions
Pick up and drop off from Kotor City Park (100m from Kotor Port and the old town)
Live commentary
Cold non-alcoholic drinks
Snorkels and masks
Additional Information
Not wheelchair accessible
The tour may be cancelled or modified in poor weather or sea conditions
---
What to Bring
Camera - especially a Go Pro or similar waterproof camera if you have one
Swimsuit - wear your swimsuit under your clothes. There are no changing rooms onboard
Sunglasses, hat and sunscreen - there's shade on the boat, but you might be in the sun, depending on the time of day
Long sleeves - it can get cold on a speedboat, even on the hottest days
---
Booking
---
Looking for More Kotor Tours?
Blue Cave Boat Tour
help the stray animals of Montenegro
Book your accommodation anywhere in the world through any of the search boxes on our site and we'll make a donation towards sterilising stray animals in Montenegro. 
It costs you nothing, and you get the biggest selection and lowest prices guaranteed. It's a win-win!