Discover The Most Beautiful and Interesting Sights in Kotor With This Kotor Travel Guide
The Kotor Beyond The Wall Kotor Travel Guide Is The Safe and Easy Way to Explore Kotor's Most Beautiful Sights, Discover Hidden Gems And Find Authentic Experiences At Your Own Pace.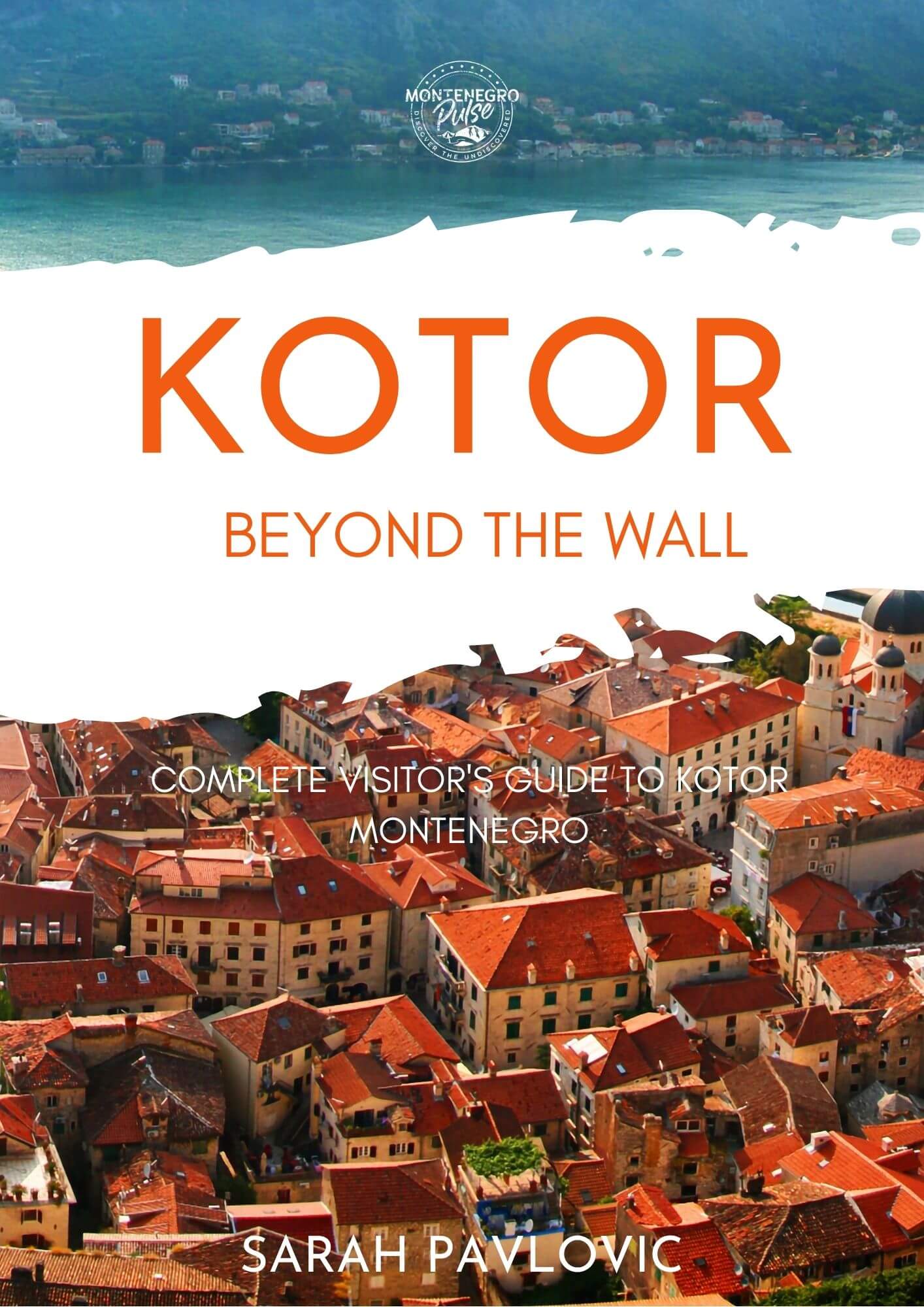 Kotor Beyond The Wall Kotor travel guide
If you're like many people planning a visit to Montenegro, you're excited to explore Montenegro's must-see destination – Kotor. 
Kotor is jaw-droppingly beautiful, there are lots of things to see and do there and it's a treasure trove of interesting stories and authentic experiences... 
If you know where to look!
The Kotor Beyond The Wall Kotor travel guide has everything you need to safely explore Kotor's top sights and discover its hidden gems, on your own and at your own pace.
With this comprehensive guidebook you'll be able to confidently explore Kotor in as little as a couple of hours and as much as a few days. 
Self-Guided Walking Tour
The easiest way to explore Kotor is by following the self-guided walking tour in the book.
Easy to follow directions lead you around the town and you can stop wherever and whenever you want. No one is shepherding you around the town in a set amount of time, so you enjoy a leisurely tour at your own pace.
You can stop for photos, to visit attractions, a drink and at any of the many ice-cream stands!
There are 20 points of interest on the self-guided walking tour compared to 10 on a standard walking tour of Kotor.
On this self-guided tour you'll see all of Kotor's most beautiful and interesting sights, including some hidden gems. You'll avoid the routes the group walking tours take, so you'll enjoy a more authentic experience as you wind your way through the alleys.
Create Your Own Route
If you prefer to explore the town without a set route, Kotor Beyond The Wall also comes with detailed information about each attraction and historic site in the town. That includes all its churches, palaces, town gates and public buildings. You'll find out what makes each sight special and have all this information at your fingertips as you explore the town.
The opening times and entrance fees of attractions are also included, so you can plan what you want to see in advance. You'll know when to go and how much it will cost so you don't waste time find out when you get there.
The book also tells you how long you need to see each attraction, so you can plan your time. You'll know what you can fit in and be able to make the most of the time you have.
Hidden Gems
As well as the top sights, you'll also discover local secrets not found in other guides. You'll discover hidden gems that most visitors never find out about and you'll leave Kotor knowing you didn't miss out on anything.

Fascinating Stories
The guide is filled with interesting stories about Kotor that bring the town to life. Instead of a dry tour filled with dates and facts, you'll be entertained as you explore the old town.
You'll find out the saucy story behind Kotor's public fountain, about the nun who saved Kotor and how a homeless homeopath became a king. These are the stories usually only locals know about, but they're some of the most fascinating things about Kotor!
Understanding Kotor
A concise history of Kotor ensures you get an understanding of Kotor's history in just a few minutes. Knowing a bit about Kotor's history will help you put Kotor's attractions into perspective as you explore the town. Kotor's 2,000 year history is distilled down to just the important points that will be easy for you to remember as you explore.

Kotor's Fortifications
Kotor's fortifications are one of its most important features. You'll learn how Kotor's fortifications came to be built, how old they are and why they're so important. You'll also find out the best ways to see the fortifications, no matter how much time and energy you've got.
The guide will help you choose a hike if you want to do one. And once you choose there are detailed guides telling you exactly where and when to go, how much it costs and what equipment to bring with you.
And if you're not into walking, there are directions for how you can still get a view of Kotor's impressive walls.
More Things To Do In Kotor
Got more time to spend in Kotor? 
The book includes information about other popular sights and activities you can do from Kotor. Whether you've got a day or a week, you'll be able to plan what else you can see and do during your stay in Kotor.
Social Distancing Friendly
In these times, we're all conscious of coming into close contact with strangers. Exploring Kotor with this Kotor travel guide allows you to discover the best of Kotor while still social distancing. You don't have to join a tour with other travelers and you avoid unnecessary risks.

Navigating Kotor Old Town
One of Kotor's claims to fame is 'Town Most Easy To Get Lost In'. 
Just kidding!
But if that were an award, Kotor would have a good chance of winning. Kotor's streets are a haphazard tangle of alleys that are difficult even for locals to navigate. And they're not even named! 
With Kotor Beyond The Wall you'll find out how Kotor got its shape and why it's unique among Roman towns.
Not only that, GPS co-ordinates and numbers that correspond to the free tourist map you get at the Sea Gate make sure you can find your way around town without getting lost. You can quickly and easily find the attractions you're looking for using Google Maps on your phone or the free tourist map.
Practical Information For Your Stay
There's also lots of practical information that every visitor to Kotor should know.
With this guide you'll know what to bring so you enjoy a seamless visit. You'll know which shoes are the worst for exploring Kotor and what are must-haves.
Information about money ensures you arrive with the right currency and payment options for what you want to see and do. You won't waste time figuring out where to get the right currency on arrival.
The list of useful phrases help you communicate, even if no one around you speaks English. You can get what you need and where you need to go wherever you are.
We all like to be connected, especially when we're travelling. This guide will tell you about sim card options and where to find WiFi so you can stay in touch with friends and family as you're exploring.
When you're ready to take a break from exploring, flip to the section on traditional food and drinks. You'll find lots of ways to expand your cultural experience (and your waistline) by trying some traditional specialties.
You'll also get the information you need to help you confidently choose accommodation you'll love, making sure you get a good night's sleep.
About The Book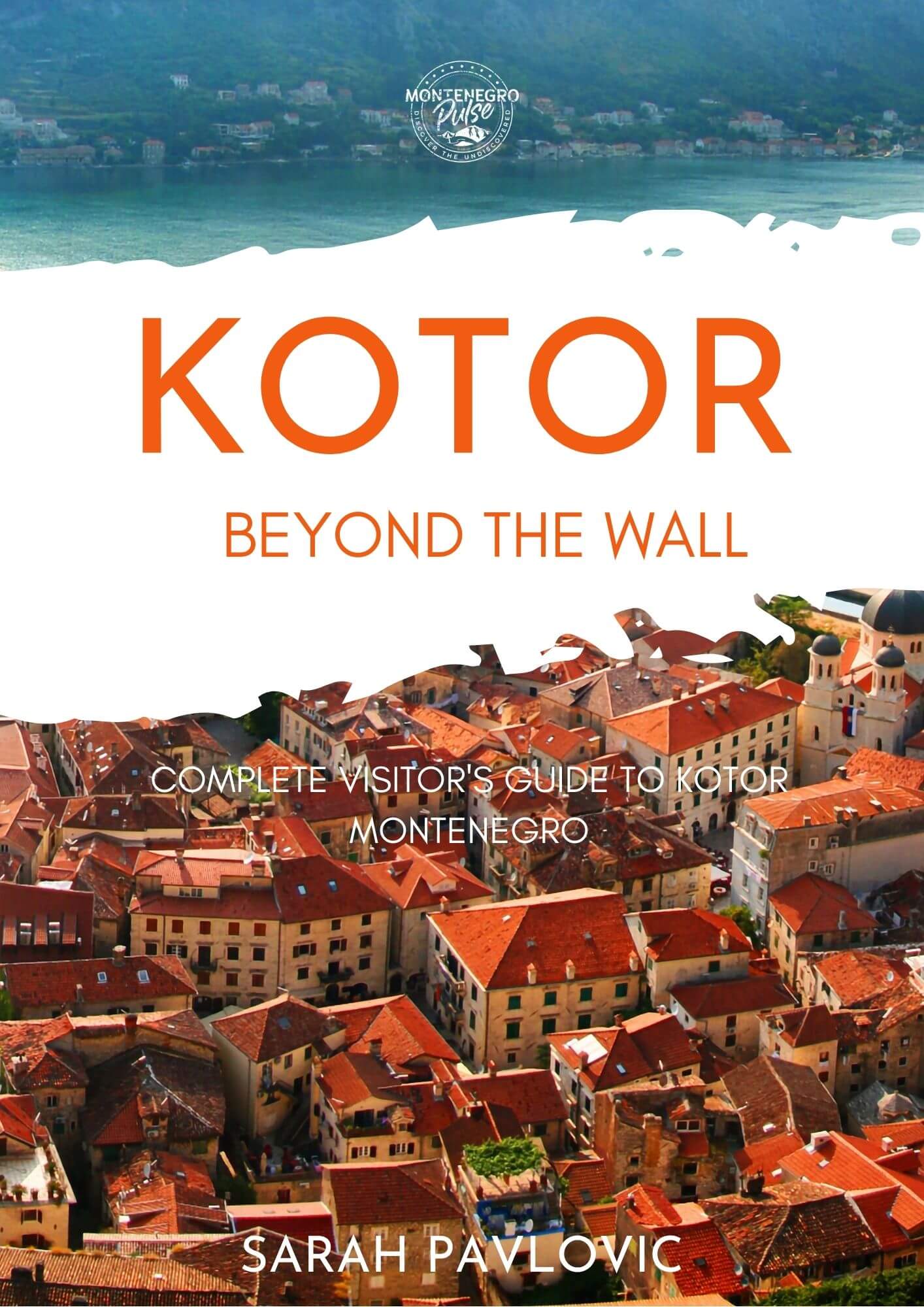 Kotor Beyond The Wall: Kotor Travel Guide
Kotor Beyond The Wall is written by me, a Bay of Kotor local, so you get insight from someone who knows the best things to see and do in Kotor.
I've spent hours exploring Kotor's nooks and crannies, grilling friends and trying things out to bring you the very best Kotor has to offer.
You're getting trustworthy information from someone who knows the town inside out.

This download is a PDF document that you can save onto any device. You'll have the information at your fingertips on any device as you plan your trip and explore Kotor.

Inside the book you'll find a clickable table of contents so you can quickly look up the information you need as you explore the town. Whenever you come to a sight you're interested in, you'll be able to find out about it with just a couple of clicks.
Price
The usual price for a two hour guided tour is around €130 for a group of four. 
Kotor Beyond The Wall costs just €6.99. The affordable price means you get the benefit of a private guide around Kotor without the price tag.  You get even more information than you would on a private tour for a fraction of the price of hiring a private guide.
That means you save over €123 and you have complete flexibility, all the information you need and you save money.
Guarantee
I'm so confident you'll love Kotor Beyond The Wall that I'm offering a 30 day money-back guarantee. If you're not satisfied you can get your money back and your decision to buy is totally risk free.

Buy Now
---
Kotor Travel Guide
---