Montenegro Pulse contains affiliate links and is a member of the Amazon Services LLC Associates Program. If you make a purchase using one of these links, I may receive compensation at no extra cost to you. See my disclaimer for more information.

Krapina - Hidden Oasis in Budva
I'm so excited to share Krapina with you. This is a true local's secret… in fact, most locals don't even know about it!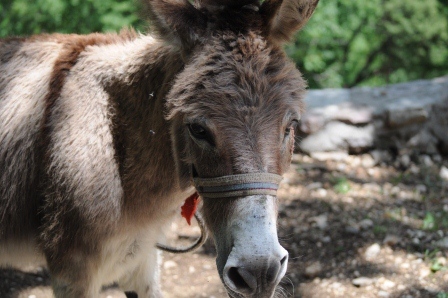 Krapina's friendly donkey
This place is just 5km from Budva but you'd never know. It feels like it's a whole world away. You'd never know 'Budva The Concrete Jungle' is just down the hill from here.
Krapina is a winding 5km uphill from Budva and at times we wondered whether we were on the right track. But you just need to follow the zip line signs and you'll come to this little haven in the forest.
When you arrive there are several parking lots available. We drove past the first two and parked in the last one, closest to the estate. From there it's just a short walk downhill to the restaurant. 
Further down the road we came to the first of several seating areas overlooking the estate, but were too intrigued to sit down just yet. We headed left to the fish ponds and Kai couldn't resist putting  a hand in to try to touch the trout. 
The winding path led us to our ultimate destination: a waterfall that flows out of the rock. It's a heavenly little spot and you can see the family has realised this as there's a place to sit.
Underneath the fall is a swimming hole that looks just perfect for swimming. But the day we visited wasn't quite warm enough to entice us to brave the 15 degree water.
The pond and the stream all along the canyon was filled with tadpoles, but we didn't actually see any frogs so I can only assume they come out at night around here.
After our walk we wandered back, past more friendly bunnies, to the restaurant. This was another gorgeous spot, with more running water, ducks, another pond and tables and chairs. It's obvious you can sit here for a meal and the food we saw looked really delicious. There's also another area with loungers where you can lie back with a drink and enjoy the tranquility. 
We settled on a table and got a coffee. It turns out they only have Turkish coffee, but we found this just added to the charm of the place.

Kai couldn't resist exploring, so I watched him while Savo and our friends savoured their coffee and watched the ducks in the pond. When I looked around I realised most of the kids were off adventuring and exploring while the adults enjoyed some time out. 
Krapina is a great place for kids! There wasn't a smartphone in site – they were all too busy being kids!

They can explore with absolute freedom and the friendly animals are only too happy for the attention.. and extra food. They even brought out the donkey foal and all the kids had ball feeding him. He lapped up the petting and only brayed when no one was paying any attention to him.

The restaurant itself is full of interesting relics – donkey yokes, portraits, old weapons and old tools. You'll enjoy looking at all the bits and pieces while you wait for your meal or sip your coffee. 
The food looked amazing too – cornbread, fresh salads and meat dishes were all coming out of the kitchen. Next time we'll definitely be staying for lunch. 
The menu includes:
Warm and cold appetisers (€3.50 - €7)
Salads (€2.50)
Fish dishes including trout from the ponds onsite (€3 - €62 per kilo)
Pasta (€5.50)
Meat dishes (€6 - €18)
Desserts (€1.50)
All in all there's something for everyone and the prices are competitive with the rest of the coast.
We highly recommend visiting Krapina during your stay in Montenegro. Just when you think Budva is all glitz and kitsch, there's this little oasis just up the hill. We'll definitely be back!
How To Get to Krapina
Book Your Trip With My Recommended Providers