Montenegro Pulse contains affiliate links and is a member of the Amazon Services LLC Associates Program. If you make a purchase using one of these links, I may receive compensation at no extra cost to you. See my disclaimer for more information.

Merkur Restaurant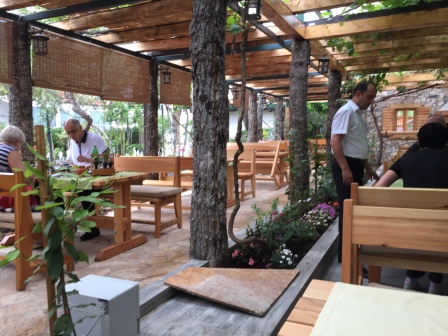 Merkur Restaurant is like a little oasis in the busyness of Budva. I'm going to go out on a limb and say this is our favourite restaurant in Budva. 
The restaurant itself is large and you can stop for a full meal, ice cream or just a coffee. We've been here several times and have loved it every time.
When you walk in the traffic is drowned out by the sound of the water fountains and the interior makes you feel like you're sitting in a garden.
The glass dining room or the covered terrace are perfect for all kinds of weather.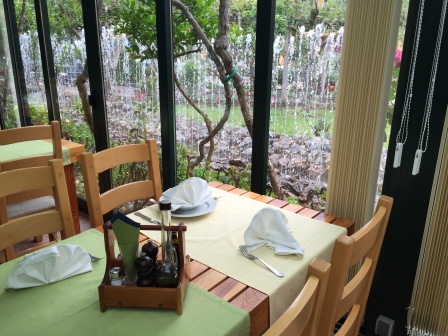 Merkur Menu
The options at Merkur are varied and there's something here for everyone. Choose from fish, meat, pasta, pizza soups and salads.
The Balkan grill is great – my favourite is the hamburger with kajmak- a type of Balkan cream cheese. This comes with a large helping of home fries and a side of onions. I like to get a side salad to go with it, just to lighten it up a bit.
Savo's favourite is the baked meat from 'under the sac'. This is type of Balkan specialty that I'd highly recommend trying. Meat is slow roasted on coals under an iron dome. The result is meat that falls off the bone and it's usually served with roast potatoes from under the sac too. These might be considered 'soggy' to some, but that's just how roast potatoes are done here.
We also love the soups but they're well spiced, so might be too peppery for some.
The portions are also large (as you can see in the pictures!) so I usually have to choose between soup and dessert and dessert usually wins for me!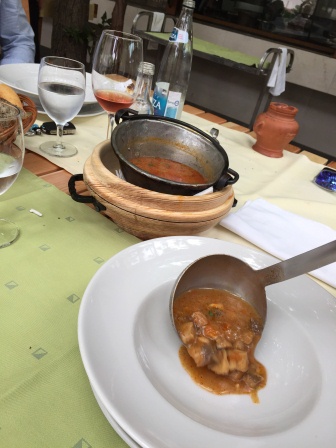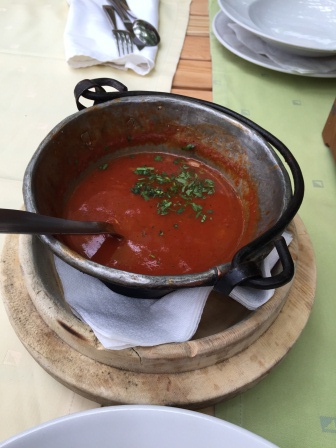 The service at Merkur has always been fast and impeccable. Attentive but not intrusive. All in all, we love the consistently good food and service. 

Merkur Pricing
The pricing is very reasonable here. €8 for my hamburger meal, €2.50 for soups and salads and €12 for the roasted meat dishes. This is great value. 
Animal Garden
The thing that also surprises and delights at Merkur is the little animal garden. The garden has a wooden lookout that kids just adore and from up there you can see peacocks, peahens, ducks, rabbits, swans and tortoises all relaxing around the garden.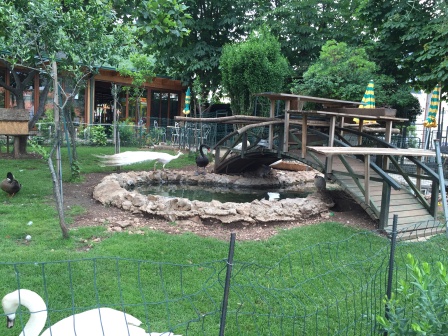 Merkur Restaurant Location
Merkur Restaurant is a little off the beaten path in Budva in that it's not along the seafront. It's actually right behind the bus station so it's still a walkable distance or short taxi ride from the seaside. 
Related Articles
Merkur Restaurant
Book Your Trip With My Recommended Providers
---
Merkur Restaurant
---