Montenegro Pulse contains affiliate links and is a member of the Amazon Services LLC Associates Program. If you make a purchase using one of these Amazon links, I may receive compensation at no extra cost to you. See my disclaimer for more information.

Montenegro Yoga Holiday at Skadar Lake

The villa you get to call home while on the Montenegro yoga holiday
This Montenegro yoga holiday is a fantastic, back to nature yoga retreat. The holiday is based in Skadar Lake National Park, a place of exceptional beauty and untouched nature . It's the ideal place for you to relax and rejuvenate yourself. This area offers clean air, fresh water and wildlife abounds.
During the holiday you'll enjoy daily hatha yoga flow sessions. These take place on the villa's terrace overlooking the lake, at panoramic lookouts and on freshwater beaches.
You'll also have the option to join other guided excursions like hiking, wild swimming and kayaking. Or you can just hang out at the villa enjoying the hot tub, orchard and the book and dvd library.
"We had an amazing week in Villa Miela on a yoga retreat, where Helena's accomplished daily yoga instruction was complemented wonderfully by fantastic activities devised by Emma and Ben. We loved everything about the trip!" - Alexei Smirnov, 2015
The Montenegro yoga holiday is hosted by a lovely couple, Ben and Emma (and their three children), who have an undying passion for this region.
They've made the lake their home and love to share the best of it with their guests. They take excellent care of all of their guests and give them an experience they'll never forget.
I have no hesitation in recommending them whole-heartedly!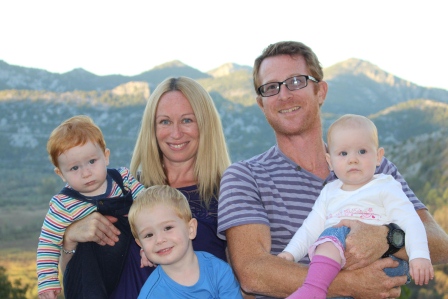 Your hosts - Ben and Emma
---
The Instructor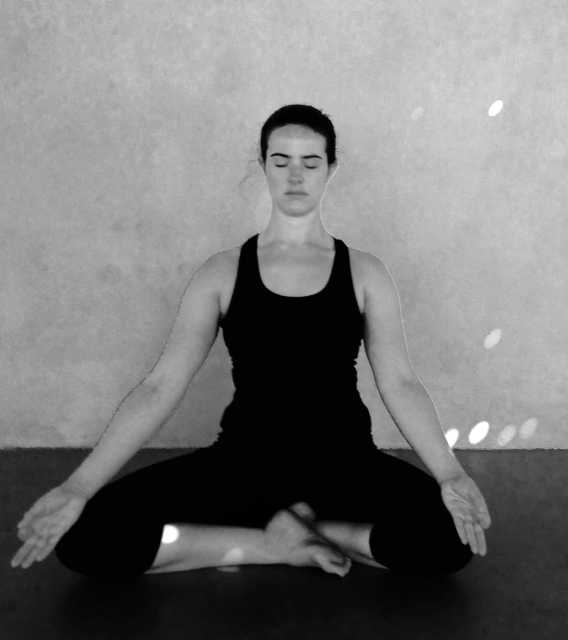 Helena Markovic
Your yoga instructor for the Montenegro yoga holiday is Helena Markovic.
Helena is a UK-based, qualified yoga instructor with 14 years' experience. She is both British Wheel of Yoga and Independent Yoga Network qualified.
---
About Hatha Yoga
Hatha yoga is a mental and spiritual practice that encourages you to find the balance between effort and relaxation. It uses movement and breath together to produce a flow of postures. The emphasis is on developing strength, flexibility and relaxation.
Each class begins with a warm up that focuses on correct alignment and breathing. Then you'll be led through a dynamic sequence of standing and seated postures which combine stretches, twists, forward and backward bending. The class finishes with deep relaxation and meditation.
There are 1 or 2 classes each day (morning and evening) for around 90 minutes each. These are suitable for everyone from absolute beginners to experience yoga practitioners. And they're guaranteed to leave you feel relaxed and energised!
Benefits of hatha Yoga
Builds strength, stability and stamina
Increases flexibility and muscle tone
Develops body awareness and proper alignment
Develops increased lung capacity for better breathing
Encourages physical and mental balance
Focuses and concentrates the mind
Reduces stress
Increases a sense of calm and peace
Teaches you the elements of yoga philosophy
Teaches you meditation and relaxation techniques
You become your own teacher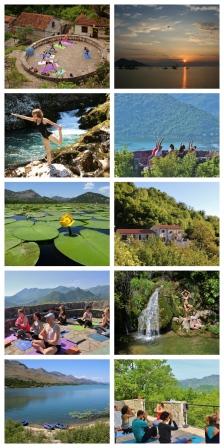 ---
Skadar Lake Villa
Villa Miela where you're based on your Montenegro bird watching holiday is in Virpazar – the gateway to Skadar Lake. It's an old, stone building that's been lovingly renovated. It's even rumoured that an Orthodox saint was born there!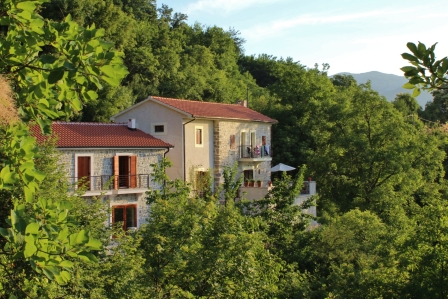 Villa Miela
The villa's terrace has stunning views over the lake and there's a hot-tub for you to relax in at the end of a day's exploration.  There's also a well-stocked kitchen and a barbecue so you can enjoy your meals al fresco  while you drink in the views.
The villa's orchard is full of organic fig, plum and pomegranate trees.

This is the kind of idyll villa holiday dreams are made of!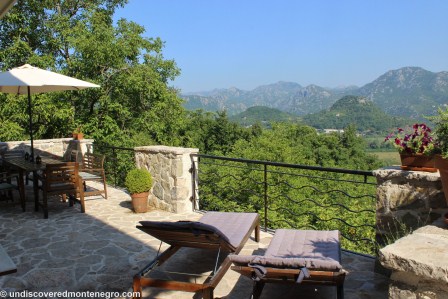 The view from the terrace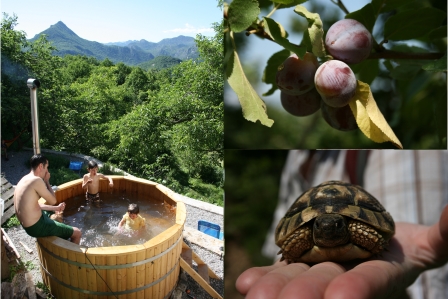 Enjoy the hot tub, pick fresh fruit and meet the locals
It's also just two minutes from the lake shore, bars, shops and restaurants and 30 minutes from the coast.

The villa can sleep  up to 10 people:

3x double/twin rooms
1x 4-bed family dorm room
Each room has an ensuite bathroom.
Villa Amenities:
Free WiFi
Modern kitchen with washing machine and dishwasher
Living area with TV, DVD player, library of books and dvds
Terrace with gas barbecue, sun loungers, hammocks
Hot tub
Mountain bikes (no charge)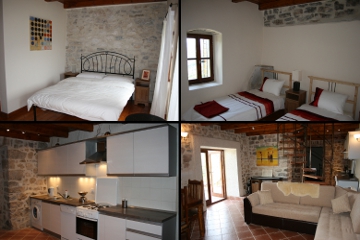 Light, airy and cool in summer, you'll feel right at home in the stone villa
You can read Trip Advisor reviews of Villa Miela here.

---
Montenegro Yoga Holiday Itinerary
Day 1
Arrival at Skadar Lake. There's a welcome dinner with drinks on the terrace overlooking the lake. 
Day 2
The day starts with morning yoga. Then there's a beautiful lake cruise to Kom Monastery. This simple, beautiful monastery has 180 degree views over the lake. All you hear up there is birdsong, buzzing bees and the monastery's free-roaming chickens, cats and donkeys.
Inside the monastery you can see 15th Century frescoes. This is the only church on the lake that's never been destroyed by invading armies.
That evening is free to enjoy dinner at a local restaurant or self-cater at the villa.
The beautiful entrance of Kom Monastery
Day 3
Following ancient village paths around the lake
The day starts with a yoga class. Then there's a 3 hour hike to the medieval village of Godinje. The route offers glorious views and the chance to pick wild herbs along the forgotten donkey trail. You have the choice of bringing a packed lunch or lunching in the 14th Century cellar of a local restaurant (extra charge).
In the evening the group will enjoy a dinner at the Uksanovic Winery in Skadar Lake Valley.
Day 4
Today starts with a 15 minute walk to Besac fortress in Virpazar. The morning yoga class will be held here on the roof terrace. The rest of the day is yours to enjoy however you like.
For dinner you can dine at a local restaurant or self-cater in the villa.
Day 5
Today is all about relaxation and unwinding. The day starts with a late morning boat trip to an idyllic freshwater beach. There you can swim, do yoga and relax before enjoying a late afternoon buffet at the beach restaurant.
The evening is free. 
Everywhere's a spot for yoga!
Day 6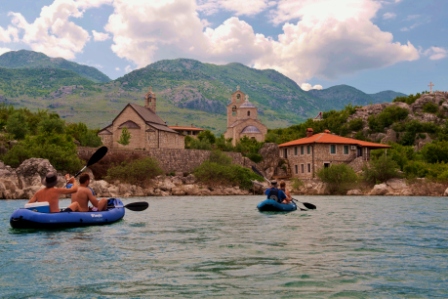 Kayaking on Skadar Lake
The days starts with a morning yoga class. Then it's into the kayaks for a trip to visit the nuns of 14th Century Beska island monastery. You'll be able to swim and kayak in the clear waters, enjoy the solitude and bird spot your way across the lake.
In the evening you'll head over the Dajkovic family estate to enjoy a 'zero mile' dinner of organic food and drink all produce right there on the estate. 
Day 7
The final day starts with morning yoga. Then it's off on a car and hiking safari to see the wetlands and winding rivers of the northern part of the lake. Along the way you'll see natural rock pools and waterfalls, a large cave and go wild swimming.
Lunch is in the village of Rijeka Crnojevica.
Day 8
Departure. Check out is at 10am.
What's Included
The Montenegro yoga holiday includes:
7 nights' accommodation in a shared twin room
Daily yoga classes
4 dinners including a welcome dinner
4 guided excursions
Use of mountain bikes
---
Pricing
The price of the holiday is £695 per person. These holidays are payable in GBP so I've listed all prices in Pounds rather than Euros to allow for exchange rate fluctuations.
Spaces are limited to 8, so book early to avoid disappointment.
---
Enquire and Book a Montenegro Yoga Holiday
If you have any questions about this holiday or would like to make a booking, you can do so by filling in the enquiry form below. You'll be answered within 24 hours.
---
Holidays on Skadar Lake
---
read More About Skadar Lake:
Montenegro Yoga Holiday
Book Your Trip With My Recommended Providers