Adventure Holidays in Montenegro
This post may contain affiliate links which means that if you purchase through my link I may earn a small commission which helps to keep this site going. Thank you. You can find more info in my disclaimer.
Montenegro is known for its summer sunshine and gorgeous beaches, but what's not well-known is that Montenegro is an adventure traveller's paradise.
The beautiful natural scenery is a stunning backdrop for all kinds of outdoor activities, and the beautiful Mediterranean weather means you don't have to worry about your trip being ruined by a week of rain.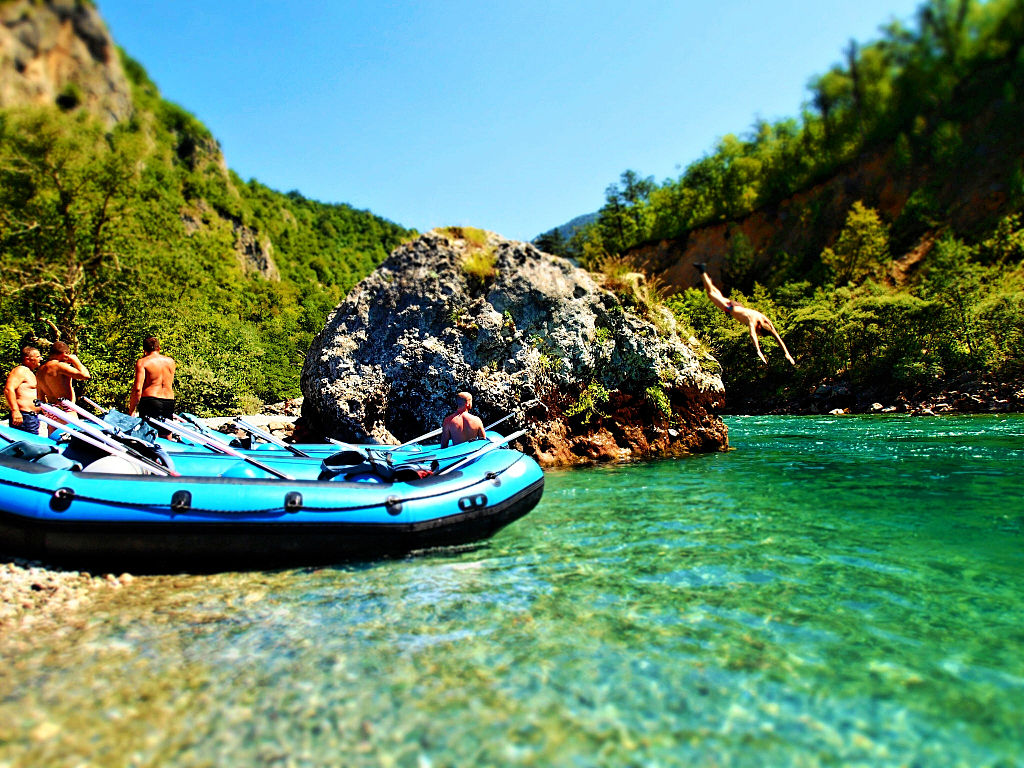 Rafting in the Tara Canyon. Image: Sarah Tzinieris/WikiCommons
Lots of people book two week holidays in Montenegro – a week of activities and adventure coupled with a week of rest and relaxation on the beaches. Why not spend a week canyoning, rafting and hiking and then a week swimming, sunbathing and eating all the seafood?

It's the perfect combination and it's even great for families. There are so many activities your kids can do – kayaking, hiking, white water rafting and there's even a canyoning trip suitable for kids. Can you imagine your kids going back to school and telling all their friends about how they abseiled down a waterfall?! That would definitely go down in the 'Coolest Holiday Ever' hall of fame!
It really is incredible that you can find all this in one place!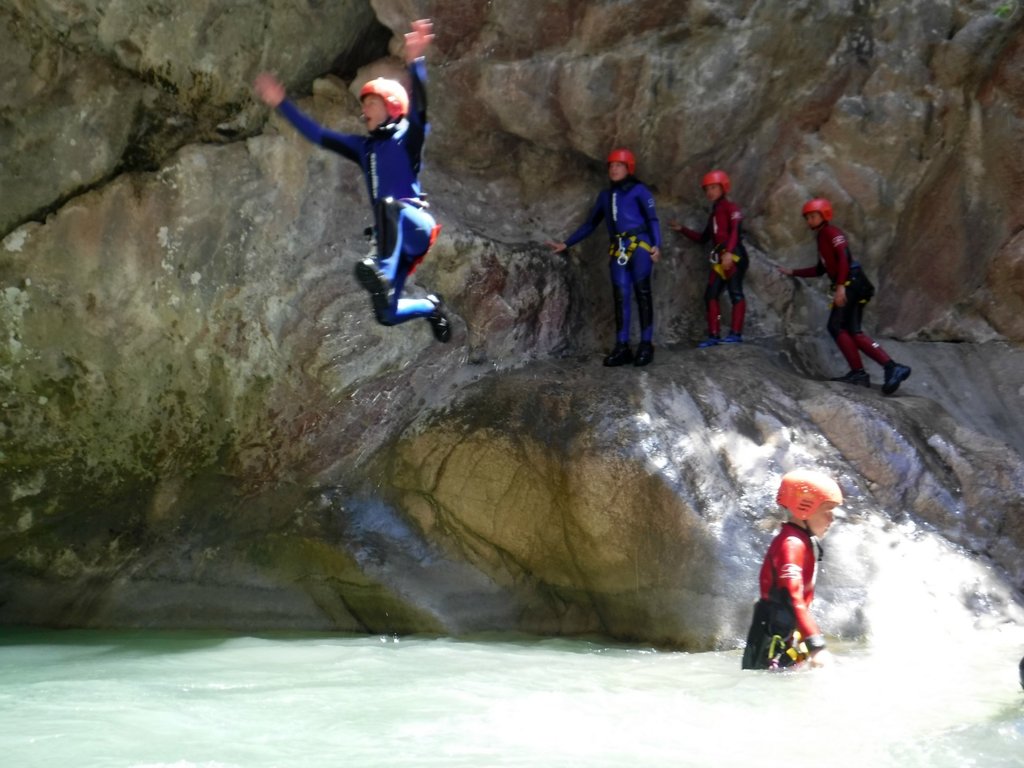 Kids love the 'I did it!' moments and confidence boost they get while canyoning in Montenegro.
discover kotor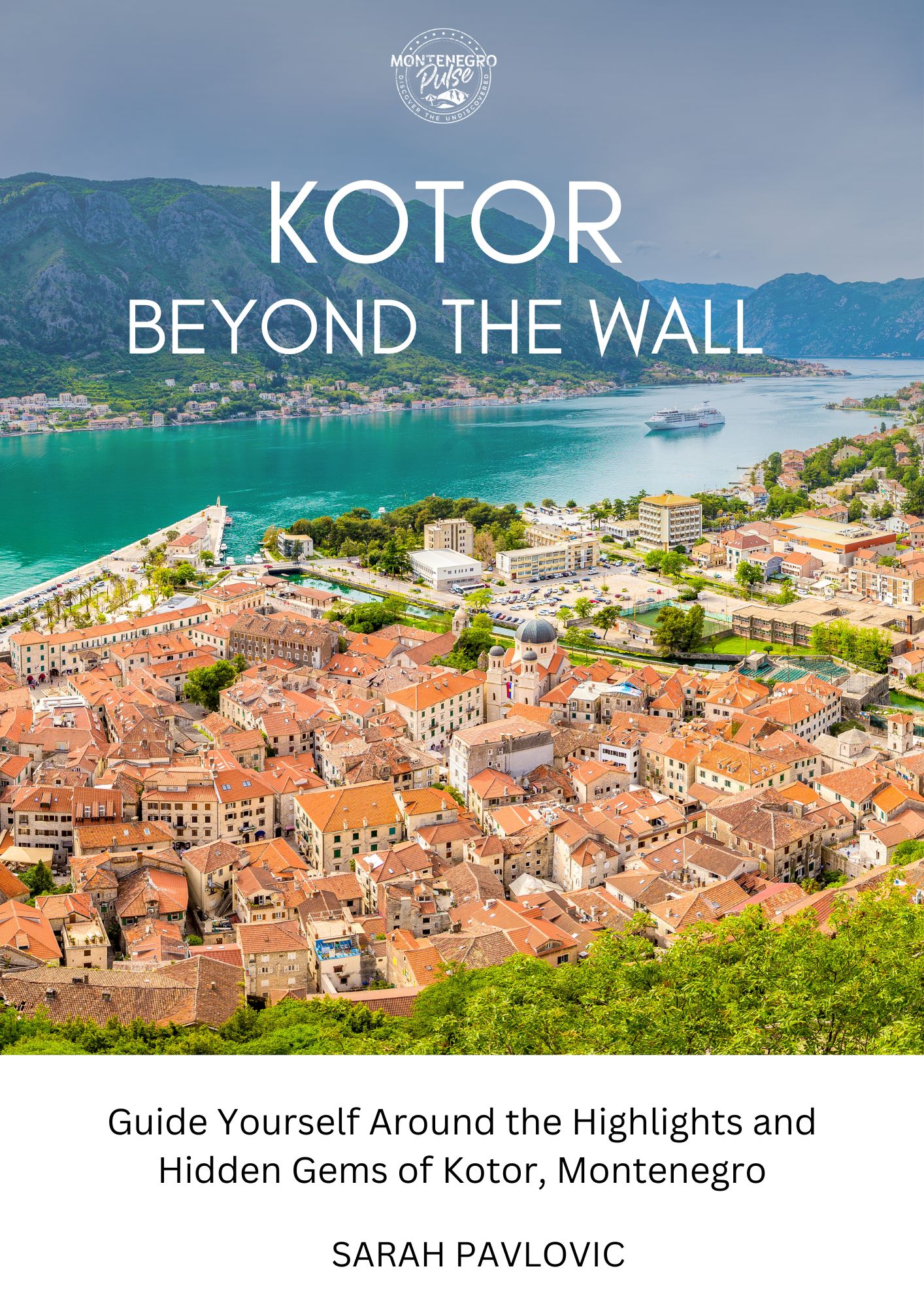 Guide yourself with the
"World's Best Guide to Kotor"
Top attractions
Hidden gems
Bonus walking tour
What to eat
Exclusive experiences
Essential visitor tips
Adventure and Outdoor Activities in Montenegro
There's a plethora of activities you can do in Montenegro. Some of the activities are available year-round and some are strictly seasonal. Some activities depend on rainfall or snow, and vary from year to year.
Here are some of the activities you can do in Montenegro and when you can do them:
White water rafting in the Tara Canyon – May to October, depending on river levels. Low river levels in spring mean rafting can start early, high river levels in spring mean the rapids are too dangerous
Ziplining – April to November
Canyoning – April to November
Paragliding – year round
Kayaking – April to November
Hiking – year round
Skiing and snowboarding – December to March
Snowmobiling – December to March
Snowshoeing – December to March
Horse riding – March to November
Mountain biking – year round
Cycling – year round
Scuba diving – April to November
Kite surfing – May to October
Stand up paddling – April to November
Sailing – year round
Dolphin watching – March to November
Coasteering – April to November
---
Booking Adventure Holidays in Montenegro
There are three ways to get some outdoor activities into adventure holidays in Montenegro:
Do it yourself
Book a package
Enlist the help of a professional
Here are my thoughts on each:
Do it Yourself
If a lazy, beach holiday isn't your style, or if you just want to include some outdoor activities in your trip, you can browse a list of activities right here on Montenegro Pulse. I'll put you in touch directly with the tour operator and you can work the activities into your holiday itinerary. This is ideal if you just want to include a few activities into your stay here.
I do have one piece of advice when planning your activities: enquire and book early. Many of the activities aren't available every day, so enquiring and booking before you arrive gives you the best chance of doing everything you want to do. It's much easier to tweak your itinerary before you arrive. Unfortunately, many people end up disappointed because they really wanted to do an activity, it's not available on day they chose and they only have a couple of days of their holiday left.

---
Book a Package
Booking a package adventure holiday is a great way to incorporate some fun and adventure into your Montenegro holiday.
There are lots of activity-based packages to choose from, and you can personalise most of them.
You can book packages depending on how active you want to be. Tack a three day package onto a seven day beach side holiday to get the best of both worlds. Or book a full seven day adventure holiday package to experience all Montenegro has to offer.
---
Get Professional Help
If you want a trip based on one activity, like hiking, I recommend getting a professional, local guide to help you. You'll need local advice on which trails are accessible and when, help finding places to stay and advice on the conditions you can expect.
Likewise, if you're interested in doing some activities as a couple, family or group, but you're not sure where to start, a professional can make the process really easy.
If this sounds like you, I have the perfect person for you. Marko, from Active Travels Montenegro, is an expert on all things outdoors in Montenegro. He's been helping people explore Montenegro's outdoor adventure destinations and attractions for years and he'll be only too happy to create a bespoke adventure holiday in Montenegro for you.
Marko can:
Create a bespoke itinerary based on your interests
Make sure you have the right balance of activity and rest
Make sure you have the right guide, when you need one
Advise the best places for each activity
Advise you on the best times of year for activities and local conditions as your trip approaches
Help you make adjustments to your itinerary if needed
Basically, he can save you hours of research (did you know the average person spends 30+ hours planning a trip?!) and make sure you get the trip you've been dreaming of!
All of Marko's holidays are guided, so all the details, including accommodation and transfers, are taken care of for you.
If you'd like Marko's help to book your outdoor adventure in Montenegro, you can contact him via the form below. Just tell him about your ideal trip and he'll help you to turn your dreams into reality.
Related Articles
Adventure Holidays in Montenegro
help the stray animals of Montenegro
Book your accommodation anywhere in the world through any of the search boxes on our site and we'll make a donation towards sterilising stray animals in Montenegro. 
It costs you nothing, and you get the biggest selection and lowest prices guaranteed. It's a win-win!