Montenegro Pulse contains affiliate links and is a member of the Amazon Services LLC Associates Program. If you make a purchase using one of these links, I may receive compensation at no extra cost to you. See my disclaimer for more information.

The Old Captain's Smile Private Kotor Bay Tour
The perfect private Kotor Bay tour - visit Kotor, Perast and Our Lady of the Rocks by car or speed boat.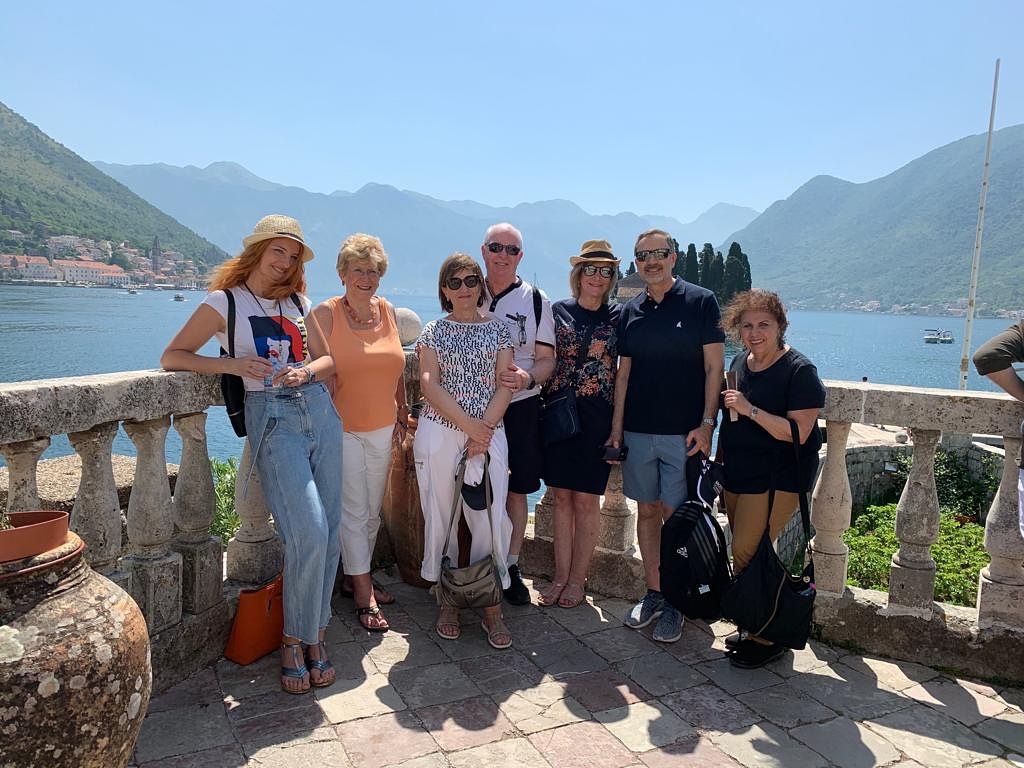 About The Old Captain's Smile Tour
This tour takes you to see the Bay of Kotor's top three attractions:
It's perfect if you have just a few hours to spend in Kotor. 
You start out with a drive around the bay to Perast, once the seat of wealth and power in the bay. Perast's shore is lined with Baroque churches and palaces and it's an idyllic township with incredible views.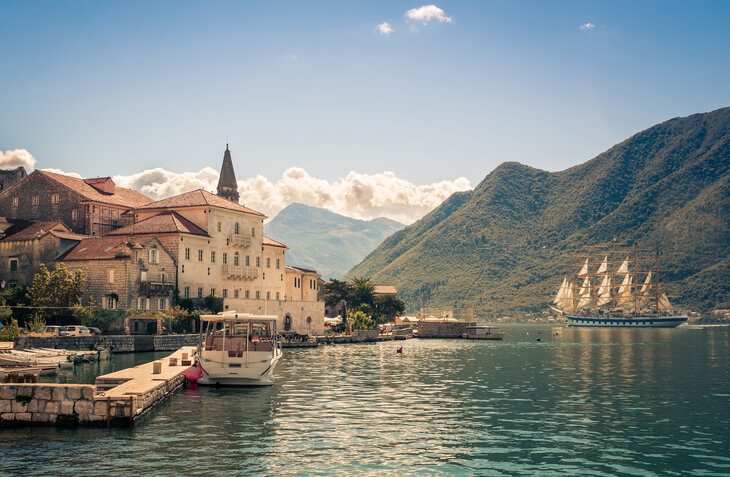 Perast.Image: Deposit Photos
Two islands float in front of the town, one a monastery, the other is Our Lady of the Rocks, a Catholic church and museum. You'll take a boat to Our Lady of the Rocks and tour the historic island before heading back to Perast, where you have some time to explore the town, its 17th century palaces and enjoy those views.
Then you drive back to Kotor for a walking tour through the medieval old town that includes top sights, St Tryphon's Cathedral and Kotor Maritime Museum.
Do This Kotor Bay Tour By Speed Boat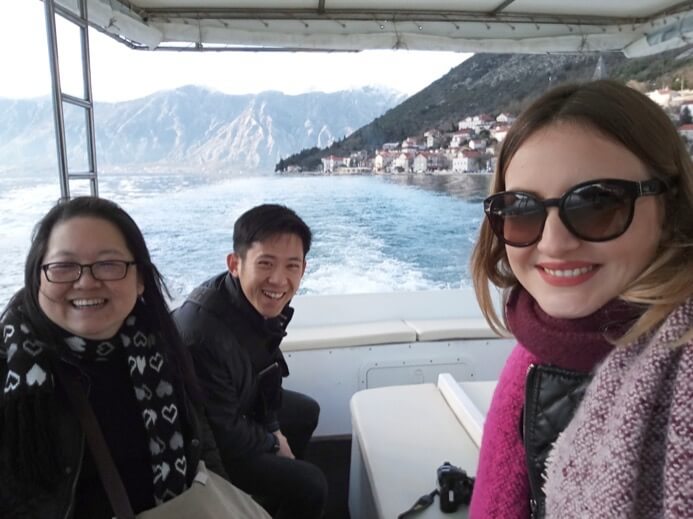 You can also do this tour by speed boat. You start out from Kotor and cruise along the bay to Perast. The view of the bay is quite different from the water. From here you'll see the hamlets that line the shore and the Baroque palaces from the 17th and 18th centuries, built when the Bay of Kotor was a powerful Venetian trade and military port.
You visit Perast and Our Lady of the Rocks just like in the original itinerary, then you cruise back to Kotor. 
I highly recommend doing this tour by speed boat. It's lots of fun, a great way to beat summer heat and traffic, and the views are stunning!
Tour Details
Itinerary:
Meet your guide
Drive to Perast
Boat ride to Our Lady of the Rocks
Tour of Our Lady of the Rocks church and museum
Return boat ride to Perast
Free time in Perast
Drive back to Kotor
Walking tour of Kotor
Escort back to meeting point
Start/finish point: Kotor, but flexible by arrangement
Start time: Flexible
What's included: 
Private guide
Comfortable, new vehicle with air-conditioning / speed boat

Parking and fuel

Return boat ride to Our Lady of the Rocks
Our Lady of the Rocks entrance fee
St Tryphon Cathedral entrance fee
Kotor Maritime Museum entrance fee
Taxes
Duration: 4 ½ hours (exact duration depends on traffic conditions)
Activity level: Easy
Kid friendly: Yes
Wheelchair friendly: Yes, but you must be able to get in and out of both a car and boat. If you have mobility issues please feel free to use the form below to contact Ana and she will design a tour for you.
Price: The price for private tours depends on your group size and the final schedule Ana creates for you. Please fill in the form below to let her know what you'd like and she'll be happy to send you an obligation-free quote.
About Your Guide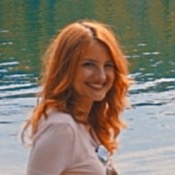 Meet your guide: This tour is run by Ana Badnjar. Ana is a five star-rated, licensed Montenegro guide. She's attentive, intuitive, caring and fun. She'll always answer your questions quickly before your arrival, and when you're with her she's very attentive to your group's unique interests and needs. She's also knowledgeable and passionate about Montenegro. I know you'll have an incredible experience in Montenegro with Ana guiding your way.

Reviews of This Tour
"Ana is an outstanding tour guide... one of a kind... helpful, tender, always worried if we are comfortable, making us feel as part of her own family. Her knowledge of what we were about to see, bypassing notes, dates, or details of what is not important at the moment ( but always ready to answer if asked) not "pushy" but slowly looking into the satisfaction of everyone. Never stoped smiling, and never taking her cellphone while with us! We had a very very good time !!! Thank you Ana, thank you very much." - Jeanette Hoffman, Chile
"Ana was a joy to spend the day with. She was friendly, conversational, fun, professional, and we really felt cared for. She had excellent knowledge of the history of Montenegro and Kotor, and geared the tour to our wishes. Ana's English is highly proficient, and she has a wonderful personality. We're hoping to hire her on our next trip to Montenegro - which I hope is quite soon!" - Holly Barstow, USA
"Our tour with Ana in Kotor was fabulous. Ana had a driver which made it easy for her to converse with our group of 6. She was very knowledgeable about Kotor; and was very flexible with the areas we wanted to see. Her English was excellent and we had such a memorable time. We are now like old friends. I recommend Ana highly and can't say enough about this wonderful tour. She's a winner! Best trip Ana. Carol" - Carol Gray, USA
"15 of us joined Ana on our shore excursion at Kotor. She greeted us at the port at the time requested. Ana is very informative and knowledgeable. We all love The lady of Rock and her story, a beautiful place to visit . Ana is patient and will surely join her again if we returned." - Guet Kheng Toh, Malaysia
"It was a pleasure to have Ana accompany me for my short trip into Montenegro. I was specifically visiting to photograph the sites, learn more about them from a local and Montenegrin culture along the way. I was driving and we met after I crossed the border from Bosnia & Herzegovina in Herceg Novi. She was extremely knowledgeable and very flexible - since I had most of my itinerary previously developed, but weather or lighting would often impact my plans. Thank you, Ana!" - Chris Graber, USA
Book This Tour
Book Your Trip With My Recommended Providers
The Old Captain's Smile Tour