Montenegro Pulse contains affiliate links and is a member of the Amazon Services LLC Associates Program. If you make a purchase using one of these links, I may receive compensation at no extra cost to you. See my disclaimer for more information.

Montenegro Boat Licence: Get Certified in Montenegro
Getting out in a boat is one of the most popular things to do in Montenegro.
The warm clear waters are so inviting and it's an incredible way to explore attractions like island churches, submarine tunnels and discover hidden beaches.
If you want to rent a boat or even have your own boat, you'll need a boat licence and Montenegro is the perfect place to get one.
The calm waters of the Bay of Kotor are the perfect place to learn to drive a boat and get your licence. And your licence will be recognised around the world, so you'll be able to drive a boat wherever you go. 
---
Montenegro Boat Licences
If you want to drive a boat in Montenegro, you must have a relevant licence. That applies to all boats, even if you just want to hire a small one with an outboard motor.
Getting a Montenegro boat licence involves sitting an exam with the harbour master in one of the ports. Since the exam is oral and only done in Montenegrin, it's virtually impossible for you to get a local licence while on holiday. 
But there is one company here offering internationally-recognised RYA (Royal Yachting Association) powerboat courses. Porto Montenegro Yacht Club (PMYC) offers RYA powerboat courses and you can get fully certified in just two days. 
---
RYA Powerboat Courses
The RYA is the UK national body for all forms of boating and their qualifications are recognised all over the world - so you can drive anywhere, not just in Montenegro. The RYA offers forward-thinking training which is continually evolving to keep up to date with the dynamic world of boating. 
The RYA has:
Over 2,200 RYA training centres in 58 countries around the world
22,000 RYA instructors around the world
25,000 professionals on commercial vessels using RYA certification
155,000 people complete RYA courses annually
Over 100 courses and certifications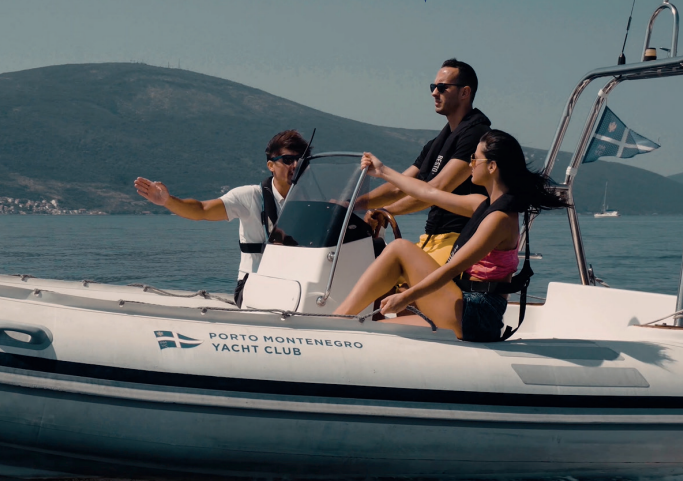 There are two powerboat courses available that will certify you to drive a speedboat in Montenegro.
The level 1 course is an introduction that will certifies you to drive under supervision of someone experienced.
The level 2 course arms you with thorough theoretical knowledge and practical experience, so you'll feel confident as the skipper of your boat. This is the one you want if you need to hire a boat without a skipper here. 
RYA Powerboat Level 1
The Powerboat Level 1 course is a great introduction to boating and it's ideal for children aged 8 to 11 years.
A fun and informative day that gives kids the chance to drive a powerboat under the supervision of an experienced instructor. Learn basic skills and safety measures including coming alongside, leaving a berth and high speed maneuvers.
You'll learn all the basic skills and safety measures you need to know at sea. You'll also be able to experience driving a powerboat including coming alongside, leaving a berth and high-speed maneuvers. 
Course Details
No experience required
Minimum age: 8 years
1 day course: 9am - 5pm
Maximum of 3 students per course
Course taught in Tivat
Price: €200 per person
RYA Powerboat Level 2
This course arms you with the theoretical knowledge and practical experience you need to confidently drive a boat. After you finish the course, you'll be qualified to skipper a powerboat up to 10m in length during daylight hours. 
On the course you'll learn about:
Launching a boat
Handling a powerboat
Anchoring
Tying knots
Mooring techniques
Navigation
Passage planning
This course can also be commercially endorsed if you complete a basic sea survival course and personal medical. You can do these here in Montenegro too. 
Course Details: 
No experience required
Minimum age: 12 years
2 day course: 9am - 5pm
Maximum 3 students per course
Course taught in Tivat
Price: €350 per person
RYA Personal Watercraft Proficiency Course
Personal watercraft (jetskis) can be either single-seater machines or can accommodate two or three people. They are fast and exciting, but need to be handled with care.
Whether you just want to have a go whilst on holiday or are planning to buy your own machine, the RYA Personal Watercraft course will teach you how to get the best from it and learn to handle the watercraft safely.

The course is designed for first time and experienced riders alike. Increasingly, this certificate is becoming mandatory in many countries if you wish to operate a jet ski, making it a worthwhile investment.

Course syllabus covers launching, handling and recovery skills, passage planning and decision making, high and low speed riding skills, essential safety information, collision avoidance and orientation at sea.
Course Details
Course duration: 1 day
No previous experience required
Maximum 2 students per group
Course can be conducted on your own watercraft or with our 2-seater jetski available at the centre
Minimum age 12 years old (riders under 16 must be supervised by an adult)
€300 for non-members
---
Book a Course
If you'd like to book a course, or just ask a question about doing an RYA course, you can fill in the form below and PMYC will get back to you asap. 

related Articles
Montenegro Boat Licence
Book Your Trip With My Recommended Providers