How To Avoid The Trash And Find the Best Montenegro holidays
So you've seen some of the gorgeous pictures of Montenegro and decided that Montenegro would be the perfect place for your next holiday… awesome choice!
Not that I'm biased or anything ;).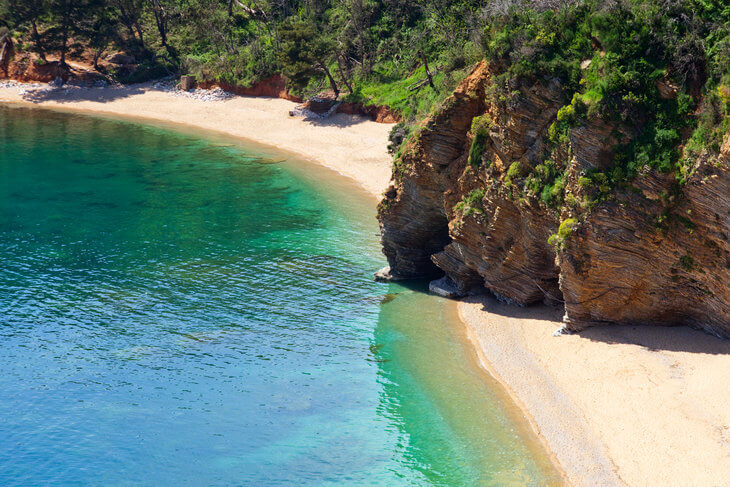 Mogren Beach, a five minute walk from Budva old town
Image: Deposit photos
Now, how do you make sure you get that perfect Montenegro holiday?

Well, you're off to a good start, because that's my specialty - helping YOU get the holiday of YOUR dreams in Montenegro.
Montenegro is still a relatively undiscovered destination, which is great if you're trying to avoid the tourist masses. But it also means you won't find dozens of great holiday packages to choose from at your local travel agent. To get a great holiday here, it pays to have a little help from those who travel, live and work here.
And that's where I come in. Think of me as your Montenegro holiday godmother, here to make your wishes come true!
So with that in mind, I'd like to run through the options for Montenegro holidays and tell you a bit about each. By the end of this article you should know the perfect option for you and be well on your way to that dream Montenegro holiday. You know, the one with all the glorious beaches, island churches, dramatic mountains, farmers markets, wine… yes, I know all about your holiday fantasies.
Read on, because I'll tell you how and where to find wonderful Montenegro holidays that fit your budget and your vision of a dream holiday in Montenegro.

---
Quick Links
Single Location Montenegro Holidays in a Hotel, Apartment or Villa
Activity-based or Adventure Holiday
---
Choose your Holiday Style
The first thing you should do is decide what kind of holiday you want. Doing this will streamline your holiday search considerably.
Montenegro holidays generally fall into one of the following categories:
Once you know this, you can skip down to the booking options and choose which one is right for you.
---
Montenegro holidays in one Location
These are the most popular Montenegro holidays. You book your accommodation in one place, usually somewhere along the coast, and visit the sights from there. Montenegro is so compact, that it's relatively easy to see the country in day trips. Booking a rental car on these holidays is a good idea because it'll help you visit some of the natural gems, like the national parks, and fit more into your stay.
There are three ways to book one of these holidays:
Do it yourself.
Book a package.
Use a travel agent.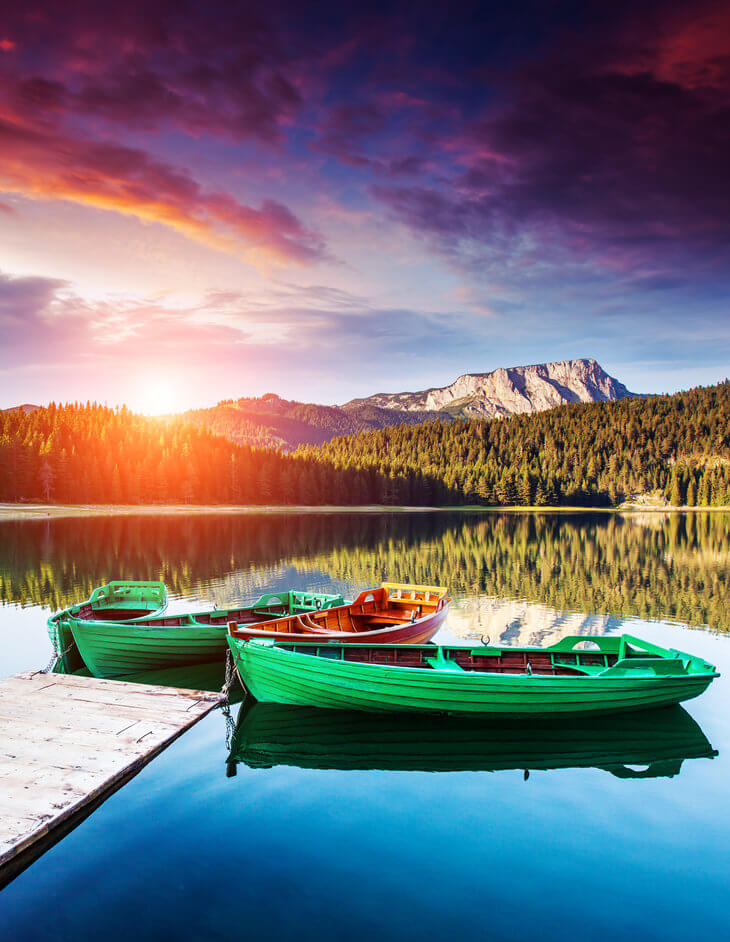 The Black Lake, Durmitor National Park. Image: Deposit Photos
---
Do It Yourself montenegro Holidays
Planning and booking every detail of your trip is the sure fire way to get exactly what you want. You research the different parts of Montenegro, decide where you want to stay, choose and book your flights, accommodation and rental car or transfers.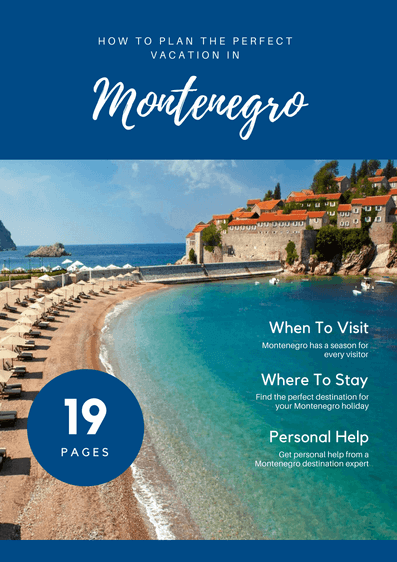 Free Montenegro vacation guide
If you're prepared to spend a little time, this could help you find your dream trip for a lot less that what you might think. Searching and booking your own flights and accommodation will give you a lot more choice than you'd have with your local travel agent or package holiday company, and it'll allow you to find cheaper and better options.

And if you want a rental car during your stay, you must see my page about rental cars and where to find the best and cheapest car hire in Montenegro.
If this sounds like you, my vacation booking guide will help you book your own trip… with a little help from your holiday godmother.
Click here to download a free copy of the Montenegro Pulse vacation booking guide.
---
Package Holidays
Honestly, I'm not a fan of Montenegro holidays from large, global holiday companies. The problem with these holidays is they offer packages all over the world and don't specialise in any destination, therefore they don't know any destination very well.

Let's take a look at Tui, which comes up top of the list for Montenegro holidays in a Google search. They have a total of 14 accommodation options, all on the coast of Montenegro. Then they have a picture of Sveti Stefan with the word Tivat overlayed. It's a 45 minute drive between those two destinations, and I tend to think if they're confusing the iconic island of Sveti Stefan with the town of Tivat, they don't know Montenegro very well.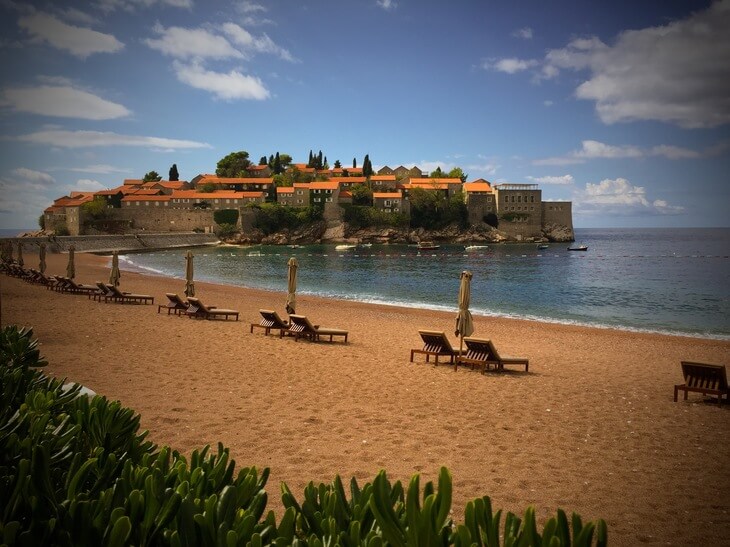 Sveti Stefan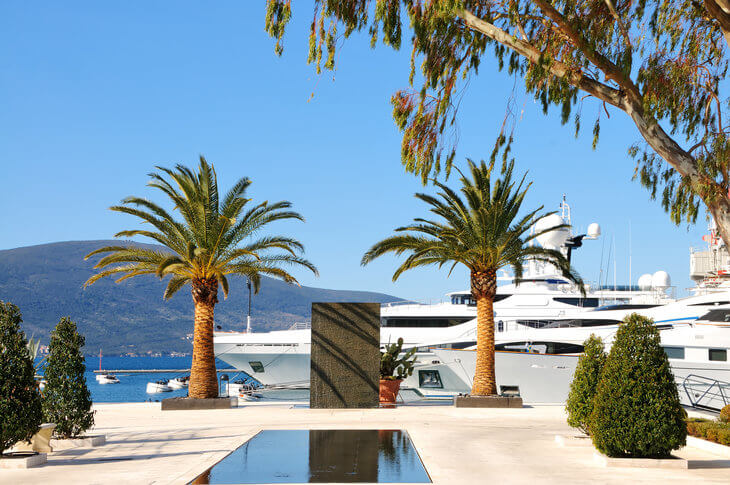 Tivat
Image: Deposit photos
Apart from a hotel in Herceg Novi, they have no Montenegro holidays in the beautiful Bay of Kotor, one of the most picturesque and popular places to stay in Montenegro.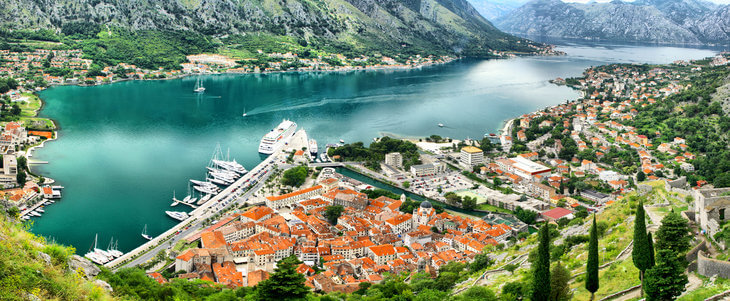 Kotor - the view that inspires people to visit Montenegro
Image: Deposit photos
So, what are your options if you don't want to, or don't have time to build your own holiday package?
You still have options. Read on and I'll show you where find those truly remarkable Montenegro holidays that will show you the very best of Montenegro.

---
Montenegro Travel Agent
Many peoples' first step when they want to book a holiday is to wander down to their local travel agent and talk to them about booking a holiday. The traditional holiday from your local travel agent usually includes flights, hotel accommodation and transfers or a rental car. At first this seems like a good, straightforward way to book a holiday in Montenegro. I used to do this too, but after working in tourism for many years, I realised there are better ways to go about booking an overseas holiday.
Even if your local agent does have some Montenegro holiday options, the chances are they have at most half a dozen hotels to choose from and have probably never been here. Which means they can't offer you any first-hand advice.
If you want some personal help or have questions, you can't go past using the services of a dedicated Montenegro travel agent. They provide the same services as your local travel agent (minus flights), but they specialise in Montenegro holidays.
This way, you have the trusted advice of a specialist Montenegro travel agent, who's based on the ground in Montenegro and knows the country intimately. They can answer your questions, save you hours of research and give you shortlists of recommended accommodation options based on your requirements. You'll have many more options than your local agent or tour operator can offer and access to pricing that's just as sharp.
Would you like something special – maybe it's your anniversary or it's going to be someone's birthday while on holiday? A local agent, with a relationship with local hotels and activity providers, can make special things happen that you'd usually struggle to organise on your own.
Click here to read more about how a Montenegro travel agency can help, and which one I recommend using.

---
Tour Around Montenegro
Want to see some of that stunning beauty that's featured on all the photos and videos of Montenegro you've seen?
Then you'll want to do a bit of tour around the country. With Montenegro being such a small country, you can easily get around it in a few days to a week, depending on how much you want to see.
Some of Montenegro's most iconic photos are taken in the five national parks that are dotted around the country. Not only do these locations offer you spectacular natural scenery, they also offer a plethora of outdoor activities and an insight into local culture.
Just take a look at this video to see what I mean.
Inspired? There are three ways to do a tour around the country:
Private guided tour.
Group tour.
Self-drive tour.
---
Private Guided Tour
Fun, local guide Mladen with his happy guest
On a guided tour, you'll have a private guide who designs an itinerary for you and chauffeurs you throughout your holiday. Your guide will be with you as much as you want him or her to be, and will give you private tours of attractions like Kotor old town, Cetinje and Ostrog Monastery.
A guided tour is the best way to get an in-depth experience in Montenegro. Guides are extremely knowledgeable about the history and culture of the whole country, and they can explain the regional culture, traditions, history and food throughout your stay. They also know plenty of off-the-beaten-track gems and will happily take you to them.
Click here to get an idea of what a guided tour itinerary looks like and what it costs.
---
Group Tour
On group tours you join other travellers and travel around the country in a coach with a guide. This is one of the most effortless and cost-effective ways to travel.
There are some pros and cons to booking group tours and people tend to either love them or hate them.
Pros:
You have a complete itinerary, so you don't have to think about anything.
You travel with others, which means you'll invariably meet new people and make new friends.
You get the benefits of travelling with a guide, but since you're in a larger group it's much cheaper than travelling with a private guide.
You get the benefit of group discounts on tours, attractions and meals.
You can do some fantastic excursions, like lunch on private beaches, which independent travellers don't have access to.
You can combine Montenegro with nearby countries like Greece and Croatia.
Cons:
The itinerary is set and there's no flexibility, so you might not get to see everything you hoped.
You travel with others and there might be people you don't like.
It can be hard to visit small attractions in big groups.
If you're interested in group tours, there are two places that have some really great Montenegro holidays on offer:
Tour Radar
Tour Radar has a large selection of diverse group tours in Montenegro, and some include Croatia too. The tours are run by local tour operators and special interest tour operators who specialise in a particular activity or the Balkan region, which means you're getting knowledgeable guides and excellent itineraries.
You can choose from sightseeing tours, cycling tours, walking tours, sailing tours, gastronomy tours and the list goes on. Because they're group tours, they're much cheaper than tours with a private guide.
Click here to see Montenegro holidays on Tour Radar.

Tours4Fun
Tours4Fun has a great selection of sight-seeing group tours that include other countries in the Balkans and often Greece. This is a fantastic way to combine some of the best attractions in multiple destinations. There are options ranging from day trips to tours lasting more than two weeks. And they have budget options, where you stay in backpackers, so they have options for all budgets.
Click here to see Montenegro holidays on Tours4Fun.

---
Self-Drive Tour
A self-drive tour also takes you around the country, but without the guide. You'll do your own research, hire a car and visit the different parts of Montenegro on your own. This means you have lots of flexibility to stop wherever you like and can stay in unique places like Etno Selo Izlazak or OK Koral Glamping.
You'll also get to see how incredibly beautiful and diverse Montenegro is.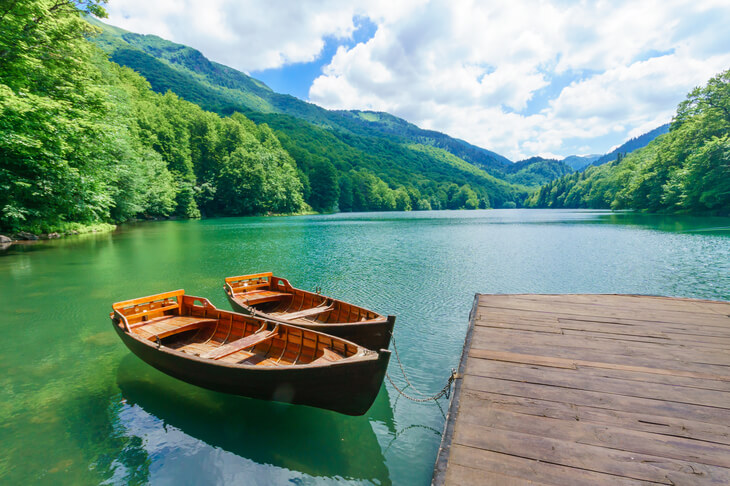 Biogradska Gora National Park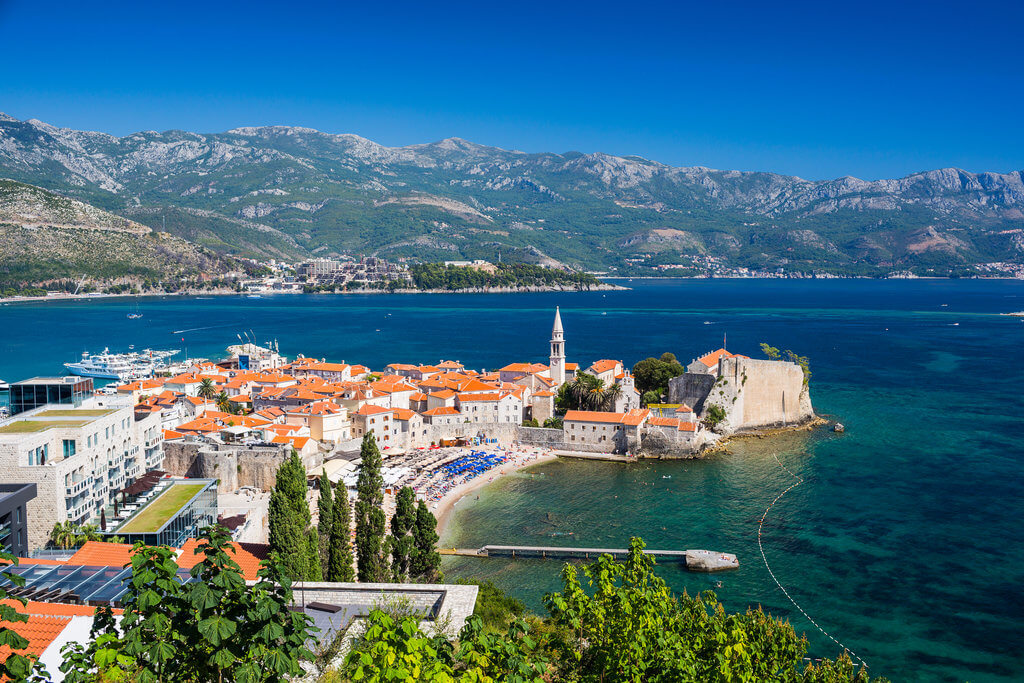 Budva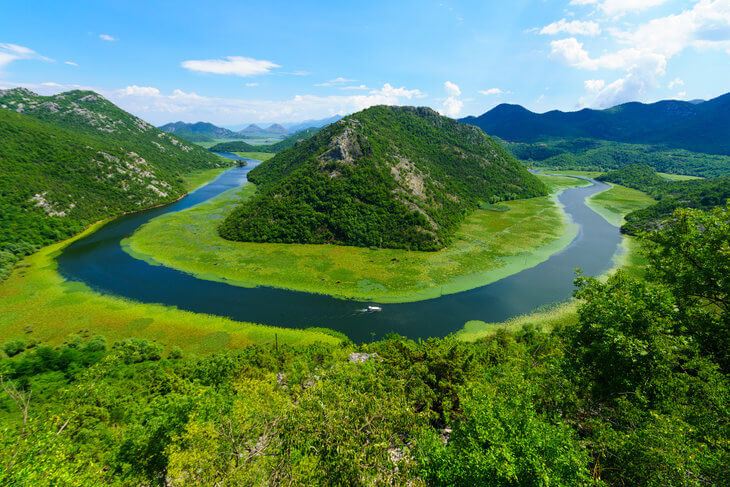 Pavlova Strana
Image: Deposit photos
If this sounds like your dream Montenegro trip, I've got a done-for-you self-drive holiday itinerary that you can copy or customise if you wish. You can also download a copy of it to bring with you.

Click here to see an example self-drive tour itinerary around Montenegro.
---
Activity-Based or Adventure Holiday
Do you think of yourself as a thrill-seeker? Is your ideal holiday jam-packed with outdoor activities? Or do you love hiking or cycling and want to explore Montenegro that way?
Montenegro is an outdoor adventure lover's paradise and there are so many ways to enjoy Montenegro's fabulous climate and natural beauty.
Rafting in the Tara Canyon. Image: WikiCommons
Here are some great places to find awesome activity-based Monenegro holidays:

---
Flash Sales
There are a few companies selling holiday packages that are advertised to be up to 60% off the retail price. These are really easy packages to book. They usually come with flights, transfers/rental car and accommodation and you don't need to do anything but whip out your credit card and book.
Having worked in tourism and seen how these packages are put together, there are few things I think you should know before you book one.
The actual discount can be much less than advertised. Sometimes the retail price of a package is increased so the discount looks bigger during the sale. Then it's reduced again after the sale is finished.
These sales always have a time limit. Notice the timer counting down the days, hours and minutes until the sale expires? This way the companies use 'fomo' (fear of missing out) as a tactic to get you to book.
The sales packages are often made up of rooms and dates that aren't selling well, so they're usually not the best options available.
I'm not against these package sales, you can find some great holiday packages here, especially if you're travelling outside of peak periods like school holidays. But, I always recommend:
Contacting a local travel agent to see what they can offer.
Doing a little comparison shopping before you book anything.
For example, if you're looking at a package with flights, accommodation on the Budva Riviera and a rental car, why not do a quick comparison to see if the package really is a good deal?
Here, I'll even give you the widgets to do that right on this page:
Flights
Accommodation
---
Rental Cars
Transfers
You might just find options you like better for the same price. Instead of one booking you'll make three, but hey, it's worth it to get that holiday that suits you perfectly!
As you can see, there are so many ways to find YOUR perfect Montenegro holiday… now it's up to you to make those holiday dreams come true!

---
Save This to Pinterest
---
More Articles to Help You Plan Montenegro Holidays
---
Home

>
Visit Montenegro
> Montenegro Holidays
---
Help us help the stray animals of Montenegro
Book your accommodation anywhere in the world through any of the search boxes on our site and we'll make a donation towards sterilising stray animals in Montenegro. 
It costs you nothing, and you get the biggest selection and lowest prices guaranteed. It's a win-win!