An Introduction to
Montenegro Holidays
If you're just getting started planning your Montenegro holidays, you're probably not quite sure where to start and what to expect.
Having spent years helping people book their holidays here (most fun job ever by the way, and my previous jobs include teaching 5 year olds to boogy board and working on a 100m luxury yacht!), I know Montenegro can seem like a bit of a mystery when you're just getting started. You see the beautiful photos and rave write ups in the newspapers and know you want to visit, but actually booking your trip to a relatively unheard of destination can be a bit confusing and overwhelming. What does it cost? Is it safe? And how on earth do you get here??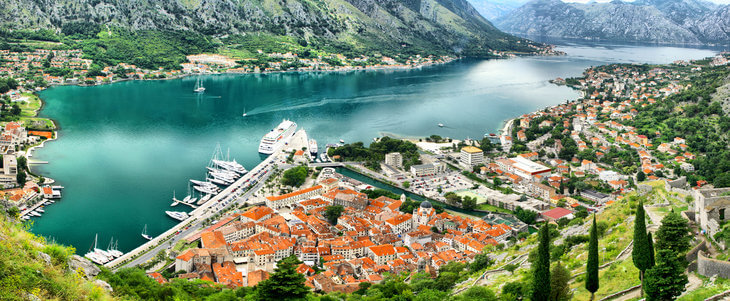 Kotor - the view that inspires millions of holiday-makers to visit Montenegro
Image: Deposit photos
Don't worry, you'll find everything you need to plan a fantastic Montenegro holiday here on this website. But first, I'd like to tell you more about what Montenegro holidays are really like and how you can get the best out of yours.

Montenegro is one of those fantastic places that caters to everyone, from backpackers to billionaires. Travelling through Europe on a shoestring budget? Stay in this hostel in Kotor old town for as little as €8 a night. Or maybe you're strictly a 5* traveler… You can stay on a 15th century private hotel island where prices start from €800 a night.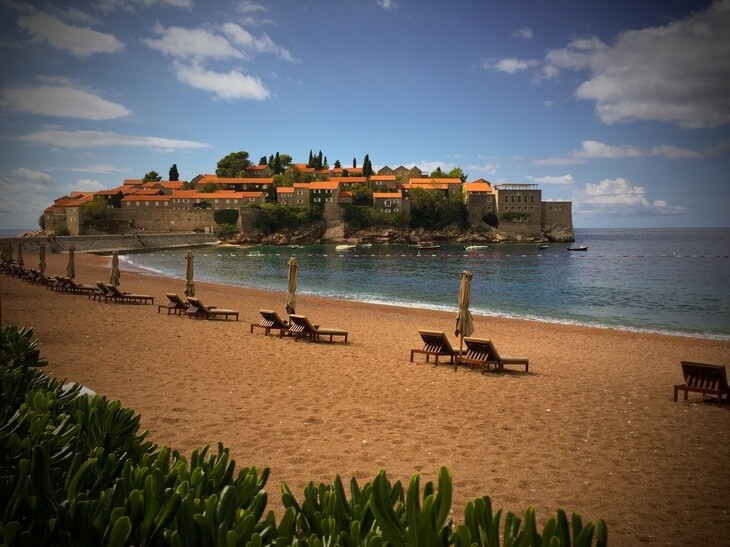 Aman Sveti Stefan, the 5* luxury resort island
Montenegro is incredibly diverse and packs a lot into a small area. Do you want a beach holiday where you spend your days lounging, swimming and sipping on cocktails? You'll find that in Montenegro.

Want an off-the-beaten-track adventure full of hiking, kayaking, canyoning and rafting? Yep, you'll find that here too.
Want a sedate getaway where you spend evenings wandering along the seaside discovering little eateries serving fresh seafood and local wine? You guessed it, you'll find that here in spades.
Or maybe you're looking for a family holiday where your kids can enjoy some summer sunshine and you can get stuck into the latest Jack Reacher book. Montenegro is great for family holidays and when you book direct flights to Tivat, you can be relaxing by the pool with your book within an hour of touchdown.
Bliss!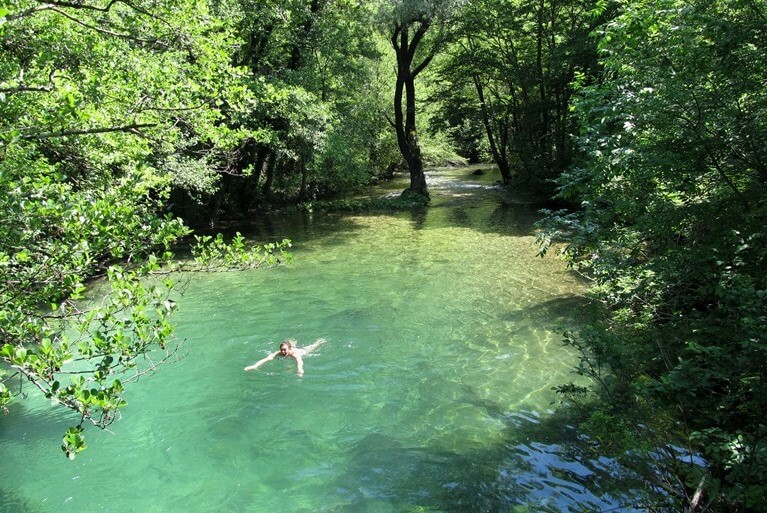 Wild swimming in secret waterfalls around Skadar Lake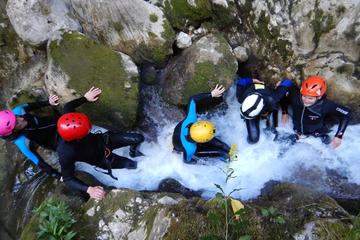 Canyoning through Nevidio Canyon
---

But first, Montenegro Holidays are not for Everyone
So what can you expect from a holiday in Montenegro? I'll start with who Montenegro holidays are not for.
They're not for people who expect smooth perfection on their holiday. If you really want a slick, polished holiday experience, unfortunately Montenegro is not the place for you. Montenegrin tourism just hasn't had enough time to get to that standard yet. If you're looking for a first-world destination, where you can expect to have a flawless experience, Montenegro won't meet your standards.
A Montenegro holiday comes with imperfect service, as the locals learn to understand foreign tourists' expectations and mannerisms. But I give them an A+ for effort, because for warm-hearted Montenegrins, hospitality is part of their culture and you'll see that they love to treat you like family. 
Most Montenegrins grew up during WWII, communist Yugoslavia or during the more recent Balkan wars. That means they're used to going without and making the best of a situation. They struggle to understand what the big deal is if the power goes out for a couple of hours or the drains smell when the north wind blows. Don't be surprised if your complaints are met with a philosophical shrug!
The infrastructure needs updating, meaning that we have power outages during storms and lots of roadworks. A stay here might mean you get stuck in traffic or have to take a detour, but you'll probably end up getting to see some lovely scenery.
In Montenegro, every situation has a silver lining! 

Once we took a German friend, Fritz, out night fishing with friends. At dinner time the table was laid with plates of cured meats, cheeses, bread and glasses of wine.
All of a sudden a flashy speedboat came flying past and set the boat rocking. We simply lifted our glasses, kept talking and waited for the rocking to stop. Fritz couldn't believe that no one was upset about how rude the speedboat driver was, going way too fast and way too close to us. He said in Germany they would have called the police and spent the next hour railing about the incident. Cue Montenegrin shrugs.
Montenegrins are the kings of 'shrugging it off'!
So who are Montenegro holidays for?
A holiday here will suit anyone with a sense of adventure. This is an emerging destination, well, as far as the west is concerned. Serbs, Russians and Norwegians have been coming here for decades!
If you're looking for a holiday with stunning natural beauty, plenty of outdoor activities, history, beaches and guaranteed summer sunshine, you will love Montenegro. Wherever you go, you'll end up saying "How has this place stayed such a secret?!"
If you don't expect perfection and enjoy exploring somewhere unjaded by tourist masses, you'll have a fantastic holiday in Montenegro!

---
Where to Stay in Montenegro
The secret to a great stay in Montenegro is choose where you want to stay first. Of course, if you're a 5* traveler or a backpacker, you're going to be limited to the destinations that have 5* hotels or hostels, because there aren't many of either in Montenegro.
But if you're not looking for specific accommodation at either end of the spectrum, the best place to start is by exploring each area of the country and choosing the place that will suit you best.
Most people will stay somewhere along the coast in one of these areas for all of or part of their holiday in Montenegro. You'll find that just about everyone you come across in the Bay of Kotor and Budva Riviera speaks some English. These are by far the two most popular places to stay.
But if you really want to get to know Montenegro, no visit is complete without a trip into the 'black mountains' Montenegro is named after. You see, in the local language Montenegro is 'Crna Gora' which literally translates into 'Black Mountain'. And it's this rugged interior that shows you another side of Montenegro.
While the coast is all Mediterranean sunshine and olive groves, the mountainous interior is rugged and dramatic. It's where bears and wolves roam free, people live in simple villages and snow covers the ground for many months of the year.
If you want to go inland, you can either split your time between the coast and the inland or see parts of it in day trips from the coast – Montenegro is so compact you can easily see it in day trips!
Here's a really general guide to the different areas: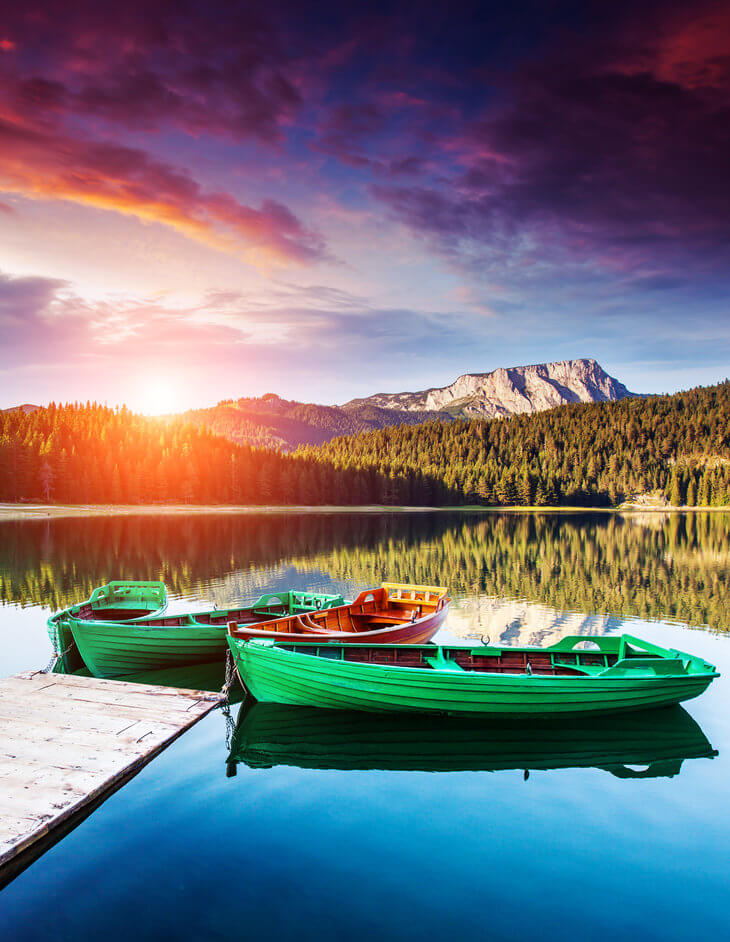 The Black Lake in Zabljak, Durmitor National Park
Montenegrin Coast
The Mountains of Montenegro
Lake Skadar – beautiful scenery with lots of outdoor activities.
Zabljak – in Durmitor national park, lots of hiking and adventure activities like rafting and canyoning.
Kolasin – close to Biogradska Gora national park, a mountain getaway.
Podgorica – the capital city, not recommended to base your stay in, too little to do.
---
Package Holiday or DIY?
When it comes to a trip here, I don't recommend using your local travel agent. It's very unlikely they've been here, know anything about the country or have very many options to offer you. You're much better off doing a little research and booking your own stay.
Most people who come to this site are DIYers, wanting to book their own flights, accommodation and car hire. They have a good idea of what they like and feel confident booking it themselves with a bit of guidance.
If you're keen to DIY-it, but you're not feeling that confident yet, I recommend downloading my booking guide to walk you through it.
As you'll know by now, the different regions of Montenegro are vastly different and where you stay in will have a big impact on your holiday. Most of the big-brand packages out there are based in Budva, which is a problem when most English-speaking tourists dislike the gaudiness and noisy beaches of Budva. It's worth spending a little time doing some research and making sure you have the holiday you want!
However, if you want to do lots of activities and head away from the coast, booking a package is your best bet. While the coast is very easy for tourists to navigate, the inland areas are not very touristy but they're some of the most beautiful!
If you're keen on touring around the inland, want to do lots of outdoor activities or are looking for an off-the-beaten track option that won't require any research or planning, a tour package is a great way to get the best out of your trip.
You can find a selection of packages that I recommend here.
---
Food and Wine
One of the things that surprises people when they visit Montenegro is the food. And when I say 'surprises' I mean 'blows them away'!
Montenegrins are not just passionate about their food. They obsessive. Sit down with any group of locals and the conversation will invariably turn to food. What they've eaten, where they bought it and how they cooked it.  So it's not surprising that like the rest of the country, Montenegro's food is a hidden gem!
Just like the geography, Montenegro's food can be roughly divided up into coastal fare and mountain fare.
Food on the coast is made up of fresh-caught seafood like octopus, squid and fish. It's lovingly cooked with plenty of garlic, generous glugs of wine, vine-ripened tomatoes and lashings of olive oil. And no seafood meal is complete without blitva – silverbeet and potatoes sautéed with garlic and olive oil. Even if you're not a fan of greens, this will convert you. And it might just be the secret to why Montenegrins tend to be so tall and slim!
Montenegro mountain food is hearty and warming. Roast meats, potatoes, cheeses and crusty breads form the basis of meals here. When you go into the mountains make sure you try kacamak, potatoes and cornmeal mixed with kajmak (a Balkan cream cheese) and served with fresh sour milk.
But if you try just one thing here, make it 'sac' – meat and potatoes that are slow roasted over coals under a steel dome. This is the most tender, tastiest roast you will ever try – and you'll find it on the coast too!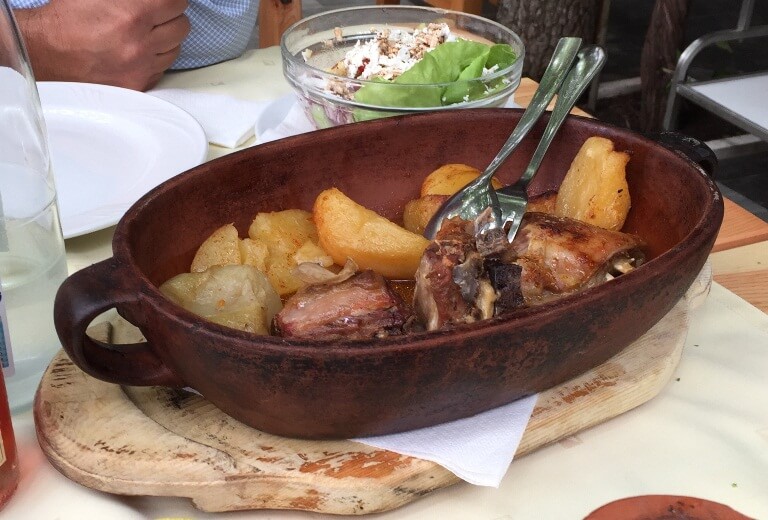 A classic 'sac' meal in a restaurant
And what should you drink with your meals in Montenegro?
If you really want to experience the Montenegrin lifestyle, red wine is the way to go. Montenegro is home to Europe's largest vineyard and you can pick up a bottle of Plantaze's wine for a little as €3 in the supermarket.
Or you can try a tipple from a boutique winery. Our favourite is Arhonto from the Krgic Winery. Montenegro families still make their own wine every year and of course, every family thinks theirs is the best!
Montenegrin families also make something else that's a must-have in every household and a must-try on every Montenegro holiday: rakija. Rakija is a very, very strong brandy that's used as an aperitif, to celebrate any kind of occasion, served to house guests and as a general cure for anything that ails you. At around 50% alcohol (but it can be more!), my advice is to sip it!
And what do you say when a toast is proposed? Ziveli!
If wine isn't your thing, the next best thing is Niksicko Pivo, the local beer made in Niksic. A 500ml glass goes for less than €2 and is the perfect refresher on a hot day.
---
Cost of Montenegro Holidays
Another reason people love to come back to Montenegro again and again is that it doesn't have to be expensive. Montenegro holidays are some of the best value holidays in Europe.
You can find waterfront accommodation with sea views for less than €50 a night, most attractions cost around €2 per person and top-quality restaurant meals go for around €10 per main.
Or you can go all out and enjoy a luxurious stay in 5* hotels, eat at Nobu and spend your days on the yacht you've chartered.
The choice is yours… Montenegro caters to every budget! 

---
Safety
One of the most common questions I get asked is 'Is it safe?' My answer is always 'I feel safer here than I do at home in New Zealand.' As a woman, I have no hesitation walking around alone at night and we only lock our front door when we go away on holiday. This is the kind of place where someone will park behind your car but leave the keys in the car so you can move it if you need to get out.
In a nutshell, yes, it's very safe here.

---
Getting to Montenegro
So, have you decided that a Montenegro holiday is just what you need? The next step is to find out how to get here.
There are a whopping 4 international airports to choose from when you plan your Montenegro holiday. Direct flights into Montenegro have been known to be expensive in the past, with the national carrier, Montenegro Airlines, having a monopoly. But that's all changed in the last two years with low-cost carriers like Ryanair and Easyjet flying in directly from European centres like Brussels, London and Manchester.
But the real secret to finding good flights to Montenegro is to check the options to the closest airports in neighbouring countries, Croatia and Albania. Dubrovnik is a very easy and popular airport to fly into, with lots of flights from all over Europe every day, especially during the summer. From there, it's just a 25 minute drive to the Montenegrin border. And if you're staying in the south, you can also fly into Tirana airport in Albania and drive across the border if you're really struggling. You can find out more about flights to Montenegro here.
Although flying in is the most popular way to start a trip to Montenegro, you're not restricted to that. Why not enjoy one of the most scenic train journeys in the world and arrive by train from Belgrade? Or overland by bus, caravan or car? Wherever you're coming from, Montenegro's location on the Adriatic Sea in Southern Europe, makes getting here a piece of cake. And if you're not sure exactly where Montenegro is, you can see here. 
Read more about getting to Montenegro >

---
Getting around montenegro
If you are planning to do any amount of sightseeing in Montenegro, a rental car will be an invaluable investment in your holiday. There is public transport in the form of buses, but they're too inefficient to use for day trips around the country.
Another option is to use taxis and you'll find them in every town. If you don't plan on leaving the town you're staying in, this is a great way to get around because most towns are small enough that a trip won't take more than 5-10 minutes and cost more than €5-10 Euros. But if you want to sightsee, travelling by taxi isn't very cost-effective. In summer, a 30 minute ride between Tivat and Budva will cost you around €75 each way. You can hire a car for a week for the price of that return journey!
More about taxis in Montenegro >
A rental car will also give you complete freedom to go wherever you like and plan your sightseeing trips. Not to mention trips to the beaches, restaurants and to buy groceries! You'll be able to explore some of the best parts of Montenegro, like Skadar Lake, Sveti Stefan and one of my personal favourites, Zabljak.
More about rental cars in Montenegro >

---
What to Do in Montenegro
Montenegro is the perfect place to get outdoors. The weather is warm and the natural beauty is breath-taking.
Spend lazy days on the beach sipping cocktails.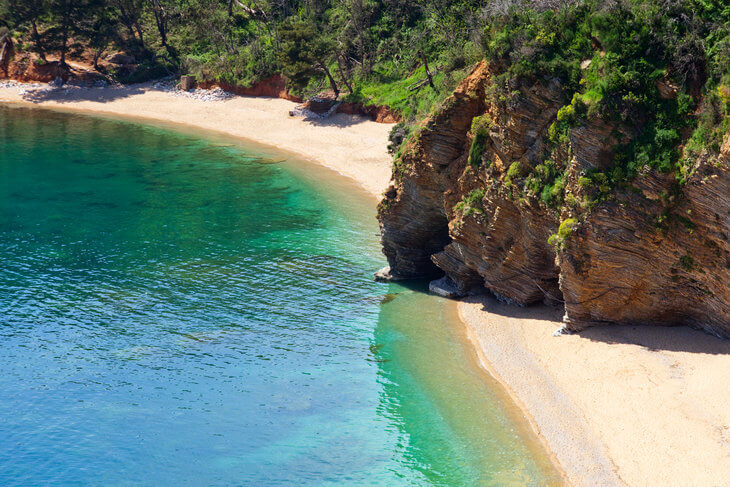 Would you believe Mogren Beach is just a 5 minute walk from Budva old town?
Or get your adrenaline fix whitewater rafting and canyoning through the deepest canyons in Europe.

Visit 2,000 year old ruins and old towns.
Or hire your own boat and discover secluded beaches just for you.
Go kayaking to see rare birds, diving or wine tasting.
You get the idea. There's something for everyone.
Montenegro holidays are full of natural beauty, adventure, fun and will absolutely take your breath away. One trip is never enough…
Are you ready to start planning your vacay? Download my free trip planning guide to follow my foolproof step-by-step method for booking an unforgettable holiday in Montenegro. I've used this method to book hundreds of holidays here and got it down to a fine art. You can use it too to book your own holiday here with confidence.
If you have questions, head over to my FAQ page where I answer the most common questions about Montenegro holidays. And if you can't find the answer to your questions, you can ask me at the bottom of the page.
I hope you're excited about planning your Montenegro holiday, in whatever form is perfect for you!
---
More Articles to Help You Plan Your Montenegro Holiday
---
Home

>
Visit Montenegro
> Montenegro Holidays
---
Help us help the stray animals of Montenegro
Book your accommodation anywhere in the world through any of the search boxes on our site and we'll make a donation towards sterilising stray animals in Montenegro. 
It costs you nothing, and you get the biggest selection and lowest prices guaranteed. It's a win-win!