Montenegro Pulse contains affiliate links and is a member of the Amazon Services LLC Associates Program. If you make a purchase using one of these Amazon links, I may receive compensation at no extra cost to you. See my disclaimer for more information.

Experience the Real Montenegro With the Top 11 Montenegro Tours
There are so many Montenegro tours to choose from it's hard to pick which to do!
The best Montenegro tours offer you:
Whether you have an hour, a day or a week, there are fantastic Montenegro tours that give you the chance to see the best of Montenegro.
Here are the most popular Montenegro tours… good luck choosing just one!

Great Montenegro Full-day Tour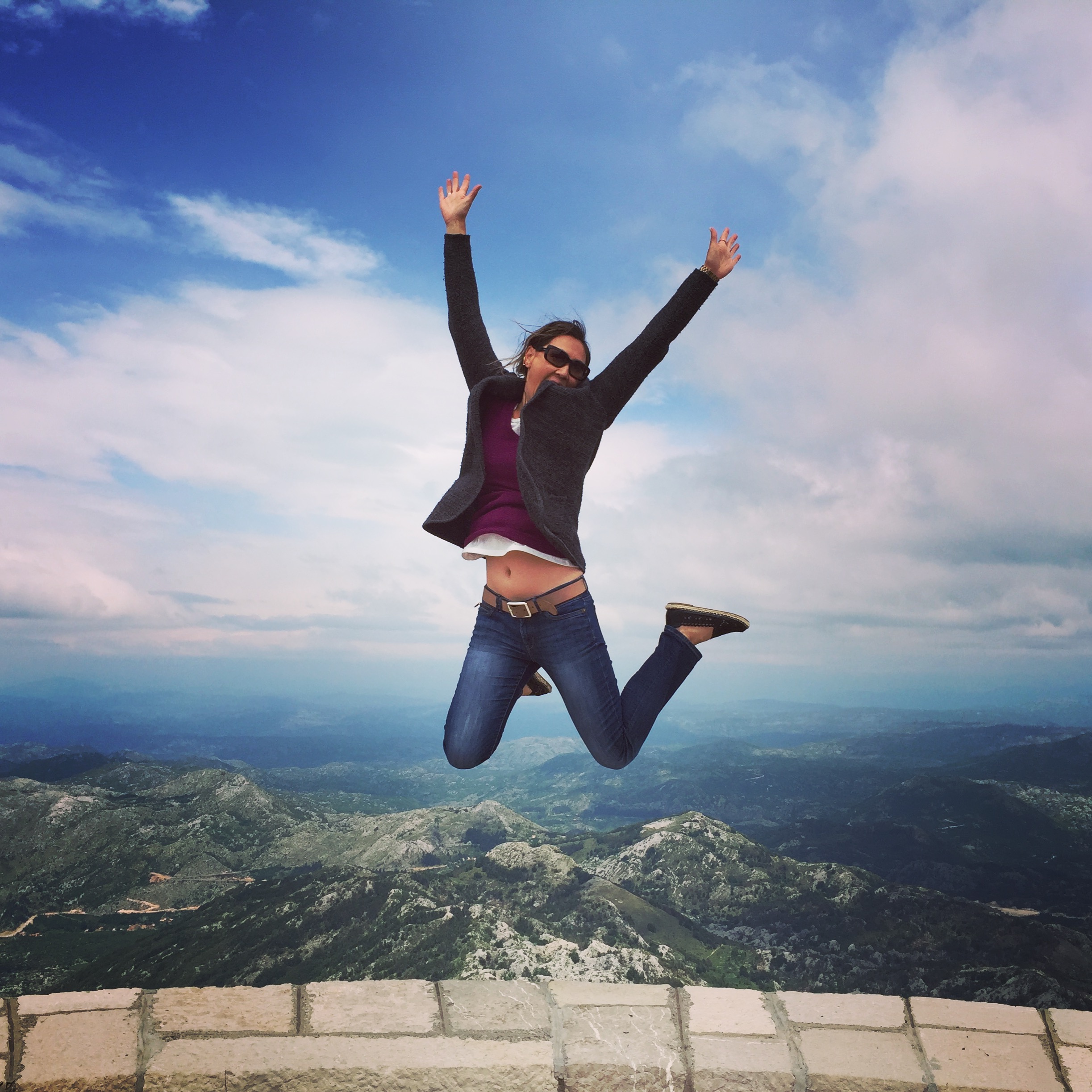 Get this insta-worthy pic at Petar Petrovic-Njegos Mausoleum
The Great Montenegro Full-Day Tour is a fun and inexpensive way to see the highlights of Montenegro in a single day. Incredibly, in just one day you'll visit the top tourist, historical and cultural attractions in Montenegro:
This is a small group tour that runs daily. The guides are endlessly knowledgeable and enthusiastic and you're guaranteed to have a good time!
---
Kotor Walking Tour
Kotor
Image: Deposit photos
The Kotor Walking Tour is a must during any visit to this historic Venetian town. The walking tour is the only way to get real insight into the history and significance of Montenegro's top tourist attraction.
On the tour you'll visit:
Armory Square and Clock Tower
Flour Square
Buca and Pima Palaces
St Tryphon Square
Maritime Museum and Karampana Fountain
St Lucas and St Nicholas Square
This is a small group tour so you get an intimate experience and the chance to freely ask questions. You'll also get a generous discount when you book your place through Montenegro Pulse.

---
Blue Cave Boat Tour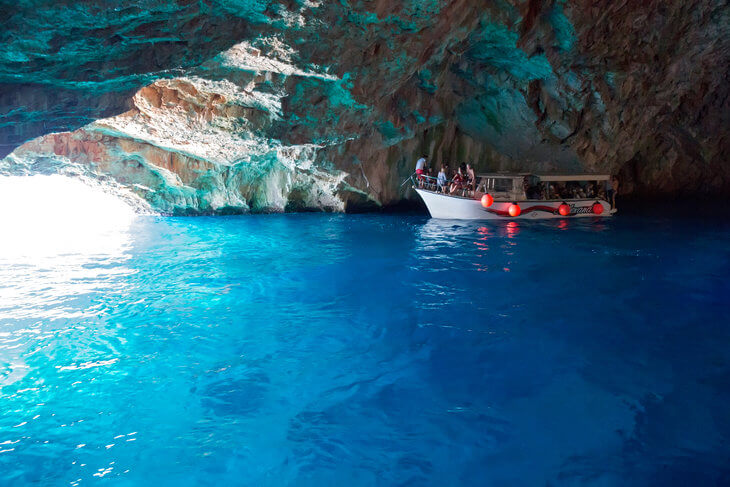 Image: Deposit photos
The Blue Cave Boat Tour is the most popular boat tour in the Bay of Kotor. The three hour speed boat tour starts from Kotor and cruises along the Kotor Bay coastline to another of Montenegro's top attractions, Our Lady of the Rocks.
You have a stop at the island church to take a guided tour through the church and museum, which costs €1 per person.
Then you continue cruising through the Verige Strait and along the Herceg Novi Riviera to the entrance of the Bay of Kotor. You pass Mamula Island, an historic fortress island, and Arza Fortress on the mainland of Lustica Peninsula.
After cruising along Lustica Peninsula's coast you come to the Blue Cave, where you can jump out for a swim in the iridescent blue water of the cave.
On the way back you'll visit the caves used to hide Yugoslav submarines, before cruising back along the coast to Kotor.

---
Blue Cave Snorkelling and Kayaking Adventure
You can also visit the Blue Cave by kayak on the Blue Cave Snorkelling and Kayaking Adventure. This popular tour departs from Kotor and heads out to one of coastal Montenegro's most rugged and wild places, Lustica Peninsula, where the Blue Cave is located.
From there, you spend around two hours kayaking to and from the Blue Cave. There's time to enjoy some swimming, snorkelling and more exploring before you head back to Kotor. 
---
8 Day Scenic Montenegro Tour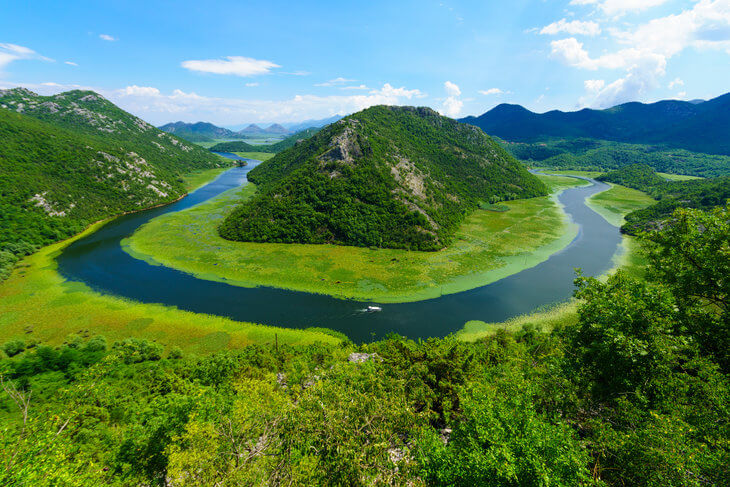 Pavlova Strana, Rijeka Crnojevica
If you want to leave no stone unturned in Montenegro, the 8 Day Scenic Montenegro Tour offers you the opportunity to immerse yourself and get to know Montenegro's breath-taking scenery, proud history and mouth-watering cuisine.
The tour covers all of Montenegro's top spots, and a few hidden gems most visitors don't get to see. It's also one of the easiest ways to do a Montenegro tour. Your whole itinerary is done for you and it's customisable. Your guide takes care of all the transport, accommodation and meal arrangements and will personally guide you around Montenegro.
---
Discover Montenegro Self-drive Tour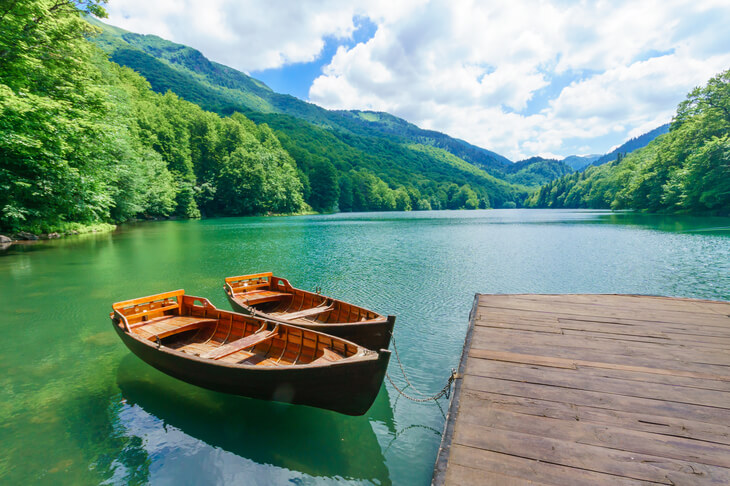 Lake Biograd
If you prefer to do a self-drive Montenegro tour, I have a done for you itinerary called the Discover Montenegro Self-drive Tour. You can follow the tour to the letter or personalise it to suit yourself.
The tour is designed to take to visit Montenegro's top scenic and cultural experiences, while making sure you spend as little time as possible driving and more time exploring.
The itinerary includes accommodation recommendations, driving times and distances and a printable PDF copy you can bring with you.

---
Tara Canyon Rafting Tour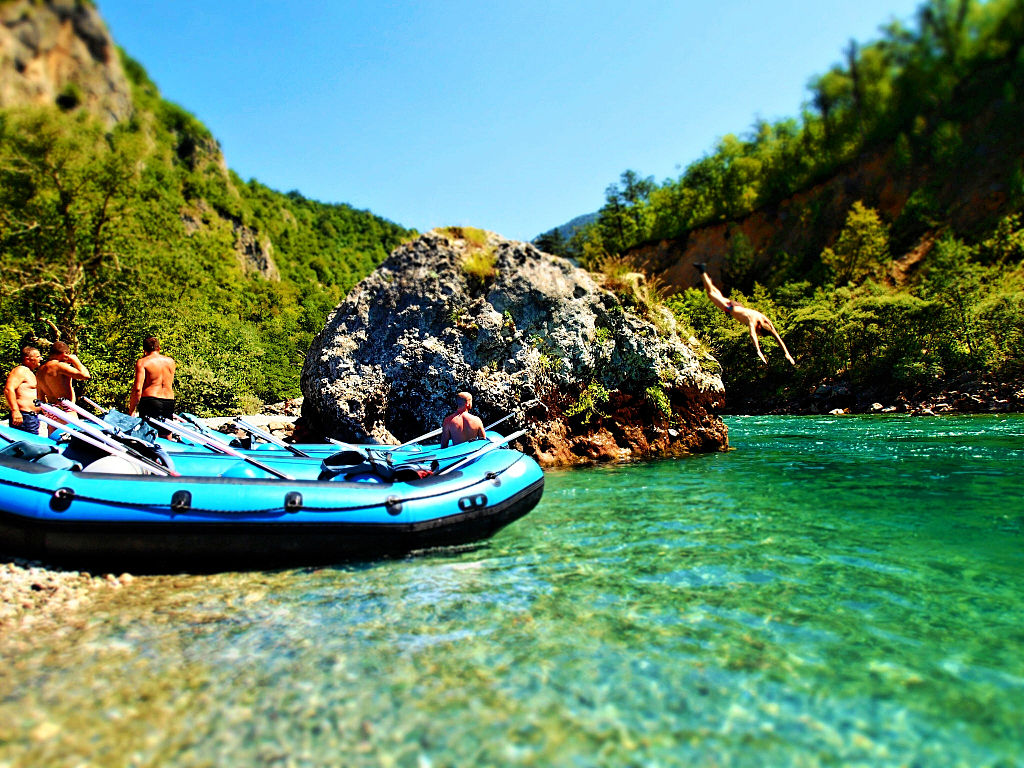 Rafting in Tara Canyon. Photo: Sarah Tzinieris [CC BY 2.0 (https://creativecommons.org/licenses/by/2.0)], via Wikimedia Commons
Rafting down the Tara Canyon is one of the most popular things to do in Montenegro. From the north-western tip of Montenegro, rafting tours depart from Scepan Polje throughout the summer months.
Tara Canyon is the second deepest canyon in the world (after the Grand Canyon) and it's an untouched natural wonderland. The water in the canyon is so pure you can drink it. It's also very, very cold year round!
You can either drive yourself to Scepan Polje and start the tour there, or you can book a tour with return transport. Either way, rafting down the Tara Canyon is an unforgettable experience!

---
Montenegro Canyoning Tours
Consider yourself a bit of an adrenaline junkie? Or do you just like a bit of excitement and a challenge? Travelling with kids and want to give them a really cool experience while on holiday? Then look no further than canyoning in Montenegro.
You'll find canyoning tours for everyone, from families to extreme thrill-seekers. Each tour includes a combination of hiking, swimming, abseiling and jumping into pools. All of them take you through Montenegro's fairy tale-like natural scenery and finish with a hot meal of national cuisine.

Canyoning
---
Montenegro Coasteering Tours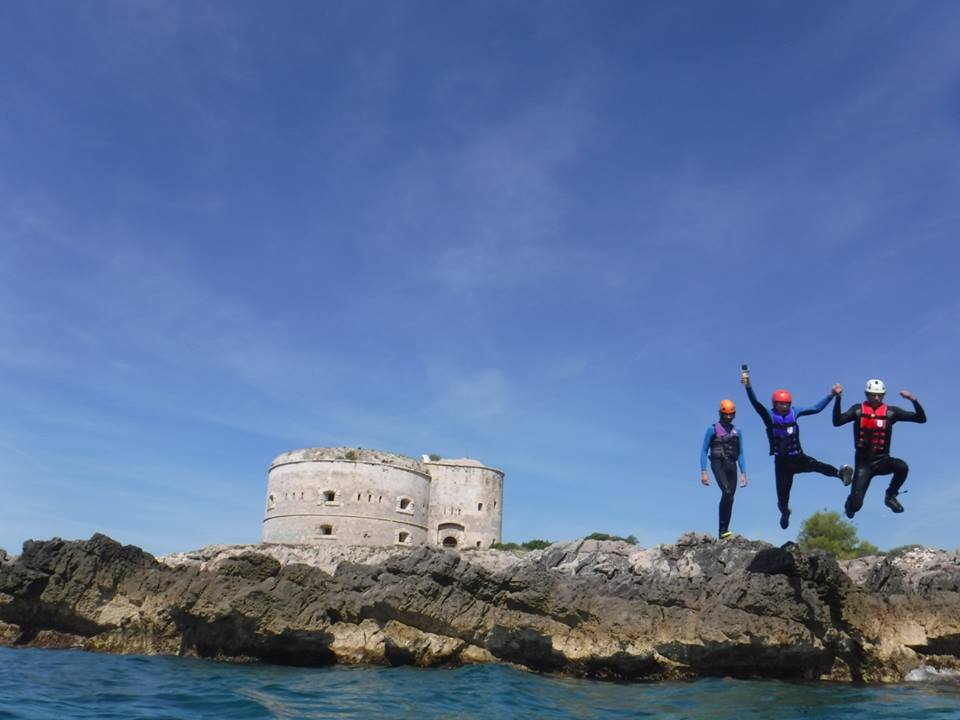 Coasteering in Montenegro
Coasteering is the most fun you can have in a wetsuit. A relatively new adventure sport, coasteering in Montenegro is an ultra-fun adventure tour that's fast-paced and full of cliff jumps into the azure Adriatic Sea.
The tour starts out from Herceg Novi with a boat ride to Lustica Peninsula. From Arza Fort you wind your way along the coast, alternately scrabbling along the rocky shore and cliff jumping from ever-increasing heights. The tour finishes with a swim through the Blue Cave before you cruise back to Herceg Novi.

---
Skadar Lake Boat Tours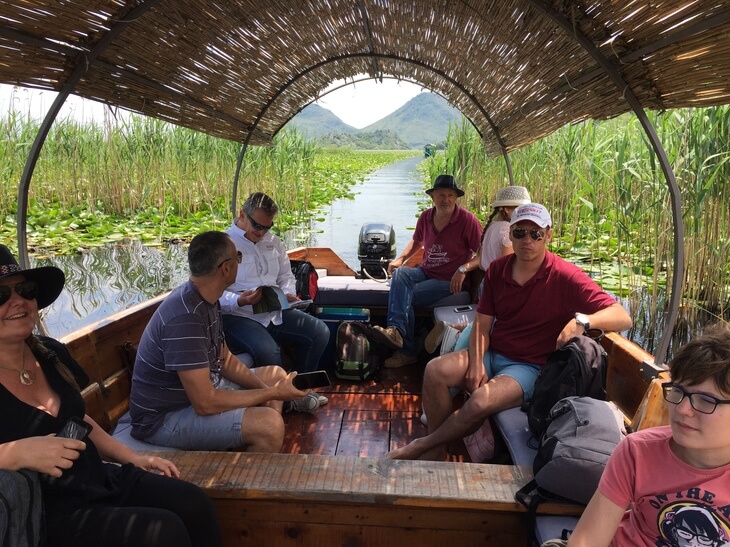 Cruising on Skadar Lake
Skadar Lake is one of Montenegro treasured national parks and an important sanctuary for all kinds of wildlife, especially migrating birds.
I highly recommend a visit to the lake during  your visit to Montenegro and one of the most enjoyable ways to explore the lake is on a traditional wooden lake boat called a cun (pronounced 'choon').
You can book lake cruises for just an hour or for a full day, although I recommend a three-hour tour that includes a visit to a magical island monastery. Granted, part of the magic may be Father Filip and his enormous vat of monastery-made rakija, but most of the magic is picking water lilies, spotting kingfishers and pelicans and tranquillity of gliding around the lake.

---
Skadar Lake Winery Tours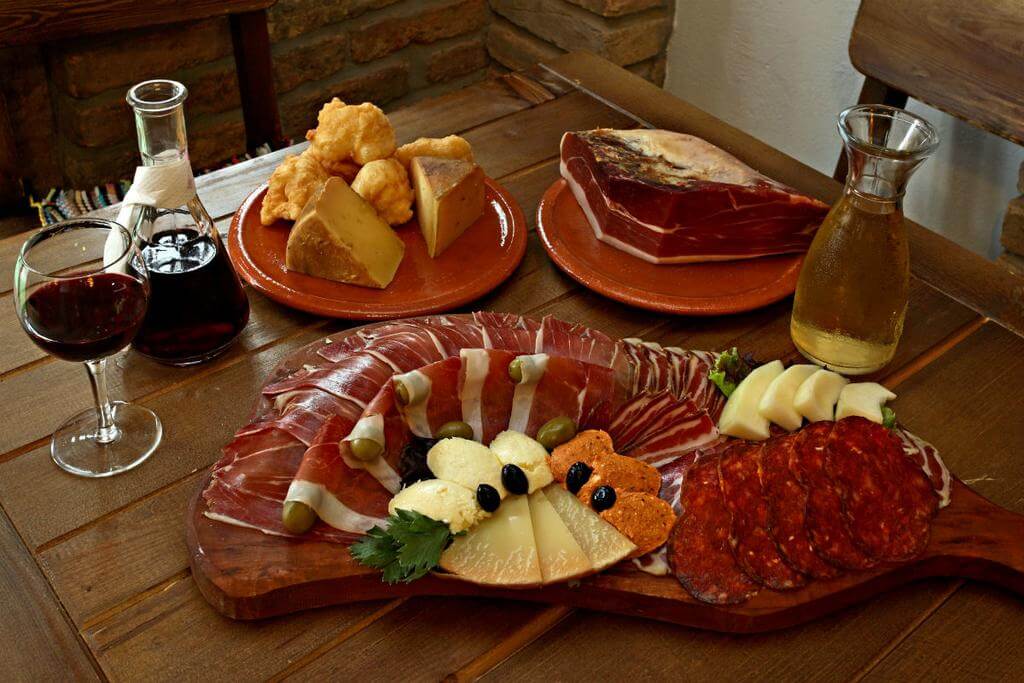 Skadar Lake Wine Tasting
No trip to Skadar Lake is complete without a visit to a local winery. This region is known as Montenegro's premier wine region and it's filled with small, family-owned wineries.
You can visit one winery or several and each visit includes the chance to sample some mouth-watering traditional cuisine from this region.
And if you really want experience this special place, you can stay by the lake at places like Eco Resort Cermeniza, Vida's House and Villa Miela.

More Things to Do In Montenegro
Montenegro Tours
Book Your Trip With My Recommended Providers