Montenegro Pulse contains affiliate links and is a member of the Amazon Services LLC Associates Program. If you make a purchase using one of these links, I may receive compensation at no extra cost to you. See my disclaimer for more information.

Sveti Stefan: Best Things to Do in Sveti Stefan (2023)
Discover Sveti Stefan in Montenegro. All your questions answered - how can you see it, how to get there and where to stay.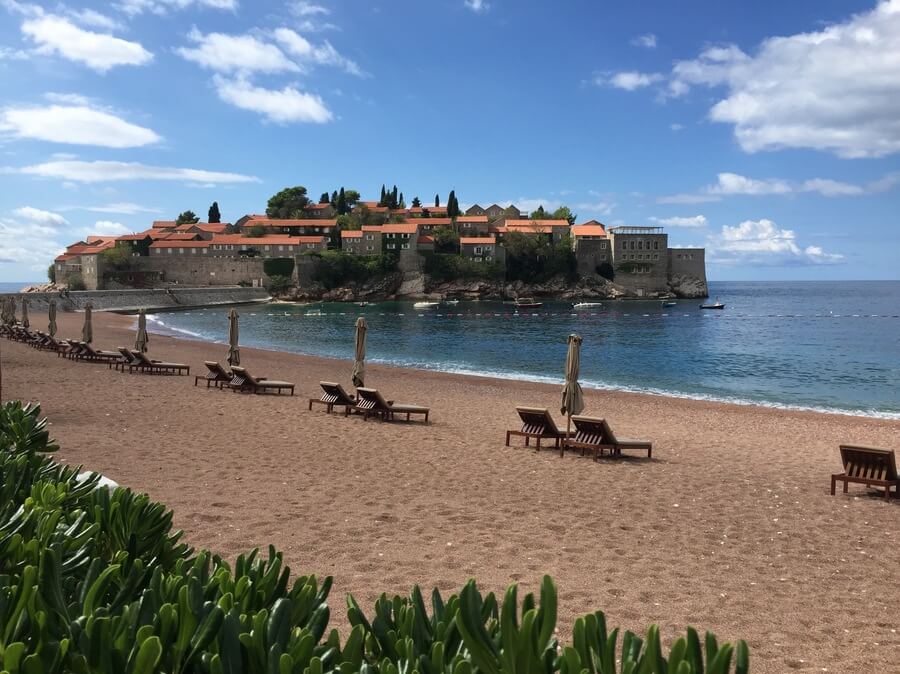 "It's just as if I have returned to town from the most beautiful fairy tale of my childhood" - Sofia Loren
Sveti Stefan is the jewel in the Budva Riviera's crown. It's got everything:
Illustrious history
Celeb sightings
Stunning beauty
It's one of the must-see sights on the Riviera. But for most a quick snap of the island from the shore has to suffice.
The island belongs to Aman Resorts and is closed off to the public. This means it's inaccessible to all but those who can afford the hefty price tag.
There is however a way you can get on to the island for a lot less than the €800 per night price in the resort. Keep reading and I'll tell you how you can see the island for yourself.

---
History of Sveti Stefan in Montenegro
The little islet's history dates back to the 15th Century when the Ottoman Turks were out to conquer the Adriatic Sea.
During one of their campaigns they anchored at Jaz Beach near Budva and were on their way to invade Kotor. When the locals heard about this they gathered up their weapons and took a shortcut to Kotor to help their neighbours. And they won!
After giving the Turks a good hiding, they not only chased them back to Jaz but attacked their ships and kept the spoils. With that gold they decided to build a fortress town on a little islet with one house for each of the 12 local tribes and a church naturally. The church was dedicated to St Stephan who became the town's protector. Later the town became a centre for trade and administration.
By 1954 however, there were just 20 people still living on the island. So in the 50's the islet was renovated and opened in 1960 as a hotel. It quickly became a favourite hangout of 60's film stars and royalty like Sophia Loren, Doris Day and Princess Margaret. There was then another period of decline while Yugoslavia broke up until 2007 when it was leased to Aman Resorts.
Sveti Stefan in Montenegro Today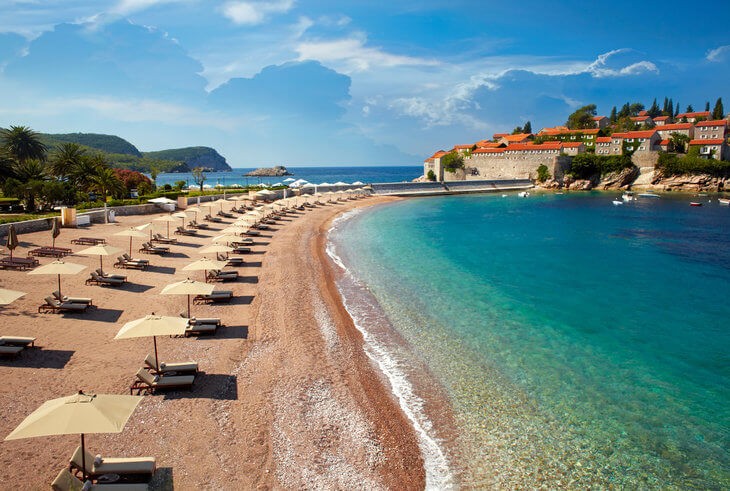 Image: Deposit Photos
Today the islet has been renovated and is an exclusive hotel again. Aman Resorts Sveti Stefan has 58 rooms and apartments. It's a beautiful but exclusive resort and the hotel is priced from around €800 per night.
---
Things to Do in Sveti Stefan in Montenegro
Milocer Park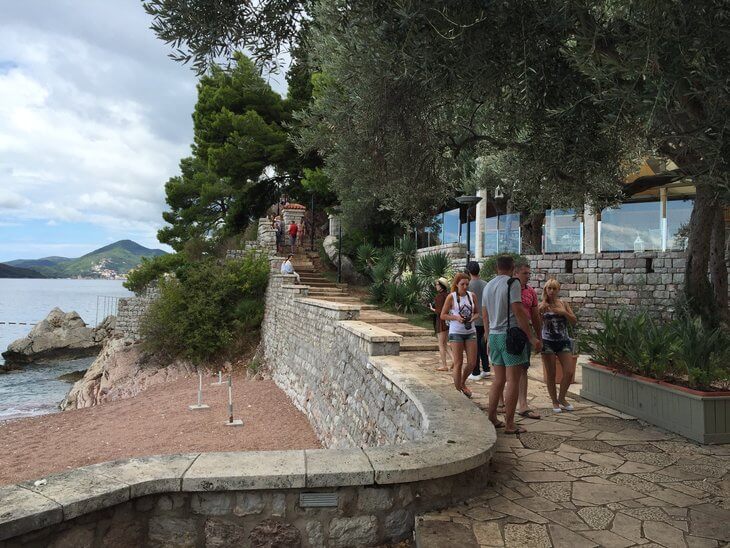 The path from Olive Restaurant through Milocer Forest Park
Although you can't really visit the island, I recommend having a walk through Milocer park. The whole area used be the summer residence of the Karadjordjevic family and it's beautiful.
The road winds through Milocer park which is filled with olive groves and exotic trees. It takes you past Villa Milocer and the beach, which are also part of Aman resort. 
You'll also pass Queen's Beach, a beautiful cove which was only recently opened to the public. Follow the path until you come to the picturesque hamlet of Przno.
Start from the path in front of Olive restaurant and follow it through the park.

Beach
The beach north of the island is also part of Aman Resort and costs €80 per person to hire a lounger.
The south beach is free for the public so if you're staying elsewhere you can use this beach for free. You can hire loungers here starting from €15 for two loungers and an sun umbrella.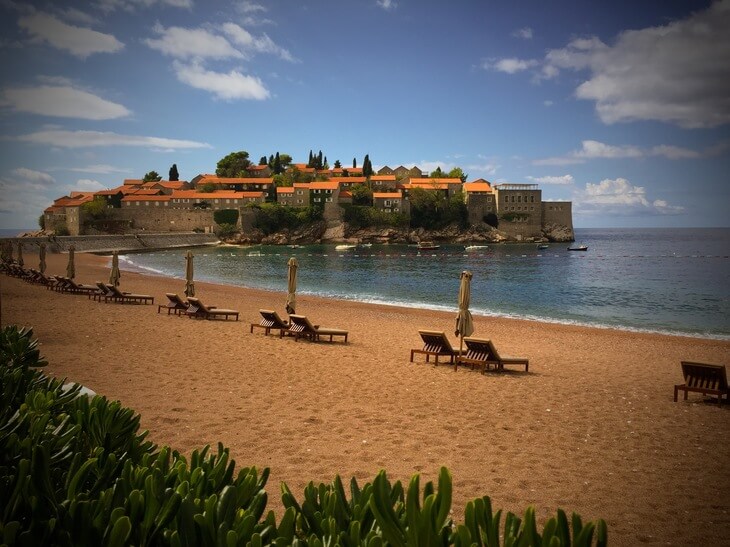 The Aman Resort beach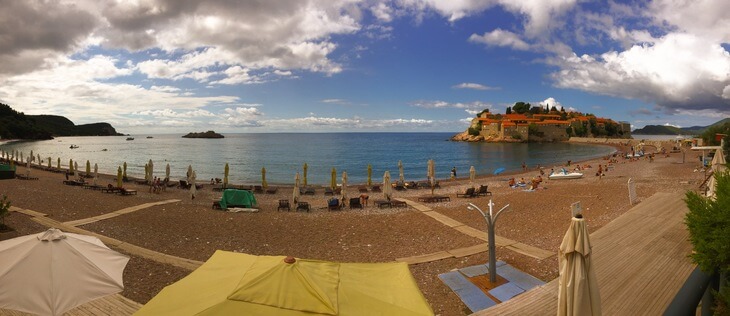 The free public beach with loungers for hire
Sveti Stefan with Kids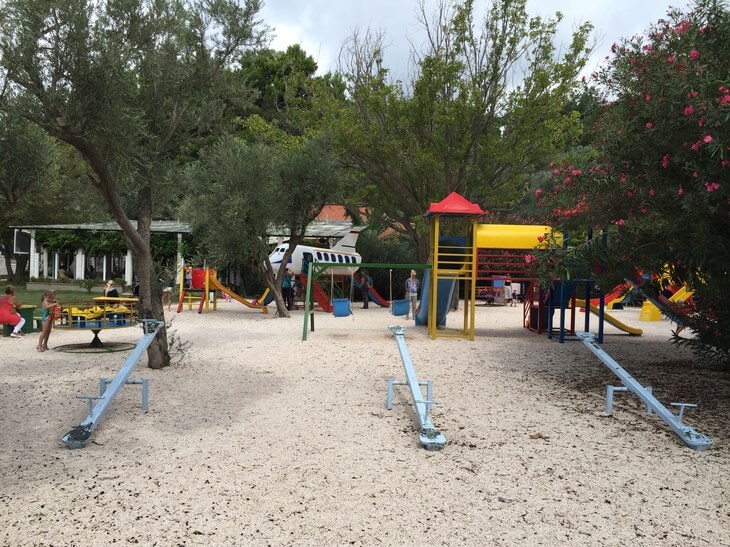 Sveti Stefan is a great place to spend the day if you've got kids. Aside from the beach, there's a very good playground where they'll find lots of playmates next to Olive restaurant. There are also public toilets next to the playground - handy for little ones who are well known for waiting until the last minute!
With the beach, playground, forest walk and restaurants, you've got everything you need in a small area to have a fun day out with your family.
How To Visit The Island
Restaurant Reservation
Enjoying a meal on the island is a great way to experience Sveti Stefan without staying in the resort.
You have to make a reservation at The Taverna and will be met and escorted to The Piazza, the heart of the island where the bars and restaurants are. 
As you'd expect, the prices here are higher than elsewhere on the coast, but it's still cheaper than an average restaurant in London and it'll be a memorable experience.
Island tour
Aman Sveti Stefan has scheduled island tours at 12pm and 4pm for around €25 per person. You should contact them in advance to confirm the tour time, availability and price and to make a booking.
---
Tours to Sveti Stefan in Montenegro
Kotor to Sveti Stefan and Budva Tour - Private Tour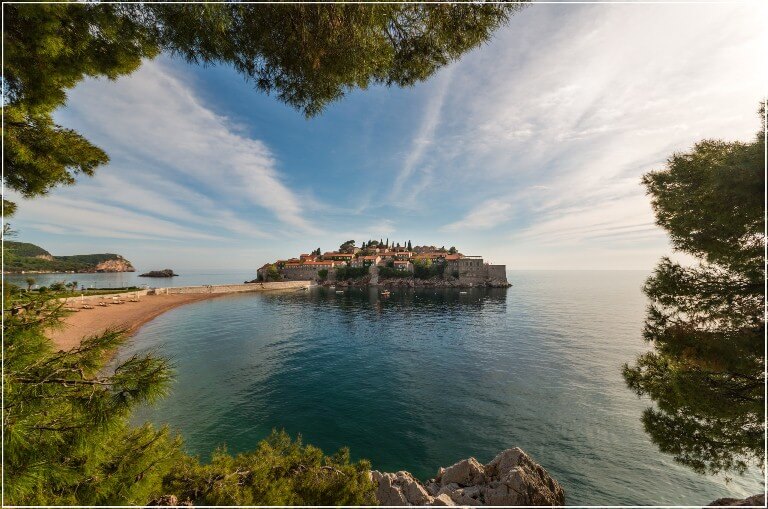 Sveti Stefan
Image: Arno Hoyer
This tour takes you through Kotor as well as Montenegro's most famous resorts, Sveti Stefan and Budva.
These three are the highlights of the Montenegrin coast and you'll take in some of Montenegro's most lovely scenery.
The tour includes private guided tours of all three places.
This is a great tour to get a flavor of old world Mediterranean Montenegro.
tour Details 
Start point: Kotor
Start time: Flexible
Duration: 4 1/2 hours
Price: From €46 per person
Read More: Private Tour Through Kotor, Sveti Stefan and Budva
Budva, Sveti Stefan, Cetinje and Njegusi - Private Tour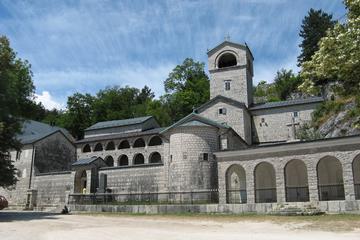 Cetinje Monastery
This tour takes you to some of the highlights of Montenegrin culture: Budva, Sveti Stefan, Cetinje and Njegusi.
In Budva and Sveti Stefan you'll see some of the most stunning coastline and Budva's old town. Then you head to Cetinje, the old royal capital before stopping in Njegusi to try Montenegrin smoked ham and cheeses.
On the way back to Kotor, you'll take the serpentine road which gives you postcard-worthy views of the Bay of Kotor. 
Tour Details
Start point: Kotor
Start time: Flexible
Duration: 5-6 hours
Price: €330 (maximum 4 people per tour)
Read More: Budva, Sveti Stefan, Cetinje and Njegusi Private Tour
---
Sveti Stefan Restaurants
Dining here doesn't need to be expensive, despite the address. There are restaurants at every price point.
Adrovic Restaurant
Adrovic Restaurant at Hotel Adrovic is a great place to eat here. They have a terrace with stunning views over the sea and island. The Budva Riviera has amazing sunsets and this is the perfect place to watch from. Take your darling here for dinner if you want to impress!
Find their menu here. 
Address: Jadranski Put bb, Sv. Stefan.
Phone: +382 (0)33 468 507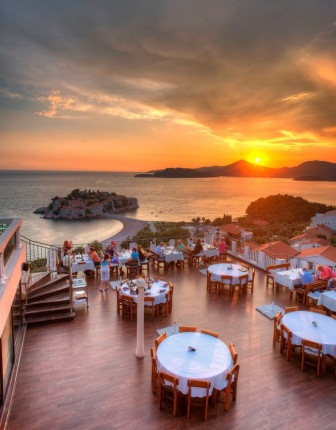 Olive
Greek Mediterranean cuisine right next to the island. Prices here are a little higher than elsewhere. 
Address: Sv. Stefan bb.
Phone: +382 069 187 988
Hours: 9am – midnight  every day.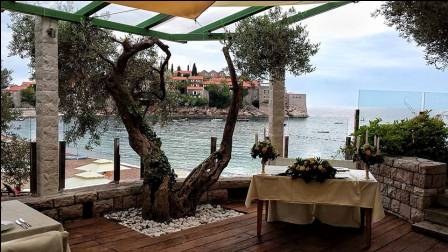 Femelja Kentera
Well priced local cuisine in a homey atmosphere. The menu is priced from €5 - €25. This is a great place to enjoy the famous view view without the price tag.
Address: Slobode 24, Sv. Stefan.
Phone: + 382 69 231 922
Hours: 8am – midnight every day.
The Taverna
As I mentioned earlier, you can visit the island with a restaurant reservation at The Taverna. The restaurant serves breakfast and Mediterranean lunches and dinners. Prices here are higher than elsewhere, but not over the top. A lunch for two costs around €60. A great option if you really want to see the island. Bookings are required.
Address: Aman Resort Sv. Stefan.
Phone: +382 33 420 000
Email: amansvetistefan@amanresorts.com
Drago
Traditional Montenegrin cuisine like calamari, octopus and Balkan sausages at reasonable prices. Along with Femelja Kentera, this is one of the best value places to eat here.
Address: Slobode 32, Sv. Stefan.
Phone: +382 33 468 477
Sveti Stefan Map
---
Getting to Sveti Stefan in Montenegro
On Foot
You can get to Sveti Stefan on foot, though it's around 10km / 6 miles from Budva.
There's a seaside promenade from Budva to Kamenovo Beach. From Zoff's Fish Restaurant you have to go up and then turn right at Kusta's Grill onto the main road. Walk for about 300m and then take the stairs before the viaduct back down to Przno Beach. Keep to the left of Maestral Hotel and go through the arched gate. After Queen's Beach you can continue on through Milocer park or head back down to the promenade.
By Car
From Budva it's a straight drive south on the main road. The trip takes about 15 minutes. Sveti Stefan is signposted from the main road and there's parking in front of the island for €2 an hour. If you spend €20 at Olive, parking is free.
For the best picture of the island, you're best to stay on the main road and take it from above. There's a look out point where you can stop and take a picture of the island. There are usually people selling souvenirs here.
By Transfer
Click here to find and book a transfer to Sveti Stefan from Podgorica, Tivat or Dubrovnik.
By Bus
You can catch a bus from Budva bus station to Sveti Stefan for €2 each way.
---
Accommodation in Sveti Stefan in Montenegro
Although the Aman resort is exclusive at around €800 a night, you can find all kinds of accommodation around Sveti Stefan without the hefty price tag.
There are great quality hotels with a view of the islet. There are also cheaper accommodations available with the same gorgeous view.
Read More: Best Sveti Stefan Accommodation
Explore More Popular Destinations
Book Your Trip With My Recommended Providers
Sveti Stefan Travel Guide