How to Visit the Blue Cave
This post may contain affiliate links. Find more info in my disclaimer.
Famous for the iridescent blue that's reflected throughout the cave, the Blue Cave is one of Montenegro's most popular attractions.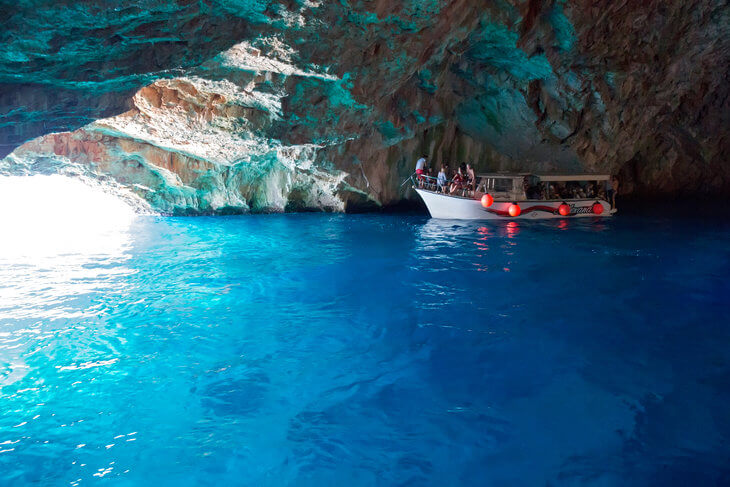 Image: Deposit photos
The Blue Cave on Lustica Peninsula is one of the must-see attractions while you're on the coast.  
We visit several times a year and we take all our visiting friends and family there.
It never fails to impress!
The Blue Cave is the largest of many sea caves on Lustica Peninsula. It's called the Blue Cave because the way the light hits the sandy bottom and reflects up through the water makes the whole cave look blue.

It's very beautiful and it's a lucky quirk because almost all of the coast here is rocky, not sandy. You can see the blue light shining out of the cave when you approach, but to really see it you've got to go inside and get underwater.
Don't forget your snorkel or goggles when you come here!

The water is only about 5 metres deep and then goes much deeper further inside the cave. This part is rocky rather than sandy and if you bring your snorkel or goggles you'll be able to see some small fish swimming about. 
The ceiling is about 9m high so there's plenty of room for boats to come in. The tour boats will come and give you a chance to get out, have a swim, snorkel and explore before they set off again. You can explore the cave for 10-15 minutes and then head off to the next stop.

Swimming inside the cave
Local's Tip: In Montenegrin the Blue Cave is called 'Plava Spilja' pronounced 'plahva shpil-ya'.
---
How to See the Blue Cave
You can only get to the cave by boat. Luckily there are plenty of ways to visit the Blue Cave:
Scheduled Group Tours
You can take a boat tour from along the Herceg Novi Riviera (starting from Bijela) departing 9am and 10am every day from April through to October (weather dependent).
These tours usually include an afternoon at Zanjic or Miriste beaches. Scroll down to the map below to see where these are.
These tours are the cheapest option. Just keep in mind that in the height of summer they'll be packed and you might have to stand for the 45-60 minute ride to the cave and back. You'll probably also be blasted with Balkan pop music, but it's tradition for the captain to hand out shots of rakija - local brandy that's at least 40% alcohol - so you might be in the mood for the Balkan party atmosphere!
Price: €6-10 per person return.
---
The Blue Cave Location
---
Dobra Luka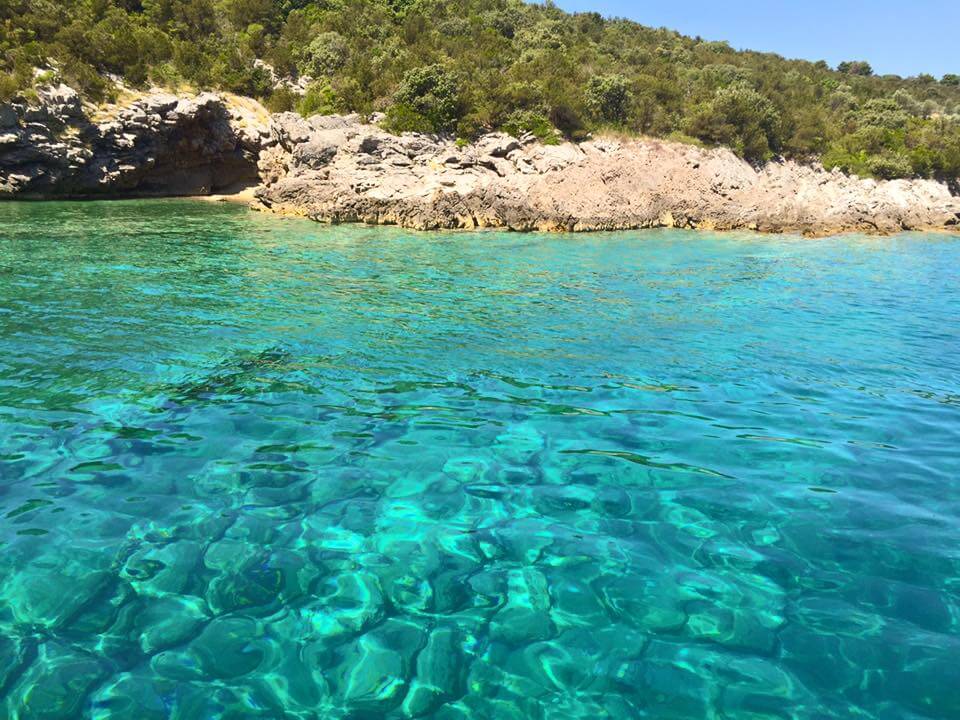 Dobra Luka has a tiny sand beach - perfect for a family
Dobra Luka – meaning 'Good Bay' -  is a strong contender for our favourite place in Montenegro – a big call, but we spend every minute we can there in summer.
If you're visiting the Blue Cave with a chartered boat or your own boat, Dobra Luka is a great place to stop when you visit the Blue Cave.
It's a sheltered bay, perfect for swimming, snorkelling, sunning and snoozing. If you've got some stress to get rid of, this place will rejuvenate you like the hands of a thousand Thai masseuses.
Unlike Oblatno further around which is popular with the yachts from Porto Montenegro and their accompanying jet skis, wakeboards and other toys, if you have any company here at all they'll also be seeking peace and quiet. 
This is us enjoying Dobra Luka - check out the clear water!
Have you been to the Blue Cave? Or even our fav spot - Dobra Luka? 
Tell us what you think are the best spots on Lustica!
---
More Top Attractions in Montenegro
help the stray animals of Montenegro
Book your accommodation anywhere in the world through any of the search boxes on our site and we'll make a donation towards sterilising stray animals in Montenegro. 
It costs you nothing, and you get the biggest selection and lowest prices guaranteed. It's a win-win!