The Blue Cave
(This post may contain affiliate links. Find more info in my disclaimer.)
Famous for the iridescent blue that's reflected throughout the cave, the Blue Cave is one of Montenegro's most popular attractions.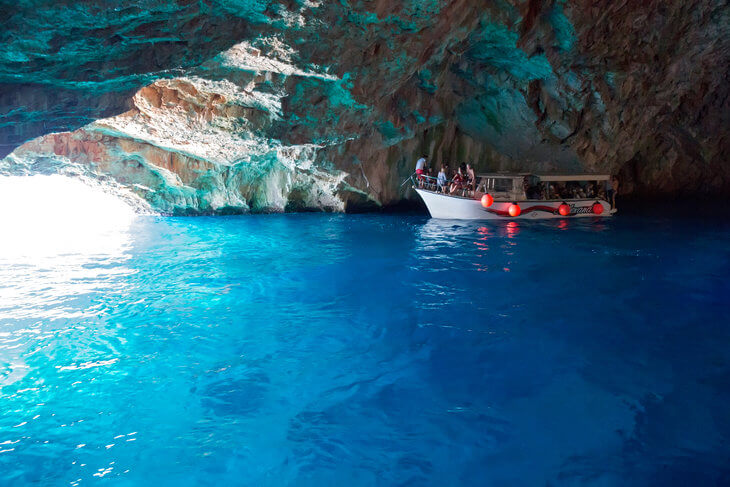 Image: Deposit photos
The Blue Cave on Lustica Peninsula is one of the must-see attractions while you're on the coast.  We visit several times a year, usually while we're heading over to our favourite place in all of Montenegro – Dobra Luka –more on that below. We also take all our visiting friends and family out there and it never fails to impress.

The cave is the largest of many caves both above and under the water on Lustica Peninsula. We've spent untold hours in summer exploring the little nooks and crannies of Lustica Peninsula.  In the past we've found a tiny hidden beach that you can only get to by swimming through a cave. There are also underwater cave systems here than you can explore on diving trips.

It's called the Blue Cave because the way the light hits the sandy bottom and reflects up through the water makes the whole cave look blue.
It's very beautiful and it's a lucky quirk because almost all of the coast here is rocky, not sandy. You can see the blue light shining out of the cave when you approach, but to really see it you've got to go inside and get underwater.
Don't forget your snorkel or goggles when you come here!
The water is only about 5 metres deep and then goes much deeper further inside the cave. This part is rocky rather than sandy and if you bring your snorkel or goggles you'll be able to see some small fish swimming about. 

The ceiling is about 9m high so there's plenty of room for boats to come in. The tour boats will come and give you a chance to get out, have a swim, snorkel and explore before they set off again.  You can explore the cave for 10-15 minutes and then head off to the next stop.
Swimming inside the cave
Although there are a lot of tour boats visiting here, especially in July and August, it's never overcrowded because you don't need a lot of time to see the cave.

---
How to see the Blue Cave
You can only get to the cave by boat. Luckily there are plenty of ways to catch a boat out here to see the cave. There's no charge to enter, it's open to the public. Keep reading to find out your options for visiting the cave.
Scheduled Group Tours
You can take a boat tour from Herceg Novi marina departing 9am and 10am every day from April through to October (weather dependent).
These tours usually include a stop at Fort Mamula, a former Austro-Hungarian prison island, kind of like the Montenegrin version of Alcatraz and spend the afternoon at Zanjic or Miriste beaches. Scroll down to the map below to see where these are.
These tours are the cheapest option. Just keep in mind that in the height of summer they'll be packed and you might have to stand for the 45 minute rides to the cave and back. You'll probably also be blasted with Balkan pop music, but it's tradition for the captain to hand out shots of rakija - local brandy that's at least 40% alcohol - so you might be in the mood for the Balkan party atmosphere!
Price: €6-10 per person return.
---
Blue Cave Snorkelling and Kayaking Adventure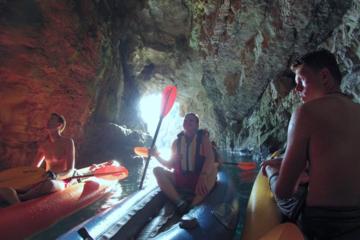 Kayaking in the Blue Cave
Kayak and snorkel your way to the Blue Cave on Montenegro's rugged and beautiful Lustica Peninsula. 
The tour includes a transfer to Lustica Peninsula and then a 2 hour kayak tour which takes you into the Blue Cave which is famed for it's iridescent blue colour. 
You can also take the chance to snorkel in Lustica's amazingly clear waters.
Tour Details
Start point: Kotor, Tivat or Budva
Start time: 9am or 3.30pm
Duration: 5 hours (approx)
Price: From €82 per person
---
3 Hour Our Lady of the Rocks and the Blue Cave Speedboat Tour - Small Group Tour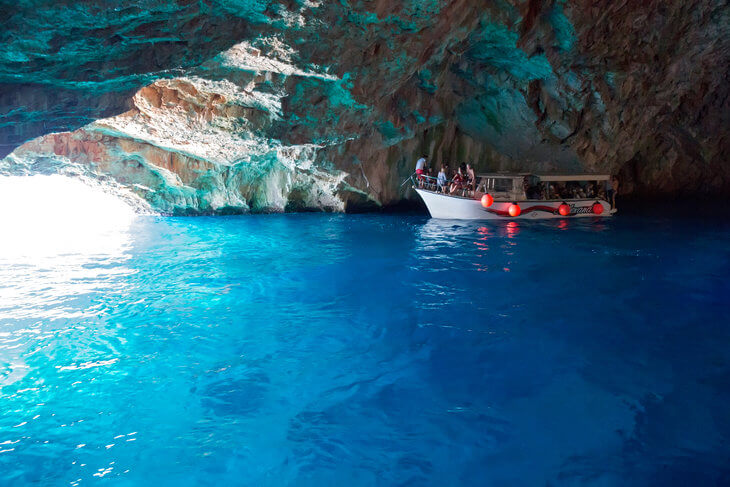 Image: Deposit photos
This is the most popular tour on Montenegro Pulse and it's a great way to pack the most into your boat tour. 
First stop is Our Lady of the Rocks, before you head through the Verige Straits and along the Herceg Novi Rivera.
Then it's out of the bay, past Mamula Island, the WWII prison island, and along Lustica Peninsula to the Blue Cave, where you have a 30 minute stop to swim in the cave.
On the way back to Kotor, you'll stop in the caves the army used to use to hide submarines. 
The tour includes free cold drinks and you can book now and pay on the day. 

Tour Details
Start point: Kotor City Park (200m from the old town/port)
Start time: 9am, 12pm, 3pm, 6pm daily
Duration: 3 hours
Price:  Adults €30 each, children <12  €15 each
---
Private Tours
You can also charter a boat from here to take you on a private tour there – you'll see flyers and you'll be approached by captains asking if you'd like a boat tour.
Local's Tip: In Montenegrin the Blue Cave is called 'Plava Spilja' pronounced 'plahva shpil-ya'.
---
3 Hour Our Lady of the Rocks and the Blue Cave Speedboat Tour - Private Tour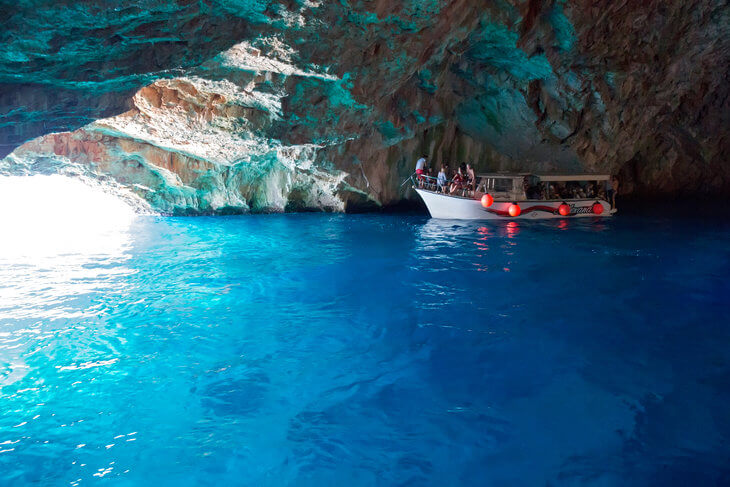 Image: Deposit photos
This 3 hour tour starts in Kotor and takes you through the whole of the Bay of Kotor and out to Lustica Peninsula.
You cruise through the bay to Our Lady of the Rocks, where you have a 20 minute stop to see the church and museum.
You continue cruising along the Herceg Novi Riviera and past Mamula island, the fortified WWII prison island. 
You then cruise along wild and beautiful Lustica Peninsula to the Blue Cave, where you have a 30 minute swim stop to swim in the cave before cruising back through the bay to Kotor. 

Tour Details
Start point: Kotor City Park (200m from the old town/port)
Start time: Flexible
Duration: 3 hours
Price: From €80 per hour
---
Blue Cave Discovery Tour - Private Tour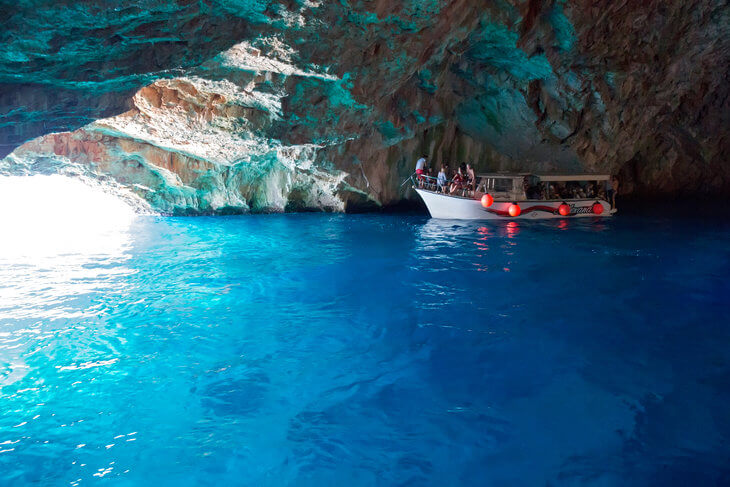 On this tour you take a private speedboat ride out around Lustica Peninsula to the Blue Cave, one of Montenegro's top attractions.
The boat takes you inside the cave and then you can get out and snorkel and explore. 
The sunlight bouncing off the cave bottom creates the florescent blue colour that the cave is named for. 
tour Details
Start point: Porto Montenegro, Tivat. Elsewhere in the Bay of Kotor on request
Start time: Flexible
Duration:

3 hour standard tour
4 hour half day tour - see the half day itinerary on the Mamula Tour
8 hour full day tour - see the full day itinerary on the Mamula Tour
Itinerary:
Cruise along the Herceg Novi and Lustica Peninsula coastlines. See Rose village, WWII submarine caves and a small shipwreck - 40 minutes.
20 minute photo stop at Mamula island and Arza Fortress. You'll be told about the history of the islands and area while you have a drink and snack.
Snorkelling and swimming the Blue Cave - 40 minutes
Scenic cruise back to Tivat - 40 minutes
Price: 
3 hour tour - €87 per person (minimum 4)
Discounts for groups of 5 or more are available - please enquire via the booking form.
What's included: Bottle of local wine or prosecco per two people, traditional ham and cheese plate, fuel, skipper, snorkels and masks. Towels and ponchos are available on request.
Optional Extras:
Tour guide - €80 for the standard tour, €150 for 8 hours
Extra waiting time - €35 per hour
Wine, champagne and catering - use the enquiry form to ask for the price list
Meal in Rose village -  €35 per hour waiting
ONNA beach club - not additional transfer cost, €35 per hour of waiting
Almara beach club - €100 transfer cost and €35 per hour of waiting
Wakeboard, waterskis and donuts are available for additional fee
What you should know:
There are no changing facilities onboard, you'll need to come in your swimwear
If the weather isn't suitable for entering the cave or swimming, the tour will take you to the village of Rose, Ribarsko Selo in Zanjice or Herceg Novi old town.
This tour is fully customisable. Enquire using the booking form.
---
Own Boat or Rented Boat
If you've rented a boat or have your own and want to head out to the blue cave, see the map below to see where it is. If you're unsure about driving your boat into the cave you can also anchor outside either entrance and swim the few metres to the cave.
If you're doing this, I highly recommend skipping Zanjic and Miriste beaches which are crowded and heading further to Dobra Luka. 
Dobra Luka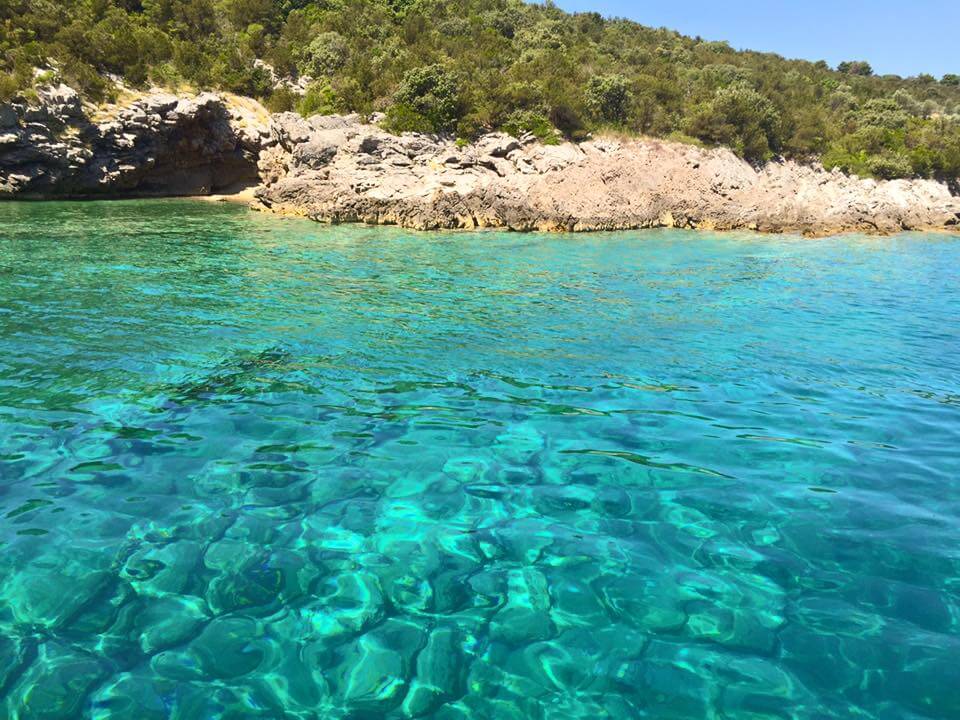 Dobra Luka has a tiny sand beach - perfect for a family
Dobra Luka – meaning 'Good Bay' -  is a strong contender for our favourite place in Montenegro – a big call, but we spend every minute we can there in summer.
It's a sheltered bay, perfect for swimming, snorkelling, sunning and snoozing. If you've got some stress to get rid of, this place will rejuvenate you like the hands of a thousand Thai masseuses.
Unlike Oblatno further around which is popular with the yachts from Porto Montenegro and their accompanying jet skis, wakeboards and other toys, if you have any company here at all they'll also be seeking peace and quiet. 
Have you been to the Blue Cave? Or even our fav spot - Dobra Luka? 
Tell us what you think are the best spots on Lustica!
This is us enjoying Dobra Luka - check out the clear water!
---
More Top Attractions in Montenegro
---
Home

>
Things To Do in Montenegro
> Blue Cave
---
help the stray animals of Montenegro
Book your accommodation anywhere in the world through any of the search boxes on our site and we'll make a donation towards sterilising stray animals in Montenegro. 
It costs you nothing, and you get the biggest selection and lowest prices guaranteed. It's a win-win!