Perast: Is this The Most
Picturesque Town in Europe?
(This post may contain affiliate links. Find more info in my disclaimer.)
Perast. It's hard to find a more idyllic town town in all of Europe.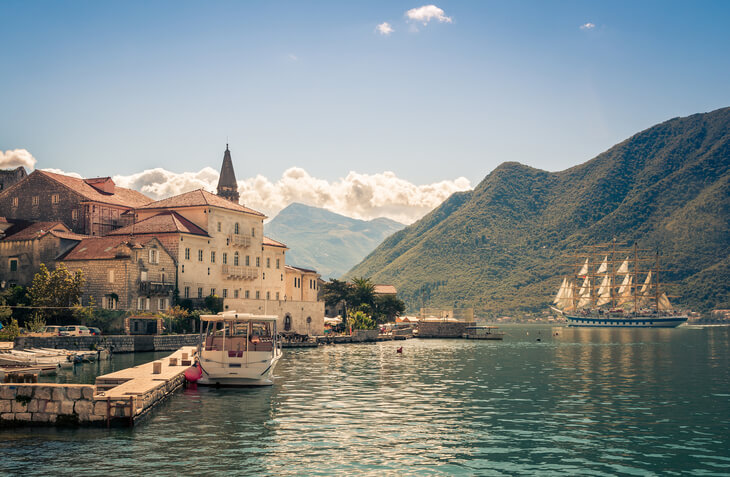 Whether it's the stone palaces lining the shore.
The traditional 'barkas' - small boats - lining the shore.
Or the whiff of grilled fish drizzled with garlic and parsely-infused olive oil.

Perast is full of beautiful details like these palace windows
The small town is a sun trap and full of former palaces and stone churches. It has UNESCO Heritage protection and has mostly been carefully restored to its former glory. There are still ruins dotted throughout which lend a romantic charm to the town. You can't help but imagine it as it once was - the powerful and wealthy centre of the Bay of Kotor. 

---
The Lady of the Rocks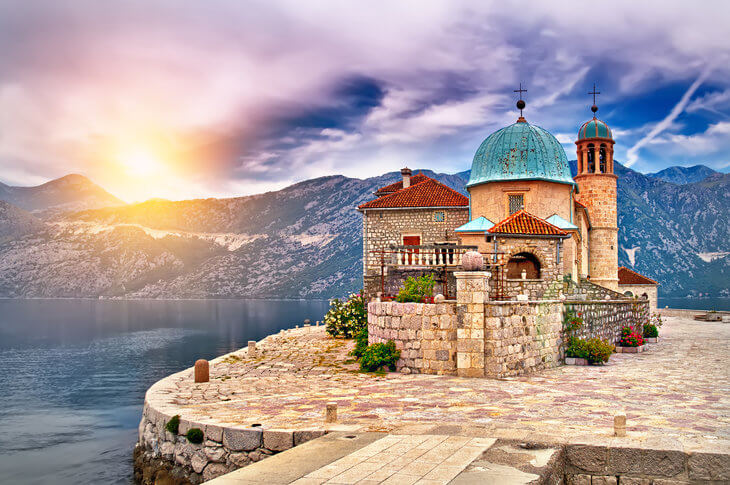 Our Lady of the Rocks
Image: Deposit photos
The town is famous for its two island churches which lie in front of it. One is a natural island and is home to a monastery that's off limits to visitors. 
The other is a man-made island called Gospa od Skrpjela or Our Lady of the Rocks that has been built up over 600 years and has its own Catholic church. This church is also a museum and is definitely worth visiting on your holiday. 
You can easily catch a boat from the shore for €3 and the driver will come back to collect you whenever you like.

A favoured way to get there is to take a scenic speed boat ride by water taxi from Kotor which will give you some stunning views of the bay along the way. My favourite trips are:
Local's Tip: Shorts and t-shirts are required at all times on all parts of the Lady of the Rock island. You can't arrive on the island shirtless and then cover up before you go into the church.
Inside the church you can take a guided tour through the church and museum for €1 per person. The guide will explain to you how the island and church came to be and show you the various relics inside. The museum contains prehistoric artifacts as well as more recent pieces from the town's seafaring population. 
There's a small souvenir stand inside the museum and you can get an ice cream or cold drink at the shop in front of the church's entrance.
Read More: The Local's Guide to Our Lady of the Rocks >
---
Museum
The town museum is located in Captain Visko Bujovic's palace and is a really interesting stop to see some of the history of not just Perast, but the whole Bay of Kotor. It's filled with a rich collection of furniture and artifacts that were donated by the local population. 
Head out onto the second floor balcony of the museum. From here you'll get fantastic views of the town and be able to get a picture of the famous lion statue with the town in the background.
---
Perast Events
Gadjanje Kotota
15th May: This festival is one some people will want to give a miss. It celebrates a 1654 victory over invading Turks. A poor rooster is chained to a float at sea in front of the town and towns folk compete to see who can shoot it. 
There's also traditional music and dancing so if you can stomach the main event, the rest is quite nice!
---
International Klapa Festival
30th June and 1st July: This music festival celebrates 'klapa' music which is traditional choir music from the Montenegrin and Croatian coasts. 
Never heard klapa? Here's my personal favourite klapa group - Klapa Cambi performing in Perast.
---
Fasinada
22nd July: Every year the town holds a festival on 22nd July to celebrate the island.
Boats leave the shore and the townspeople throw rocks into the sea at the base of the island. The island and church were built after a painting of the Virgin Mary was found washed up a lone rock at this location after a shipwreck by throwing rocks and boulders into sea there.
Kicks off at 6.30pm.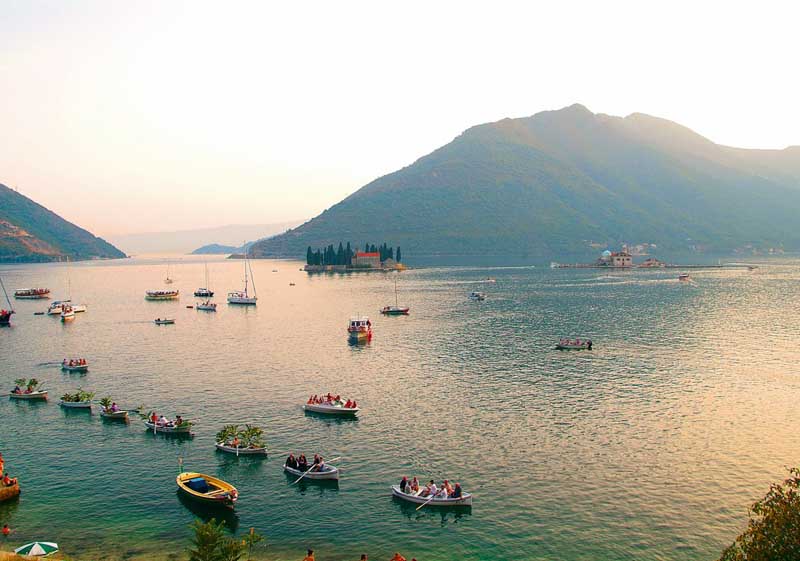 The boat procession during Fasinada
---
Staying in Perast
Perast is an ideal location to stay in the Bay of Kotor. It's very small and stunningly beautiful with all the stone architecture. It's also just 20 minutes from Kotor by car or bus.

The town has several, mostly waterside, restaurants serving a range of meals. You can wander down from your accommodation to enjoy a leisurely seaside dinner, then take a scenic stroll past Ventian palaces back home afterwards - it doesn't get more idyllic that that!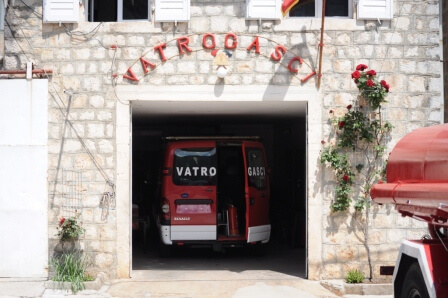 The cute fire station
Perast's size is limited geographically, so it can only fit a certain number of people. There are only four hotels in town and a limited number of apartments available. Get in early if you want to book a room here! This also means it doesn't get overcrowded in the peak months of July and August, although it is busy during the day.
With Kotor's rise as a popular stop for cruise ships, Perast has become very busy in the last three years. Most cruise ship passengers will visit Our Lady of the Rocks and often Perast too. The town has become busier, but these tourists usually just walk through town and don't stay. This means that it's still quiet at night.
It's perfect for long, candlelit dinners and evening strolls along the seaside.
Ahhh... I can hear you relaxing already.
The town's UNESCO Heritage status means that no new buildings can be built and all renovations have to be in line with the town's traditional stone architecture. This has been the key to keep Perast so beautiful, but it also means that the houses are close together and only separated by narrow walkways. 
Few properties have outdoor spaces and if they do, you won't have any privacy. It's good to keep this in mind if you're thinking about staying here.
---
Accommodation
Hotel Conte has beautiful rooms and an excellent restaurant overlooking the islands
Hotels
Hotel Conte is the most well-known hotel in town and has its own upmarket restaurant on the waterfront – we love their krempita (cream pie) and often stop here for a coffee and treat. 
The hotel also has apartments and their largest one has a private garden.
With a sea view over the islands thrown in, how can you resist?!
Other hotels in the town are:
---
Apartments and Villas
You'll find plenty of apartments available for rent here, but you'll want to book early as these do book up quickly for summer.
Some of the top apartment options are:
---
Swimming
Most of the seafront is made up of small jetties. These are all public so you can swim from any of them. There is a beach at the end of the town called Pirate Beach which has a bar and a small beach suitable for small children.
---
Cars
In summer Perast is a car-free zone. So if staying or visiting you'll need to park in one of the car parks at either end of the town. This costs only €2 a day and there are golf carts available to shuttle you and your luggage if you need them.
Alternatively, you can hire a Segway to motor around the seafront on!
---
---
Related Articles
---
Home

>
Coast of Montenegro
> Perast
---
help the stray animals of Montenegro
Book your accommodation anywhere in the world through any of the search boxes on our site and we'll make a donation towards sterilising stray animals in Montenegro. 
It costs you nothing, and you get the biggest selection and lowest prices guaranteed. It's a win-win!