10 Skadar Lake Boat Cruises You Will Love 
This post may contain affiliate links. Find more info in my disclaimer.
Taking a Skadar Lake boat cruise is one of my all-time favourite things to do in Montenegro. 
It's something we do at least once a year, and more often if we get the chance. 
It's so beautiful, so relaxing and something we take all our visiting friends and family to do too. 

There's no feeling like gliding around the lake, through the lily pads, looking out for birds. Add to that the fascinating stone villages on the shoreline that can only be reached by boat and ancient monasteries – it's a trip you'll always remember!

A Skadar Lake boat cruise are the perfect way to kick back, relax and see the highlights of the lake in the comfort of your own traditional, Montenegrin lake boat.

Visiting in summer? This is the perfect time to take advantage of those warm lake waters and go for a dip!
Here's a short video of one of our trips...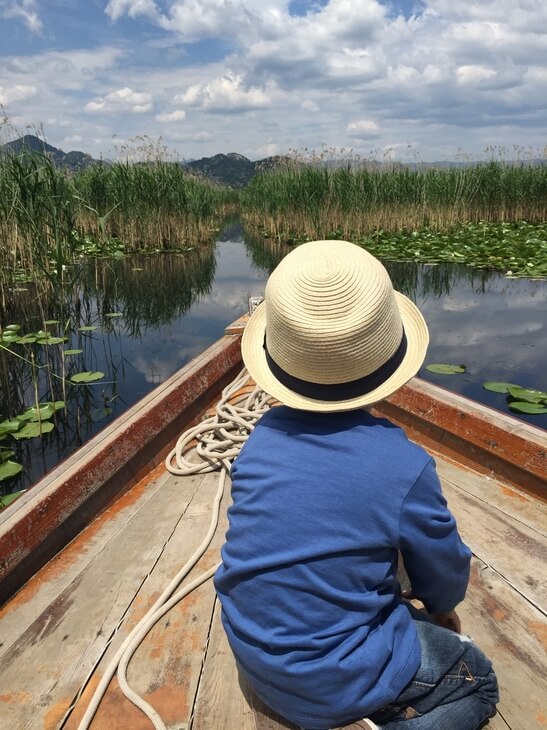 Exploring Skadar Lake's nooks and crannies on a traditional boat
When you come here there's only one family to go with. The Dabanovic family are Virpazar locals and know the lake like the back of their hands – and they're only too happy to show you their beautiful part of Montenegro!

Local's Tip: Don't take a tour on one of the large tour boats. The only way to see the best of the lake is on a small 'cun' (pronounced choon), a traditional, shallow lake boat that can take you through the narrow canals of the lake. On a cun you can pick water lilies as you drift through the lilypads, see baby ducks as they hide in the reeds and feel like you've discovered a hidden world as blue butterflies and dragonflies with rainbow wings flutter around your boat.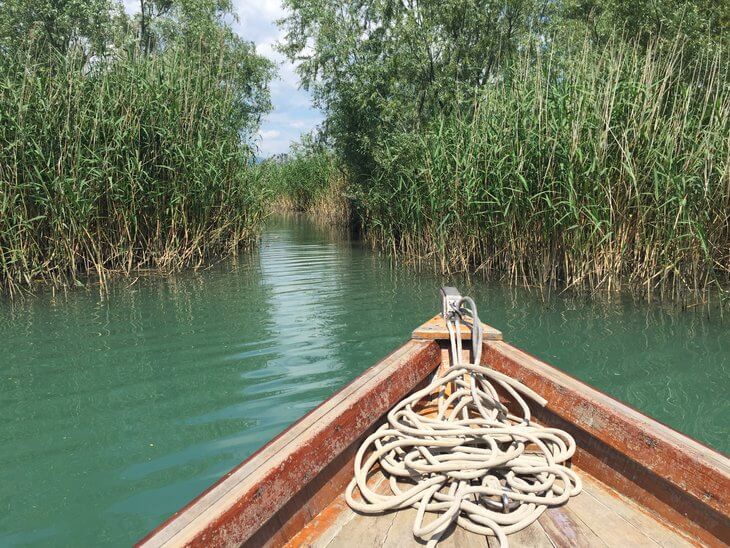 Heading for a hidden canal between the reeds
The large tour boats can't fit through these canals and miss some of the most special places on the lake. The small boats also give you the chance to find out about the area as you chat with your skipper and guide.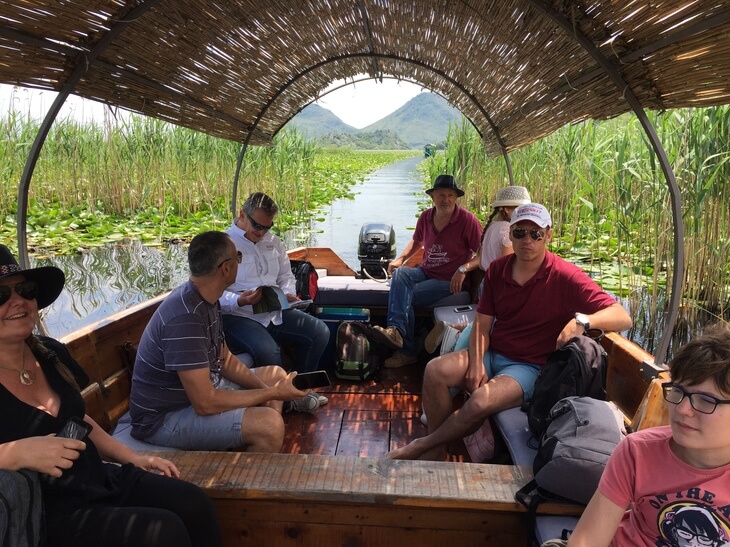 Relaxing and enjoying the scenery
These tours start from idyllic Virpazar, a tiny village on the lake. Virpazar is never overrun with tourists and you can wander along the lake shore spying frogs, turtles, birds and water snakes.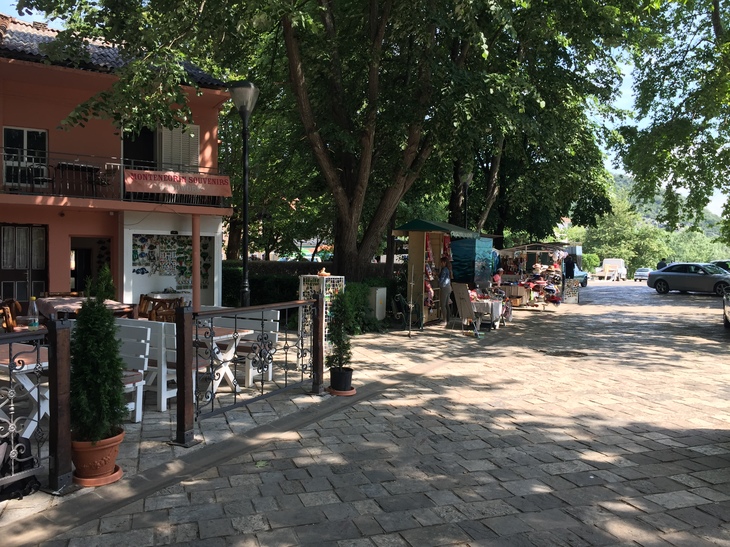 Charming Virpazar
Virpazar
---
Quick Links
---
Skadar Lake Boat Cruises
I've put together 10 Skadar Lake boat cruise itineraries for you to choose from. There's something for everyone, whether you've got an hour or a full day to spend. You can also ask for a bespoke itinerary to be made up for you based on your interests. Click here to do that. All of these boat tours are private tours, so you decide what time you start and return. 
If you're particularly interested in bird watching, click here to see a range of bird watching tours on Lake Skadar.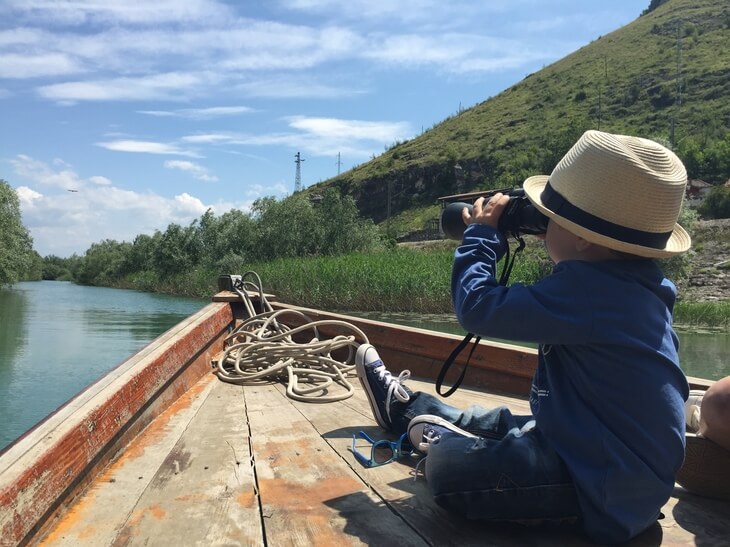 Bring binoculars to get the best look at eagles, pelicans cormorants and ducks.
Grmozur or Lesendro Island scenic Boat Cruise
There are two options on this Skadar Lake boat cruise: choose from either Grmozur Island or Lesendro Island.
Grmozur Island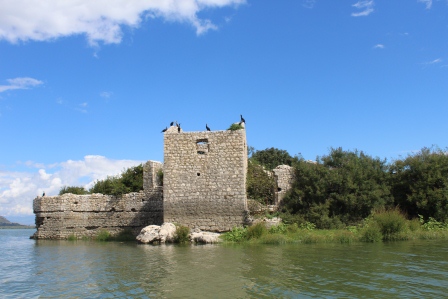 Grmozur Island
This island is known as the 'Montenegrin Alcatraz', but today it's home to all kinds of birds, lizards and snakes rather than prisoners. This is where the last king of Montenegro, Nikola Petrovic, liked to keep his political opponents.
Lesendro Island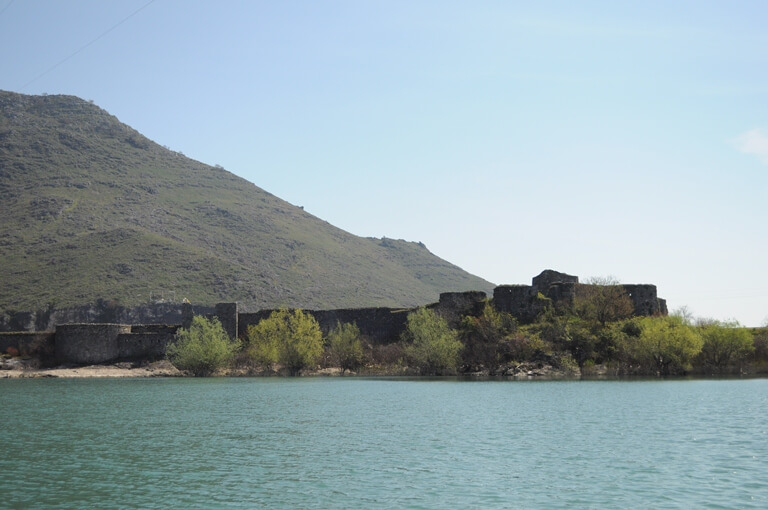 The remains of Lesendro fortress
This island has a fortress atop it that was built to protect Montenegro from invading Turkish armies during Bishop Petar Petrovic Njegos II's reign. Unfortunately the Montenegrins weren't successful and the Turks conquered the area and the island became known as Njegos' sorrow. 
Tour Details
Start and finish point: Virpazar
Duration: 1 hour
Price: 1-5 people €25, 5+ people €30
---
Lesendro and Lake Skadar Scenic Boat Cruise
This tour takes you past Lesendro Island and then through the little channels of the lake filled with water lillies, water chestnuts and reeds. These channels are home to many of the lake's bird and fish species and it's the ideal spot to do a little bird watching.
The tour is rounded out by cruising around more small islands and to the entrance of the channel which leads to Rijeka Crnojevica.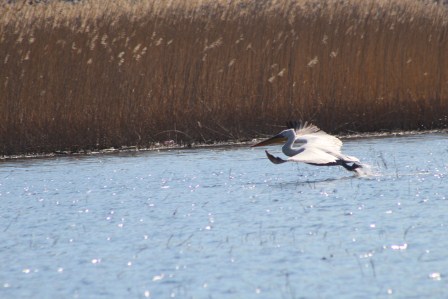 If you're lucky you'll see the endangered Dalmatian Pelican
Tour Details
Start and finish point: Virpazar
Duration: 2 hours
Price: 1-5 people €50, 5+ people €60

---
Kom Monastery experience and Scenic Boat Cruise
My top pick!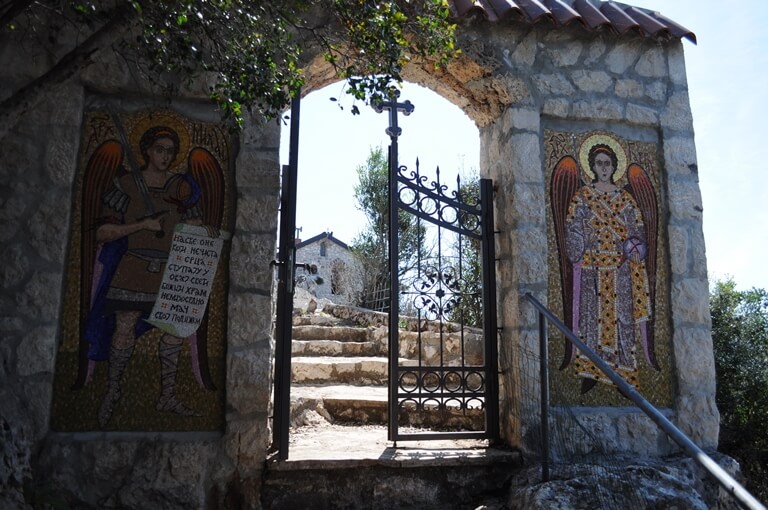 This is our favourite Skadar Lake boat cruise. As well as cruising the lake and seeing the islands, channels and birdlife, this tour gives you the chance to get out of the boat and visit one of the historical sites on the lake – Kom Monastery. The monastery was built between 1415 and 1427 and is still a spiritual site for locals of Skadar Lake.
As well as being an interesting historical site, the monastery has a fabulous view over the lake which you can enjoy from a little seating area. You'll share the peace and tranquility with a few cats, friendly dogs, a mind-boggling array of chickens and perhaps a donkey. 
The monastery's resident priest is one of the happiest people I've ever met and is only too happy to have company. He readily invites visitors to share a toast with his homemade rakija (very potent brandy), which he keeps in a giant drum. 
When it's time to go, it's obvious that everyone would be more than happy to stay in this tranquil idyll, sipping rakija in the sun for the rest of the day. No wonder he's so happy, this place is Heaven on Earth.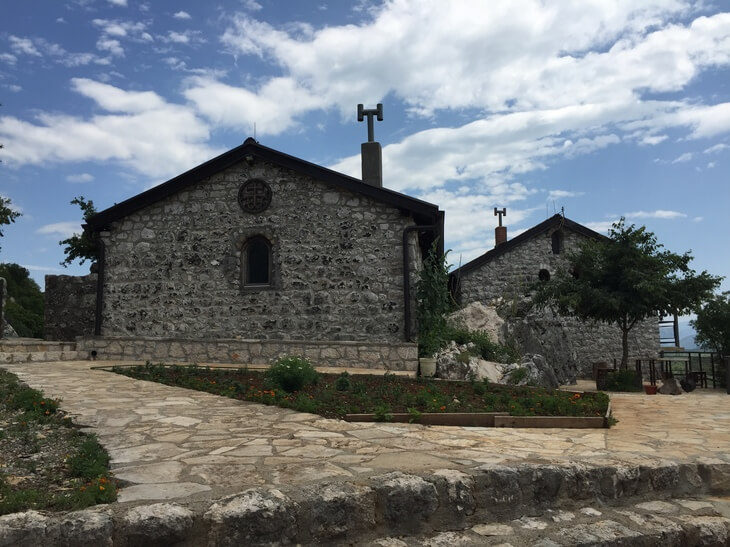 Kom Monastery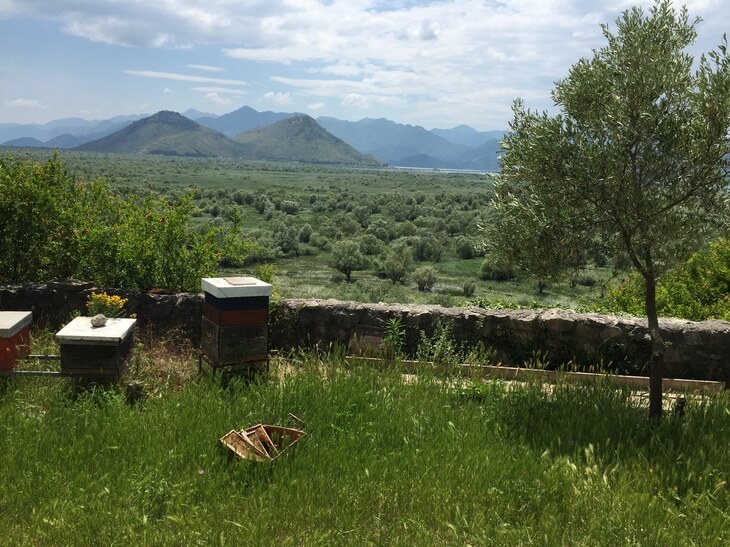 The view from the monastery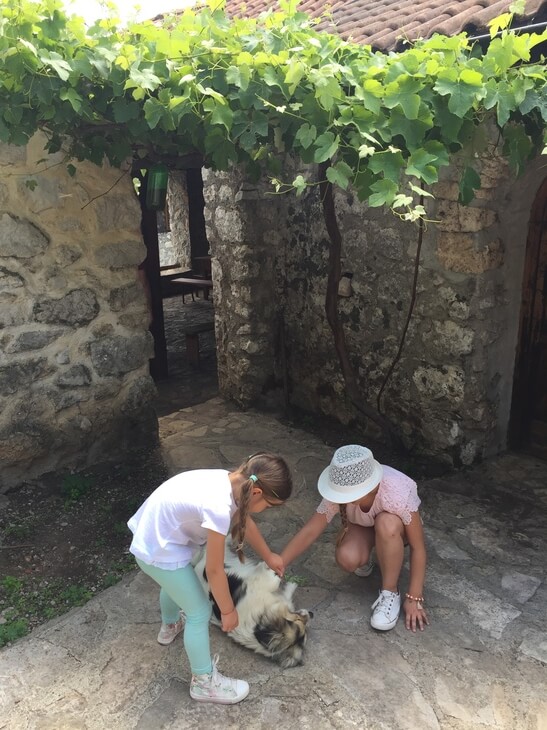 The monastery's resident welcoming committee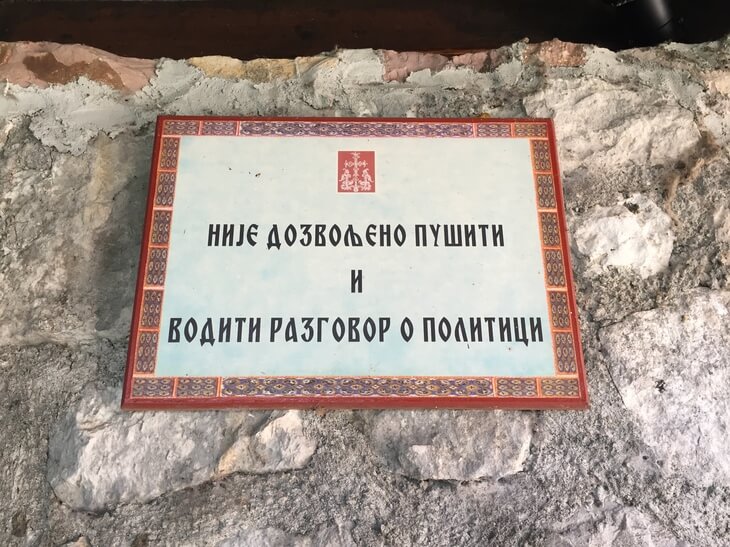 "Smoking and talking about politics are not permitted"
Tour Details
Start and finish point: Virpazar
Duration: 3 hours
Price: 1-5 people €75, 5+ people €90

---
Grmozur and Radus Spring Scenic Boat Cruise
On this tour you'll discover the legends of the Grmozur, Skadar Lake's Alcatraz. The island is also known now as Bird Island and it's a great spot for some bird-spotting.
After you'll head over tot he lake's deepest spot, Radus Spring. You can swim here in the lake's warm waters and enjoy the varied varied bird life and stunning scenery.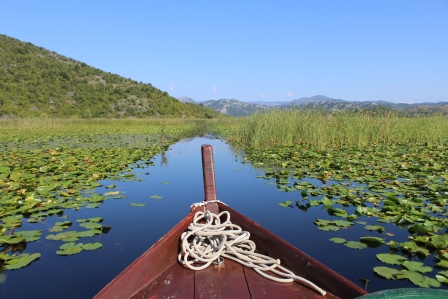 Tour Details 
Start and finish point: Virpazar
Duration: 3 hours
Price: 1-5 people €75, 5+ people €90

---
Manastirska Tapija and St Nikola Monastery Scenic Boat Cruise
This tour will really appeal to keen bird-watchers. The circular trip passes the old fortress of Lesendro, Manastirska Tapija bird reserve and St Nikola, which is one of five Orthodox island monasteries on the lake.
Tour Details
Start and finish point: Virpazar
Duration: 4 hours
Price: 1-5 people €100, 5+ people €120

---
Dodosi and Karatuna Scenic Boat Cruise
This tour will take you through the stunning Montenegrin landscape from Virpazar to Dodosi and back.
You'll also see the village of Karatuna and its villagers who live in the traditional Montenegrin way – fishing, farming and wine-making.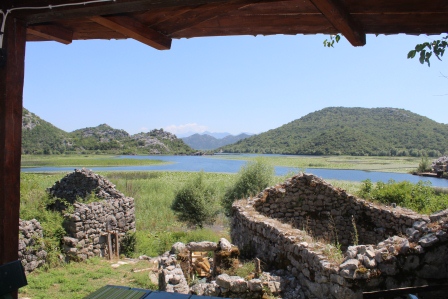 Tour Details
Start and finish point: Virpazar
Duration: 4 hours
Price: 1-5 people €100, 5+ people €120

---
Rijeka Crnojevica Scenic Boat Cruise
This tour takes you through stunning river scenery all the way from Virpazar to Rijeka Crnojevica, which is a town founded in the 15th Century by the ruler Ivan Crnojevic. It then became a summer destination for subsequent rulers.
Along the way you'll be sure to see lots of birds, old stone villages and some of Montenegro's most stunning scenery.
Why not take a dip in the lake too?!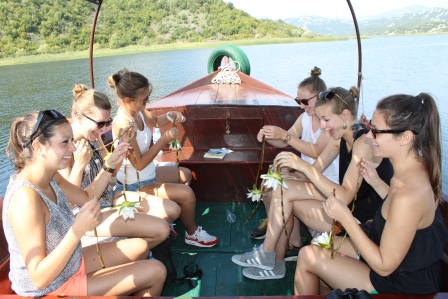 Make your own water lily necklace while you cruise the lake!
Tour Details
Start and finish point: Virpazar
Duration: 5 hours
Price: 1-5 people €125, 5+ people €150

---
Half Day Scenic Boat Cruise
The half day tour takes you from Virpazar to Zabljak Crnojevica via Karuc and Dodosi. Along the way you'll see the ruins of St Petar Cetinjski's home and typical fishing villages. Not to mention the stunning lake scenery of the area!
Zabljak Crnojevica dates back to the end of the 14th Century and you'll see the fortress town of Yabljak.
Tour Details
Start and finish point: Virpazar
Duration: 6 hours
Price: 1-5 people €150, 5+ people €180

---
Radus Spring and the Island Monasteries of Starcevo Gorica, Beska & Moracnik Scenic Boat Cruise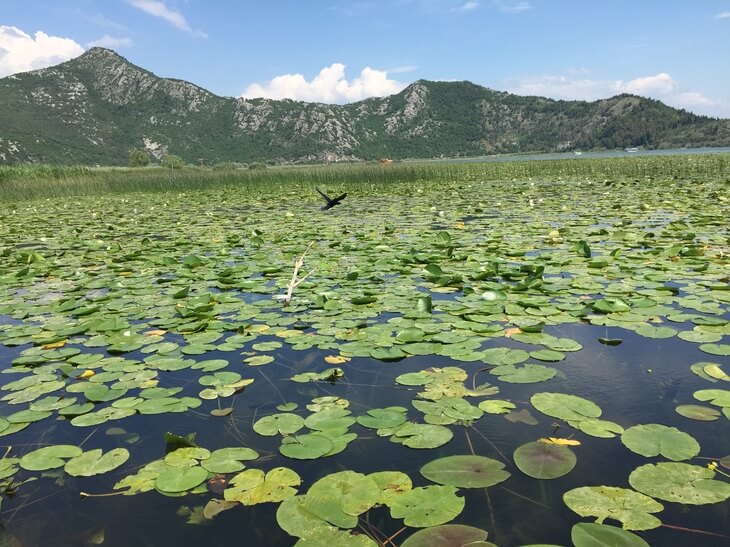 This tour takes you down to the southern shores of the lake to visit the most remote island monasteries of Starcevo Gorica, Beska and Moracnik. In the background you'll be treated to views of the Prokletije mountain range and Albania on the other side of the lake.
Tour details
Start and finish point: Virpazar
Duration: 7 hours
Price:  1-5 people €175, 5+ people €210
---
Full Day Scenic Boat Cruise
The full day tour is an 8 hour tour and departs Virpazar. It takes you past the ancient fishing villages of Seoca, Radus, Krnjice and Dracevica. You then visit Starcevo and Beska Islands which each have their own monasteries.
After visiting the islands you can freshen up with a dip in the lake from the boat or at Murici beach. The history in this area dates back to the 14th Century when the Balsics built their churches on Beska Island and at Starcevo Hill.

But your skipper will be able to tell you all about the history of the area as you go!
Tour Details
Start and finish point: Virpazar
Duration: 8 hours
Price: 1-5 people €200, 5+ people €240

---
Create your own cruise
Would you like a bespoke tour? You can create your own itinerary based on what you want to see! 
Pelicans, monasteries, go swimming... the choice is yours and my friends at Boat Milica will be happy to help you plan the perfect day on the lake.
Just pop your details into the booking form below and they'll create a bespoke tour designed just for you. 
---
What To Bring on a Skadar Lake Boat Cruise
Here's a list of things you should bring:
Swimsuit - the water gets up to 26 C in summer, so it's great for swimming any time from May onwards
Sunglasses, hat, sunscreen - wear sunscreen even if it's not hot. The sun reflects off the water meaning you can get burned even if you're wearing jackets
Camera
Binoculars
Snacks and water
Long sleeves - it will be colder in the boat than on shore
---
Lake Skadar National Park Entrance Fee
Every visitor to Lake Skadar National Park must pay an entrance fee of €4. This is in addition to any activities like these boat cruises. You can buy your ticket at the tourist information offices in Virpazar and Vranjina.
---
Getting There
All the Skadar Lake boat cruise options start in Virpazar. This is the the best location to see Lake Skadar. The little town has accommodation, restaurants and a visitor's centre. 
---
Book a Skadar Lake Boat Cruise
---
Pin Skadar lake Boat Cruises
More Things to Do on Skadar Lake
Holidays on Skadar Lake
Skadar Lake Boat Cruises
help the stray animals of Montenegro
Book your accommodation anywhere in the world through any of the search boxes on our site and we'll make a donation towards sterilising stray animals in Montenegro. 
It costs you nothing, and you get the biggest selection and lowest prices guaranteed. It's a win-win!