Montenegro Pulse contains affiliate links and is a member of the Amazon Services LLC Associates Program. If you make a purchase using one of these links, I may receive compensation at no extra cost to you. See my disclaimer for more information.

Vrmac Ridge Hike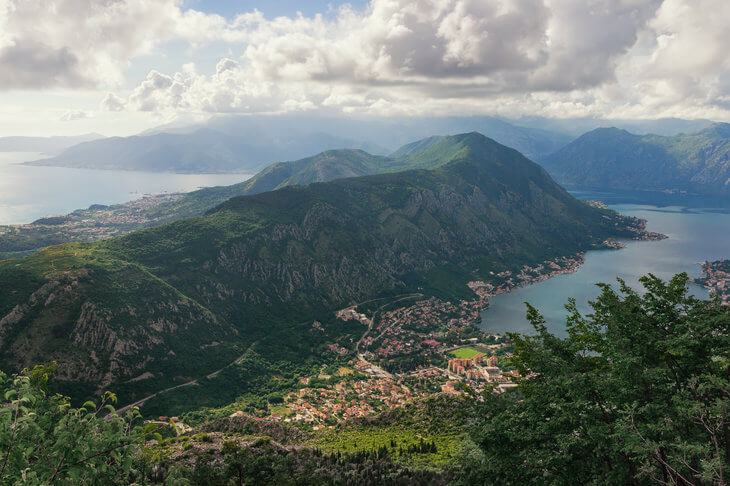 Vrmac Ridge is perhaps one of the most easily accessible and scenic walks you can do on the Montenegrin coast. Not only is it a stone's throw from both Kotor and Tivat, but it also includes Austro-Hungarian fortress ruins, stunning scenery and is suitable for just about all ages and fitness levels.
About the Hike
This hike travels along the spectacular Vrmac Ridge which divides the Bay of Kotor and the Bay of Tivat. 
From the fortress atop the ridge and overlooking Kotor in the bay you continue along the old Austro-Hungarian pathway which stretches along the ridge with stunning views on both sides of the inner and outer bays.
The first part of the hike is mostly on flat ground through forests, gradually ascending on the stone pathweay to a  more exposed area with views to the inner Bay of Kotor and then turning to the other side of the ridge with views towards the Adriatic and Tivat. 
Descending to the traditional village of Gornja Lastva on grassy and rock trails, partly through forest, you'll stop for a well-earned bread in the village and see the typical architecture of the region. 
At the end of the hike in Gornja Lastva you'll be taken by a short transfer back to your car at the start point.
Difficulty
Easy/medium. The hike is 9km in total - 5km of level and gentle ascent walking and 4km of descent.
When
The tour is scheduled every Wednesday from 5th June to 25th September. It's also available on other days by request.
Departure is from Trojica at 2pm in June and September. Departure is at at 3pm in July and August.
The tour lasts 4 - 5 hours in total.
Price
€35  per person on all departures for groups of 4 or more. This includes an English-speaking guide and transfers.
The tour is also available for smaller groups at the following prices:
2 people: €60 per person.
3 people: €45 per person.
Related Articles
Book Your Trip With My Recommended Providers