Visitor's Guide to Lovćen National Park, Montenegro
(This post may contain affiliate links. Find more info in my disclaimer.)
Discover the best things to see and do in Montenegro's Lovćen National Park and get a FREE day trip itinerary to download and take with you.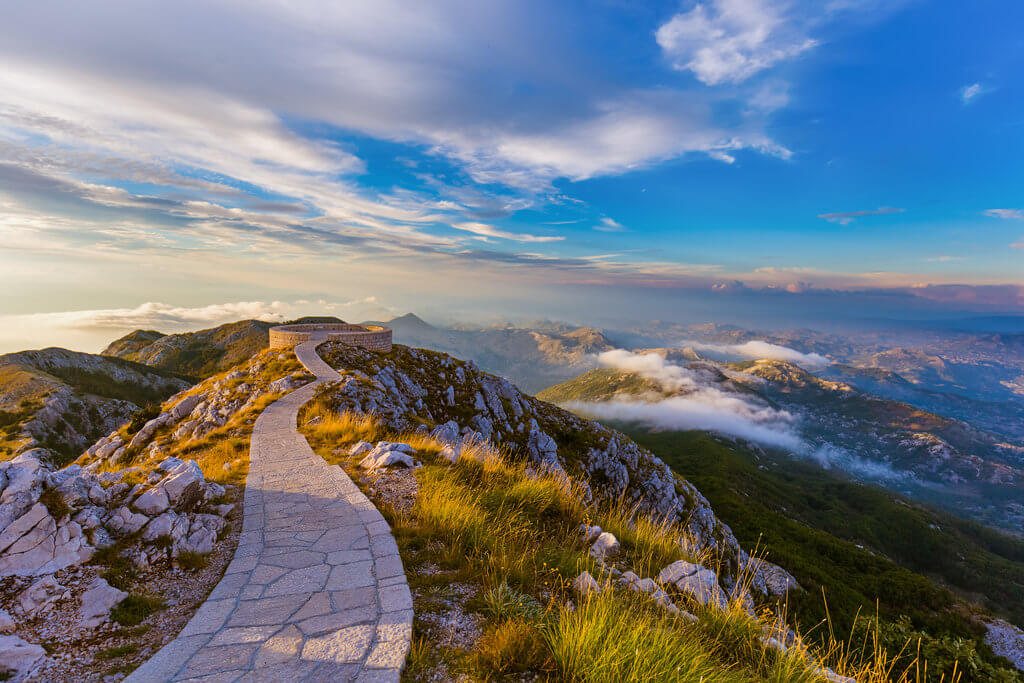 Lookout at Petar II Petrović-Njegoš Mausoleum. Image: Deposit Photos
Mount Lovćen (pronounced LOV-chen) National Park is one of Montenegro's most-visited national parks and is a great way to experience some of Montenegro's spectacular scenery. The park covers the top part of Lovćen Mountain and at an altitude of 1749m, you'll get views spanning almost all of Montenegro's territory.

Quick Links
Things to See and Do | Accommodation | What to Eat | Getting There | When to Visit

There's also a lot to do in Lovćen National Park and it's a great place to visit if you're travelling with kids. You can go hiking, biking, go to the adventure park, try local cuisine, visit one of Montenegro's most important cultural monuments, picnic or just relax.
And because of its altitude, temperatures here are usually about 10°C lower than on the coast, making it a pleasant escape from the summer heat.

The national park is home to 1,300 diverse plant species, many endemic and medicinal and it's an important area for reptile and amphibian diversity in Europe. Over 200 species of birds live here as well as insects, small mammals, deer, wild boar, jackals, wolves and bears. Don't worry, you're extremely unlikely to come across any dangerous animals, but you can expect to see lots of birds and it's common to see tortoises and boar tracks in Montenegro.
Like all national parks in Montenegro there's a nominal entrance fee that helps to maintain the park. It's €2 for adults and children under 7 go free. You can buy your tickets online in advance or pay in cash at the entrance to the park. Note, buying online is a little more expensive than paying cash onsite. 

Things To See and Do in Lovćen National Park
Petar II Petrovic-Njegos' Mausoleum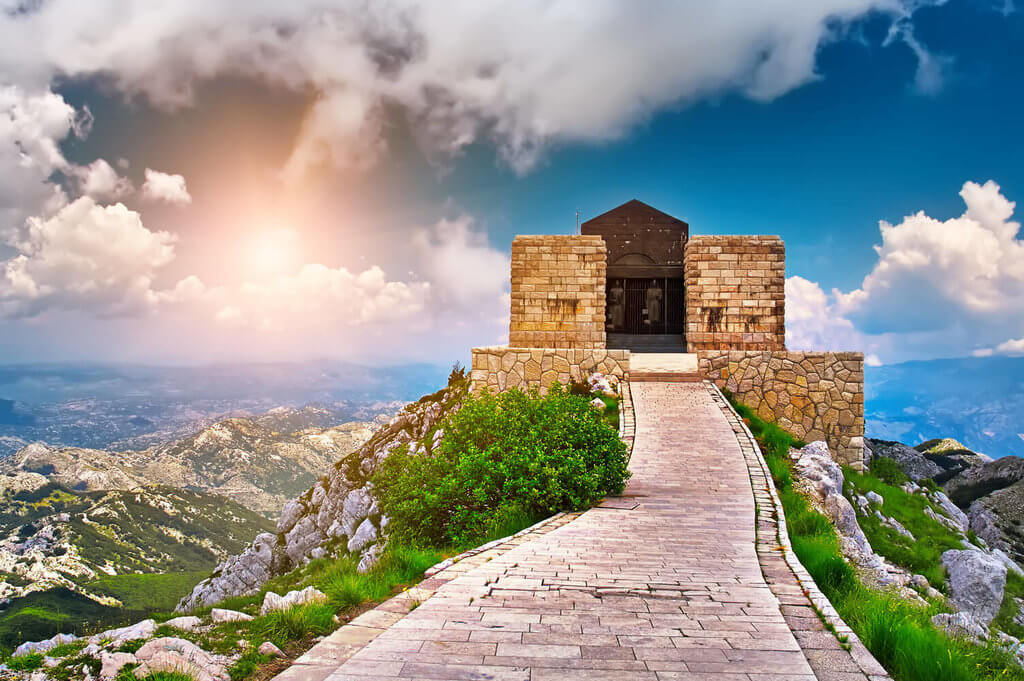 Petar II Petrović-Njegoš Mausoleum. Image: Deposit Photos
Petar II Petrović-Njegoš is a Montenegrin and Serbian icon. He ruled Montenegro from 1830 to 1851 and is credited with uniting Montenegro's warring tribes and modernising the country. Njegoš was also considered one of the best South Slavic poets of his time.
Before Njegoš died of tuberculosis at just 38, he asked to be buried on Mount Lovćen's second-highest peak, Jezerski Vrh. It's said Njegoš was a modest man and he chose the second-highest because he believed Montenegro would have greater rulers than him in future. 
He was buried in the chapel he designed and built, but in 1952 Yugoslav authorities decided to replace the chapel with a secular mausoleum. Although his chapel was demolished in the 1960s, it wasn't until 1974 that the mausoleum was finished and his remains were returned.
The mausoleum is the work of well-known Croatian sculptor, Ivan Meštrović, who sought to embody the man whose final words were "love Montenegro and render justice to the poor."
What resulted was an imposing stone complex that's contrasted by meandering stone paths that fit the contour of the peak.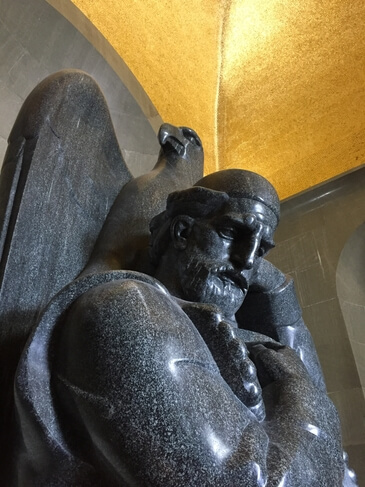 Statue of Njegoš
The mausoleum has huge stone walls and the entrance to the crypt is guarded by two 4.5m tall statues of Montenegrin women. The crypt is made of marble and the vault is covered with 200,000 gold tiles. Inside, a 28 tonne statue of Njegoš sits with an open book and an eagle with spread wings over him.
When visiting Njegoš' mausoleum, you'll need to earn your visit to the final resting place of Montenegro's favourite son. There are 461 steps leading to the top and at the time it was built it was the highest altitude mausoleum in the world.
But it's worth it.
A  path from the back of the mausoleum leads to a guvno, a traditional place where tribal chieftains would gather to make important decisions. The guvno also doubles as a lookout and from here you'll be rewarded with magnificent views that reach almost every corner of Montenegro.
You can also get this awesome picture by jumping from the wall of the lookout and getting someone to kneel down and photograph you.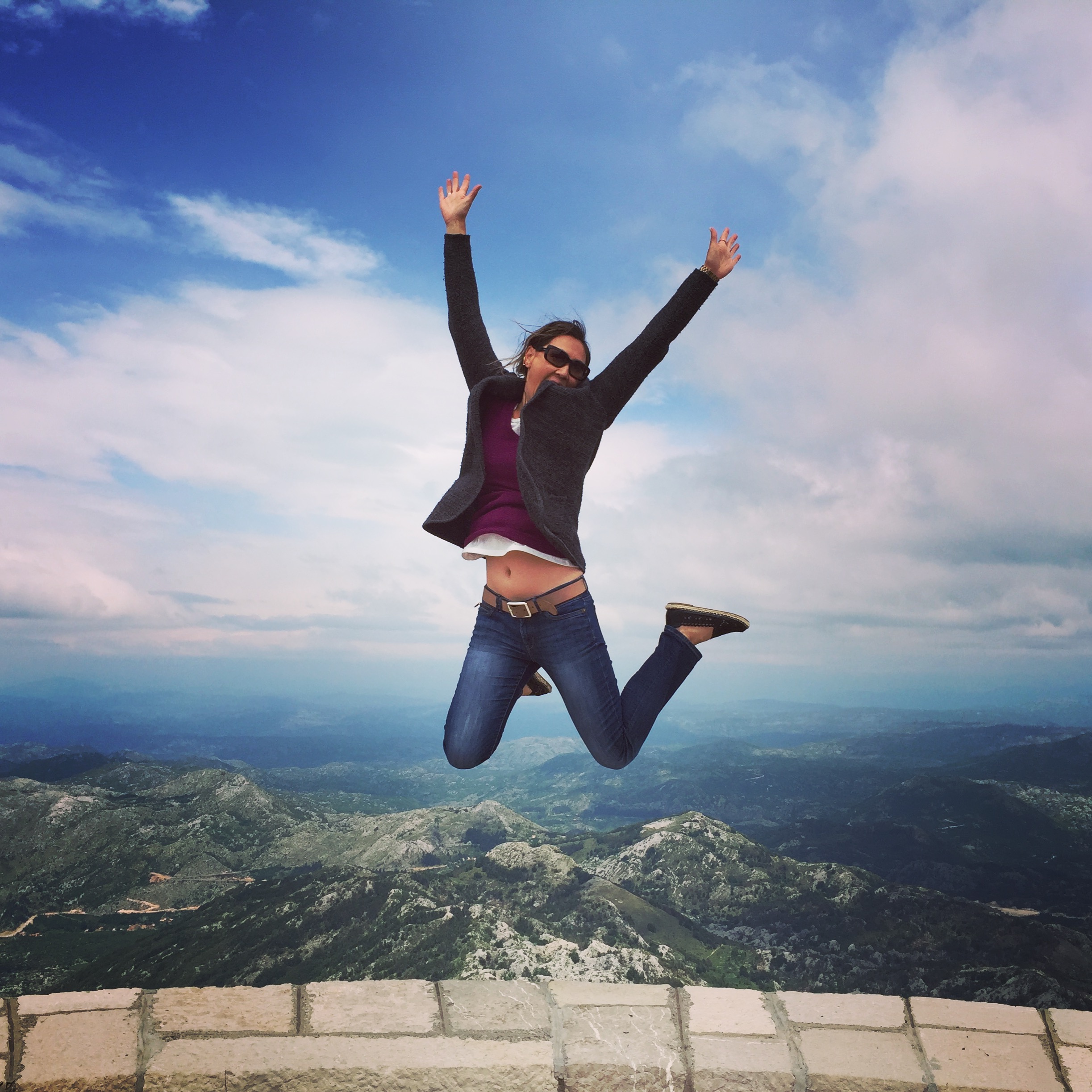 Local's Tip: Bring water with you. Although the walk up isn't difficult if you're reasonably fit, there are no drinks for sale at the top. 

Address: Petar II Petrović-Njegoš Mausoleum, Lovćen National Park
Lovćen mausoleum opening hours: 1st April – 30th November 9am – 5pm, 1st December – 31st March 9am – 4pm
Entrance: €5 adults, €2.50 children. You can also buy tickets online, although they're a little more expensive

Ivanova Korita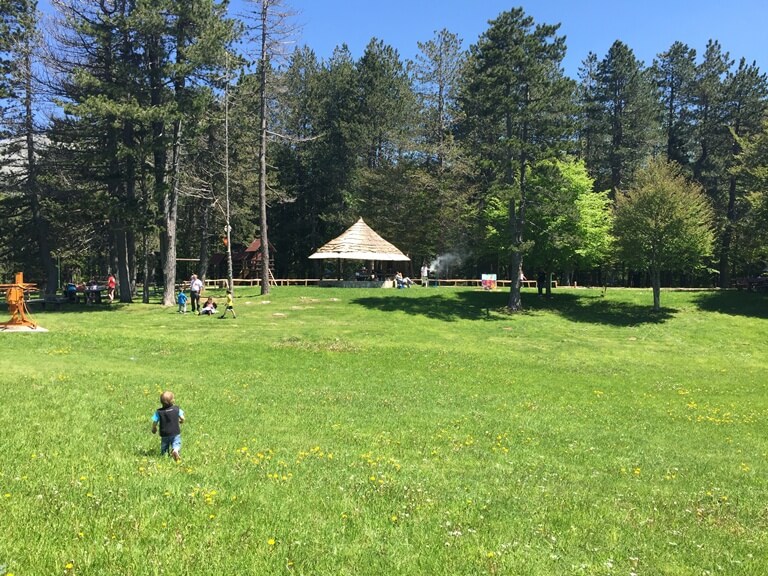 Ivanova Korita
Ivanova Korita Visitor Centre
Hours: 9am – 5pm summer, 8am – 4pm off-season
Phone: +382 (0)67 344 678
Ivanova Korita is the centre of Lovćen National Park. Here, you'll find the visitor centre, extensive fields, hiking and biking trails, barbecue facilities, playgrounds, a treetops ropes course, toilets, restaurants and accommodation.
You can get information about the hiking and biking trails and hire bikes from the visitor centre. They also have displays of animals found in the park and artefacts from traditional life in the area.
With so much to do, Ivanova Korita is a great place to stay overnight and a good alternative to Cetinje if you're travelling with kids. Montenegro is incredibly safe and you can easily leave them to enjoy the playgrounds and fields while you sip a cold rosé in one of the restaurants. Ivanov Konak and Hotel Monte Rosa have good-quality accommodation in the heart of the park.
Hotel and restaurant Ivanov Konak
Local's Tip: There are no shops at Ivanova Korita. If you need supplies you can get them in Cetinje, 13km away.

Njeguši Village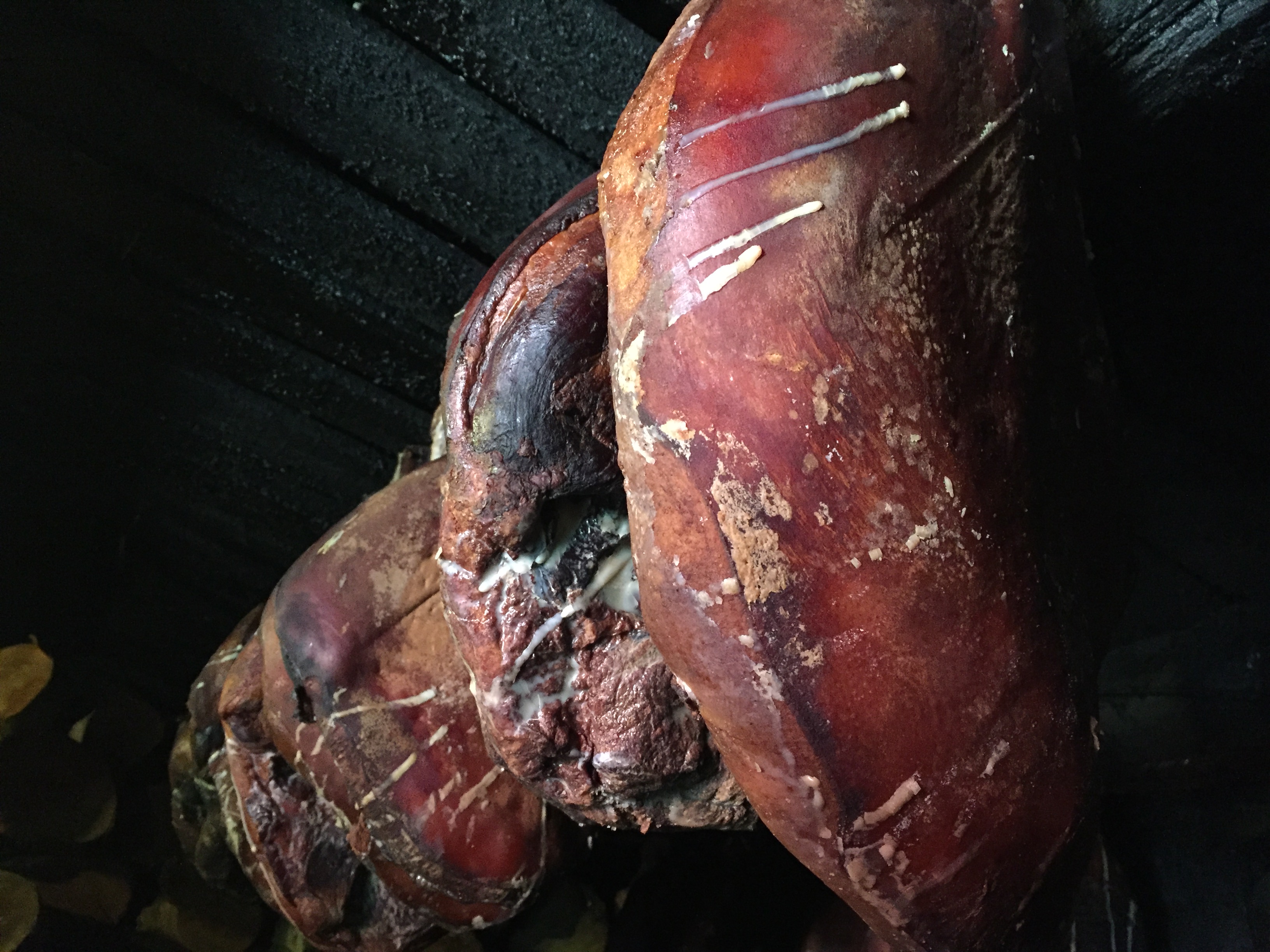 Prosciutto in a Njeguši smokehouse
Lovćen's climate is influenced by both the mountains and sea and it's this that makes Njeguši Village famous for producing the best prosciutto and cheese in Montenegro. As you drive through the village you'll see signs where you can stop at houses and try prosciutto, cheese, honey and brandies.
You can also stop at Montenegro's oldest restaurant, Kod Pera na Bukoviću. If you join the Full-Day Montenegro Tour you'll stop here for breakfast. You'll get a tour of the smokehouse where they smoke prosciutto (the fire has to be tended day and night for four months!) and breakfast consists of a shot of brandy, a glass of wine and prosciutto and cheese sandwich… when in Montenegro, do as the Montenegrins do!
Njegoš' FAMILY HOME
Njeguši is also the birthplace of Petar II Petrović-Njegoš and you can visit the house where he grew up. Today, the house is kept as a museum and it's an excellent example of a home of a wealthy family in 19th century Montenegro.
Address: Njegoševa rodna kuća, Erakovići
Opening hours: 1st April - 30th November 9am - 5pm, 1st December - 31st March 9am - 4pm
Entrance: Adults €2 and children €1. You can buy aslo a combined ticket that includes the national museums in Cetinje and the mausoleum for €15 and €7.50 respectively.
Kotor to Lovćen National Park Road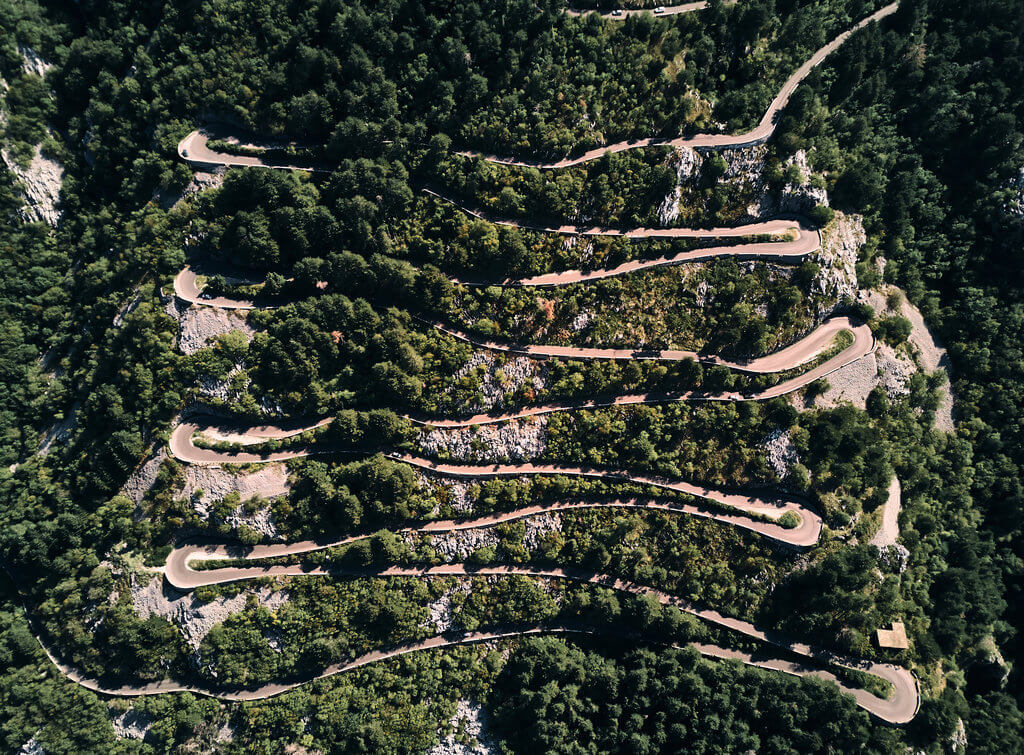 Lovcen Kotor serpentine road. Image: Deposit Photos
I know it looks a bit scary but don't be intimidated!
The road that connects Lovćen and Kotor is usually referred to as the 'serpentine road'. It isn't technically part of Lovćen National Park, but I highly recommend including it as part of your visit; you'll get the best views of the Bay of Kotor and the Adriatic Sea from here.

This road connects Kotor on the coast with Lovćen National Park, Njeguši village and Cetinje. Along the way you drive up 25 switchbacks and the view just keeps getting better the higher you get.
From the top you'll see the whole Bay of Kotor and out to the Adriatic Sea.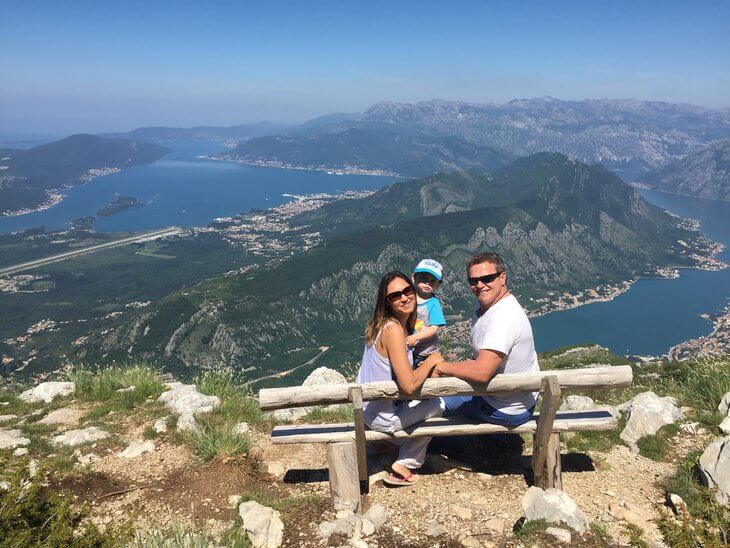 View of Kotor Bay from Lovćen National Park
Local's Tip: If you look carefully from the top you'll the road is in the shape of an M near the bottom. This M was included in honour of Montenegro's Queen Milena.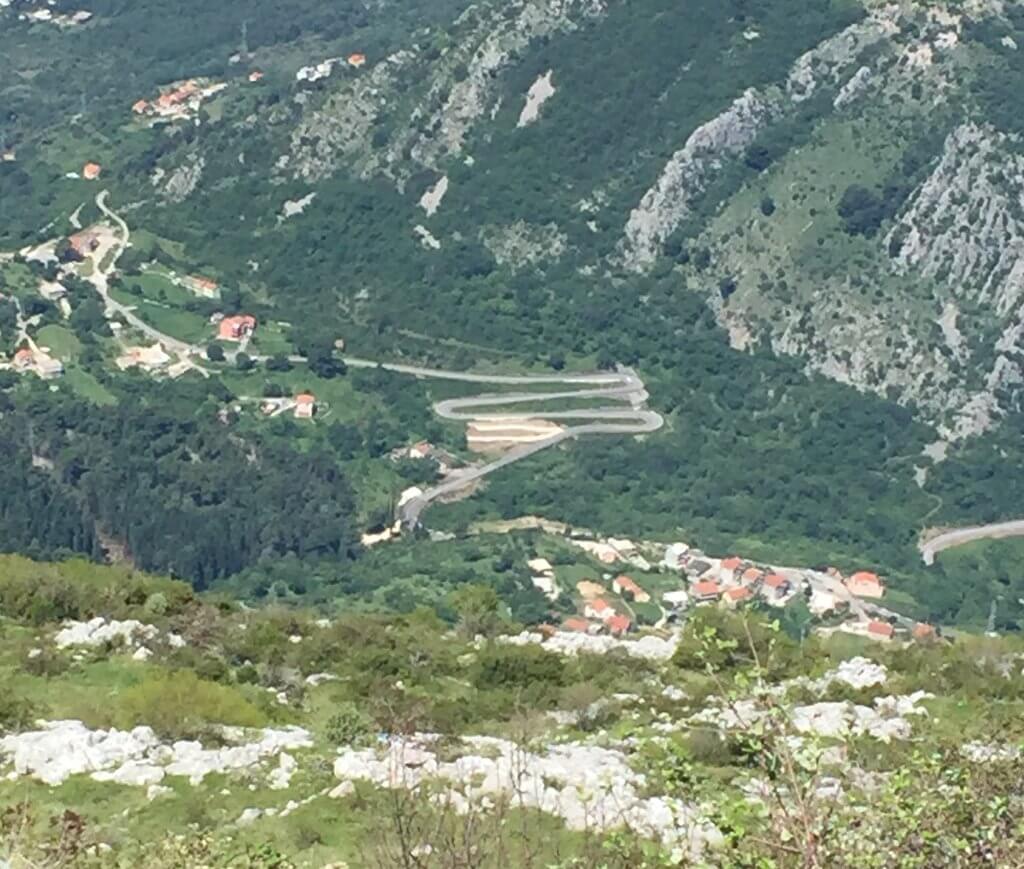 M for Milena
Lovćen National Park Hiking
Hiking in Mount Lovćen is beautiful year-round and there are trails catering to differing abilities. The trails are well marked with signposts and red and white way markers. They'll take you through native beech forest, along Austro-Hungarian roads, through katuns (traditional summer pastures which include shepherds' huts) and to lookouts over the Bay of Kotor and Adriatic Sea. 

Lovćen Wolf Trail

6.8km (4.2mi), 3-4 hours (note the official guide says 1.5 hours but it takes longer)
Ivanova Korita - Kraljevo Počivalo – Kuk lookout and katun – Ivanova Korita
The most popular trail is the Lovćen Wolf Trail that starts from the visitor centre in Ivanova Korita. This is an easy trail that mostly takes you through beech forest and to some beautiful lookout points.
Circular Trail to Kuk

14km (8.7mi), 4-5 hours
Ivanova Korita – Velji Bostur – Studenac spring – katun Kuk – katun Dolovi – Ivanova Korita
This trail will take you to some of the best lookout points in the national park, where you'll get dramatic views of the coast. Most of this hike is in the open so it can be very hot in summer.
Circular trail to Jezerski Vrh (Njegoš Mausoleum)
11km (6.8mi), 3 hours +
Ivanova Korita – Mali Bostur – Jezerski Vrh – Velji Bostur – Ivanova Korita
This is a moderate to difficult hike from Ivanova Korita to the Njegoš mausoleum on top of Jezerski Vrh and back again. The last third to the top of Jezerski Vrh is very steep and exposed, so it's best to do this hike early in the morning if you're hiking in summer heat.
Kotor to Lovćen Hike

10km (6.2mi), 3.5 hours
You can hike the old packhorse trail from Kotor to Lovćen. You can start the hike either from San Giovanni Fortress or the Ladder of Kotor and follow it up to Jezerski Vrh, the site of Petar II Petrović-Njegoš mausoleum and then descend into Ivanova Korita. 
You can find detailed information about this hike in The Mountains of Montenegro: A Walker's and Trekker's Guide. You can also do this hike on a guided tour.
Lovćen Biking

You'll also find mountain biking trails in Lovćen National Park and they start from Ivanova Korita. You can get maps and hire bikes from the visitor centre if you don't have your own and they cost €2 an hour or €8 a day.
There are three trails:
Ivanova Korita to Kuk lookout
Treštenički Vrh and Babina Glava

Large Circular Tour Around Lovćen
You can also join a guided downhill ride from the Njegoš mausoleum to Kotor via the serpentine road which has 25 switchbacks and the best views of Kotor Bay.  
Lovćen Adventure Park
Lovćen Adventure Park is a treetops ropes course. There are five trails of varying difficulty to choose from and they're open to anyone over five years old, making this a popular destination for families.

Lovćen Zipline
Lovćen zipline
Just before you reach Njeguši on the Kotor to Cetinje road you come to Lovćen Zipline, which spans the valley between two points in the road.
Address: Сајла "Његуши" / Zip Line Njegushi, Cetinje
Hours: 9am – 7pm daily
Phone: +382 67 486 751
Price: €10 per person
---
Accommodation in Lovćen

Hotel Ivanov Konak ****
Hotel Ivanov Konak is a 4* hotel in the centre of Ivanova Korita. It's got a fantastic restaurant and terrance and it's close to all the park's activities.
Hotel Monte Rosa ****
Hotel Monte Rosa is also in Ivanova Korita, and with an indoor pool it's a great place for families and to relax after a day in the outdoors.
Ethno Village Saint George ****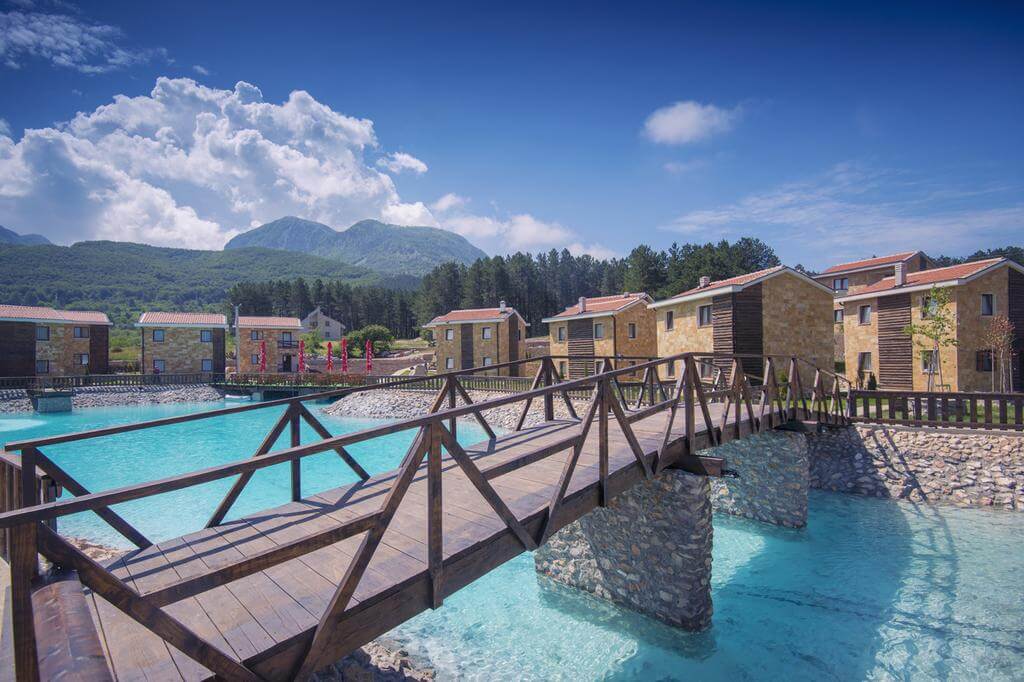 Ethno Village Saint George is a village of well-appointed apartments in Njeguši. Here you'll find upmarket family-friendly accommodation with a playground and goats to entertain children. 
Bungalows and Camping
You can book accommodation in the park at the visitor centre in Ivanova Korita. Here are the rates:
Small tent €3
Large tent €5
Campervan €10
Campgrounds €10
Fire and wood €5
Four-bed bungalows €30
---
What to Eat in Lovćen National Park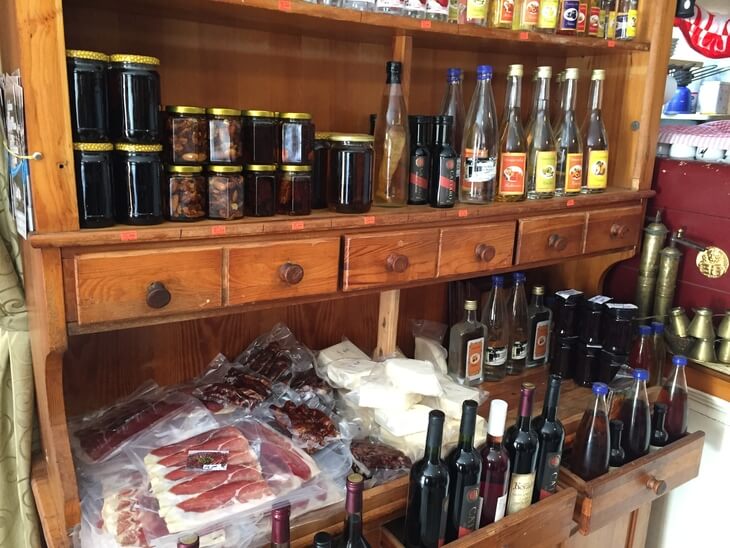 Local products for sale
When in Lovćen prosciutto and cheese smoked in Njeguši are a must try.
Other specialities include smoked sausages (these are delicious cooked with beans) and smoked mutton from Njeguški.
For a sweet treat you can't go past priganice (fried dough balls) with honey and crepes. Medovina is traditional honey wine that's been made here for centuries and is said to have medicinal properties.
Many homes in Njeguši village have small stalls where you can sample and buy traditional specialties. Kod Pera na Bukoviću restaurant sells their own smoked prosciutto in vacuum packs that can be taken into some countries (depending on local import laws).
Recommended Restaurants in Lovćen National Park
Kod Pera na Bukoviću – Montenegro's oldest restaurant in Njeguši where you can get a traditional sandwich of prosciutto and cheese from their on-site smokehouse.
Ivanov Konak – Traditional restaurant in Ivanov Konak
Kraljicin Vrt – excellent pizzas, soups and pancakes for just a few euros in Ivanov Konak
Horizont Restaurant - great place to watch the view of Kotor Bay (especially at sunset) over a plate of prosciutto, cheese, olives and a glass of wine
---
Getting to Lovćen National Park
Self-Drive
The best way to get to Lovćen National Park is by hiring a car and driving yourself. Most tours just stop at the mausoleum so if you'd like to stop at Ivanova Korita, go hiking etc you'll need to drive.
Kotor to Lovćen National Park: 20km (12mi)
Budva to Lovćen National Park: 37km (23mi)
Cetinje to Lovćen National Park: 7km (4mi)
Podgorica to Lovćen National Park: 37km (23mi)
You can easily combine Lovćen National Park and Cetinje in a day trip. This is ideal for families because there's not too much driving and there are plenty of interesting things, like Lipa Cave, for kids. You can also add in Kotor and Budva if you like.
Lovćen National Park Tours

Full-Day Montenegro Tour
This tour packs a lot in and it's ideal if you're in Montenegro for just a few days. On the tour you'll get to experience a lot of Montenegro's history, culture, food and most scenic destinations. It includes the serpentine road, traditional breakfast in Njeguši village, Petar II Petrović-Njegoš mausoleum visit, Cetinje walking tour, Pavlova Strana viewpoint, traditional lunch by the Rijeka Crnojevića, boat cruise on the river and a Budva walking tour.

Private Day Trip to Lovćen and Skadar Lake from Kotor

This full-day trip is a privately-guided version of the group tour above. It includes the serpentine road from Kotor to Njeguši village, traditional breakfast and smokehouse visit in Njeguši, Njegoš mausoleum visit, walking tour of Cetinje, Pavlova Strana, lunch in Rijeka Crnojevića and a boat cruise. It doesn't include a visit to Budva old town, but does include breakfast, lunch, drinks, national park entrance fees, which are not included on the group tour and come to about €15 per person.

Historical Zig-Zag Lovćen Tour from Kotor

This is a privately-guided tour that starts in Kotor (or elsewhere by arrangement) and takes you Njeguši village, Lovćen National Park, Cetinje, Budva and Kotor. As a private tour it can also be tailored to suit you.

Public Transport + Transfer
People often ask if there's a Kotor to Lovćen National Park bus. Unfortunately there's no public transport to Lovćen National Park, but you can catch a bus to nearby Cetinje and book a transfer from there.

---
When to Visit
The best time to visit Lovćen National Park is from May to October. The park is often covered in snow from December to April, but most of the roads are still passable and it's a popular weekend destination in winter.
In spring the park is lush and green and the wildflowers are in full bloom. In summer Lovćen is about 10°C lower than on the coast, so it's a nice escape from summer heat. And in autumn the park is full of rust-coloured beech forests. 
Have you Been?
Have you been to Lovćen National Park? I'd love to hear what you thought! Let me know in the comments below...
Pin This
More Beautiful Places to Explore...
Lovćen
help the stray animals of Montenegro
Book your accommodation anywhere in the world through any of the search boxes on our site and we'll make a donation towards sterilising stray animals in Montenegro. 
It costs you nothing, and you get the biggest selection and lowest prices guaranteed. It's a win-win!