Lovcen National Park
(This post may contain affiliate links. Find more info in my disclaimer.)
Lovcen is the perfect day trip into the mountains from Kotor Bay. Take your kids, a picnic and explore one of Montenegro's most accessible national parks.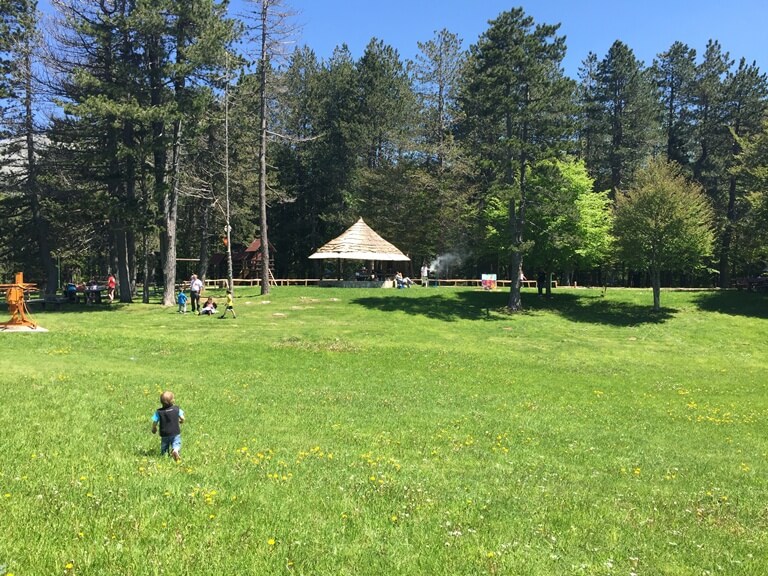 Ivanova Korita in Lovcen National Park is a great place to bring the family
Lovcen is one of the most popular national parks of Montenegro. It lies between Kotor, Cetinje and Budva and is an easy day trip from anywhere on the coast.
The route via the serpentine road up from Kotor is one of the most scenic in the country and will give you stunning views of the Bay of Kotor all the way. It does have 25 hairpin turns, so you'll want to take it a bit easy… but this probably won't be a problem as you'll be wanting to stop so often to take photos of the view!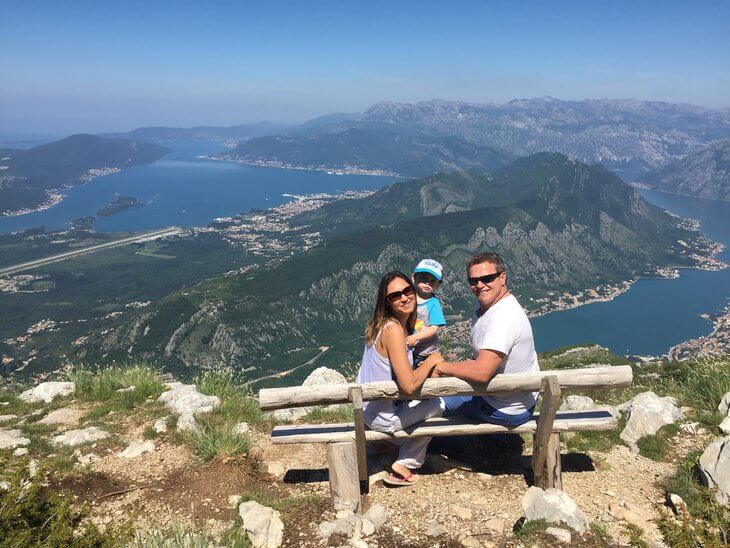 The view of the Bay of Kotor from Lovcen National Park
Lovcen National Park is popular getaway for Montenegrin families in summer. Because of the altitude, the temperatures here are around 10 degrees lower than on the coast and coming here is a great way to get a break from the summer heat. 
The national park covers 6,220 hectares and two thirds of that is covered in forest. Like Lake Skadar, the park is an important reserve for many of Montenegro's native bird species. It's home to around 200 species of bird which include falcons and eagles. It's also home to a number of bears and wolves... but you'd be very unlikely to spot any of those. They tend to stay in the most remote parts of the park where there aren't any people.

---
Top Things To Do
Petar Petrovic Njegos' Mausoleum
Lovcen is best known for housing the mausoleum of Montenegro's favourite son, the poet, bishop and leader Petar Petrovic Njegos. You can visit the mausoleum via a long staircase of 461 steps and you'll also be rewarded here with 360 degree views of the surrounding mountains for your efforts. You can also head over to Negusi and visit the museum which is in the house Njegos was born in.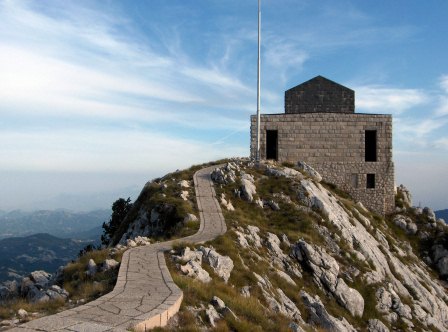 ---
Njegusi
Njegusi is a little village on the way to the national park. Njegusi is famous for being the birthplace of Njegos, but it's also famous for its proscuitto ham and smoked cheeses. 
As you drive through the town you'll see signs and stalls offering tastings and sales of ham, cheese, honey and rakija - the local brandy.
Signs like this show where you can try and buy proscuitto and cheese
---
Zipline
Just before you reach Njegusi, you'll come to zipline crossing the canyon between curves in the road. 
Price: €10 per person
---
Hiking
There's a visitor's centre at Ivanova Korita where you can get information and pick up maps for walking trails. You'll need to keep in mind that there is generally snow up here from November to April and temperatures can be substantially cooler than down at sea level.
You can hire a guide from the visitor's centre if you want to do a guided walk. To do this you'll need to book in advance and you can contact them at nplovcen@nparkovi.me.
---
Ivanova Korita
The lovely restaurant and hotel at Ivanova Korita - a beautiful getaway
Ivanova Korita is a great spot for lunch, a picnic or a game. There's a big open field that's ideal for ball games. There's also a children's playground and barbecues for grilling.
If you don't feel like barbecuing or bringing a picnic, head over to Ivanov Konak which has an excellent restaurant and a lovely hotel called Ivanov Konak.
You'll also find a ropes course here that has difficulty levels for everyone.
Read More: Lovcen Adventure Park
---
Biking
You can hire bikes from the visitor's centre at Ivanova Korita for €2 an hour or €7 per day and explore the trails and park this way.
---
Getting to Lovcen
Lovcen Day Tour - Private Tour
This day tour to Lovcen and Cetinje is a great way to see the Budva Riviera and Lovcen in a short time.
You head along the riviera up to Cetinje and visit King Nikola's court and Cetinje Monastery. Then you continue on to Njegos' mausoleum in Lovcen National Park. There's a hike up 461 steps to get there, but at the top you'll get views of Montenegro, Croatia and Bosnia and Herzegovina.
You return to Kotor via the scenic serpentine road which gives you stunning views of the Bay of Kotor. 
Tour Details
Start point: Kotor old town
Start time: 9:30am daily
Duration: 5 hours
Price: From €81 per person
Read More: Lovcen and Cetinje Private Tour from Kotor
---
Njegusi and Cetinje Tour - Private Tour
King Nikola's Palace in Cetinje
On this tour you take a private transfer up the serpentine road to Njegusi, where you can try Njegusi parma ham and cheese.
Then you head onwards to Cetinje, the old royal capital of Montenegro and visit Cetinje Monastery. From there you visit Petar Petrovic Njegos' mausoleum in Lovcen National Park before returning to Kotor.

Tour Details
Start point: Kotor
Start time: Flexible
Duration: 4 hours
Price: From €55 per person
Read More: Private Tour of Njegusi and Cetinje
---
Self Drive Tour Directions
If you've got a rental car, you can easily take yourself on a self-drive tour to Lovcen. 
If you want a relaxing day in the park, we'd recommend just driving straight to Lovcen and spending the day there. You can:
Take a blanket and read and snooze in the shade
Barbecue, take a picnic or eat in the restaurant
Hire bikes
Go walking
Do the ropes course at the Adventure Park
If you'd prefer to do more sightseeing, you can build in a stop in Cetinje, Kotor and Budva too.
Here'a suggested itinerary:
Start in Budva
Drive up the hill above Budva towards Cetinje. There are places you can stop along here to take photos of the riviera. You'll get views all the way from the old town past Sveti Stefan.
Once in Cetinje, visit King Nikola's court, the national museum and Cetinje monastery.
Continue on to Njegos' mausoleum, climb the steps and visit the mausoleum.
Stop at Ivanova Korita for a walk and late lunch in Ivanov Konak.
Head back down the serpentine road to Kotor, stopping in Njegusi to pick up some proscuitto and cheese.
Finish in Kotor.
Here's a map of the itinerary:
---
2 Day Lovcen, Cetinje and Vrmac Off Road 4x4 Tour
A private tour with a knowledgeable local guide who'll take you up to Lovcen and Cetinje to see the historical former capital city and national park.
Then you have a choice of accommodation for the night, choose from a hotel, apartment or tenting.
The second day, you'll drive up to Vrmac Ridge to do some more off-roading and get panoramic views of Kotor and Tivat bays.
Tour Details
Start point: Kotor, Tivat or Budva
Start time: Flexible
Duration: 2 days
Price: From €300 for 1-4 people
Read More: Private Off-Road 4x4 Tour of Lovcen, Cetinje and Vrmac
---
Where to Stay
Ivanov Konak is a lovely hotel restaurant in the heart of Lovcen at Ivanova Korita. 
It's a lovely place to getaway in peace and quiet for a few days. The park, barbecues, green space, walking and biking trails are all on your doorstep.
Read More: Ivanov Konak
---
Bungalows
You can rent bungalows that sleep 4 inside the park. These cost €40 per night and you can book them by emailing nplovcen@nparkovi.me.
---
Tenting
You can pitch your tent inside the park for the following prices:
Small tent €3
Large tent €5
Campervan €10
Campgrounds €10
Fire and wood €5
Again, email nplovcen@nparkovi.me for reservations.
---
The nearest town to Lovcen National Park is Cetinje. You could stay here for a night if you were touring around Montenegro, but I wouldn't recommend basing yourself here for a week's holiday. Cetinje is an interesting town to visit, but you won't find nice hotels or many things to do for tourists.
You'd be better to choose accommodation somewhere along the coast or at Lake Skadar if you like a holiday with lots of outdoor activities.
Search For Accommodation in Cetinje
Read More: Coast of Montenegro
Read More: Lake Skadar
---
More Beautiful Places to Explore...
---
Home

>
Where Is Montenegro?
> Lovcen National Park
---
help the stray animals of Montenegro
Book your accommodation anywhere in the world through any of the search boxes on our site and we'll make a donation towards sterilising stray animals in Montenegro. 
It costs you nothing, and you get the biggest selection and lowest prices guaranteed. It's a win-win!