Lake Skadar Activities... For Everyone!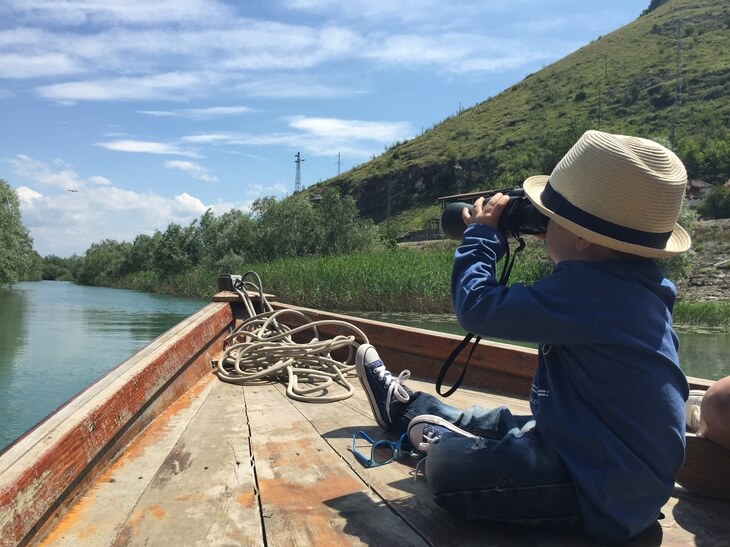 There are Lake Skadar activities for everyone. Young and old. Couples, families and groups. It's such a beautiful and unique place. It's the perfect place to experience Montenegro's famed wild beauty.
No matter what your interest or fitness level, there's something to do at Lake Skadar that will make you fall under the spell of this special place.

Lake Skadar is a true gem in Montenegro and it's the kind of place where you can see the real Montenegro:
The traditional way of life
History and religion
Delicious, home-grown food
Put it on your list of places to visit!

If you're wondering what there is do around here, you won't be disappointed. It's an outdoor-lover's dream.
You can explore the lake on boats, kayaks, bikes and the hiking trails. You can also fish, bird-watch and sample award-winning wines. 
There's no shortage of things to keep everyone entertained.
Let's explore Lake Skadar activities!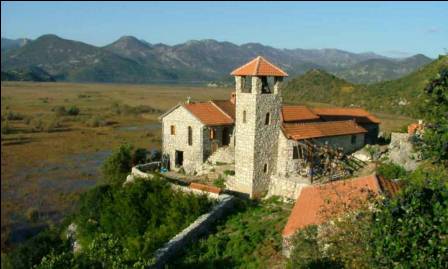 Kom Monastery overlooks Skadar Lake
---
Kayaking
This is the ultimate place for kayaking. There are monasteries, ruins, hidden beaches and a huge variety of birds on Skadar Lake.
You can book a guided tour with a knowledegable guide or hire kayaks and explore on your own.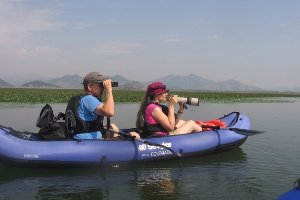 ---
Boat Cruises
Out of all the Skadar Lake activities available, this is the most popular. If you're looking for a relaxing excursion, a boat cruise is the perfect thing for you.

The traditional lake boats are shallow-bottomed wooden boats that seem to glide over the water. You can sit back, relax under the reed sunshade while taking in the tranquil atmosphere on the lake.

My mum and I enjoyed a fantastic two hours being shown the highlights of the lake on her first visit. And with your entrance to the park (€4) you get access to the natural history museum in Virpazar. 

My mum with a lily our skipper picked for her on Skadar Lake
---
Bird Watching
Did you know that Lake Skadar is a huge bird sanctuary? There are over 280 bird species living on Lake Skadar and bird enthusiasts flock here to see the varied wildlife.

If you want to bird watch here a guide is essential – they'll take you to all the right places to see the birds and different bird species. Learn More

The rare Dalmatian Pelican makes its home on Skadar Lake
---
Fishing
Fishing is permitted on the lake from 1st June to 15th March. If you want to fish you need to buy a licence from one of visitor's centres in Vranjina or Virpazar, which costs €5 per day. 

---
Hiking
There are some amazing walking trails around Lake Skadar that will show you the real face of Montenegro.
When you get into the heart of the country like this, you see the why Montenegro's slogan is 'wild beauty' and you see just how diverse this country is.
There are hikes that take you to hidden rock pools where you can swim and through forests where you can pick wild fruit.
Self-Guided
There are 11 walking trails around Skadar Lake. You can pick up a map at the visitors centre in Virpazar (see the map at the bottom of this page).
Guided Tours
This is an area that's been inhabited for centuries and local guides will able to take you places you'd never find on your own. Learn More

---
Vineyard and Gastronomy Tours
There's a secret about the food in Montenegro: the best food isn't found in the most expensive restaurants, it's found in the homes of the local people!
I'm talking stuffed capsicums and cabbage leaves, fried dough balls, pies with flaky filo pastry, Russian salad with home-made mayonnaise… omg, just thinking of it makes my mouth water!
Luckily for you, you don't have to cosy up to strangers trying to get invited to Sunday lunch at their mother's house. You can try these local specialities on a vineyard or gastro tour around Lake Skadar. These tours are really special – you really get to meet the locals who grow and produce everything themselves, see how they make it and learn about the traditions of this special area. Learn More
Local's Tip: If you want to stay around Lake Skadar and are keen to get stuck into their delicious food, you can't go past Country House Djurisic. Marko, the owner, will help you see the best of this area and his guests rave about his mother's food. 
---
Horse Riding
---
If you're an experienced rider you won't want to miss one of the most stunning trail rides in Montenegro. 
The Orahovstica River Valley is a stunning area near Lake Skadar where you can explore on horse back. You'll have the chance to wild swim in a natural pool, ride through lush forest and have a riverside picnic.
Read More: Orahovstica River Valley Ride
Visitor's Centre
On the shore of Lake Skadar in Virpazar, there's a restaurant called Jezero over-looking the lake. The restaurant specialises in local fresh water carp caught in the lake. Next to this is the natural history museum which you get entrance to when you pay your entrance to Skadar Lake National Park (€4).
The museum is really worth a visit. It's not large, so won't take you long to go through. They have some beautiful displays about the local wildlife and one of traditional artefacts from everyday life from the area – clothes, looms and equipment.
They also sell guides, books, souvenirs and postcards. If you head over to the opposite side of the car park, you'll come across a wine store set into the rock of the surrounding cliffs.
There are also smaller visitors centres in both Virpazar and Rijeka Crnojevica where you can find tourist information.
---
Cycling
Exploring the Lake Skadar area on bike is truly rewarding. You can explore old trail routes, pick wild fruit and explore old fortresses. Or why not discover your own freshwater beach?!
There are five marked bike trails available around the lake:
1.       Rijeka Crnojevica – Virpazar – Cikla: 65km.
2.       Rijeka Crnojevica – Karuc: 9.5km.
3.       Virpazar – Crmnicko Polje – Virpazar: 17.5km.
4.       Virpazar – Limljani – Boljevici – Virpazar: 20km.
5.       Virpazar – Sutorman – Bar: 34km. 
There are also two mountain bike trails:
1.       Dodosi – Zabljak Crnojevica: 10km (available from spring to autumn only).
2.       Virpazar – Orahovstica.
---
Lake Skadar Car Safari
This tour is a packed day of adventure and jaw-dropping scenery on a car safari that includes a gentle two hour hike and the opportunity to swim wild. You'll visit bat caves, stunning natural springs and waterfalls, historic royal settlements and citadels, drive across an African-style plain and take in the stunning views of Pavlova Strana - one of Montenegro's most famous vistas. You'll also enjoy lunch at a delightful restaurant next to the famous Byzantine bridge of Rijeka Crnojevica.
Tour Details
Duration: 7-8 hours
Start and finish point: Virpazar
Price: €50 per person for groups of 4 or more.
           €60 per person for groups of less than 4.
           Lunch at a local restaurant in Rijeka Crnojevica is included in the price.
---
Lake Skadar Attractions
Godinje
Godinje is 4km outside of Virpazar. It's a little village with conjoined houses. The houses have hidden tunnels between them that were built to escape the Ottomans.
To get there take the left fork uphill after you pass  Virpazar.
---
Monasteries
There used to be around 60 monasteries, fortresses and churches around Lake Skadar. The area has always been the heart of the Montenegrin state so there are lots of centuries' old sites to explore. The Montenegrin capital was usually here or close by when invading armies pushed them back.
Kom Monastery – 15th C. You can visit Kom monastery on a boat tour. The monastery was built on Andrijska Gora island between 1415 and 1427. Inside you'll see 15th and 16th century frescoes. In the centre of the church lie four gravestones of the rulers of the Crnojevic Dynasty.
The monastery is a lovely place with stunning views over the lake. The only thing that interrupts the silence is birdsong and the sounds of the farmyard animals that call the island home.
Beska Monastery – 15thC. There are two churches at Beska Monastery on Beska Island. The larger church, St George, was founded by Dzuradz II Sracimirovic Balsic towards the end of the 15th century. The smaller one, the Church of the Holy Mother of God, was built in 1439 by Jelena Balsic and she's also buried on the island.
Starcevo Monastery – 1377. Starcevo is the oldest church of the Balsic churches. Its Church of the Dormition of the Holy Mother of God and monastery lie in Starceva Gorica.
Moracnik Monastery – 15thC. This monastery was built by Balsa III and the church is the Holy Mother of God.
Precista Krajinska – 11th C. The remains of this monastery lie near the settlement of Ostros in Krajina. The monastery was built by Duke Jovan Vladimir of Zeta but was destroyed by the invading Ottoman Turks. 
A Monastery For Princesses
'What should I do with all these daughters?' King Nikola, the last Montenegrin sovereign, wondered. There were eight princesses (another had died at three months old) and three princes in the Petrovic household. A foreign diplomat once asked the king 'What can you export from this completely poor country?' to which the king replied 'You underestimate my daughters.'
All but two of his surviving daughters were married and became valuable diplomatic assets.  Zorka married the Serbian crown prince, Milica and Stana married Romanov dukes, Ana married into the German court and Jelena became the Queen of Italy. Ksenja and Vjera were banished with their parents to France, where they stayed and never married. Marica died at age 16.
But just in case his daughters weren't married, in 1882 he started repairing Vranjina Monastery so that the princesses could live as nuns. The work was all done in secret and his daughters and even his wife, Queen Milena, never knew about it. 
---
Grmozur Island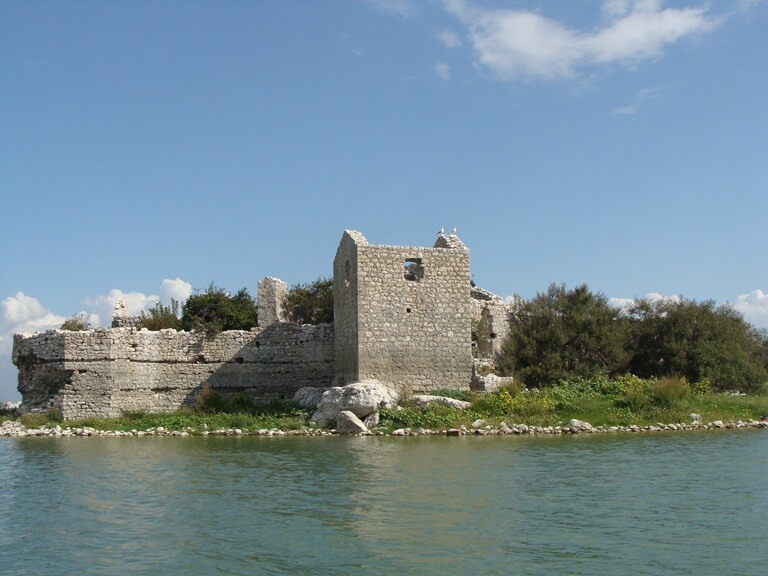 Grmozur Island is a great place to see birds. It's also known as Snake Island, Bird Island and Montenegrin Alcatraz
Grmozur is known locally as 'Montenegrin Alcatraz' (but so is Mamula Island). It's also known as Snake Island. The island has the ruins of a fortress on it that was built by the Ottoman Turks in 1843. It was turned into a prison for (surprise surprise) non-swimming political prisoners once the Montenegrins liberated the area in 1878. Interestingly, guards on the island also couldn't swim.
It was damaged in an earthquake in 1905 and has fallen into ruin ever since. These days it's also known as 'Bird Island' and it's a good spot to see some of the lake's resident birds. It makes for a great scenic backdrop for pictures. You can see Grmozur Island on a boat cruise or kayak excursion.
---
Lesendro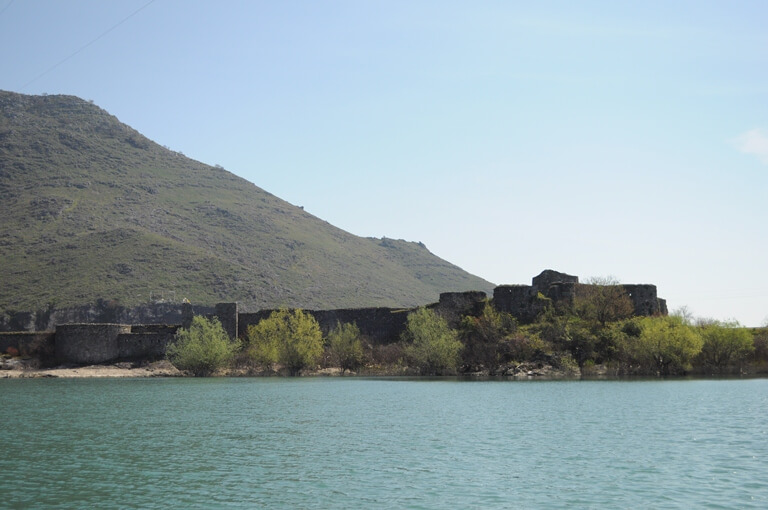 Lesendro, the remains of the embattled fortress
As you pass over the bridge from Vranjina to Virpazar, you can't miss Lesendro, a fortress ruin on the lake. The fortress was built in 1843 to ward off the invading Ottoman Turks on what was originally an island. The island was captured by the Turks in 1843 and further fortified. King Nikola Petrovic Njegos wanted it back so badly that now there's a saying in Montenegro: 'to long for something, like the bishop longs for Lesendro.' He tried to take it back several times and finally succeed in 1878.
The island became a peninsula when the bridge was built for the railway that links Belgrade (Serbia) and Bar on the coast. Now you drive across this same causeway when you drive this route from the coast to Podgorica.
It's difficult to explore the ruins of the fortress because there's nowhere to pull over on the bridge. There's also no safe walking path along the side of the road and railway tracks. If you want to explore it, the best way is to go by boat. 
---
Murici Beach
If you take the left fork in the road when you cross the bridge into Virpazar, you'll head to Murici. It's a 30 minute drive from Virpazar and there's a small village and restaurant on the shore of the lake. This is the only sandy beach on the lake and it's popular with locals and tourists alike. The beach is surrounded by olive groves and overlooks Beska Island which is home to two 14th century Orthodox churches.
There's another small visitor's centre in Murici which is open daily from May to September 9am to 5pm.
There's no public transport to Murici so your options for getting there are boat, kayak, bike or rental car. 
---
You can easily fit any of these Skadar Lake activities into a day trip to the area. You'll want to start out from Virpazar which is an hour from Budva, an hour and a half from Tivat and two and a half hours from Herceg Novi.
You can see where Virpazar is on the map below. It's very easy to find from the coast - head south along the coast road, take the turning for Sozina Tunnel after Haj-Nehaj, go through the tunnel and then continue on until you come to the lake and Virpazar.
---
Home

>
Things To Do in Montenegro
> Skadar Lake Activities
---
help the stray animals of Montenegro
Book your accommodation anywhere in the world through any of the search boxes on our site and we'll make a donation towards sterilising stray animals in Montenegro. 
It costs you nothing, and you get the biggest selection and lowest prices guaranteed. It's a win-win!