The Local's Guide to Podgorica
This post may contain affiliate links which means that if you purchase through my link I may earn a small commission which helps to keep this site going. Thank you. You can find more info in my disclaimer.
Podgorica has been called 'the most boring city in Europe' but there are plenty of things to do there… if you know where to look.
The problem is most of the haters of the city haven't bothered to go beyond the central city and visit the capital's attractions. In this town, you've gotta scratch the surface to get to the good stuff!
Does this look ugly and boring??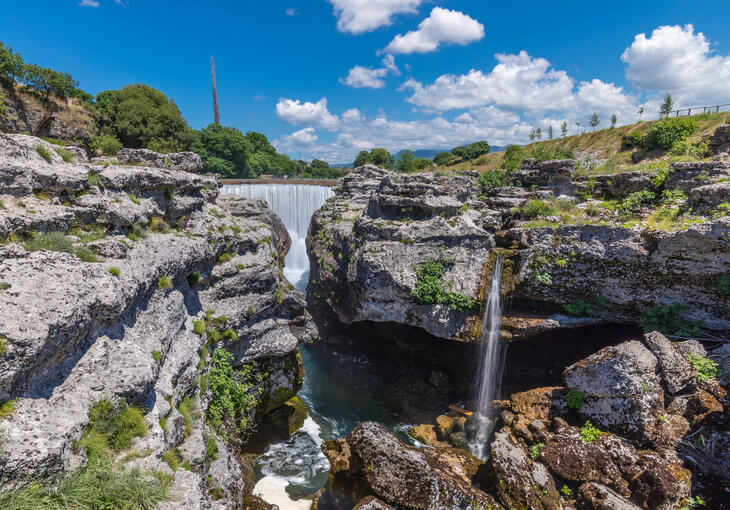 Cijevna River
Image: Deposit photos
Those aside, should you visit Podgorica on your trip to Montenegro?

Let's see…
discover kotor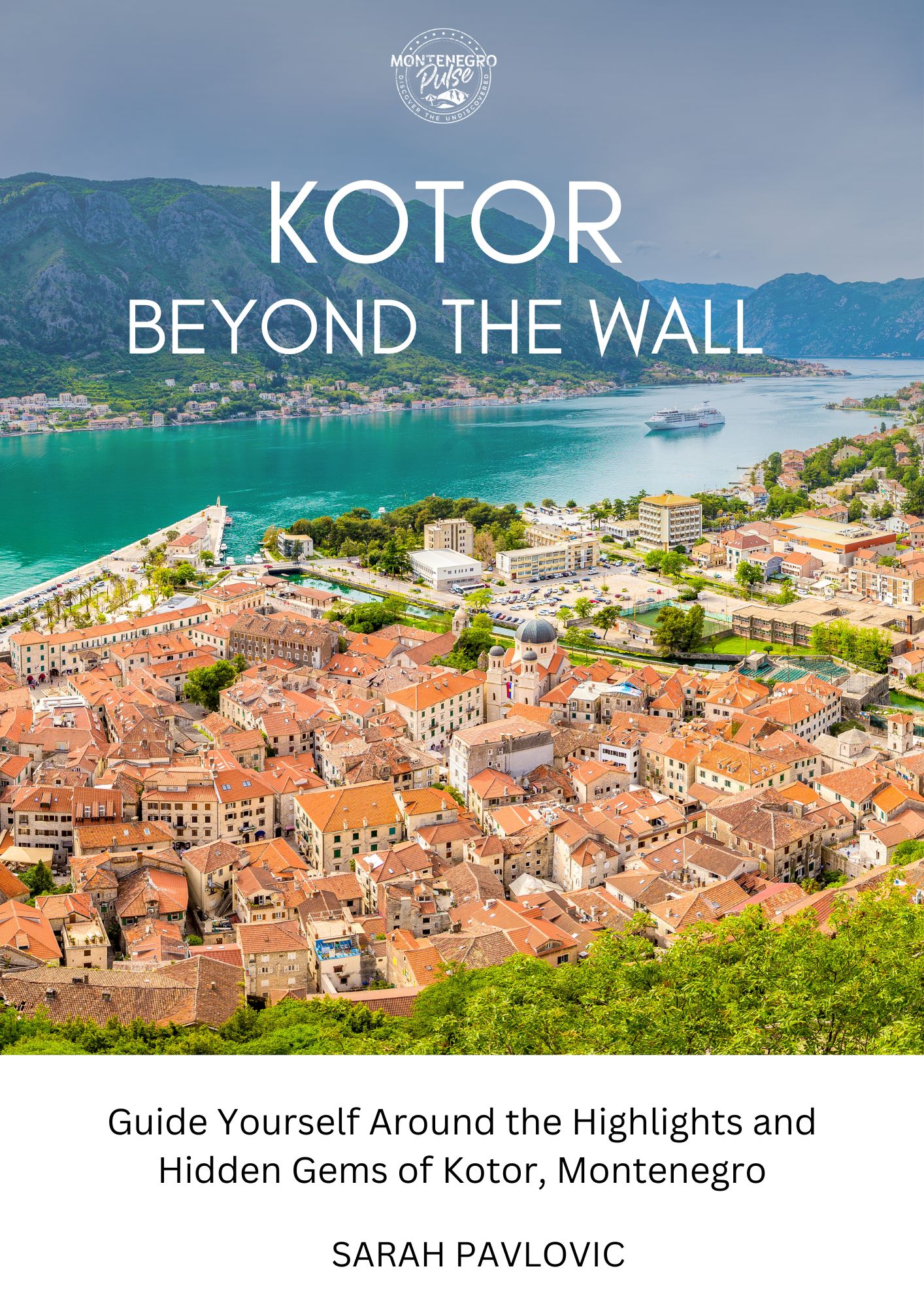 Guide yourself with the
"World's Best Guide to Kotor"
Top attractions
Hidden gems
Bonus walking tour
What to eat
Exclusive experiences
Essential visitor tips
The short answer is: you shouldn't plan to spend your whole vacation here. You're better off: 
1. Staying on the coast and seeing the city in a day trip
Although central, it's still a good two to three hours' drive to must-see places, like Kotor, on the coast. You'd end up spending a lot of time driving every day because the most popular attractions are on the coast or in the national parks.
The city itself isn't very attractive, so if you want see Montenegro's beautiful old towns, stunning coastlines and natural beauty – which you should! – you'll need to travel out of town. You're better to choose a lovely coastal or mountain village to stay in and visit Podgorica on a day trip.
2. Planning an itinerary that takes you around the country with an overnight stay.
If you're keen to see both Montenegro's coast and mountains, it's better to stay in different towns around the country because you'll spend less time travelling and more time exploring!
There might also be some good reasons for you to stay here. Let's go through those and see what there is to do and where you should stay if you do decide to stay there.
1. Flying into Podgorica
Montenegro's capital city has around 200,000 residents and is Montenegro's only city of a decent size. It's also where you'll find one of Montenegro's two airports, meaning you might want to fly into this town.
Most people who fly into the city don't stick around. It's a short drive to more touristy places like Lake Skadar (30 minutes) and the coast (1 hour) so they usually pick up a car and head to more touristy destinations.
The advantage of spending a night here, rather than rushing on to your destination, is you don't have to worry about finding your way to your accommodation in the dark and you won't miss the scenery on your drive. Why not spend a night here and see the sights in the capital before moving on?
If you do stay overnight and then drive down to the coast the next day, I recommend taking the route via Sozina tunnel (€2.50 per car). You'll get some beautiful scenery as you pass Lake Skadar and then again as you drive along the coast. You can also stop at Lake Skadar and take a boat trip, do some kayaking or a wine-tasting.
2.  Central Location
Montenegro's capital is very central and you can take day trips all over the country from here. You can drive to Skadar Lake in half an hour, Biogradska Gora National Park in an hour and half, Ostrog in an hour and be on the coast within an hour.
If you want a central base to explore the country from, this is a good location. My counter argument would be to suggest you do a round the country tour instead of staying in the city and doing daily trips. 

---
Things to Do in Podgorica
So what is there to do on a stay here?
Quite a lot when you look for it. As a capital city in a country that wholly embraces café culture, there are plenty of restaurants and cafes where you can hang out and watch life go by.
But you'll also find more active pursuits… you can go go-carting, do a tree-top obstacle course, visit Roman ruins, see contemporary art, go to museums, go swimming, shopping, horse riding and wine tasting. Really, there are lots of great attractions here.
Read More: Things to Do in Podgorica >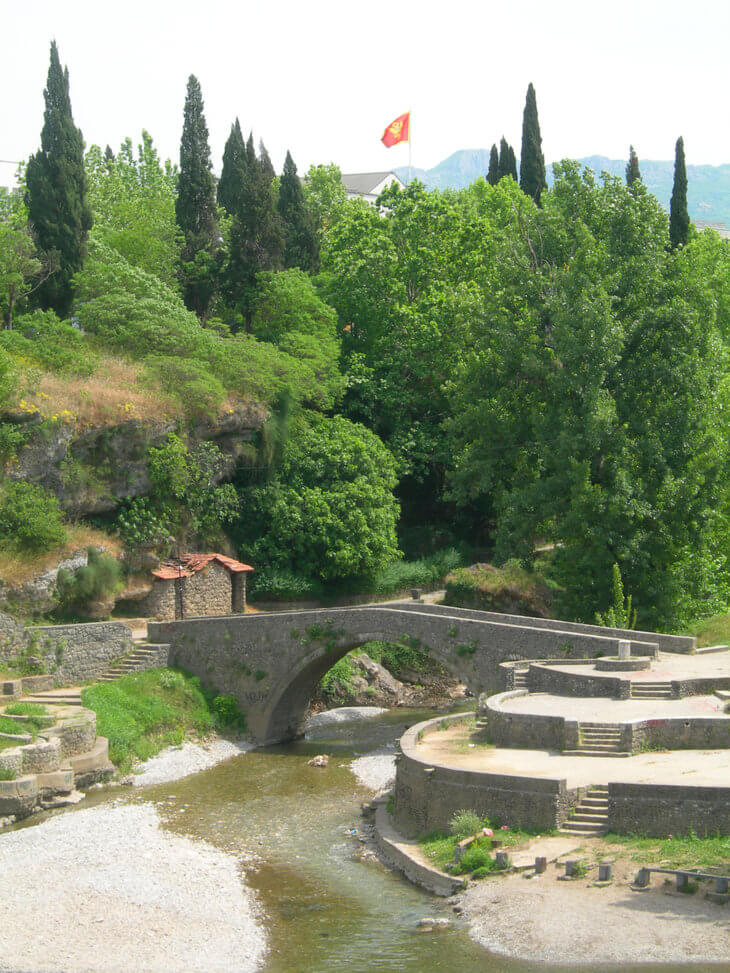 The ancient settlement of Ribnica
Image: Deposit photos
---
Where To Stay in Podgorica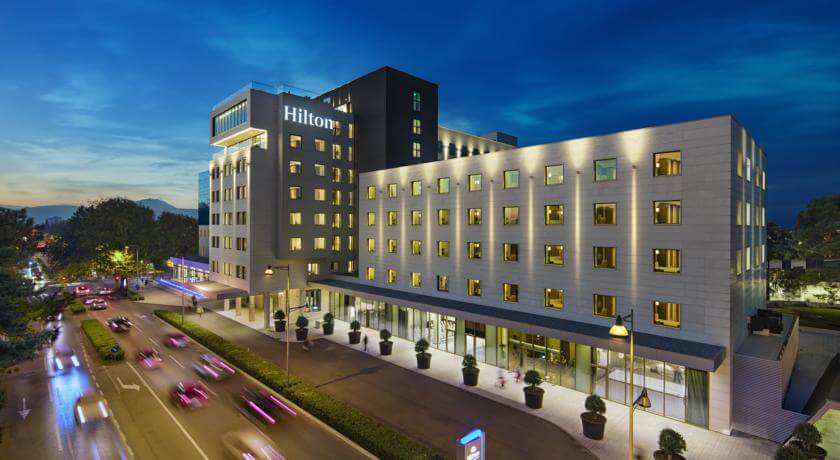 The Hilton
Since a lot of regional business and diplomatic meetings happen here, there's no shortage of good hotels here. There's a Hilton hotel as well as a Ramada and lots of small boutique hotels and established hotels that have been around since Montenegro was part of Yugoslavia.
You'll find something for every budget and taste here.
Read More:
---
Where to Eat in Podgorica
From quirky and surprising to classic favourites, there are some very good places to eat here… again, when you know where to look! Step away from the main streets and discover those hole-in-the-wall places that reveal Podgorica's soul and the passion of the people living there for their culture and cuisine.
Read More: Where to Eat and Drink in Podgorica >

---
Getting to Podgorica
Plane
The easiest way to get to Podgorica is to fly into the international airport. Because it's the capital city, there are flights year-round from all over the world, including daily flights from Belgrade. There are also flights several times a week from Istanbul (Turkey) and European centres like Ljubljana (Slovenia) and Vienna (Austria).
Low-cost airline Ryanair has twice weekly flights from London-Gatwick and Brussels (Belgium) all year round.  Another low-cost airline, Wizz Air, offers cheap flights to Podgorica from Budapest (Hungary), Memmingen (Munich, Germany) and Milan Malpensa (Italy).
When looking for flights, you'll see the airport code is TGD. Why? Between 1942 and 1992 (when Montenegro was part of Yugoslavia) the city was called Titograd in honour of Josip Broz Tito, the President of Yugoslavia.
Read More: Montenegro Airports >
---
Rental Cars and Transfers
If you fly into Podgorica you can pick up a rental car at the airport or book a transfer to take you wherever you're staying (many hotels have airport transfers so check for those first). You can book a seat on a bus to the Bay of Kotor for €24 per person or a private transfer for €50 for a car that seats up to 4 people.
Read More:
---
Taxis
If you're staying in here and not planning on leaving the city, taxi is one of the easiest and cheapest ways to get around. A trip across town costs around €3-5 and it's easier than trying to navigate the city with a rental car.
Taxis Phone Numbers:
ALO Taxi – 19700
Royal Taxi – 19702
Boom Taxi – 19703
PG Taxi – 19704
Pink Taxi – 19705
DeLuxe Taxi – 19706
Elite Taxi - 19708
Orange Taxi – 19709
City Taxi – 19711
Exclusive Taxi – 19712
Red Line Taxi – 19714
Peugeot Taxi – 19723
Bel Taxi – 19800

---
Train
There's a twice daily train between Belgrade (Serbia) and Bar (Montenegro) which stops in Podgorica, so you can get here by train from Serbia. There are also several local trains per day connecting the city with Bar and Niksic, an industrial town that's not suitable for tourists. Click here to see timetables and ticket prices. You can buy tickets at the station. 
If you're travelling around Europe by train, you can get a Balkan Flexipass from Rail Europe, which covers unlimited train travel in Montenegro, Serbia, Bosnia and Herzegovina, Bulgaria, Greece, Macedonia, Romania and Turkey all on one ticket. Click here for more details.
Train Station Address: Trg Golootockih Zrtava 7, near the old part of town (Stara Varos).
---
Bus
The bus station is conveniently located right next to the train station. There are daily buses from around Montenegro and the surrounding countries of Croatia, Bosnia and Herzegovina, Serbia and Albania. Click here to find timetables and book tickets online.
If you want to catch a bus to town, take the number 6 bus (Railway Station – Zlatica) to the centre of town, Hotel Hilton (formerly Hotel Crna Gora) and the National Theatre. 

Podgorica Bus station Facilities
Over 300 buses per day pass through this bus station and you'll find cafes, a mini market, a bank, free WiFi, an ATM, travel agency, post office and taxis onsite. There's also a public bathroom where you can take a shower for €1.50.
Bus Station Address: Trg Golootockih Zrtava
Phone: +382 (0)20 620 430
---
Pin the Local's Guide to Podgorica
---
Related Articles
Podgorica
help the stray animals of Montenegro
Book your accommodation anywhere in the world through any of the search boxes on our site and we'll make a donation towards sterilising stray animals in Montenegro. 
It costs you nothing, and you get the biggest selection and lowest prices guaranteed. It's a win-win!