Montenegro Pulse contains affiliate links and is a member of the Amazon Services LLC Associates Program. If you make a purchase using one of these links, I may receive compensation at no extra cost to you. See my disclaimer for more information.

Eco-Camping At Camp Full Monte
Camp Full Monte sits nestled in the lush hills above Herceg Novi
Eco-camping and responsible tourism is becoming more and more important to travellers. People want to travel and at the same time they want to minimise their footprint. If you're an eco-conscious traveller who's keen to see some of Montenegro's beauty - we have just the place for you.
There's one place in Montenegro that's truly 'off the grid' and eco-friendly. This is where you can experience Montenegro's wild beauty up close without disrupting it. Up in the hills above Herceg Novi, Camp Full Monte is an almost completely self-sufficient camp that doesn't skimp on comfort.

At Camp Full Monte, you can relax, rest and enjoy feeling like you're a world away from the hub-bub, while also being just a 15-20 minute drive from the beaches and town.
---
About Camp Full Monte
Camp Full Monte is an informal place where you have a wonderful sense of community with your fellow campers and the warm and fun-loving owners – Denise and Steve. They make sure the camp feels like your home away from home.  
You're always free to join in the fun but if that's not your style, the camp is more than big enough that you can find your own place of peace and quiet.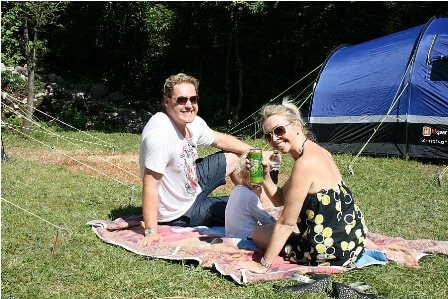 The Owners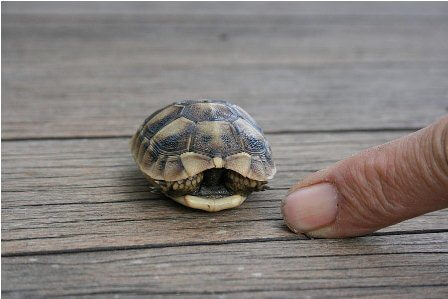 The camp is full of wildlife like tortoises
Denise and Steve are passionate about living in harmony with nature and protecting the natural environment. That's why the camp is fully eco-friendly – using solar heating, odourless composting toilets and water recycling systems.
If you're interested in how they've done it, they're more than happy to tell you about how they've managed to create this amazing off-grid camp.

Family Friendly
The camp is a great place for families. A stay here gives families the chance to forget hectic, everyday life and slow down. 
Children love exploring nature and here they'll have ample space and opportunity for truly free play. They'll be able to lose themselves in days of tree-climbing and discovery... the way childhood is supposed to be!
A great way to reconnect with your family
You can read reviews of the camp on Tripadvisor here.
---
Facilities
The camp at night
---
Kitchen
The camp's fully equipped kitchen
The heart of the camp is the building which houses the kitchen and bathrooms. The kitchen is fully equipped with everything you need to make meals including cutlery, crockery and a gas hob.
You can then enjoy them al-fresco in the beautiful surroundings at the picnic tables around the building.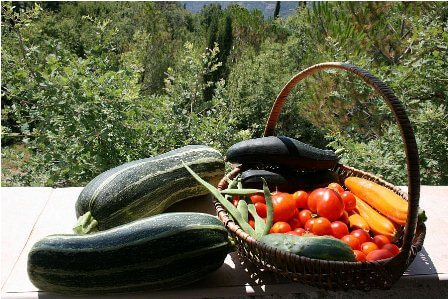 Organic produce for meals is grown on site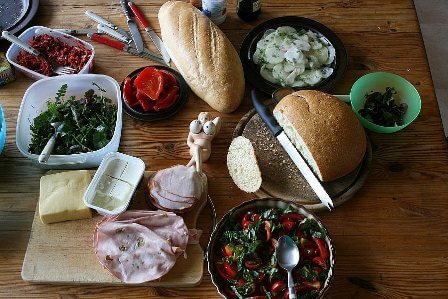 Everything you need to make delicious meals on holiday
Enjoy the mountain views and fresh air
The camp by night with a roaring camp fire
---
Bathroom
In line with the rest of the camp, the bathrooms are modern and eco-friendly with enough solar-heated hot water for everyone.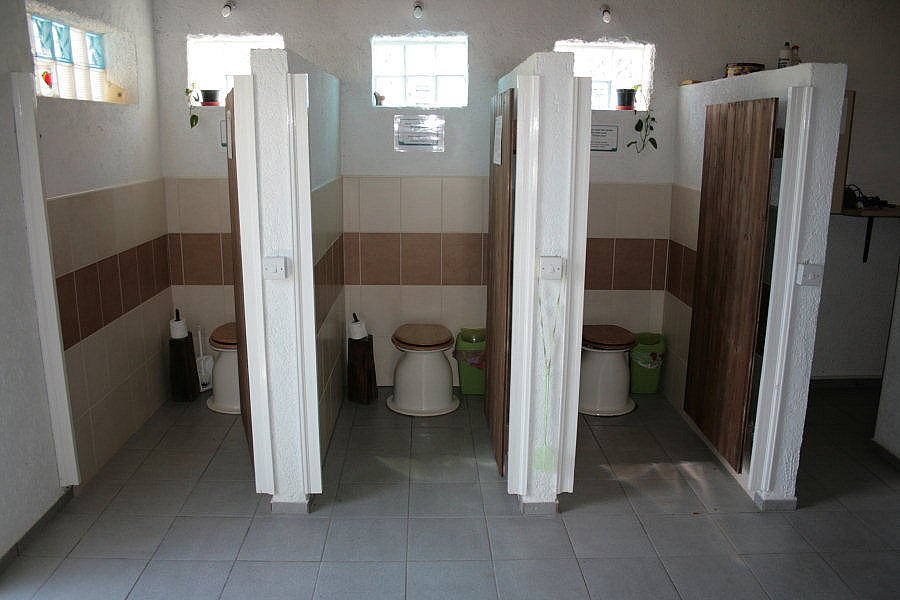 Odourless composting toilets are comfy and eco-friendly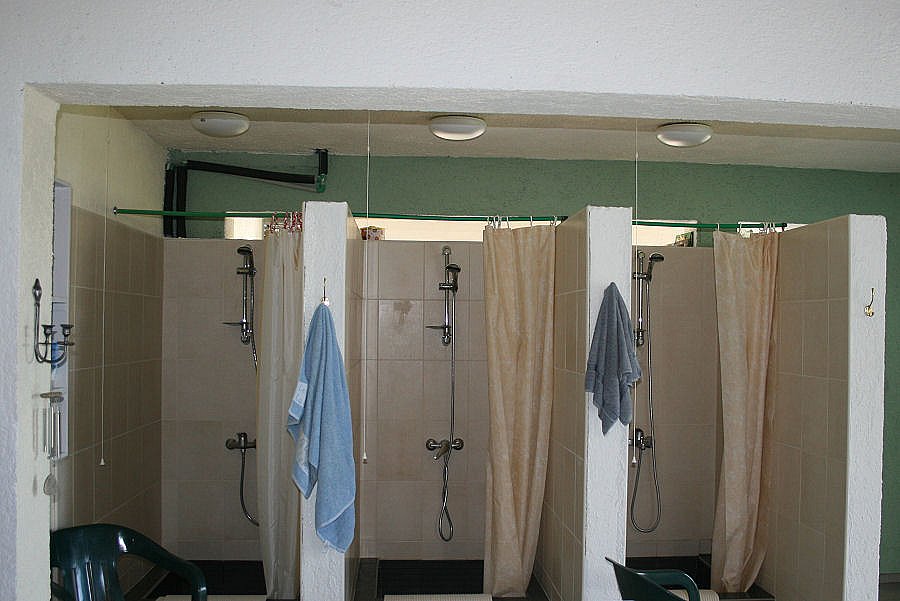 Solar heating means there's hot water for everyone
---
Your Home Away From Home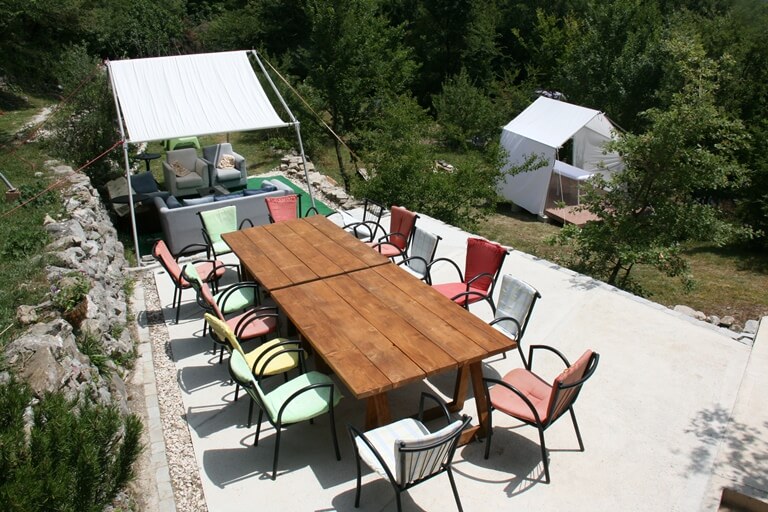 The camp has plenty of outdoor seating and a 'glamp' massage tent
A games and book library, hammocks and organic vegetable gardens round out the 'home away from home' atmosphere and ensure there's always something to do. 
The camp has its own organic garden
Local's Tip: You must try the local produce when you visit Montenegro. The flavour of local tomatoes in summer especially will blow your mind! Make sure to pick it yourself or buy only 'domaci' at the farmers market.
---
Camp Full Monte Holiday Packages
Camp Full Monte has great value camping packages to suit everyone. You can bring your own tent or rent one of theirs. They even have eco-glamping if you love to stay in style!
Tailor-made Eco Holidays
Steve giving guests a tour of the camp's green systems
Denise and Steve are committed to living the eco-friendly lifestyle. They're experts in off-grid living and building systems.
They offer a unique tailor-made holiday at Camp Full Monte and they'll show you how you too can live the eco-friendly lifestyle, without skimping on comfort.
These holidays include:
In-depth tours of all their green systems
Workshops on organic gardening - including composting techniques, organic fertilisers & companion planting
Making your own eco cleaning & beauty products
Workshops on reusing & recycling
They can also arrange:
Hiking trips
Gastronomy tours
Kayaking excursions
Visits to undiscovered local konobas to pick food & prepare a local feast
Foraging trips for herbs with information about the native plants & their medicinal properties
Visits to a farm in nearby Bosnia and Herzegovina to learn how to dry herbs or distill essential oils.
These unique holidays are excellent value and start from just €275 per person staying in a Lodge tent. This price includes breakfast and three evening meals.
---
Glamping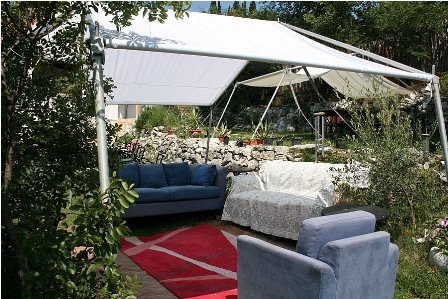 Would you like to give camping a go, but aren't sure you can sleep on an air mattress? They also have a fantastic glamping package that starts at just €280 per person for 7 days and also includes breakfast and 3 evening meals.
The glamping package includes lux 'mansion' tents, sprung mattresses, your bedding, pillows, towels, beach towels, breakfast and optional dinners Mondays, Wednesdays and Fridays.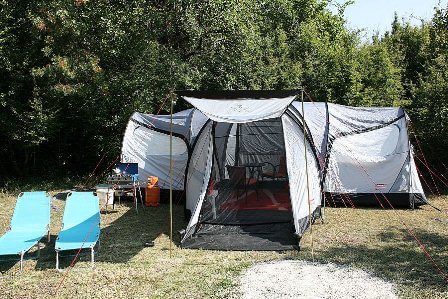 The Mansion tent - glamping paradise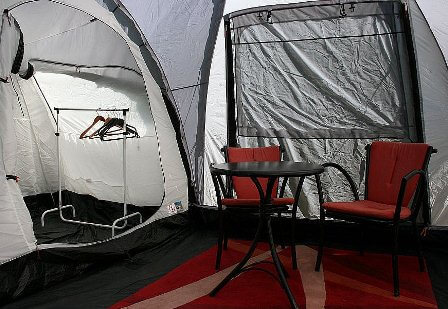 Camping doesn't mean having to rough it!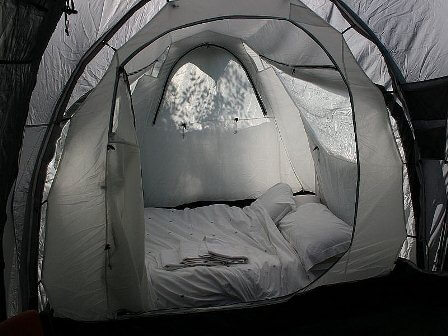 The glamping package is fully customisable for your needs and there are optional extras such as:Airport transfers for €70 return
Car hire for €35 per day
Optional tours and excursions
---
Weekend Breaks
If you've only got a weekend or you're travelling through, Camp Full Monte is the perfect spot to spend a few days taking a break and recharging your batteries.
They take care of all the details for you and welcome you with your tent already erected and dinner cooked. A three night stay is priced from just €62.50 per person depending on your tent requirements. 
Recharge your batteries in one of their hammocks
---
Tent Hire
Here, they pride themselves on making sure you have a good night's sleep and provide you with spacious tents and uber comfortable mattresses and bedding.
Tent hire is great value from €20 per person a night and includes tent, pillows, linen, towels and breakfast.
Your Own Tent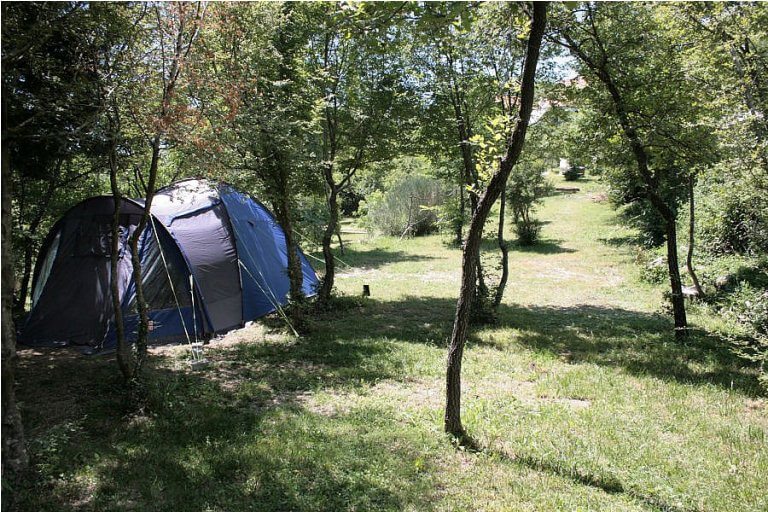 You can bring your own tent and rent a space at Camp Full Monte for €12 per person, per night. You can use all of their facilities including the kitchen and bathrooms.
Snug Tent
Lodge Tent
Mansion Tent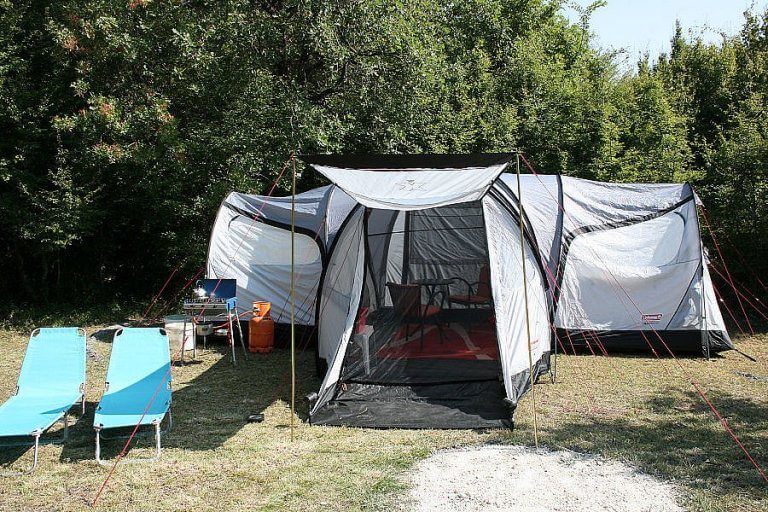 Full Monte Lodge: sleeps 4-6 €30 per person per night.
All of the Full Monte tents are pre-erected for you and come with: mattresses, pillows, linen, towels and breakfast. There's a three night minimum for bookings.

---
Children's Prices
Children 0 – 2 stay free. 
Children 2 – 11 stay for half the adult price. 
Children 12 + stay at adult prices.
---
Location of Camp Full Monte
The camp lies just across the border with Croatia, near the town of Herceg Novi in the Bay of Kotor. It's just a 10 minute drive to beaches (including the clothing optional ones of Njivice) and 15 minutes to the town centre.
---
Volunteer and Work Exchange
Denise and Steve also run a popular work exchange programme where they provide your meals and a place to stay in exchange for your company and help around the camp site. Send them an enquiry to find out more.
---
To Book
If you'd like to book a holiday or stay at Camp Full Monte you can reserve your space by filling in the form below. 
Camp Full Monte
Book Your Trip With My Recommended Providers